If I have to point out one single thing that I like about DSM7 it would be this. If you were in a situation that you have to restore or backup some settings to have them ready, you would find out soon that not all settings in DSM are backed up. Well, DSM7 has put an end to this.
With the new Configuration backup and restore options you will be able to snapshot your DSM settings (this does not include your Apps or data, those have to back up via Hyper Backup for example) so you can have them at hand whenever you need.
To make things better you can back them up to your Synology Account, and restore one NAS settings on a completely different NAS! Now, this is great as I'm sure some of you out there were in a situation that you had to restore some settings from your current device onto a new one without the need to migrate the drives and data (a large number of reverse proxy entries maybe?).
With DSM7 this is now possible and works great. Let's see how easy it is and what needs to be done.
Configuration backup and restore
As before, this function is located inside Control Panel so head there and then into the Update and Restore section. On the second tab, Configuration backup is the setting that you need.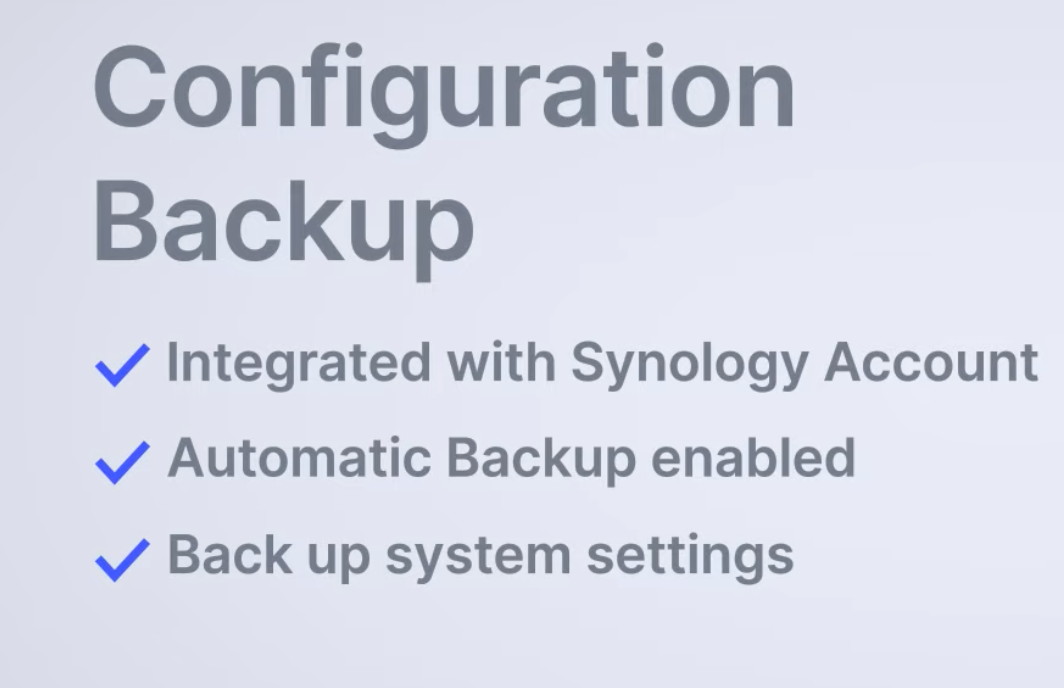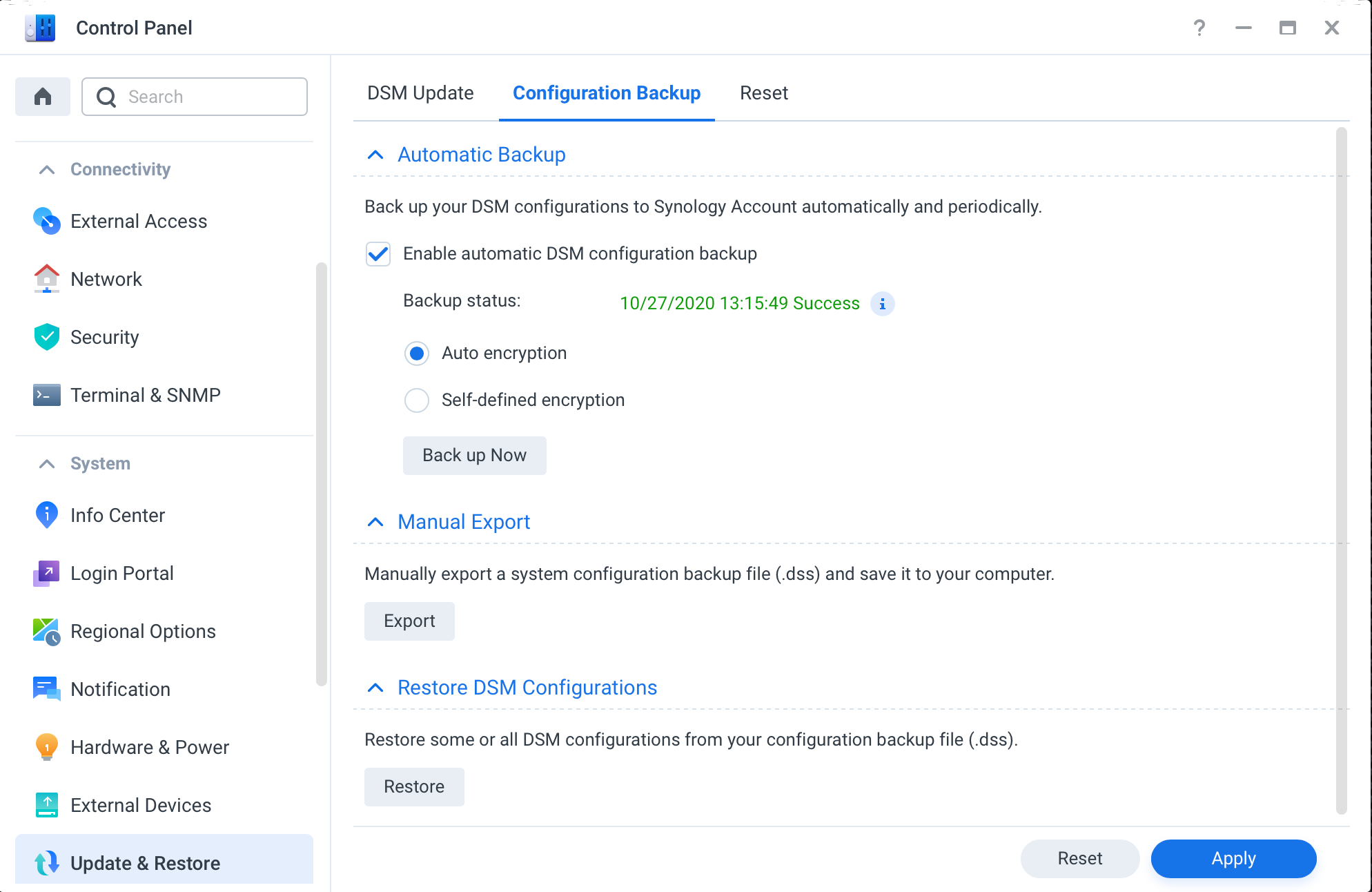 As shown on the image, you still have the option to manually export settings into a .DSS file as before. In that case, you will get this information: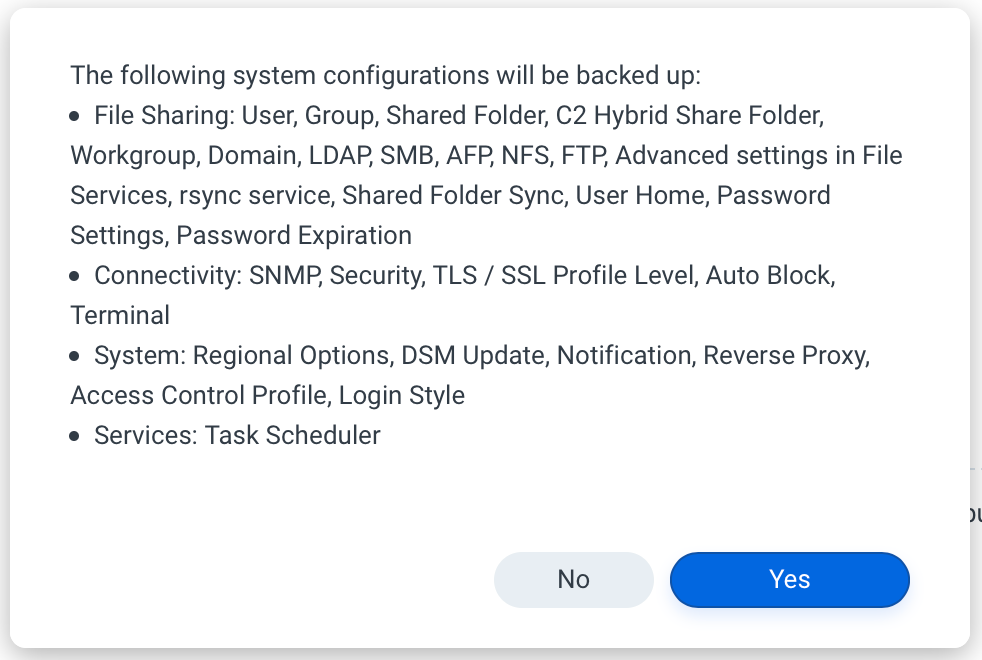 Now looking at the info box you might think that nothing much has changed but if you look closely you will notice more than a few new options that will be saved.
Automatic backup
As the first image shows, by simply clicking the Enable automatic DSM configuration backup all of your DSM settings will be automatically backed up to your Synology Account profile. Simple.
Restoring from backup
In case you need to restore from a backup you can click the Restore button on the bottom and follow the wizard.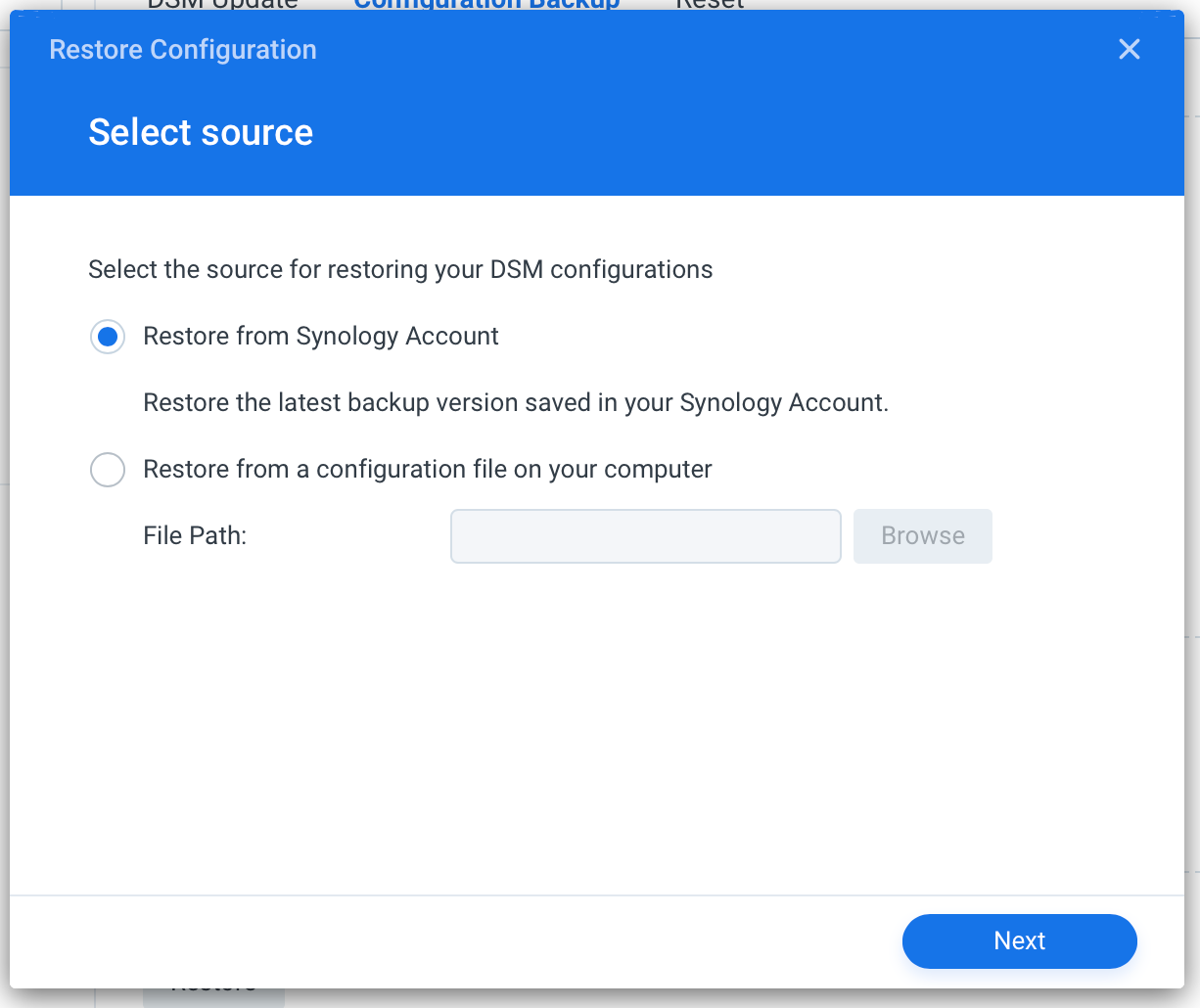 Unlike before, you will now have two options to restore from, your Synology Account or the static DSS file. In case you want to restore from an automatic backup the next step will ask you what exact version you want to restore from.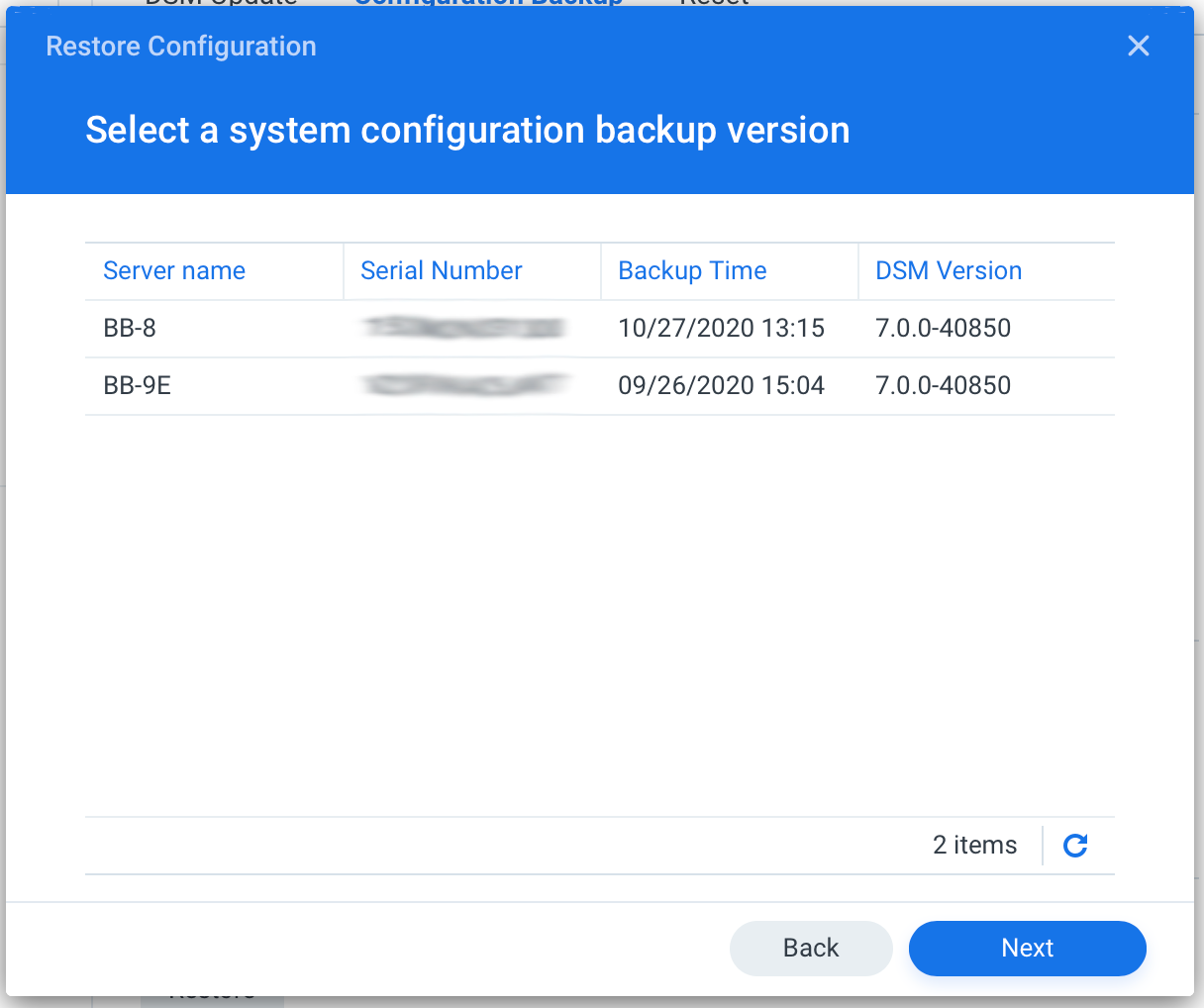 Keep in mind that the backup "version" here is the last automatic backups for each of your devices that are backed up to your Synology Account, not the history version of them. So, looks like auto backup will not allow you to save multiple version back in time but rather a single up-to-date version.
The benefit here is that you will be able to pull a specific setting from one backup and apply it to a completely different machine (a new NAS that you are setting). This will come in handy if you are doing a partial migration from one device to another.
In my case, this would have come in handy a while back when I was adding a new NAS to my setup but wanted to only restore some settings from an "older" device that is still in use. Specifically, it was a long list of reverse settings that I had to do manually.
Using the new method you will migrate these kinds of settings in a matter of seconds. Well done indeed.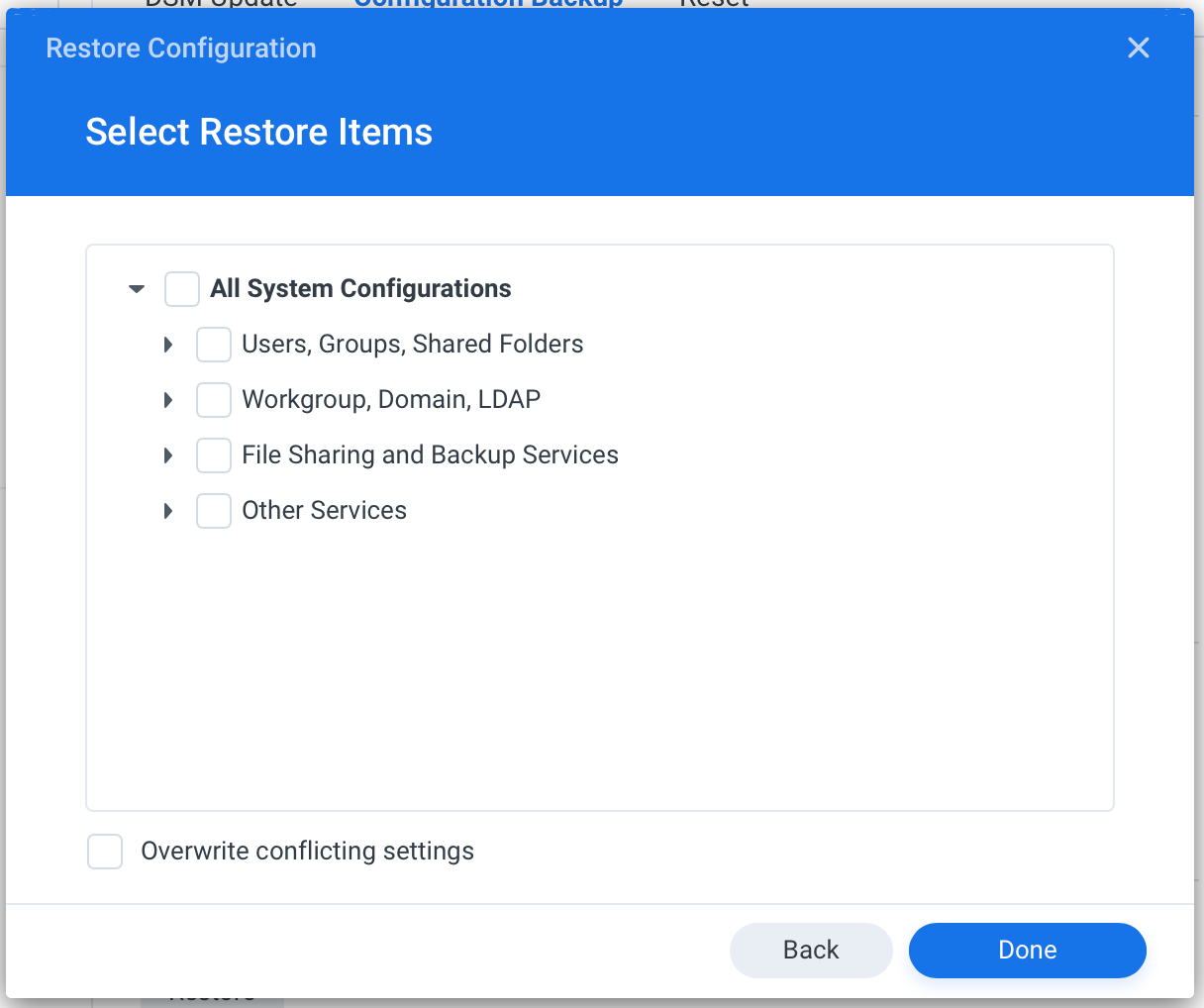 Once you load up the configuration you will have the option to pick what settings you want to pull.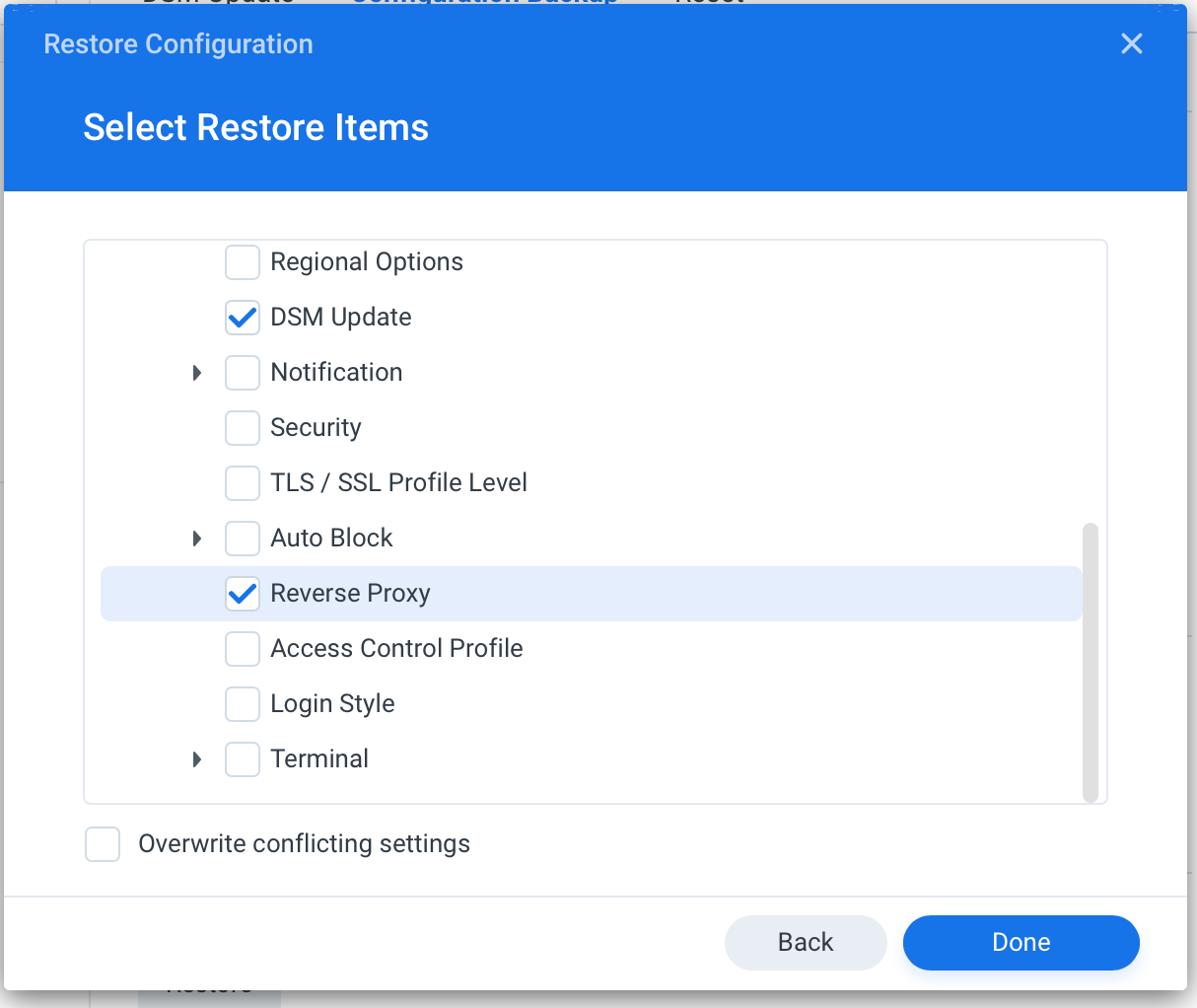 As we can see in the last image, the Other Services section is full of some old and new entries that you can backup and restore. Simply select them and you are done.
This is a great and much-needed addition to a large array of settings, apps, and services that DSM7 will bring. It will surely come in handy in the future, and the fact that you always have an up-to-date configuration backup is just what you want when you will have to restore to a new NAS because the old one died on you all of a sudden ;).
DSM7 bare-metal and VM restore options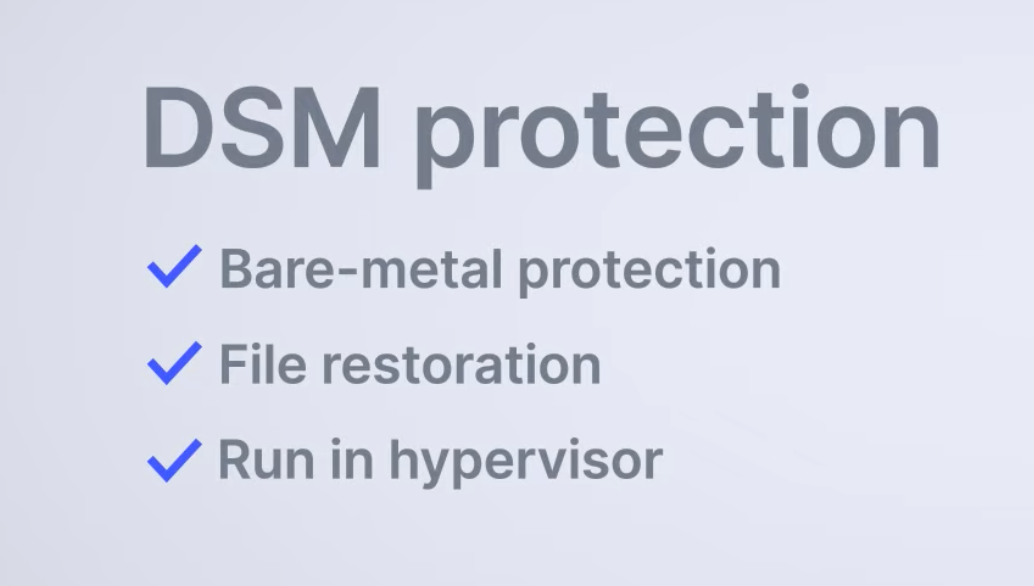 We will be able to spin up DSM into a hypervisor (VMM, HyperV and VMWare) as a virtual machine as well as full bare-metal! Brilliant news.
Also Hyper Backup will cover 38 of Synology apps and its data as part of a backup process.

Have you ever needed or used Configuration backup and restore before? Let me know down in the comments.