UPDATE 28/09/2020 - Potential pricing model change coming with ForkLift 4 in 2021 - https://binarynights.com/blog/posts/forklift-new-business-model.html
DISCLAIMER: In the interest of full disclosure, this app has been bought with my own funds, all of the opinions you are about to read are my own, nobody is paying for this review, and nobody has reviewed or approved this content before it was posted.
Do you remember the 80s? How about the 90s? Working in DOS-like operating systems with no graphical UI at all. File management back then was painful. At least until the likes of Norton Commander apps started showing up.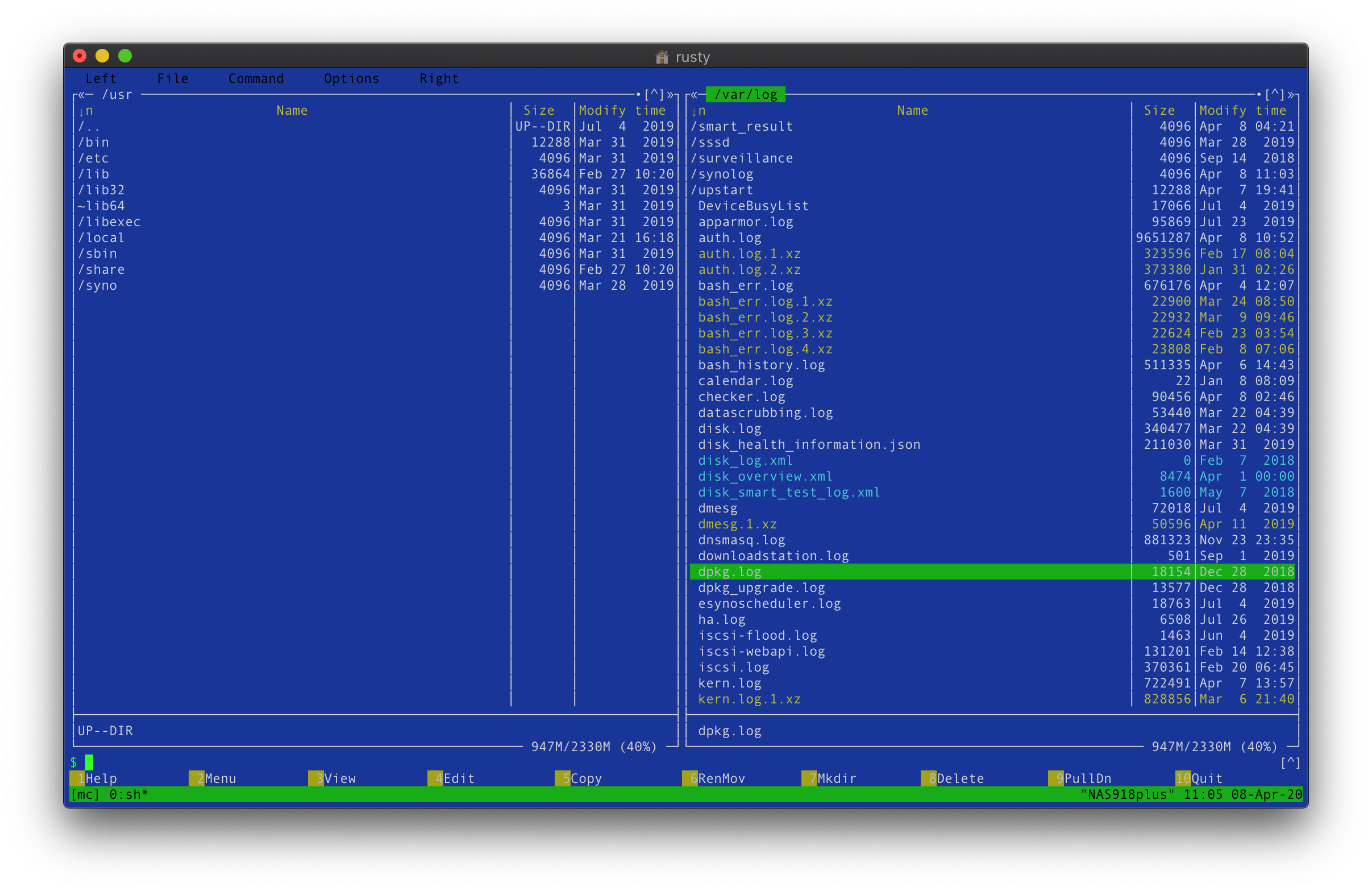 Apps that brought file management in the shape of a visual application with a popular dual pane operation mode. These types of apps still exist on every OS platform today, and macOS is no exception. macOS has a lot of great features but file management is not one of them.
When I started working on a Mac back in 2008, I had two questions. Where is the @ symbol (I know right?) and is there an alternative file management app like Norton/Total Commander for Mac?
At that time there were already a number of paid and free solutions. Pathfinder was one, muCommander was another but they were all really heavy and didn't run as smooth as I wanted them to run on a 2008 Macbook. Also, some of them were not native Mac apps back then and were running in Java (I KNOW RIGHT!).
Luckily for me, in June of 2007 (a full year before I got into Mac and Apple ecosystem), Forklift was introduced. After that, the rest is history.
A proper file manager for the Mac
At that time FL was, I think, about $19 or so. But after a trial run, this native Mac app was the proper replacement for my file management needs and it was a no brainer. I was sold. Now in case you are wondering what's wrong with Finder, the answer is, from my point of view, a lot.
Don't get me wrong there is plenty you can do via Finder and for someone who never used a dual-pane file management app, it might be more than enough. For me, the dual-pane is what it's all about. Having a single window where I can do all my file tasks. Cut/copy/paste from one location (folder or drive) to the other, rename, duplicate, etc. Of course, all this can be done with multiple Finder windows or multiple tabs that macOS has these days, but that's just not the same for me. On top of this FL is more than just a dual-pane file manager, and for its price, you get a palette of tools that in the most case would cost you several more apps that you need to buy.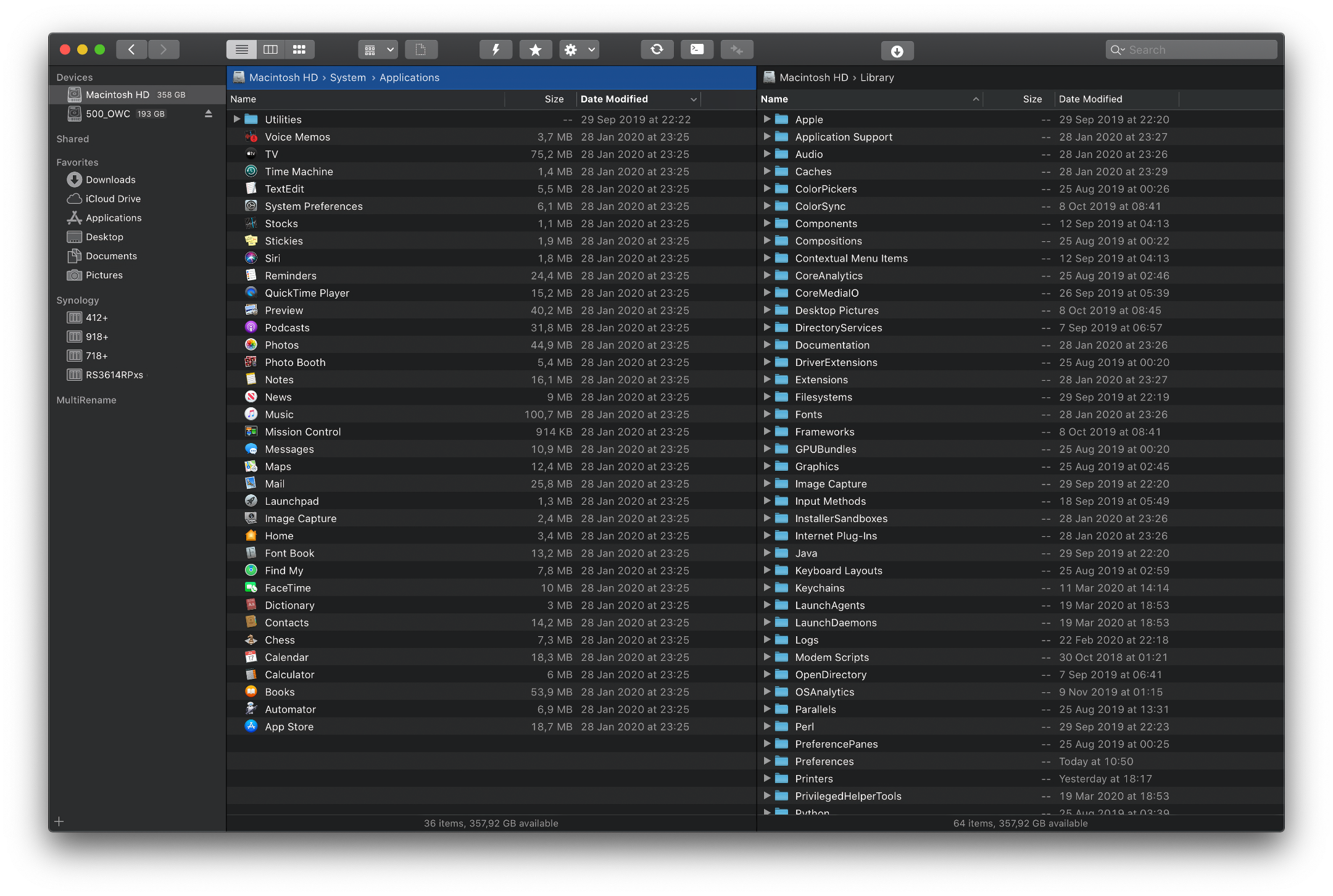 Swiss army knife at your fingertips
Now if you are more of a keyboard type of person then the one using your mouse or trackpad, you will be please to know that almost all operations in FL can be done without the use of your mouse. To start you can even customize your keyboard shortcuts for many operation and commands.
Speaking of features, BinaryNights web site has a nice presentation of all the features that this application offers, but I would like to focus on several that I use the most, along with some that are worth mentioning, considering that they can easily change your mind when it comes to getting a separate tool for the job, or using it via FL itself.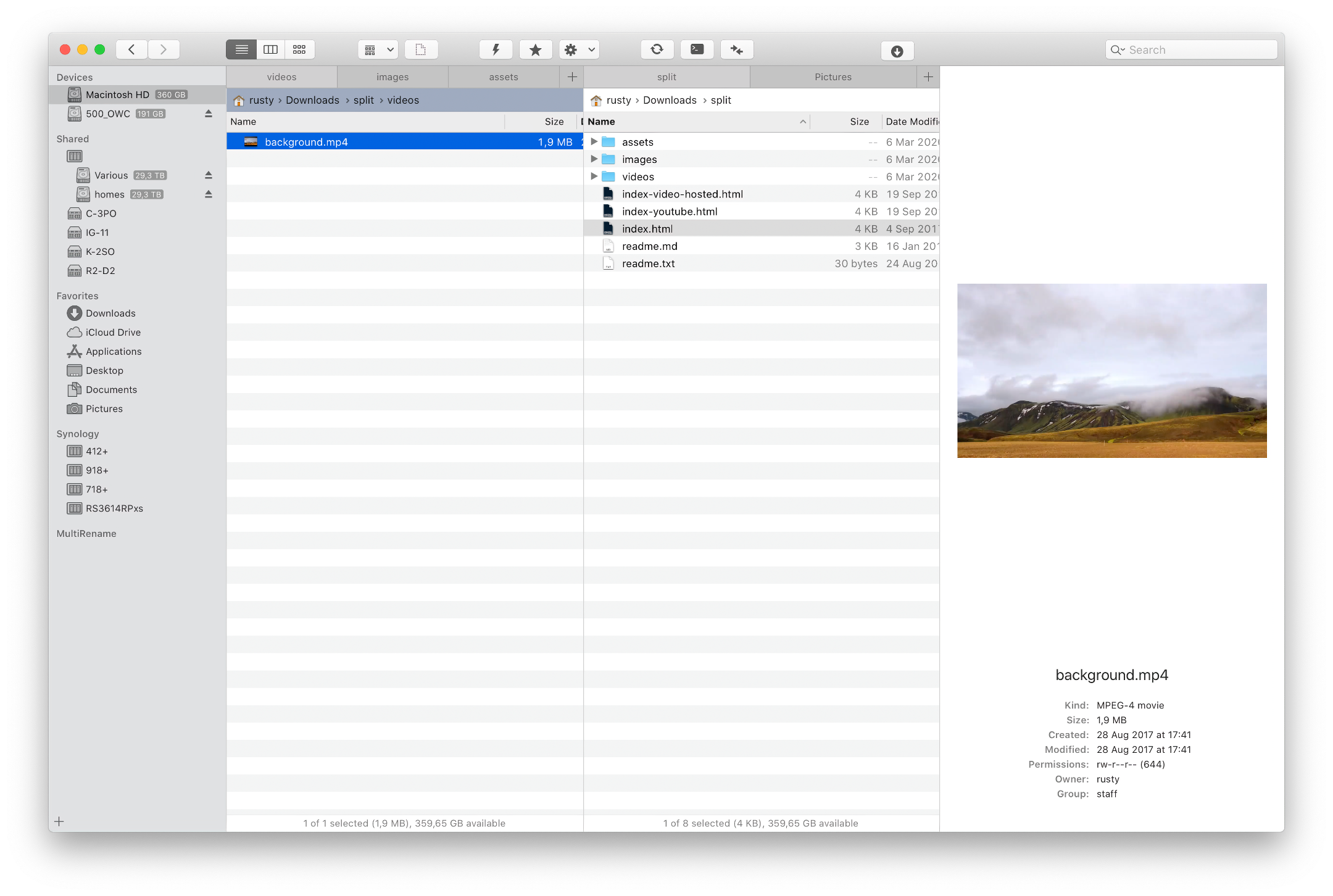 As I mentioned before, dual pane view has been around since forever, and its not advertised as a main feature, but when you launch the app for the first time, its the first thing you see. Dual pane layout helps you looking at multiple destination at the same time and perform various file and folder operations such as duplicate, rename, delete, move, cut, copy, paste, etc. As a bonus FL offers multi tab operations for each pane, so you can have multiple sources, each in its tab, on one side and a single or multiple destinations in the other. In comparison, you would need multiple Finder windows for this to work and you wouldn't be able to perform any of the mentioned operations elegantly as you can do it inside FL (meaning you would have to click a lot).
Working with local files is fine and for some Mac users, a daily task. On the other hand you will certainly find yourself in a situation where you will need to access some data on an external drive, or a network share, perhaps even from some cloud service. This is where you will conclude that, without FL, you will need a combination of a local file manager (Finder) and a web browsers and in some more strict situations you will need a custom tool to help you as well. What I mean by that, is that you will need to connect to your Google Drive or Amazon cloud, or a secure FTP destination and in those scenarios FL can help as well. With a variety of remote connection options, you can have all your favorite destination right within FL interface.
For example using FL you can connect to SFTP, FTP, WebDAV, Amazon S3, Backblaze B2, GDrive as well as some other local resources using all of the popular protocols such as SMB, AFP and NFS. As a "natural" extension to cloud services FL offers something called Droplets. If you prefer working with a mouse and like to drag and drop a lot, Droplet is a great feature. Even though it is a FL feature you don't need to use FL at all. Visible as an icon in the macOS top bar, with Droplets you can initiate a remote connection to your cloud destination (like G Drive) and in the bordered area just drag the files you wanna upload to your destination. Simple and easy.


Similar to Droplet there is also a Disklet function that will allow you to mount any remote connection as a local drive visible in your system (not as a network share). Keep in mind that this will not work for any local AFP or SMB shares, but will work for your SFTP connection for example.
NOTE: in order for this to work you will have to use a 3rd party FUSE driver
It is a shame that local NAS mount points are not visible this way, but then again, having them as a network share works just as well.
Speaking of network shares, as I mentioned earlier, FL works with all major protocols so you don't have to worry if you have a mixed environment of servers hosting your files, you will be able to access them all and edit on the fly if you chose to do so. One common scenario of remote file manipulation is rename. I find myself often in a situation that I have multiple files with random names that need to renamed using a specific pattern. Welcome rename feature. I love it. The best part is that you can save it as a favorite and have multiple rename options ready to go in no time. If you ever needed a multi rename tool that offers expression, replace or sequences, this is the tool for you. This feature alone with remote connections was enough for me to justify the price.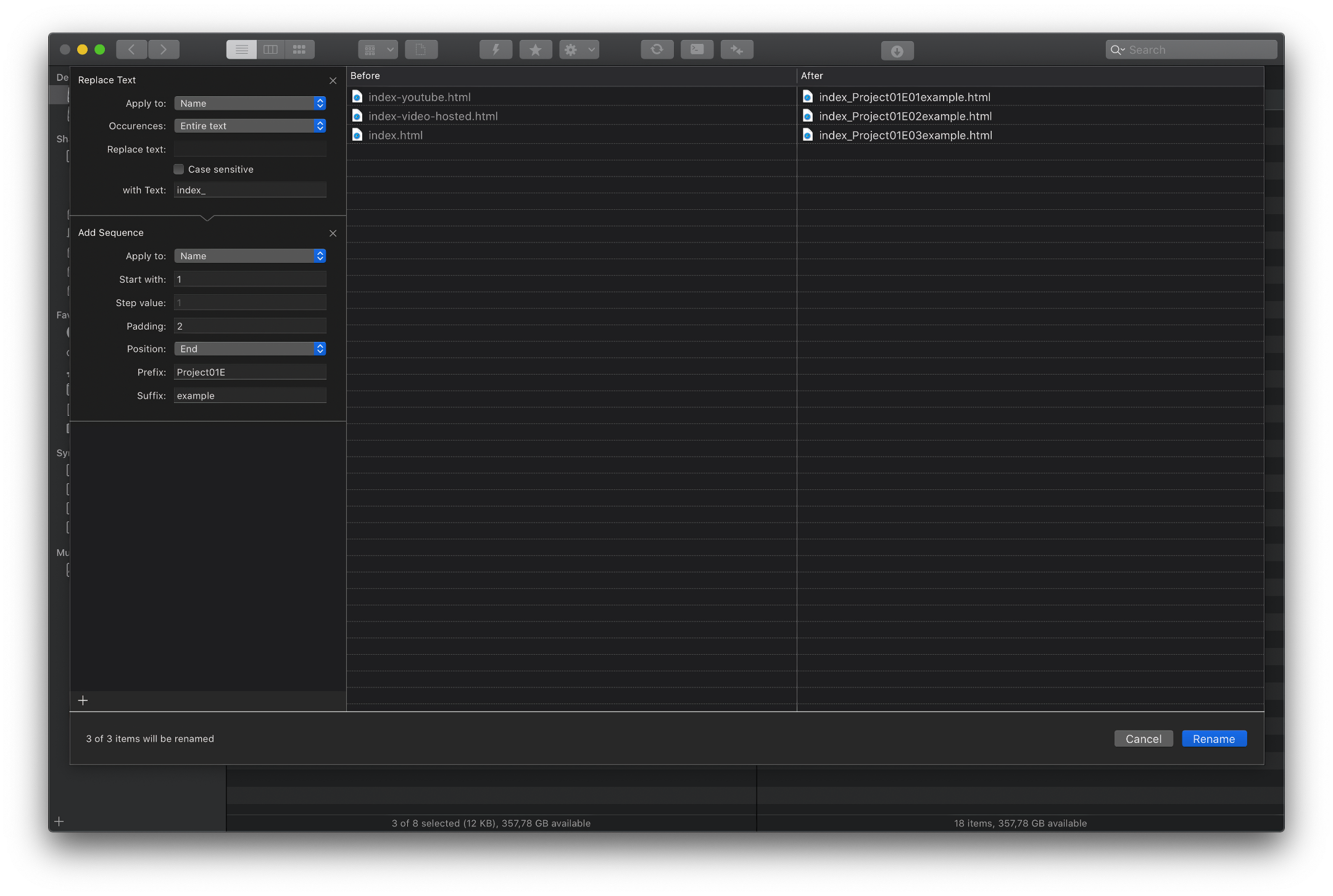 There are many more features that make this app a great productivity tool, but I would like to mention a few more that might not be big and important to mention, but mean a lot to me and my daily work.
Considering that my mind works the way it does, I have always had a problem with macOS sorting and visual presentation of files and folders. Ok, alphabetical presentation is fine, but not when you mix files and folders. I mean, really? So a welcome "feature" in FL is also the fact that it will sort folder first and then files, as intended. Thank you BinaryNights.
Another feature that's worth a paragraph is App Deleter. It's fine that you can delete an app on macOS just by dragging it to the Bin, but what's left behind could sometimes be a problem. Personally, if I want to delete something then I want to delete all of it, including any files in the Preferences folder. FL does a very nice and clean job of removing all the files related to the app in question.
Overall performance is also one thing that's very important when using an app and FL doesn't disappoint on that front as well. Rewritten in Swift, FL in its current 3.3.8 version is a stable, fast and above all, native macOS app that's a real pleasure to use. Did I mention that it comes in black as well? O yes, dark mode is supported for anyone who is a night owl or simply likes a darker setup, I know I'm one of them.
BinaryNights support for the app is great both in ways of responding to tickets and questions over social media and fixing any bugs that might get through. All the latest changes can be viewed on the changelog page here.
So how can you start enjoying all of these and many more features? Forklift is available in the macOS App Store, on the BinaryNights web site, and even using a SETAPP service.
NOTE: App Store version is not FL v3, its v2 that's free to use.
Conclusion
As I said a few times before these are just a few of many features that this app has to offer in any number of details, so be sure to check out the BinaryNights web site and get a taste for it during a trial period. If I had to put my finger on one thing that I have a problem with FL, at this time, its the fact that I don't have any. Still, that doesn't mean that its all perfect, but considering that it works for me in any number of ways, it is. There will be someone that will say that it's missing this and that, it could be better like this, but in my personal opinion it's the top file management app out there to date.
Let me know in the comments below how do you cope with your daily file and folder operations.