UPDATE: 23/09/2020 - DS1621+ on the Tawain version of Synology site - https://www.synology.com/zh-tw/products/DS1621+#specs more details below
UPDATE: 10/09/2020 - DS1621xs+ on the global Synology site - https://www.synology.com/en-us/products/DS1621xs+
UPDATE: 08/09/2020 - On synology.com (TW version) there is now an official page for the upcoming DS1621xs+. I have added more details in the article bellow
UPDATE: 20/08/2020 - Today there was a fresh bit of news on yet another upcoming DS1621+ model along side DS1621xs+. Not much info about it, but I will keep this page updated for all info regarding all upcoming x21 models. At the moment we can only expect that this model will have lower specifications then its stronger XS model, but what they are exactly is anyones guess at this time.
While some of us just started showing off their new x20+ models like DS720+ and DS920+, Synology is hard at work with some bigger models in the x20 lineup like the upcoming DS1520+ (more info on that here), but also with more then a few x21 model!
DS1621+
Today we got some new model from Synology, new DS1621+. With almost no info on the HW in the past months, we finally have some info and here it is.

Powered by AMD Ryzen V1500B CPU this model is close to Synology favorite Intel Atom C3538 but Ryzen in this case had 4 cores and in total of 8 threads that Intel does not.
Regarding horsepower V1500B is coming in at 2.2Ghz viwth 6MB of L2+L3 and a TDP of 16W.
Here are some HW specs:
AMD Ryzen V1500B

2.2Ghz 64-bit x86 Architecture

Embedded Ryzen SoC Design

4GB DDR4 ECC SODIMM Memory (total of 32GB)

6 SATA Media Bays (supporting 3.5" & 2.5″ drives)

2x M.2 NVMe Slots for cache (supporting 2280 NVMe)

4x 1Gbe RJ45

PCIe Gen 3 x8 Slot for Expansion Cards

2x eSATA ports to connect 2x DX517

3x USB 3.2 Gen 1 (5Gbs)

16.6cm x 28.2cm x 24.3cm

3yrs Warranty, extendable to 5yr with the EW201 license

Price and timeline? Well at the moment there is nothing on this yet, but looks like a potential €800+/- and maybe coming by the end of the year. We will see more on this soon no doubt.
For you that think that DS1621xs+ might be a bit much and the fact that that model does not support SHR array, you will be glad to hear that this DS1621+ does support SHR.
DS1621xs+
That's right. It looks like we will be getting a new 6 bay unit under a name DS1621xs+!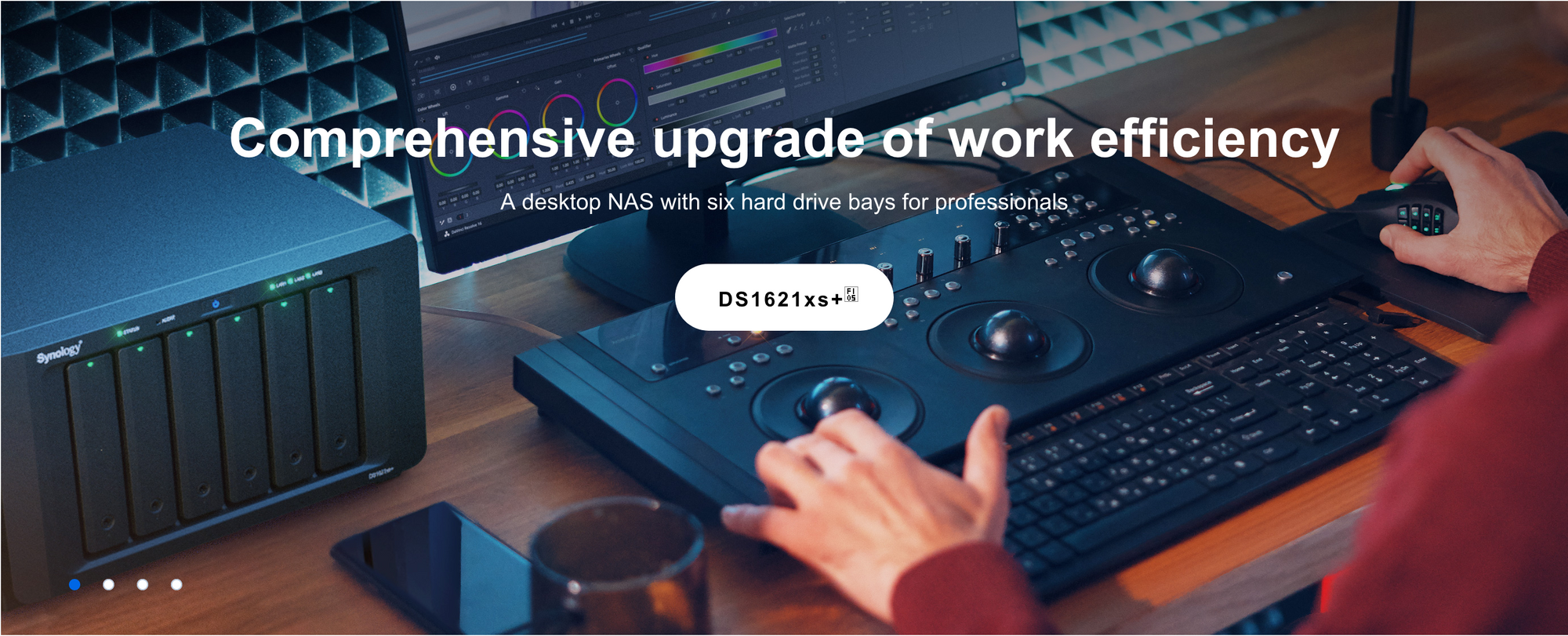 Priced probably at around €1700 +/-, and coming out in September, for a total of 16 bays (via 2 x eSATA ports) this model will be both powerful, hot, and expandable in more than one way.
With a part of the specs listed below, you can tell that this unit is what most people wanted from an enthusiast/small business NAS.
UPDATE
https://global.download.synology.com/download/Document/Hardware/DataSheet/DiskStation/21-year/DS1621xs+/enu/Synology_DS1621xs_Plus_Data_Sheet_enu.pdf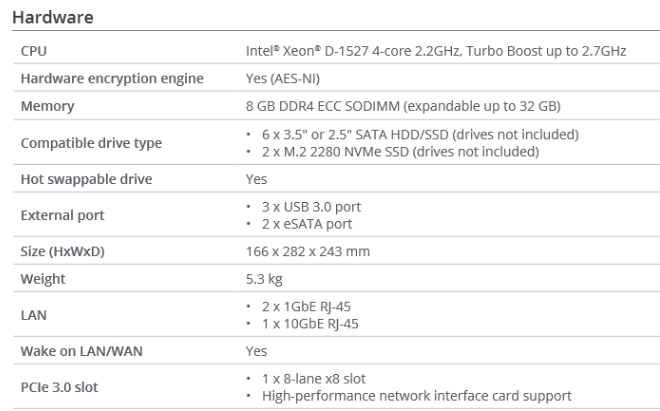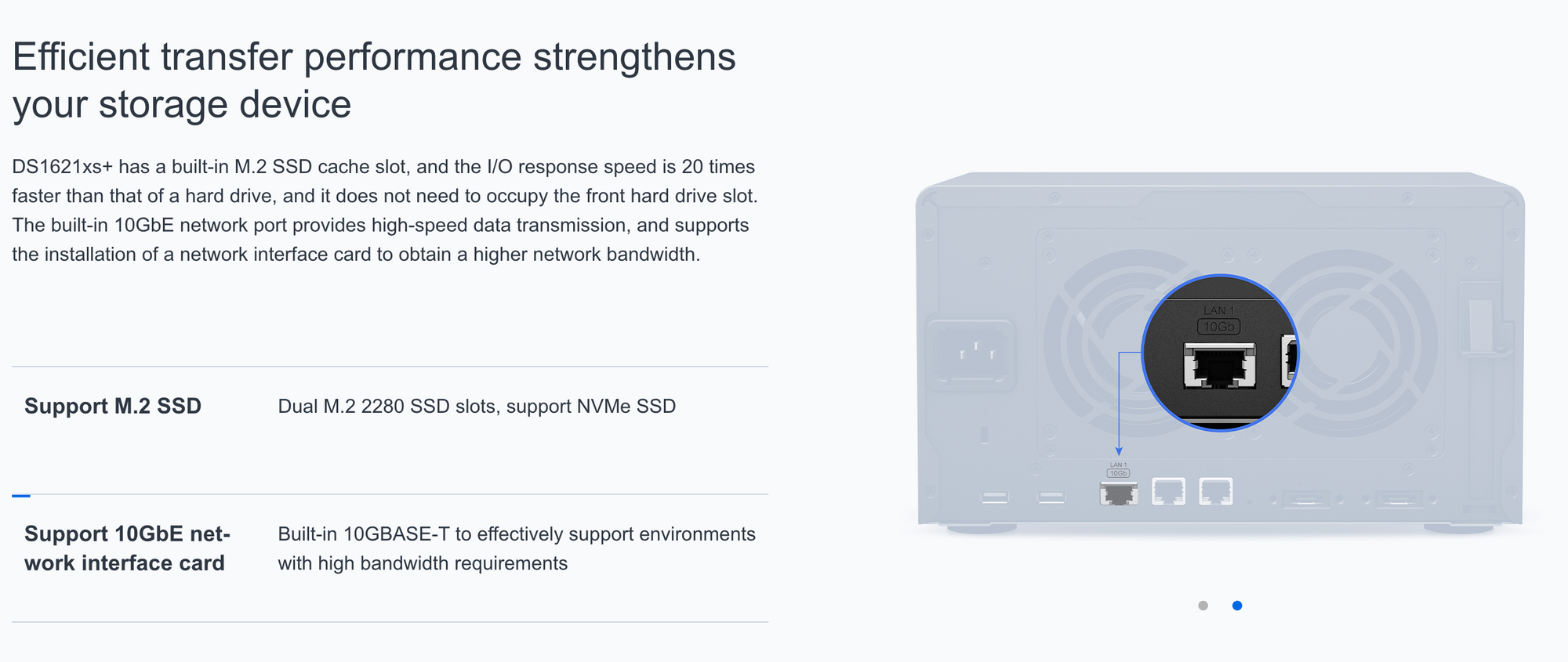 Ready with 10G LAN, and 2x1G as well, this unit comes with a dual M.2 slot for NVMe SSD support. On top of this, DS1621xs+ features a PCIe gen 3 x 8 slot as well that allows you to add even more SSD cache slots, another 10G port or a combination of the two. Synology already has  their own cards for those roles and if the built-in options are not enough, PCI slot will sure justify this purchase.
Powered by a 5y old CPU, Intel Xeon D-1527 with 4 core at 2.2Ghz turbo boosted to 2.7GHz, this NAS will fulfill all your needs. Of course, running at 35W TDP, this is not the coolest CPU, and also, expect for this model to pack a PSU from 250W-500W to cover all of its CPU and 10G needs.
Truth be told this NAS is not targeted as a media machine, but rather as a proper workhorse for a small-medium business with lots of SMB users as well as a great VM (virtual machine) host.
In a combination with running NVMe SSDs cache card, and rest of the bays for a mix of HDD/SSD drives, combinations and implementations are endless.
This model, if it will remain with these specs and name, is somewhat a huge jump from the previous 6 bay model, DS1618+. Also, having XS in its name it is now a combination of DS1618+ as well as some other 12 bay DS models, like DS3617xs. Bringing the best of both will most likely put it in a crosshair of some home/enthusiast users no doubt.
One feature that I see most appealing here is the built-in 10G adapter that will not require a separate PCI card and give even more freedom out of the box.
So, are you getting one of these bad boys? Let me know in the comment section below.