As off today, Synology has released a new 12-bay NAS from their high scalability range, the SA6400. With its global launch on January 11th, 2023, this model is available today for the Asia/Pacific region.


Advertised as the "Highly scalable storage for enterprise and studios", the SA6400 is designed for rapid data scaling. No wonder as it supports up to 108 drives after expansion using eight (8) additional RX1223RP expansion bays (Mini-SAS HD ports).
Overall this unit has an AMD EPYC 7272 12-core CPU (24-thread) 2.9 GHz, with a max boost clock of up to 3.2 GHz, and 32GB of DDR4 ECC RAM (up to 1TB using 16 memory slots). From the network side of things, apart from 4 x 1Gbit, there are also 2 x 10Gb (RJ-45) ports and 2 PCIe expansion slots that can accommodate optional 25/40 GbE or FC (fiber channel) cards. Said PCIe slots can be used for M.2 drives to be used as potential cache setup.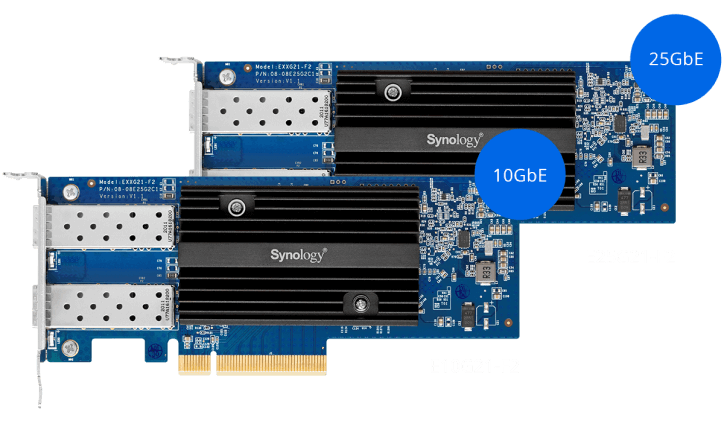 With its default 2U height, the unit is around 16.5 kg and the classic 19" width. The dimensions are 88 x 430.5 x 692 mm.
SA6400 comes with a redundant and modular 550W power supply setup, to reduce the possibility of power failure.
The role of this unit can be from any business application platform, a high-capacity backup solution, or a flexible file server. All major Synology software platforms can be configured and run on this model, be it Active Backup for Business, Hyper Backup, Snapshot replication, Virtual machine manager, or Docker.
When it comes to RAID support, as with any high-end model, the SA6400 does not support SHR array type, but it does support all the conventional RAID configurations, including the Synology RAID F1.
With its massive capacity and high speed, the NAS can service up to 16000 local users, and up to 10000 concurrent  SMB/NFS/AFP/FTP connections.
The SA6400 is covered with Synology's 5y warranty including technical support and hardware replacement services.
The complete datasheet of SA6400 can be downloaded here, and the official model page can be found here.