📢
UPDATE: 08/08/2022 - The NEW FS3410 all-flash NAS will be officially out on August 24th 2022. Datasheet and overall description added below.
📢
UPDATE: 29/06/2022 - The NEW DS1522+ is officially out! A dedicated review will soon be posted covering the device and a new 10G mini card
📢
UPDATE: 09/06/2022 - RS822+ NAS has been spotted. Yet another AMD driven 1U rack model that is a slight step up to the new RS422+
📢
UPDATE: 01/06/2022 - RS422+ and DVA1622 are officially out! Read about the details below as well as info on their specs.
📢
UPDATE: 13/05/2022 - In June we can expect a new AI-driven DVA model, DVA1622.
📢
UPDATE: 10/05/2022 - in 2 hours (11/05/2022 01:00 AM CEST time) the review for the new RT6600ax will be live in a dedicated article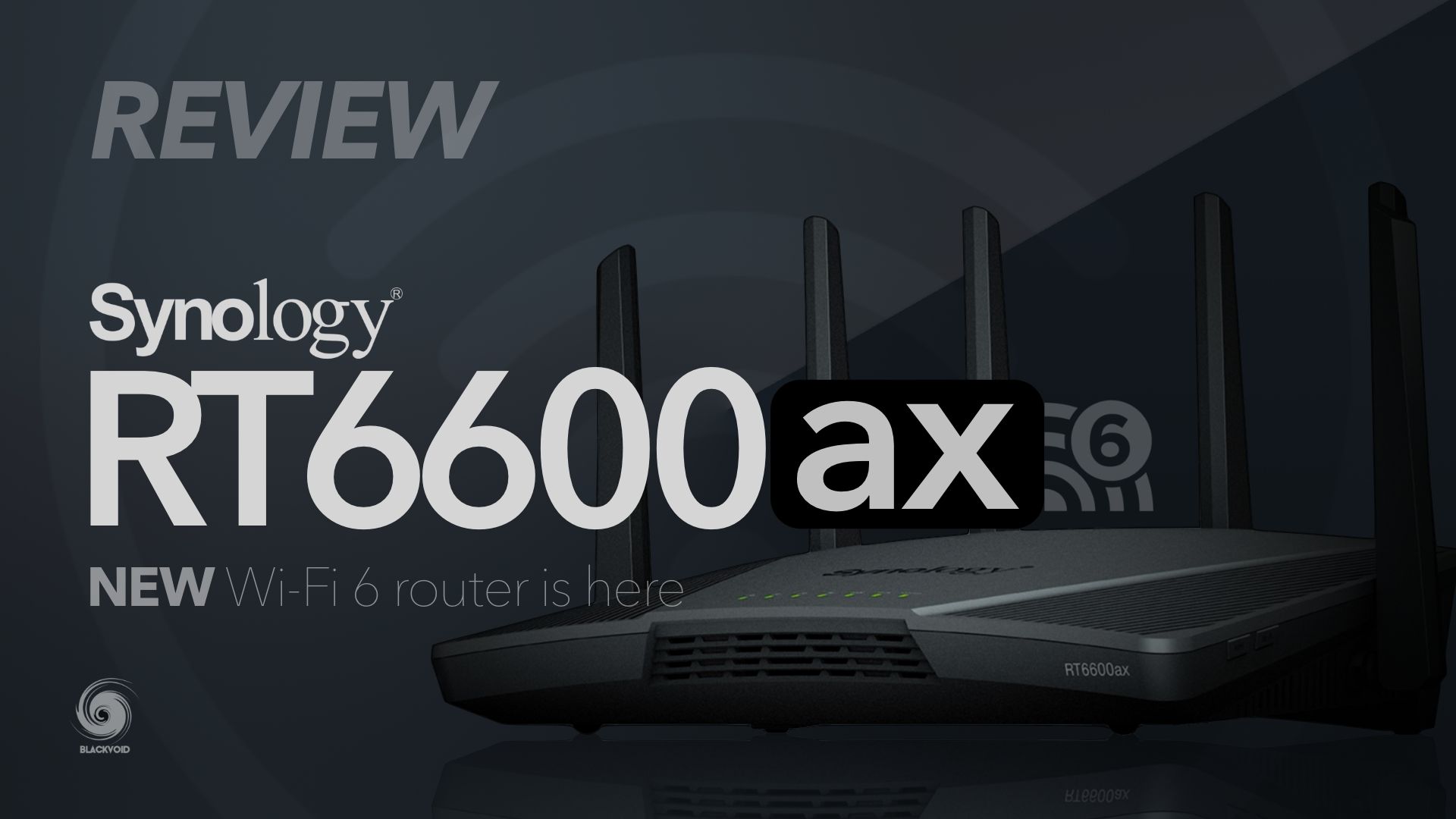 📢
UPDATE: 23/04/2022 - Along with the DS1522+ unit, this summer we will get one RS unit as well, RS422+.
📢
UPDATE: 21/04/2022 - Looks like we will be getting a new 5-bay model this summer as well! At the moment no information is allowed to be shared, but I will update this page with a dedicated section as soon as possible.
📢
UPDATE: 21/04/2022 - The new RT6600AX has been delivered to me. At the moment no images are allowed to be posted. On May 4th I will be allowed to post "teasers", and a full review will be on the 11th (if nothing changes until then).
📢
UPDATE: 8/4/2022 - As mentioned before, the new Synology HDD from the HAT5300 lineup is coming, as well as the new router RT6600AX on May 11th, 2022. Disclosing the datasheet for both is still not allowed so those will be added as soon as possible.
📢
UPDATE: 07/02/2022 - Even though it is still unconfirmed, there will be new Synology HDDs with new capacities coming out, as well as a 4 bay RS unit (422+ maybe) following the release of the new 6600AX router in March. More accurate info as they become available.
📢
UPDATE: 17/11/2021 - as of today both DS3622xs+ and DS2422+ are officially out!
📢
UPDATE: Unofficially, the new models should be out around mid-November 2021.
Here we go! The new 2022 models from Synology have started to show up. While there is still no official news, there are three pieces of hardware that are coming out soon.
---
FS3410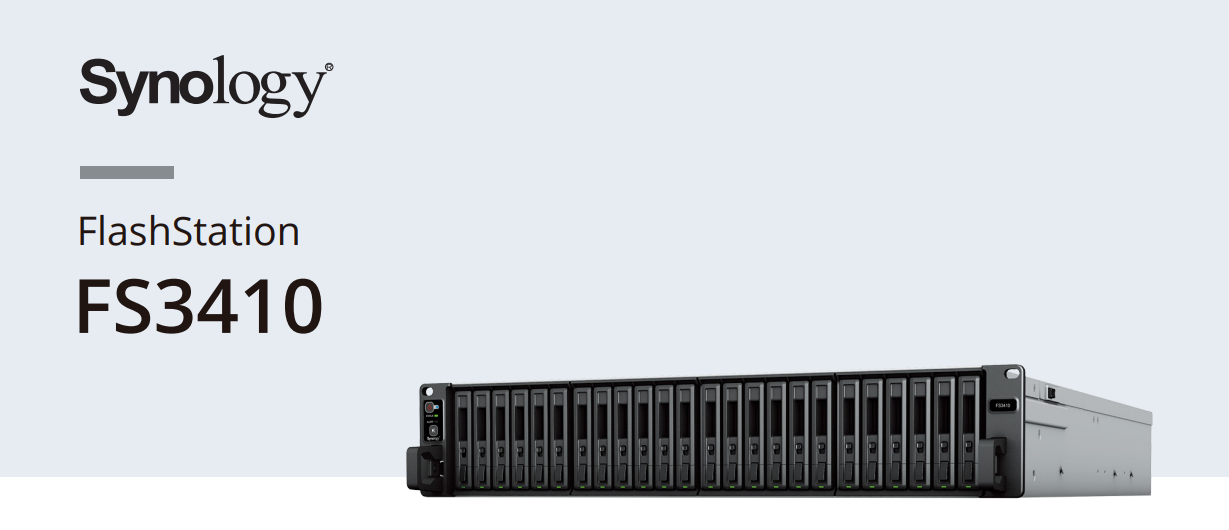 The second all-flash model that has arrived this year, following the FS2500 (1U model), the FS3410 is Synology's new 24-bay all-flash model targeting "businesses and production studios".
With a built-in dual 10G ports as well as optional 25/40G expansion cards, FS3410 can deliver on almost any task that you throw at it. Up to 356,500/129,400 iSCSI 4K random read/write IOPS, it can handle intensive I/O operations.
It can server as a perfect storage host for external hypervisors such as VMWare, Microsoft, or Citrix to name the few.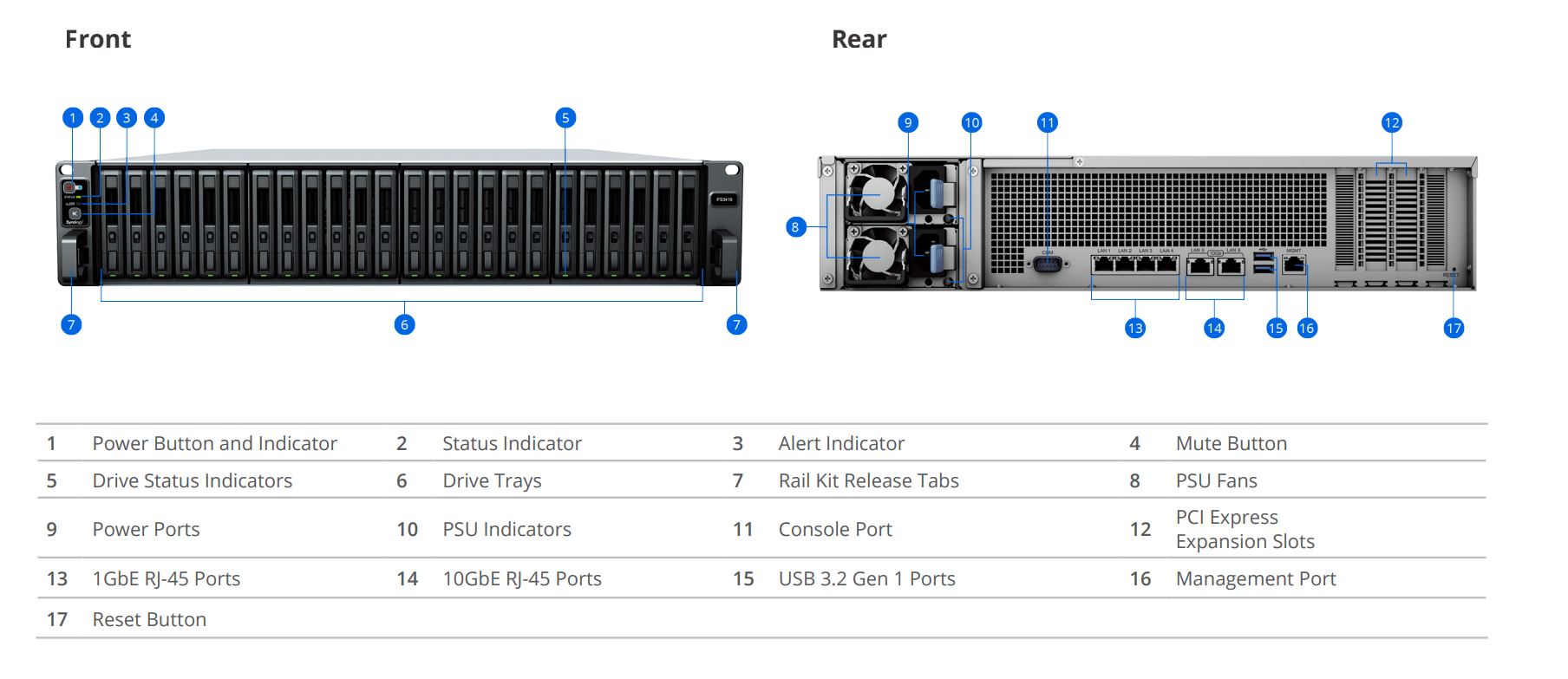 FS3410 out-of-the-box comes with redundant power supply, and it is powered with Intel D-1541 8 core (16-thread) 2.1Ghz CPU and 16GB of DDR4 ECC memory with potential to upgrade it to 128GB.
This is a SATA SSD model only that will require Synology branded SSDs from their SAT5200 series. As all other mid to high-end models, FS3410 is covered by a 5y warranty.
Complete datasheet can be found here.
---
DVA1622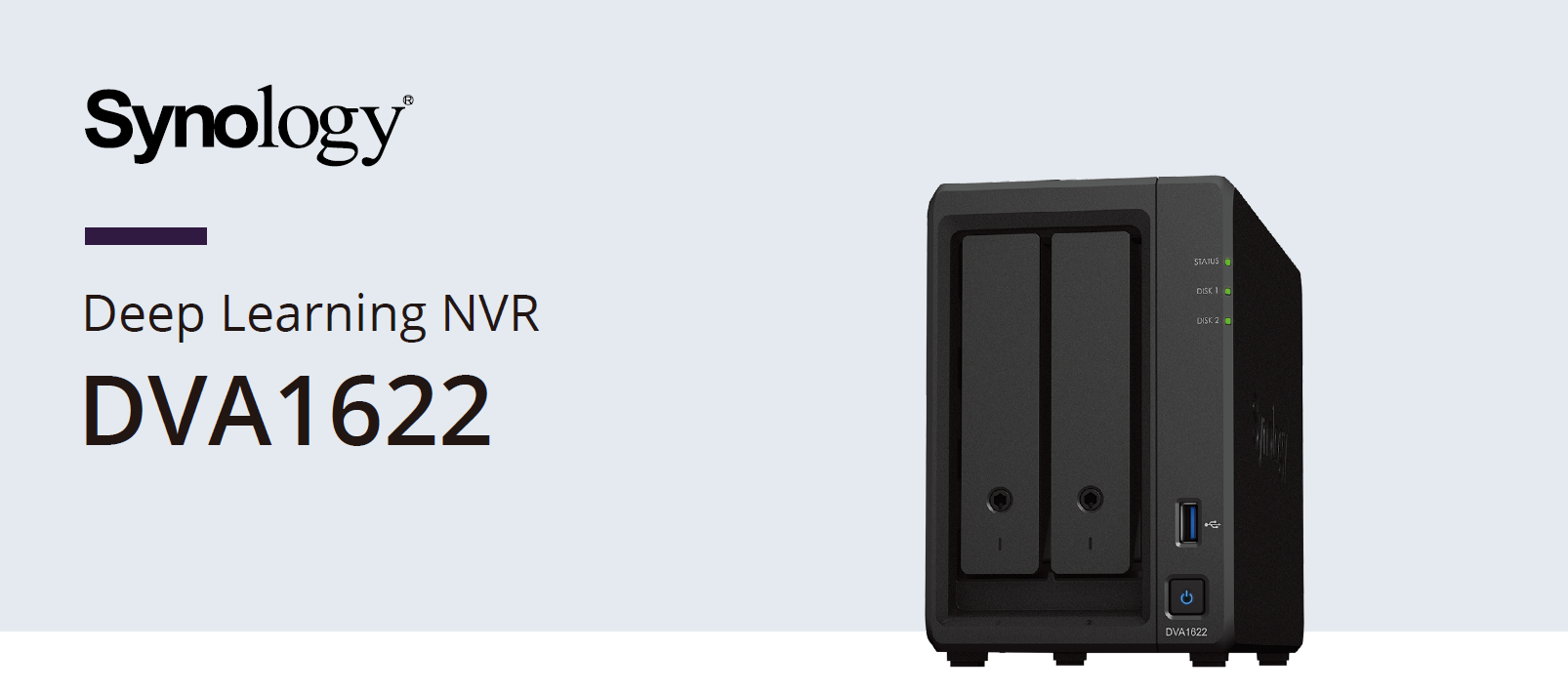 On June 1st, we can expect the new dedicated NVR model, DVA1622. This 2-bay surveillance device is powered by deep learning-based algorithms.
It will support people and vehicle detection as well as license place recognition.
Powered by Intel Celeron J4125 quad-core CPU, with Intel UHD Graphics 600, and 6GB of DDR4 memory, with support of over 8300 camera models, this 16-channel device will be more than just your eye in the sky.
It will come with 8 free camera licenses included and you will be able to purchase more.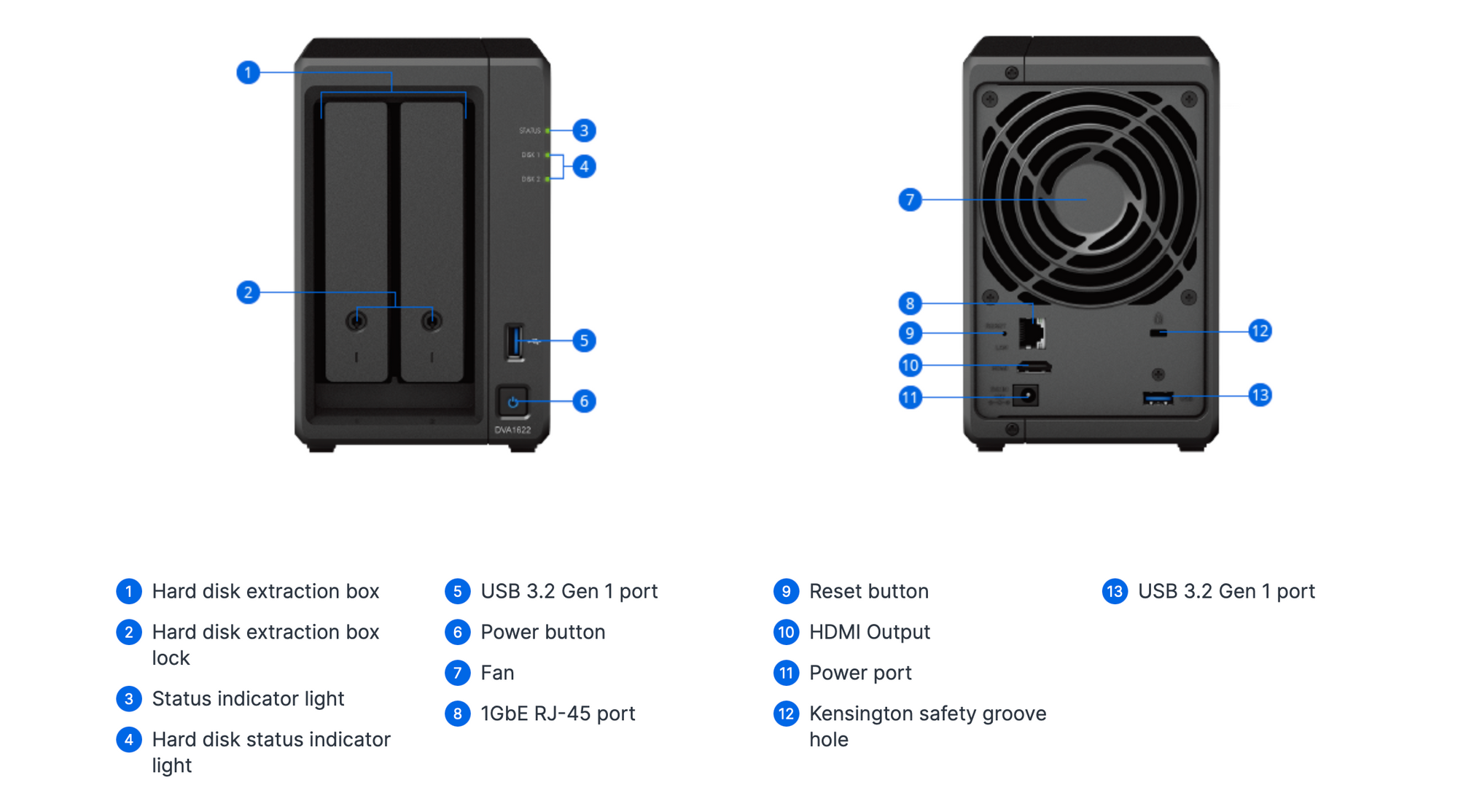 It will also be compatible with the new C2 Surveillance cloud service that Synology recently started to roll out.
---
RS822+

Just as I thought that we have seen the last of RS820+, considering that RS422+ was announced and released, here it is, RS822+.
Similar to RS422+, this 1U AMD-powered NAS will be coming with the same Ryzen V1500B CPU (quad-core) @ 2.2Ghz as well as starting with 2GB of DDR4 ECC memory (up to 32GB).
Unlike the RS422+ and DS1522+, this model will not have 10G capabilities using the new custom E10G22-T1-mini card, but a classic PCIe Gen3 4-lane x8 compatible cards such as E10M20-T1 (M.2 SSD + 10G combo) or any 10/25G adapter cards from Synology's current lineup.
From expansion side of things it will support up to one (1) eSATA connected RX418 for a total of 8 drives. Speaking of drives, Synology will favor their 2,5" SAT5200 or 3.5" HAT5300 drives.
⚠️
3rd party drives will be supported, but be sure to check the compatibility list, once the unit is released or whenever you are in the market for one!
Apart from the optional 10/25G network options, the NAS comes with 4x1G ports for multiple combinations when it comes to LAG configuration. This device has no 2.5G ports by default, but with the upcoming DSM 7.1 SMB multichannel support, those speeds will be possible without spending any extra money on addon cards.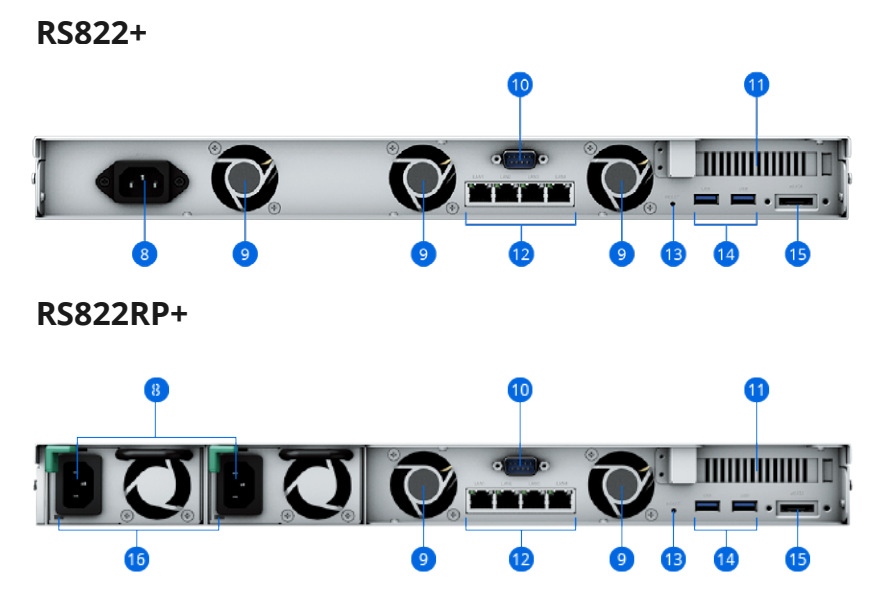 Datasheet will be added once the model will be officially released.
---
RS422+

By the looks of it, not the last RS unit that will be coming out in 2022, but on June 1st, the RS422+ will. From the specification side of things is following in the steps of the DS1522+ but then again not really an upgrade to the existing RS820+.
Just like DS1522+, this RS unit will have an AMD Ryzen R1600 dual-core (4-thread) @ 2.6Ghz CPU with 2GB of DDR4 ECC memory. As opposed to the RS820+, RS422+ will feature 2x1G LAN ports and no option for an expansion unit.
Again, like DS1522+, Synology has decided to add an option in terms of a network upgrade module. RS422+ will have an option to be upgraded with a new upcoming mini 10G (RJ-45, not SFP) card (E10G22-T1-Mini).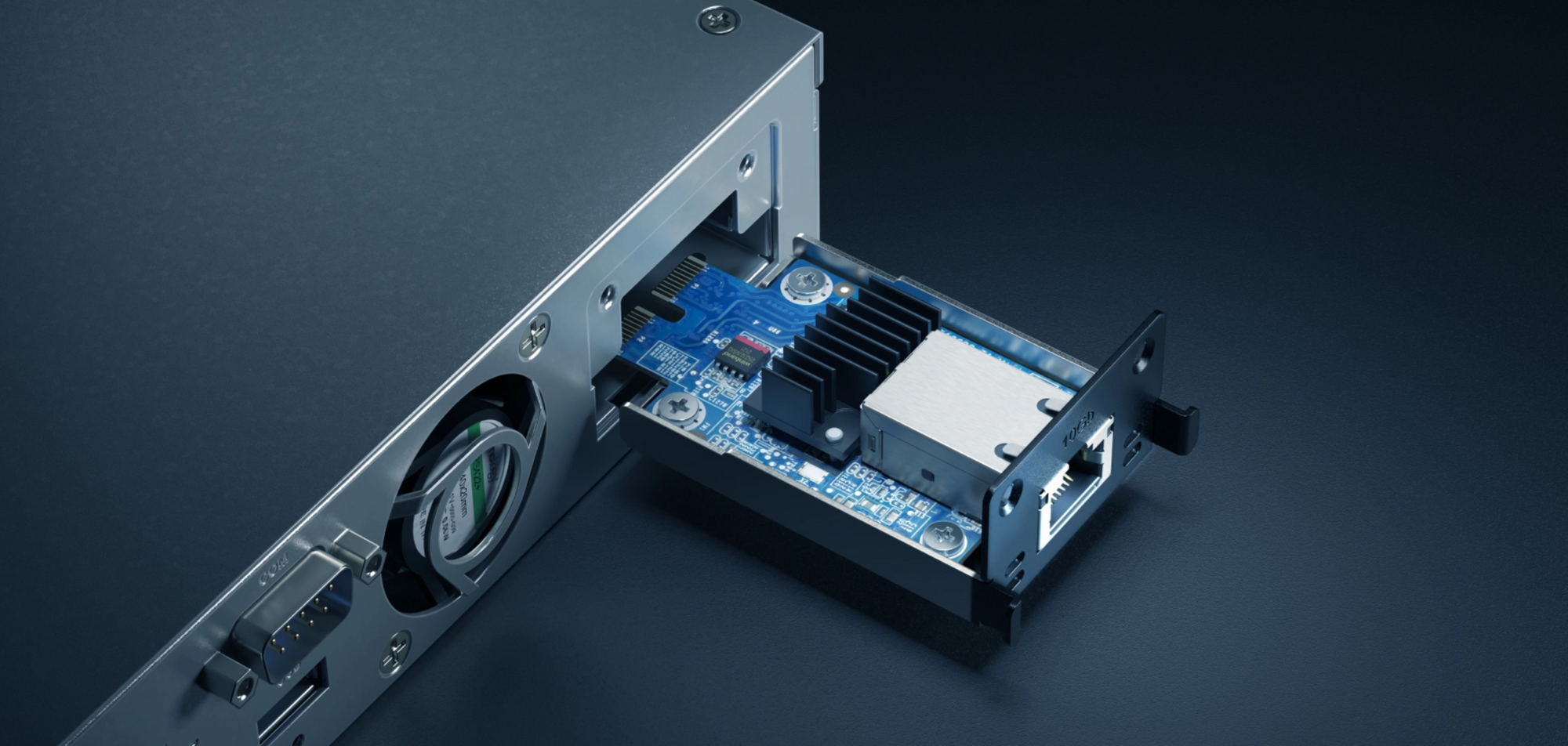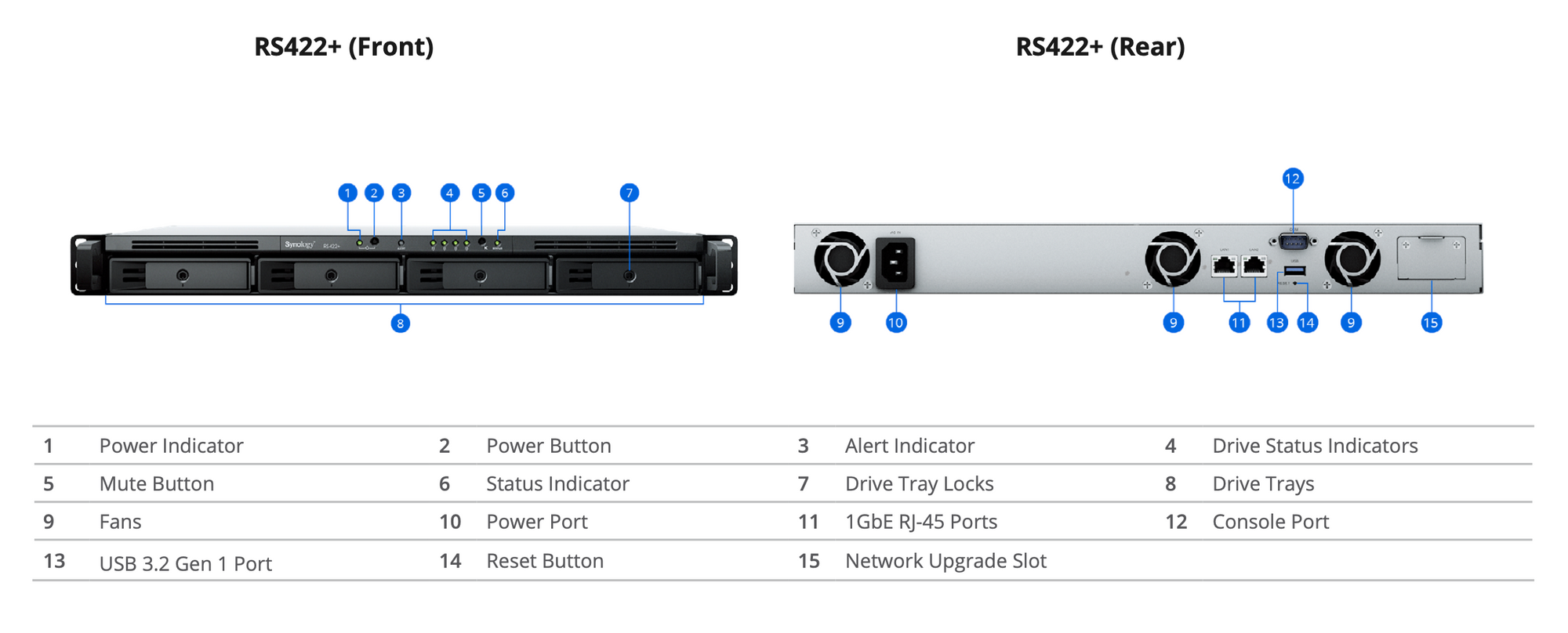 So, if you are in the market for a 1U rack 4-bay model NAS that has a 10G option and are not looking towards Plex needs (AMD does not play when it comes to HW transcoding), RS422+ might be the NAS for you.
---
DS1522+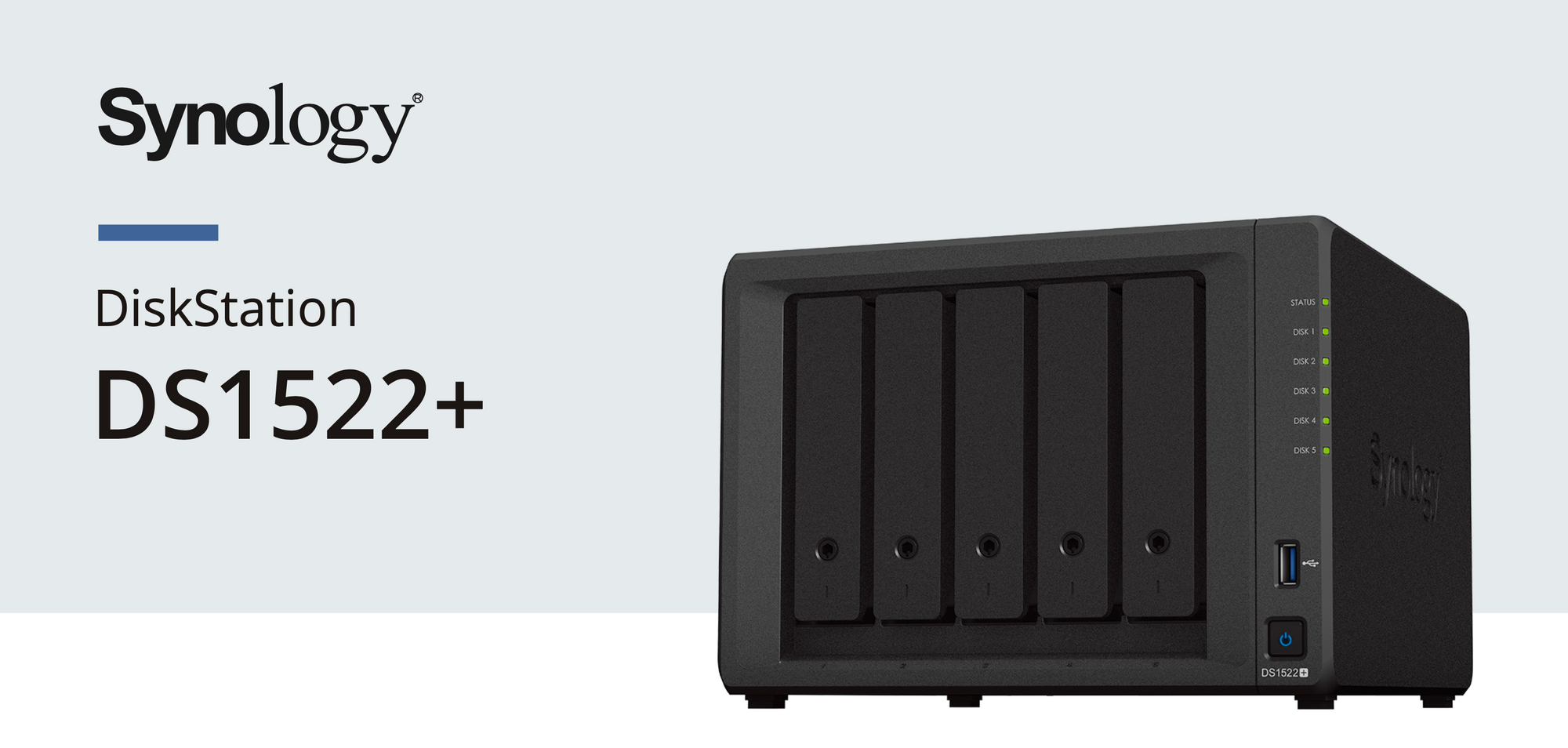 Summertime usually means new NAS models. Well, here we have a DS1522+. As an upgrade to the current DS1520+, this 5-bay is a bit different.
Packing under the hood is an AMD Ryzen R1600 dual-core (4-thread) @ 2.6Ghz CPU with 8GB of DDR4 ECC memory (expandable up to 32GB). This model will also feature 2x M.2 2280 slots for your NVMe cache needs, and 4x1GB LAN connectors.
Yes, 1G, you read it correctly. But, to make this sting a bit less, unlike 1520+, 1522+ will come with a network upgrade slot allowing it to be upgraded with an upcoming mini 10G RJ-45 network module (images above). So, if you are looking for a smaller DS model (and cheaper) than DS1621+ or xs+, which has 10G, 1522+ might be just the unit for you.
Just as the previous model, it will also support up to two DX517 units for a total of 15 drives.
Do keep in mind that this model will probably fall under the new HDD compatible policy, so be sure, when the time comes, to check the officially supported drives.
On a personal note, this model will not be PLEX friendly when it comes to HW transcoding, so bear that in mind if you are going for that particular feature.
---
DS3622xs+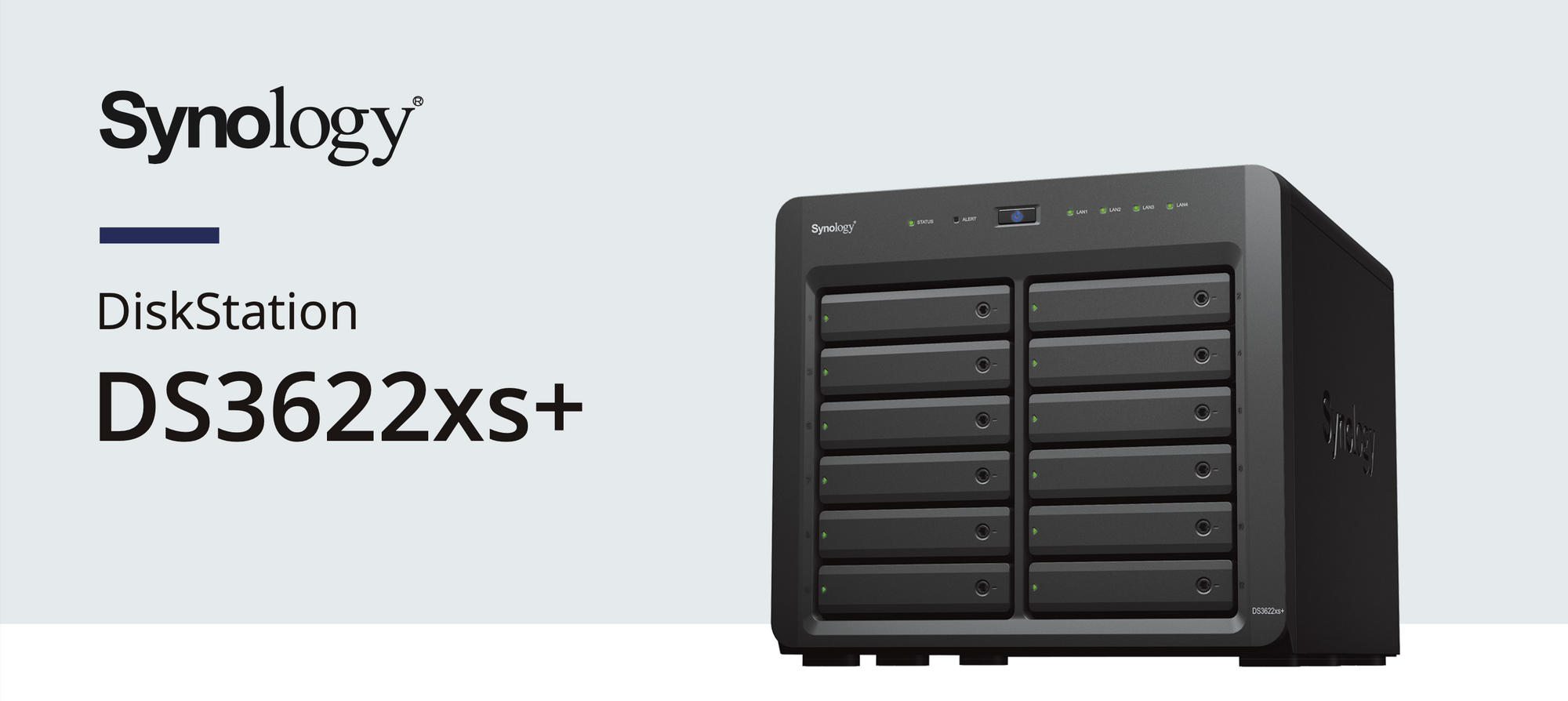 A successor to the great DS3617xs and 3617xsII, the new 12-bay 3622xs+ comes as a great step up to those two devices.
Powered by Intel Xeon D-1531 6-core 2.2/2.7Ghz CPU this model now comes with dual 10Gbit 10GBASE-T ports as well! Finally!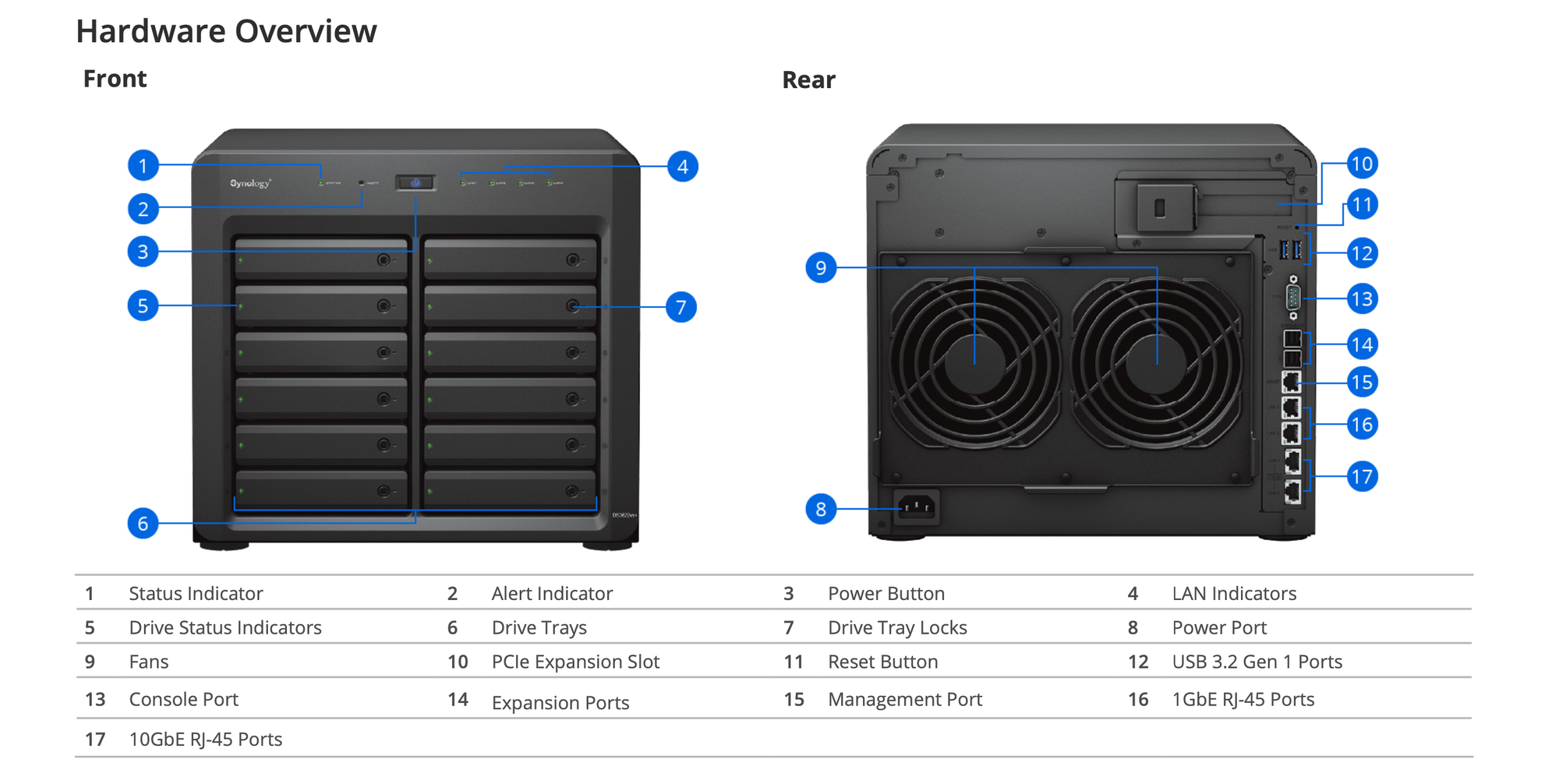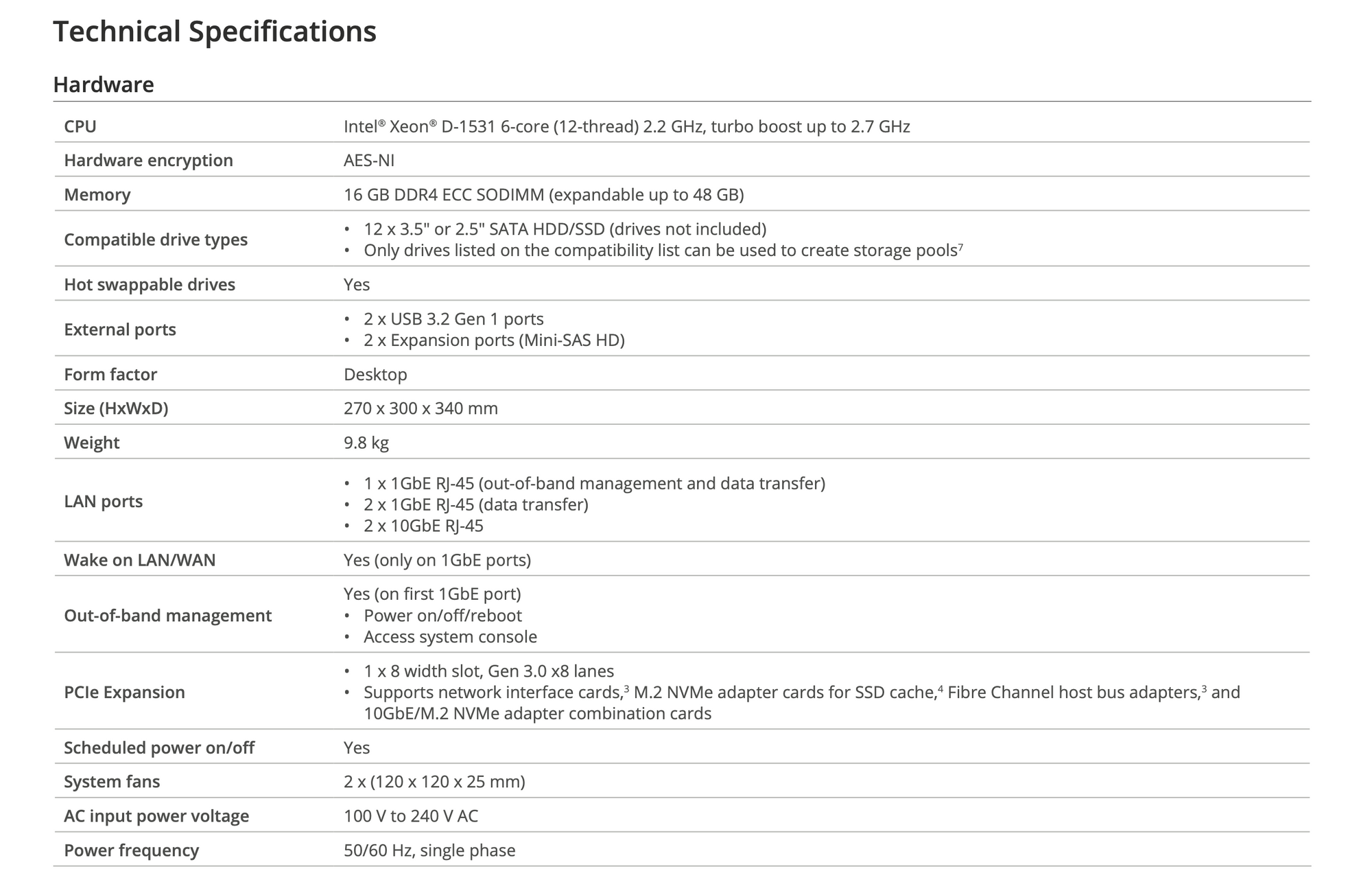 The rest of the specs are the same as the current 3617xsII model, and as well, come with a 5y warranty.
Hard disk compatibility is as expected, all in favor of Synology official drives, so be sure to keep an eye out on the compatibility list

---
DS2422+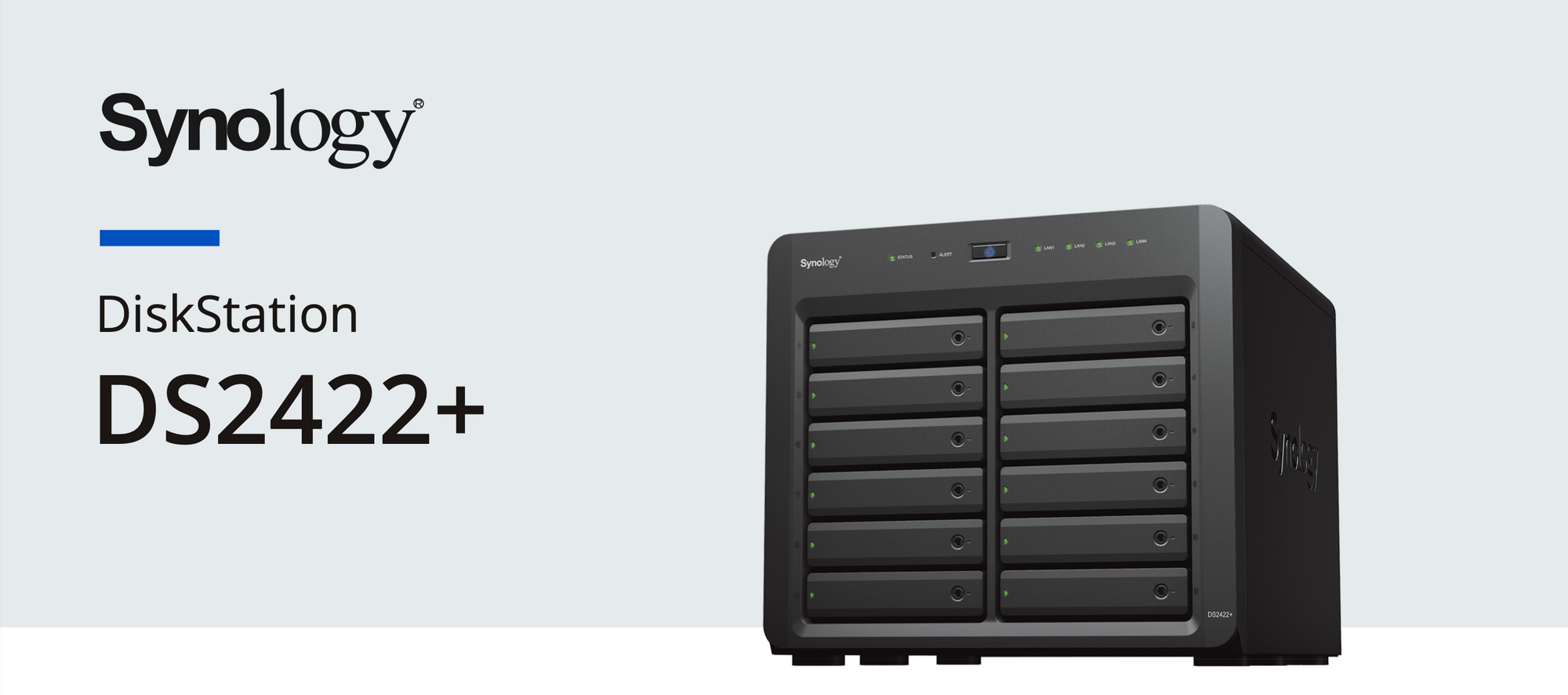 Another follow-up model to the current DS2419+ is the new 12-bay DS2422+. Regarding specs, it is equipped with the familiar AMD Ryzen V1500B CPU and supports up to 32GB of RAM. This model does not have any 10Gbit LAN ports by default but comes with standard 4x1Gb LAN interfaces. Still, it has a PCI Gen 3 x8 slot that will allow for expansion cards, including 10G if you need it.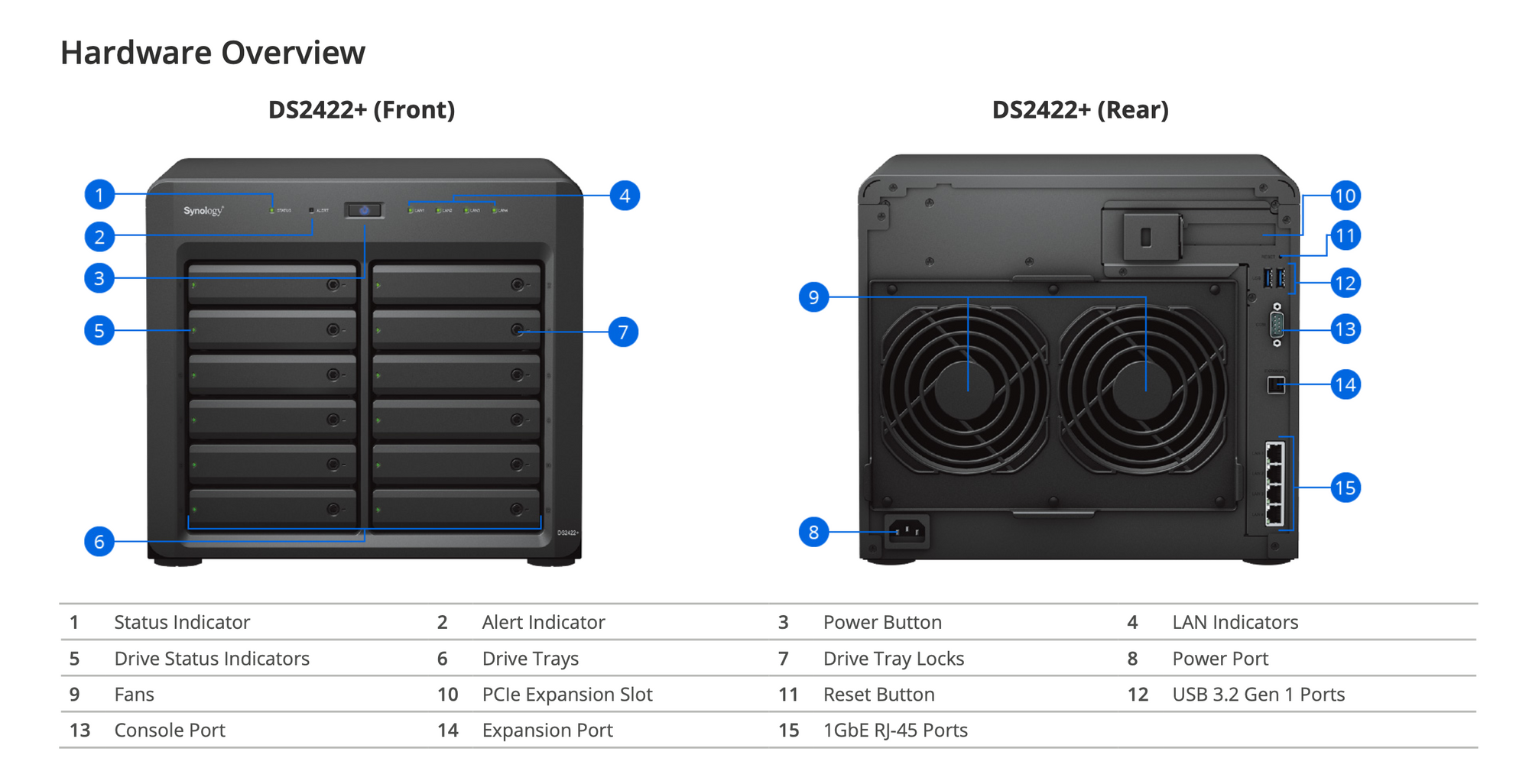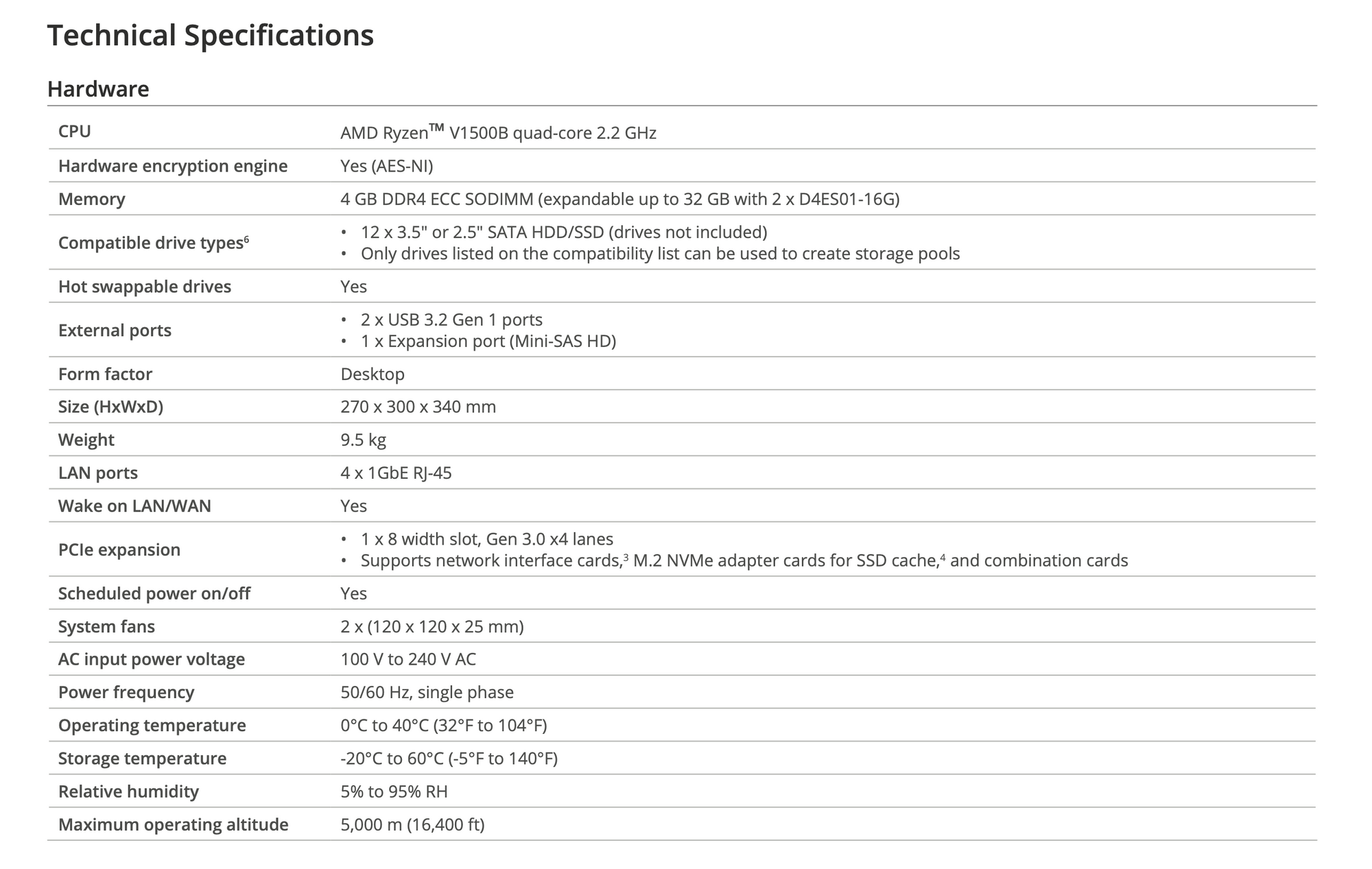 This model comes with a 3y warranty that can be extended to a 5y model.
Same as DS3622xs+, DS2422+ also, at the moment, only lists Synology official drives as the only compatible ones. This does not mean it will not work with unsupported ones, or that more drives will not make the list, but at the moment it is what it is.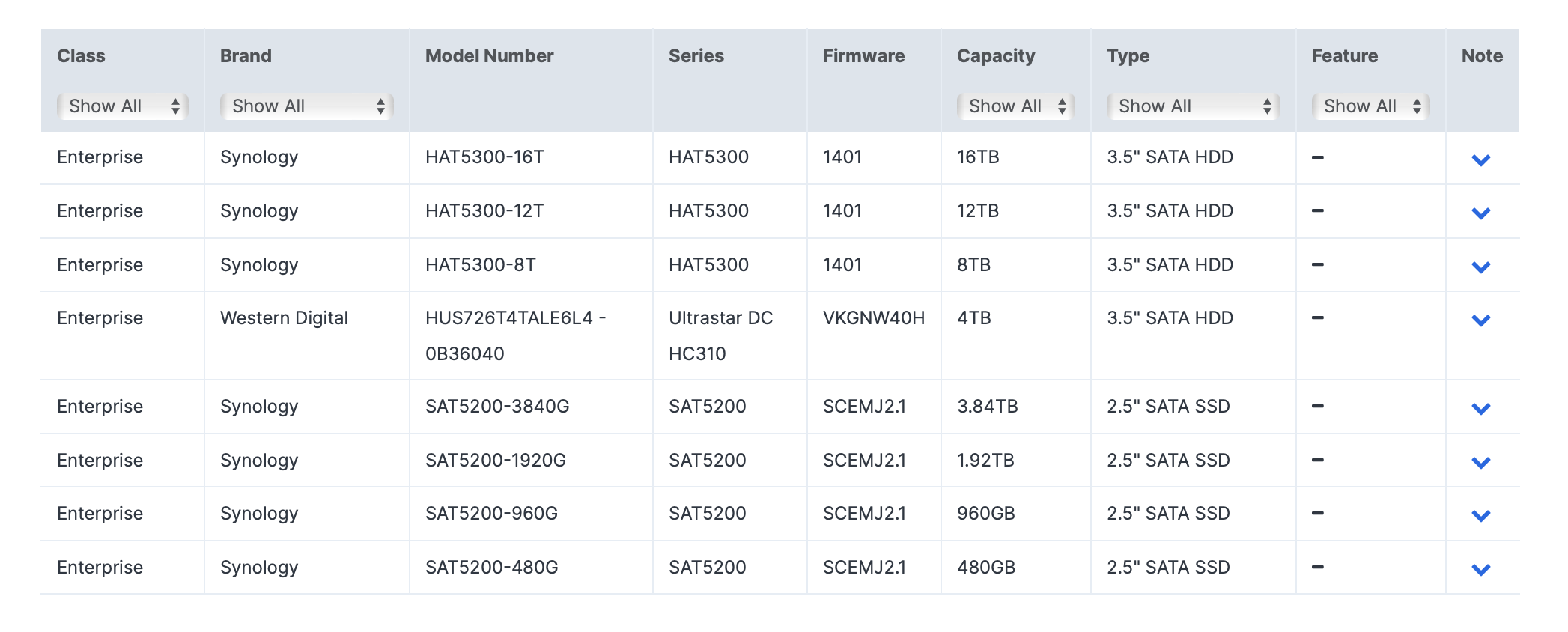 ---
DX1222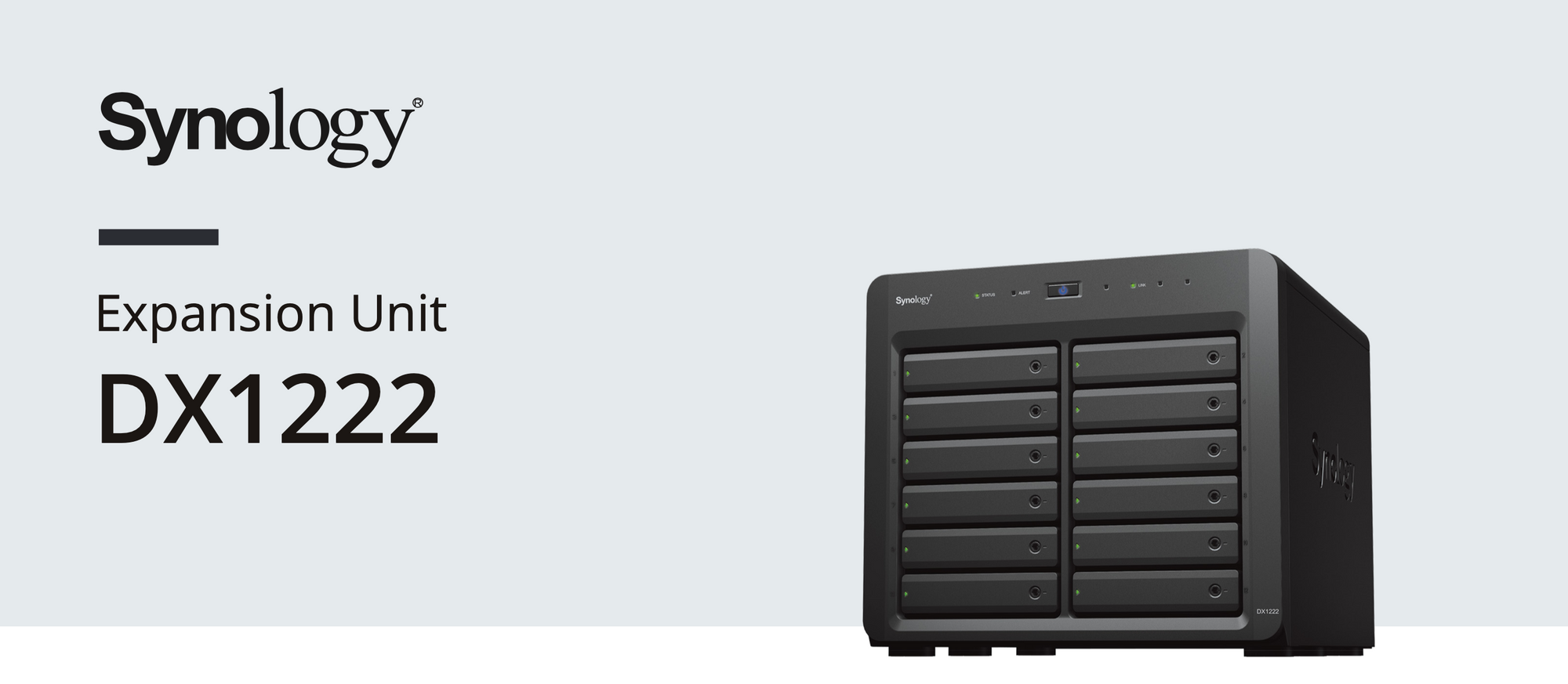 This is the new 12-bay expansion unit compatible with both DS3622xs+ and DS2422+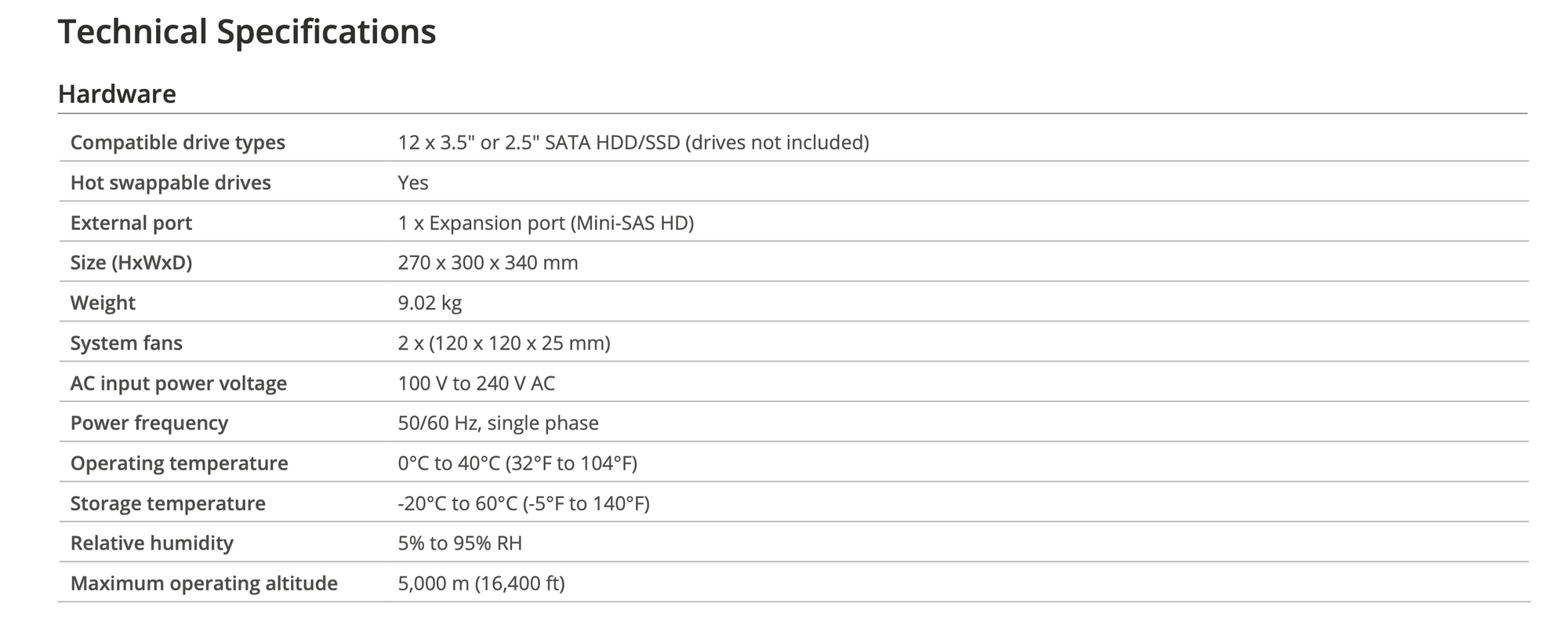 Considering that this DX1222 can, at the moment be paired only with the units above, same goes with HDD compatibility, Synology official drives, all the way. Again, as I said, this might change in the future but that remains to be seen.
---
Price and release date?
Official worldwide release is November 17th 2021. Prices might be similar or higher than their previous models from the same lineup, but the closer the release date comes the more exact the figures will be.