Back in the day, Synology was just making hardware and software as they do now, but then we didn't have all sorts of services, support was really bad, and most apps didn't offer licensing models.
As they grew, so did the demand for better coordination with their clients, their subscriptions, purchased items, warranties, and above all that, a better way to support users that needed help.
In the past years, Synology started offering more and more "cloud" services of their own, especially with the introduction of DSM 7 and their C2 services. With that in mind, Synology needed a place that will be a single point for their clients to maintain all their information, but also something that will be a single sign-on method for logging, and connecting their services and products.
Enter, Synology Account.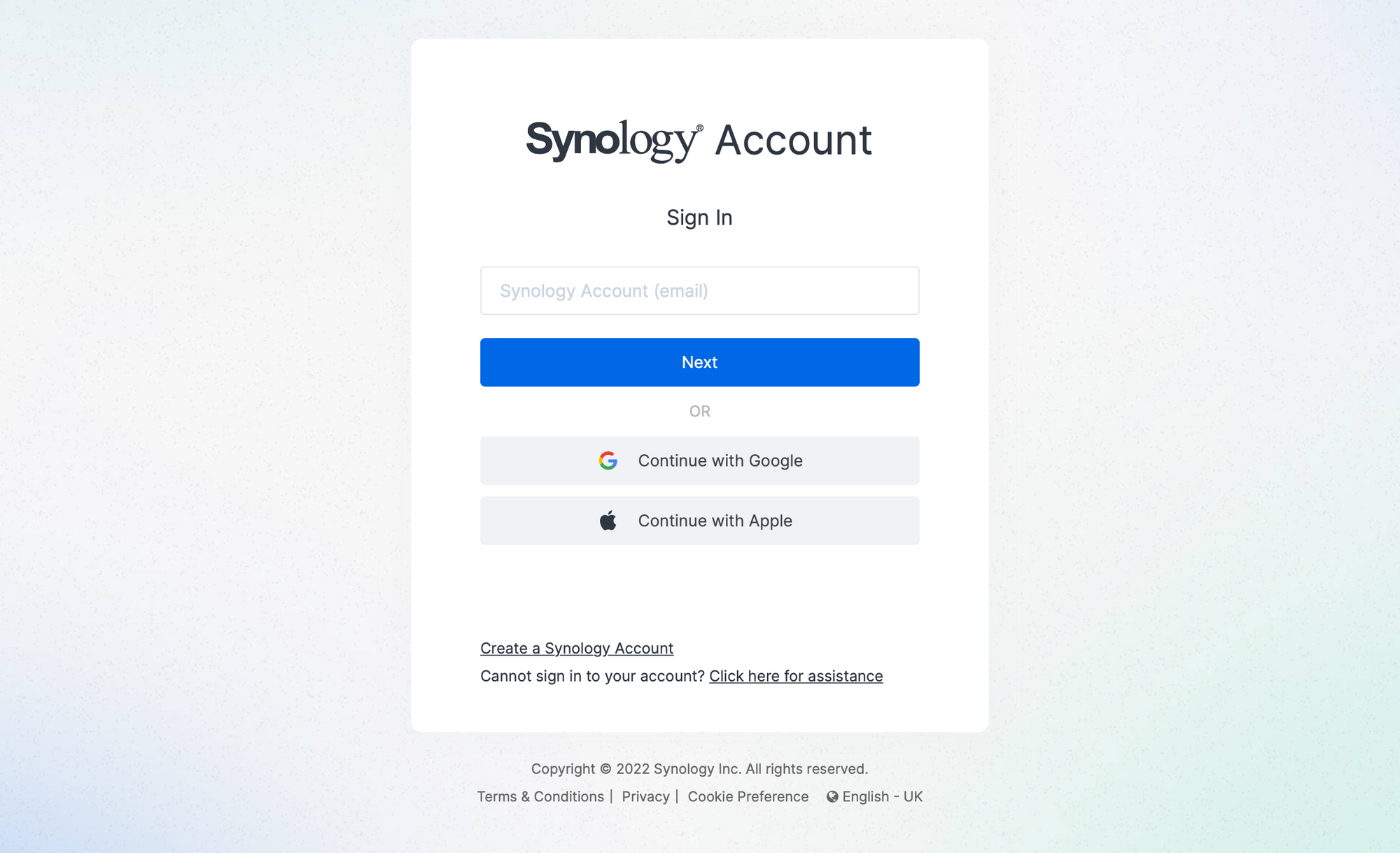 Synology Account - one stop for all your Synology needs
In the past few days, SA has gotten some updates that are both visual and functional in nature. Following in the steps of Apple, their landing page has had some subtle background color changes, but the main change is inside.
Regardless of that, if you are a Synology NAS, router, or cloud user, the chances are you will get introduced to SA sooner or later.
So what does SA offer, and why do you need it? There are several categories that are directly affected by this service:
The data of related services (including Synology C2 Storage, Active Insight, configuration backup, and Secure Signln) will be deleted permanently.
Purchased licenses will be deactivated.
QuickConnect and DNS will be unregistered.
Technical support services will be unavailable.
Synology News subscription will be canceled.
If by now you have never used any Synology products some of the terms here might sound unfamiliar and strange. However, with the large number of options to choose from, you might start using some of them from day one, while others will never be on your list.
Account creation
There are multiple ways to get started with SA creation. You can create it yourself upfront by visiting https://account.synology.com page, or you will be redirected to one from any number of apps and services that Synology devices and platforms offer.
In any event, you will land on the creation page that will in a few short steps create an account for you.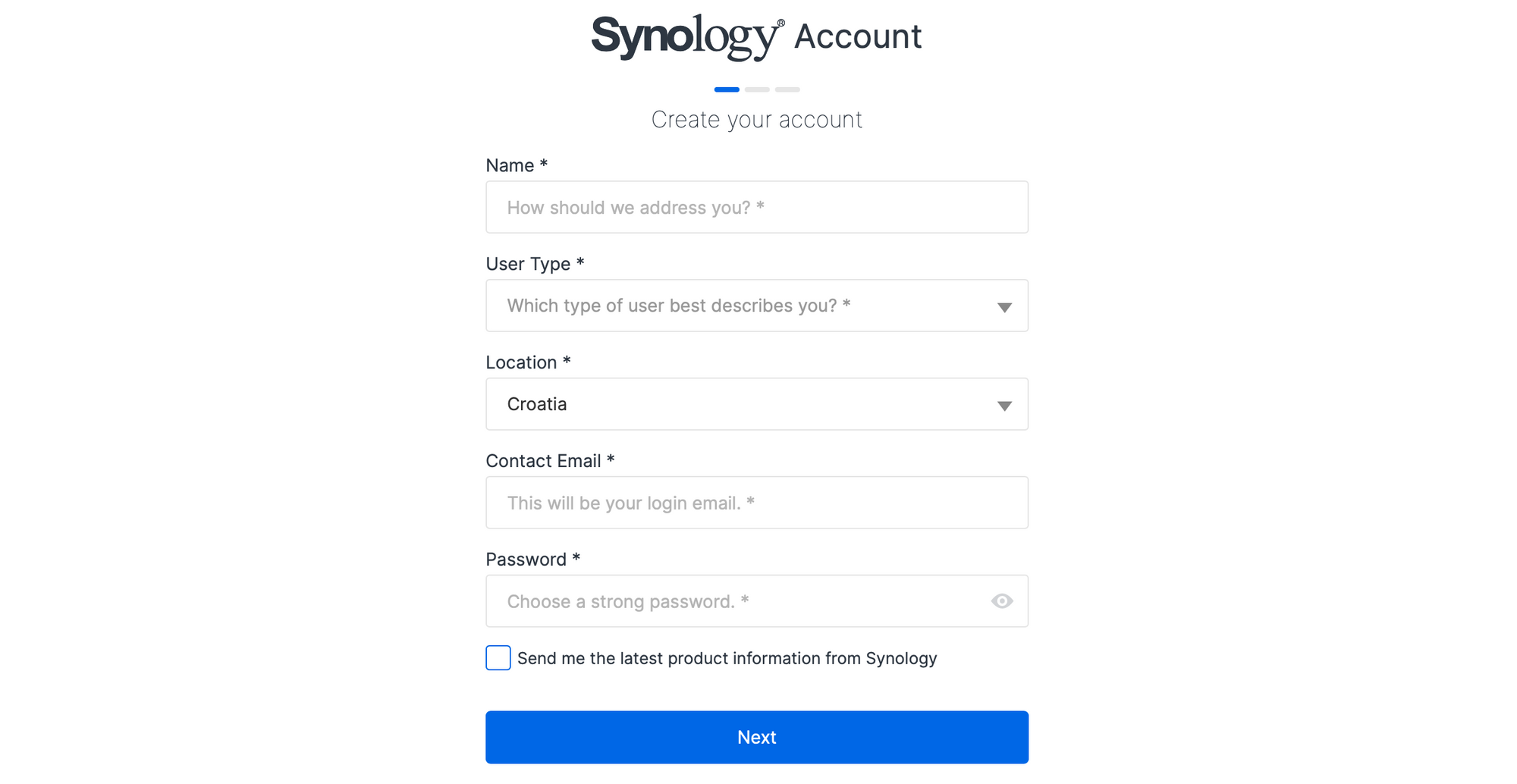 After you have confirmed your email address with a one-time password, you are good to go and will be redirected to your main SA dashboard.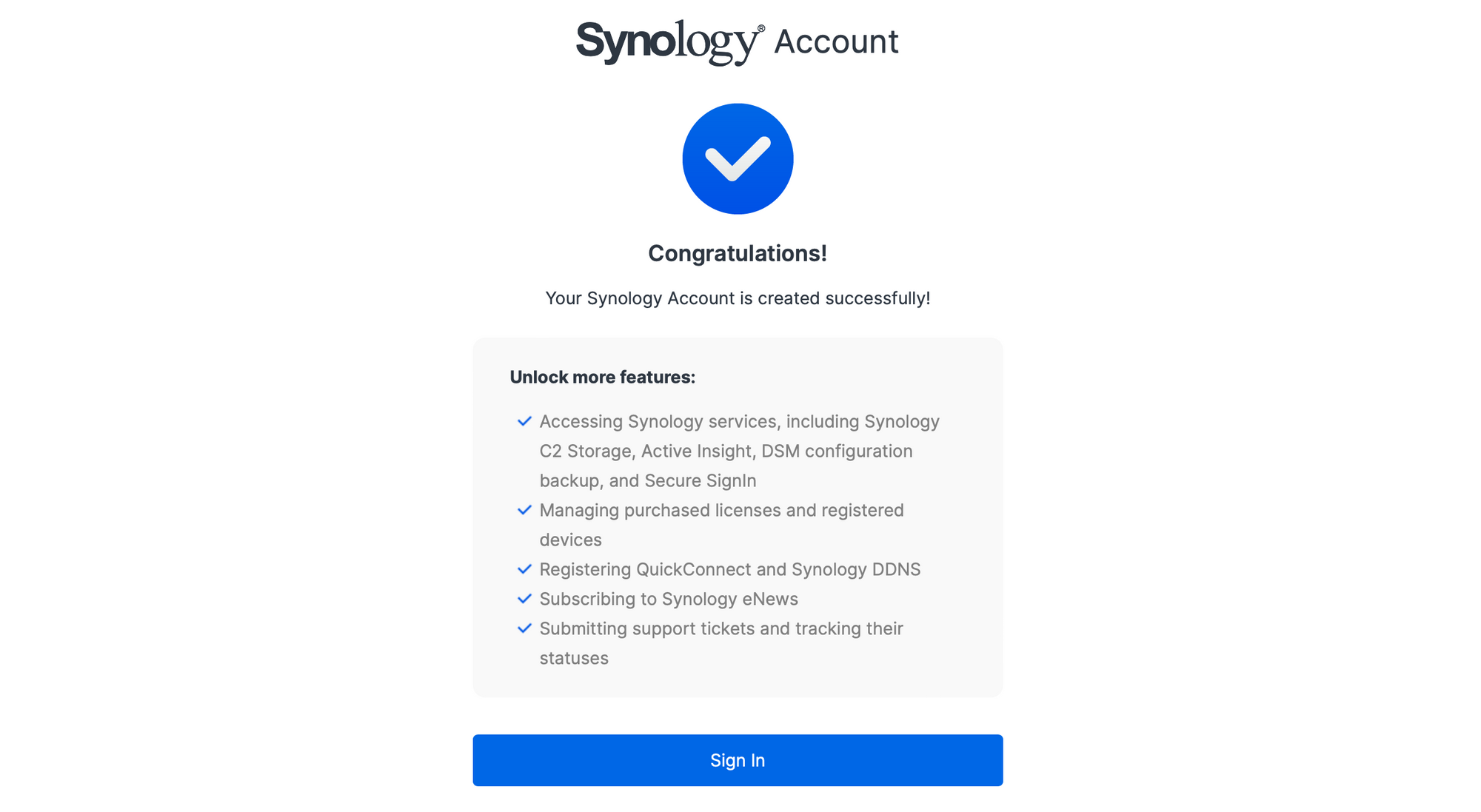 If you do not want to use Synology Account, or have made it with incorrect information, or you simply want to make it at a later date, you can delete it, and it will be removed in the next 10 days.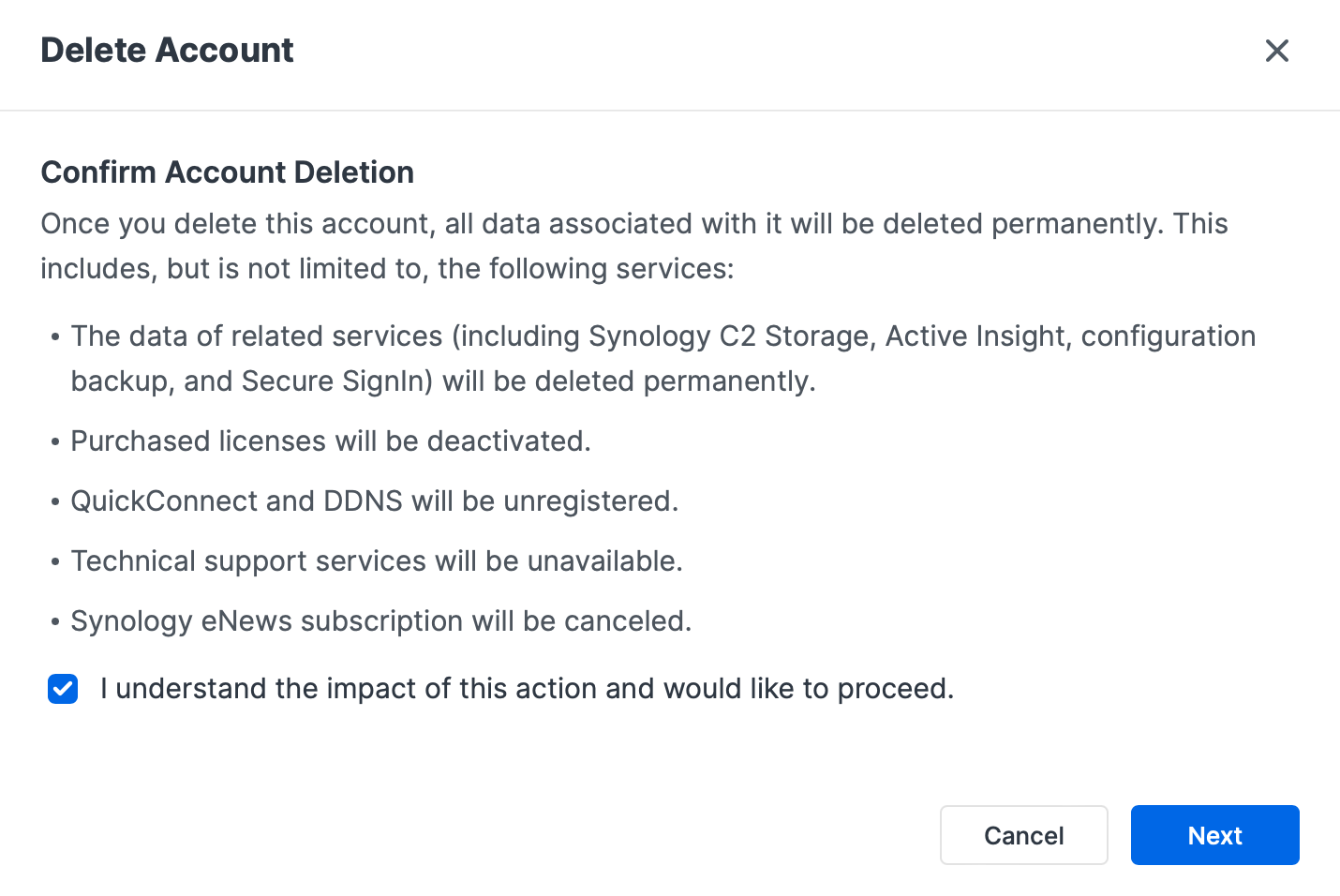 Synology Account dashboard and functions
Logging into your SA account will allow you access to the new redesigned dashboard presenting a quick overview of your Synology services and devices in use.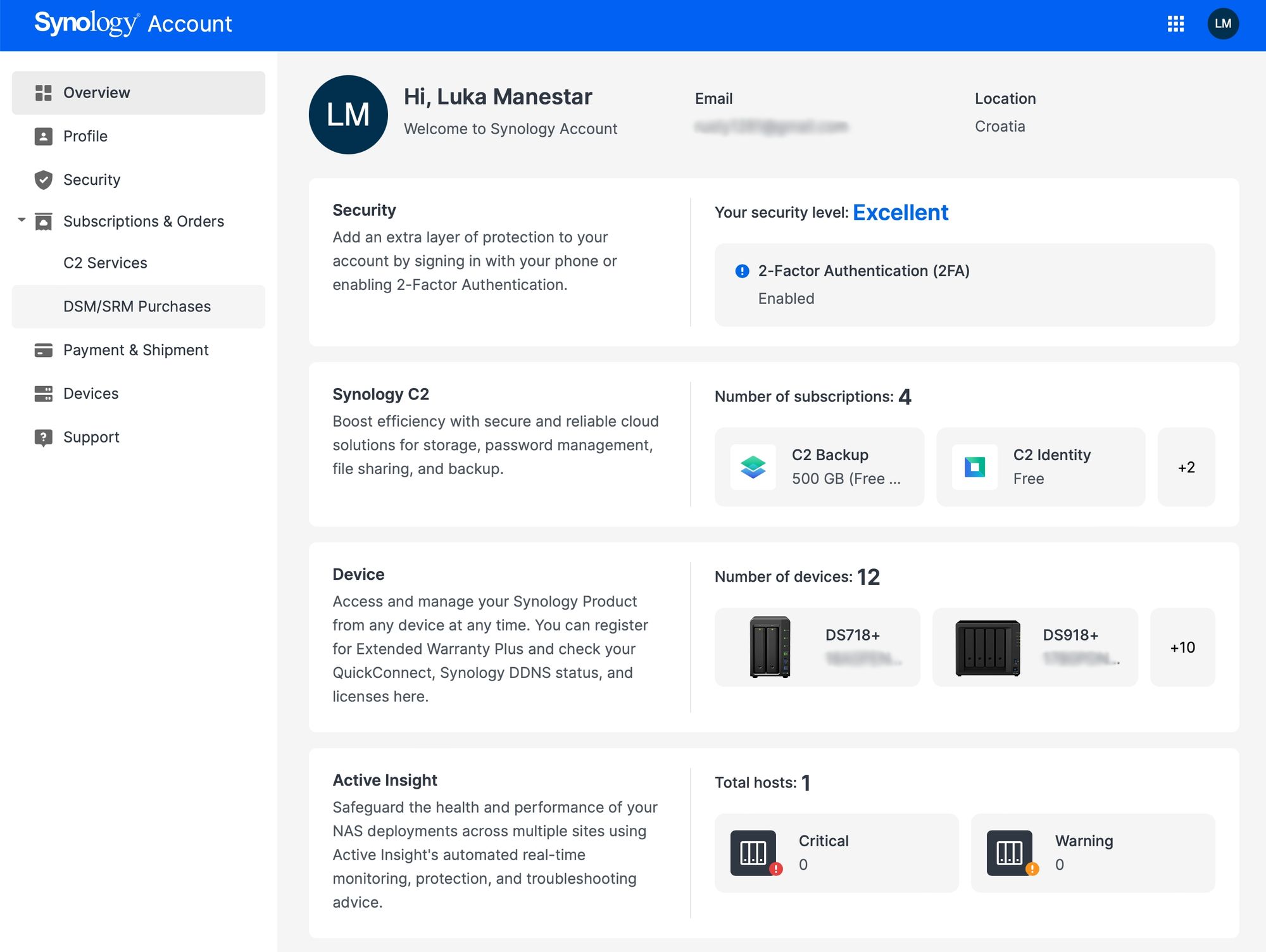 On top of that, you will have the option to take a deeper look into each section. starting with Profile and Security. Apart from expected elements that you can change, such as your name, email, address, etc, in the security section, you will have the options to change your password as well as configure the 2FA option or Synology's new Secure SignIn.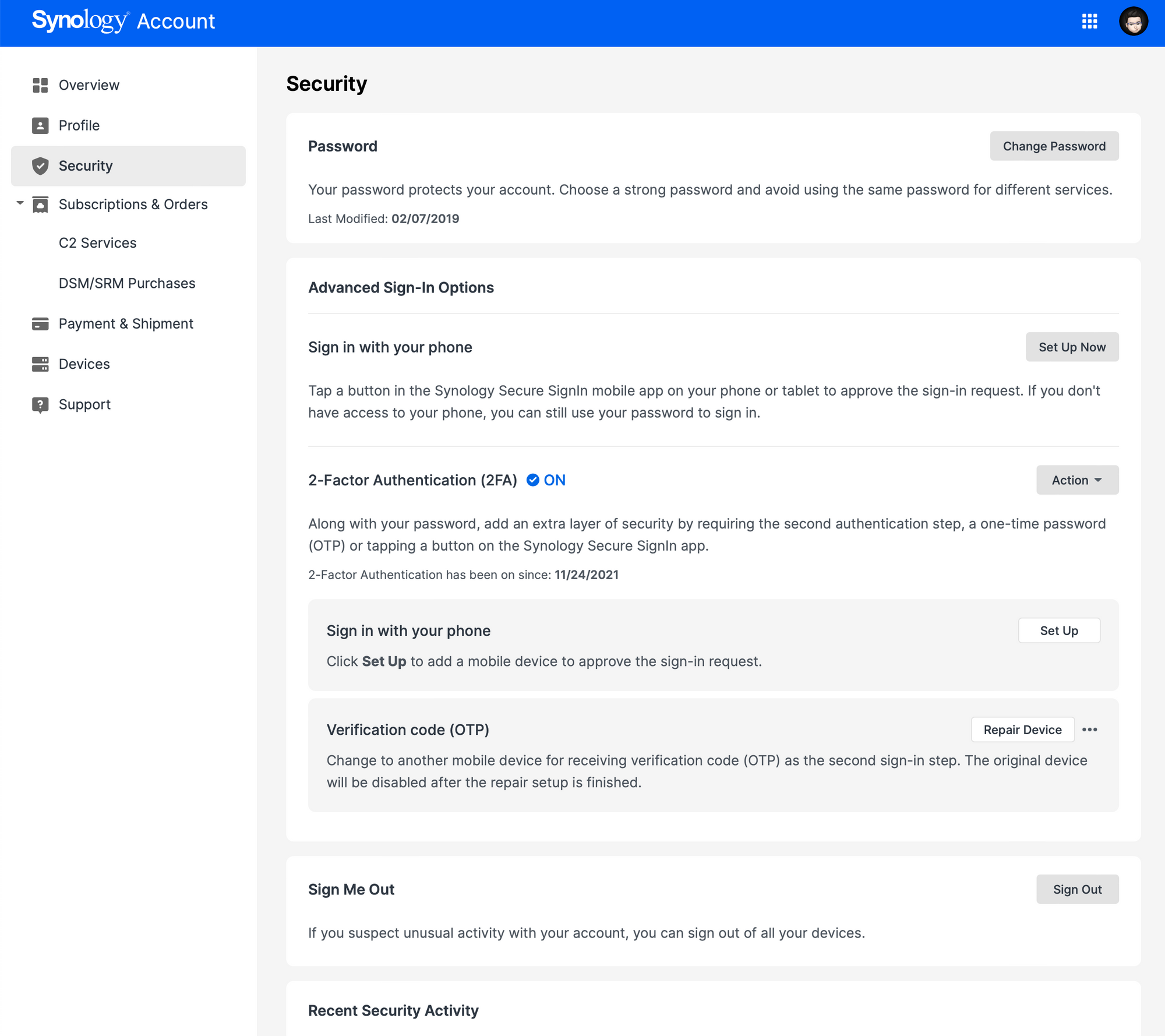 The new addition to SA is the option to have an overview of your C2 services and their status. As I said before, the whole idea behind SA was to offer SSO functionality for the users and have a single reference point to all Synology services and devices.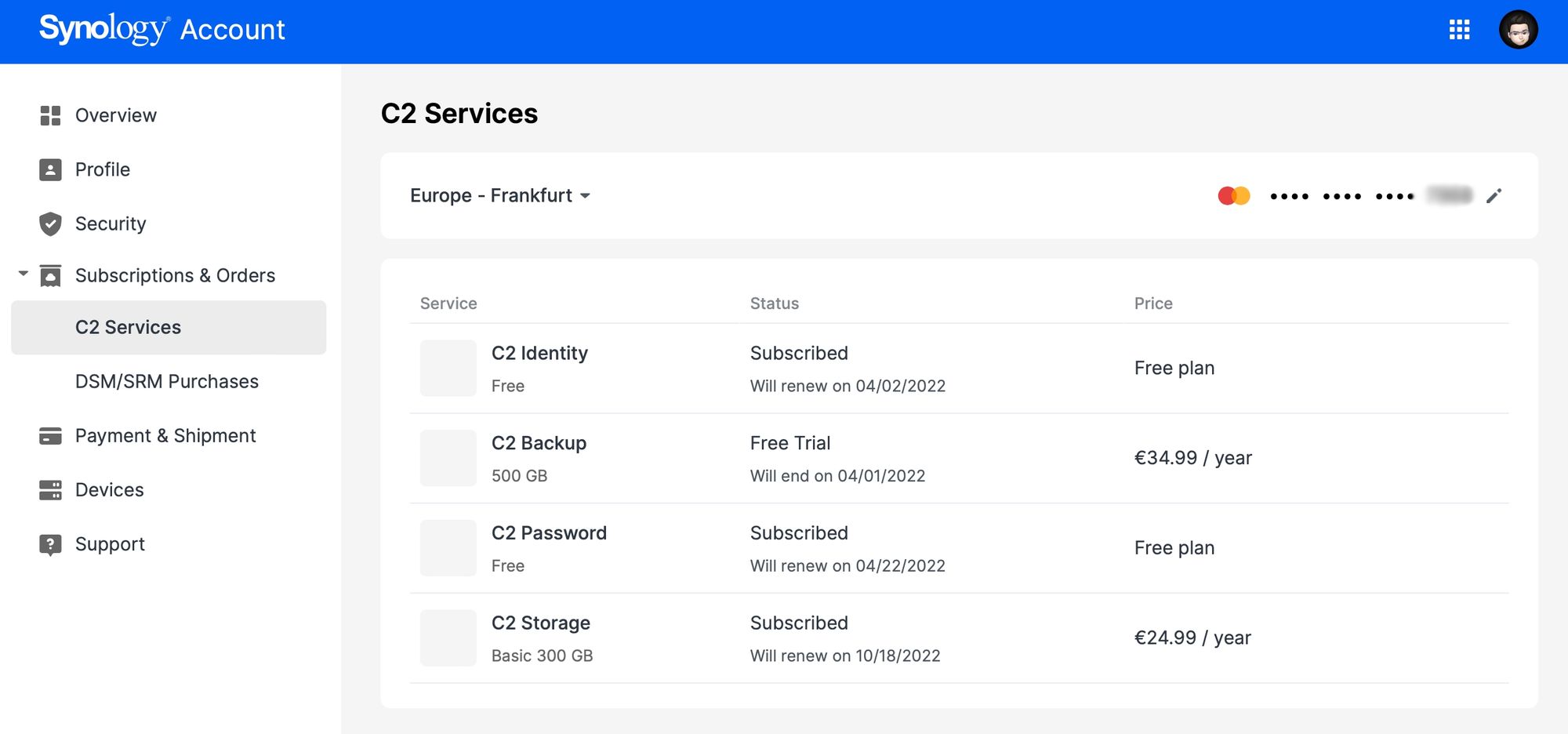 If you have purchased any in-app options using the Package Center, or maybe extended a warranty for any of your devices, that information will also be included in a section of its own. You will be also able to pull the invoice for a particular transaction.

Just like your current active C2 subscriptions, SA offers a detailed look into your devices as well. This will include NAS, VDSM (virtual DSM instance), as well as any router that you might have.
The detailed view will show also external access via QuickConnect or DDNS as well as active licenses.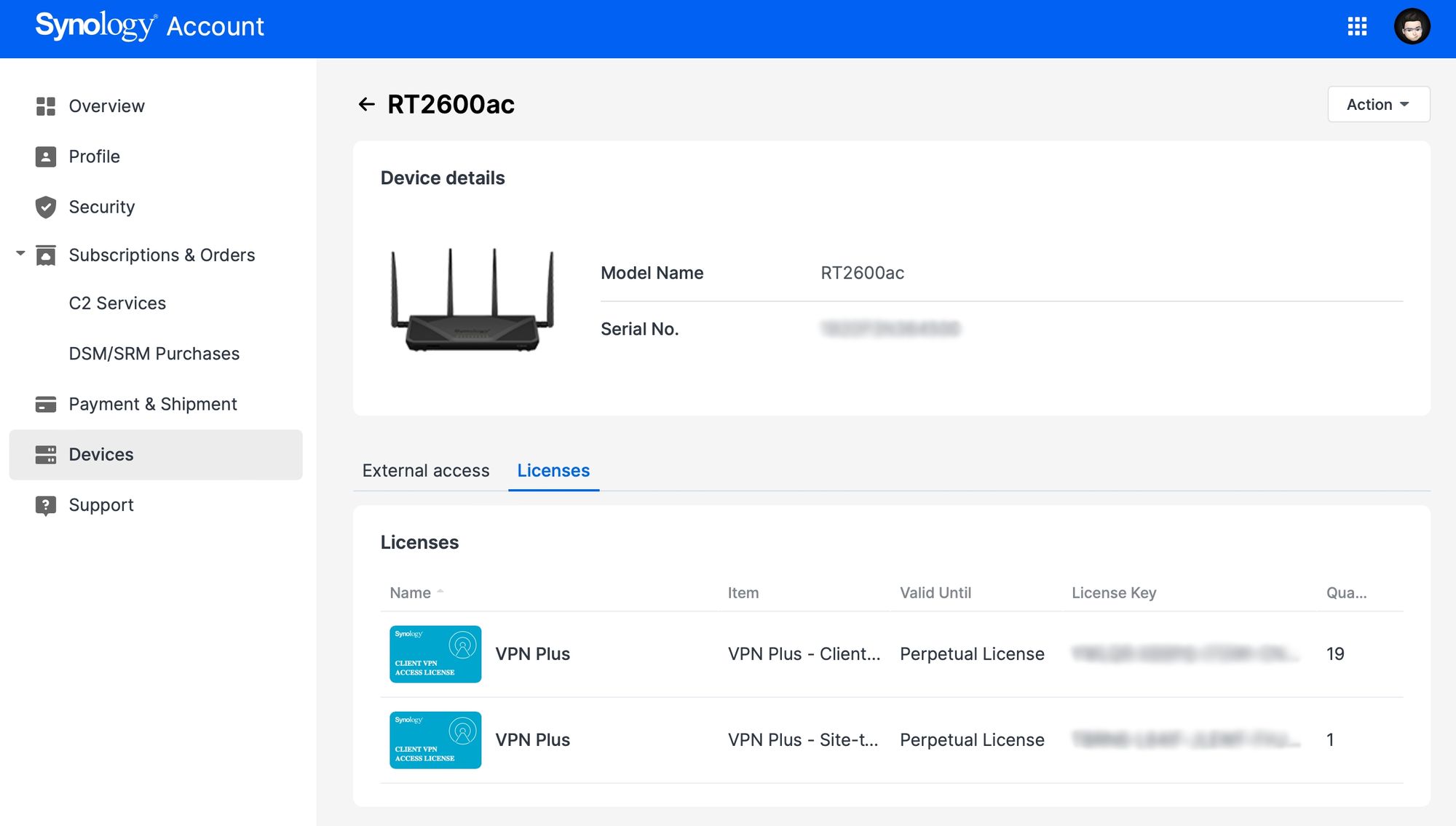 One last thing in this section is the fact that you will have an overview for any NAS that you have registered with Synology's new platform, Active Insight. At this present moment it is still free to use with no paid tier options, but that will change in the future for sure.
🗒️
NOTE: Keep in mind that only DSM 7 devices will be compatible with AI! DSM 6 devices can use AI to ship metrics that will be used when opening a support ticket, but you will not see the device inside the AI interface, as well as any of the metrics.
Finally, one of the main and most often used elements of SA, support tickets. Yes, any problem that you might have with either a device or a service you will have the option to submit a ticket and stay in communication with Synology support on the matter.
I have to say that the platform for support is stable, very clear, and informative, but still, the response time (in general) could be better (but this will depend on your location in the world).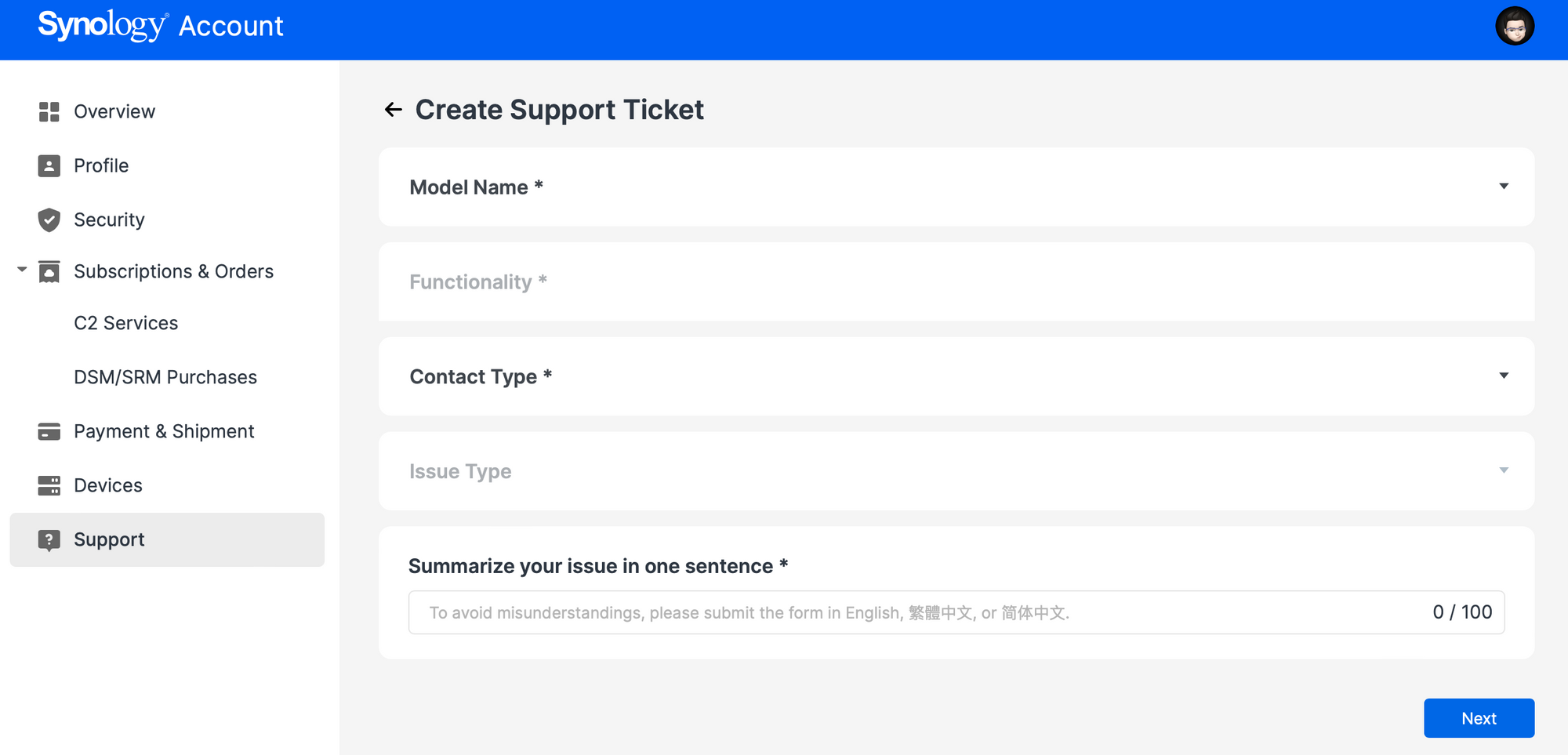 One thing that I didn't mention, was that you will not be able to submit a ticket unless you have a valid C2 subscription or a device registered with Synology (Account), meaning, no free support.
You will be able to get support in that manner (free) using their community forum site, but I wouldn't hold my breath getting any official Synology support staff to engage with your on your specific problem.
Once the support ticket has been issued, you will continue your correspondence using the SA support portal in a shape of an email thread conversation.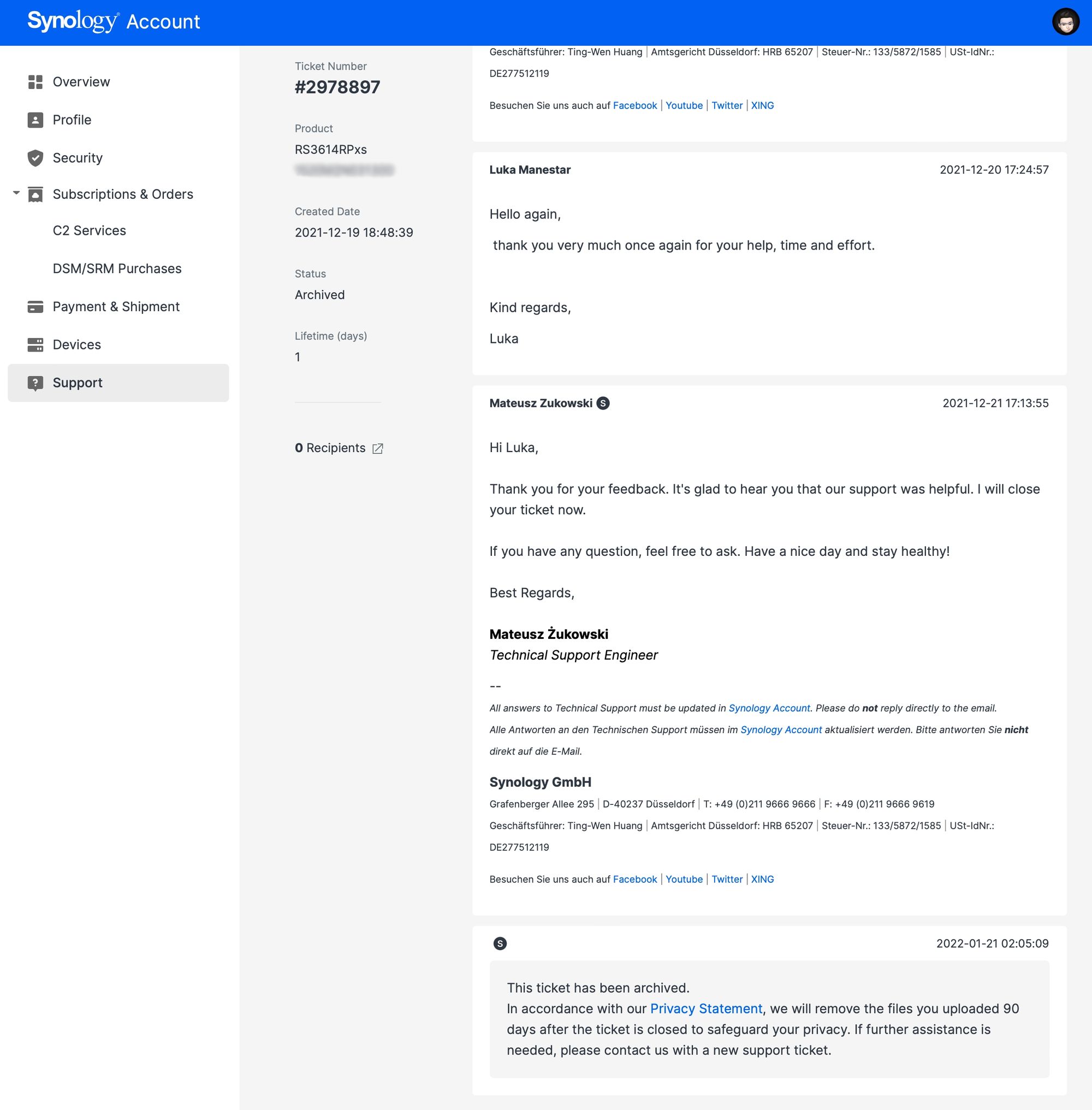 Conclusion
Just wanted to give a bit of an overview of this service for users that might not be familiar with it and in the end to familiar yourself with elements that you will eventually see inside DSM or SRM, as well as some cloud services (if you will use them).
On a personal note, response time on support ticket was always within 24h or less, so can't say that it is too bad. Considering I am not a paying support customer, I would say more then fine. Be sure to protect your Synology account with either Secure SignIn or conventional 2FA solutions, as you start to use more and more Synology services and products. Because SA will cover information on some sensitive data (like serial numbers, subscriptions, and payment options) it would be vise to lock it down as much as possible.