📢
UPDATE
: 19/05/2022 - There is another C2 service coming,
Object Storage
. Still not much is known about it, but I will be expanding on the service as more info starts to surface.
📢
UPDATE
: 05/05/2022 -
NEW C2 Surveillance
service is now live. You can save all your Surveillance Station footage in the cloud as well as your local NAS.
📢
UPDATE: 31/01/2022 - added new pricing and feature list as well as changed the announced "family" tier to the current "Plus"
📢
UPDATE
: 29/09/2021 - New info on the
HybridShare feature
! More details are in a dedicated
article here
.
📢
UPDATE: 29/07/2021 - Added info on C2 Backup prices. The service will roll out at the start of Q4 2021 (no exact date as of yet)
📢
UPDATE: July 22nd 2021 - C2 Password is live!
On June 29th, 2021, we finally got DSM 7 release! With that, Synology has also made a huge change to their C2 cloud platform which has been around for 4 years now.
The fact that they are working on their 3rd world data center in Taiwan, shows that Synology is serious about data protection that we have on our devices, but also with the introduction of new C2 features that they want to offer complete data protection that extends beyond their NAS lineup.
Synology C2, v2.0
Following the release of DSM 7, Synology has also remastered their C2 portal with new details, information, and offers to tools that we haven't had a chance to use before now.

Features are now divided into two main sections, individuals, and business.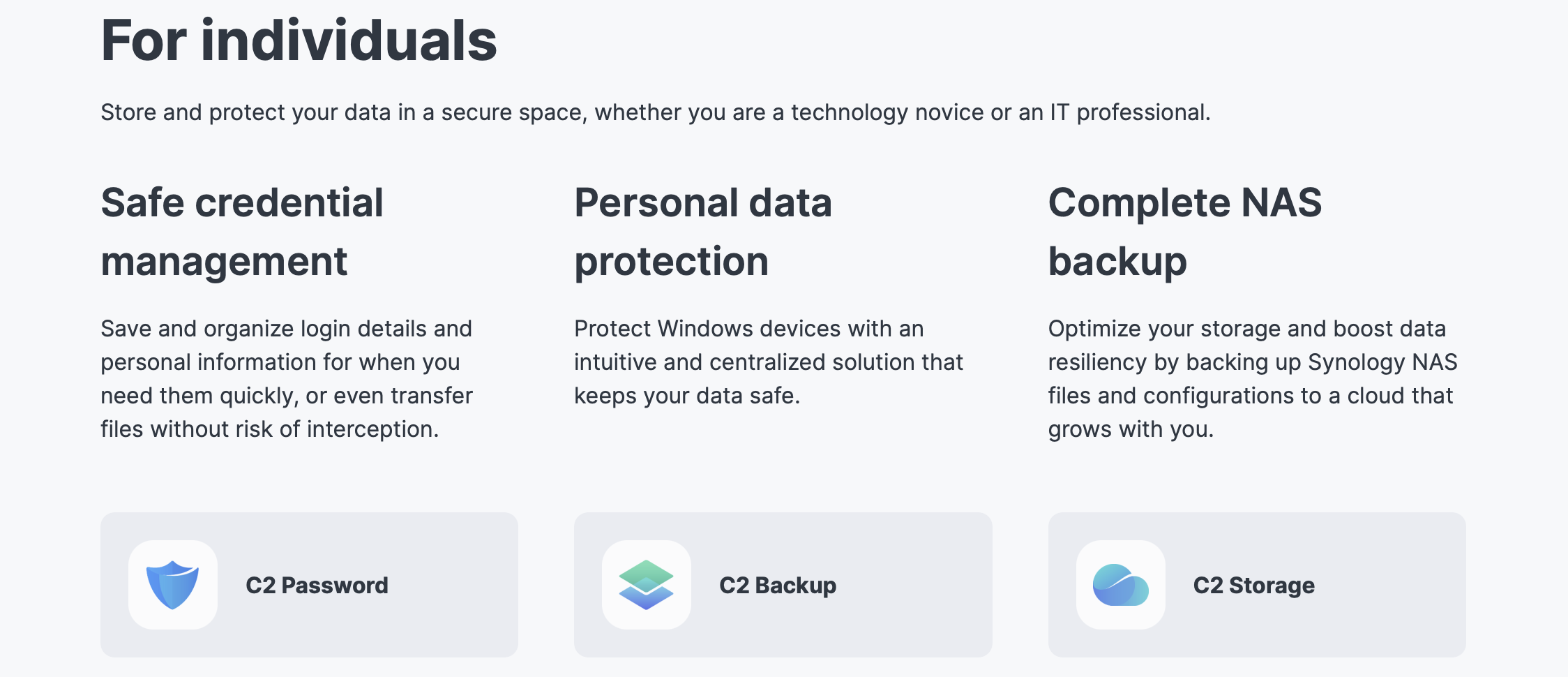 Some features will be present in both tiers (with limitations), and some will be exclusive to the business side of things (paid features).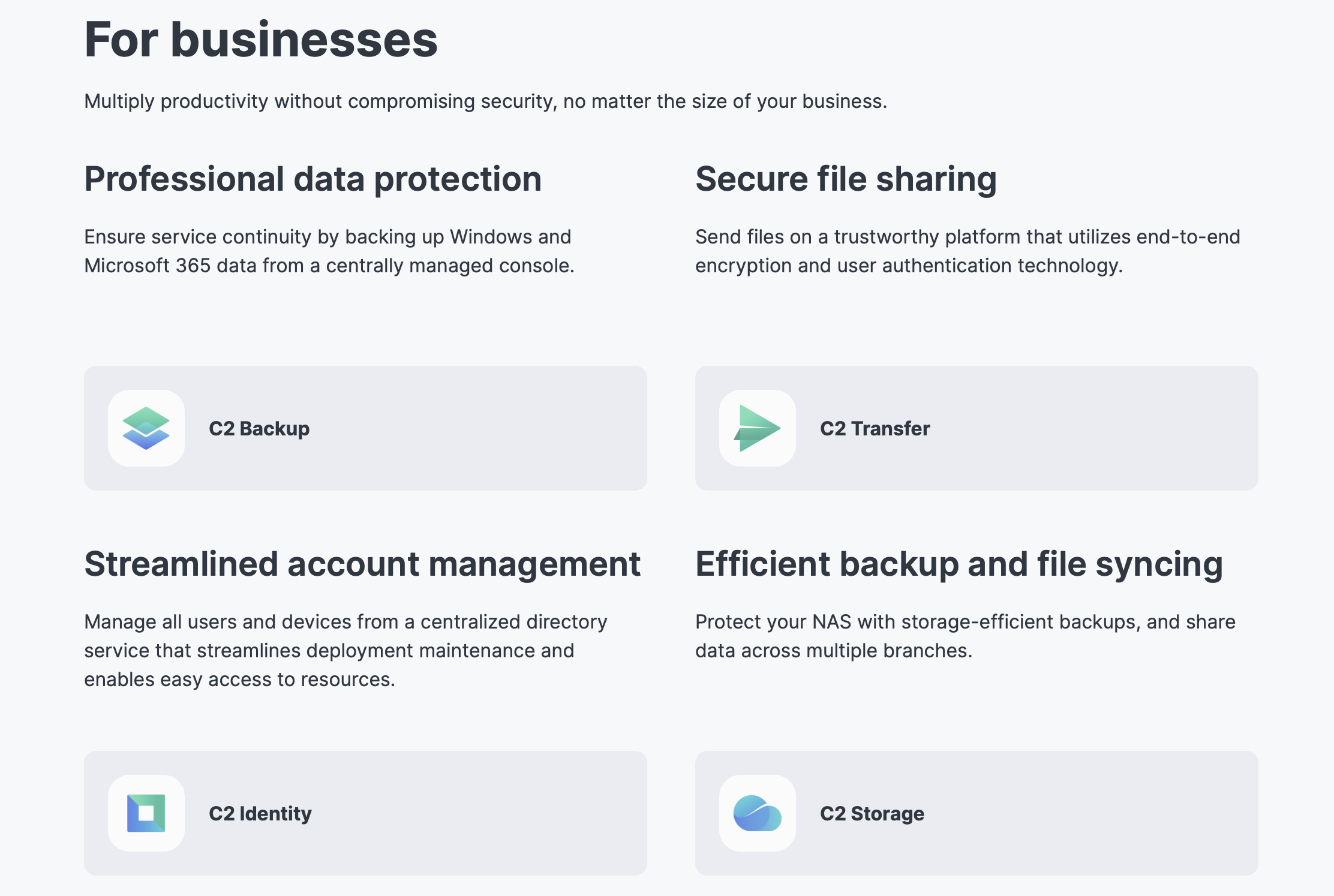 The big 5
New C2 features that are coming alongside the existing C2 Storage are:
C2 Storage
Information about C2 Storage is already known from before and is divided into two main paid plans, up until 1TB, and beyond 1TB.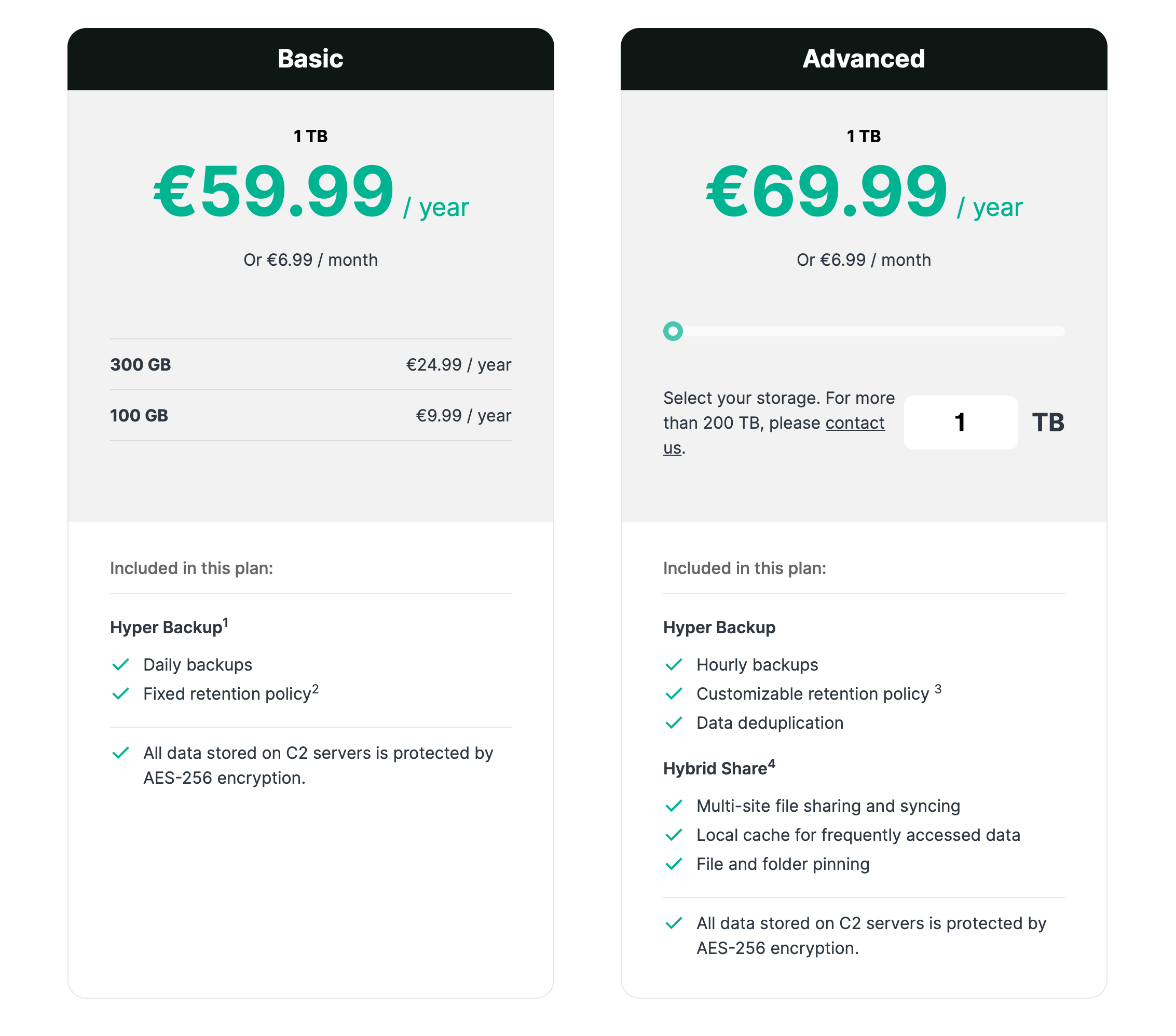 C2 Storage offers a way to backup your NAS data into the C2 cloud using the Hyper Backup tool.
The web app has been redone to match the look and feel of all the new C2 applications but the functionality is still the same.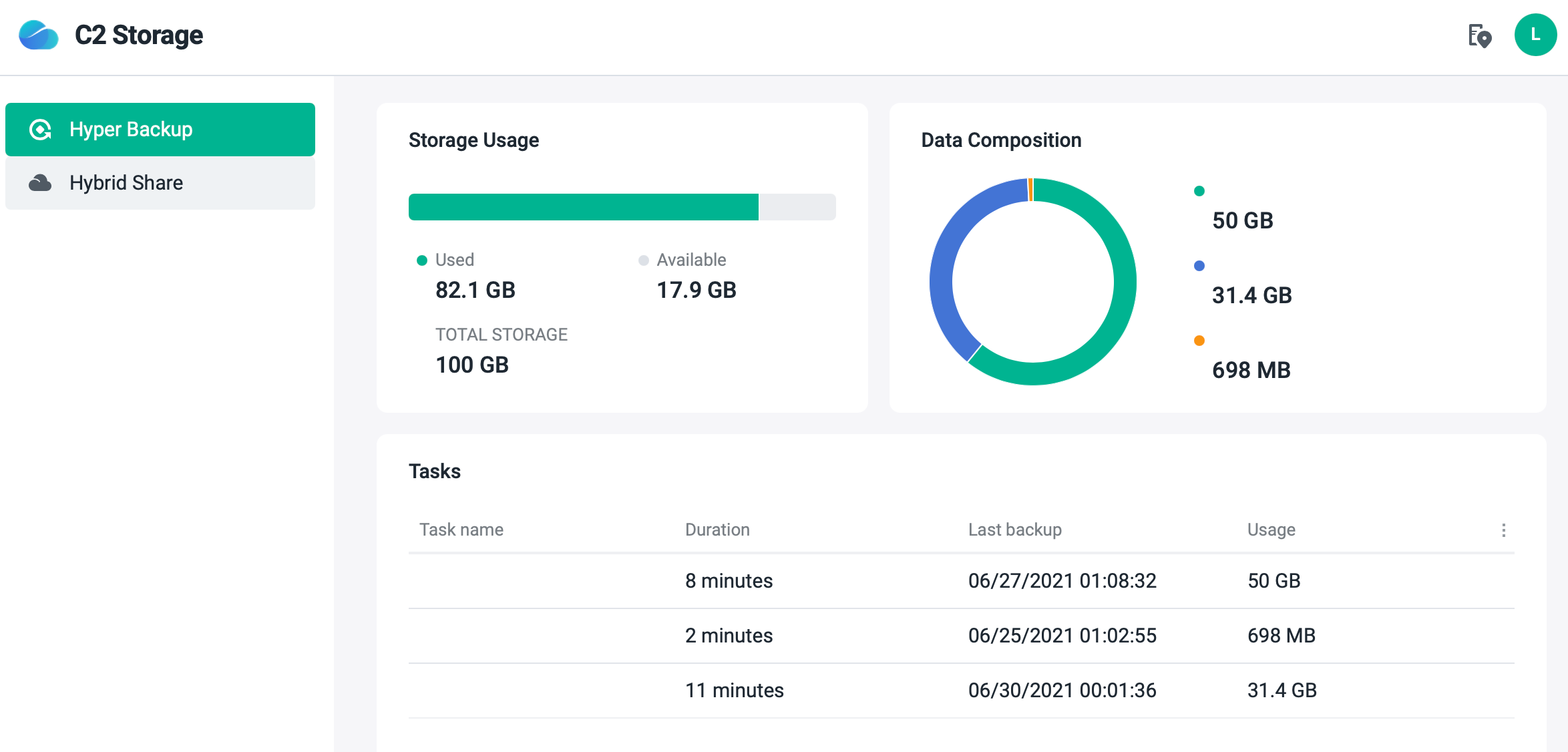 On top of  Hyper Backup, C2 Storage space will be used for the new Hybrid Share feature.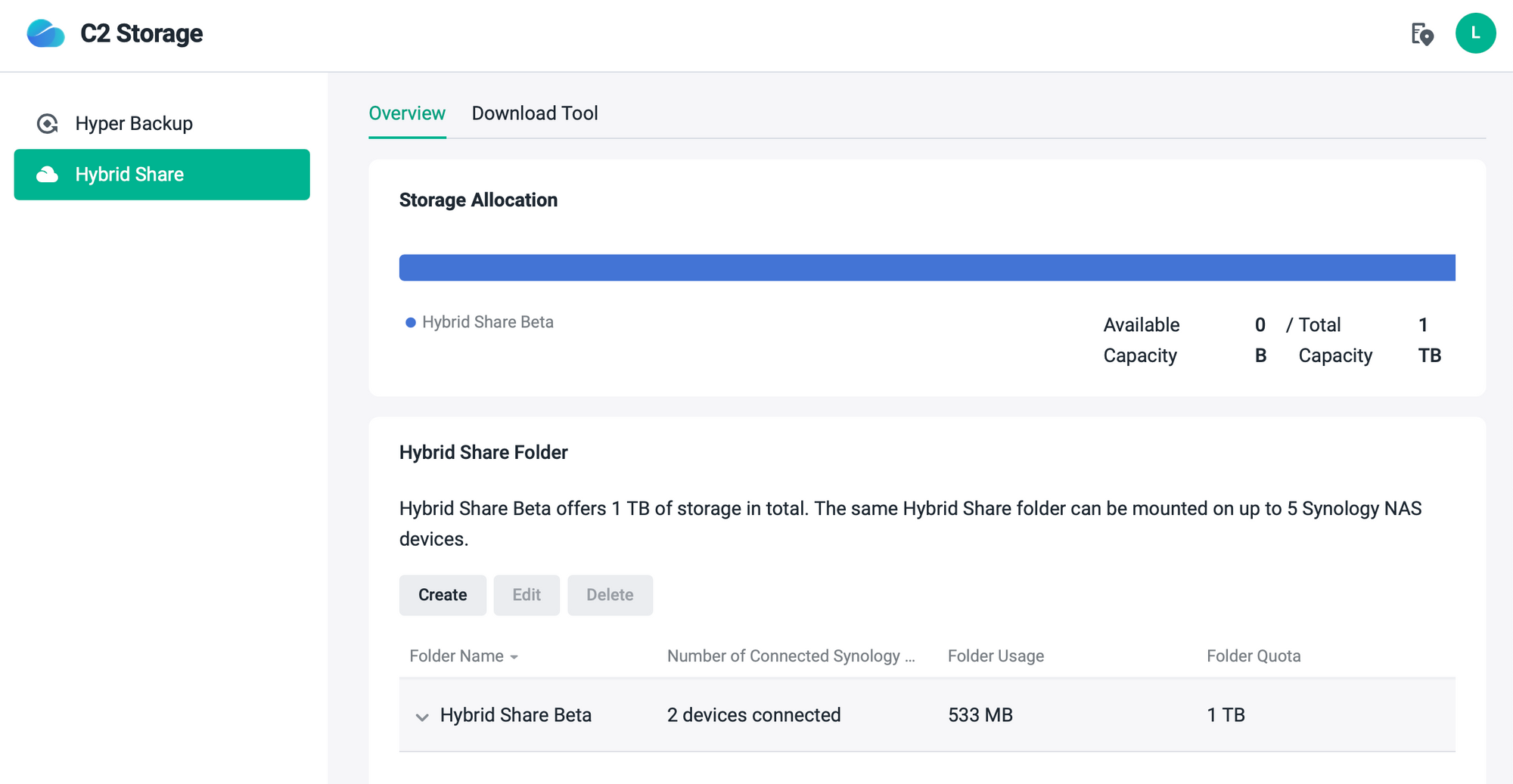 🗒️
NOTE: at the time of writing this article (June 30th), Password, Transfer, Backup, and Identity features are still "coming soon" and pricing for them is still unknown
C2 Password
📢
UPDATE: Unofficial info is that C2 Password will be live July 22th 2021
Password managers have been around for a while now, and what better way to pull people to your C2 cloud platform than with a free* tool? C2 Password will be introduced at a later date as all the other new features, but we know that it will offer a Plus tier as well.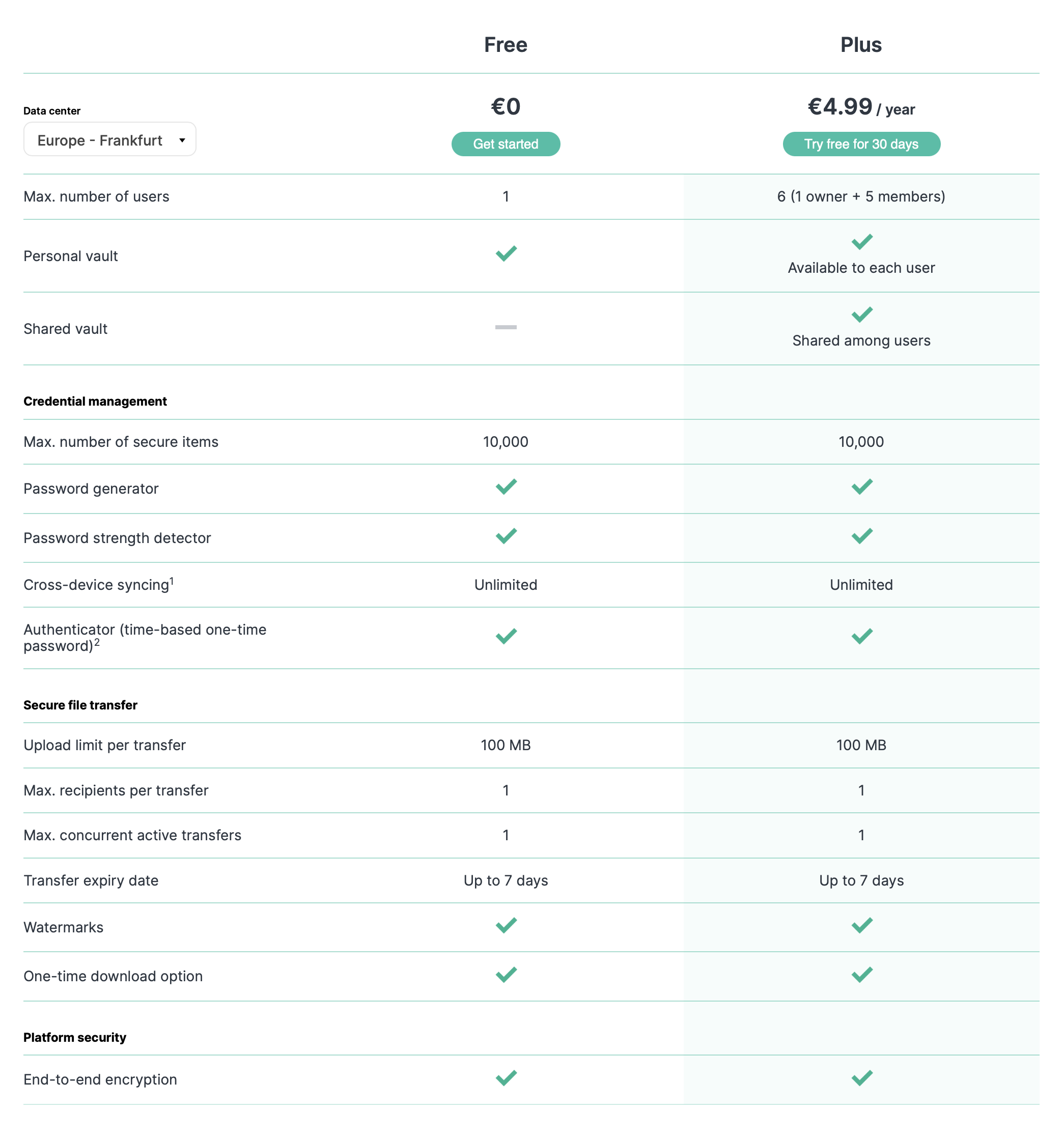 At the moment there are no hands of access to this feature, but Synology did make a short intro video about it that you can check out here:
As we can see the Safari browser is left out as a supported browser for the C2 Password extension. Not sure if it's in the works or not, but personally I'm not happy with this.
Still, if you haven't looked into a password manager so far, there are some great solutions out there, like Bitwarden for example, that has all the features completely free. On the other hand, if you want a turn-key solution that is worry-free, and part of the Synology eco-system, C2 Password might be just the right thing.
C2 Transfer
The second app that we have a bit more info about (including pricing) is C2 Transfer.
Advertised as an E2E data exchange platform, Transfer will allow you to exchange files securely with anyone (not just C2 users) using their phone number or email address.
Pricing is not officially yet on the C2 portal (still in "coming soon"), but some info has been communicated already that suggests pricing for personal and business usage. More info on this in this article. These prices might be susceptible to change in the future, so take it with a grain of salt at the moment.
C2 Backup
Now, this is an interesting one. C2 Backup. Divided into both personal and business tiers, this service will allow you to backup all your computer files, settings, and configurations directly into C2 platform. Neat!
You might be wondering, isn't this the same as the Active Backup suite of tools (Business, Google Workspace, and M365)? Yes, ABB offers the same thing in the end as C2 Backup, but do keep in mind that in order to use ABB, you need a NAS model that supports it, and not all do.
Another important thing to mention is that ABB do not offer E2E encryption when it comes to O365 for example. C2 Backup will offer that:
Multi-level security
Protect data with AES 256-bit encryption so data is protected both in transit and at rest. Leverage Microsoft 365 multi-factor authentication (MFA) to add and back up accounts.
This is where C2 Backup comes into play. Also, with this platform, you will be able to directly back up your computer to the cloud and not even own a Synology NAS!
With options to restore an entire PC or just a single file, as well as backing up external drives, C2 Backup will be a very interesting solution for many users out there.
The C2 Backup will offer scheduled or event-triggered backup (on startup, screen lock, log out), and like all other C2 apps, it will be E2E encrypted.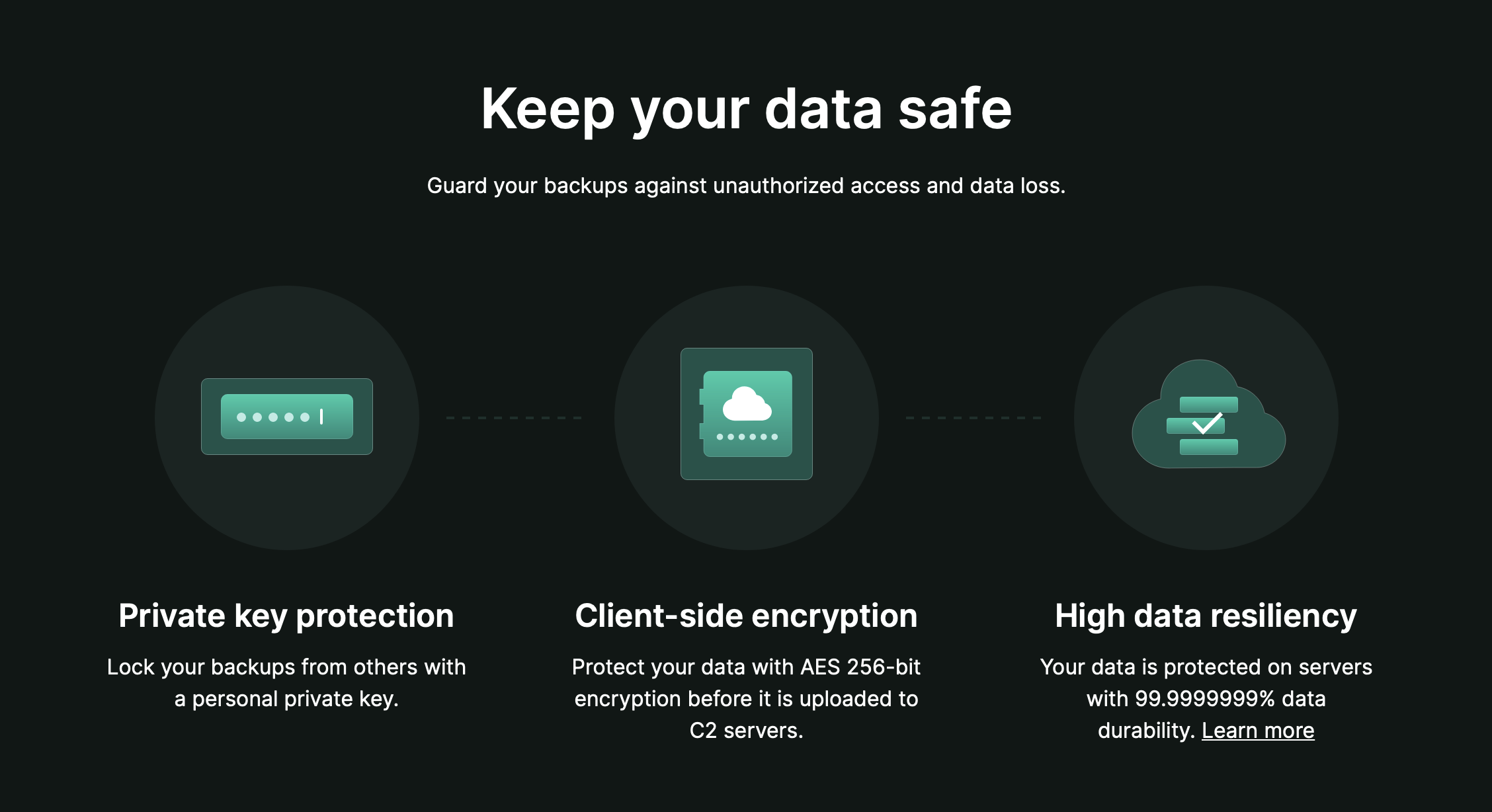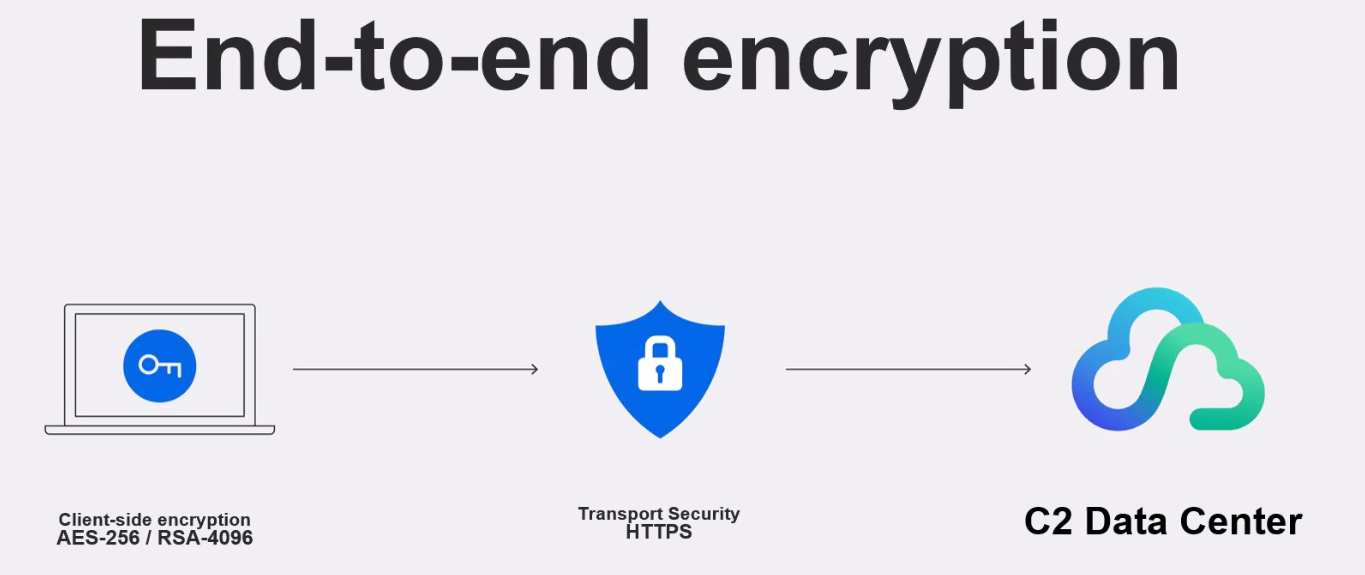 On the business side of things when it comes to C2 Backup, you will be able to backup Windows desktop computers, and servers, as well as Microsoft 365 data such as Exchange Online and OneDrive for Business.
Just as Active Backup has its own Portal, C2 Backup will offer a self-service restoration portal so your users can get the files and versions that they need without tasking the IT department for it.
You might have noticed that C2 Backup offers and works with Windows clients only. At the moment there is no info if this will extend to the Mac or Linux platforms.
C2 Backup offers two paid tiers with the same set of features in both of them.
📢
UPDATE: Starting Nov 1st 2021, the 300GB tier will be bumped to 500GB with a slight price increase to €3.49/m (€34.99/y).
C2 Identity
Finally here is the last new C2 app, C2 Identity. During Synology 2021 keynote back in December 2020, this service was called C2 Directory, and we didn't have too much info on how will it work or cost.
Well, at the moment, pricing is also still unknown but we do know that there will be a "free" plan as well that will include the following:
Up to 250 user accounts
SSO support (for Google Workspace and Microsoft 365)
1 Local LDAP server support
Up to 10 client devices
The paid plan is "coming soon" so more info on that at a later date.
So what is C2 Identity?
Advertised as a central location for all your users, group, workstations as well as an SSO for all your SaaS (software as a service) apps across your entire business.
C2 Identity will offer you to manage users, import them from other LDAP, Windows AD, Microsoft 365 or Google Workspace as well as allow your end-users to manage all their details (passwords, emails, addresses, and more) via a self-service portal.
As I wrote above, Identity will allow you to use at least 1 or more local LDAP servers to make sure you have uninterrupted access to your authentification platform by using an on-premise NAS device running an LDAP node or run it in a Docker container (cool!).

More details to follow as new info comes to light, and service becomes accessible.
Conclusion
How it all works, performs, and costs, remains to be seen, but Synology has made sure that for most of these new apps you do not have to own a Synology NAS at all.
The power of the cloud is strong and present in both personal and business aspects of our lives, so it is nothing strange that Synology is pushing in that direction. All of the features and apps that are coming will not replace any on-premise existing packages that Synology offers but will open them up to users that are both new and existing, and give them the ability to experience a hybrid or full cloud experience.
What are your thoughts on these new apps? Will you use any of them? Let me know down in the comment section.