Table of Contents
: Installation of Active Backup for Business (DSM 7)
: Installation of Active Backup for Business macOS agent
: Active Backup for Business macOS task configuration
: macOS bare metal restore
: Migrating Active Backup backup archive to a new volume
: NAS performance and utilization
📢
UPDATE: 14/04/2023 - Active Backup for Business version 2.6 is out with beta support of macOS bare metal restore. Full notes are below.
Version: 2.6.0-13032
(2023-04-13)
What's new
Added support for VMware vSphere 8.0.
Added support for backing up NetApp and Nutanix file servers.
Added beta support for bare-metal recovery on Mac.
Fixed Issues (General Issues)
Fixed an issue where the domain user might not be updated in the User Delegation page.
Fixed an issue where the Backup Destination page couldn't display properly.
Fixed an issue where Windows device backup verification might fail due to insufficient memory resources.
Fixed an issue where backups might be skipped when the EFI partition size exceeded 1 GB.
Fixed an issue where the percentage of free up storage space couldn't display properly.
Fixed an issue where file names couldn't display properly in the restore portal.
Fixed an issue where the backup task would occupy DSM memory resources when the deduplication command failed.
Fixed an issue where Windows devices equipped with the NIC model 1219-V might disconnect during backups with data transfer encryption enabled.
Fixed Issues (Mac)
Fixed an issue where the backup progress would get stuck.
Adjusted the backup mechanism to exclude volumes created by Time Machine.
Fixed an issue where incremental backups would fail due to referencing incorrect snapshot versions.
Fixed an issue where the backup agent would repeatedly attempt to establish a connection when the backup server's response time was slow.
Fixed Issues (Virtual Machines)
Fixed an issue where reconnected Hyper-V tasks backed up via Hyper Backup couldn't be restored to the Hyper-V host.
Fixed an issue where the backup reference point might impact the performance of virtual machines.
Fixed Issues (File Servers)
Fixed an issue where adding DSM to the domain service and using SMB Service 4.15 to add file servers could result in system crashes.
---
📢
UPDATE: 23/12/2022 - macOS ABB is out of beta. Today version 2.5.0-12631 is out!
Version: 2.5.0-12631
(2022-12-22)
What's new
Added support for the following macOS versions:
macOS Catalina 10.15.7
macOS Big Sur 11
macOS Monterey 12
macOS Ventura 13
Added support for Windows Server 2022 Hyper-V.
Added support for automatically discovering new virtual machines and including them in backup tasks.
Added support for Linux kernel 5.15 and the following distribution:
Fixed Issues (General Issues)
Fixed an issue where users could not power on the instantly restored virtual machine after a DSM restart.
Fixed Issues (Virtual Machines)
Fixed an issue where the connection information of virtual machines might not be updated after the ESXi certificate was changed.
Fixed an issue where the virtual machine restoration might fail if the restoration disk path included single quotation marks.
Fixed an issue where the restoration of virtual machines containing large amount of data might fail.
Fixed Issues (Servers and Workstations)
Fixed an issue where the agent might crash if the customized volume setting is configured more than once.
Fixed an issue where Linux backup tasks might keep restarting if the device contained a corrupted xfs file system.
Fixed an issue where the system might recognize a Linux device as a new device when it had no Internet connection and used MAC address as its UUID.
Fixed Issues (File Servers)
Fixed an issue where the system might incorrectly create an empty backup version of file server tasks.
Limitations
Mac devices that are boot from external devices are not supported.
Notes:
---
⚠️
UPDATE: 30/12/2022 - tested the new Mac Studio (M1 Max) today. The backup was flawless with no issue at all.
⚠️
UPDATE: 11/12/2022 - tested on an older Macbook Pro running macOS Catalina version over wifi. Backup and restore went without any issues.
⚠️
UPDATE
: 29/11/2022 - Added section about
volume migration
to test if there are any problems with the backup archive in that case as well as the backup tasks and data.
⚠️
UPDATE: 28/11/2022 - After correcting Full disk permissions for the ABB agent, the backup started without any issues and was completed successfully.
Mark your calendars, the day has arrived! Active Backup for Business 2.5 supports Apple macOS!
⚠️
LIMITATIONS: Please note that Active Backup for Business 2.5.0 beta currently supports backing up entire devices for macOS devices. Users will be unable to perform bare-metal restoration in this version of the platform. However, file-level restoration is available. Also, beta users will not be able to downgrade to previous versions of Active Backup for Business after installing this beta package.
After years of waiting the day has finally arrived. ABB platform has finally got support for the macOS, following Windows and Linux distribution support for years.


: Installation of Active Backup for Business (DSM 7)
After downloading the package, the install process is run from inside Package Center > Manual install.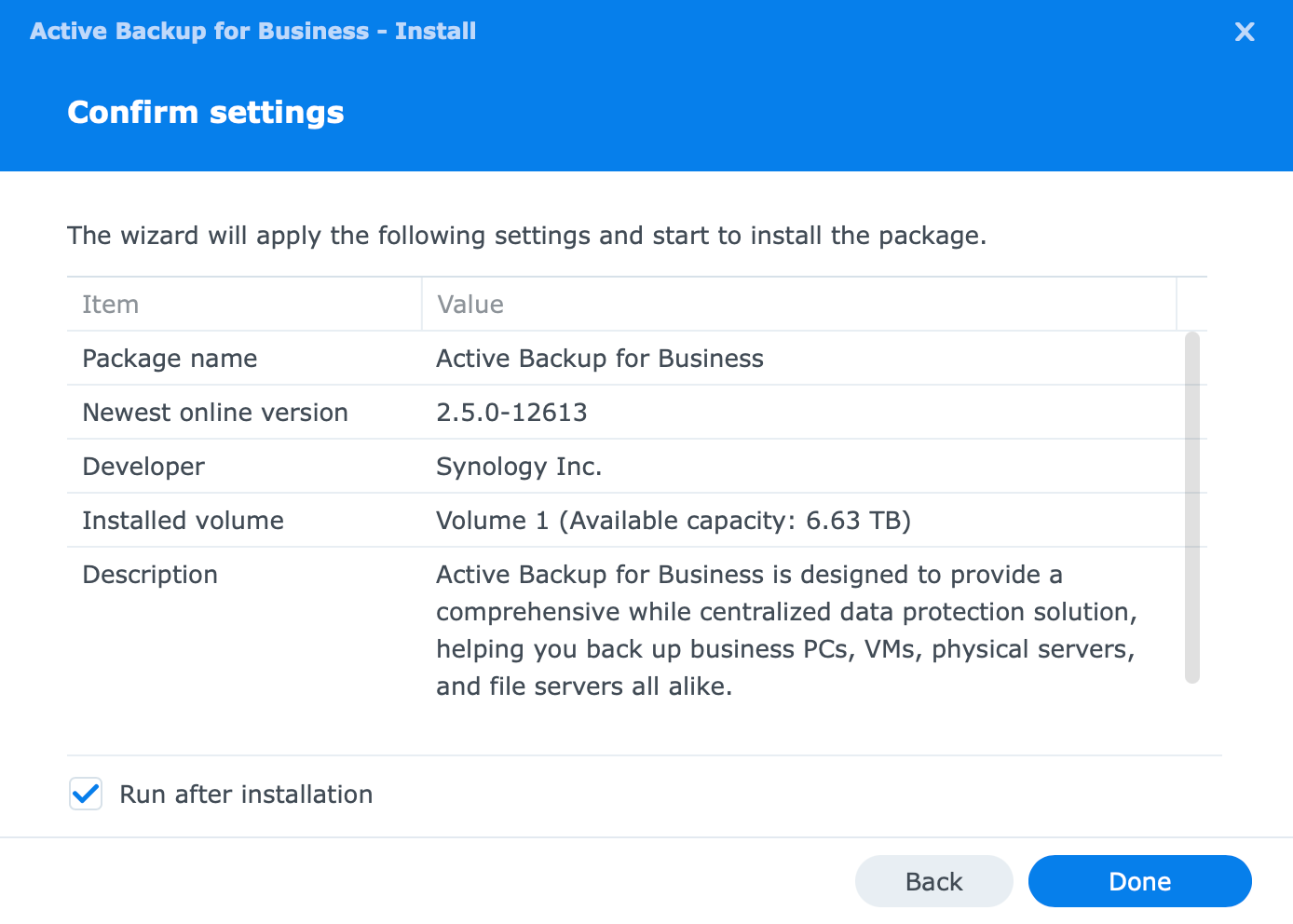 Following the installation process, ABB needs to be activated. For this, we need an active internet connection but there is also a "manual" process if the NAS is unable to establish one.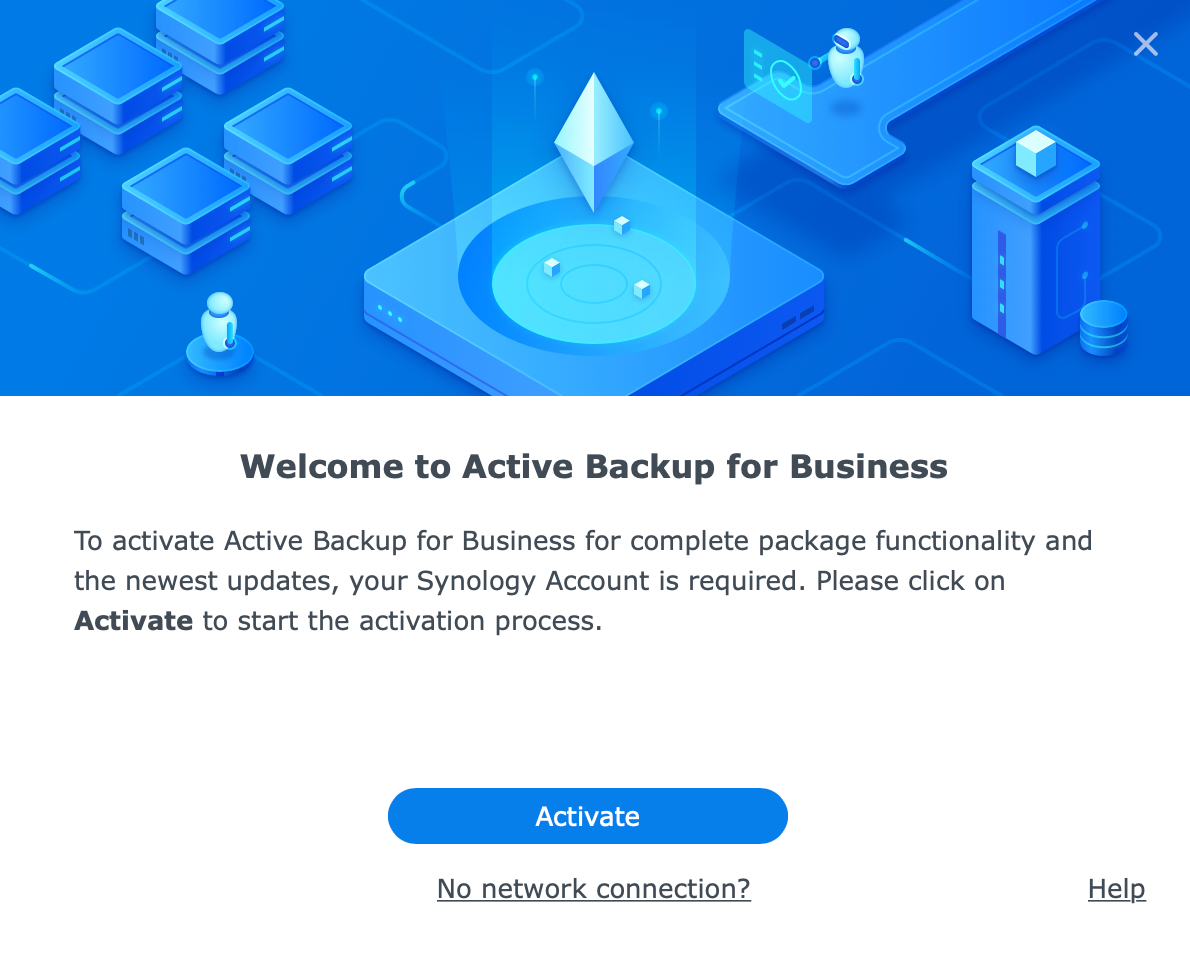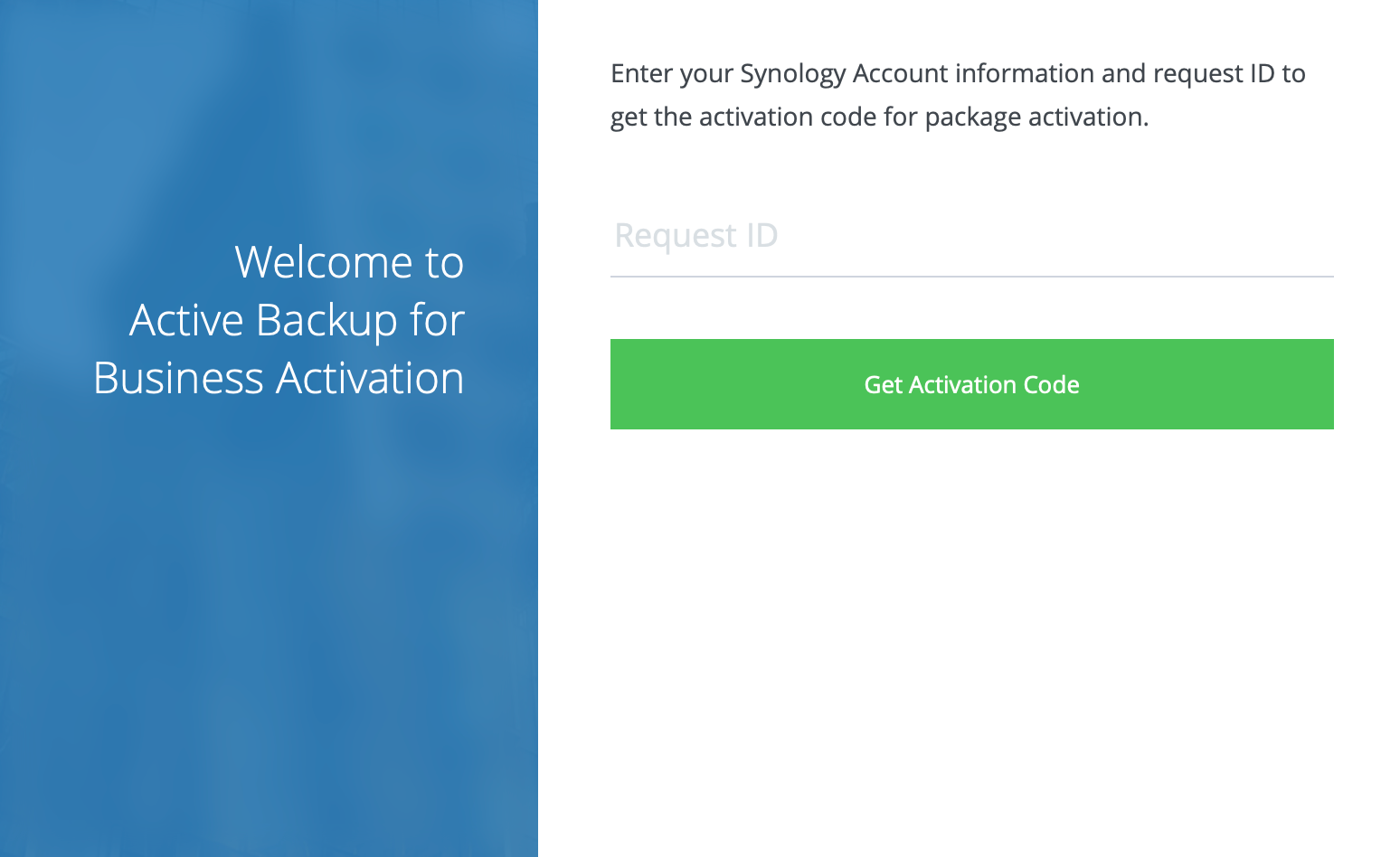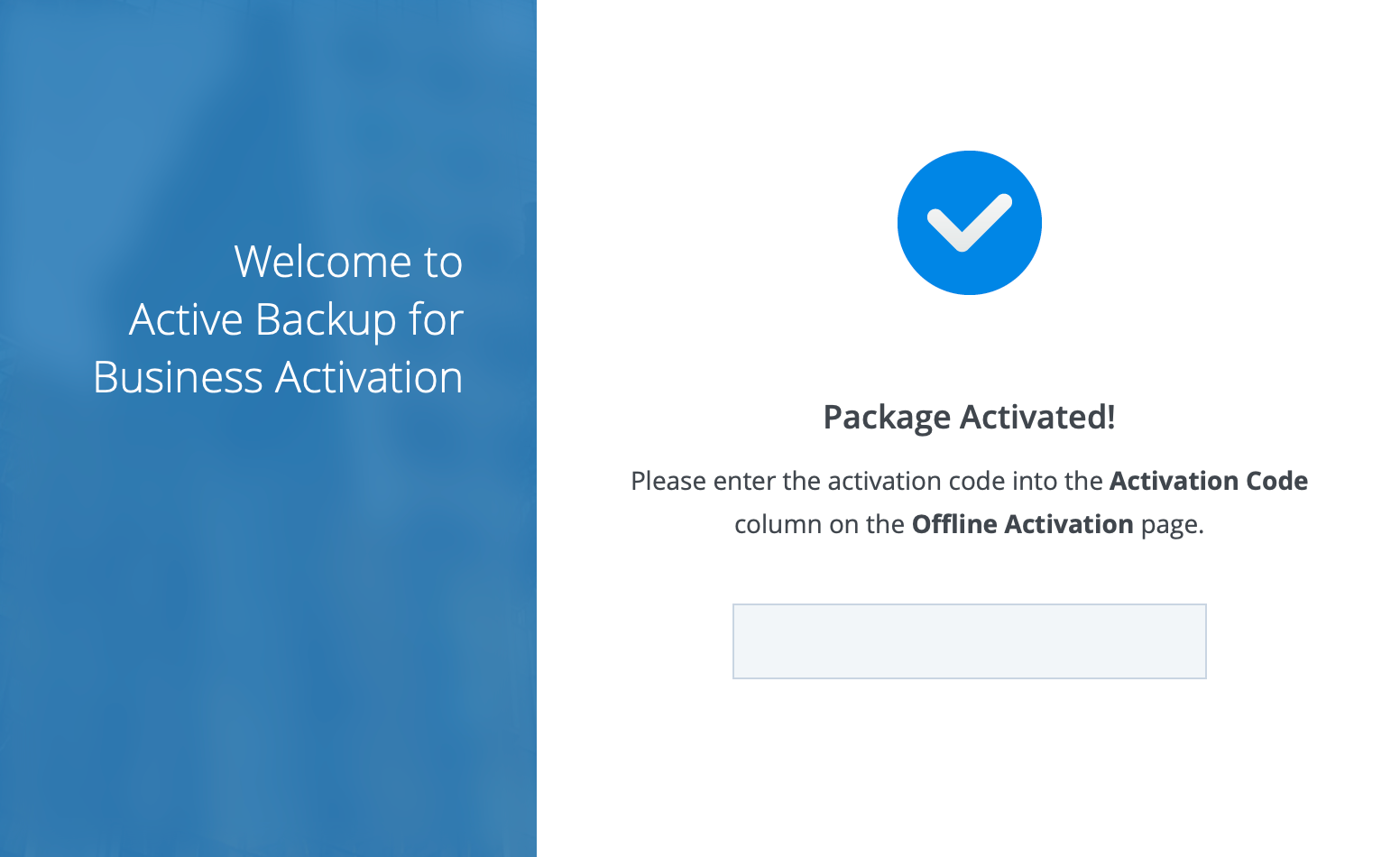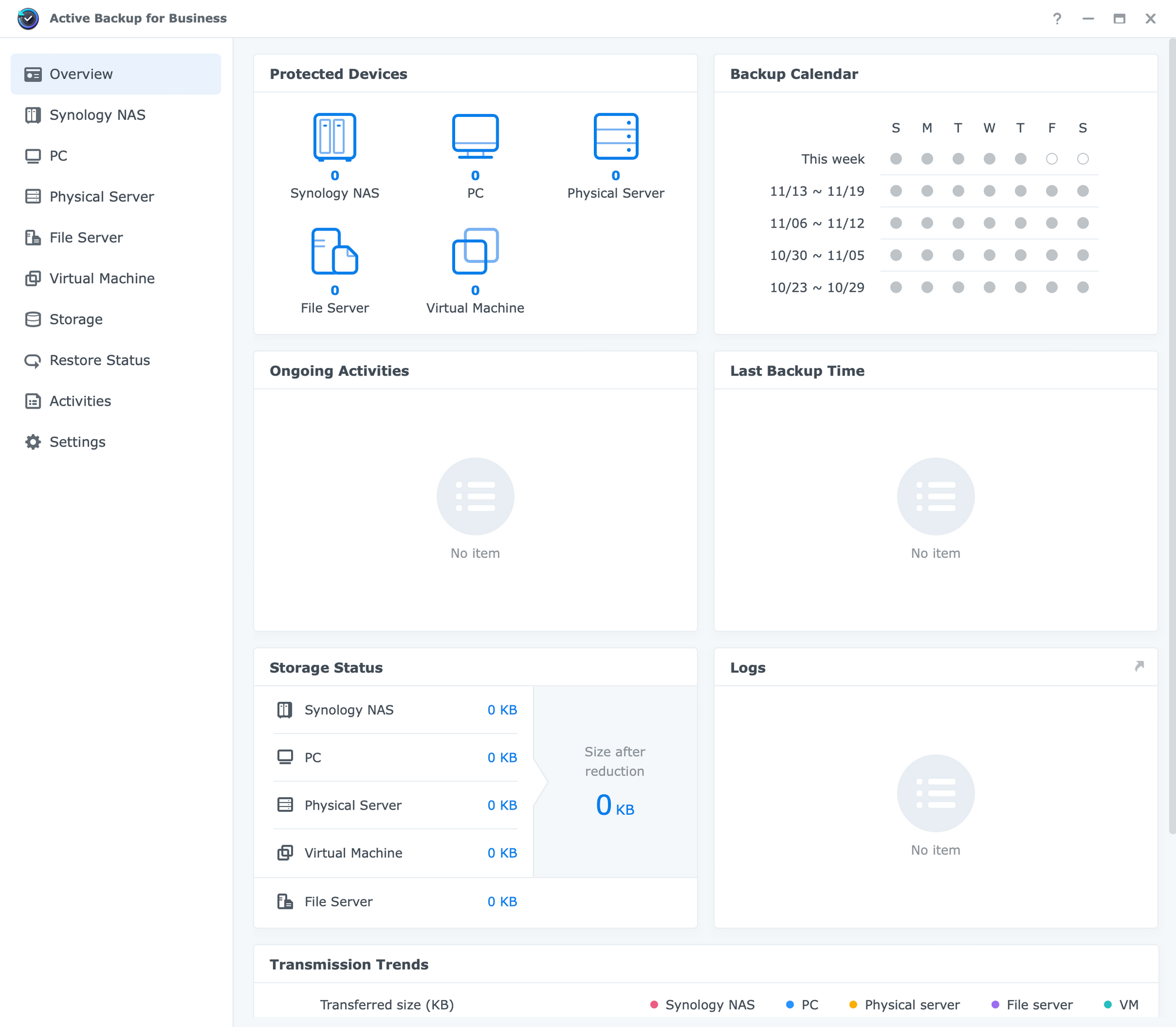 : Installation of Active Backup for Business macOS agent
Once ABB is up and running, we will be able to use the macOS agent and get it connected to the ABB instance for a complete Mac-machine backup.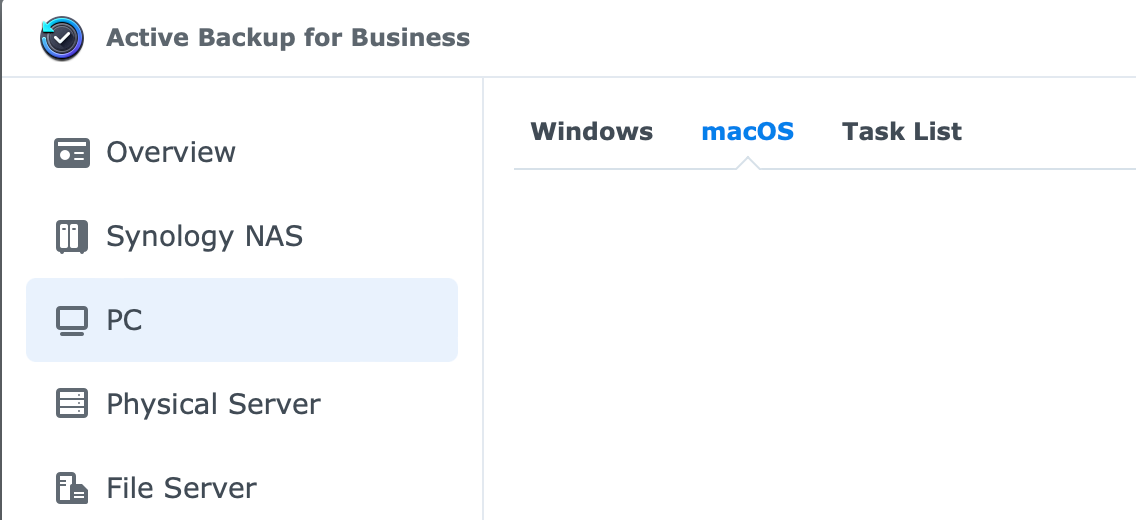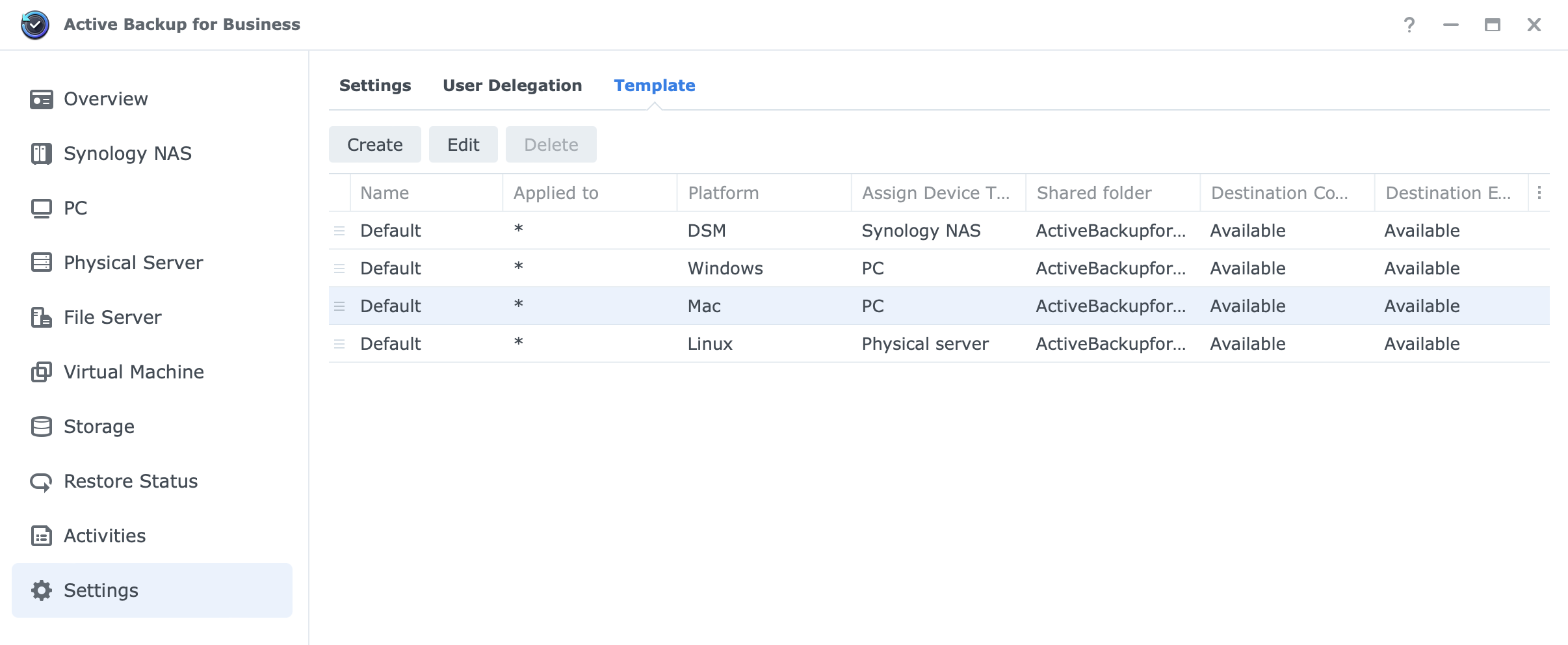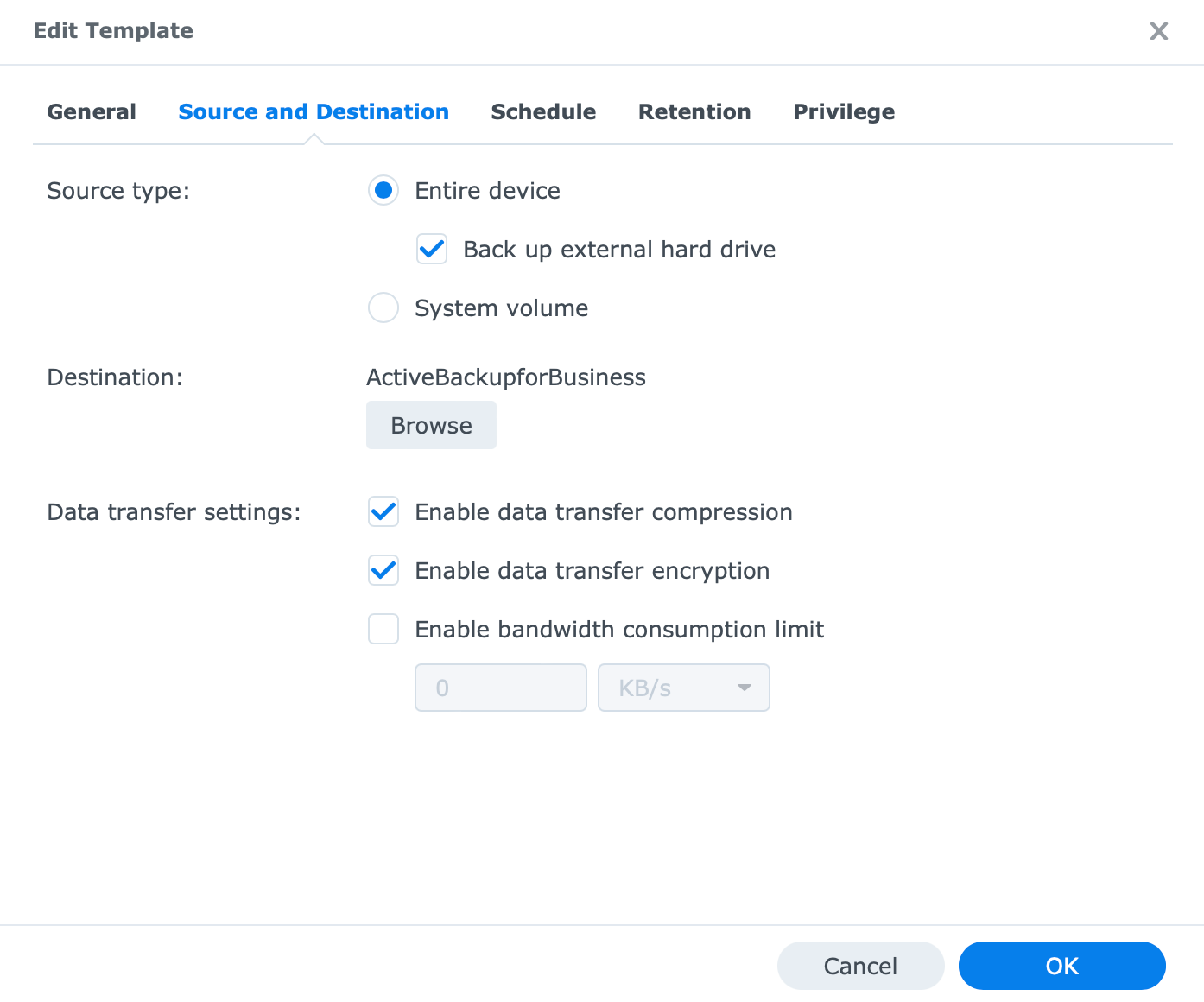 The default macOS template has the same settings configured as the one for Windows machines, and it also supports data transfer compression and encryption.
The installation of the macOS agent starts using the downloaded Active Backup for Business PKG file.
⚠️
NOTE: If you are using an Apple Silicon Mac, with either an M1 or M2 CPU, you will need to reboot the Mac mid-install to complete some system extension activation using recovery mode!
Step one, mount the installer and start it.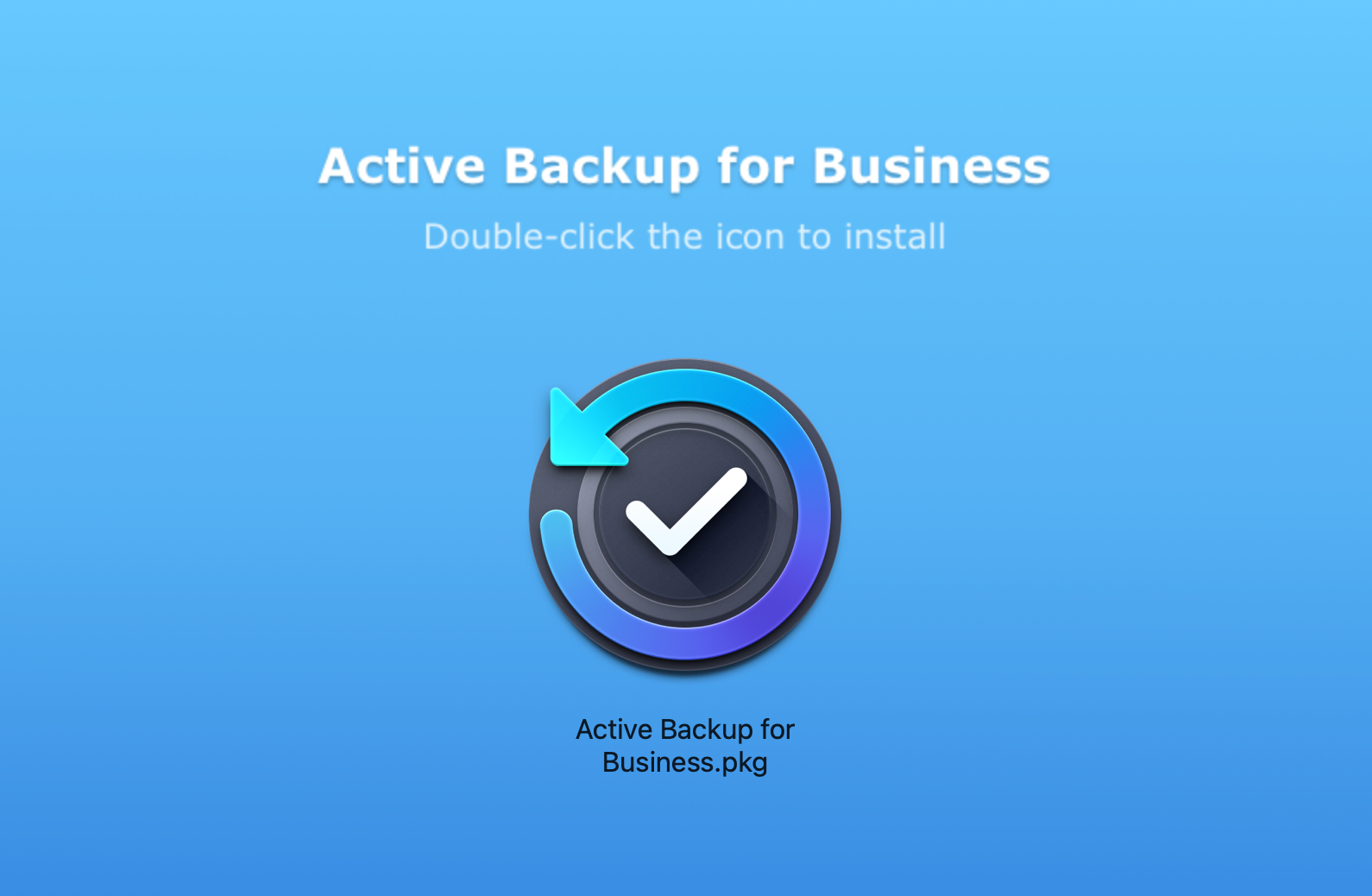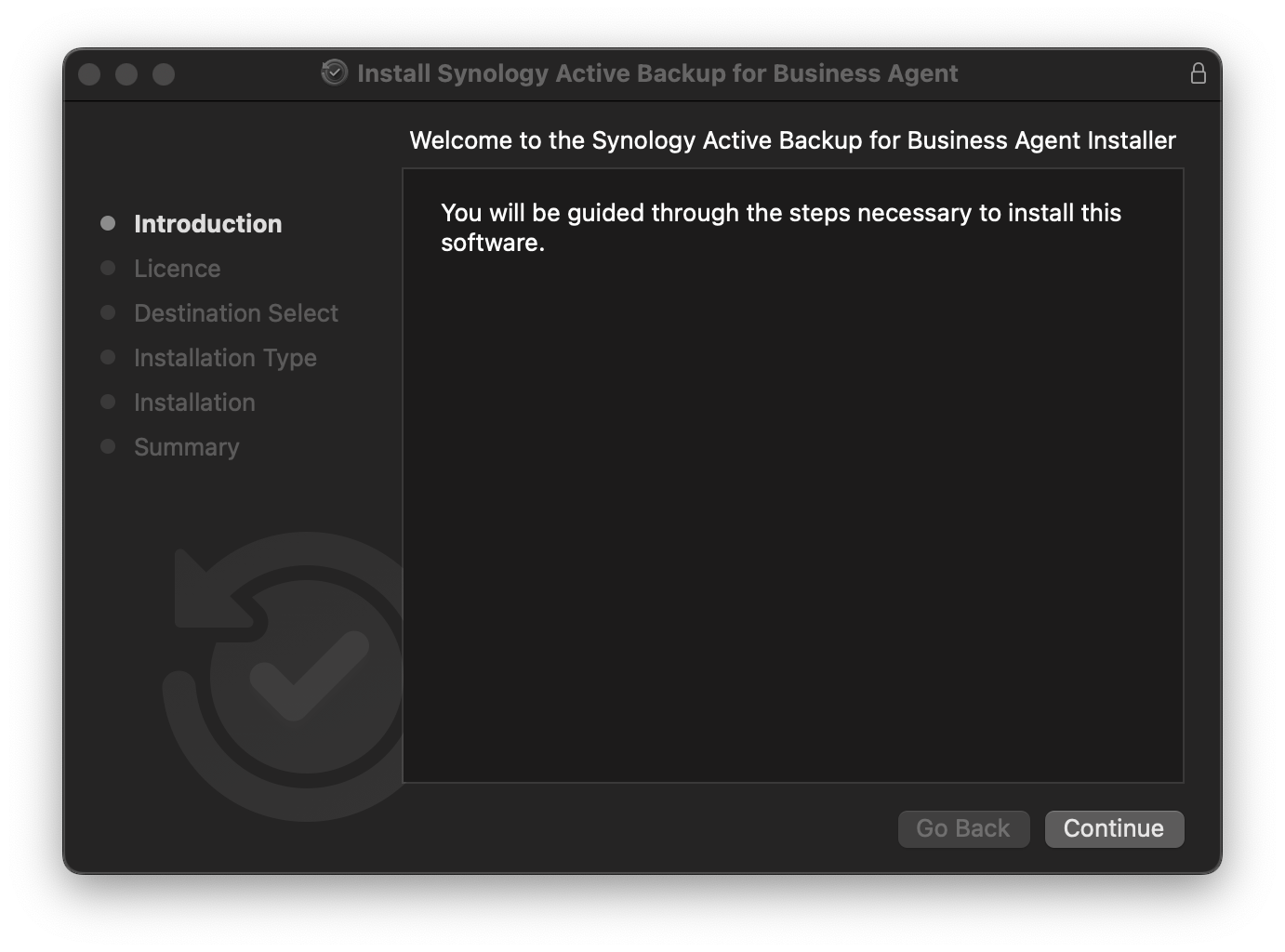 Once the process has been completed, we need to allow for the system extensions. This can be activated inside System Preferences.
In 2019, Apple informed developers that macOS Catalina will be the last macOS to fully support legacy system extensions, and we've been working with developers to transition their software.
💡
NOTE: System extensions are something that Apple has started to slowly transition towards their complete elimination. This is not a good sign for Active Backup, and let's hope that Synology will customize the platform to be more compliant with the recent and future versions of macOS.
Under Privacy & Security simply allow the Synology Inc extension.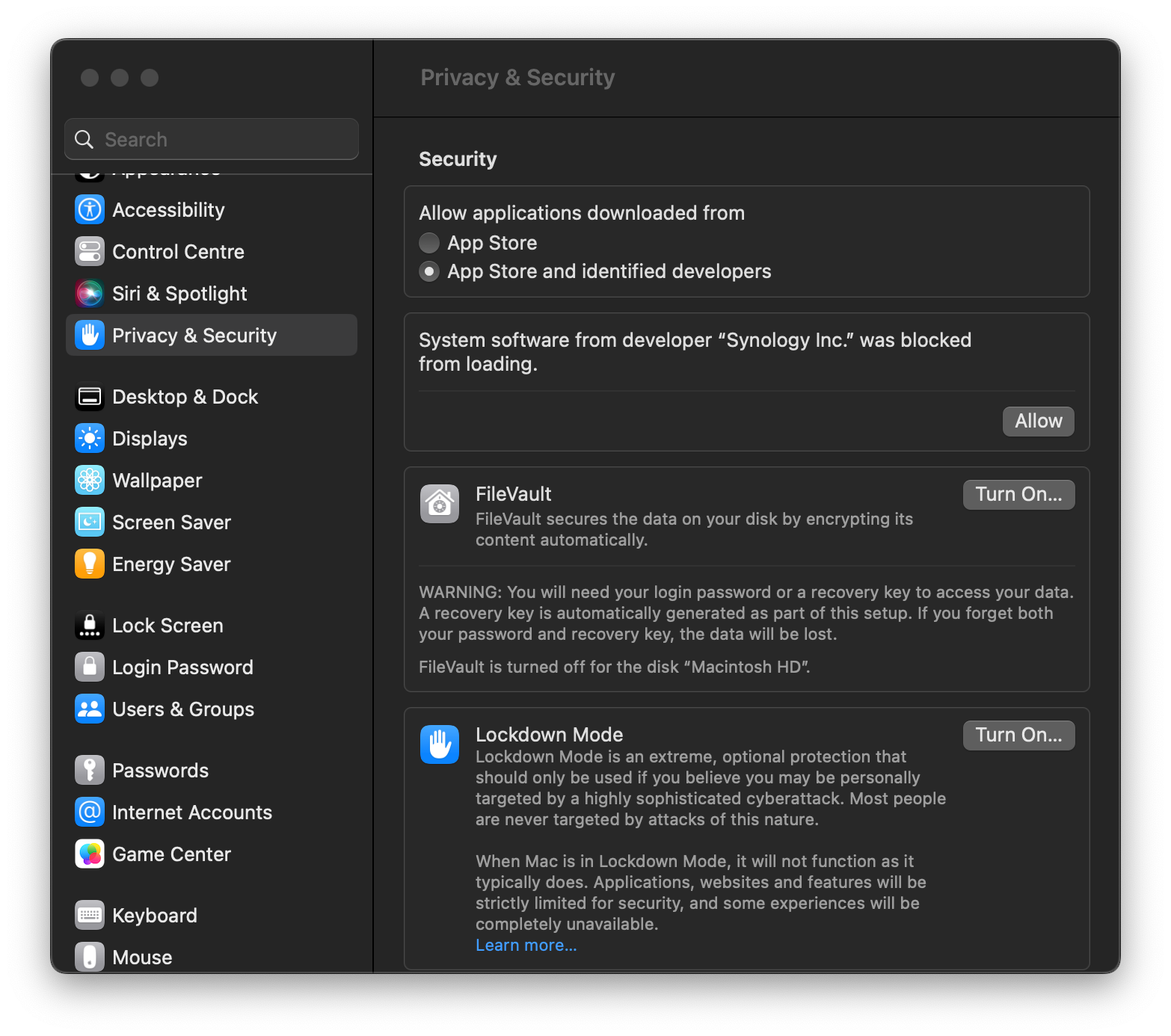 In order for the extension to be used, the macOS needs to reboot.
One final thing that needs to be done is to give Active Backup for Business agent full disk access permissions in order to execute the backup and not fail.
Go to System Preferences > Privacy & Security, and under Full disk access enable the setting.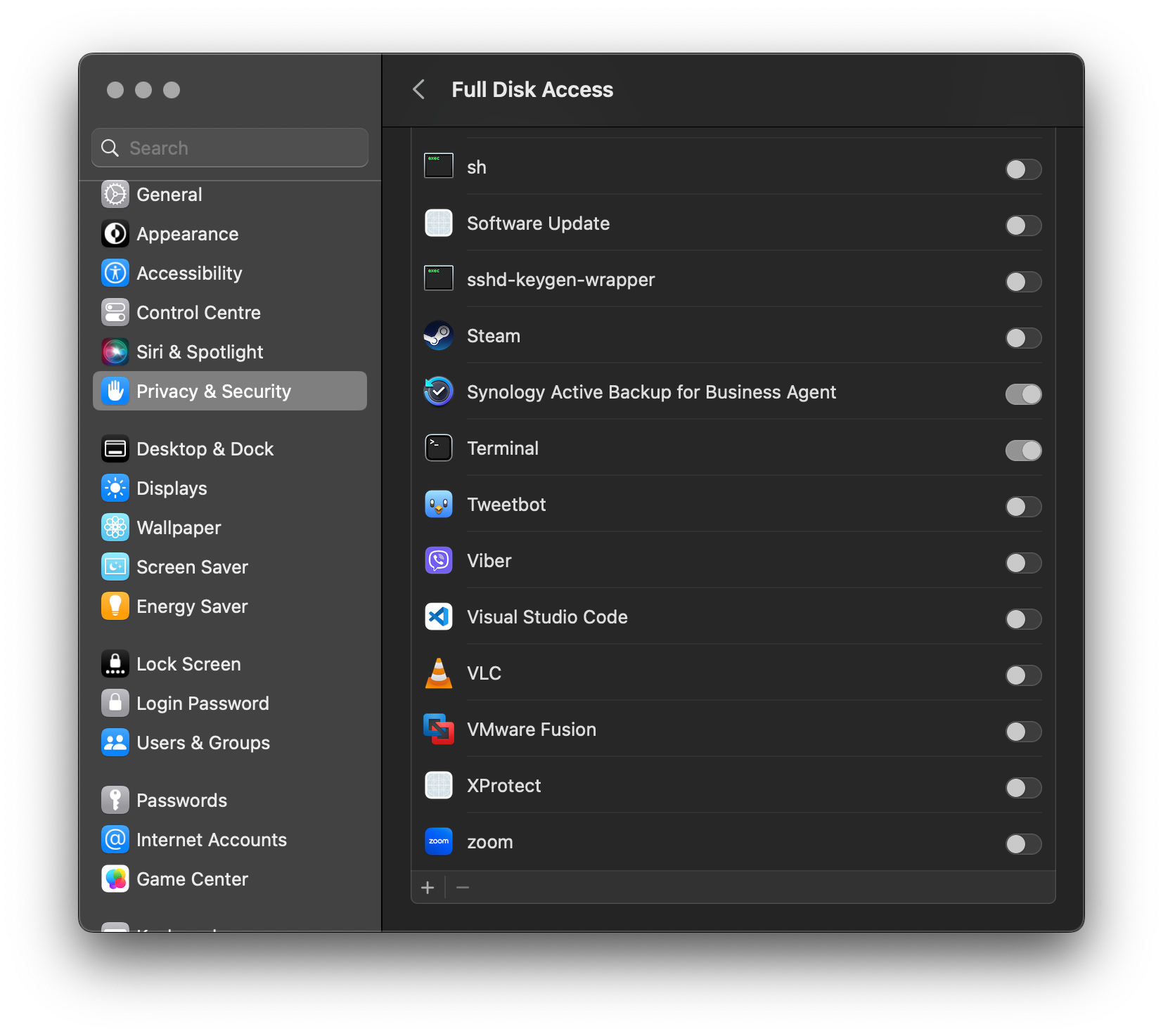 : Active Backup for Business macOS task configuration
Now that the ABB server and client have both been installed, it is time to connect and back up the Mac.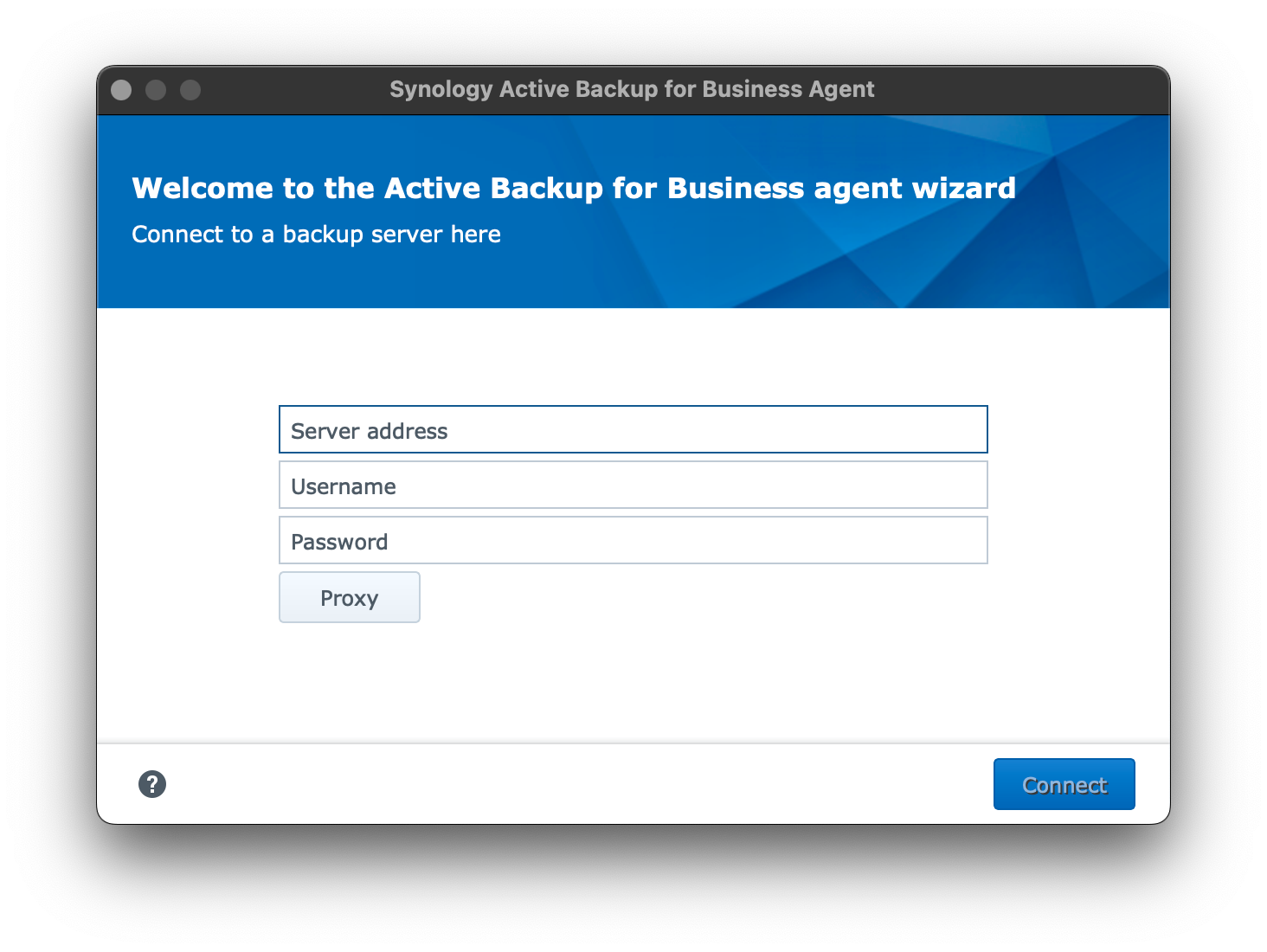 Just like with a Windows machine, the ABB agent will ask for three input parameters. The NAS address (FQDN or LAN IP), username, and password.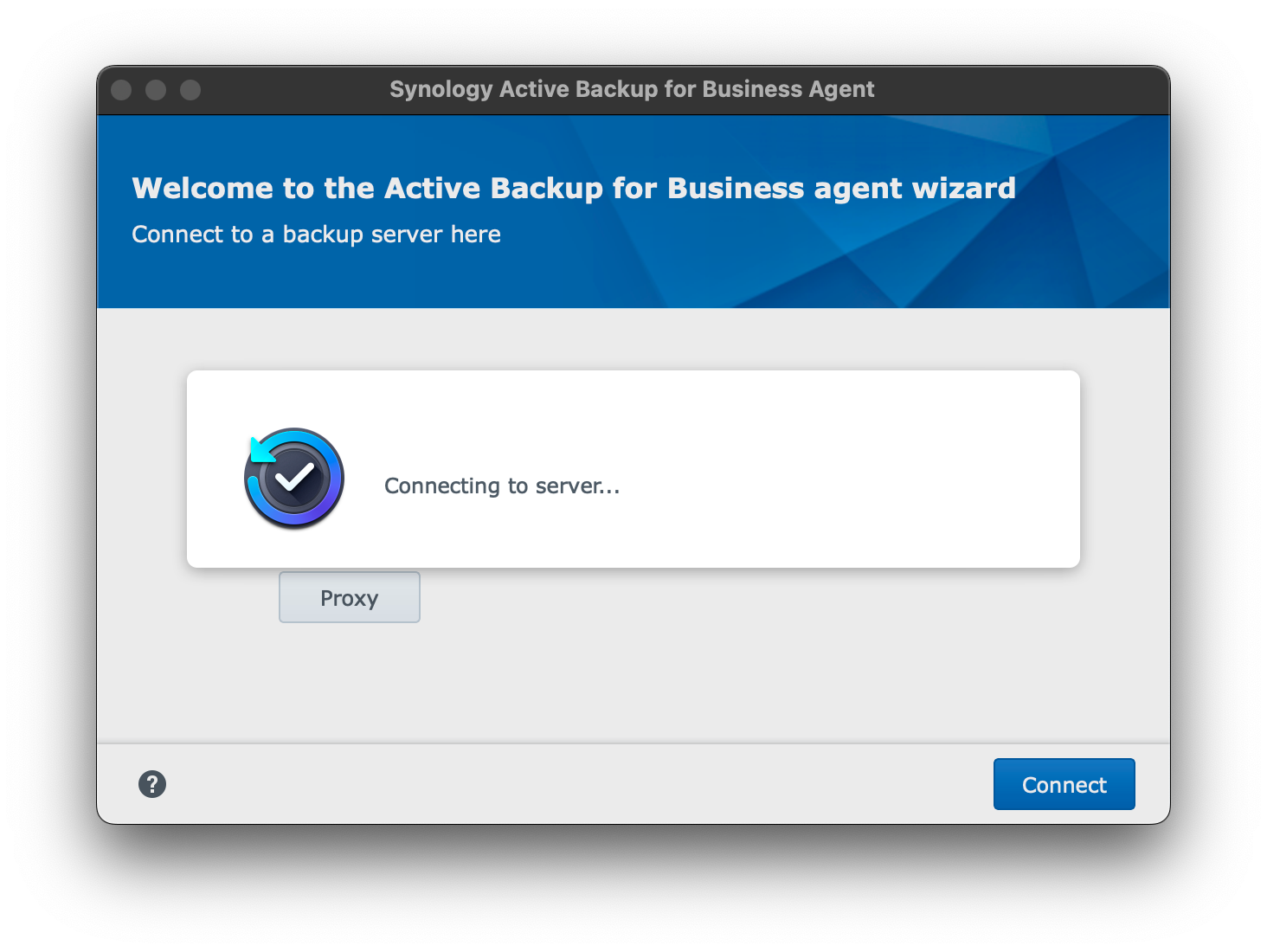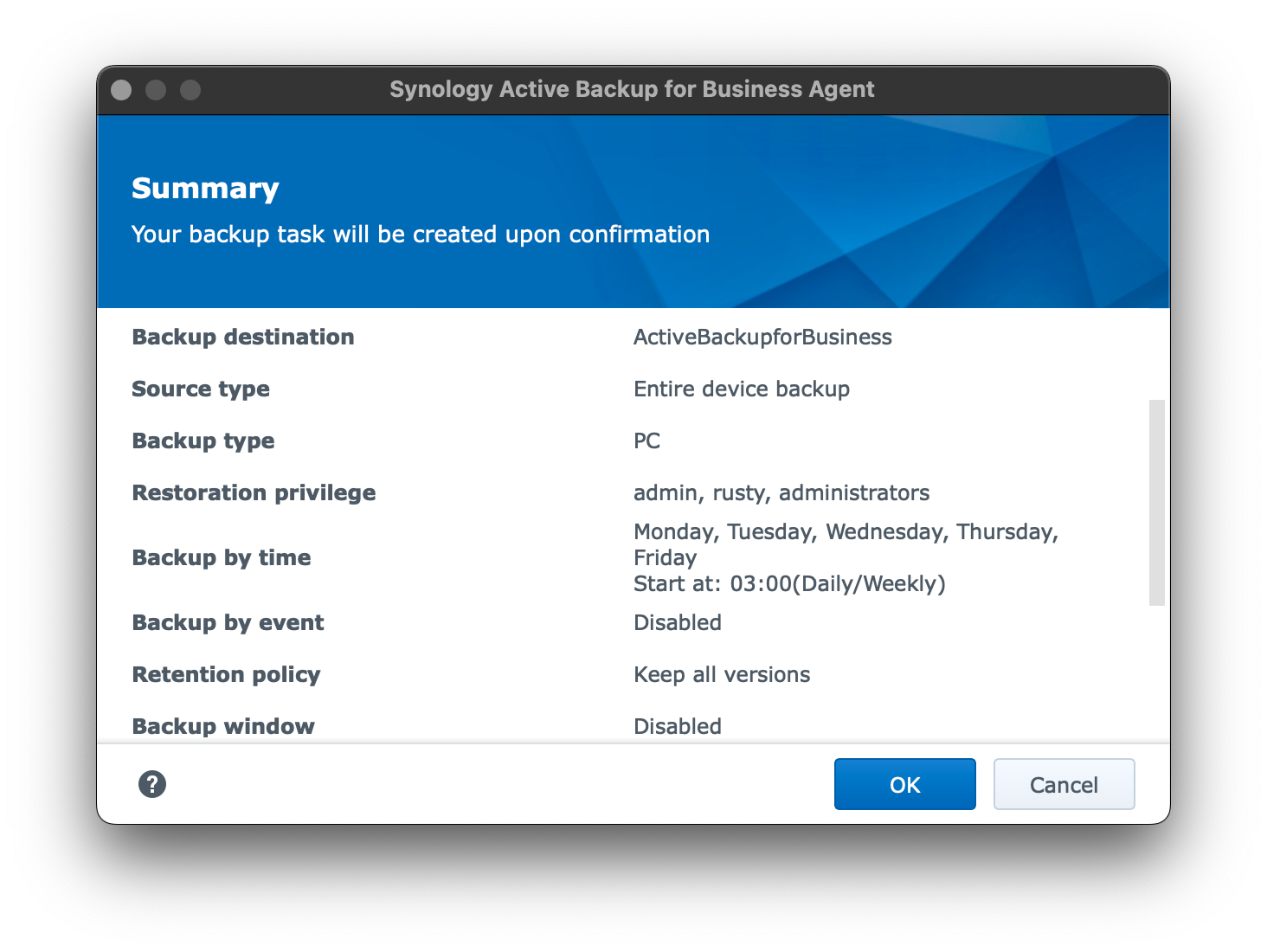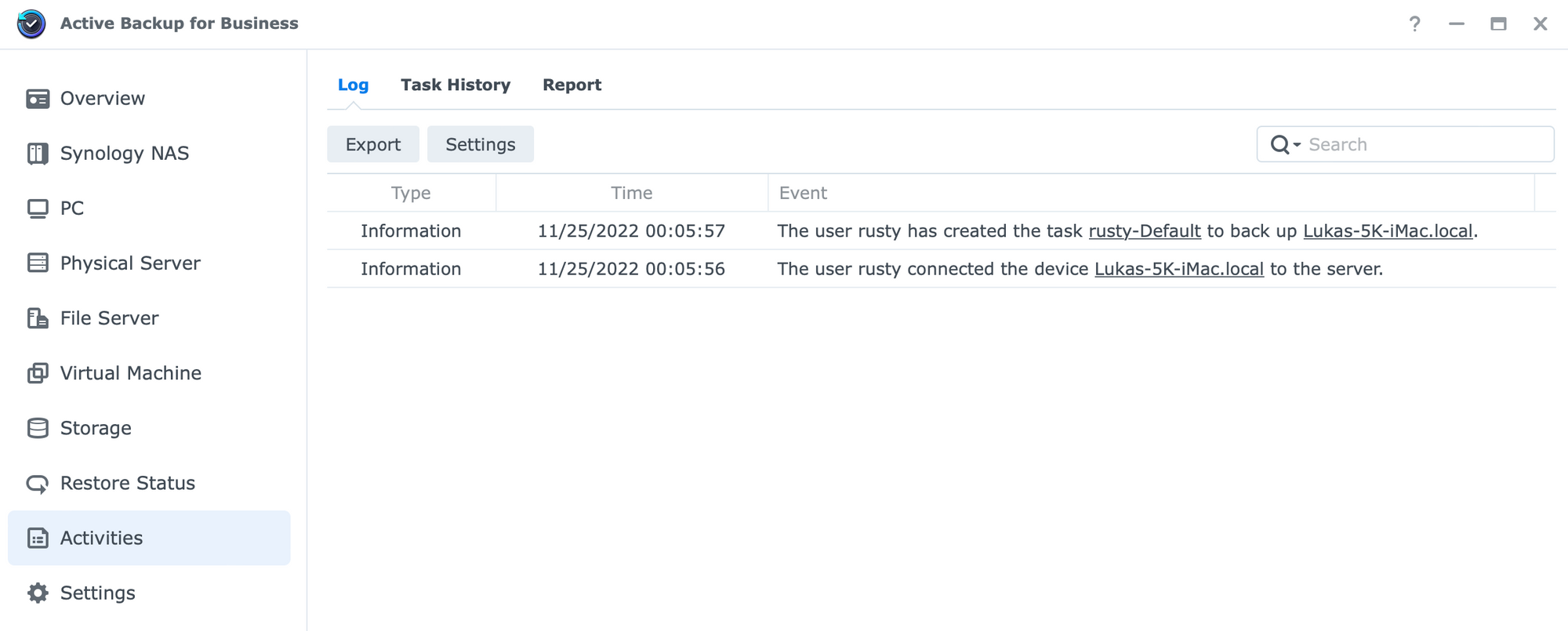 So far, there were no issues adding the Mac to connect to the ABB server side. Manual backup can be initiated using the ABB Task List view and progress can be followed from either the client or server (NAS) side.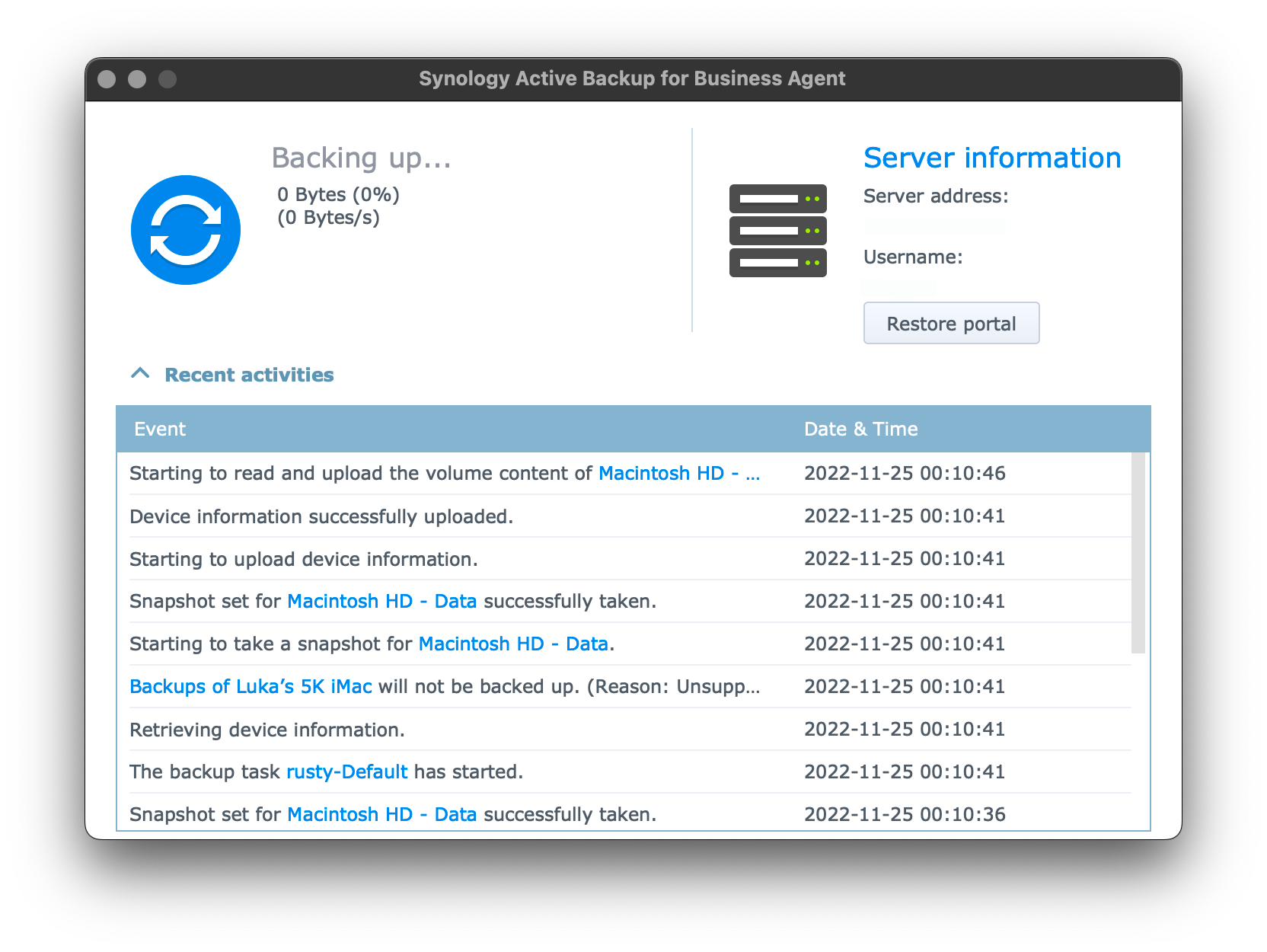 In my initial testing, the first backup failed with the following error:
Error,"Error code -1: Failed to run asr (Apple Software Restore) on Macintosh HD - Data, Macintosh HD.",2022-11-25 00:14:52
Error,"Failed to read and upload the volume content of Macintosh HD - Data, Macintosh HD.",2022-11-25 00:14:52
Error,The backup task rusty-Default failed.,2022-11-25 00:14:54
Warning,Backups of Luka's 5K iMac will not be backed up. (Reason: Unsupported disk bus type.),2022-11-25 00:10:35
Warning,Backups of Luka's 5K iMac will not be backed up. (Reason: Unsupported disk bus type.),2022-11-25 00:10:41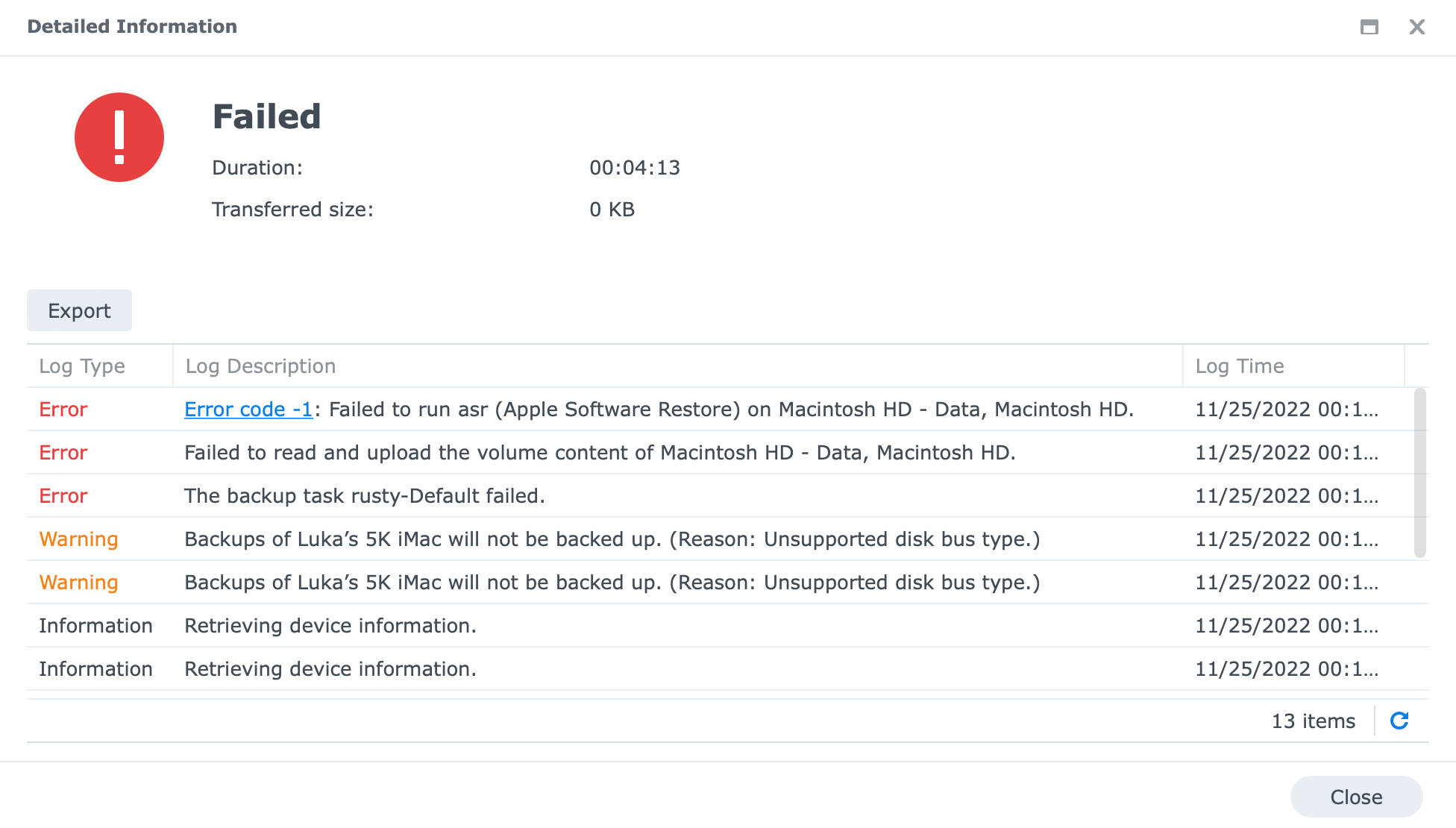 The following error will happen in case you have missed giving Full Disk Access permission for the ABB agent. Enable it and rerun the process.
If all was set as stated before, the backup will be complete without any issues.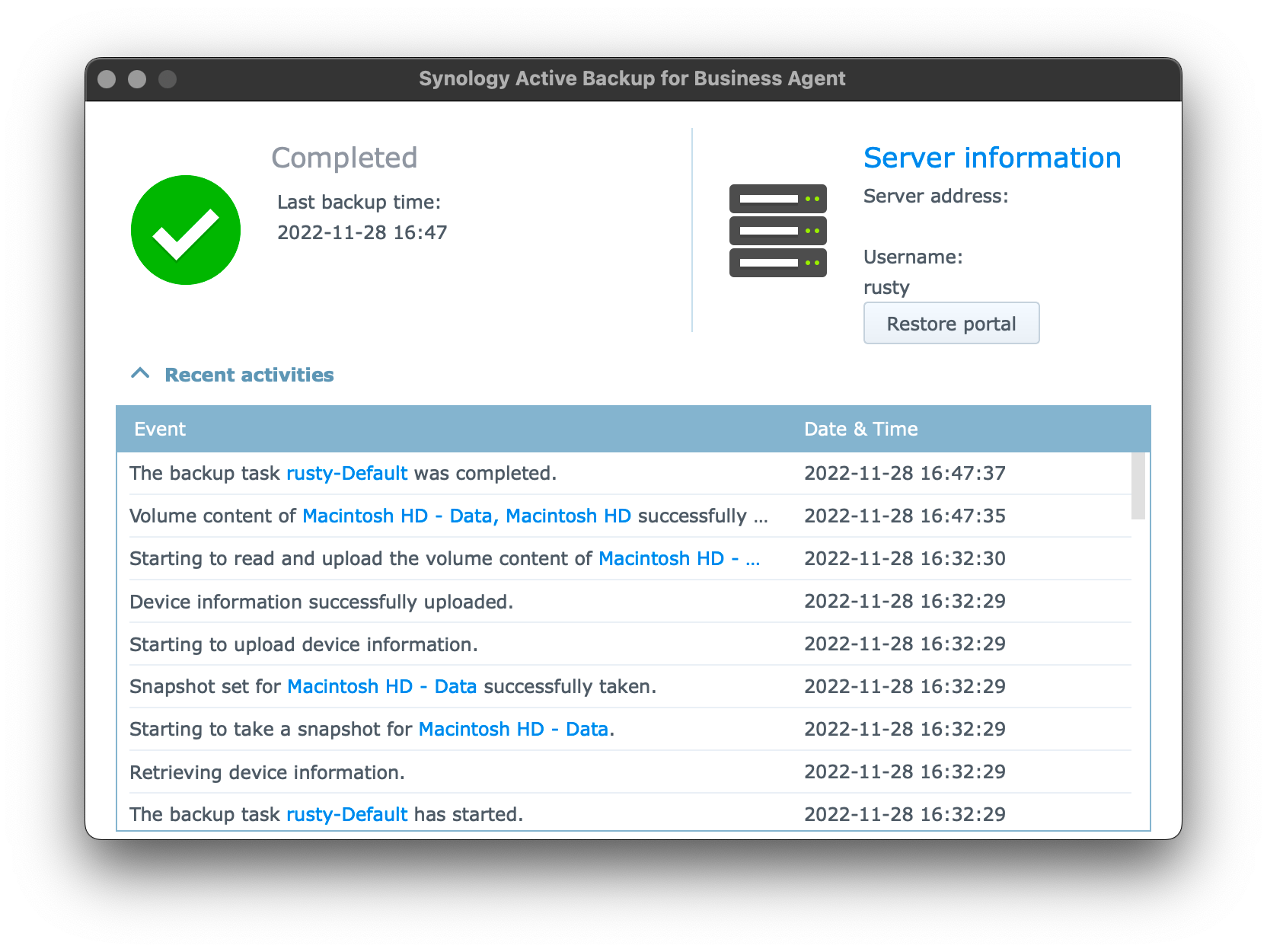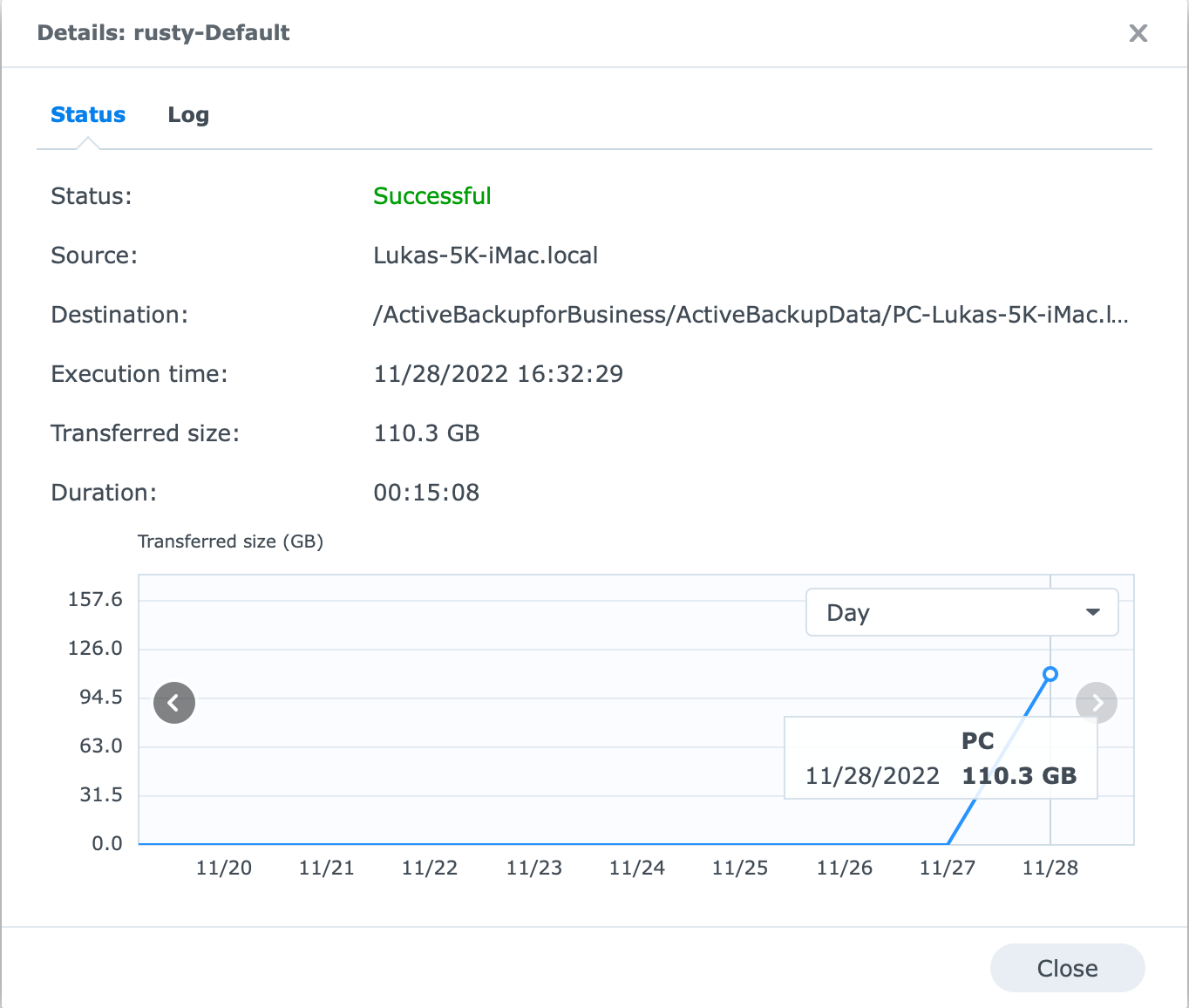 The initial backup of 110GB was completed in 15 min, over 1G ethernet connection maxing its speed most of the time.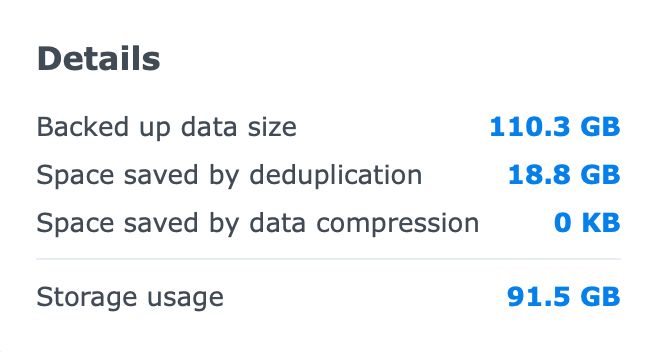 Considering that ABB uses deduplication it saved nearly 20GB of space after that initial backup.
Accessing the data using the Active Backup Portal will allow for file/folder restoration or download.

The Portal can be accessed as a separate icon inside DSM or via the ABB console using the Restore button. At the moment, only the file/folder option is possible, as there is no way to do a bare metal recovery. This will likely change in the future.
UPDATE 14.04.2023
📢
Version 2.6 of Active Backup for Business supports bare metal restore as a beta feature!

---

Any subsequent backup was fast and was completed much faster as expected. The second backup after the initial one was just under 3 min in duration.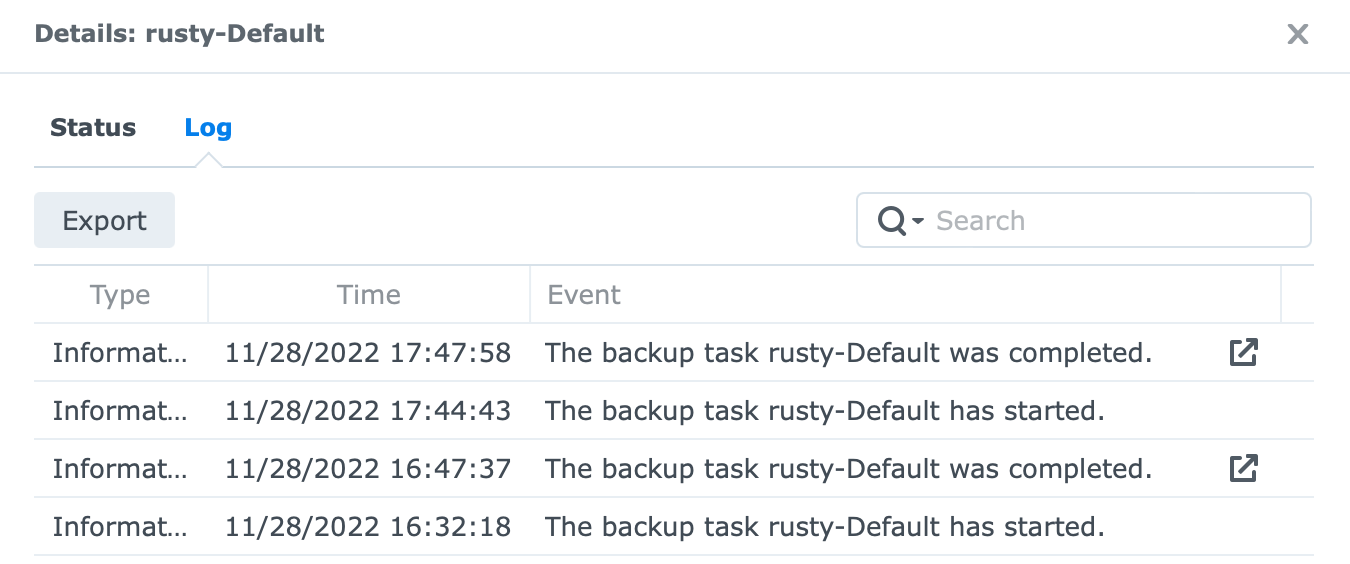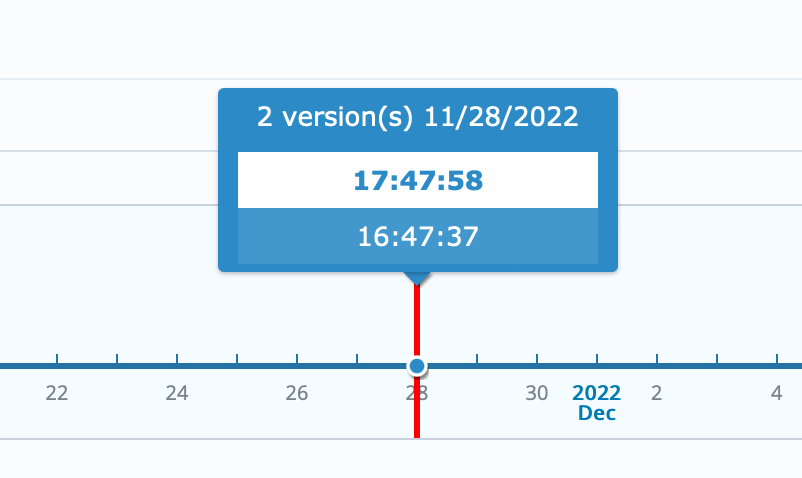 The data can be restored from any backup version using the ABB Portal, and deduplication has again managed to save space as well as shorten the actual backup time.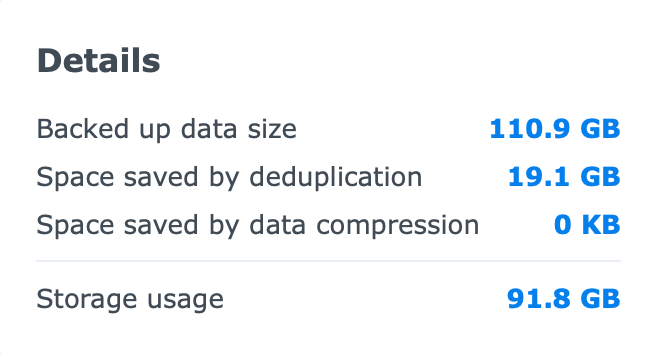 As we can see, the process works really well with no error once configured correctly. The backup speed was maxed out depending on the network connection and the speed of the drives on both ends.
Restoring tests have revealed that data is readable and any additional backups are indeed incremental and much faster than Time Machine I have to say. More tests will continue with multiple concurrent backups from multiple Mac machines to stress the system some more.


: macOS bare metal restore
As stated before, we will need to use Active Backup for Business version 2.6.+ in order to get the bare metal restore feature to show up.
Opening the ABB console and locating the Mac that we want to restore is the first step to get things going. Using the Restore menu, we can then select the Entire device option.

A new window will pop up, giving us the option to download Active Backup for Business Recovery Wizard tool and the link to the knowledge base article on how to execute the procedure.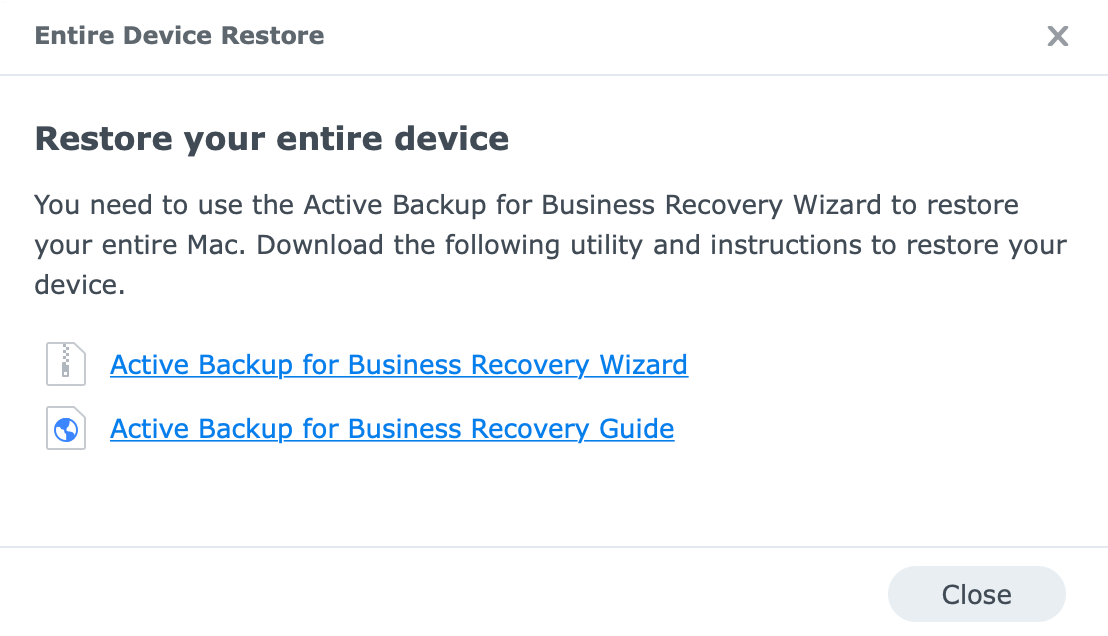 The recovery wizard tool can also be downloaded from the Synology Download Center on their website.

Unlike Windows OS bare metal restore, macOS will use Apple Migration Assistant as the actual migration tool. This means that we will have to have a working macOS installation running before we can continue with the restoration.
Restoring from a broken install will not be an option as the following step, after downloading the wizard, is to configure the macOS and the Mac computer to work with it before we can run in.
Installation of the Recovery wizard also includes all the steps and security elements needed for the ABB backup agent, so be sure to read the sections of the article covering that (enable full disk access and allow 3rd party kernel extension).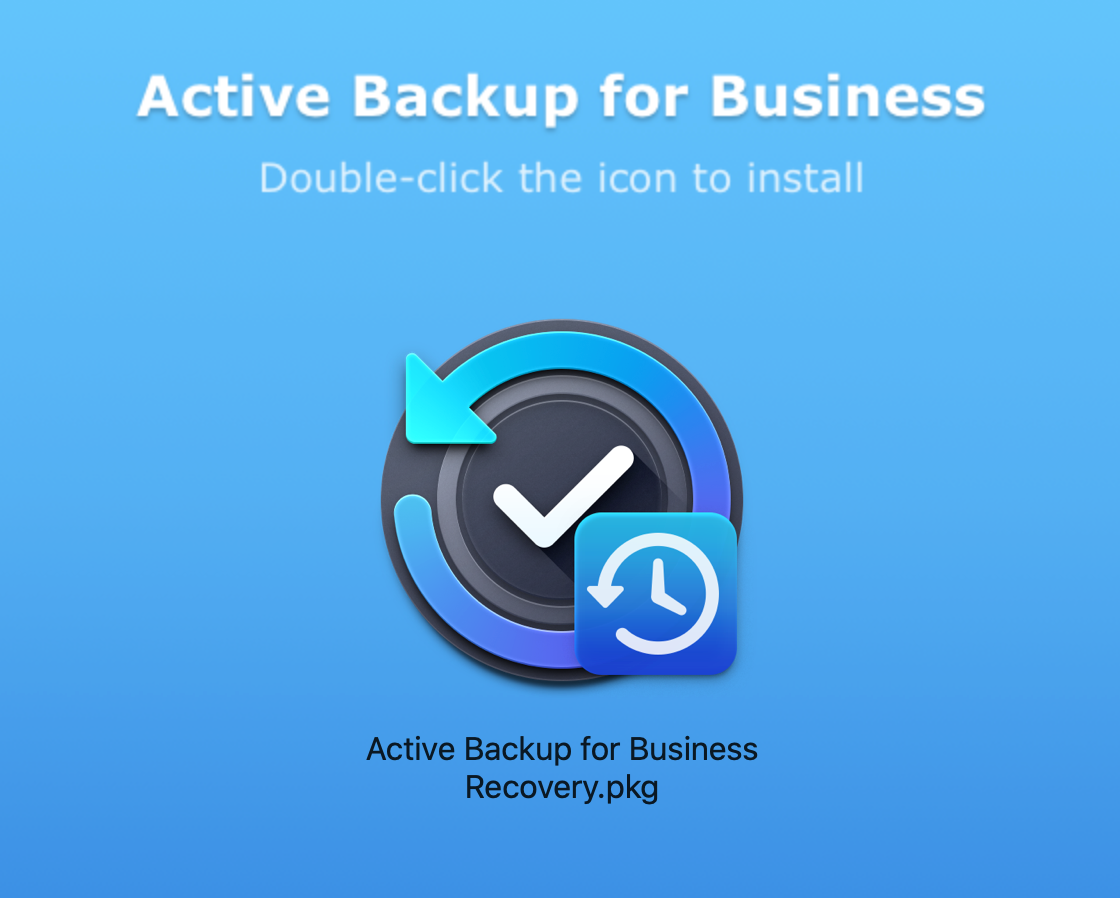 Once the installation has been completed, we have to use the Recovery Wizard and log into the NAS that has the backup we want to restore from. Once done, we will have a list of potential devices and tasks we can use to restore from.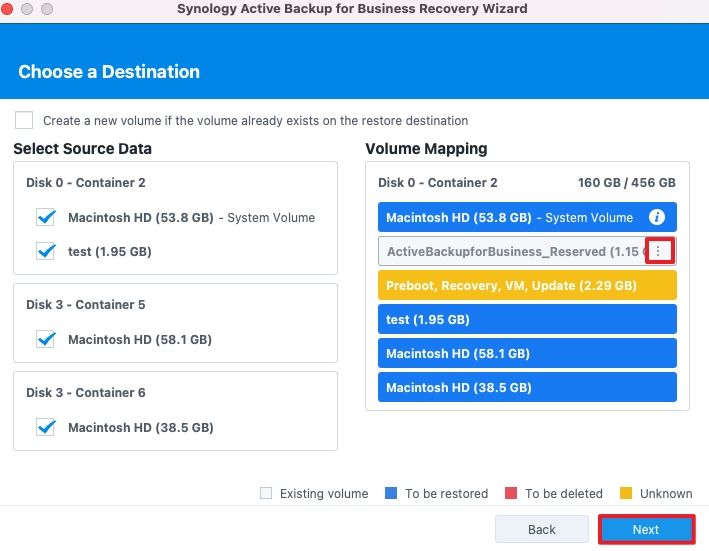 Next, we need to select the exact backup version and start with the volume selection that we need to restore. ABB wizard will automatically map volumes from the backup to the source but we can also make manual changes as needed.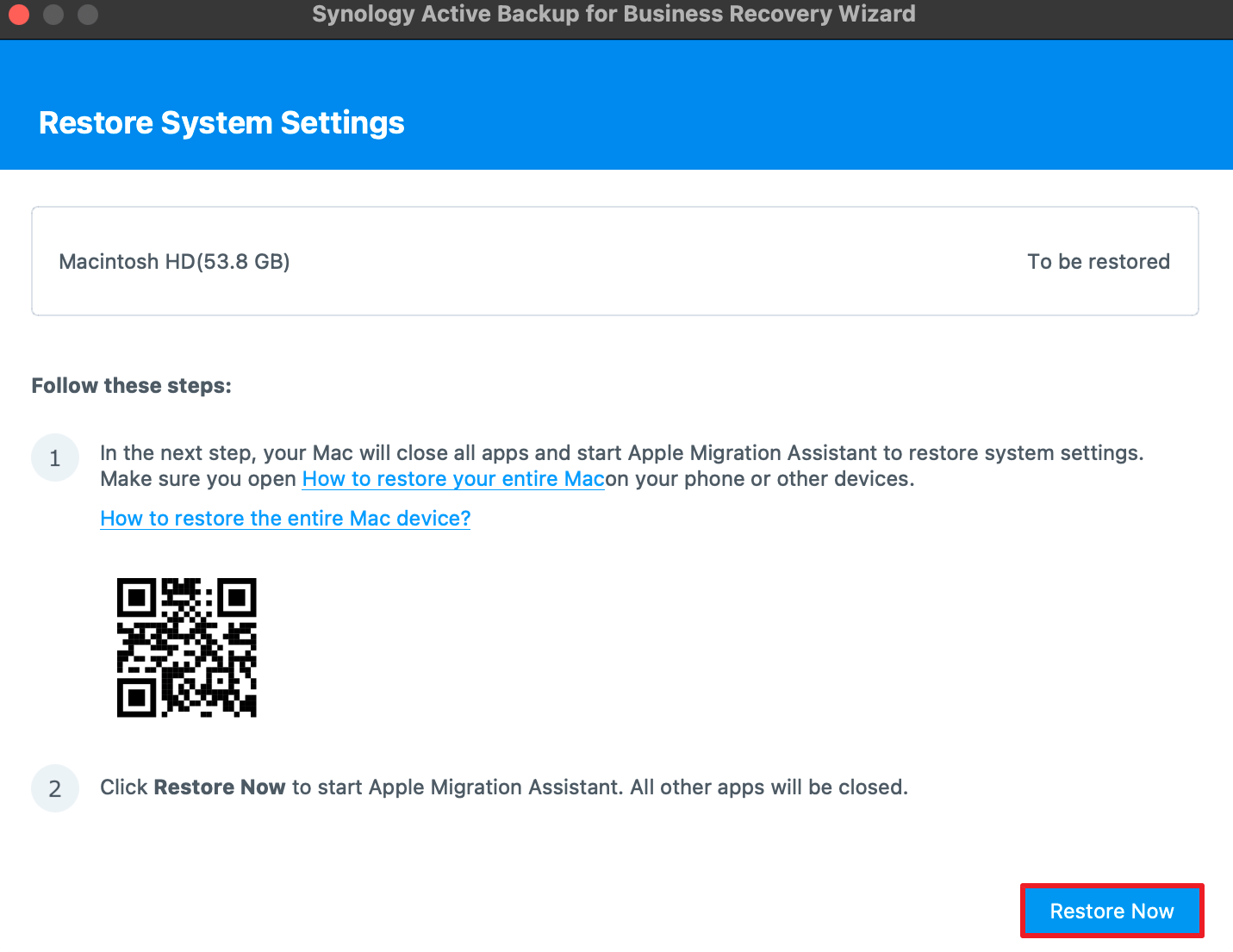 If we also selected the system volume for restoration, the Restore Now button will launch Apple Migration Assistant. All apps will be closed during this process.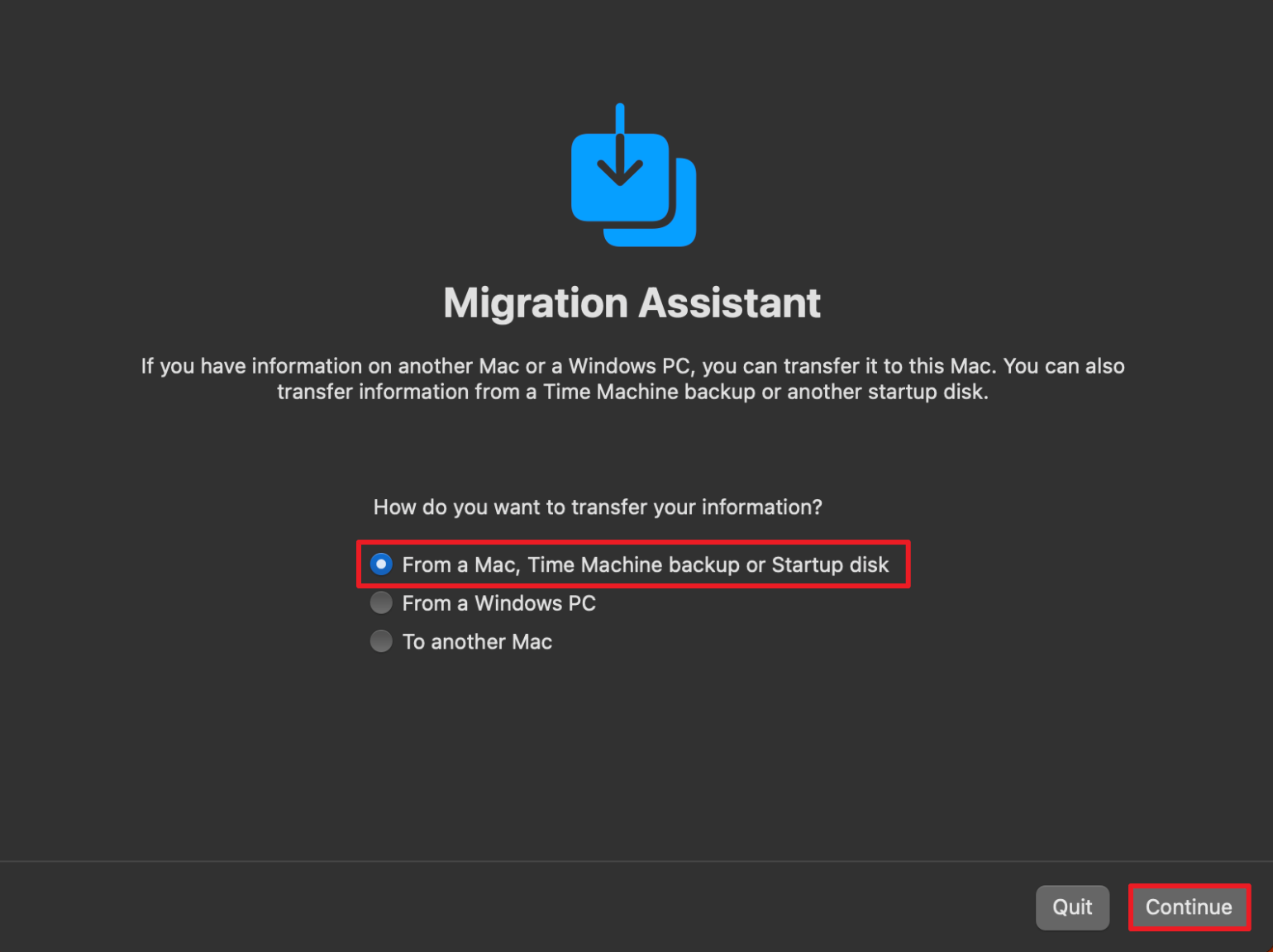 Following the usual Migration Assistant process, Select From a Mac, Time Machine backup or Startup disk option, and click Continue. After selecting the system volume, and the wizard has finished scanning the files, the restore process will start. We just need to wait for the procedure to complete at this point and the backed-up data will be restored.


: Migrating Active Backup backup archive to a new volume
If for any reason there is a need to migrate the ABB backup archive from one volume to the next, this is a short process on how to do it. This method will work even if migration will be on a separate NAS unit, but just for the sake of simplicity, this particular archive will be moved locally.
The idea is to see if the backup will continue forward and if there are any special steps on the client side that need to be considered.
The same steps apply regardless of the device that is being backed up inside a particular archive, and it involves only a single task if this operation is being performed on the same NAS.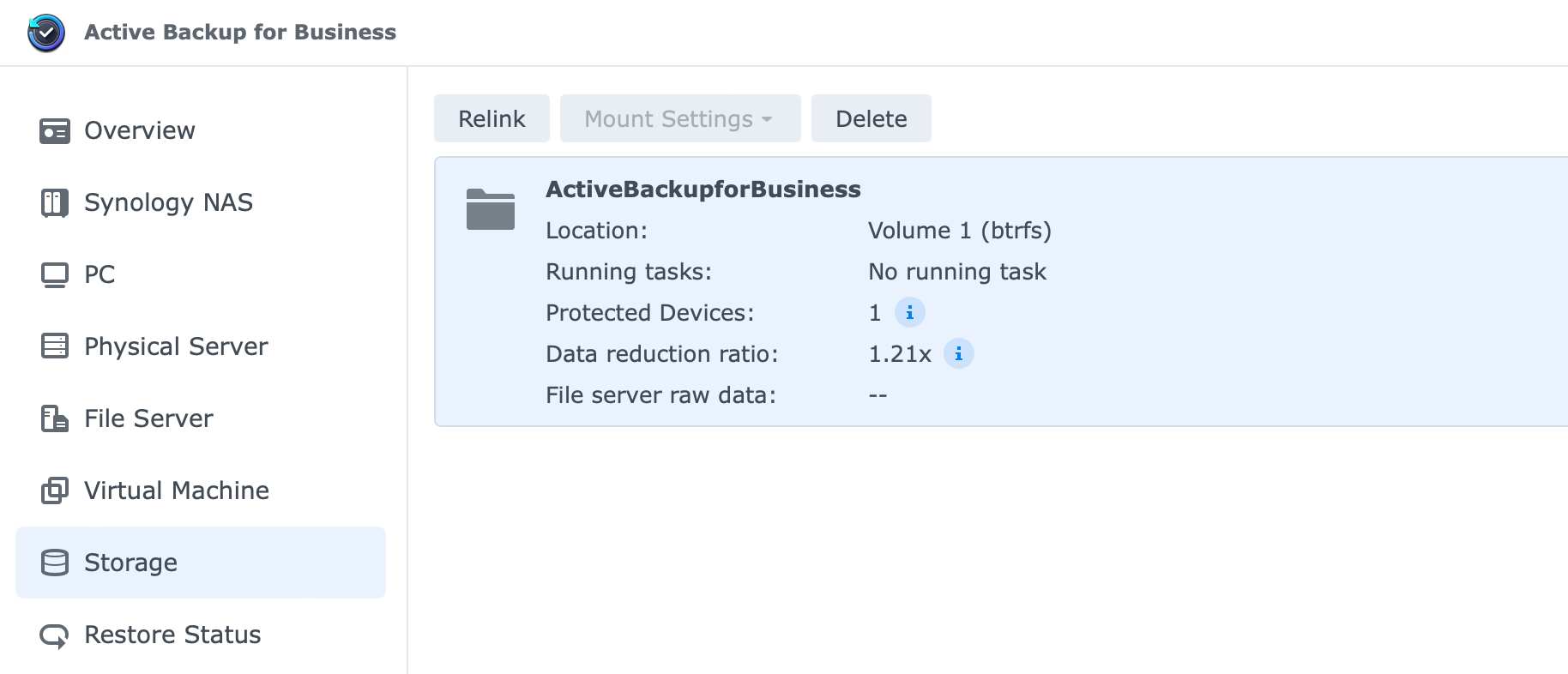 As can be seen in the images above, the single archive is being used and it is currently on volume 1.
By going to the Control Panel > Shared Folders and editing the settings of the ActiveBackupforBusiness shared folder, we have the option to change its location to a new volume on the same NAS. In this case, volume 2.
This process will only work if the archive is currently not in use (backing up some devices), and the speed will depend on its size and array speed.

There is no need to stop the Active Backup package prior to the migration, but it won't hurt either way.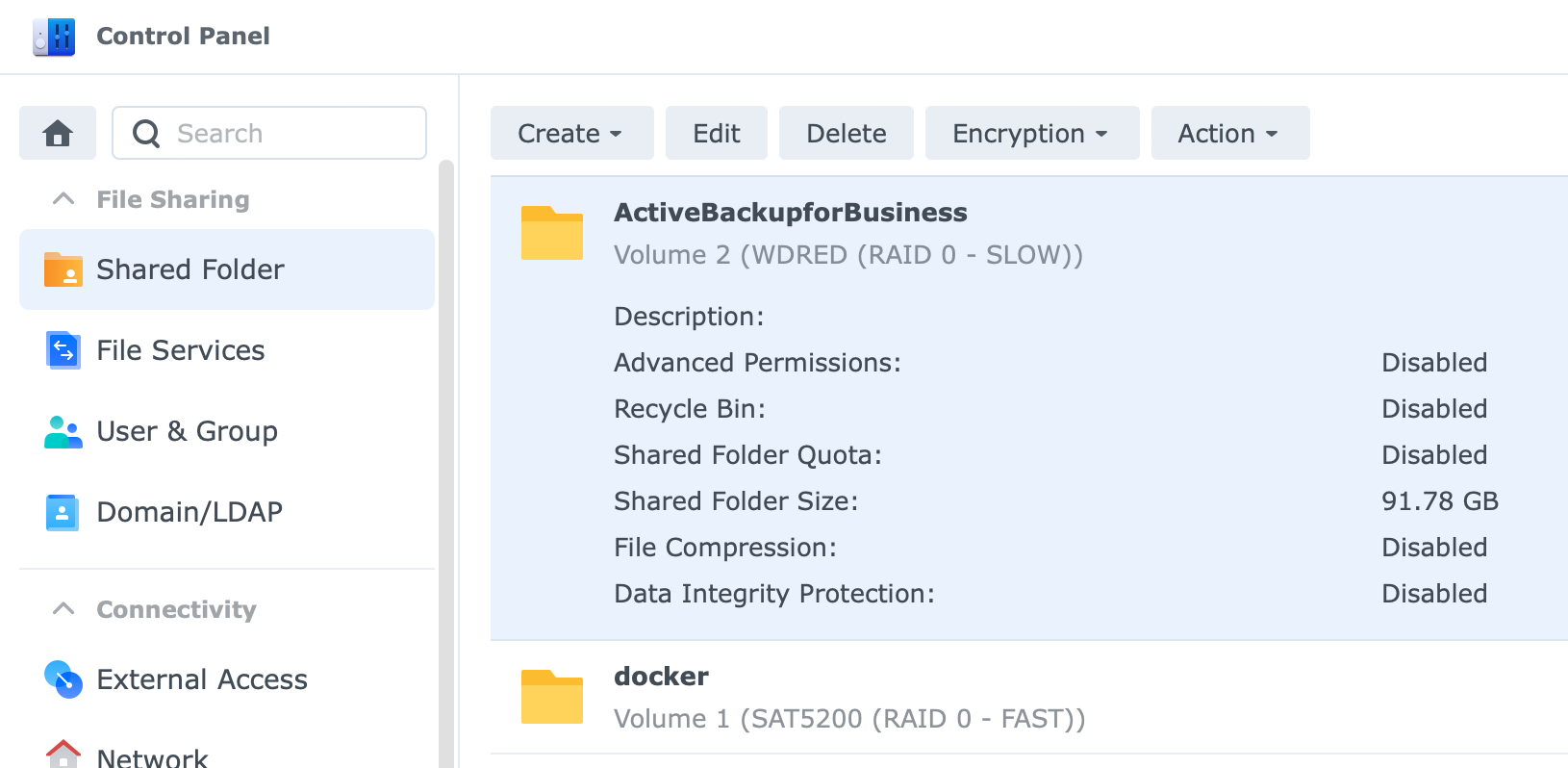 Once the archive has moved, resume the backup using the Active Backup console. In this particular test case, there were no problems whatsoever, and while it took a good 5 min before the actual data transfer started, the delta backup was completed in 1 min.



: NAS performance and utilization
In terms of performance impact, ABB will work on any device that it supports, but while the backup will execute really fast, it will also have a decent performance impact.
In the case of DS418play, the CPU will be in the high 90%+, while pushing it over to a more powerful NAS like the RS unit, it will still be from 45-50% of utilization.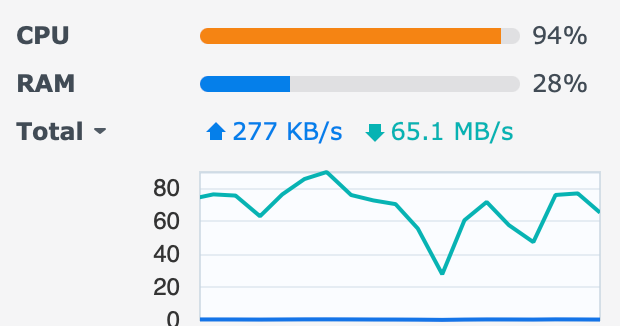 It is obvious that the speed of the backup will directly depend on the power of the NAS and its network throughput. Just keep in mind that running ABB along some other read/write-intensive tasks might cause some performance issues with the NAS if those tasks are overlapping.
Backing up took about 15min to complete the initial 110GB of data on the RS unit. Significantly faster than Time Machine.
---
ℹ️
UPDATE: 27.12.2022 - after some time with ABB running against multiple Macs I can say that it is working without any issues. Increment backups are 5-8 min long, and they work while the devices are sleeping. Very pleased with so far.
These days I will test the new Mac Studio device as well, as ABB supports Apple SOC as well. Wondering if the performance of the backup will be the same.
---
So far I am very pleased with the way this system works and I do hope it will prove to be a valuable and reliable backup for the macOS platform.