UPDATE: 11/05/2020 - Added YT links to all 3 official sessions
UPDATE: 21/05/2020 - Today we got presentation slides (as PDFs) so I will share them in the categories below as well as some Q/A for each section
Like any other 2020 events in the world, Synology is also hosting all of their events as streams.
Month ago Synology Workshops were also converted to streaming events, with a high quality I might add, and today we got new events coming in the next month.
Synology Solution Day 2020 will cover small business and enterprise range of their services and solutions and will target mostly  IT admins, system integrators and the like.
Considering that this is no longer an on site event, feel free to register and learn something new.
First event will be hosted on the 18th of May covering the following:
Enterprise Storage Solutions, Data Protection, and Remote Work
Achieving Ultra-Performance on Modern Enterprise Storage
PDF: https://ln.blackvoid.club/SsYaC
A deep dive into our high-end lines: All-Flash Arrays (FS), Petabyte storage (SA), and Dual Controller IP SAN (UC), together with how to best configure them to achieve ultra-performance
Part 1 Q/A
Q: Where would be the bottleneck on an SSD solution?
A: Very often, you will need to ensure the network (switches...) have the right speed to match the SSD, also it's essential that the clients (employee's workstations) are fast enough, typically that they too have an SSD not just a HDD. With a high number of SSDs in the Synology storage, you may need to go beyond a standard 10G connection, there are options on our compatibility list.
Q: I am assuming that all Synology NAS can get either SAS or SATA SSDs?
A: Only enterprise series models can support SAS. Note that for our Dual Controllers, it's actually SAS only, SATA drives can't be used.
Q: SHR (Synology Hybrid RAID) compatibility?
A: Only on business units as it's designed for customers unfamiliar with RAID.
Q: How can I integrate Synology with Razuna MAM running on a Windows Server?
A: You'd be able to do this by running a Windows VM in Virtual Machine Manager, and running Razuna in the VM.
Q: Is there a calculation to see which synology series you need for the number of VM machines with resources you want to use in addition to the storage options? The CPU is often not powerful enough while a 4 bay is sufficient for storage. It would be nice if the CPUs in series can be chosen more powerful as an option.
A: If you are running the VMs on the Synology, we have this guide: How many VMs can my Synology run?
A unit such as the RS1619xs+ is a compact four-bay with a quad-core Xeon, well suited to your requirements.
Q: Where does the SA3200D fit in in terms of performance, or is it primarily designed for availability?
A: With a quad-core Xeon, it would be closer to the RS3617RPxs, but with the benefits of inbuilt HA and a SATA DOM amongst others. Find out more here.
Protecting Business Workloads against IT Threats
PDF: https://ln.blackvoid.club/AImen
A guide to centralised backup protection for Windows, VMware, Hyper-V and Office 365/G Suite workloads, backed with advanced storage technology
Part 2 Q/A
Q: Is Active Backup available for all Synology units?
A: Active Backup is compatible across our units that support Btrfs, kindly refer to this list of supported units
Q: I notice early in the setup it said 'redirect backup' that suggests the backup was happening before?
A: It was a newly created task nothing was set up previously, it was actually an authentication request asking to "Redirect your personal information". This is because the data from Office 365 will be backed up to the NAS, as such authentication for this to happen is required.
Q: Will Active Backup for Business support macOS clients in the future?
A: This is currently on our roadmap for an Active Backup Client for Mac users in the near future
Q: Please send the data sheet for how many users when sizing for Office 365.
A: This is included in the PDF of the slides
Work Anywhere and Everywhere: Hybrid Cloud and Business Collaboration Solutions
PDF: https://ln.blackvoid.club/15BhP
Deploy a private cloud with Synology Drive, collaborate seamlessly over Chat, Office and MailPlus
Part 3 Q/A
Q: How are conflicts resolved?
A: Synology Drive offers users (on the computer client) this option should a conflict occur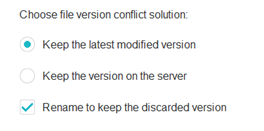 Q: Say you work with live files, and they require constant download and upload when you work on that file so it updates your working open file in real time. Does synology accomodate something for this to happen?
A: For this, Synology Drive won't be ideal, we'd recommend a solution such as Synology Office (allows live collaboration in web browser_).
Q: Any plans to allow editing of Office files on mobile platforms?
A: At this point in time Synology Drive for iOS/Android don't allow this. However you could achieve this on iOS with the regular Microsoft apps using the Document provider feature with DS file or DS cloud installed. Please contact us if you require more details.
NOTE: On this question the idea was can you edit Synology Office "native" file formats using a mobile platform. That is still not possible even using Micorosft apps
Q: What are the main differences between Cloudstation Drive and Synology Drive? And to what type of users are they targeted?
A: This FAQ explains this in detail
And this one is about how to upgrade
Q: I've been using using Cloudstation for several years for work purposes - should I change to Synology Drive or will Coudstation remain an active app?
A: Yes, we recommend making the move the Synology Drive as it will be taking over from Cloud Station.
Q: Does the mail server offer an archiving function? If not as of now, are you planning on implementing that?
A: This would be done via Hyper Backup, which integrates and supports backing up the email database as well as the settings of Mailplus Server. See here for more details.
Q: Do you plan to do a desktop client for mailplus in the future ?
A: Thank you for sharing your suggestion, it has been passed to our development team.
Q: Can I access Synoolgy Drive over the internet without going via Googe/OneDrive?
A: Yes Synology Drive is a private cloud solution (meaning no third party involved) but as long as remote access is enabled on your Synology, with QuickConnect for instance, files can be accessed and sync over the internet.
Partners Session: How Gen21 Reach New Revenue Height by Introducing Synology
Guest speaker Jason Windmill, Senior Consultant at Gen21 talks about deploying Synology for Silverstone Racetrack and customers in public sector
Sounds very interesting and the event will be held by Synology UK team.
Second event will be on the 28th of May with the following title and topics:
Synology Ultimate Backup Solutions
Synology's integrated backup and recovery appliances
Centralizes backup tasks for VMware, Hyper-V, Windows endpoints, Office 365 and G Suite to your Synology NAS with Active Backup Suite

Other Synology data protection tools
This second event will be only 1 hour long but still an interesting topic no less.