UPDATE: 04/09/2021 - Acronis True Image Mobile as of version 5.1.2 will no longer support backups to the NAS. So be sure not to update to this version as you will have problems with your backups! Keep in mind that you will still be able to restore from backup.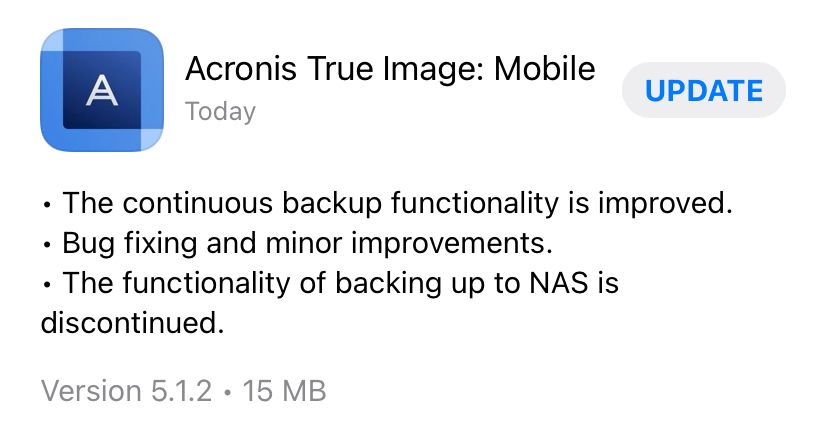 Guess backups will have to be done some other way, or it might be the kick that I need to migrate photos to Synology Photos (with DSM7) and use it as my backup method. Alongside that, you can use the DSFile app to backup your photos and videos if you want.
---
Today I would like to focus on a nice and elegant solution to backup your mobile device and not pay anything (if you own a compatible Synology NAS that is) that you might pay with any other solutions that you might be using.
Just to keep things clear, we will talk about backing up only your mobile content, not the OS itself (like Android or iOS). Considering that data is more important than the OS itself this makes sense and on top of that having a valid backup is always important, because as I said in some of my previous articles, nobody likes to do backups, but they sure love them when needed. Right?
Using your NAS as a cloud backup alternative
So you have, I'm sure, heard of iCloud, Google Drive, Google Photos, Dropbox, Carbonite, and many other cloud-based services that do a lot for you, but at a price. Some are free (to a point), others are not, some offer a lot other don't do what you need. Well, how about we focus on a solution that will back up your mobile device in such a way that you don't have to worry about having a valid copy or not, or how much space can you occupy with your backups.
If you are running a Synology NAS there is a number of solutions that you can use to backup your devices. Some are again, free, some are not, some are more complicated than others but if you decide to use your own NAS as a target destination for your backup you might consider using Acronis True Image.
Acronis is a world-famous name when it comes to backup software. They have a wide range of personal and enterprise solutions for backing up just about anything. Mobiles devices included. To make things, even more, better, this solution is free.
Enter, Acronis True Image Mobile.
NOTE: Just to be clear, True Image Mobile is a free solution. True Image 2020 is still a paid piece of software for your desktop device that starts at about 50€ per device.
To make this work you will need to install True Image Mobile from the Package Center. As I said at the beginning, your NAS will have to be compatible with this application in order to get it up and running.
As of March 2020, Acronis True Image will work on these devices:
Applied Models
20 series:FS3400, SA3600, SA3400
19 series:RS1219+, DS419slim
18 series:RS3618xs, RS818RP+, RS818+, DS218j
17 series:FS3017, FS2017, RS18017xs+, RS4017xs+, RS3617xs+, RS3617RPxs, RS3617xs, RS217, DS3617xs, DS1817+, DS1517+
16 series:RS18016xs+, RS2416RP+, RS2416+, RS816, DS916+, DS716+, DS716+II, DS416play, DS416slim, DS416j, DS216+, DS216, DS216j, DS216se, DS216+II, DS116
15 series:RS815RP+, RS815+, RC18015xs+, DS3615xs, DS2415+, DS1815+, DS1515+, DS415+, DS115j
14 series:RS3614xs+, RS3614RPxs, RS3614xs, RS2414RP+, RS2414+, RS814RP+, RS814+, RS214, DS414slim, DS214se, DS114, EDS14
13 series:RS10613xs+, RS3413xs+, DS2413+, DS1813+, DS1513+, DS713+, DS213j
12 series:RS3412RPxs, RS3412xs, RS2212RP+, RS2212+, RS812RP+, RS812+, DS3612xs, DS1812+, DS1512+, DS712+, DS412+
11 series:RS3411RPxs, RS3411xs, RS2211RP+, RS2211+, DS3611xs, DS2411+, DS1511+, DS411+, DS411+II
As you can see most if not all of these models are from the + lineup. Keep in mind that some high-end models will not have support for this like the very popular DS918+ that is running Apollo Lake CPU generation.
Acronis True Image installation and configuration
Regardless, if you can see Acronis True Image in your Package Center you are good to go. Install it and when you open the app from DSM main menu you will be greeted with this: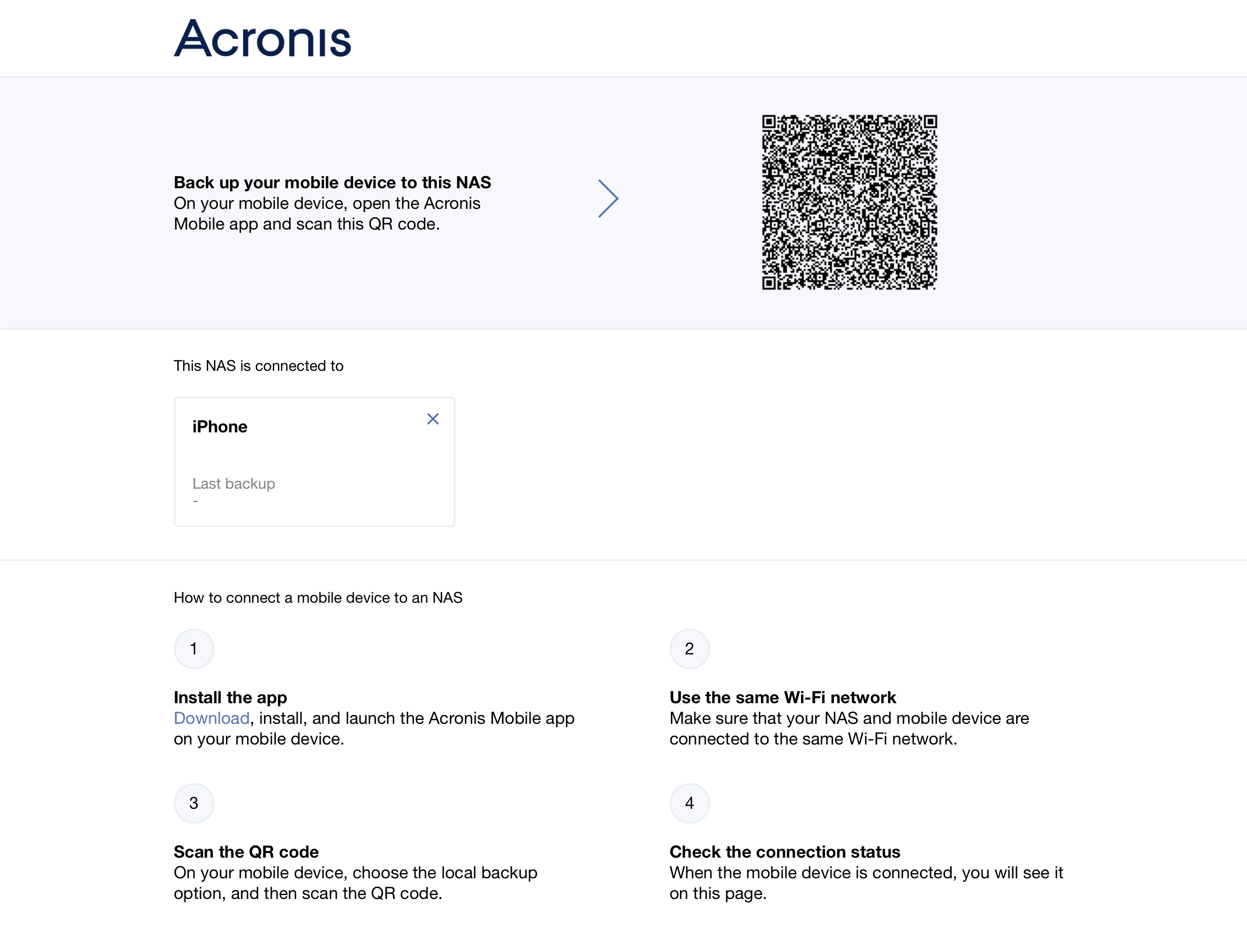 Here you can bind your mobile device running Acronis True Image Mobile (Acronis Mobile as its called) with your NAS.
As soon as you scan your QR code you will be able to make a backup of your photos, video, calendar, contacts, and reminders with a push of a button.
Of course, using your NAS is not the only option that you can target with Acronis Mobile. You can also use Acronis Cloud (paid service) or any other device on your local network that is running Acronis True Image that has support for backing up mobile devices.
Setting up your mobile device is an easy 3 step wizard process that will guide you through the process.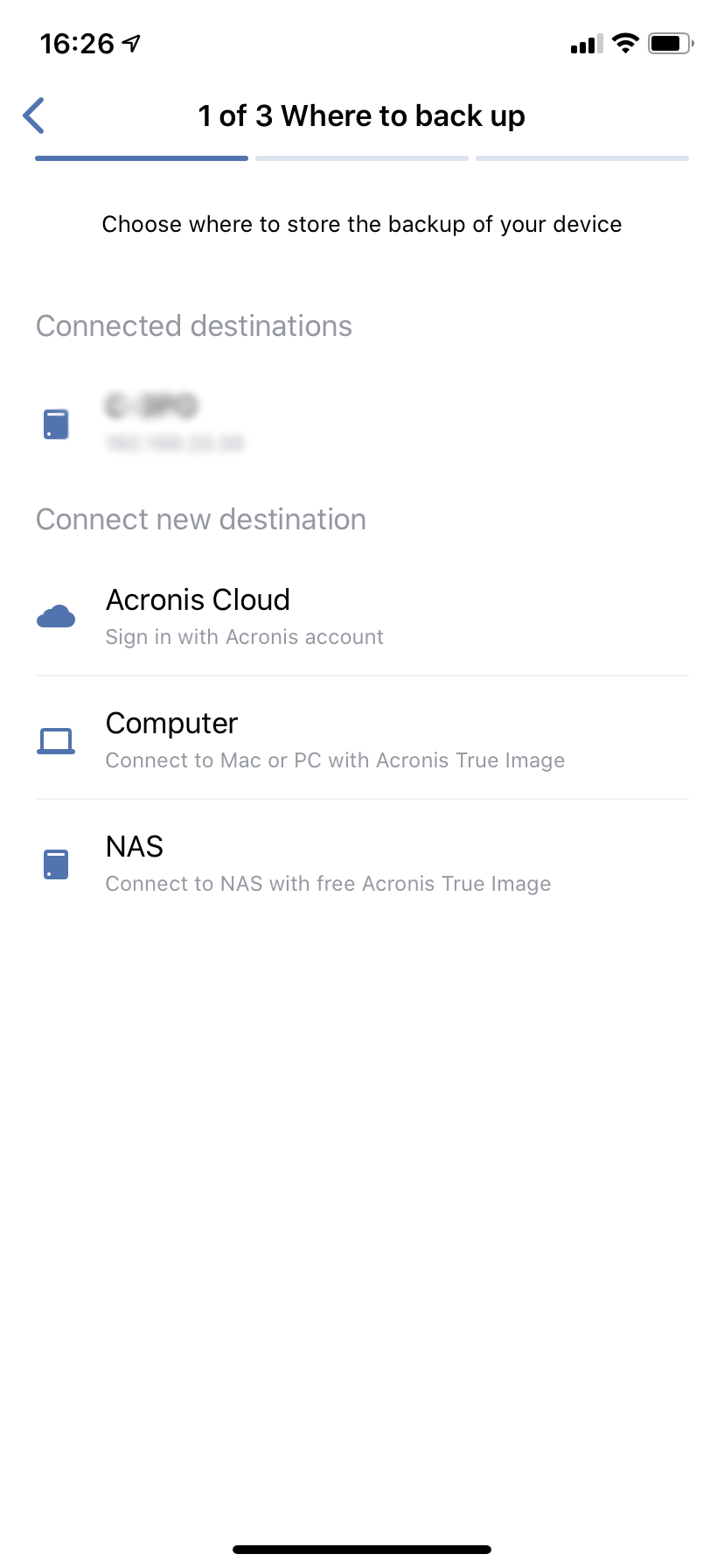 As you can see from the following, step 2 will instruct you to be sure that the mobile device and your NAS (or your local computer) need to be on the same WIFI network for this process to complete. Now this means that unless you are paying for Acronis Cloud service you will not be able to backup to your local device via the Internet.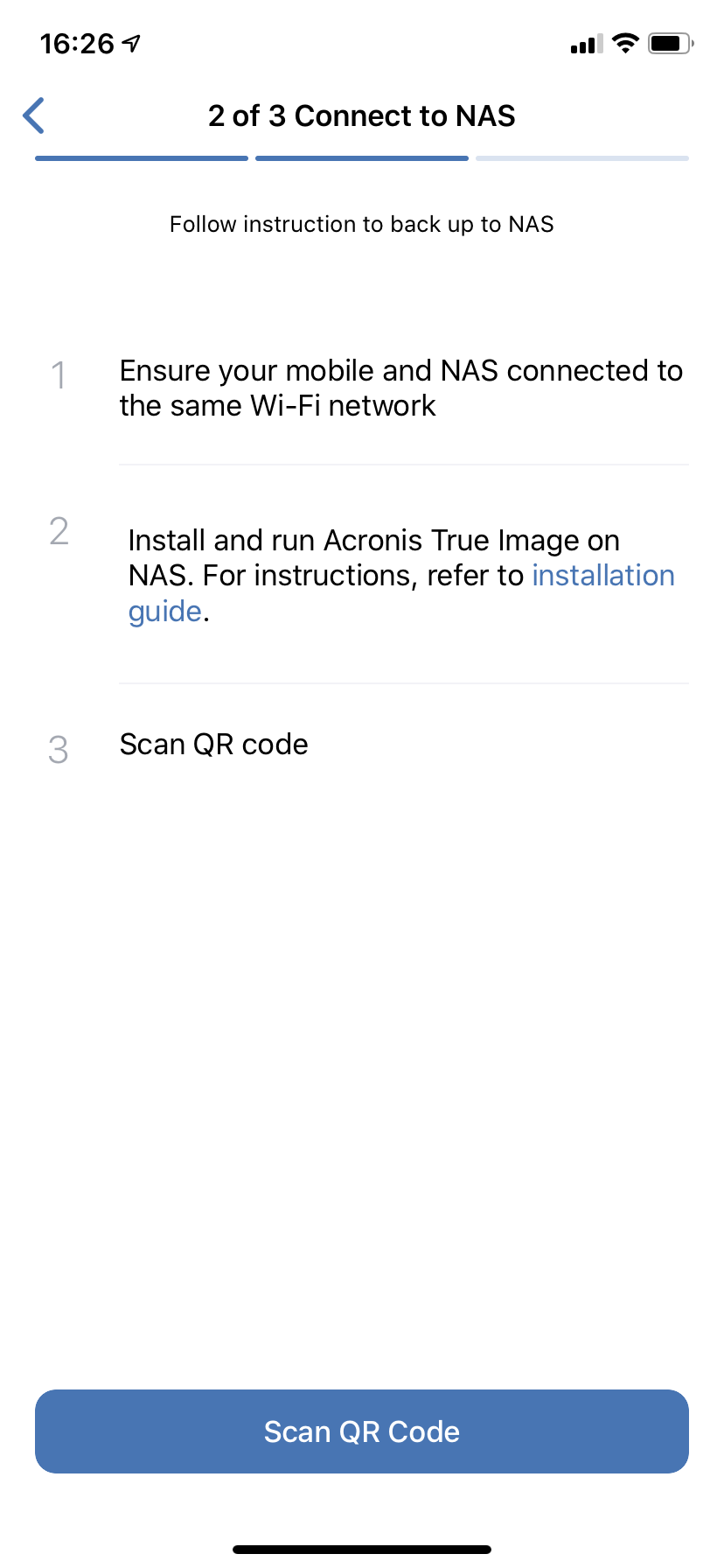 This is not entirely true because you can do this by using a VPN that connects back to your local network. When this happens your mobile device will "think" that its in a local network and in fact it will copy and backup data over the Internet using a secure tunnel.
NOTE: VPN configuration is not covered with this article, but you can read about it here
Finally, you will scan the QR code that Acronis has presented you with and you will be done! Great. Now that your configuration is complete, Acronis will start to backup your selected data.
Keep in mind that even though the application states that you can exit the app and that the backup will continue this is partially true. Yes, you can exit the app and use the mobile device with other apps, but if your mobile device goes to sleep, the process will stop. Now, this is maybe not something that's a big deal but the initial backup of several gigabytes or even 50-60GB can take a while depending on your WIFI speed.
Any subsequent backups will of course be a lot faster so just keep this in mind.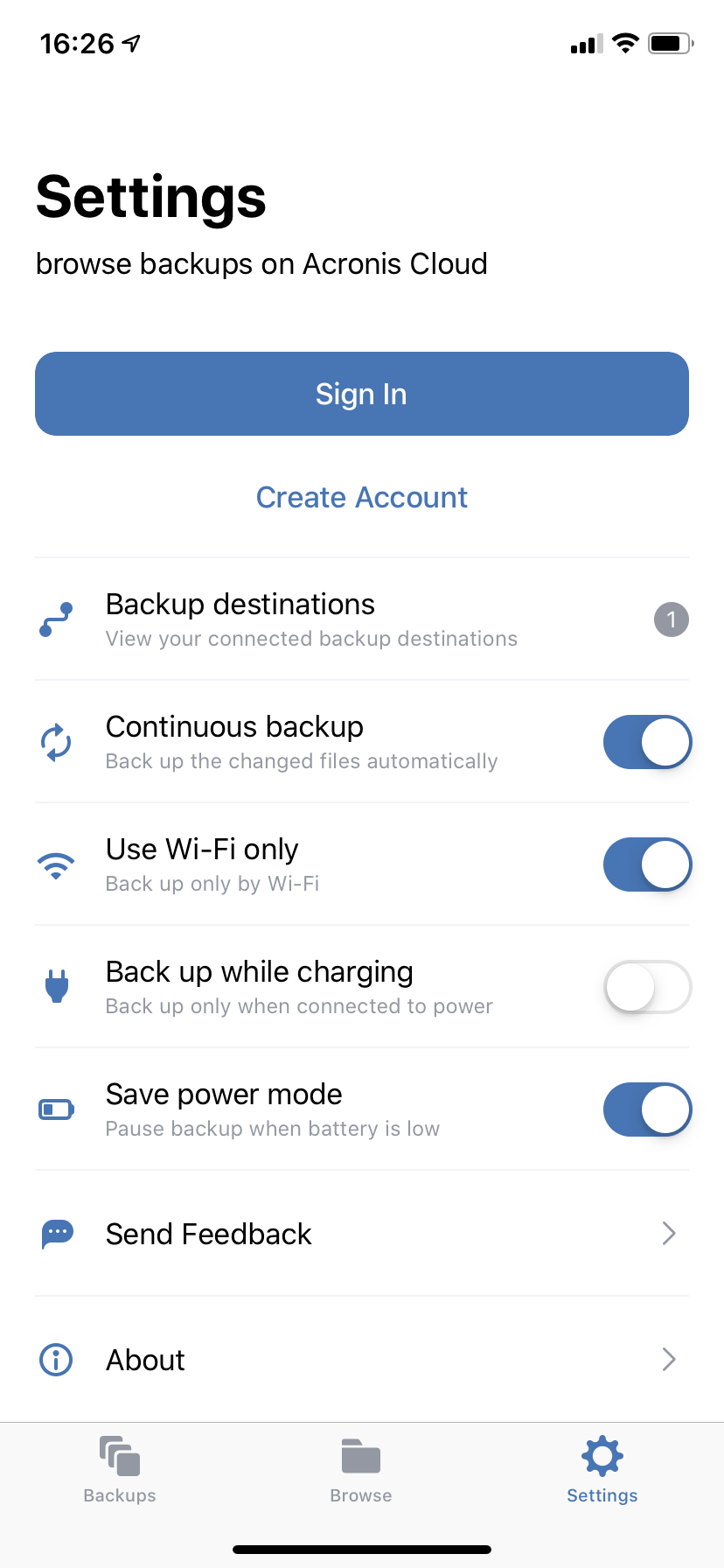 Using the settings options you can force the app to only backup when the device is being charged and also to not backup if you are low on battery. These are all welcome options, but again, your device has to be "awake".
Once your backup is complete you can use the "Browse" button on the bottom to access your data.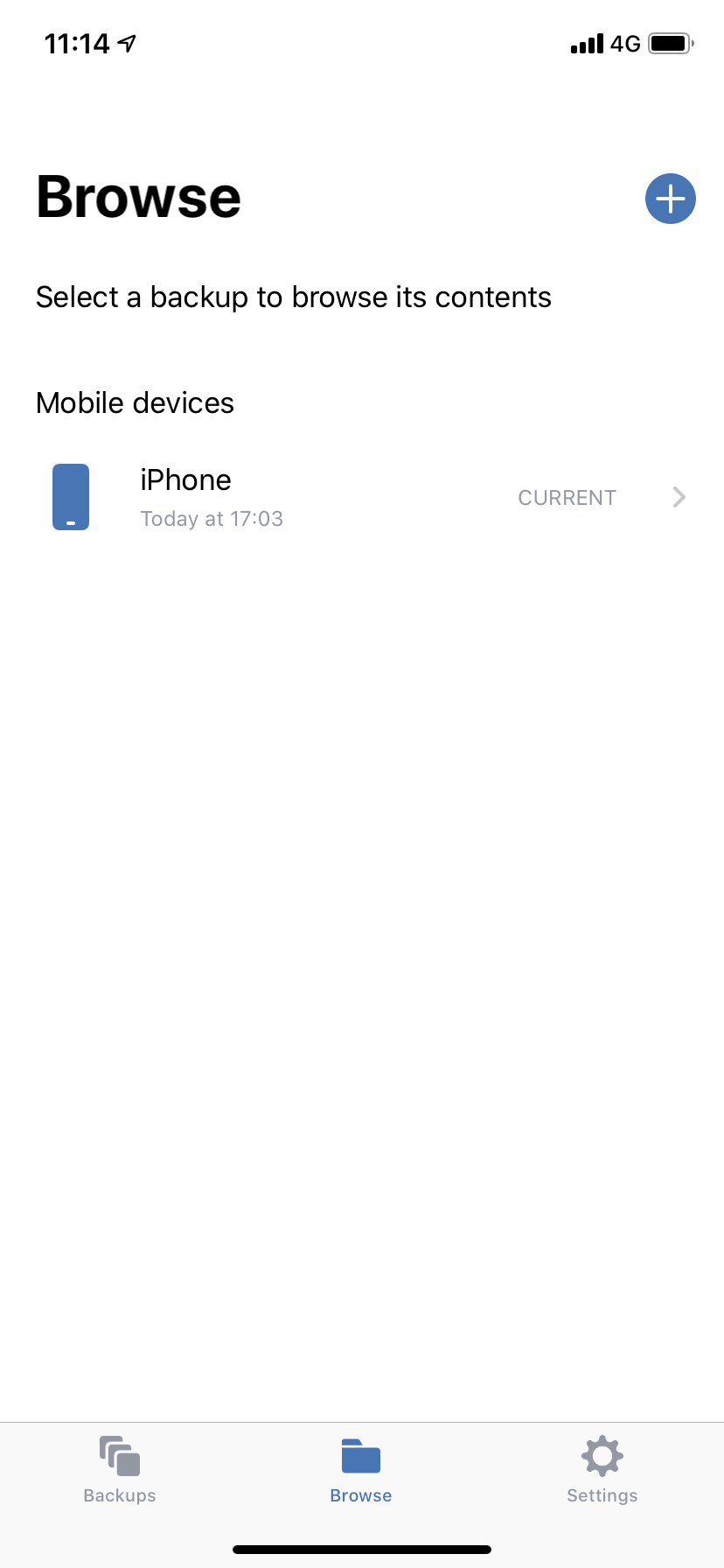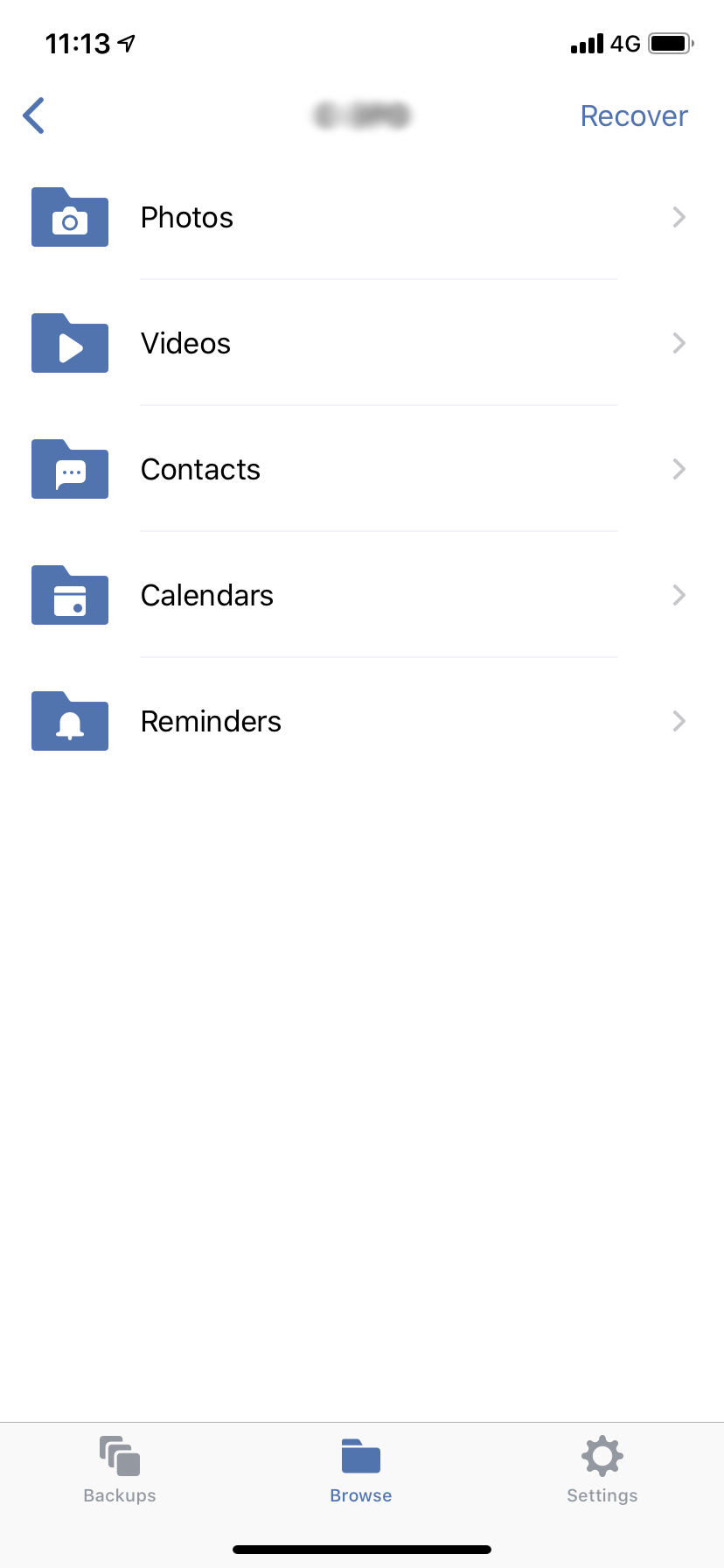 Acronis will divide the data into categories listed by date and you can view them in full size even before recovering them that's also a welcome little feature.
One more way that you can utilize this solution as well is that if you need to transfer pictures and videos from an iPhone to let's say an Android tablet, you can use your NAS as a jump point to make this happen. This way you don't need to mess about with any proprietary services that those devices might enforce.
One final note. Be sure to quit the app here and there as it tends to not find your NAS from time to time. This will be a silly situation where your backup is done but you can't access your data. This happens here and there and maybe not on all platforms so take this with a grain of salt.
Acronis True Image Mobile is a nice tool that is free and certainly not without its little bugs, but it will be a lifesaver when needed. Do you use any tool from Acronis yourself? Feel free to comment and give me your opinion.