Since Dec 31th 2019 when Synology first announced DSM 7 preview, much has changed.
On Sep 8th, 2020 we had hands-on with the first version of DSM7, and already then it was stable. Initial upgrades and user feedbacks were very positive.
So what does this new version of Disk Station Manager (DSM) brings to the table? In this article, I will do an overview of DSM and it's changes as well as name a few features that stand out. The following articles will focus on some specific (new) features that Synology developed as well as some other well-known ones that have changed in more than one way.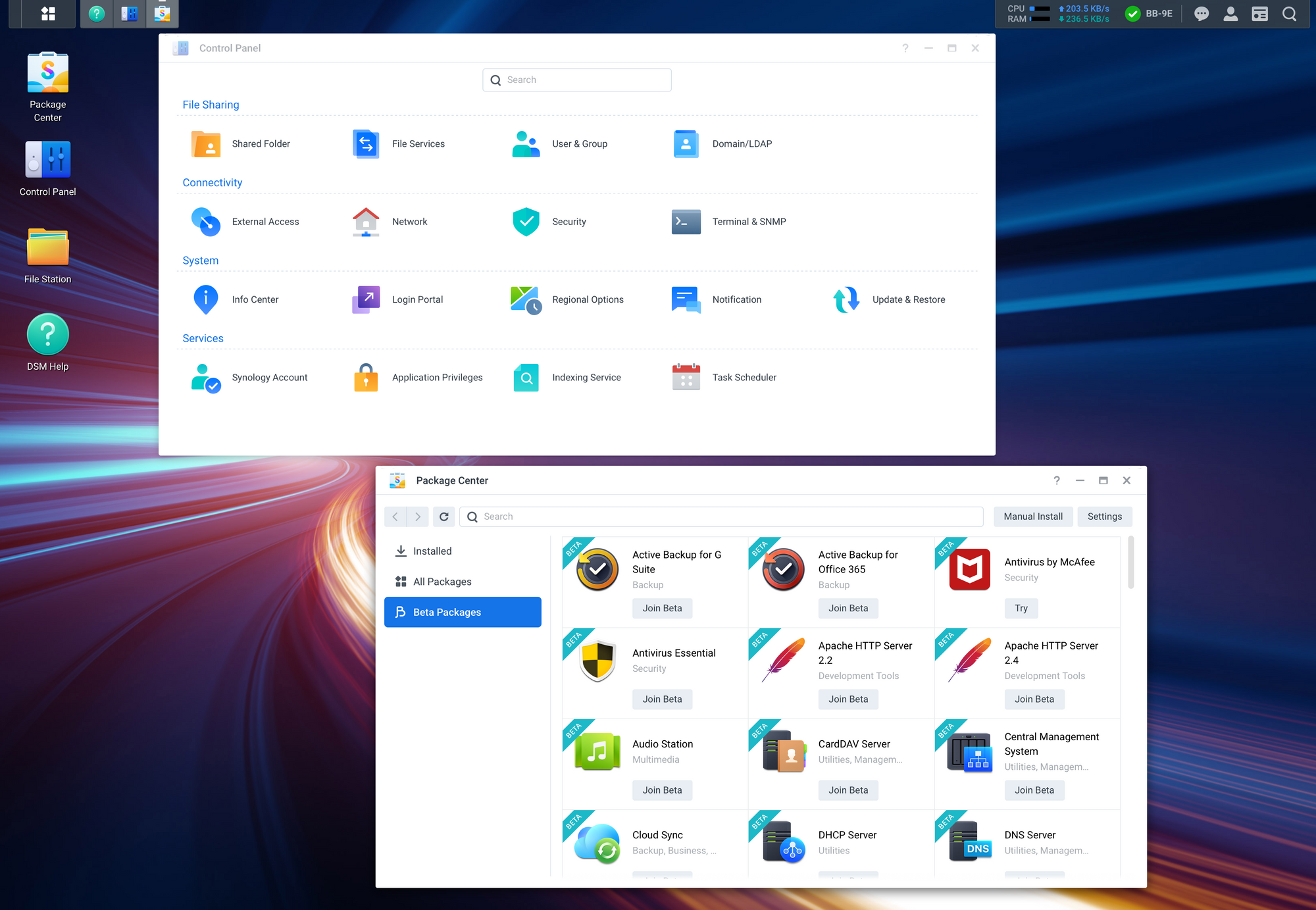 DSM 7 - more than a fresh coat of paint
A lot of changes happened under the hood, some are unknown some are not. The main thing that you will notice right of the bat is speed. I have to say, regardless if you are running the latest model or a J version from 2015, SSDs or HDDs, DSM7 will run fast.
The fact that this is true for all models, not just the mid-to-high tier ones, is a great move by Synology that shows they still care about supporting DSM on all of their models regardless of how old they are.
Saying that, keep in mind that DSM7 will not run on models from 2012 or older than those. So models x13 to date are supported. If you are running more then 9y old model, let's say DS412+, you will have to swap it out for a younger one.
DSM 7 - Familiar but new UI
As I said, the UI has been changed visually, and there is not a single icon, checkbox, window, or popup menu that hasn't been touched in one way or the other.

Saying that this is still not a finished product so some app icons remain the same. Will that be the case or not down the line remains to be seen.
Going for a more modern, flat look of icons, fonts, and the overall color palette, Synology managed to make a bold impact without making the DSM look like it is a cartoon. Truth is that DSM6 also had a combination of flat and emboss elements (some app icons compared to Control Panel icons for example) so it could be that we might see the same result in the final version as well. Not something that bothers me personally, but just saying.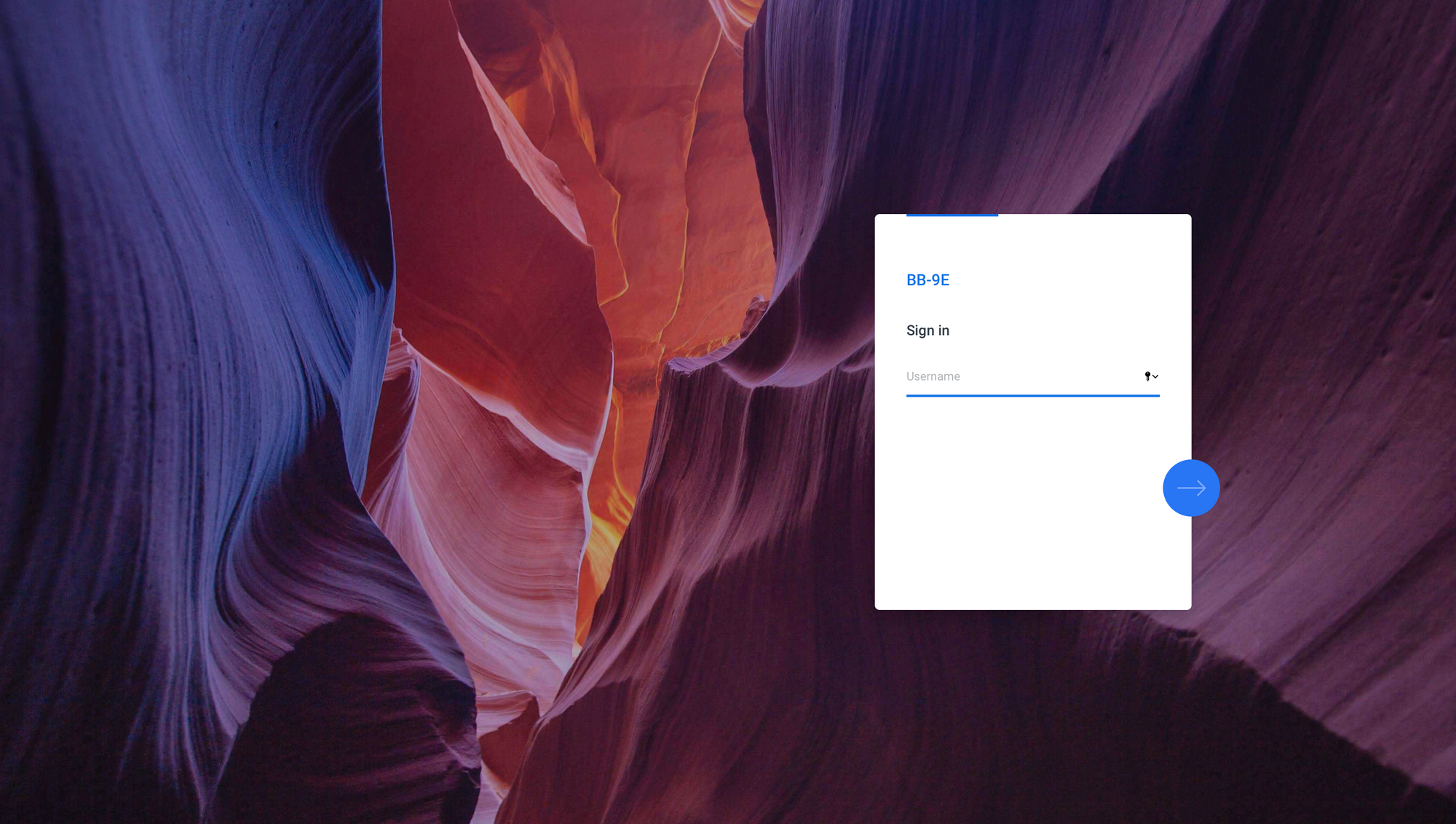 Certain DSM elements and apps, the login screen for example has been completely redone and is nothing like you have seen so far in any version of DSM. Aligned to the right-hand side hovering over a background the login dialog will simply ask for your username and then depending on your method of login ask for a password or a mobile authentication (wait what??).
Yes, you read it correctly. DSM7 now supports mobile authentification as well as the use of hardware keys and even Apple TouchID. How cool is that!?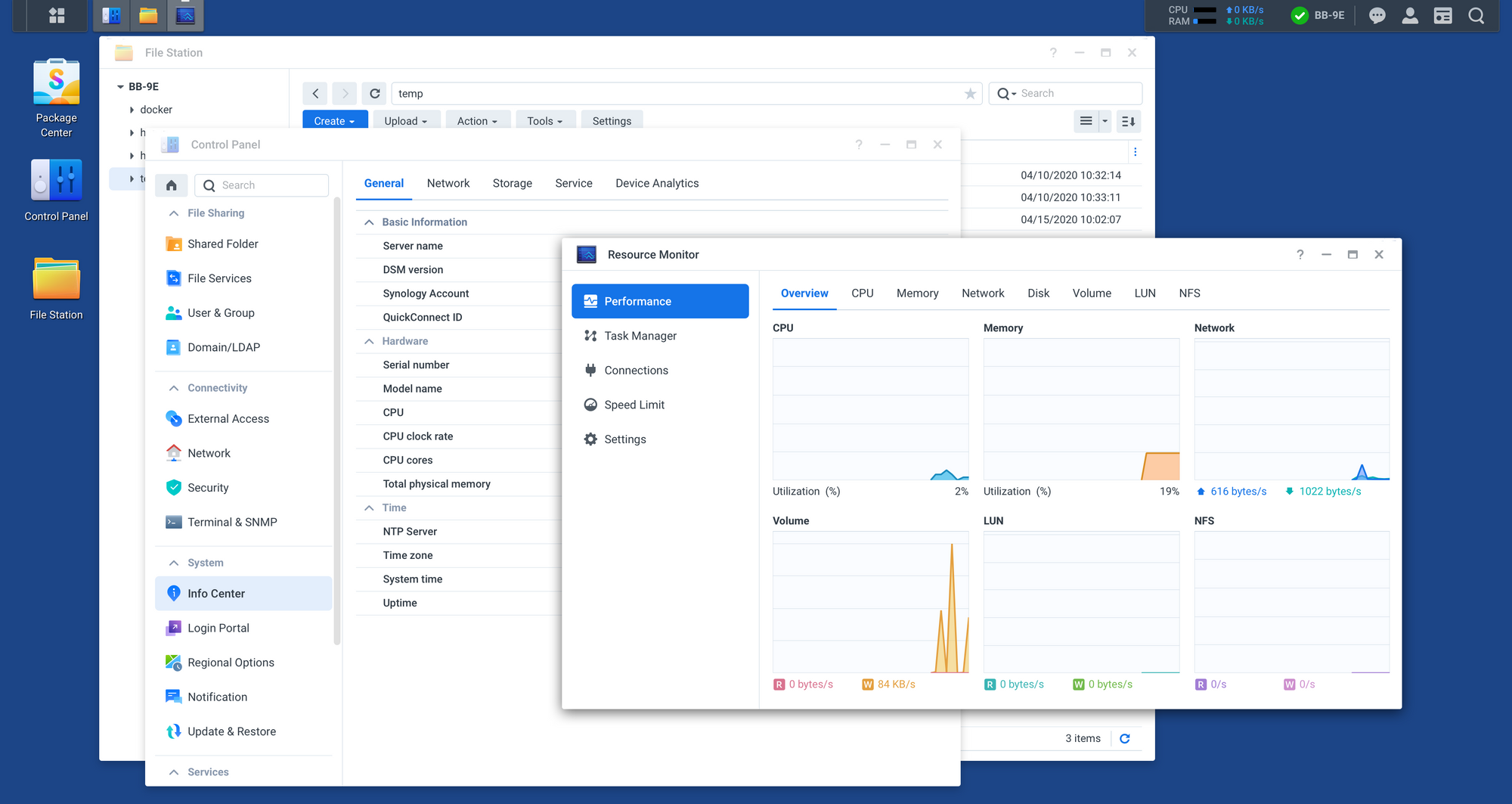 Once logged in you will still see a familiar but new desktop that is missing the top bar, and instead has a bar that will be wide as much there are running apps and services. The menu icon is still present in the top left corner that will open a full desktop overlay presenting all the installed apps that you have running on your NAS.
As before you can drag certain apps and services to the desktop to create shortcuts for them. The right-hand side is reserved for user preferences, shutdown, and reboot as well as a place to hold your widgets.
Built-in services that stand out
In 2019, and during Synology 2020 worldwide keynotes and webinars, we were shown some new interesting features that will come as part of the DSM7 system. I'm not talking about apps that you can install, but rather services that are now a standard setup of DSM.
Keep in mind that some of them you will be able to use (or not) depending on the HW model of your NAS. I will name four of them here and have a separate article to explain them in more detail.
Secure SignIn is a new feature that offers NAS users login into DSM without the need to type in their password. Instead, they can use a mobile Synology Secure SignIn app that will require you to authenticate any login that pops up. On top of this, if your mobile device offers biometric protection (finger or face) it will also be used to authenticate that specific authentification that you allowed. Pretty sweet right?
Secure SignIn can also be used as an alternative to a classic 2FA that is also still part of DSM in case you will not use any 3rd party apps.
Hybrid Share was presented back in April 2020 on one of the Syno2020 webinars. This is one of the features that will not be visible to all users depending on the model of NAS that you are running.
The idea behind this option is to better utilize your Synology C2 cloud plan (separate platform) beyond using it as a simple Hyper Backup destination. In short, you will be able to present a shared folder on your NAS that lives in your C2 storage. This way you will extend your NAS capacity to the cloud and you will be able to manipulate the data beyond a simple HB process.
NOTE - Hybrid Share has the following disclamer:
Synology collects usage statistics for Synology C2 Hybrid Share from both the NAS devices and from Synology C2 to improve product usability during the Program. Collected data is associated with your Synology Account, a requirement to access Synology C2.
From a NAS device with C2 Hybrid Share enabled, we collect information about file protocol usage and file cache settings. From Synology C2, we calculate the storage capacity used, the number of folders and files stored, the sizes of files transferred, and the number of NAS clients connected.
Data stored on C2 Hybrid Share is encrypted end-to-end and only accessible to you (with the encryption key) and NAS clients connected to that Synology Account.
All data you store during the Program for C2 Hybrid Share will be deleted after the end of the Program or upon the official release of DSM 7.0.
Active Insight is also another new feature that will be available on the device with more than 256GB RAM. As a built-in service, you can connect your NAS to the AI public web site (hosted by Synology) and have a complete overview of your NAS units metric in one clean dashboard. You can connect any compatible AI NAS.
When DSM7 rolls out some features might fall into a paid tier, but that is yet to be seen.
NOTE - Just like Hybrid Share, AI also has the following disclaimer:
Synology collects diagnostic information about the routine operations of your NAS devices in order to generate an Active Insight report and to provide web services. The diagnostic information we collect includes performance data, capacity usage, configuration data, IP address, QuickConnect ID, and hardware faults.
Your data is stored as long as Synology Active Insight service is enabled. If you choose to disable your Active Insight feature, we will keep your personal information for up to 30 days. Personal information includes information that can be associated with your Synology Account, such as IP address and QuickConnect ID. After the removal of your personal information, the remaining diagnostic information is considered non-personal and will be used to generate aggregated reports to help us to improve our services.
On top of these great new major features, DSM7 will bring some organizational changes as well. You can see them in the first image. Control Panel for example has been slightly reorganized and also options inside specific modules have got some changes as well.
One that I would like to focus on a bit here is the User & Group module. Apart from the same options and settings that you expect, Synology has offered granular permission delegation options.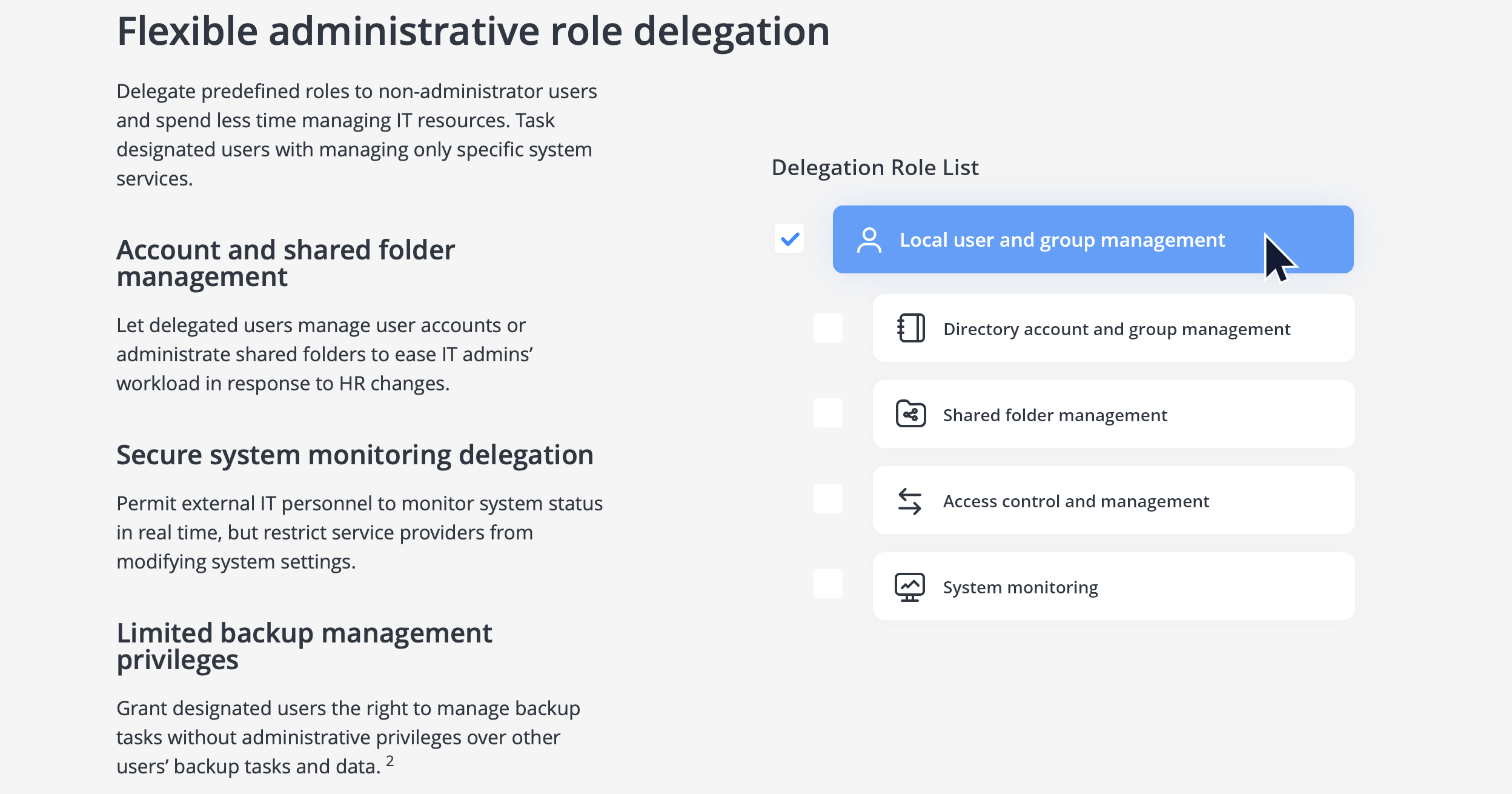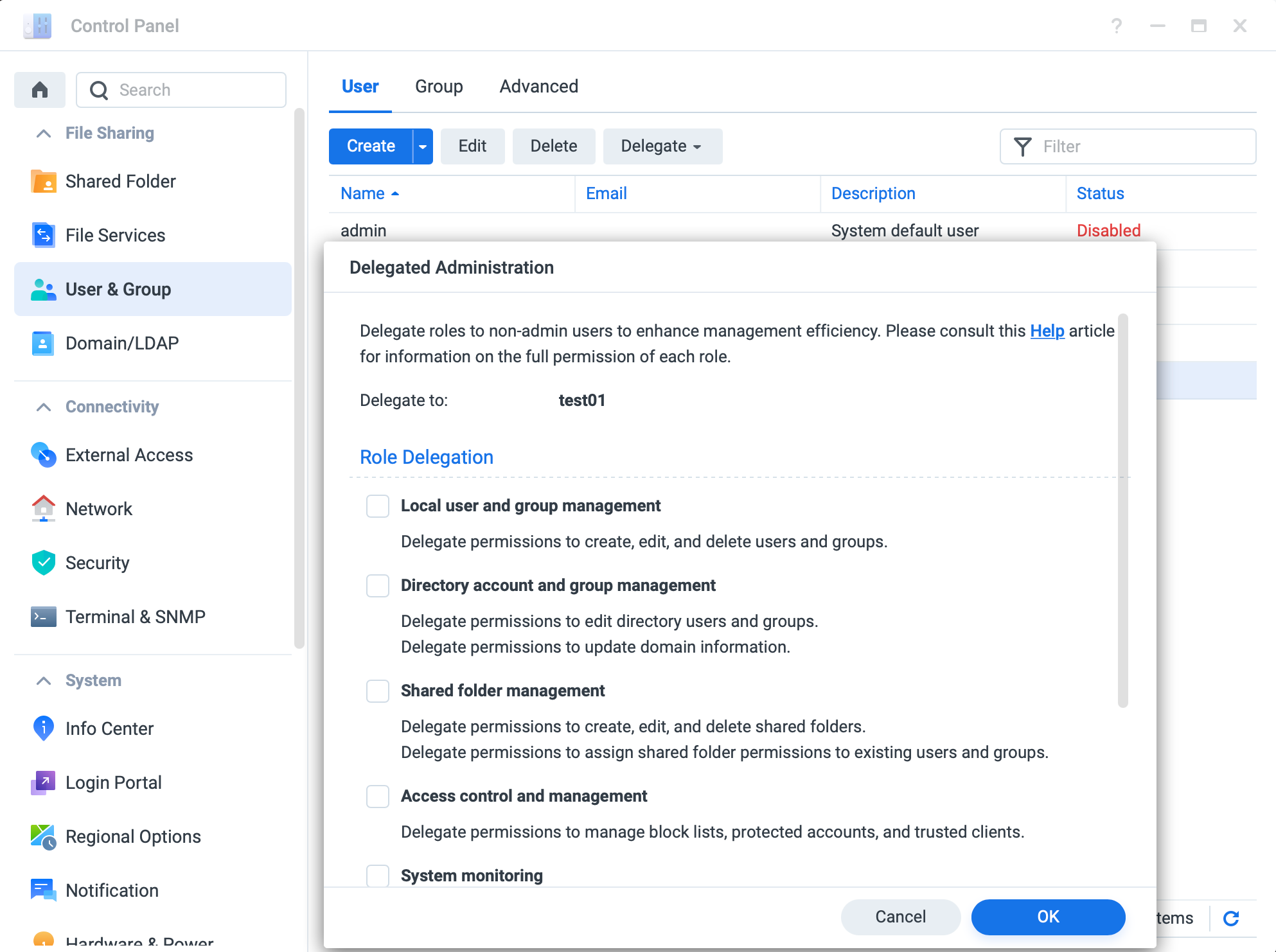 Delegate options are user or group-based. Here are the new roles that you can use to manage easier in a multi-user environment:
Local user and group management
This role is designed to ease IT administrators' effort in HR operation, including create, edit, and delete local users and groups.
Directory account and group management
This role is designed to ease IT administrators' effort in HR operation, including edit directory users and groups.
Shared folder management
This role is designed to leverage file server management efforts. Administrators can appoint a file server administrator to handle daily operations, including manage shared folders and set up access rights for existing users or groups.
Access control and management
This role is designed to protect system security while setting restrictions on user access. The delegated user can be either personnel on the security team or a team member who's responsible for monitoring system access status and resolving access abnormalities.
System monitoring
This role is designed to ensure timely incident response by allowing entry-level or outsource IT personnel to monitor system status without tampering settings. Administrators can grant view-only privilege on system status to delegated users or groups.
System service management
This role is designed to help manage installed packages and provide flexibility in system service management. Administrators can grant package and service privilege to delegated users and groups.
Hyper Backup management
This role is designed to allows an organization to set up server management roles on a granular level. A backup operator can be set up to oversee, manage, and execute daily backup tasks without having to interrupt service-level operations.
There are also permissions and restrictions for each of these roles, but I will not mention them here now. I will leave that for some other time/article, and if you are interested you can ask in the comment section below for specifics.
The idea of delegation is great. It will lift some daily operations from "admins" and still maintain control in your environment, allowing your day to day workflow to go smooth and fast.
Each of these roles is focusing on elements that usually involve administrator class users to be engaged. With these roles, you will not be dependent on admins to execute some frequent tasks and stop your production.
Finally, we have the new configuration backup feature. If you are familiar with DSM you will know that this already existed before. In DSM7 this feature has been upgraded to allow automatic backup to your Synology Account profile so you don't have to keep track when you make a change on your system that you have to do a fresh backup.
What I hoped for, maybe there will be an option for that as well, is a DSM backup as well. Meaning the option to backup your entire DSM (locally or to a secondary location) and have the option to restore from that backup. This would be helpful so that you don't have to install and configure your DSM again if something happens to it. Guessing we will not see this any time soon but until then, an automated backup of most of your DSM configuration is a welcome addition.
What else?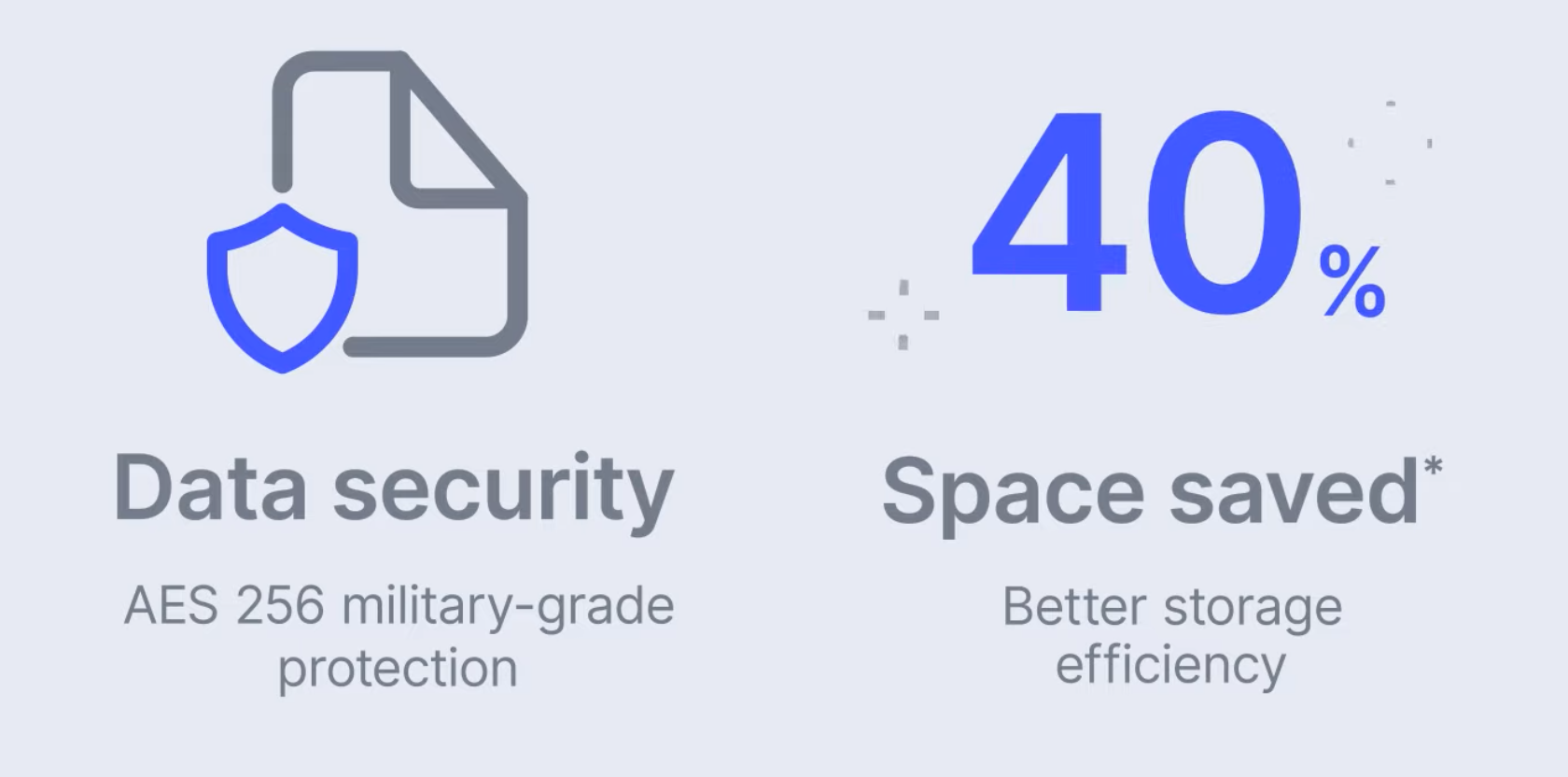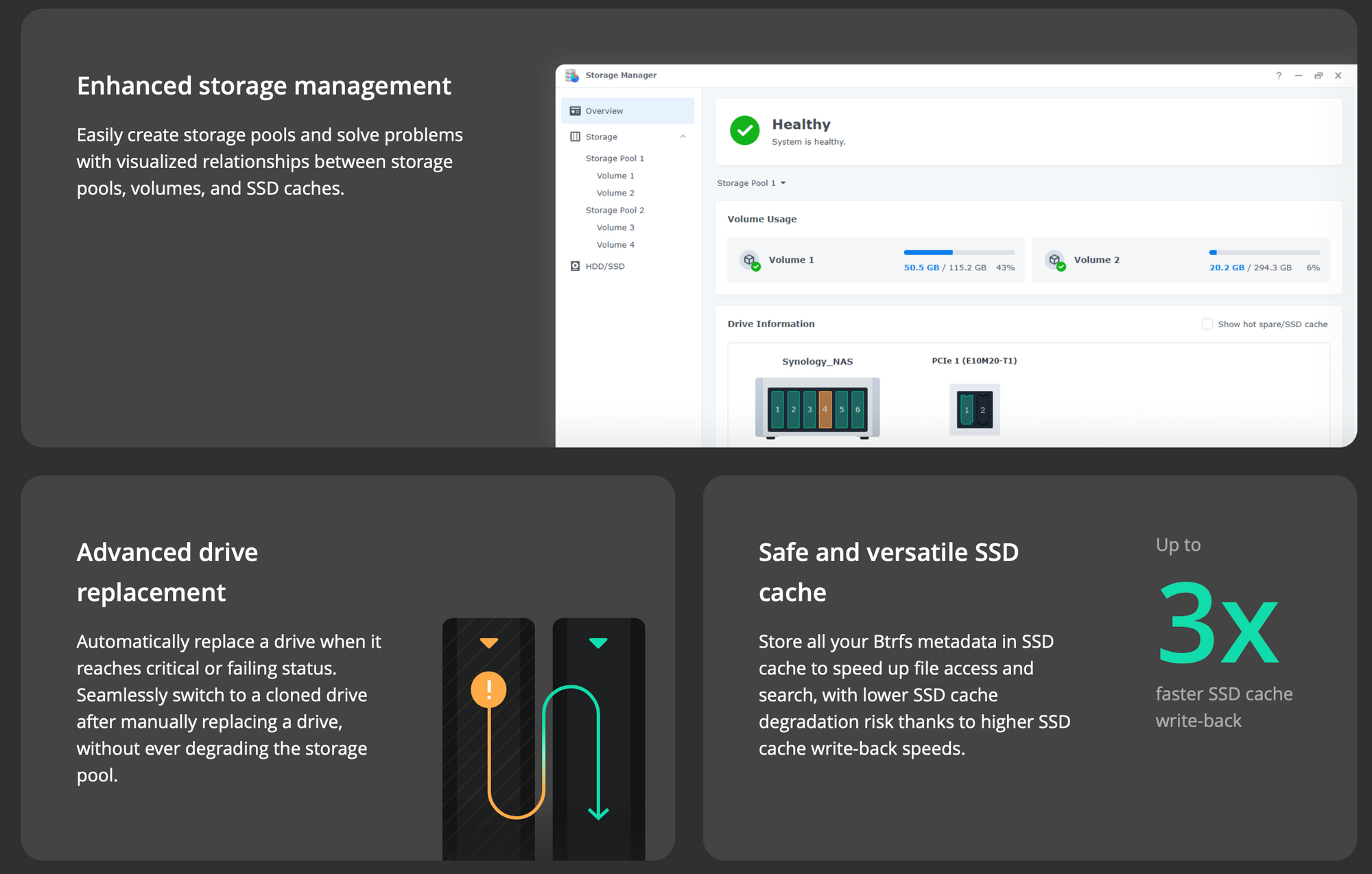 New OS, new apps, new services, and features. There is a lot of news in DSM7, too much to put inside a single article. What follows are separate articles that will describe how some of the new features work, how to configure them, and use them. Keep in mind that not all features are here or will be even after DSM7 rolls out (like Active Backup for Bussiness support for macOS), but still, in time I will cover all the new things that DSM7 and its apps, and services have to offer.
Another big update will/might come from mobile apps and changes on them, but as I said, more on all that in the upcoming articles.
Feel free to comment, ask a question, and give suggestions!