On the track of this year's "Back to Synology" giveaway, here is a quick overview of the prize itself, the DS220+ NAS.
This particular model while small in size is an entry unit in what Synology calls the "Advanced Data Management" range. What that means is that all of Synology's apps will work on the 220+ making it very desirable.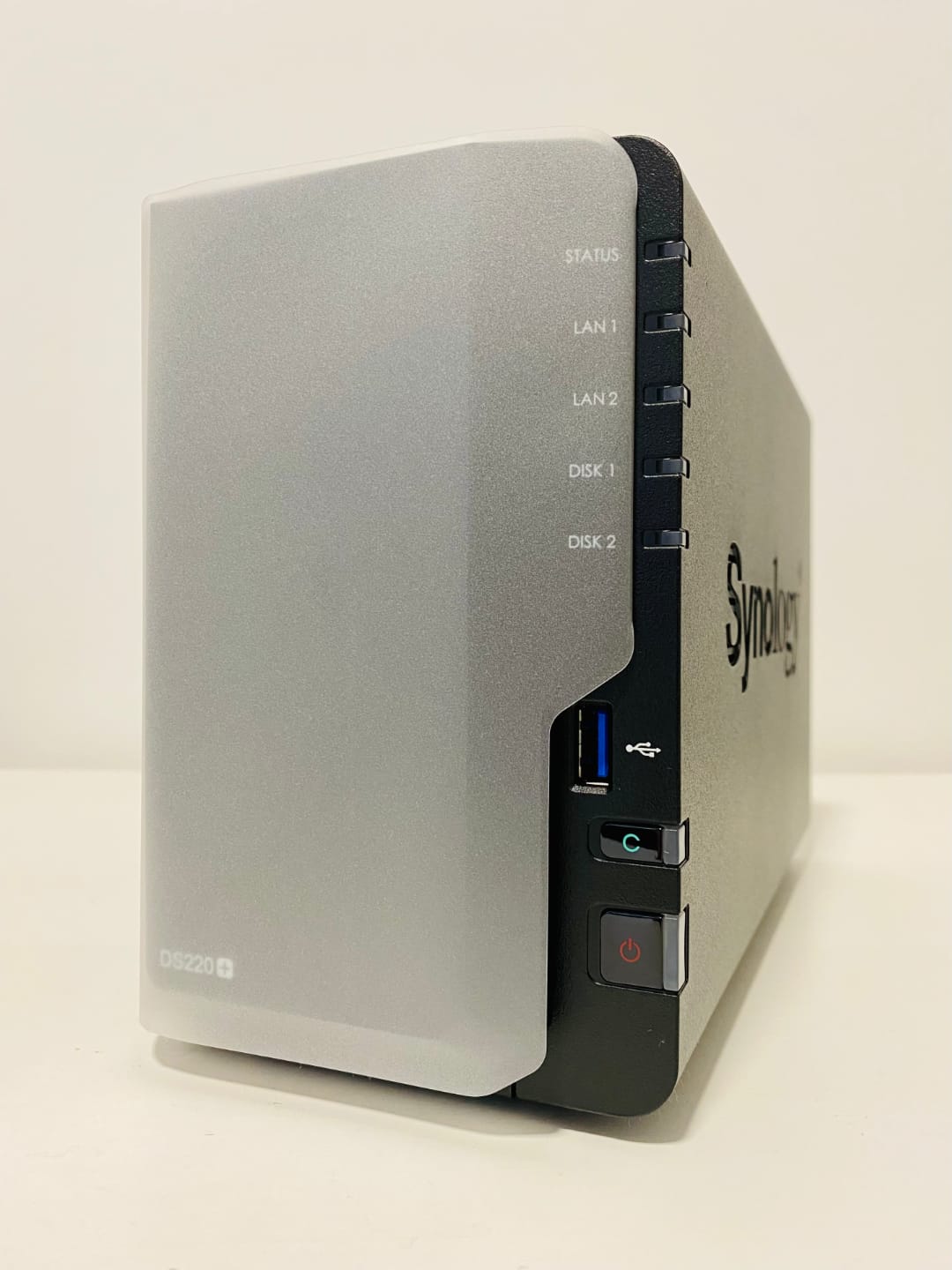 The packaging contains the unit itself, power cable, and adapter as well as two RJ45 LAN CAT5e cables.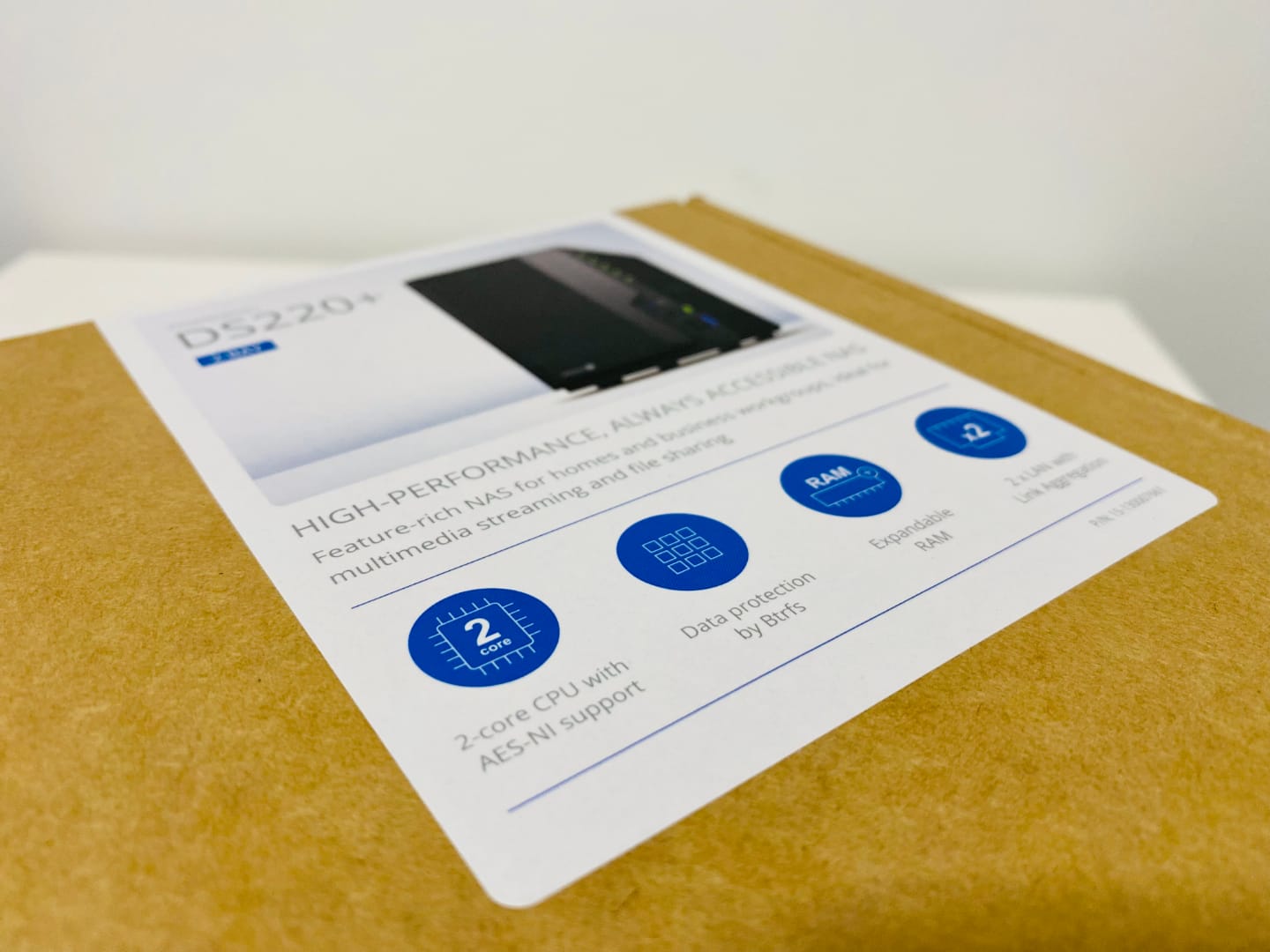 Equipped with an Intel Celeron J4025 dual-core processor and 2GB of DDR4 RAM (expandable to a total of 6GB), the DS220+ accepts two 2.5" or 3.5" HDD or SSD drives. Connection to the network can be made via two 1Gbit network cards, which can also be combined into an aggregation if necessary. Also, the device has two USB 3.2 Gen 1 ports for connecting external USB drives.
From the dimensions point of view, as well as weight, and power consumption, Synology pays a lot of attention to all its models to really use the maximum potential with minimum consumption and noise. The 220+ is no exception, so with its 1.3KG weight, and a single 92mm fan on the back side consumes a little less than 15W of electricity, while in hibernation that number falls below 5W. It should only be noted that this will absolutely depend on the services and the way of using the NAS itself, but considering its capabilities, these are really impressive numbers.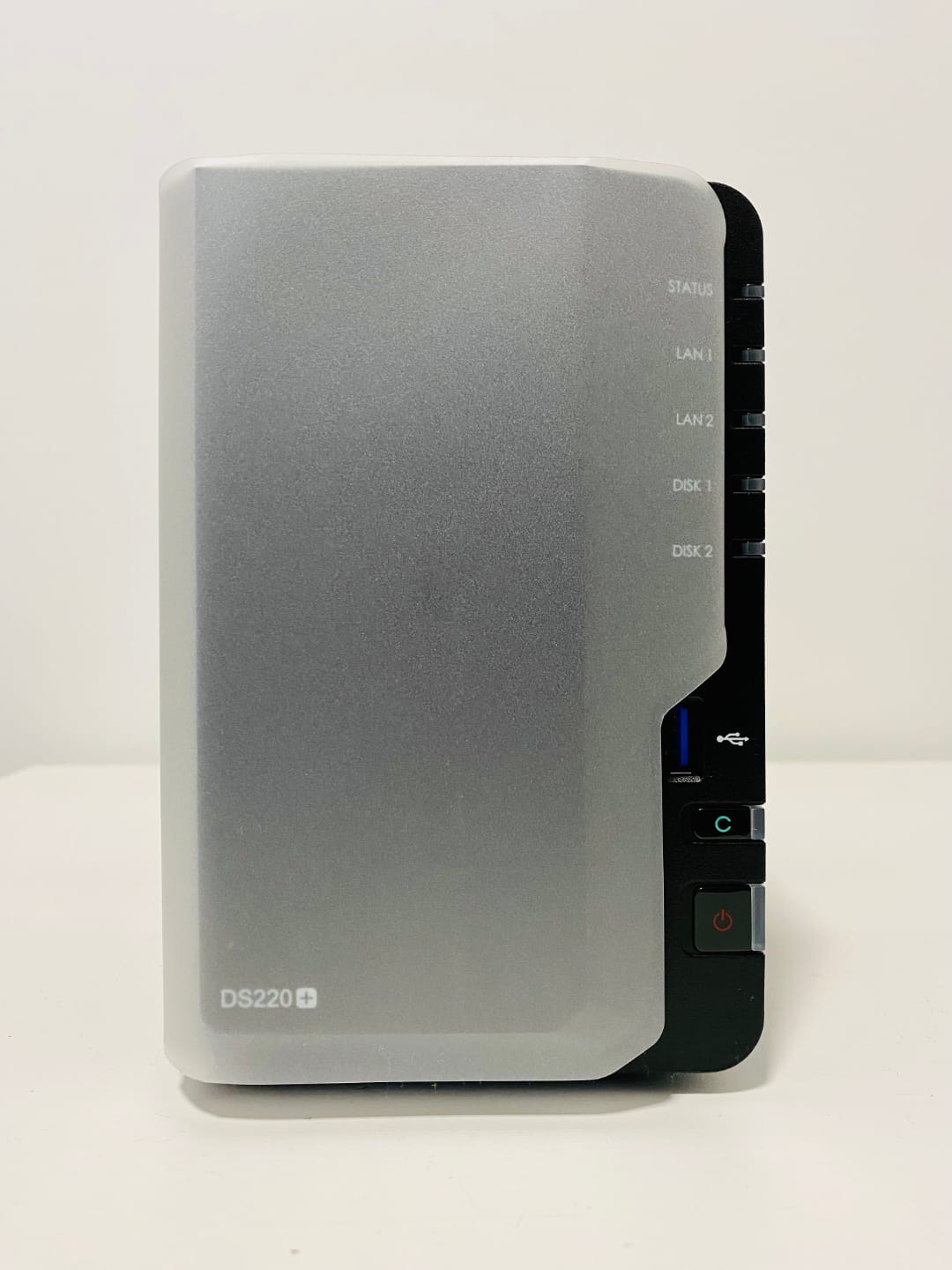 On the front of the NAS, we will see a protective mask that once removed will reveal the drive bays. Nice detail are dots on the top presenting the bay drive number location. Left-hand side one is bay number one, and the righthand bay is number two. This will particularly come in handy when a drive requires attention such as replacement, so off the bat, it will be clear what exact bay needs to be addressed.
No tools are needed to mount the disks if 3.5" are in question, while with 2.5" we will need to use the included screws to secure the disks (SSDs) inside the bay tray before sliding it back into position. The 3.5" disks occupy the whole tray and are fixed and secure using the tray side brackets.
As noted before, this NAS comes with 2GB of DDR4 RAM but it is upgradable to a full 6GB. In order to reach the additional SODDIM RAM slot, drives need to be pulled out in order to get access to it. On the right side of the number two bay slot, we can see a RAM slot that can occupy a single SODIMM module.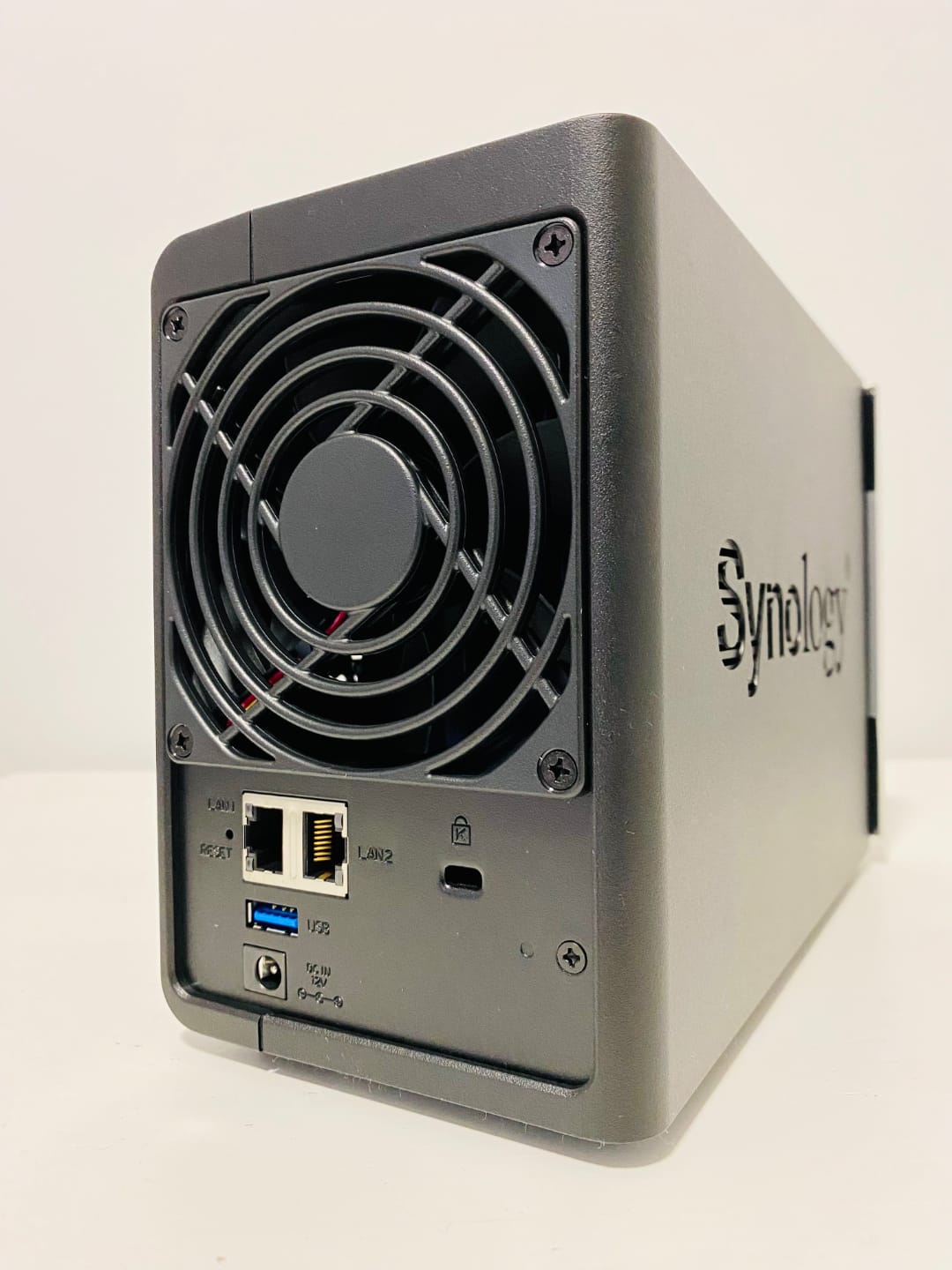 A large 92mm vent dominates the back of the unit to keep it cool, while also being very quiet due to its size. Just below it are two 1GB LAN (RJ45) connectors that can be used separately or in a LAG/failover combination.
The second USB port is also on the back side that can be used for any number of external drives, or for the UPS connection cable for example. Considering its size, the power adapter is external (as with most DS units) so the back of the unit only has a power port. Finally, there is a Kensington lock port for that extra physical security in case the NAS is not located in a secure space.
The DS220+ is also covered by Synology's two-year warranty, which can be extended to a total of four years through their Extended Warranty Plus program. In Croatia, the additional warranty on this (€380) model will cost €29.99 and should be taken into account, especially for a NAS machine which is a long-term investment.
In terms of HDD/SSD compatibility, be sure to check the table for the selected model, but DS220+ is not bound to the strict "Synology branded" drive policy. Alongside Synology, we can use any number of supported Intel, Seagate, Samsung, Toshiba, and Western Digital models from enterprise, NAS, and surveillance-class types.
DS220+ as said before is a versatile model, capable of running any available Synology package, as well as some 3rd party ones including Docker. Considering it has an Intel QuickConnect capable CPU, it is also possible to use it in certain video and audio transcoding scenarios. So this device will be a more than capable Plex server if the need arises.
While being almost three years old it is still a compact and powerful model that supports the latest DSM 7 operating system. If you are in the market for a 2-bay NAS you should absolutely consider this model, but also if time is not a factor for a soon upcoming refreshed model coming out by the end of 2022. Probably under the name "DS223+", this refreshed model might have some different hadrware elements, but that is yet to be seen.
In any event, a model from the "+" lineup is something I personally always recommend, and even if you can't wait for the new model, the DS220+ will still serve you for years to come.