Just one day after the DS1823xs+ saw the light of day, looks like we are not done with refresh models. Today we got a glimpse of the upcoming (expected), x23 unit from the plus lineup, and here are bits and pieces of info on the new DS423+.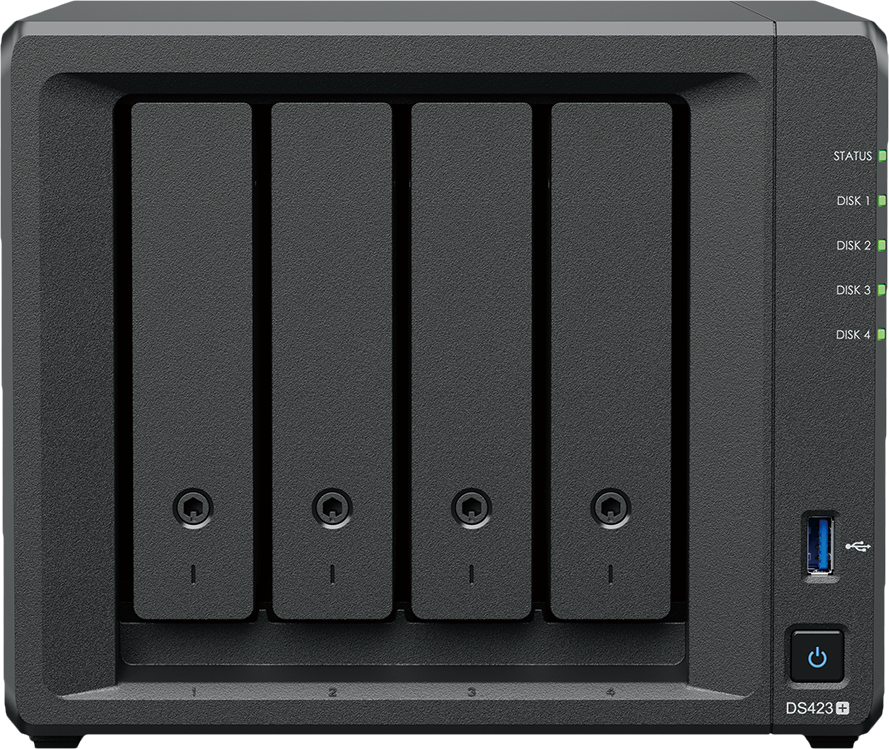 Considering that back in November, Synology released their 4-bay flagship model, the DS923+, it was only a matter of time before the DS423+ came out. Expected by many as the last device that will run with an Intel CPU, and because of that be able to support Intel QuickSync (that unlocks video hardware transcode), looks like the wait paid off.
As we know the DS923+ came with an AMD CPU and a much more powerful configuration than the previous generation, but it lost the support for said HW transcode, leaving many users disappointed because of it.
An all-in-one data management and sharing platform
The DS423+ is now here to hopefully satisfy that need, and to offer enough power and features for less money than the DS923+. Focused on media and sharing, the DS423+ is an all-around NAS powered by a familiar Intel Celeron J4125 quad-core with up to 2.7GHz, and 2GB of DDR4 memory (up to a total of 6GB). With two UBS 3.2 Gen 1, as well as two 1GbE network ports on the back, this model has enough to connect a few external USB devices as well as offers network LAG capabilities or high availability.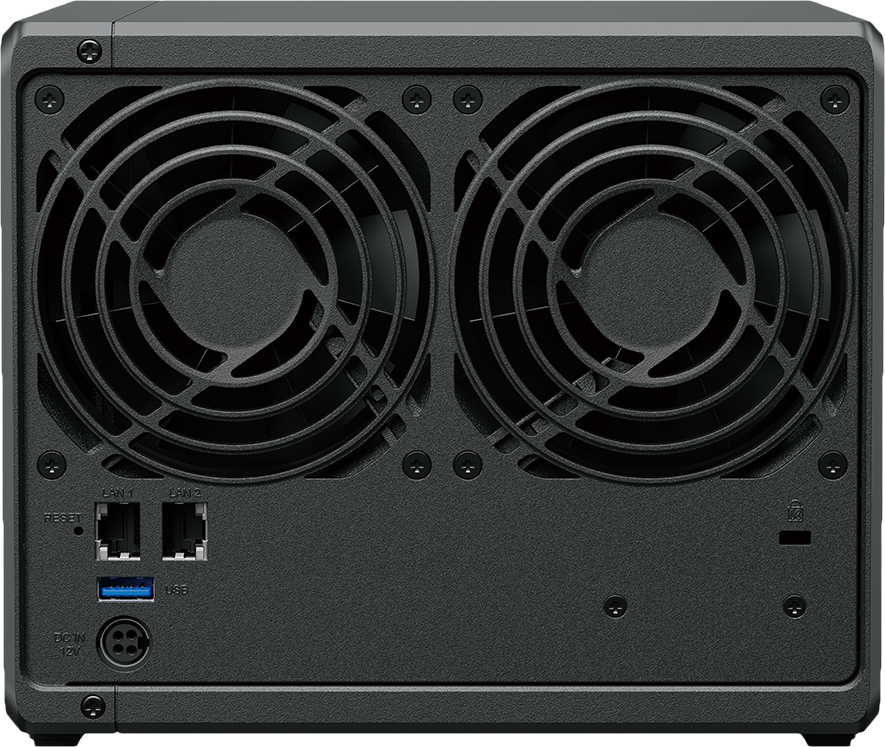 In terms of drive bays, as it was with the previous model, the DS423+ supports four 2,5" or 3.5" drives inside the main bays, as well as two additional M.2 NVMe drives on the bottom of the unit for cache or user-manageable volumes (only with Synology SVN3400 series drives) that is a new feature with all x23 models so far.
Centralized Data Storage - Store up to 72 TB of data in one place, maintain 100% data ownership, and enjoy multi-platform access

Dependable Performance - Up to 226/224 MB/s sequential read/write throughput supports stable data transfers
This model supports all conventional RAID types including Synology's SHR (unlike the DS1823xs+ for example), with either BTRFS or EXT4 file formats.
On the back of the unit, there is a pair of 92 mm vents to keep it all cool and silent as possible inside this 2.18 kg heavy machine. As with all models in this class, the DS423+ comes with an external power adapter, two RJ-45 network cables, and a 3-year warranty that can be extended to 5y via Extended Warranty Plus program.
The DS423+ supports a wide range of drive vendors and models, not just Synology branded ones, so be sure to check the compatibility list before purchasing, just in case you don't get locked out of support for using unsupported or incompatible ones.
When it comes to software support, the DS423+ can be used with all Synology packages including Active Backup for Business, Drive, Synology Photos, and Hyper Backup to name a few. Also, the quad-core CPU has enough power and features to offer decent video surveillance options using the Surveillance Station 9 platform, as well as serving as a media station device with any compatible platform like Video Station or 3rd party Plex.
This model will become available sometime in March with a price of about €450 (plus tax).