With Apple's trend to migrate completely away from the Intel platform onto their M SOC architecture picking up even more momentum in 2022, we got some new products this year that are either completely new or an evolution of some of their previous hardware.
Mac Studio and Studio Display are two such products. Apple always took care of their pro users with high-end products that could run for decades and monitors are no exception.
In the past, there was an Apple Cinema Display that some still use today. Following the iMac trend, Apple followed up with its Apple Thunderbolt Display in 2011. Since then, at one point it looked like the company gave up on the display segment when they started pushing out LG's UltraFine 5K model.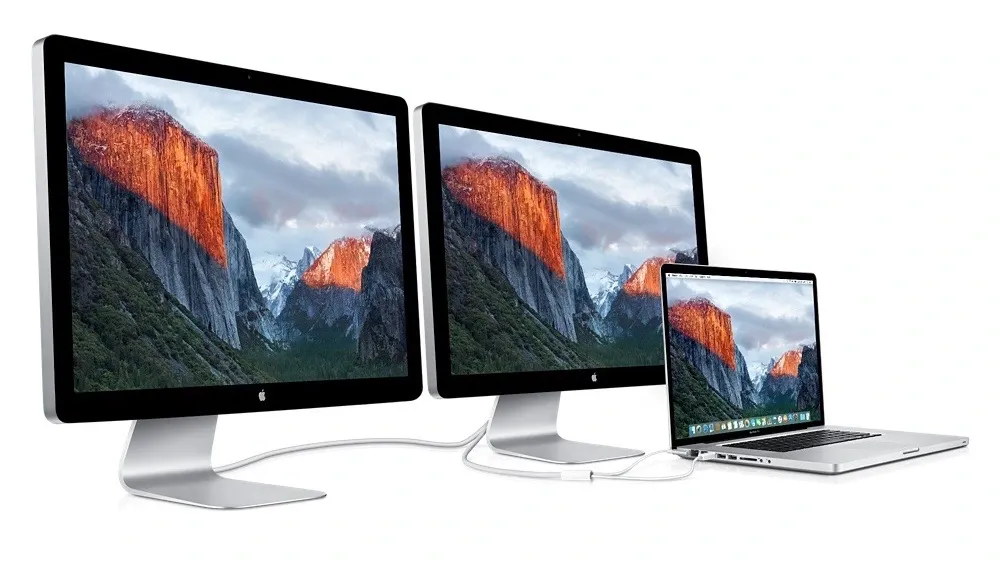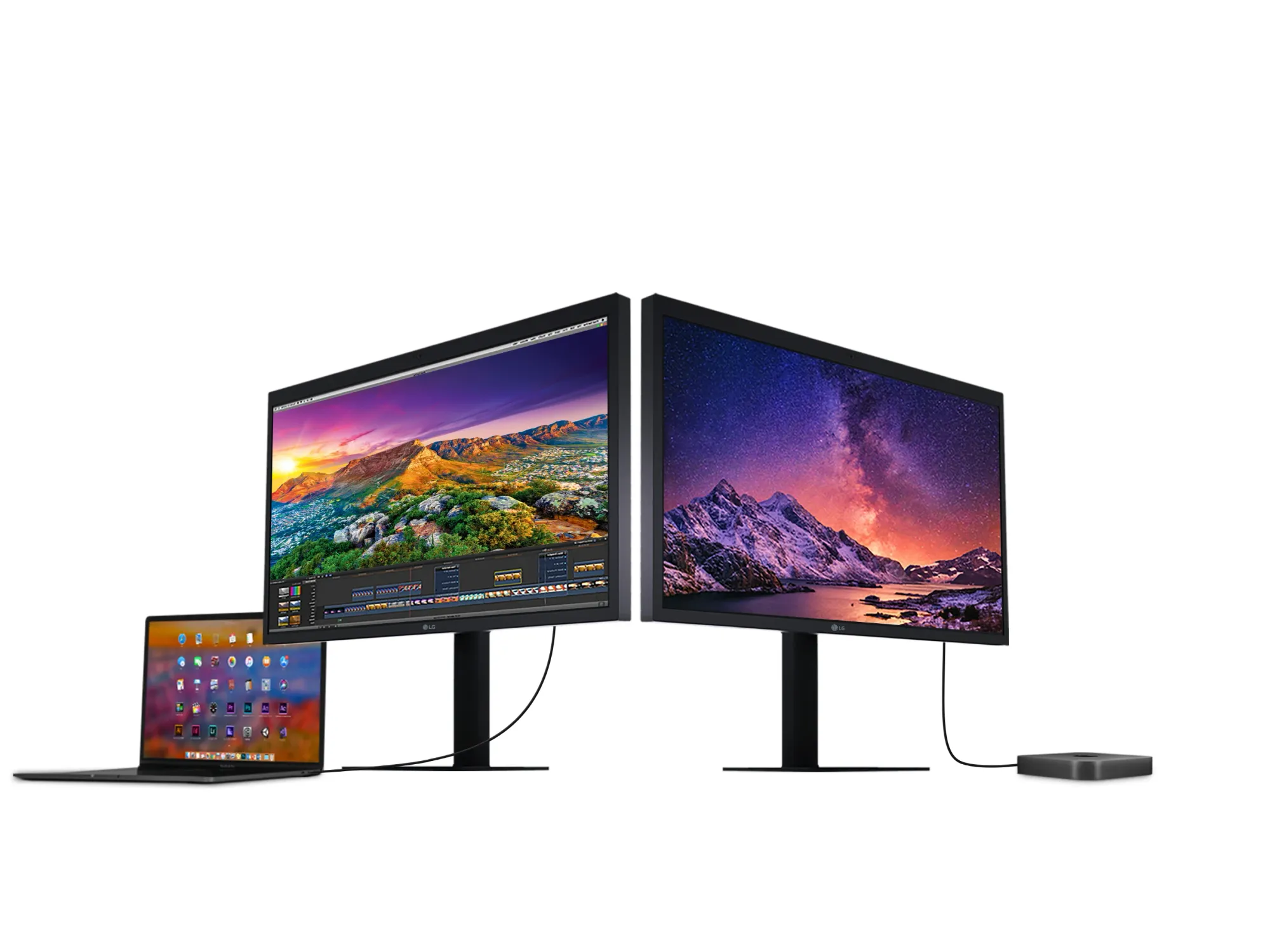 LG UltraFine 5K display, featuring a 5120 x 2280 resolution, a P3 wide color gamut at 500 nits of brightness as well as built-in stereo speakers with camera and mic. The monitor worked with Macs and iPads and had one TB3 (USB-C) port that delivered up to 94W of charging power. Apart from the TB3 port it also packed three (3) additional USB-C ports that functioned as downstream USB-C ports (up to 5Gbps) that could be used to connect other devices and accessories.
Then in December of 2019, Apple yet again showed the world that they still want to make a display with their best and biggest screen ever, the Pro Display XDR. A massive 32-inch 6K screen capable of running at 6016 x 3384 resolution with 218ppi. 1000 nits of XDR brightness, 500 for SDR, and a contrast ratio of 1.000.000:1.
This monitor was following the release of the new Mac PRO desktop computer and it was the prosumer's dream come true. With a price tag of about $6.000, it is not cheap by any means but it will probably be the last display you will ever need (or what for that matter).
Obviously targeted at the pro customer, Apple knows that this display will not reach the masses, so three years later and with the release of the new Mac Studio desktop pc, we got another display model.
Apple Studio Display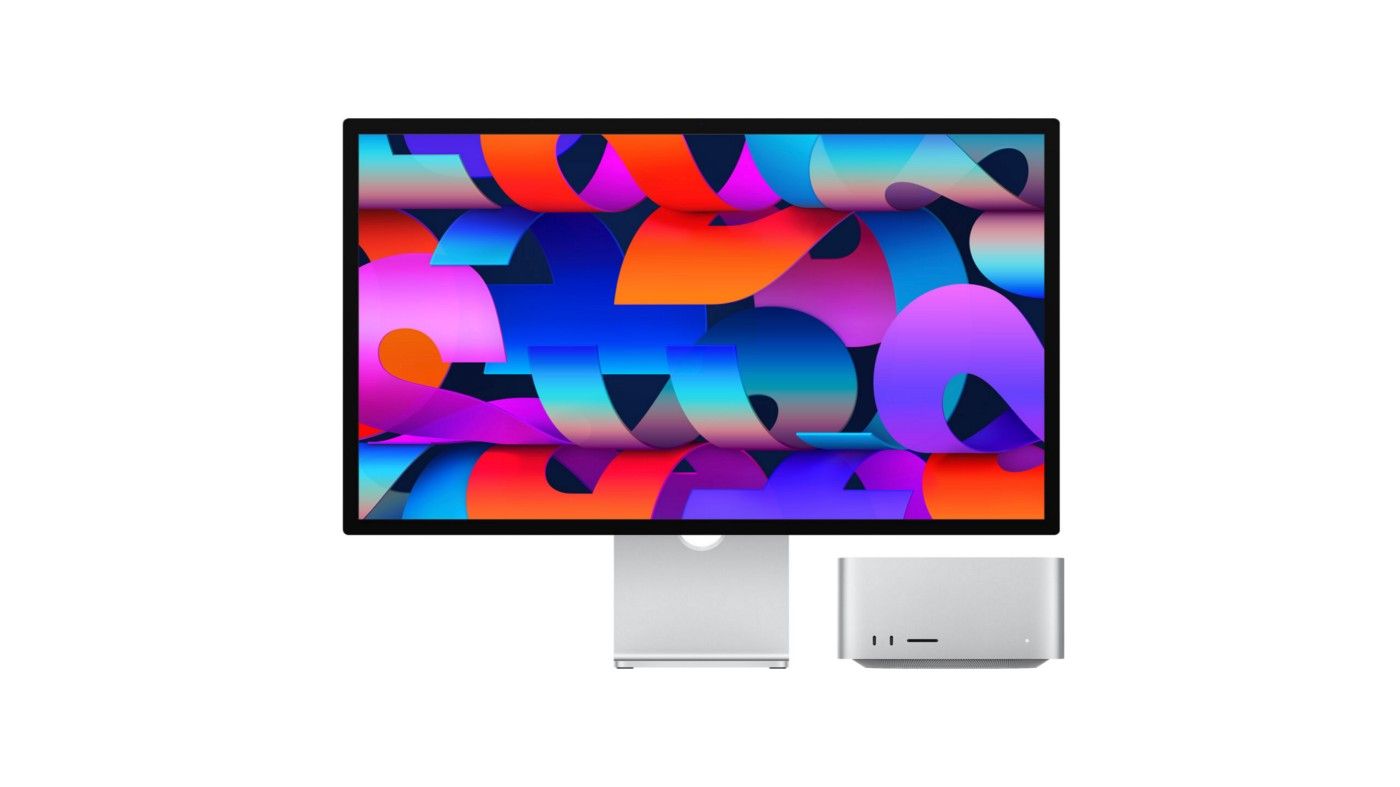 The latest screen from Apple came out in March of 2022. Following the familiar 27" format, this 5K Retina display offers a maximum resolution of 5120 x 2880 at 218 PPI, 600 nits of brightness with a P3 color gamut, and True Tone support.
It comes with several configuration options including standard or nano-texture glass as well as tilt, tilt, and height or VESA mount options. Internally it has 64GB of storage as well as an A13 Bionic chip with a 12MP Ultra Wide camera with 122 deg field of view.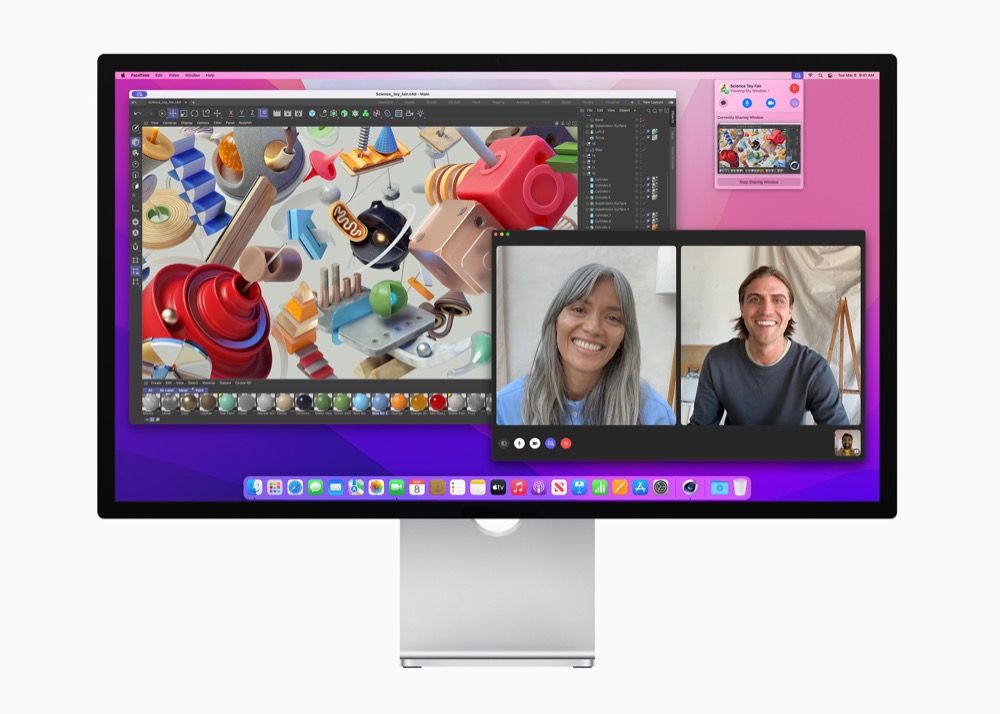 Considering the A13 is inside it also supports the Center Stage feature first introduced with the new iPad generation.
This display also has six high-fidelity speaker systems with force-canceling woofers and wide stereo sounds. The same support Spatial Audio when playing music or video with Dolby Atmos. On the top, alongside the camera, there is a studio-quality three-mic array with a high signal-to-noise ratio and directional beamforming.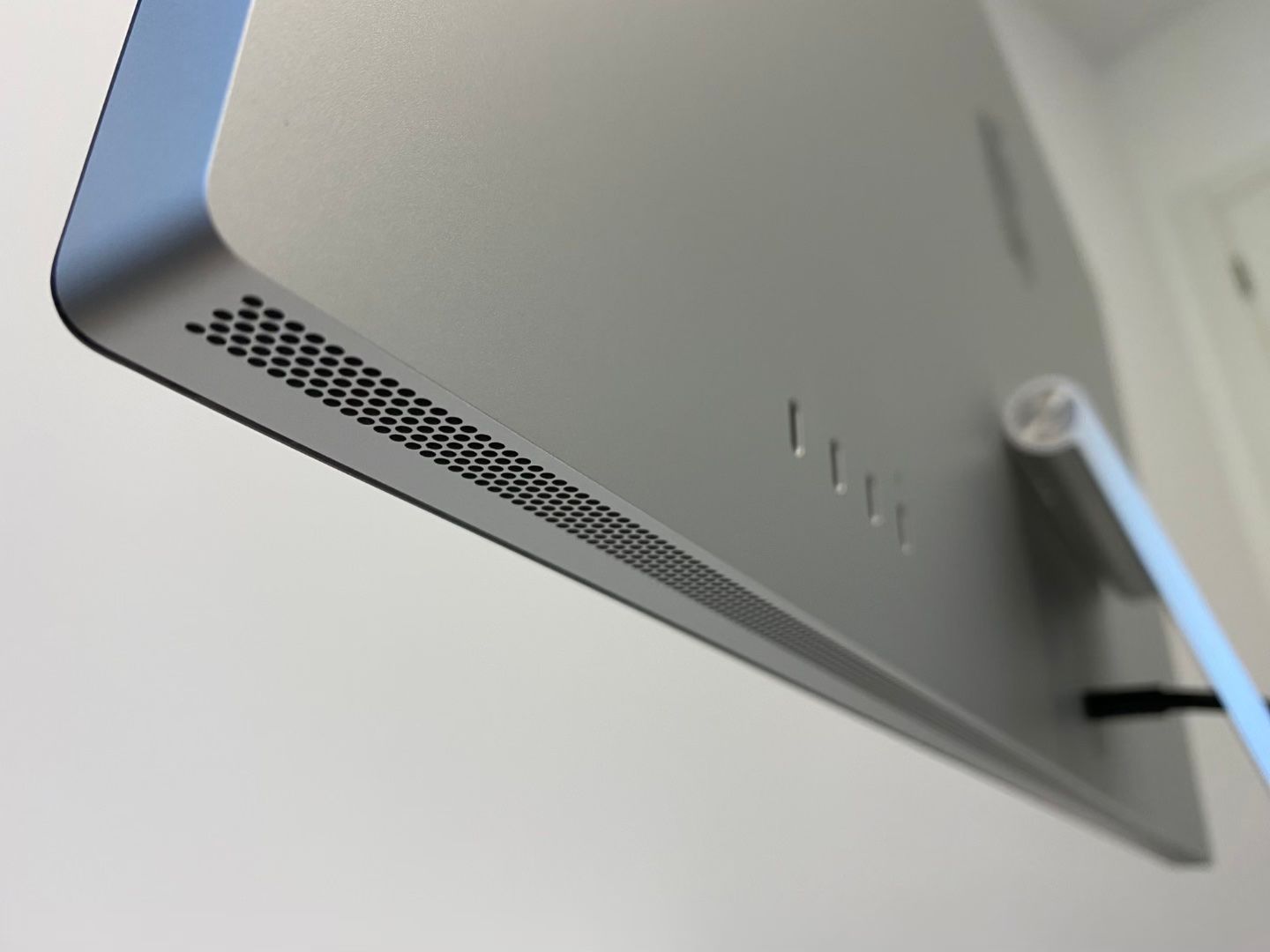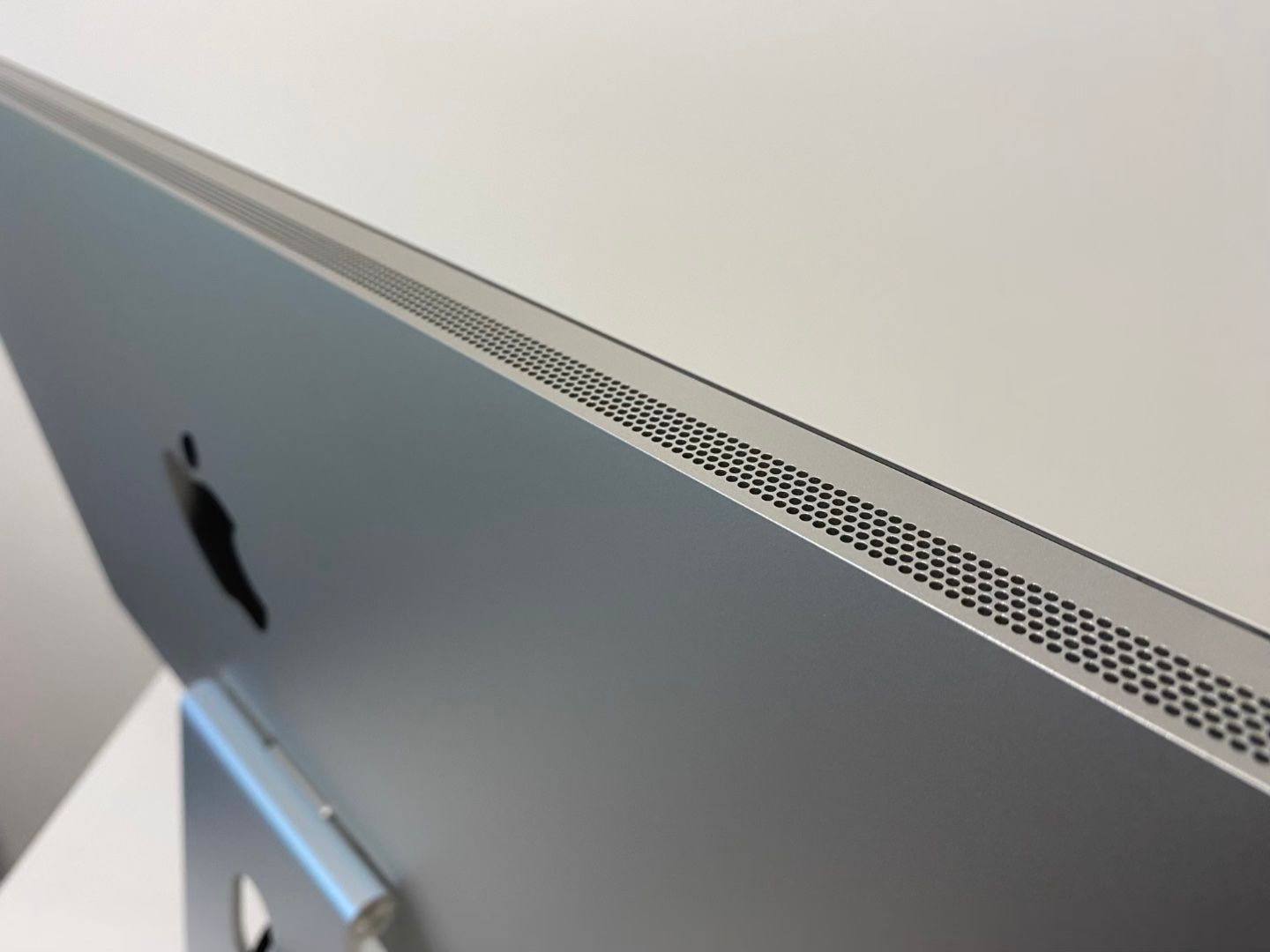 As with any display so far, Studio also has all the connection ports on the back. In total there are four. One Thunderbolt 3 (USB-C) and three USB-C ports. The TB3 port is an upstream one with up to 96W of charging power, while the remaining downstream ports support up to 10Gb/s speeds for connecting peripherals, storage, and networking.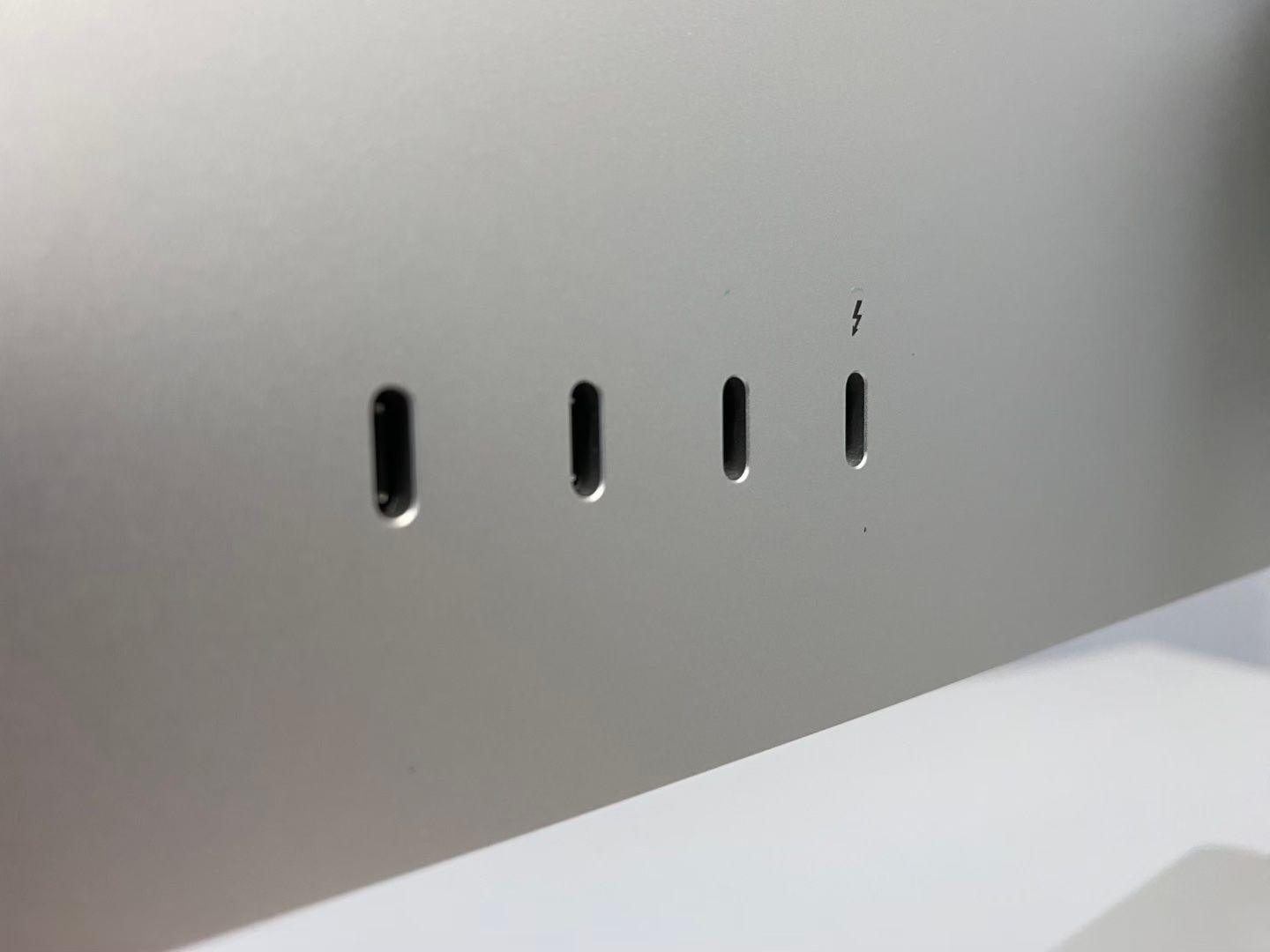 The design is pure aluminum and glass with a great finish and a decent weight. The stand makes a solid foundation that will not make the screen move around if you start to shake the table a bit, and the tilt-adjustable stand can hold the display in any position of its -5 to +25 degree allowed angle.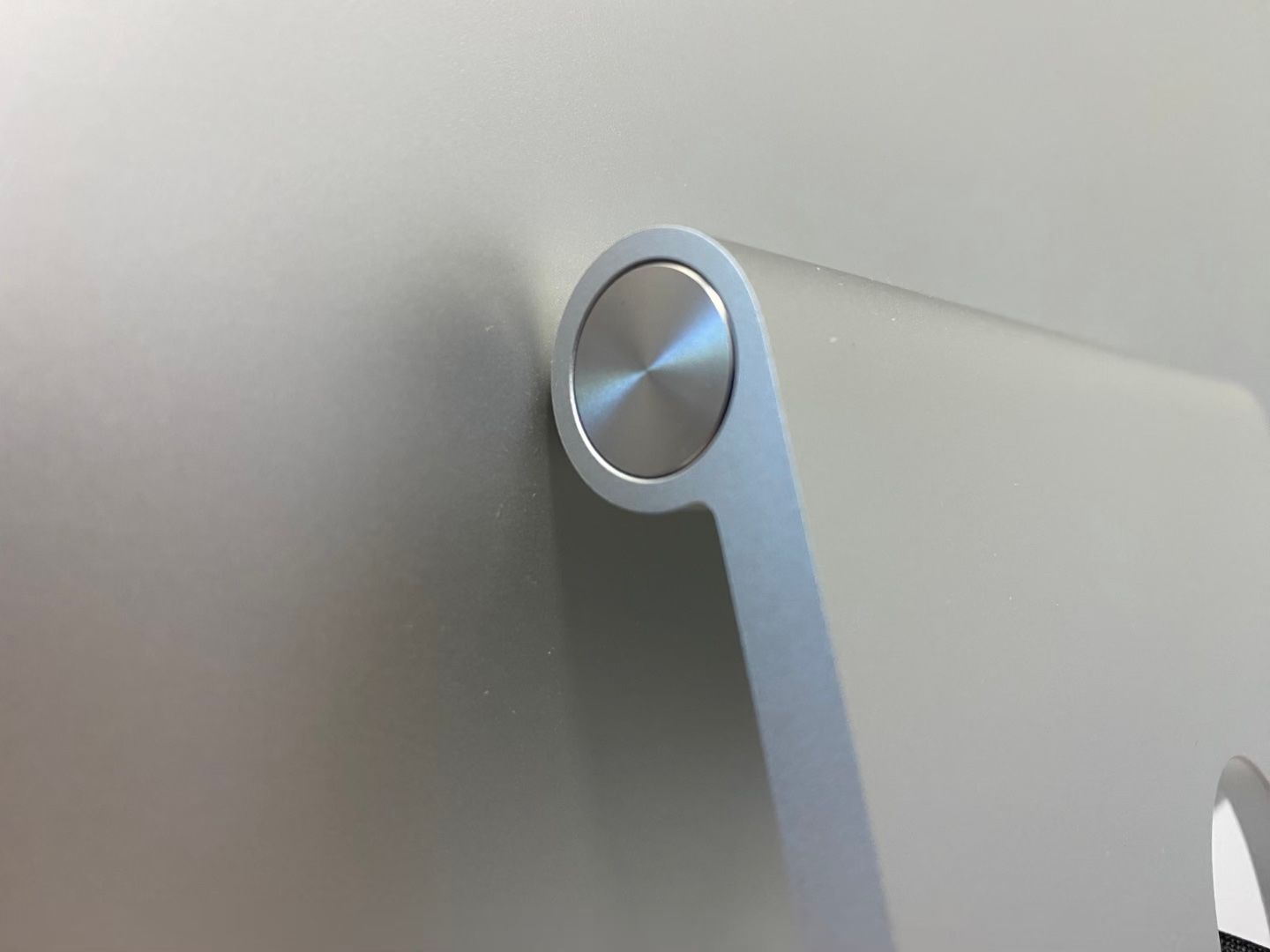 The monitor can be set into both landscape and vertical positions but only with the VESA option. Also, each type of stand can't be replaced with another version, so be sure to order the one that you plan on using as it is a one-way street from there.
The packaging as well as the size and weight are as expected. To be honest I thought the box was a bit extra bulky but for an entry price of $1700 (plus tax), it better be protected than to move it around in a thin box.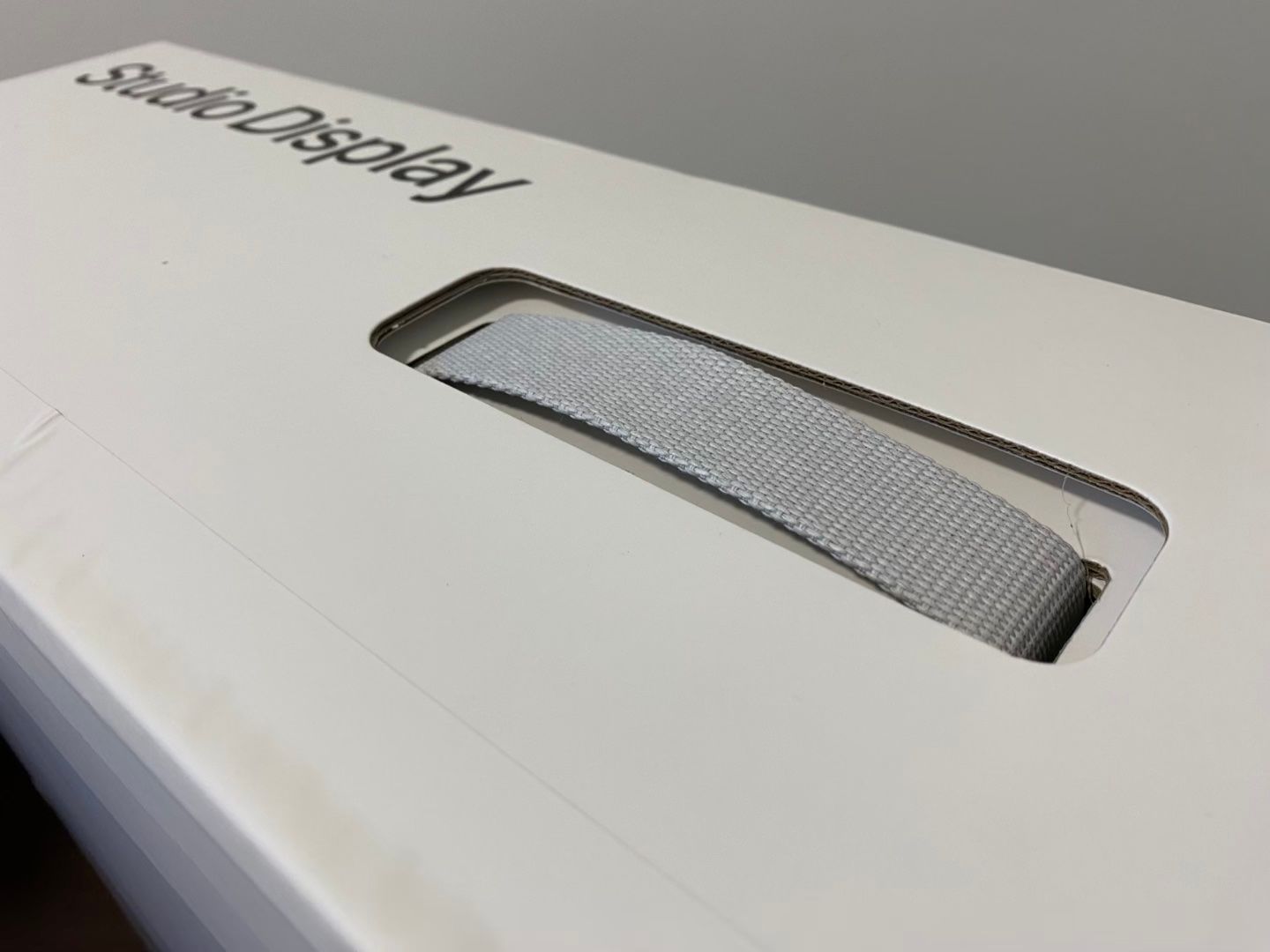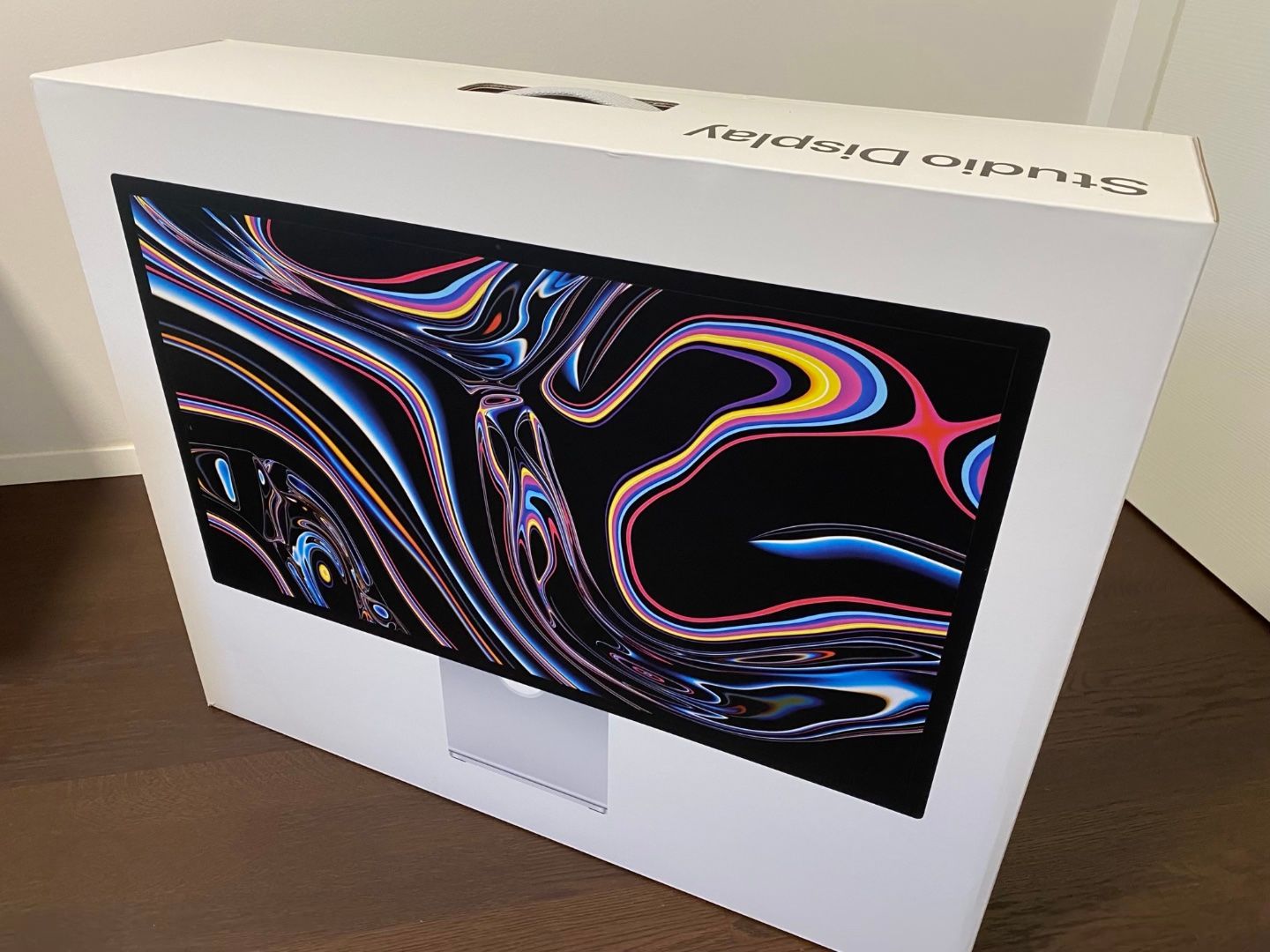 Studio Display with the tilt-adjustable stand comes at 24.5 inches (62.3 cm) x 18.8 (47.8) x 6.6 (16.8) (W x H x D) and 13.9 pounds (6.3 kg).
It is further protected by a screen sticker and foil to prevent any scratches from happening.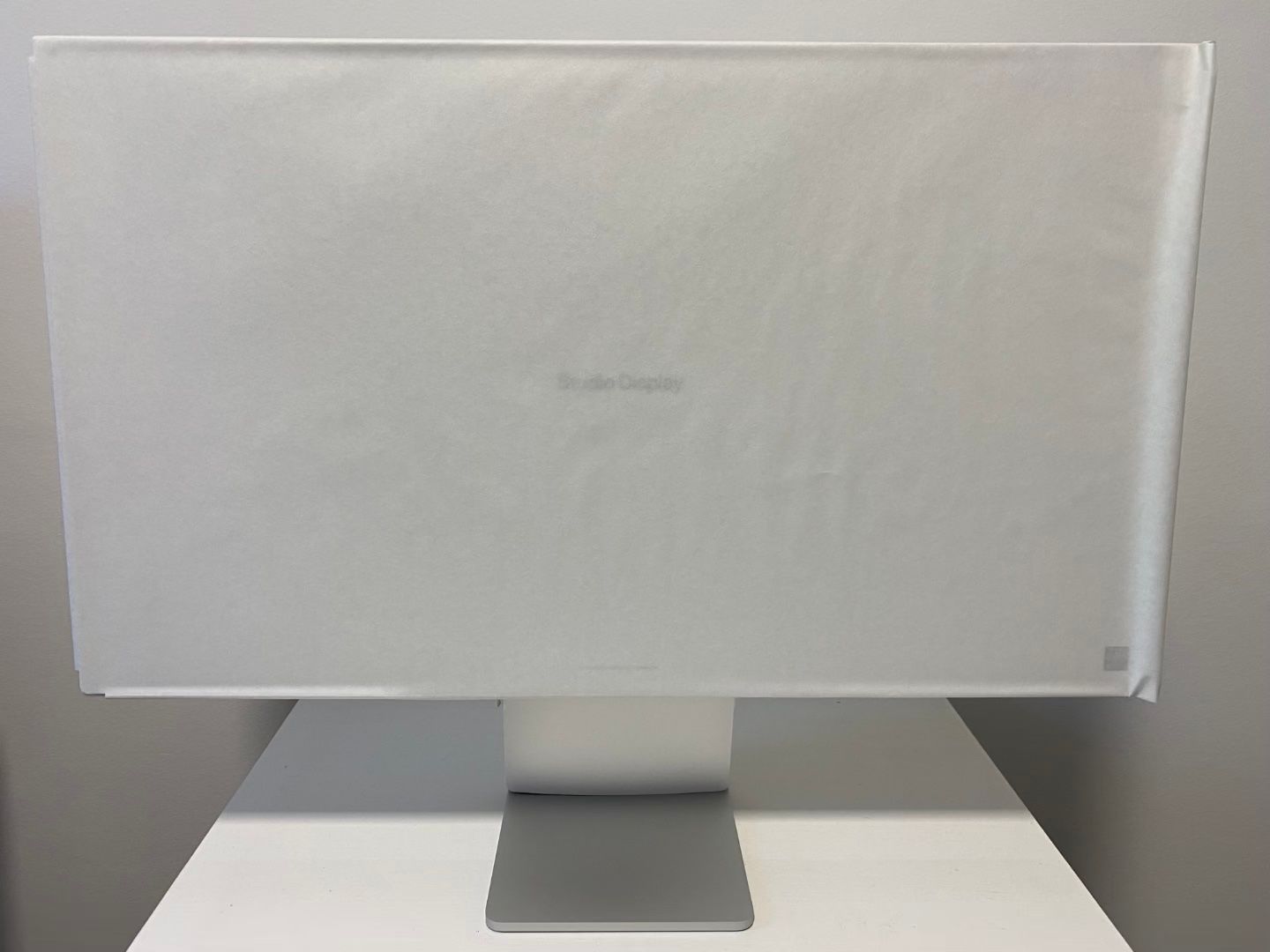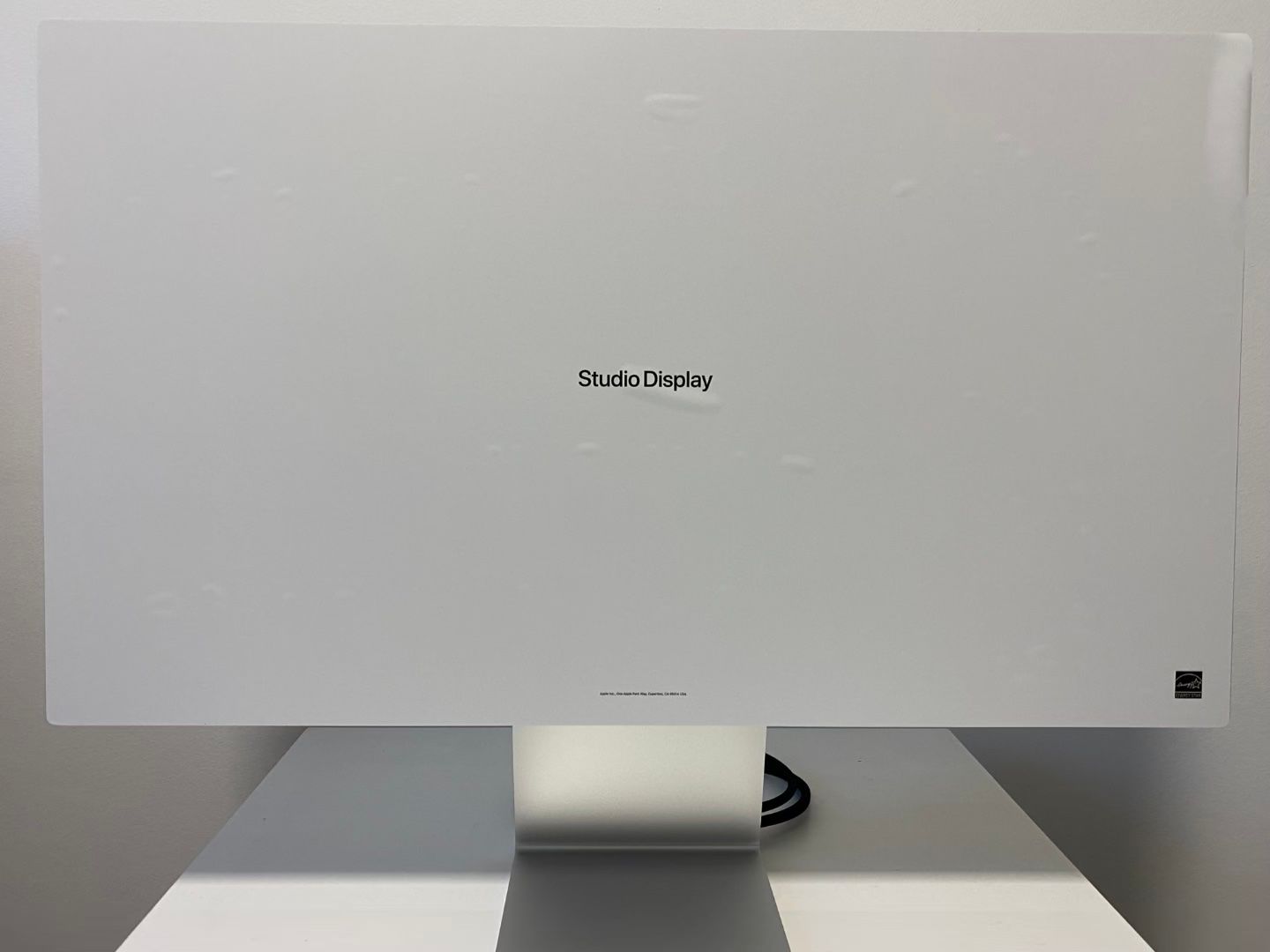 Another nice detail in this setup that is also like the stand itself non-replaceable is the power cable. While braided and long enough it is also fixed and can't be unplugged from the display itself, unlike the iMac's power cord.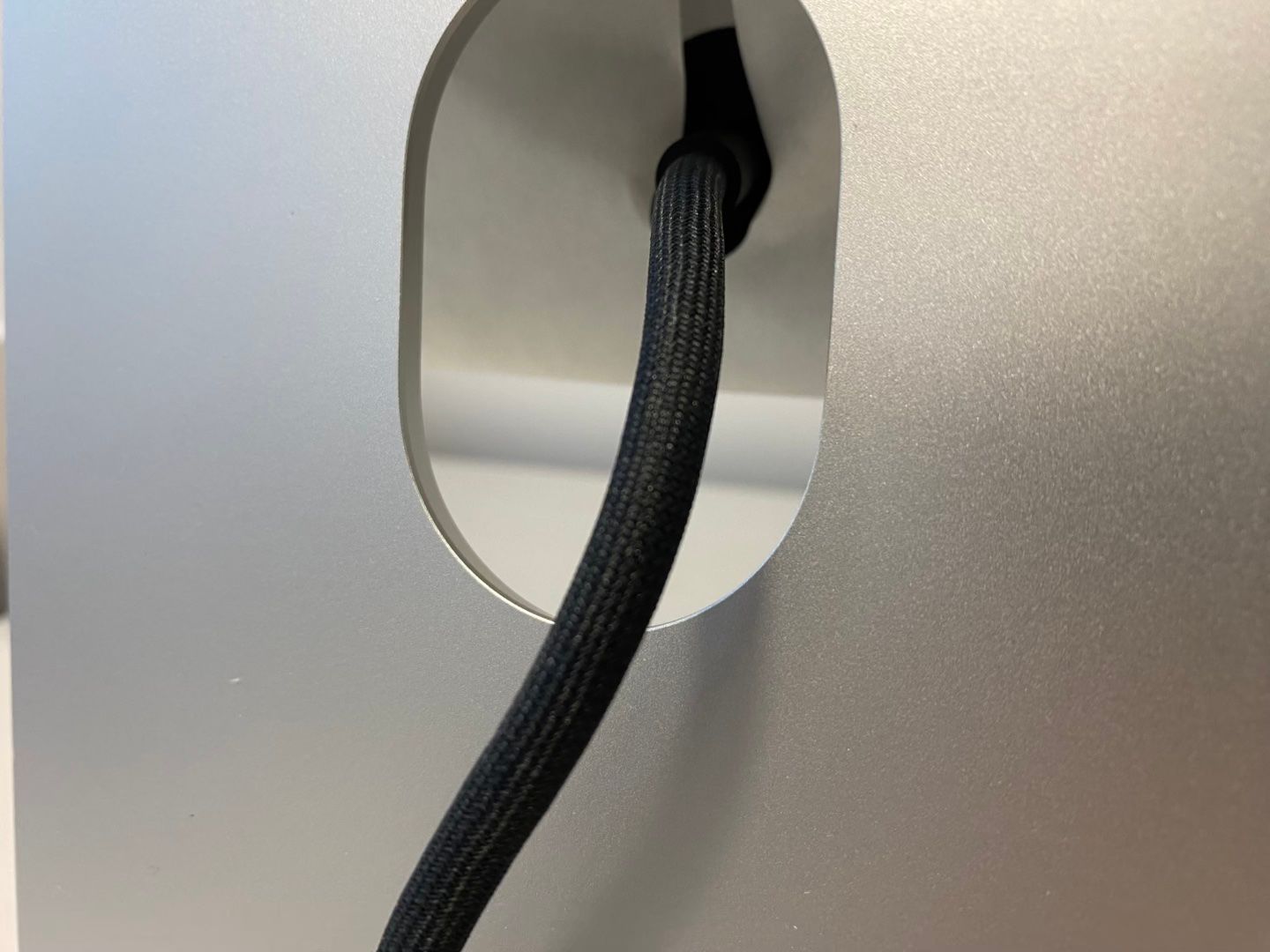 The display has no power button on itself, and it will be controlled by the device that it is plugged into via a single (1m long), Thunderbolt cable. Apart from the screen and the TB cable, nothing else is in the box.
Depending on the device that it is being connected to it will also depend on what kind of max resolution you will get. Personally, I am in a transition from Intel iMac to a new M2 architecture, and the display was the first step. While testing it, I noticed that the iMac (2017 edition) is unable to push the native 5K resolution to the Studio Display but it also scales nicely to 2560 x 1440.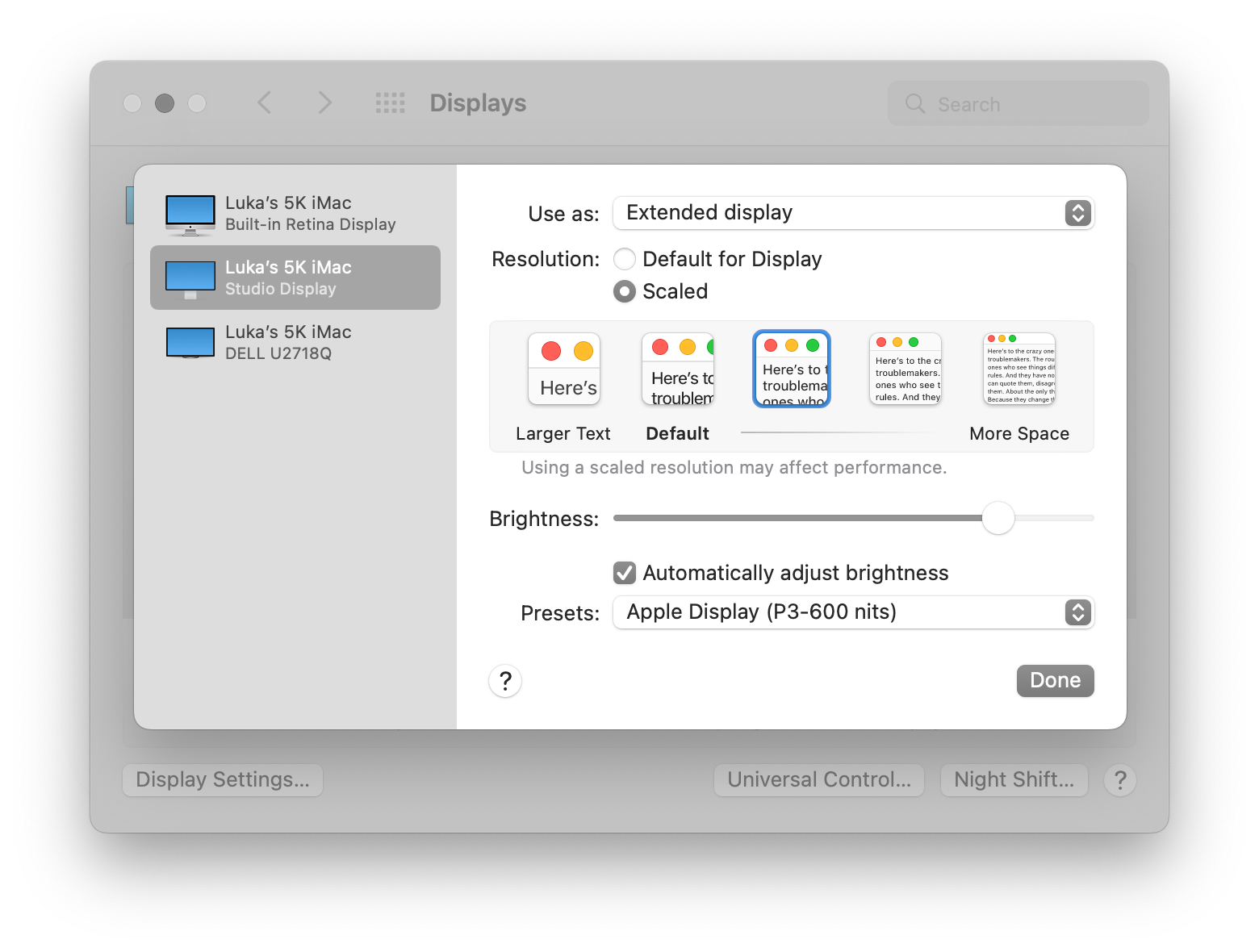 While on the topic of the iMac and Studio display, it sits a bit lower than the iMac and moves into the iMac's chin, so if you are used to an iMac height and didn't order the tilt-hight model of this display, be prepared to shift your gaze a bit lower. It is not noticeable in everyday use and personally, I got used to it quickly.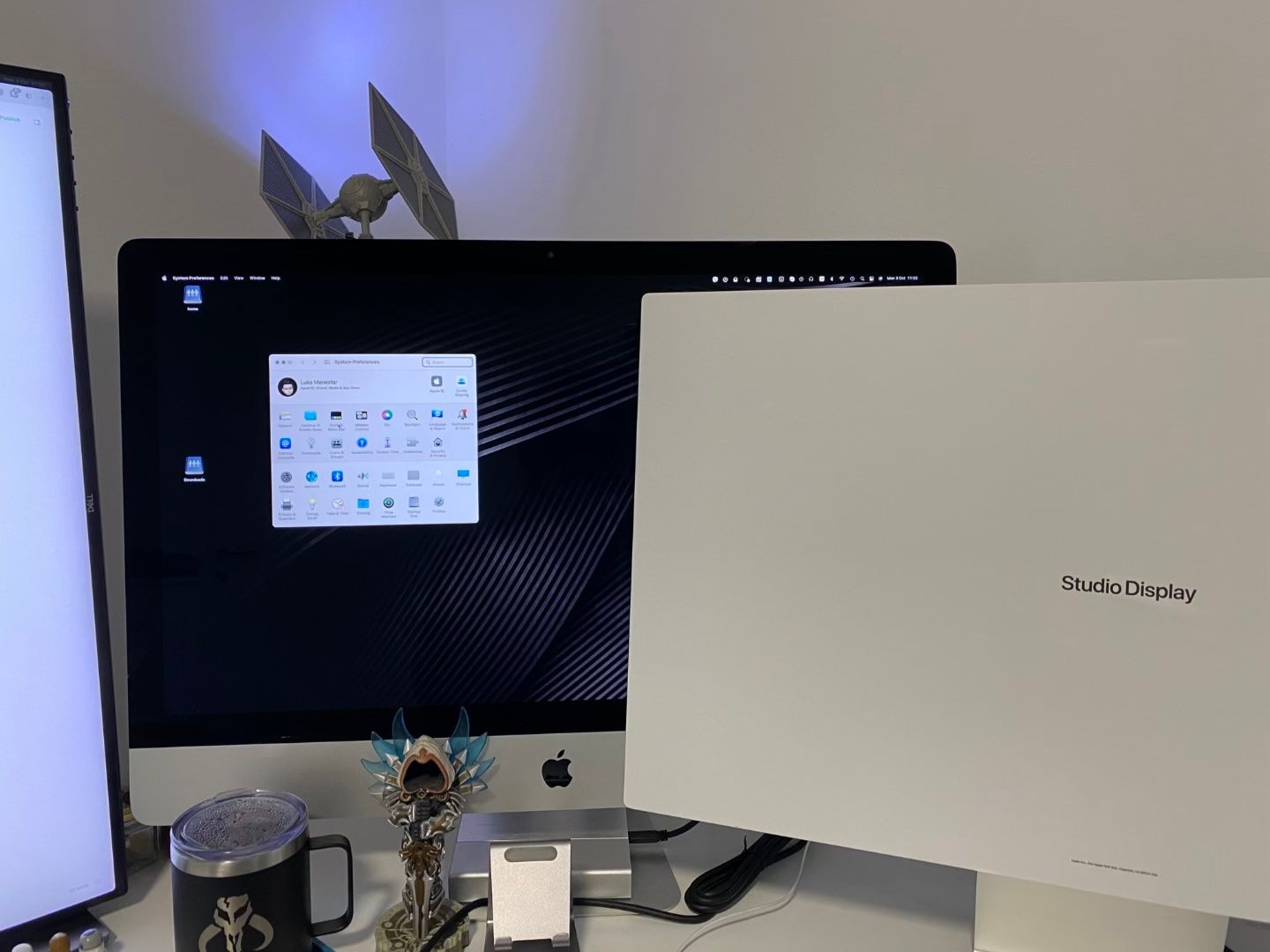 While testing it just to see if it works (this will not be used with my iMac) I noticed quite a bit of improvement in sound quality compared to the iMac. The 6-speaker system is more powerful and delivers better sound overall.
Also, the 12MP camera gives a much better image quality compared to the 720p iMac one while also being the "worse" component by many. Personally, I have no need for it that much so it was not a deal-breaker. Still, the overall wide-angle center-stage driven camera is also an upgrade from whatever built-in option you currently have.
Overall, I am really impressed by the monitor in the short time I had with it. The quality is superb, the weight and finish are meticulous, and the display along with the speakers will provide a great studio-like experience. I will be adding some more comments later on when I get a chance to use it for a longer period of time, but for now, A+ to Apple for delivering a great display that will surely last for many years to come.