📢
UPDATE: 10/05/2022 - in 2 hours (11/05/2022 01:00 AM CEST time) the review for the new RT6600ax will be live in a dedicated article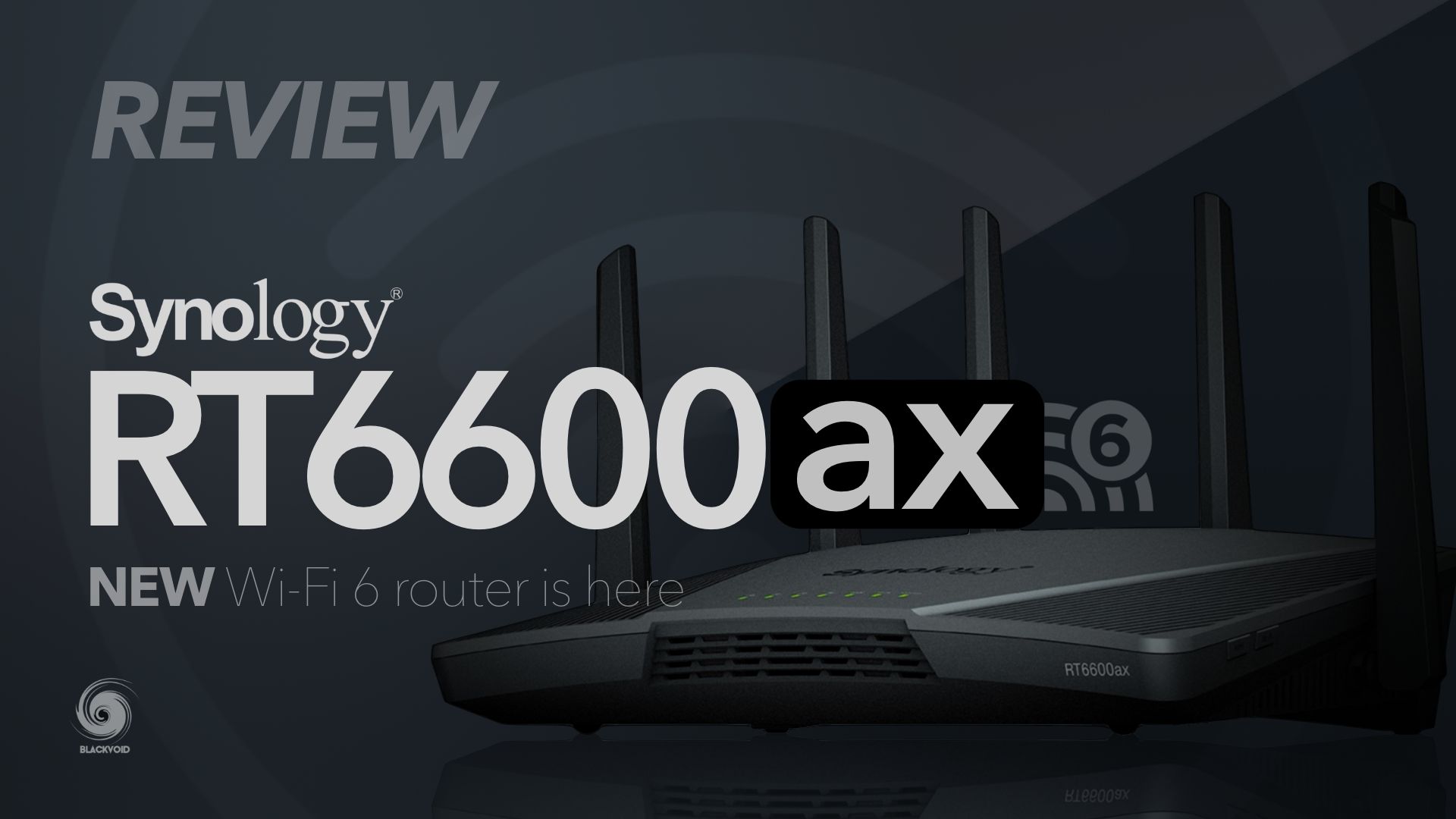 📢
UPDATE: 27/04/2022 - looks like we will be getting macOS support in Active Backup for Business and C2 backup by the end of the year. The exact date is still pending.
📢
UPDATE: 21/4/2022 - My RT6600AX has arrived. Material on it (teaser images etc) is allowed to be shared on the 4th of May (#starwars), and a full review will be in a separate article pending after that date (on the 11th).
📢
UPDATE: 8/4/2022 - The RT6600AX should hit the market on May 11th 2022. I have access to the datasheet but am not at liberty to share it at the moment.
📢
UPDATE: 14/03/2022 - The date for the new router as well as some of the new NAS models has been pushed back. It is not likely that the new RT6600ax router will arrive in March. The new, current date is April 19th, 2022
📢
UPDATE: 31/01/2022 - The new RT6600ax router will be coming out in March. The exact date will be announced closer to the official release
📢
UPDATE 19/01/2022 - Surveillance Station 9.0 BETA is currently available. It is important to note that after installation there is no possibility to return to the previous version!
‼️
WARNING: Not downgradable - After installation of this beta application, you will not be able to downgrade to a previous official version of this software.
---
🗒️
NOTE: 09/12/2021 - Some bad news regarding RT6600ax and its support for 2.5G speeds. More details are below.
Table of Contents
: Storage & Management
: Data Protection
: Surveillance
: Wireless Networking
: Cloud Services
: Security
: Conclusion
A few weeks ago, we got some info regarding an upcoming event that will happen on Dec 2nd, regarding new products, services, and features that are coming in 2022 and later.
Bellow is the full PR news regarding today's event:
Taipei, Taiwan—December 3, 2021—Synology today unveiled the next evolution of its on-premises and cloud solutions, announcing DSM 7.1, Surveillance Station 9.0, SRM 1.3, and significant updates to C2 Backup, C2 Identity, C2 Password, C2 Storage, and C2 Transfer. Exciting new features have been announced for each Synology product, with substantial improvements to the user experience, reliability, and scalability across the board.
On-prem
Large-scale data management
DSM 7.1 will bring improved file sharing performance and convenience with the introduction of SMB multichannel and DFS support. Multi-site businesses can leverage the C2 Storage supported Hybrid Share to reduce bandwidth constraints and make collaborative work simpler. In conjunction with Synology Drive's unified file portal and redesigned mobile app, remote teams have complete control of their data no matter where they are.
For system administrators, more users and devices should not mean more management overhead. Active Insight, the cloud monitoring and troubleshooting service introduced with DSM 7.0, is gaining new conveniences. Hyper Backup tasks from each device can now be monitored directly from Active Insight, ensuring that backups are never forgotten. More details on system updates and login activity analysis put important information front and center.
New bandwidth control capabilities and expanded client triggers in Active Backup for Business, plus support for Virtual DSM deployment in MailPlus give IT teams more tools to reduce operational complexities. DSM 7.1 will also introduce support for full DSM backups, providing another way for administrators to protect and restore entire Synology devices.
Faster, simpler, and more secure
Surveillance Station 9.0 sports a refined user interface that provides users with all the tools they need, faster than ever before. The new Monitor Center centralizes all important feeds with convenient playback controls and alerts. Better map integration means even multi-site deployments can be efficiently monitored, providing security teams with precise information and easy-to-act-on graphics when every second counts.
Setting up cameras has also never been simpler with the new onboarding wizard. Thanks to the option to import and copy settings, deploying hundreds of cameras can be done within minutes.
Improvements to Central Management System (CMS), including flexible device update options, simultaneous dual recording, and HTTPS/SRTP support make it simpler to make each installation more secure and resilient.
A new Synology C2 Surveillance service will enable homes and businesses to simultaneously and securely record surveillance footage to the C2 cloud. With under five seconds of lost footage, C2 Surveillance will ensure that footage is always accessible, even after a catastrophic event or in case of theft of the on-prem system.
The new DVA1622 NVR makes Synology's suite of advanced AI-powered surveillance analytics such as face recognition and people counting more accessible for smaller stores or even SOHO environments. Together with Surveillance Station 9.0, DVA series NVRs also gain license plate recognition capabilities.
Multi-gig wireless, VLANs, and more
SRM 1.3 and the Wi-Fi 6 Synology RT6600ax router introduce faster networking and greatly expand network management capabilities. SRM 1.3 ships with full VLAN support through an intuitive interface that anyone can use to partition and separate their devices, including IoT sensors and other potentially insecure gadgets.
The flagship RT6600ax tri-band router is one of the first to support the expanded 5.9GHz spectrum, delivering much more room and uninterrupted operation for 160MHz devices. The 2.5GbE port ensures support for faster uplinks and internet connectivity.
A redesigned DS router app brings nearly all of the management capabilities of SRM into the smartphone. Creating new wireless networks, configuring parental control or web filtering, setting traffic control schemes, and more are now just a few taps away.
And beyond
Synology also announced research and development into scale-out file servers to meet even greater requirements, whether for capacity, service availability, or management needs.
Cloud
A secure cloud, for everything
Launched just a few months ago, C2 Backup, Identity, Password, and Transfer are standalone services to solve specific IT challenges in a simple and accessible way.
C2 Backup simplifies device and business-critical data backup, even for teams working remotely. Bare-metal backup coupled with convenient file-level recovery through an intuitive online portal ensure fast and flexible data protection.
C2 Identity replaces traditional directory services with a secure and low-latency hybrid approach, with C2 servers providing management, SSO services, and locally deployed LDAP nodes for local, intranet-only servers and devices. The included Windows and macOS device management capabilities provide administrators with the tools they need to secure their teams.
C2 Password makes password management simple and accessible for all. The service is free for individuals and only 4.99 USD a year for password sharing between up to six accounts — all without limitations to the number of devices connected.
C2 Transfer makes sharing sensitive files with external parties easy and secure. Besides implementing identity validation, C2 Transfer encrypts all files locally, making sure that data never lands in the wrong hands even if shared links are exposed.
Synology is constantly introducing new features to each C2 service, maximizing convenience and on-demand scalability without burdening users with maintenance. Multiple data residency options — including a new data center in Taiwan, which was recently added to the existing ones in Frankfurt and Seattle — enable administrators to achieve maximum compliance with local data retention regulations. In 2022, Synology will be introducing C2 Object storage service for S3-compatible applications.
All the details
The Synology 2022 AND BEYOND event, premiered on Dec 3 01:00 GMT+8, goes into more detail and introduces even more features and services. Watch the keynote and seven dedicated sessions online at https://sy.to/2022.
Availability
Synology DSM 7.1 and Surveillance Station 9.0 will be released in Q1 2022 as public previews.
SRM 1.3 will debut on the RT6600ax router in Q1 2022. Support for RT2600ac and MR2200ac will be added in Q2 2022.
More detailed information on other features and services will be available at a later date.
This article will cover 7 sections focusing on some key elements that were presented during the event, so let's see what the future holds.
: Storage & Management
The start of the show for this section is, by all means, the upcoming DSM 7.1. As you could read from the PR document, the 7.1 version will be out as a public preview at some point in Q1 2022.
🗒️
NOTE: Do not install public preview or any beta version of DSM on your main (production) devices. As always, there is no official way to downgrade in case you get into trouble so best to avoid it if you can.
Some of the features mentioned today are already here and came with DSM 7.0 or 7.0.1, but some of them will arrive at a later date.
From the performance side of things, it is worth mentioning that DSM has gotten an overhaul that as a result has 56x faster SMB search tasks, up to 70% faster application startup, and 80% faster RAID6 performance.
One new feature that is coming soon is SMB Multichannel support. This is great news as you will no longer need to manually and unofficially edit the SMB config file, and by doing so, risk your NAS setup from properly working.
With the multichannel feature you will have the option to use all your network interfaces, and once you connect them inside an aggregation group, use them to get speeds over 1G towards a single client. This is very good news for devices that do not run 2,5, 5, or 10G.
Another important new feature is disk replacement and working with raid arrays. Soon you will be able to replace the drive that has been flagged as faulty or you simply want to replace it, without degrading the volume. Also, there are auto-repair, and fast repair features that will automatically repair a degraded volume/pool (once you place a new drive), and the repair will focus on the used part of the volume, shortening the time needed to complete a rebuild.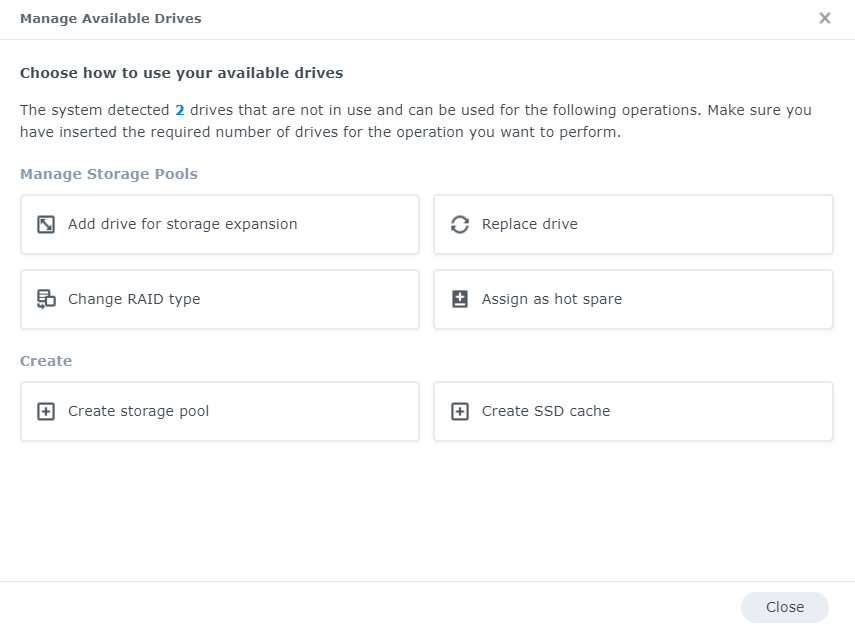 DFS (distributed file system) support over SMB will allow administrators in DSM 7.1 creation and usage of a portal to configure and manage multiple file servers over DFS service.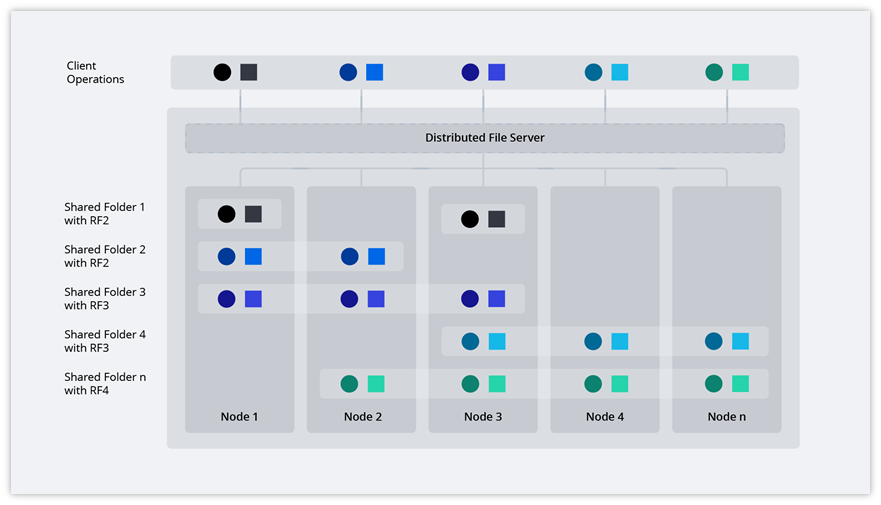 With DSM 7, Synology also rolled out their cloud-powered NAS metric and alerting platform, Active Insight. In 7.1, AI will have the option to install both system and application updates (on more than one NAS at a time) as well as the ability to tackle security elements. For example, AI will be able to log and report on strange logins, activation of accounts that are not used most of the time, brute-force attempts, etc.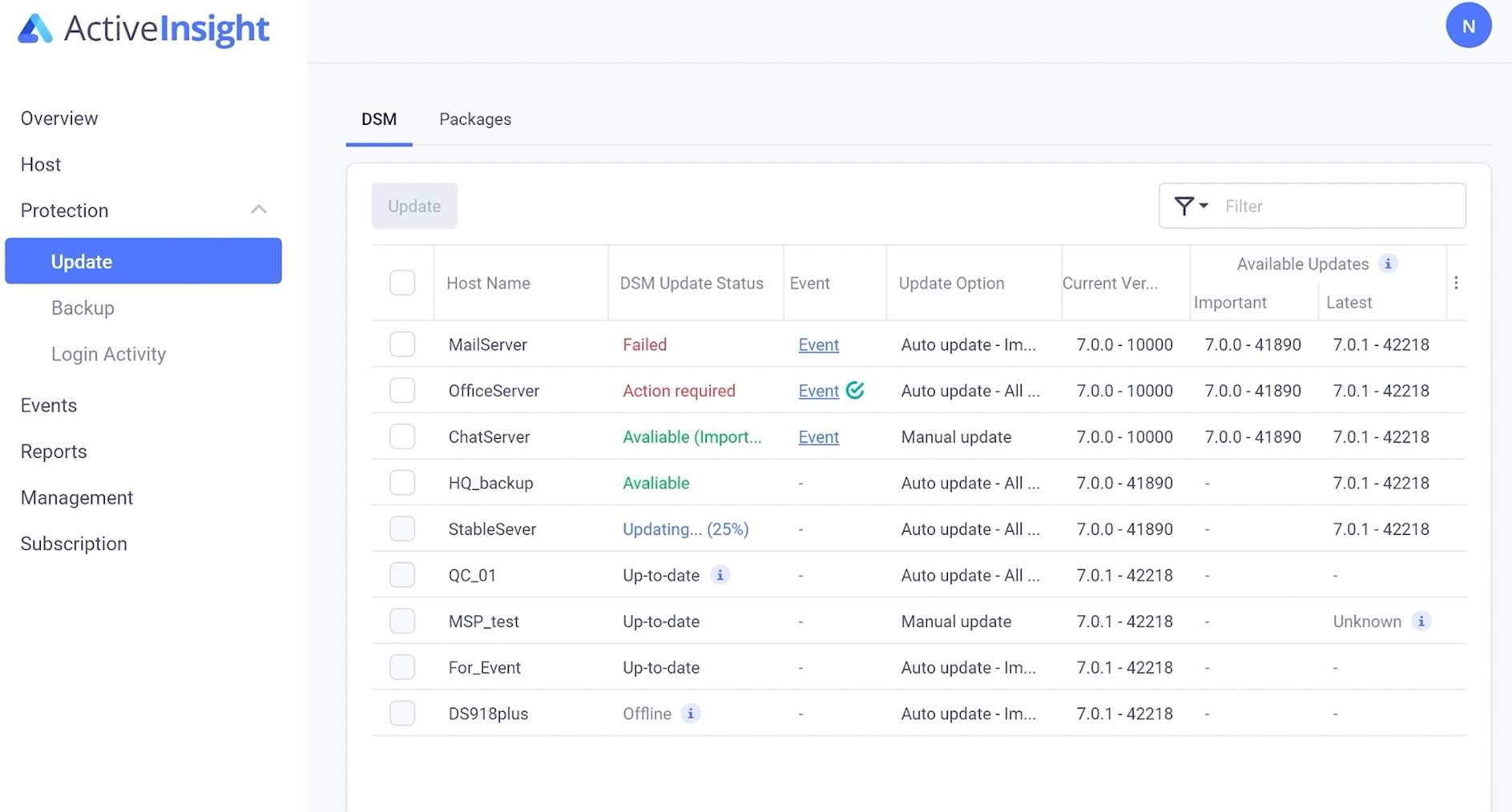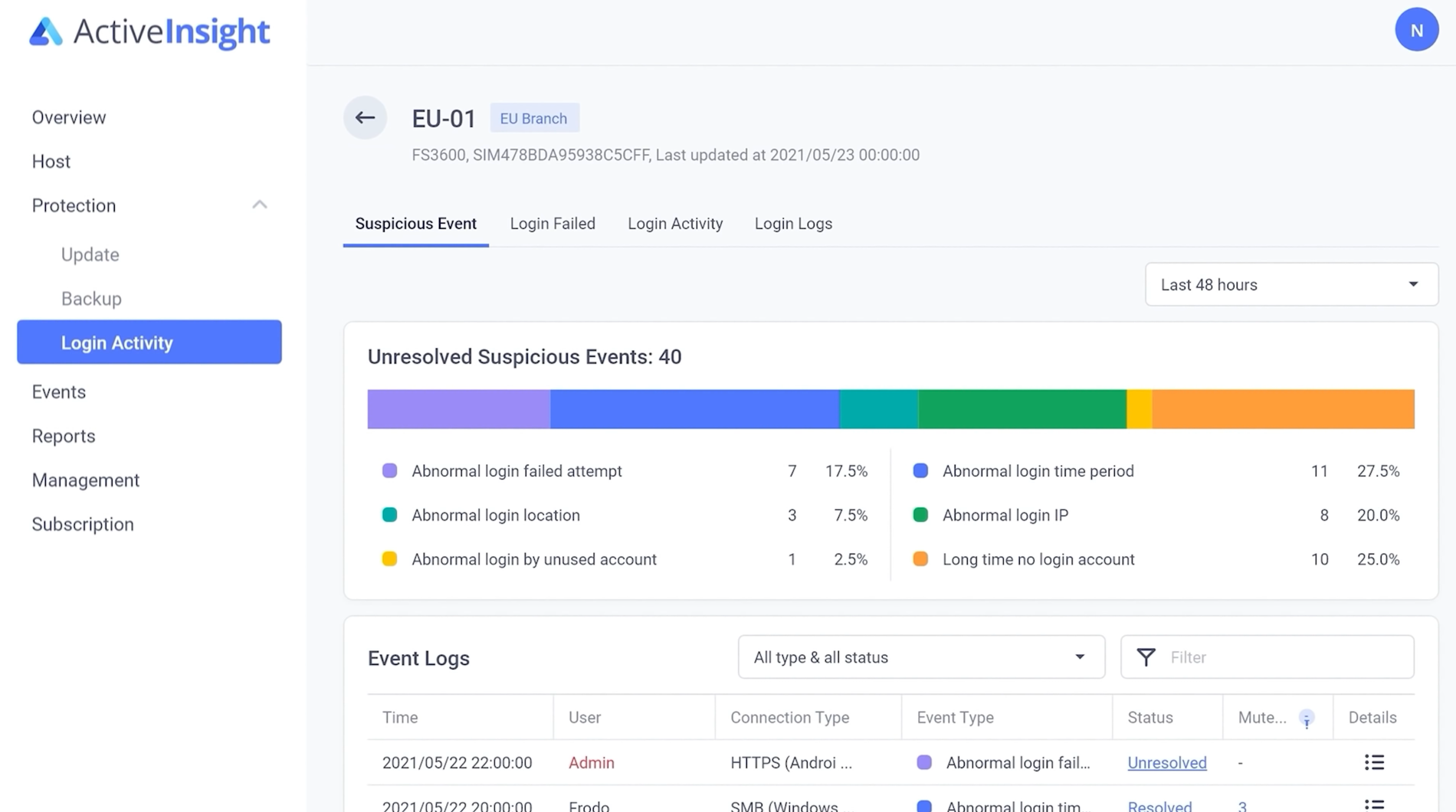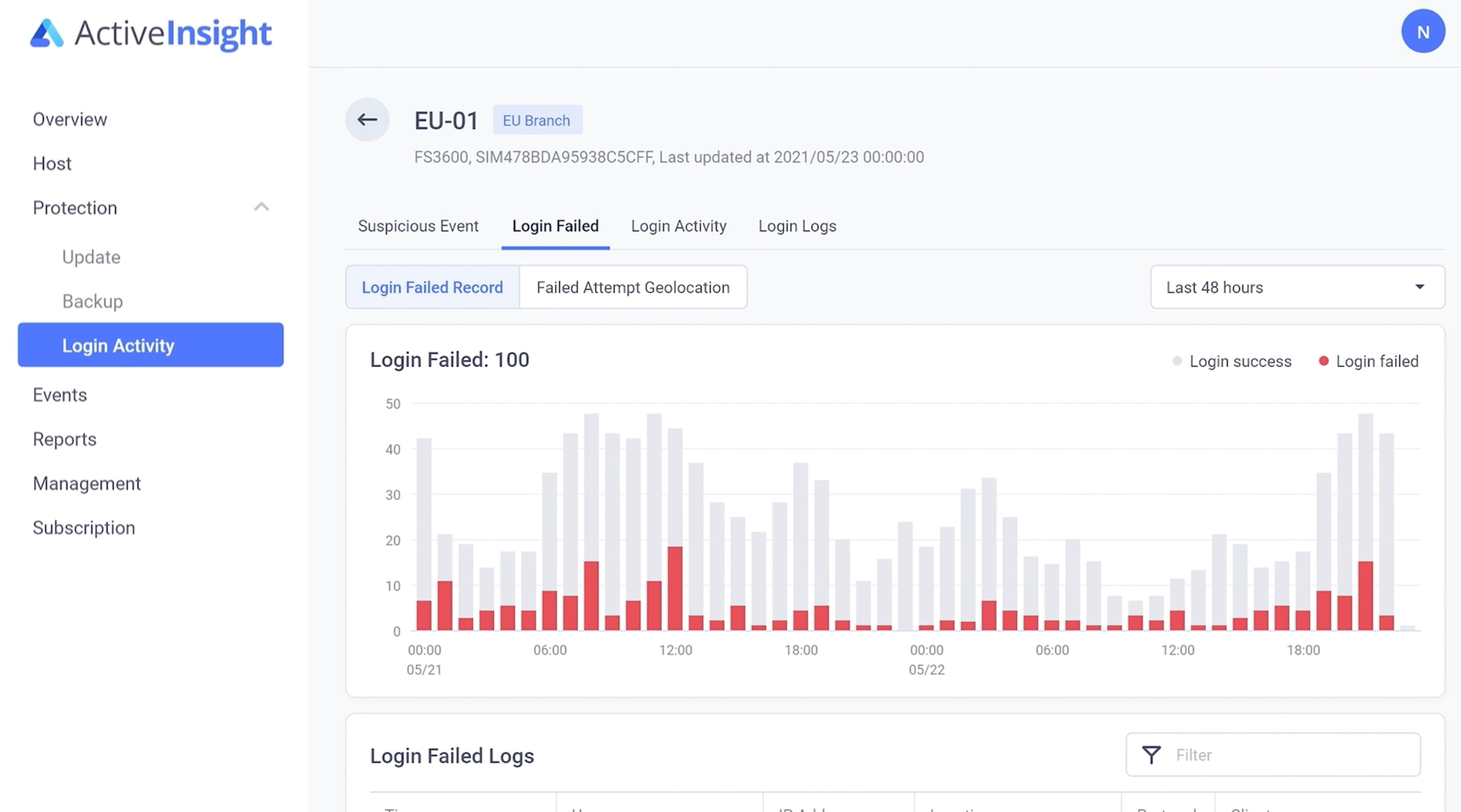 Finally, AI will offer Hyper Backup task monitoring. It will allow us to monitor multiple NAS tasks from a single dashboard that will help minimize email or push notification needs.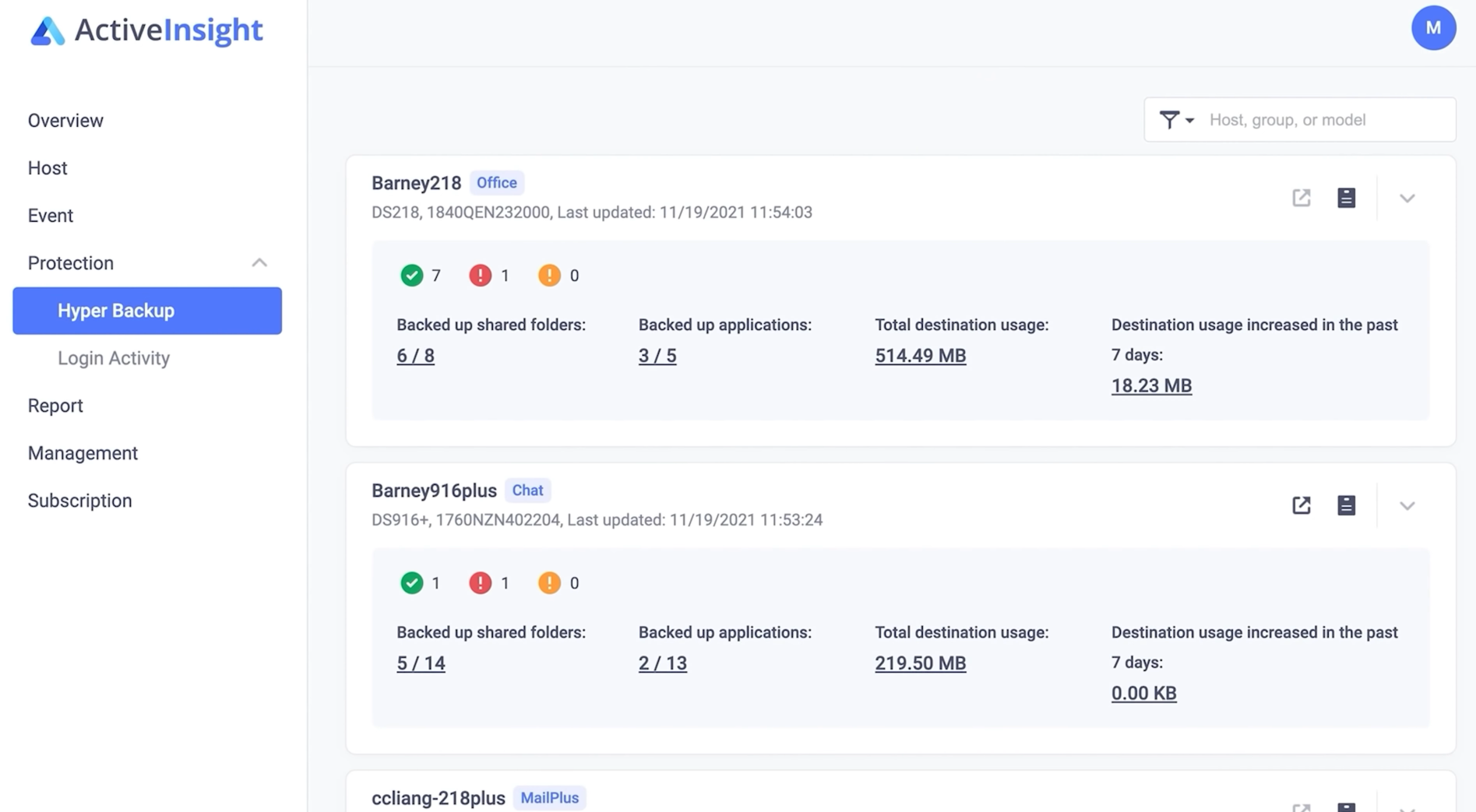 For all of you that use NAS devices are AD servers the good news is that with DSM 7.1 there will be an option to run a secondary domain controller, and a read-only one as well.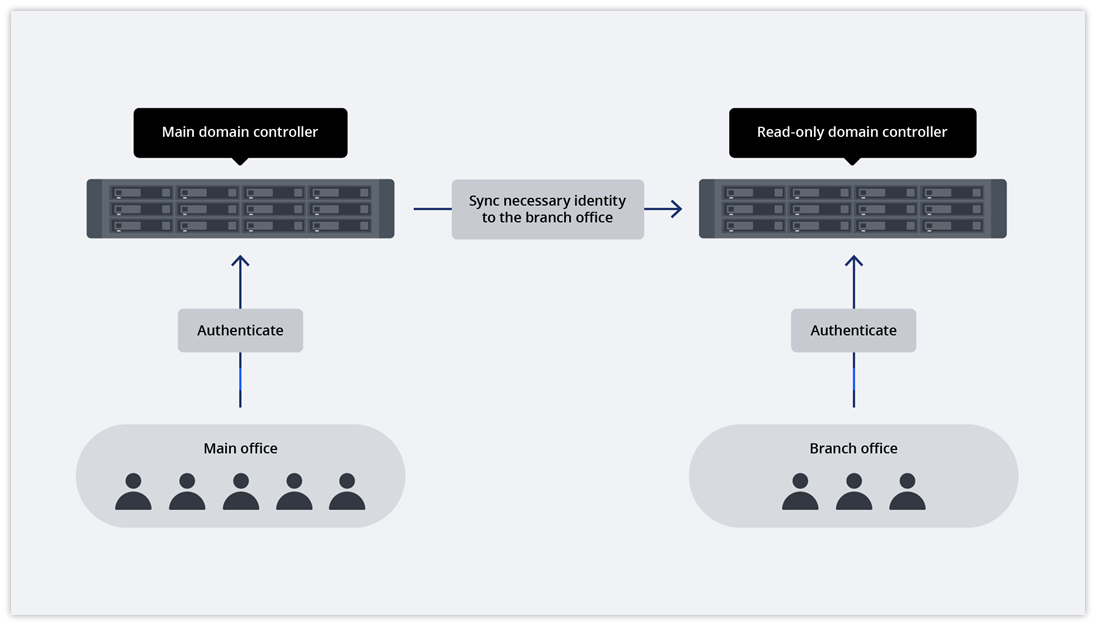 : Data Protection
Less new features in this section, but still welcome. Moreover, most of those were implemented thanks to end-user feature requests, so let's see what's new.
The center stage here takes Active Backup for Business. For all of you who are unfamiliar with it, feel free to read up on the package itself.
Personally, this news makes me happy because new features are a great addition to an already great platform offered for free.
Bandwidth control will give us the option to control data flow when multiple concurrent tasks are happening which will result in better network throughput. This will be especially useful for systems that are not equipped with 10G.
Another situation that was rubbing users the wrong way, was for example computers not following regular backup schedules. As a result, if the pc was shut down at that moment, backup would skip. To solve this problem, ABB will have new backup triggers, that should help in similar cases.
If you have a large ABB environment with a lot of computers, servers, or virtual machines, monitoring will now be possible via SNMP support. If you have a central monitoring system that supports SNMP communication, you can have reports about ABB's operation centralized.
The absolute winner of this category or perhaps the entire DSM 7.1 is finally an option that was announced in previous years, but never came to life, and there were announcements that it may be available through the Synology C2 platform. However, with the arrival of 7.1 within the Active Backup for Business package, Synology will also offer full DSM backup functionality for the first time.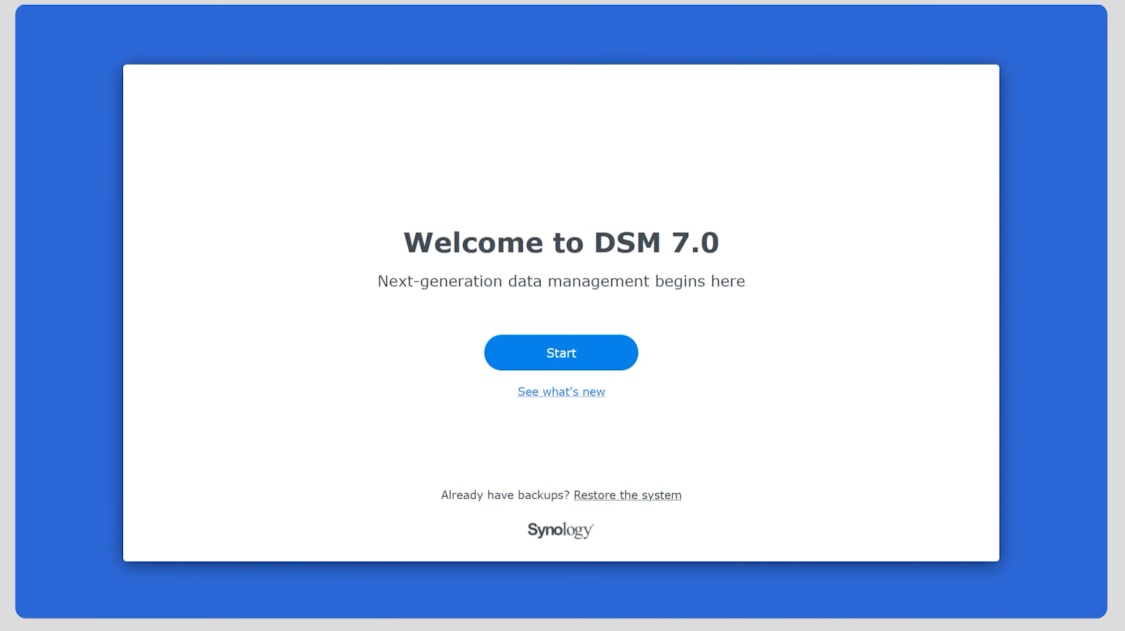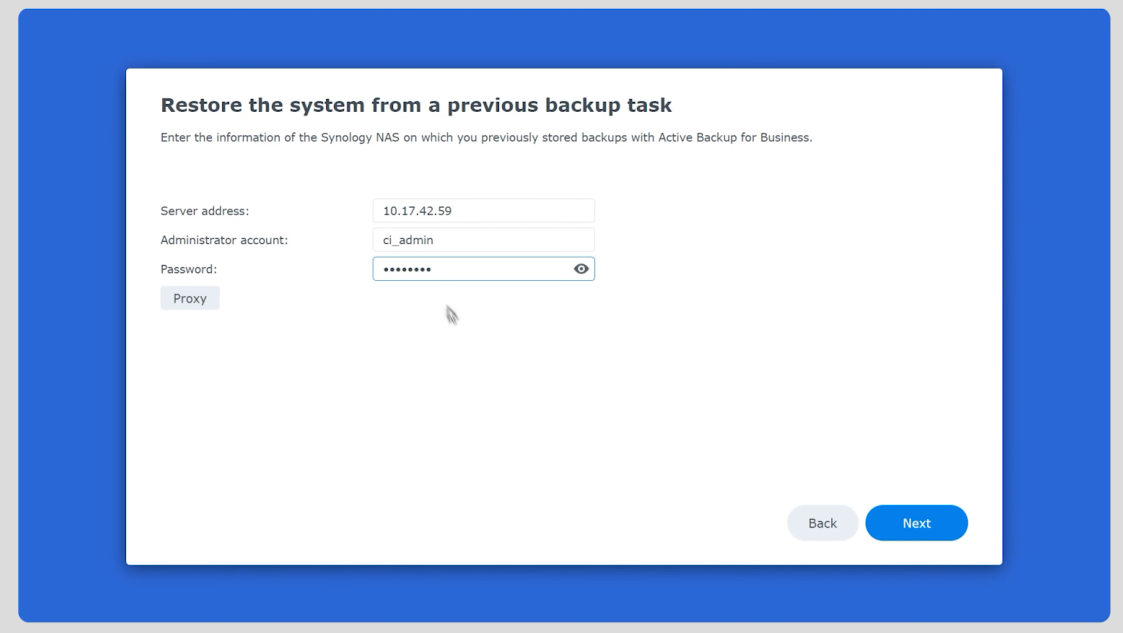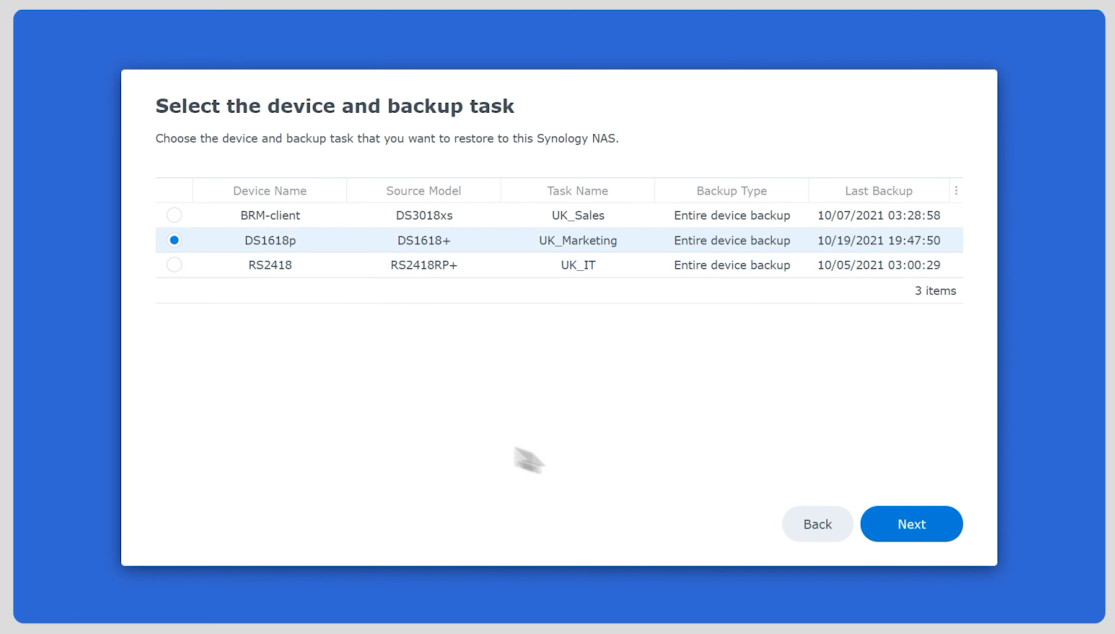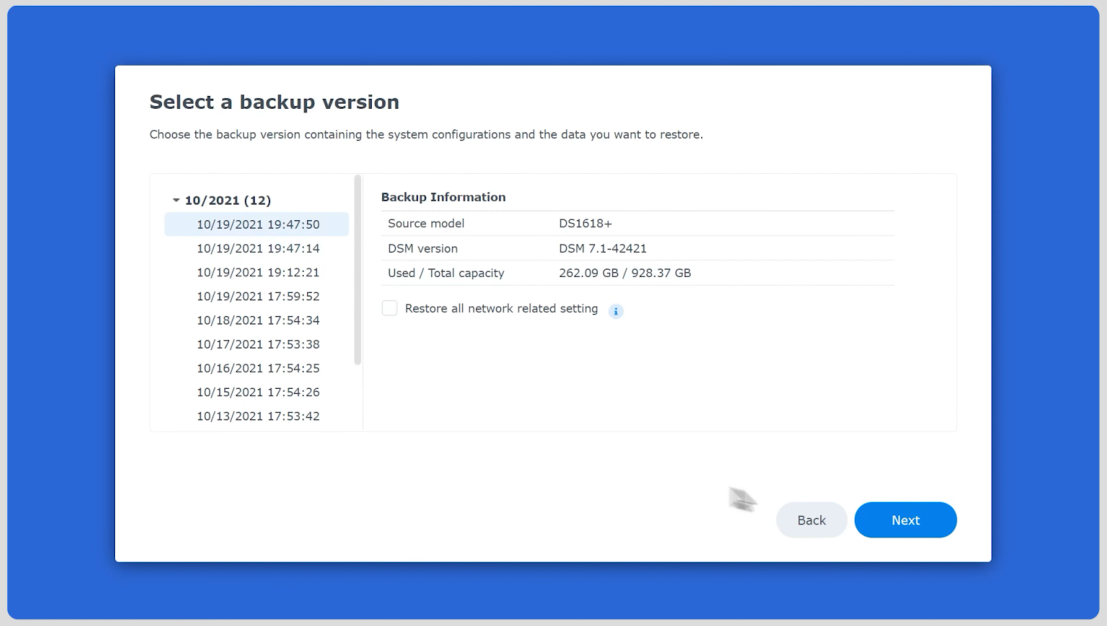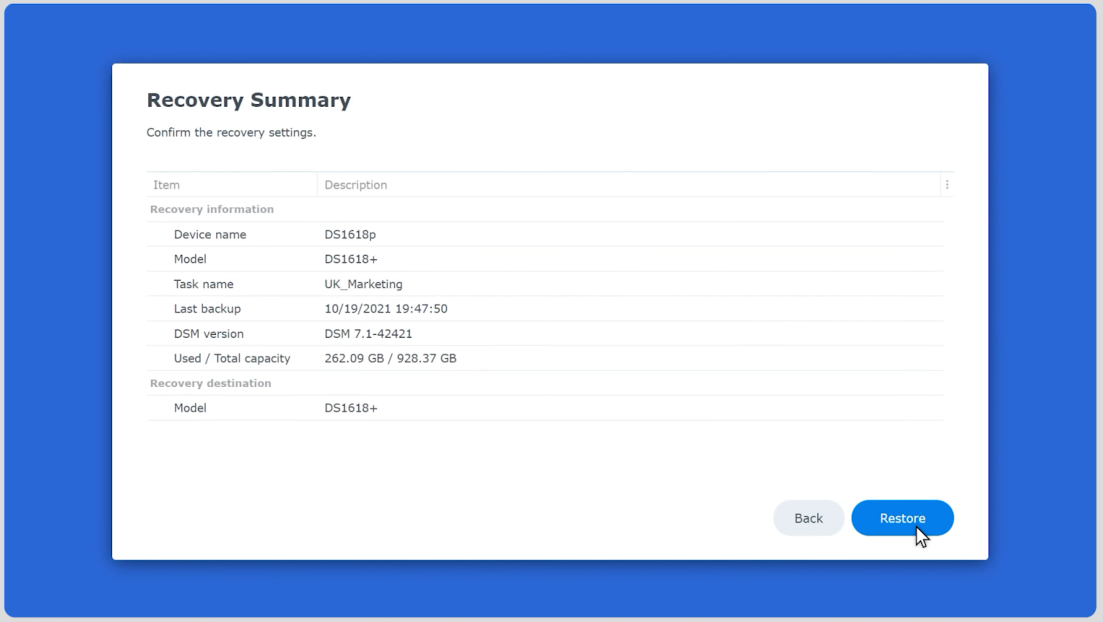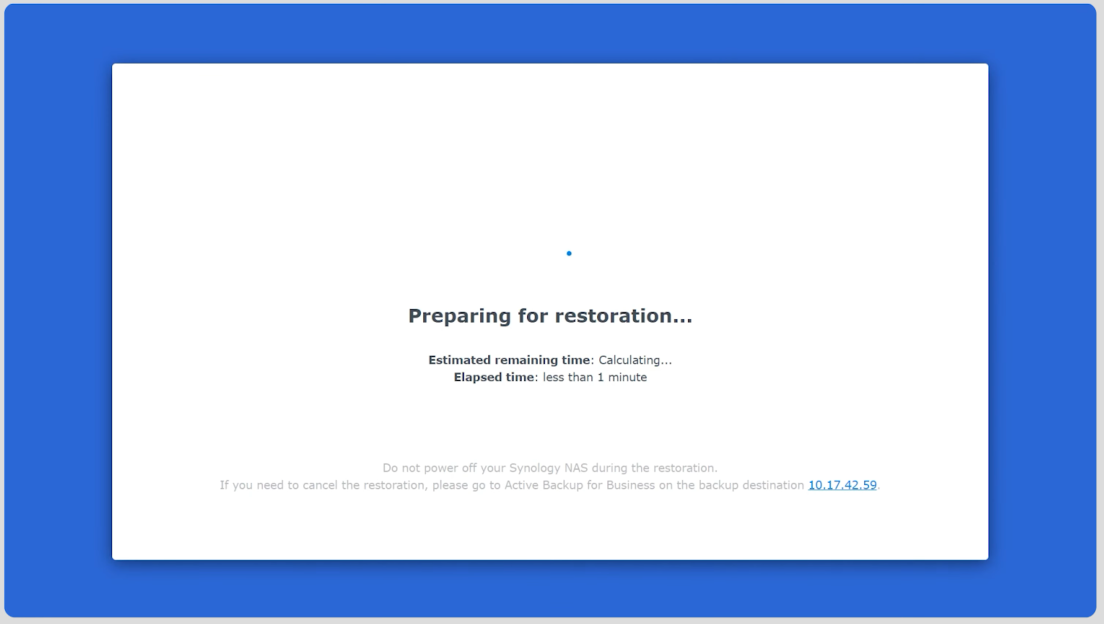 This is great news because it means that in addition to the ability to backup data, some installed packages, and certain system settings, which we can currently perform, we will now have the ability to complete (bare-metal) or incremental recovery of NAS devices (more details in the linked article), and set flexible times recovery as well as retention rules.
📢
Active Backup for Business Agent (DSM) is needed in order to be able to perform a DSM bare metal backup and restore via Active Backup. Bellow are current DSM 7.1 and other requirements.
What's New
Full-system backup provides comprehensive protection for your Synology NAS including user data, system configurations, and packages.
Multiple recovery methods including file/folder level and full-system level offer flexible recovery solutions for different needs.
Block-level and incremental backup provides fast backup speed and efficient use of space.
Change-block-tracking (CBT) technology intelligently tracks data changes to greatly reduce the time and computing resources needed for each backup task.
Supports data deduplication and encrypted transfer to better utilize space used on the remote backup server and encrypted transfer for a safe connection.
Applied Model
21-series: RS4021xs+, RS3621xs+, RS3621RPxs, RS2821RP+, RS2421+, RS2421RP+, RS1221+, RS1221RP+, DS1821+, DS1621xs+, DS1621+, DVA3221
20-series: RS820+, RS820RP+, DS1520+, DS920+, DS720+, DS620slim, DS420+, DS220+, FS3600
19-series: RS1619xs+, DS2419+II, DS2419+, DS1819+, DS1019+, DVA3219, FS6400, FS3400, SA3400, SA3600
18-series: RS3618xs, RS2818RP+, RS2418+, RS2418RP+, DS3018xs, DS1618+, DS918+, DS718+, DS418play, DS218+, FS1018
Limitation
On a Synology High Availability cluster, users need to manually restart DSM after connecting Active Backup for Business Agent (DSM) to the backup server for the first time to apply backup settings.
---
: Surveillance
Absolute innovations that are extremely important for the Synology product line also come from the physical protection segment where the Surveillance Station enters in the new 9.0 version as well as the new DVA device.
Almost all innovations come in the new version of Surveillance Station 9.0, which primarily includes changes to the interface, improvements to some existing solutions, as well as a simpler way of setting up and configuring environments with a large number of control elements.
The biggest novelty is the new Monitor Center, which allows you to view all cameras and previously stored images in real-time. Until now, we had to use Live View or Timeline for that, and now we can see everything from the central location via the new view.
This dashboard can be fully customized, send notifications and alerts, automatically register some controversial situations at any time, and make synchronized playback of all cameras for a particular event.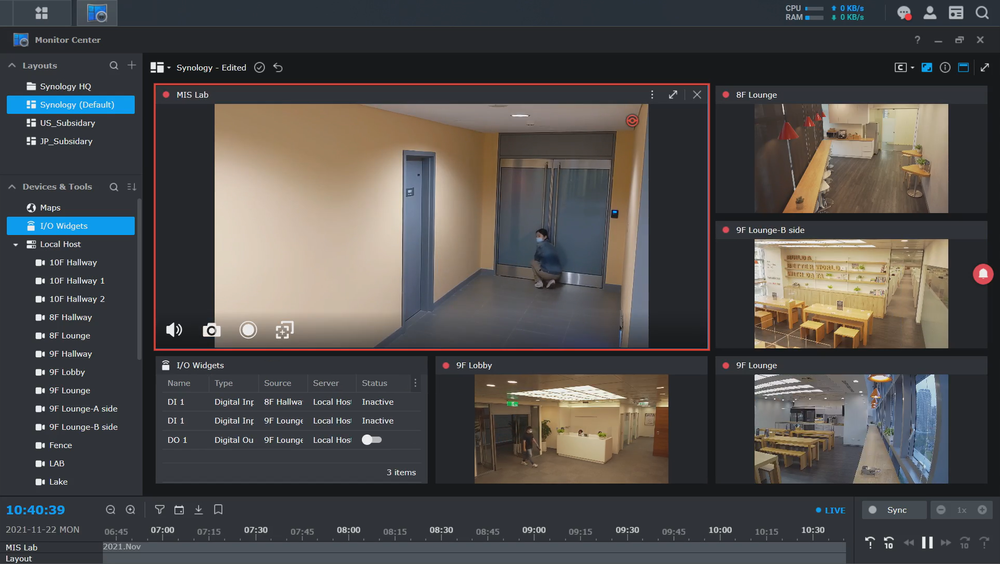 The novelty also includes camera management which now allows you to copy the configuration from one camera to another (so you don't have to repeat the same configuration for all the same cameras), as well as import settings from the table.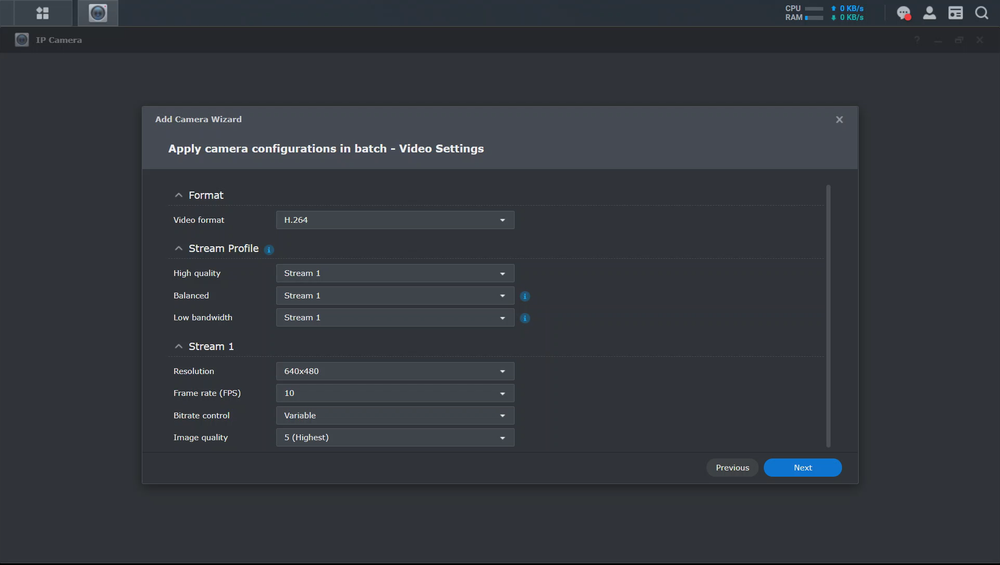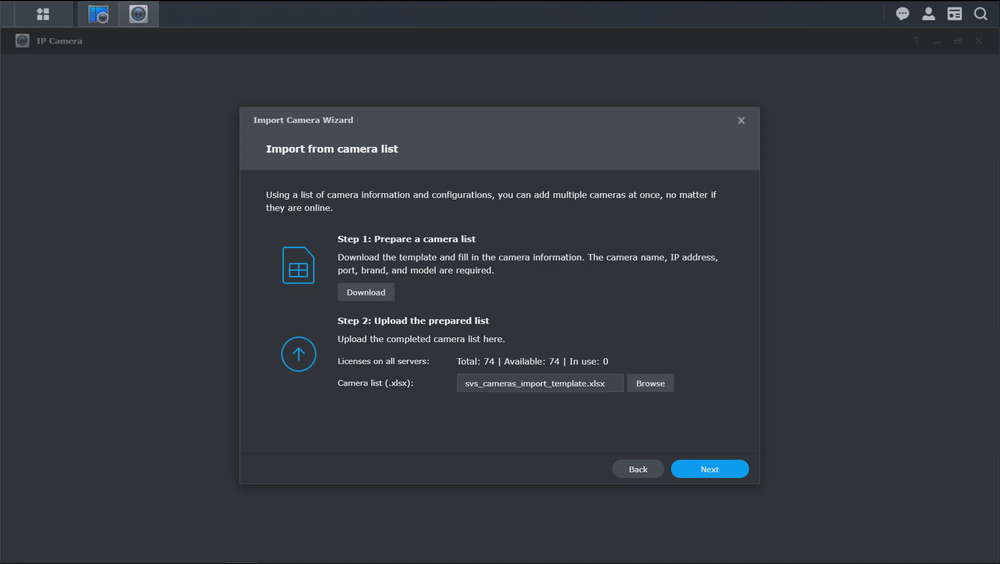 If you use these cameras in a cluster environment with multiple SS drives, the good news is that it will now be possible to do online and offline upgrades so administrators will be able to prepare upgrade packages, and let the SS download them if the system does not communicate directly with the Internet.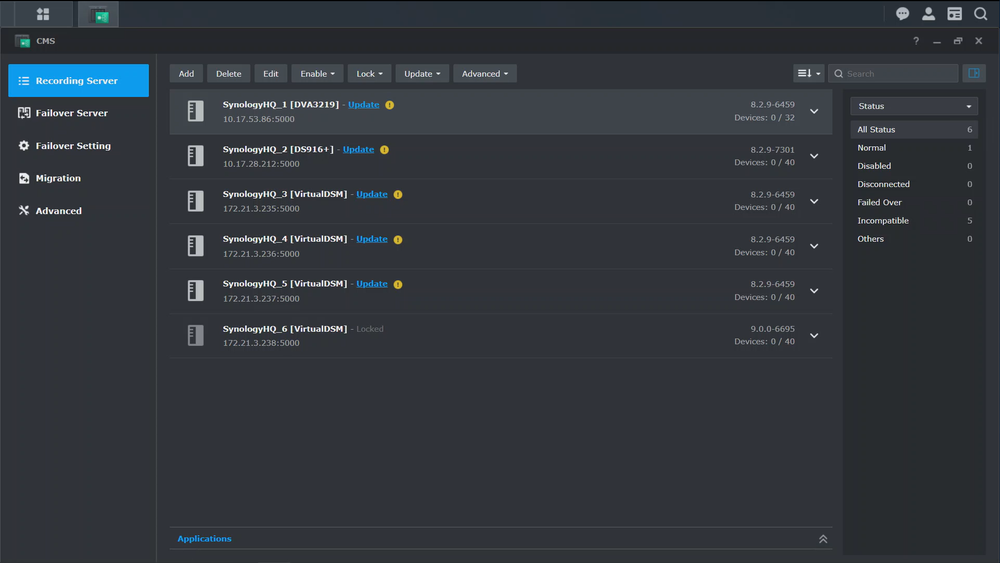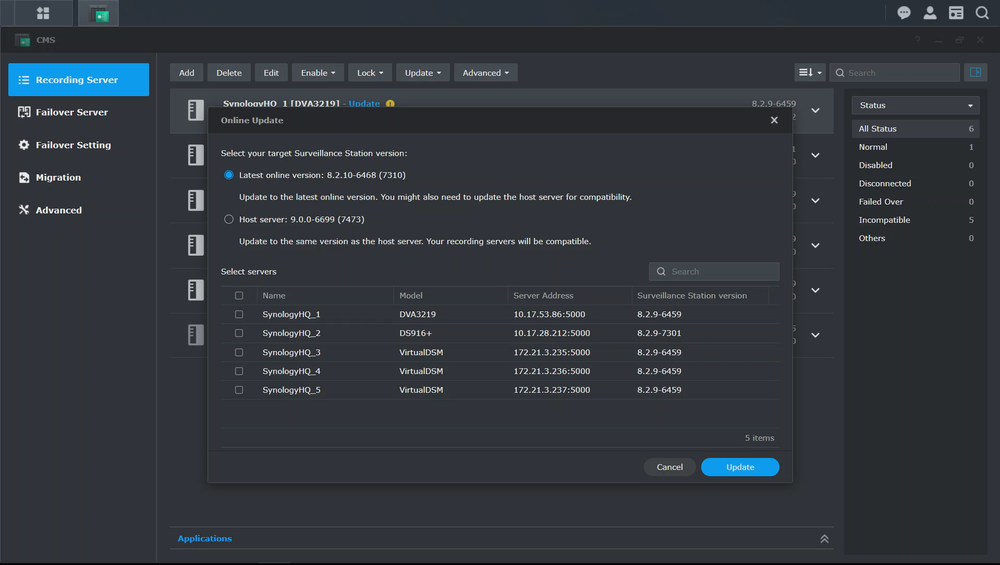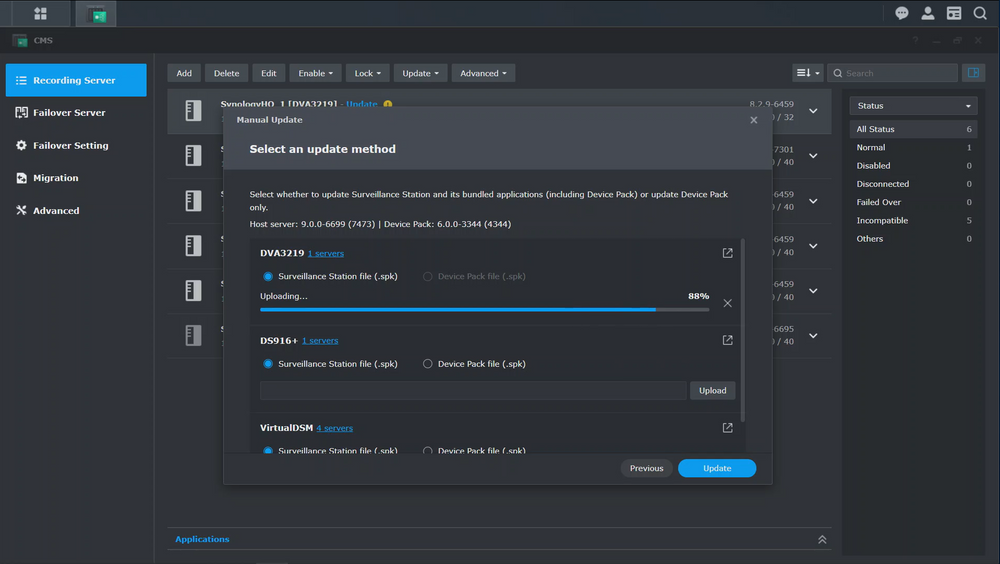 In terms of data security and sensitivity, certain innovations have also occurred. SS9 supports HTTPS and SRTP protocols. While HTTPS protects communication between the camera and the NAS itself, SRTP does the same at the image transfer level to remote clients such as a web browser, SS application, or SS mobile application.
Additionally, administrators will now have the ability to encrypt content on the NAS, which will be effective even if the administrator password manages to get hacked.
Since Synology has already opened the door to its data centers with all 5 new C2 cloud services for users who do not necessarily have a NAS device, it was a matter of time before a similar service would be offered in the SS segment.
So soon we will be able to store and save local copies on the NAS via the SS platform, we will be able to store them in the C2 cloud. Dual recording to C2 is therefore an option that will guarantee that even in the event of a disaster at the primary location, you have your recordings monitored and stored in the Synology C2 environment.
This service will certainly be commercial with prices to be announced in due course.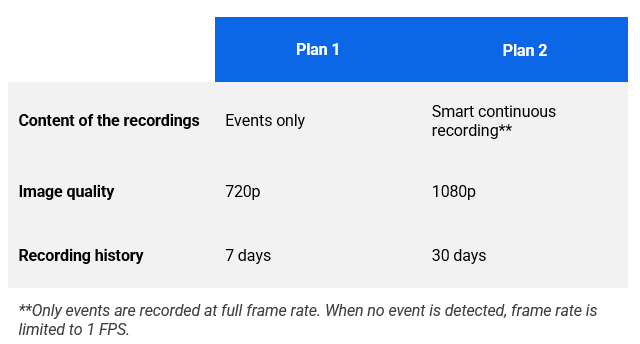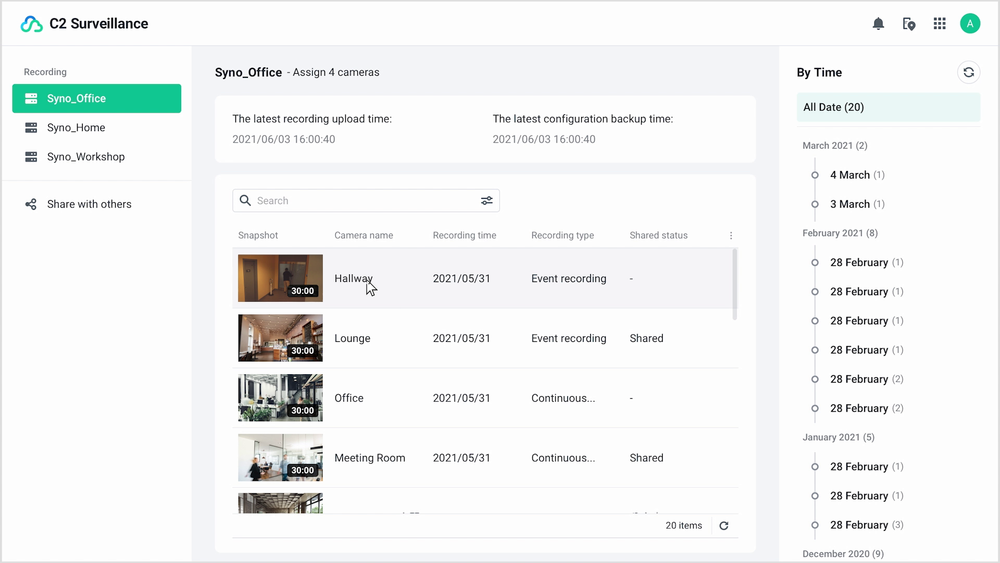 The novelty is certainly DVA modules such as face recognition and license plate recognition. This will certainly be interesting for business, but also for private users because the detection results will be able to be automatically linked to certain actions.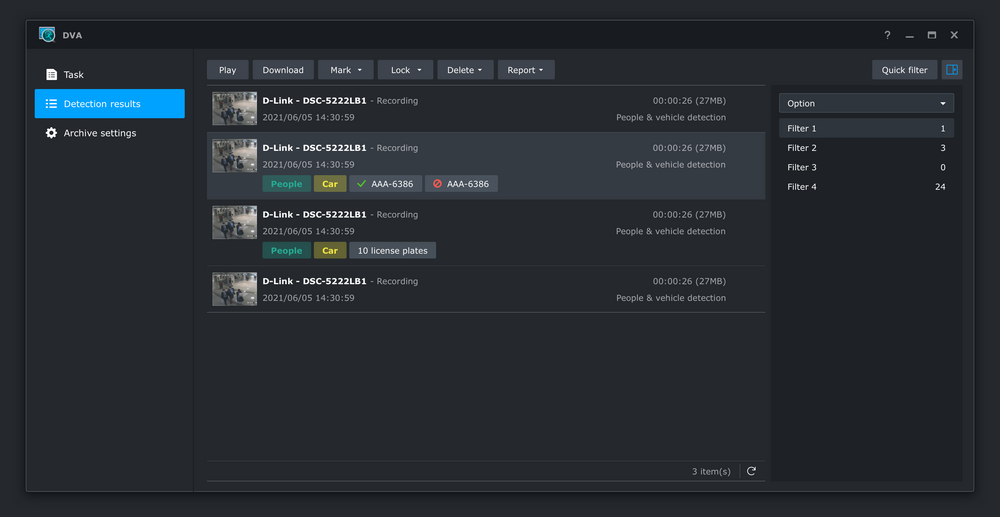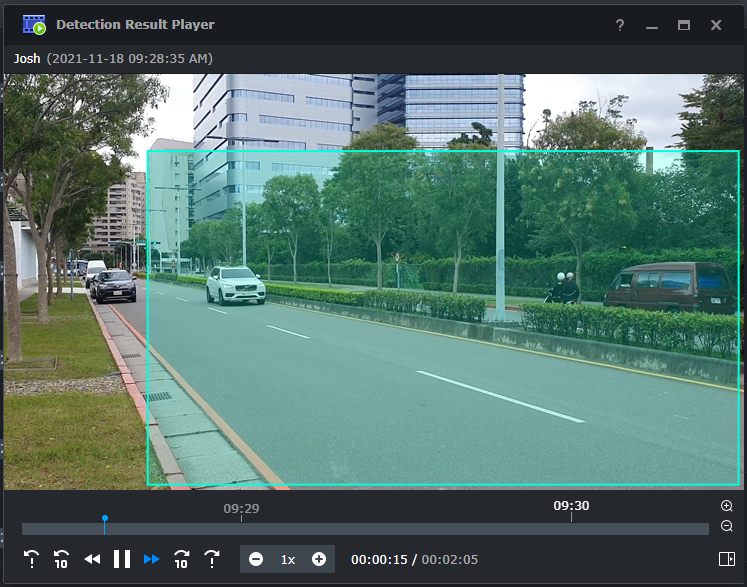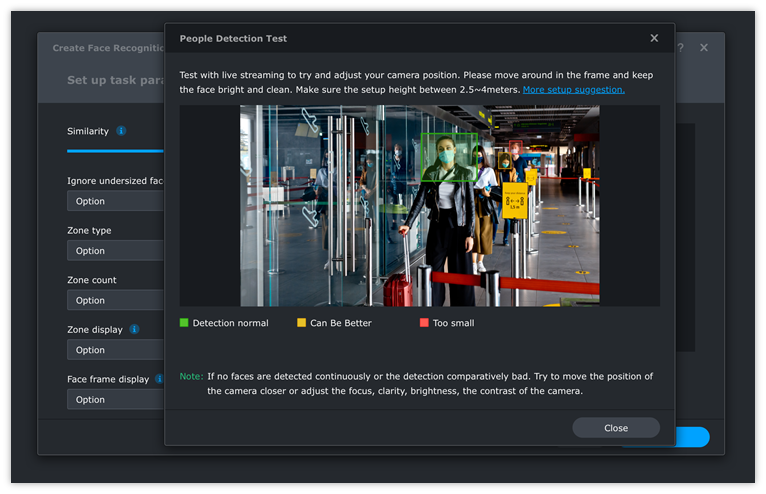 As a final novelty in the entire "supervisory" segment is one new device. DVA1622 to be exact. 2-bay model with support for up to 16 cameras, the option of detection and recognition of faces and people, and HDMI output with 4K support. The device will be equipped with the new SS 9.0 when available.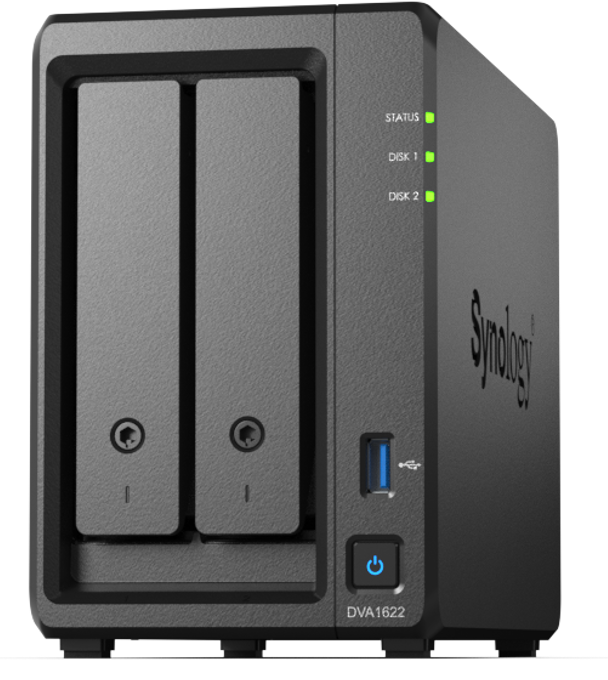 : Wireless Networking
Now we come to the category that is certainly after DSM 7 very interesting to a large number of users, if nothing else then due to the fact that there are some devices that are numerically the least represented by Synology, but on the other hand very popular, I'm clearly talking about routers.
In the coming year, a new, more precisely the fourth in a row, Synology router RT6600AX, will arrive. Some will say finally because, for the last year since the presentation of WiFi6, questions have been circulating about whether and when Synology will eventually present a new router as the successor to the popular RT2600AC.
⚠️
We might get also one more router alongside RT6600ax, which was not presented during the keynote. At the moment it is not known what the model will be called, or what its specs will be, but it might very well be an MR2200AC replacement, same as 6600ax will replace 2600ac.
That moment has arrived. Synology today introduced a new, more serious router that, despite its appearance and technical specifications currently available, easily rivals the competition. If we add the new SRM 1.3 novelties (later in the text), I can say that this will definitely be a very interesting device for many, especially in today's time of working from home, and the Corona lifestyle.
For all those looking for a more serious router, with a great and stable operating system, with great protection for your home and business environment, I think the RT6600AX will be the right choice.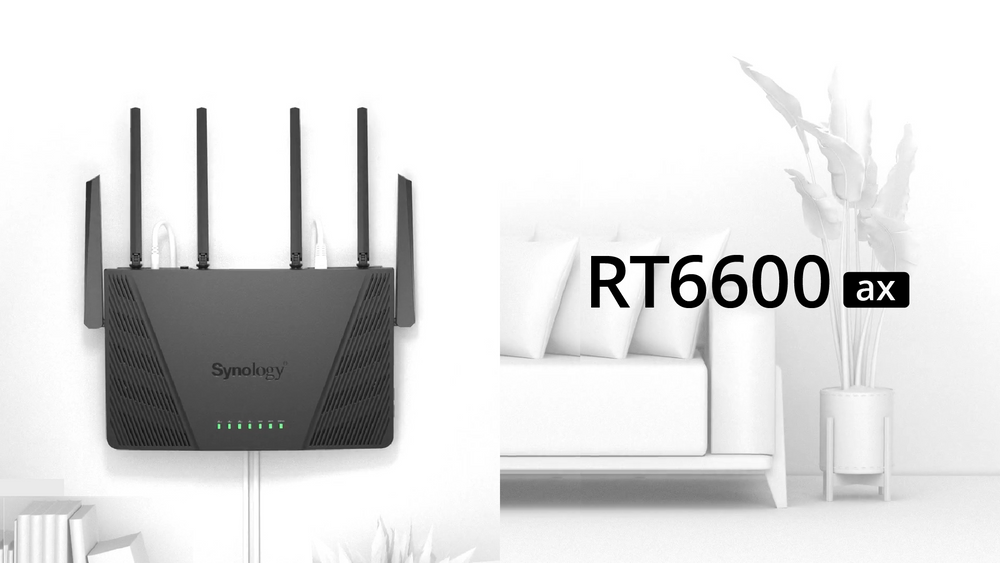 For now, we know the following about this model:
Tri-band WIFI 6 support, with 6600Mbps total bandwidth, with one 5Ghz spectrum in theory, can deliver a maximum of 4804Mbps, and also have a wireless mesh configuration between the two RT6600ax devices.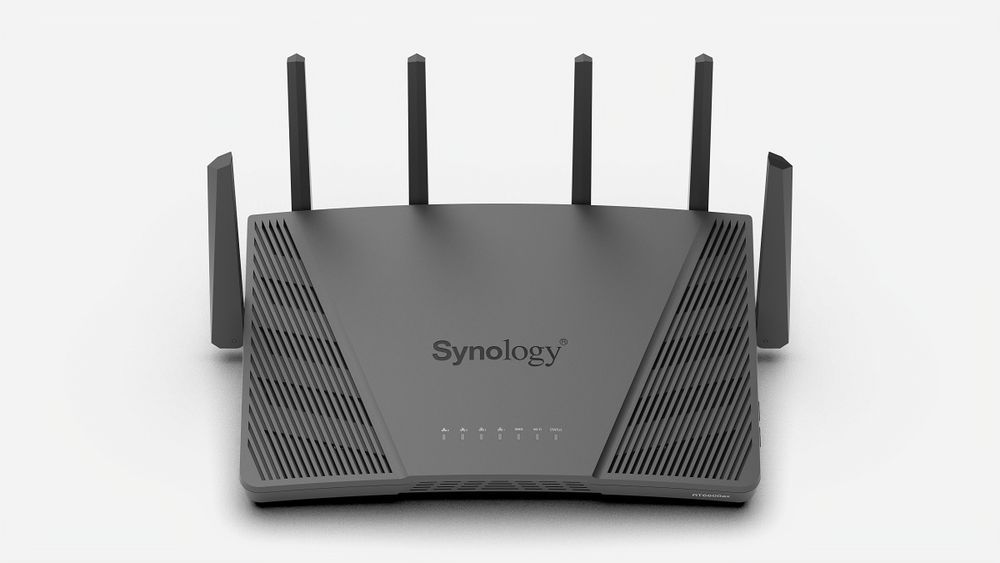 Support for mesh connectivity with RT2600AC and MR2200AC models will be available in Q2 2022.
This model is one of the first routers with 5.9Ghz support available today. It also comes with one 2.5GbE port that can be configured as LAN or WAN. So you can use it either as a router with a 2.5G connection to the Internet (where it is supported), or for LAN network communication.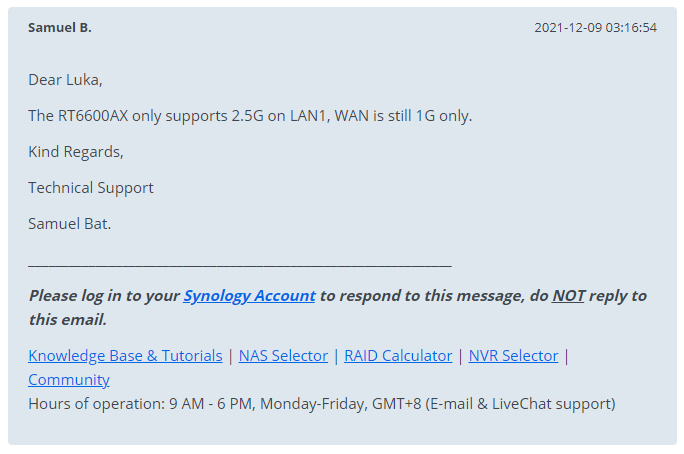 ‼️
Unfortunately, since the device has only one 2.5GbE port, it will not be possible to get multi-gig speeds on the LAN and WAN in parallel, except for WIFI devices. So if you are able to get multi-gig ISP speeds, you may be able to take advantage of them via wireless devices, not wired ones in the rest of your network.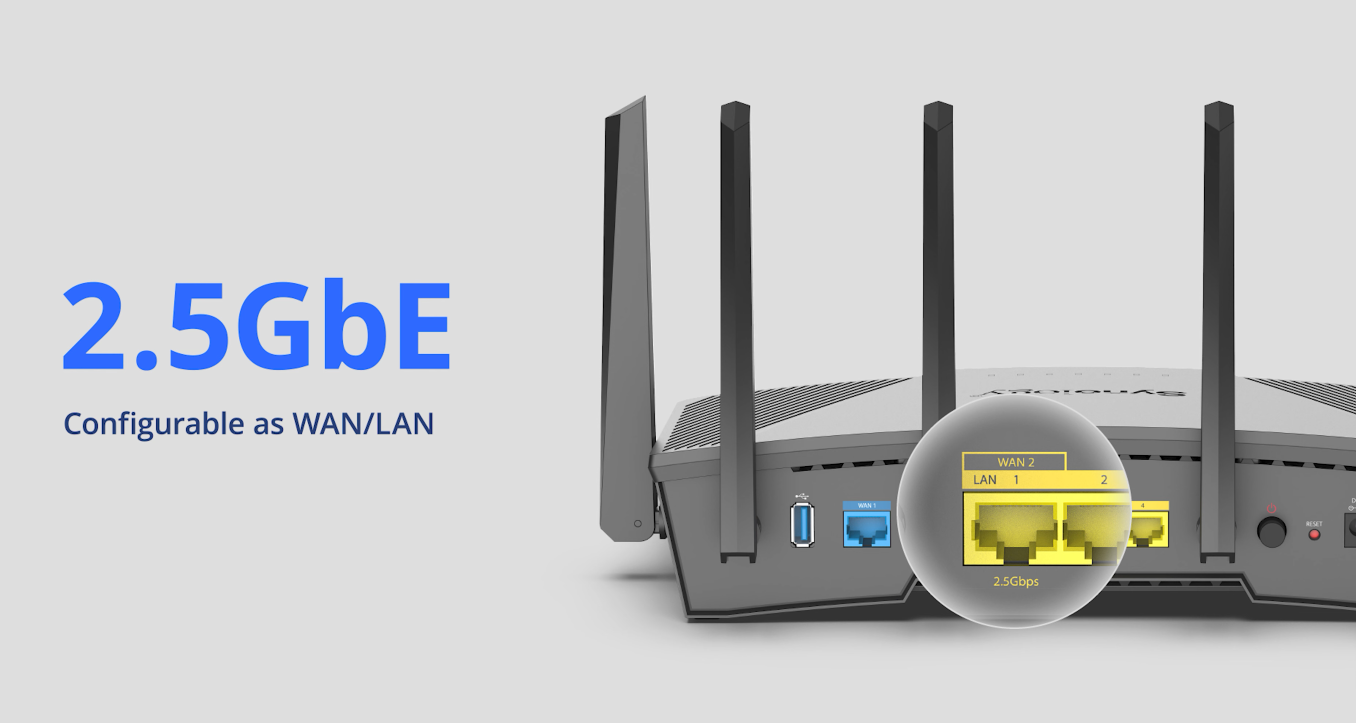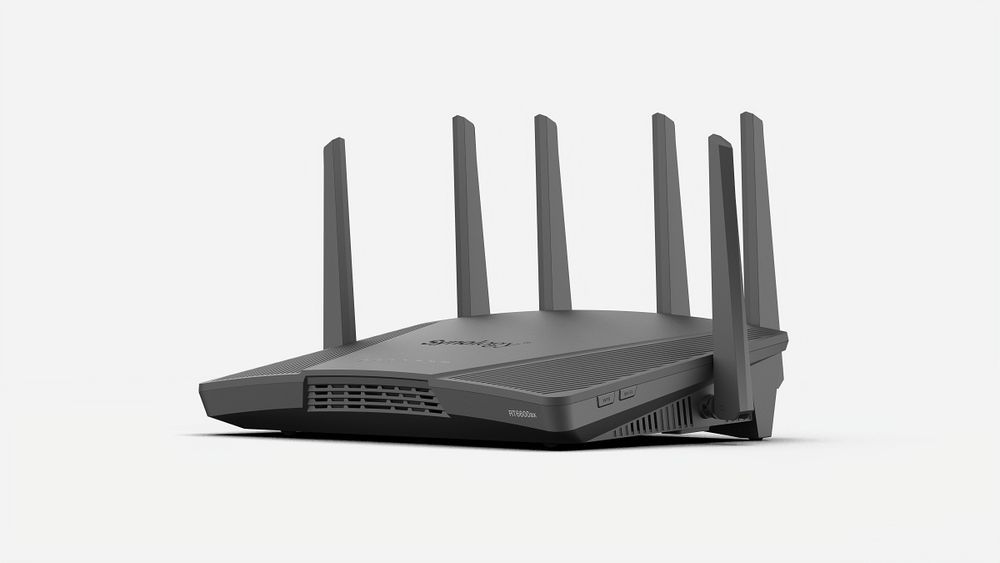 Unlike its predecessor, the RT2600AC, this model can be mounted on a wall or any flat surface if needed. I am glad that Synology has listened to the requests of its users and all of the above so far makes this model a very good long-term investment.
The RT6600ak is also significantly better in terms of performance when it comes to the number of connections per second (CPS) compared to currently available models.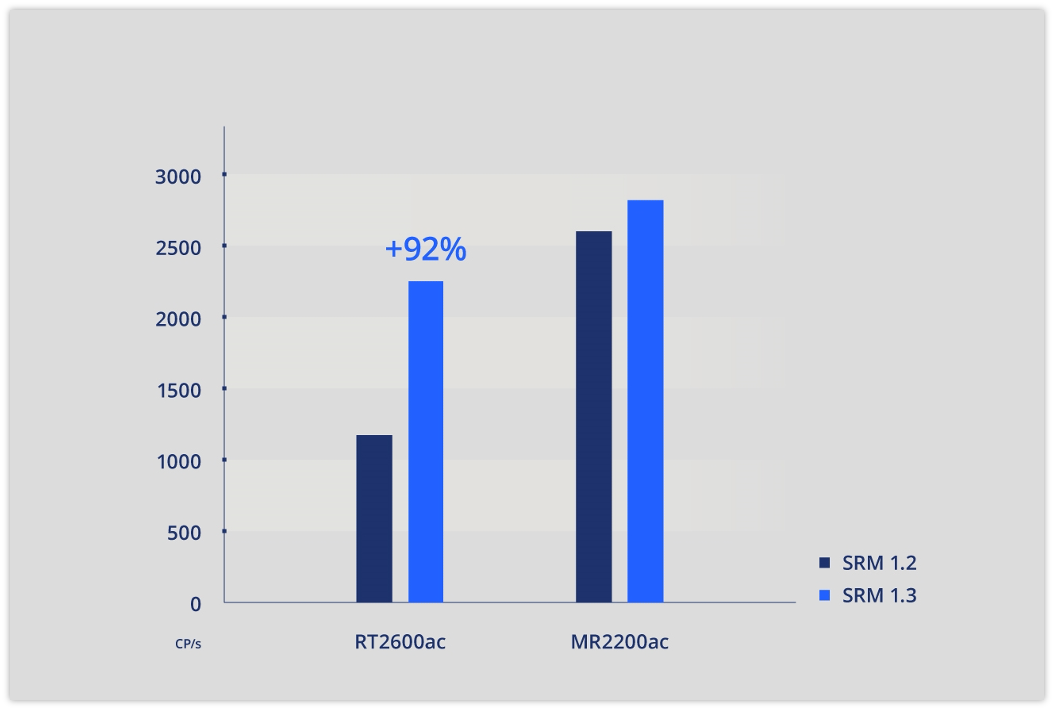 Clearly, in addition to the device itself, 2022 also brings some innovations in the field of SRM (Synology Router Manager), the operating system router.
In its new incarnation, v1.3, Synology introduces some more sought-after features.
Definitely worth mentioning is the support for multiple networks and SSIDs. The new SRM will have support for up to 5 separate networks and SSIDs, to achieve separation in terms of functions, firewall rules, QoS, Internet access, and the like.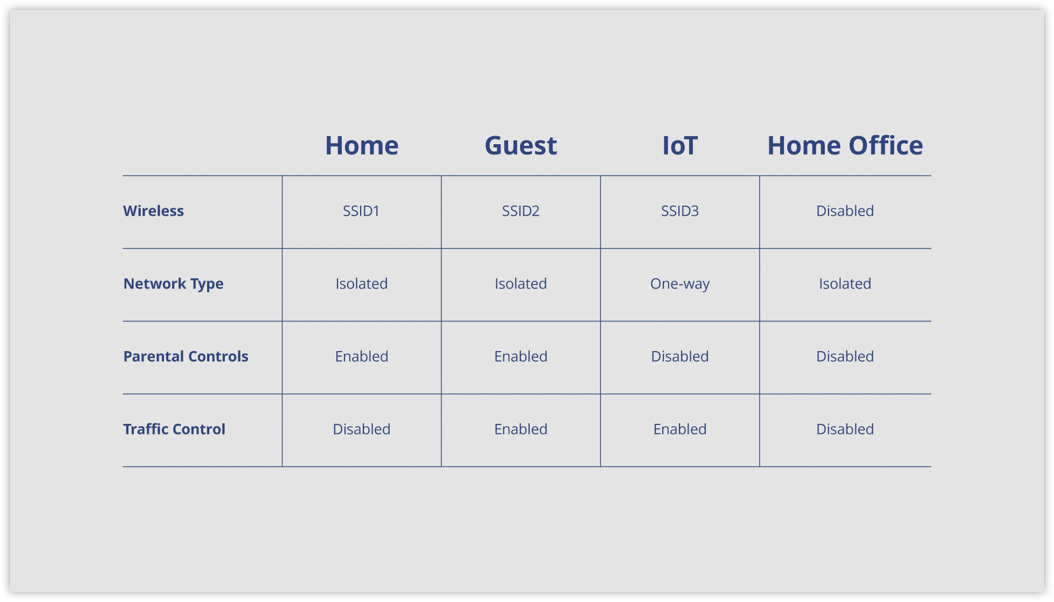 🗒️
NOTE: support for 5 networks is in the case of using the SmartConnect option. If you do not use it you can get 10 (for dual-band models) or 15 (for tri-band router models) SSIDs in the end.
Additionally, SRM will have support for 802.1q VLAN tagging. So if you have an environment that uses VLAN tagging, you will now be able to integrate your routers into such a working environment as well.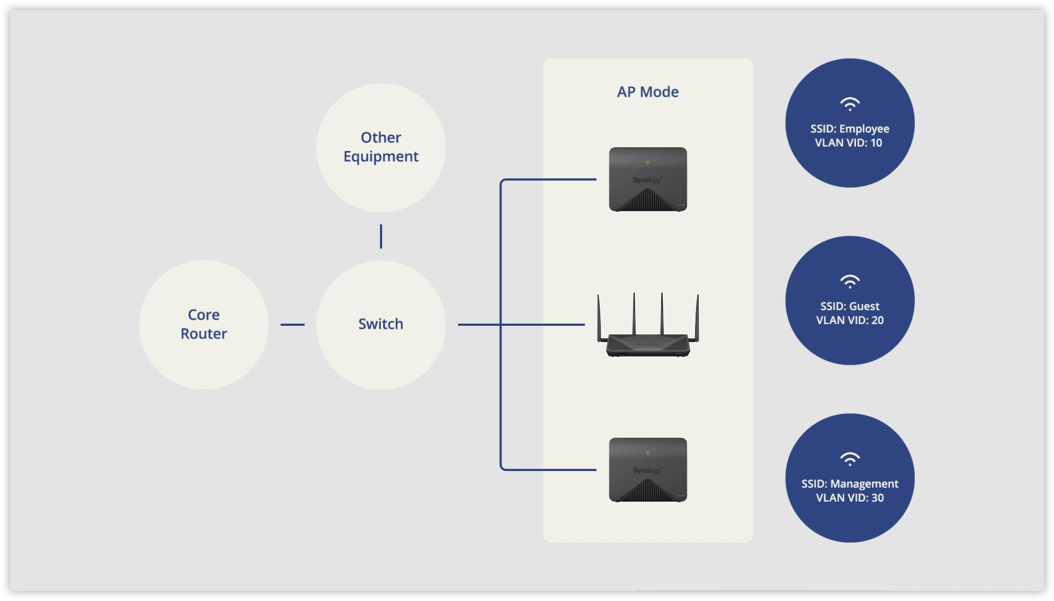 To round out this whole, Synology went to great lengths to work on its mobile DS router 2.0 app. The truth is that since v1.0 came out, it hasn't had any significant changes, but with the arrival of SRM 1.3 and some new features, attention has been paid to the mobile application as well.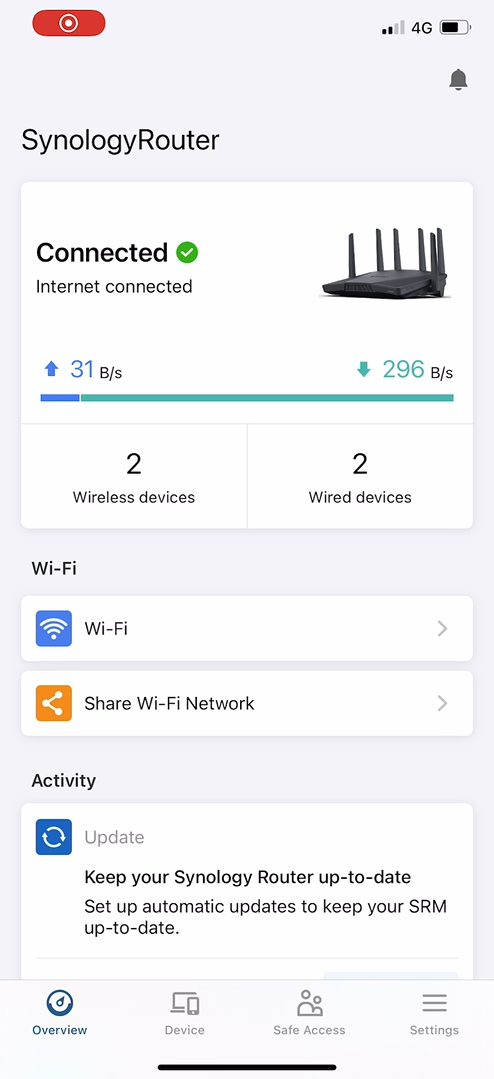 The emphasis on the new 2.0 application is primarily on ease of use with more features available than in the previous version.
You will now be able to configure Internet connections and activate VPN connections via your mobile device. The app now allows port forward and traffic control configuration, not just browsing as before. Another convenient option is to share the WiFi password via QR code, which will greatly facilitate the connection and increase security.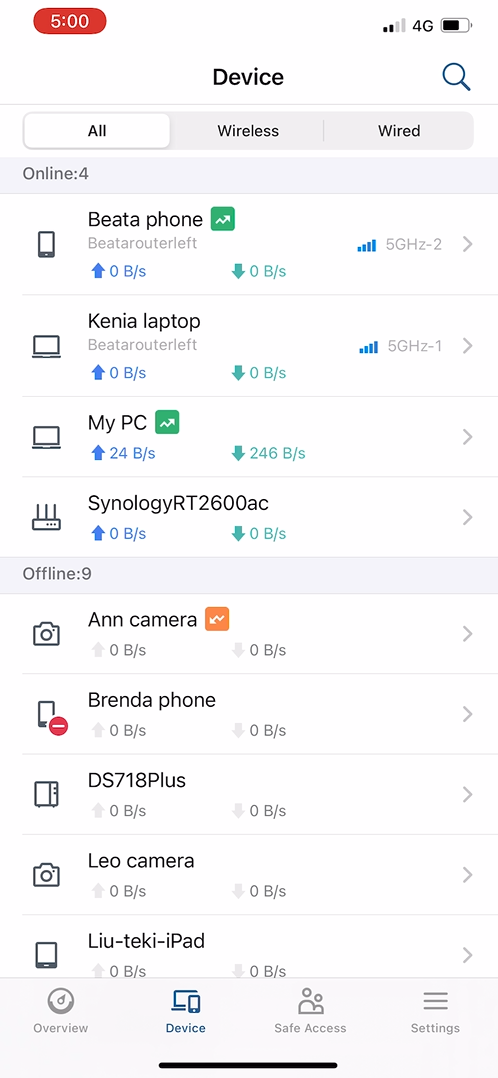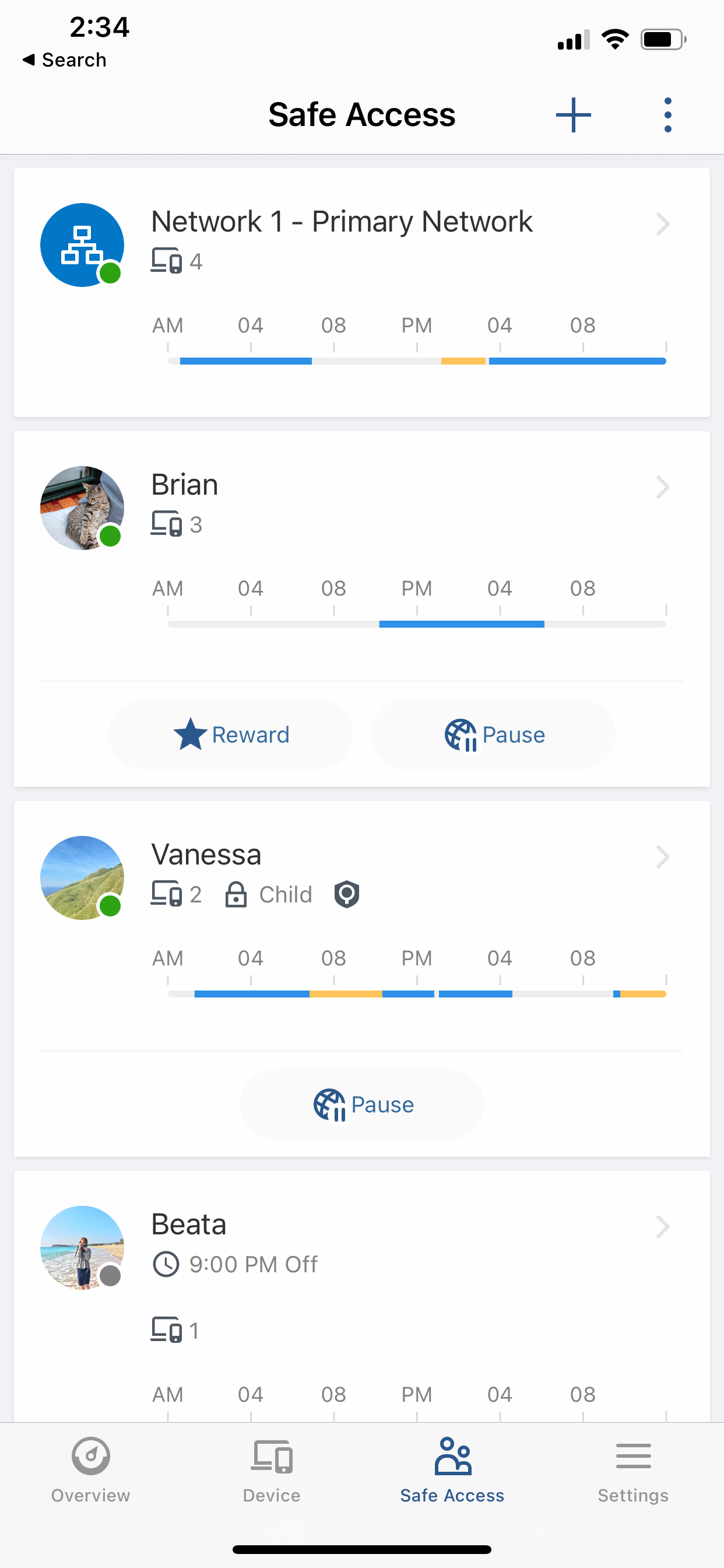 : Cloud Services
Now we enter that BEYOND segment. Much of Synology's future lies in the C2 cloud. The company is investing in its third data center to cover the entire world with the services available that it introduced this year in parallel with the new DSM 7.
They will certainly try to sell their big five C2 services to current and future clients, so even today a good part of the presentation covered their current possibilities as well as some new products that are coming.
Since I have previously written about these services, and about some in dedicated articles, I will not focus on them now, but I will only mention the new features that we can expect.
C2 Transfer new features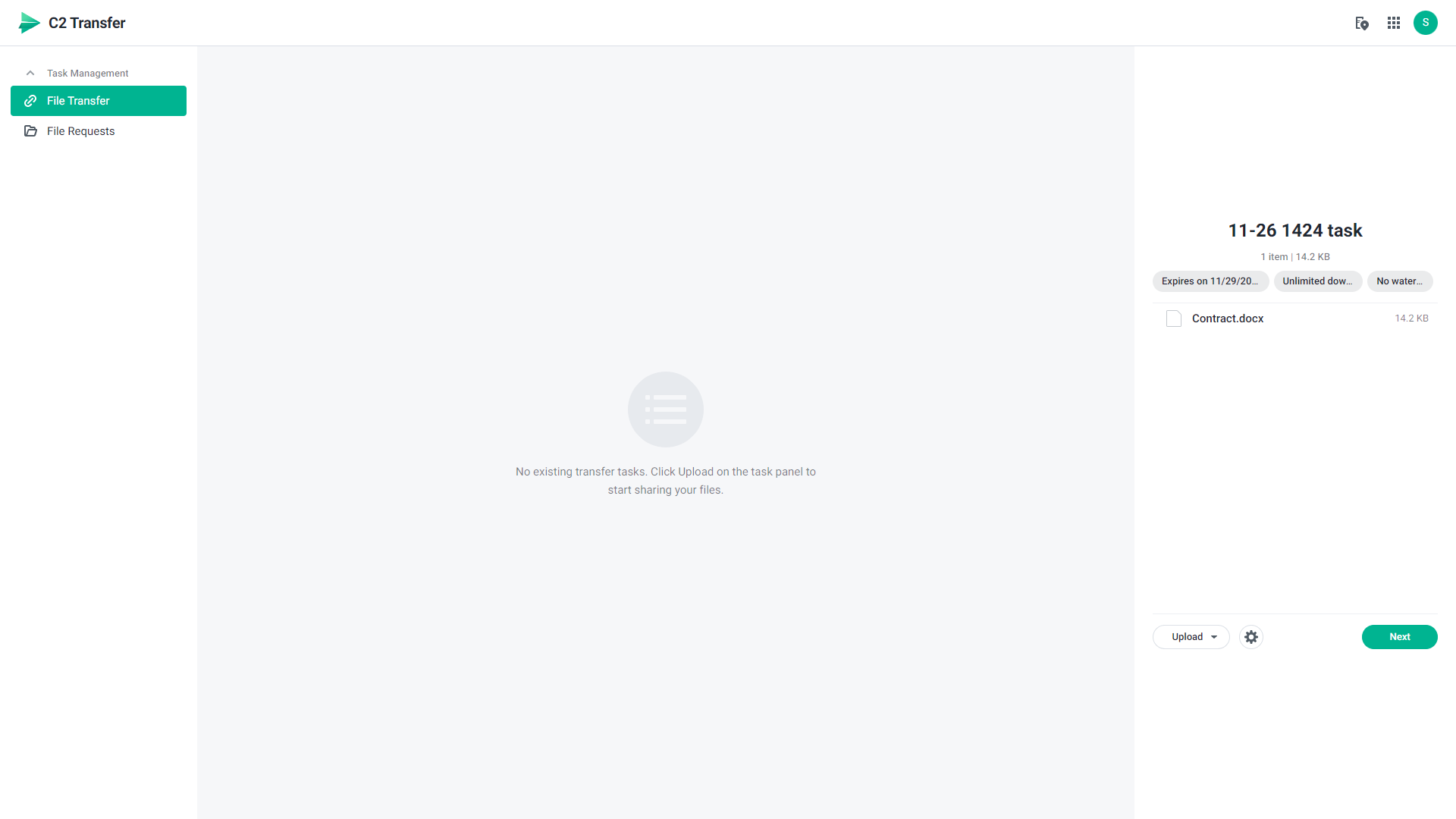 Transfer policies will include a watermark, the operating time of each link, and the like, and you will be able to apply all of the above to all transfers.
From now on, you will be able to store data for frequent file sharing in the File library in order to facilitate the exchange itself and additionally avoid incorrectly sharing them.
C2 Backup new features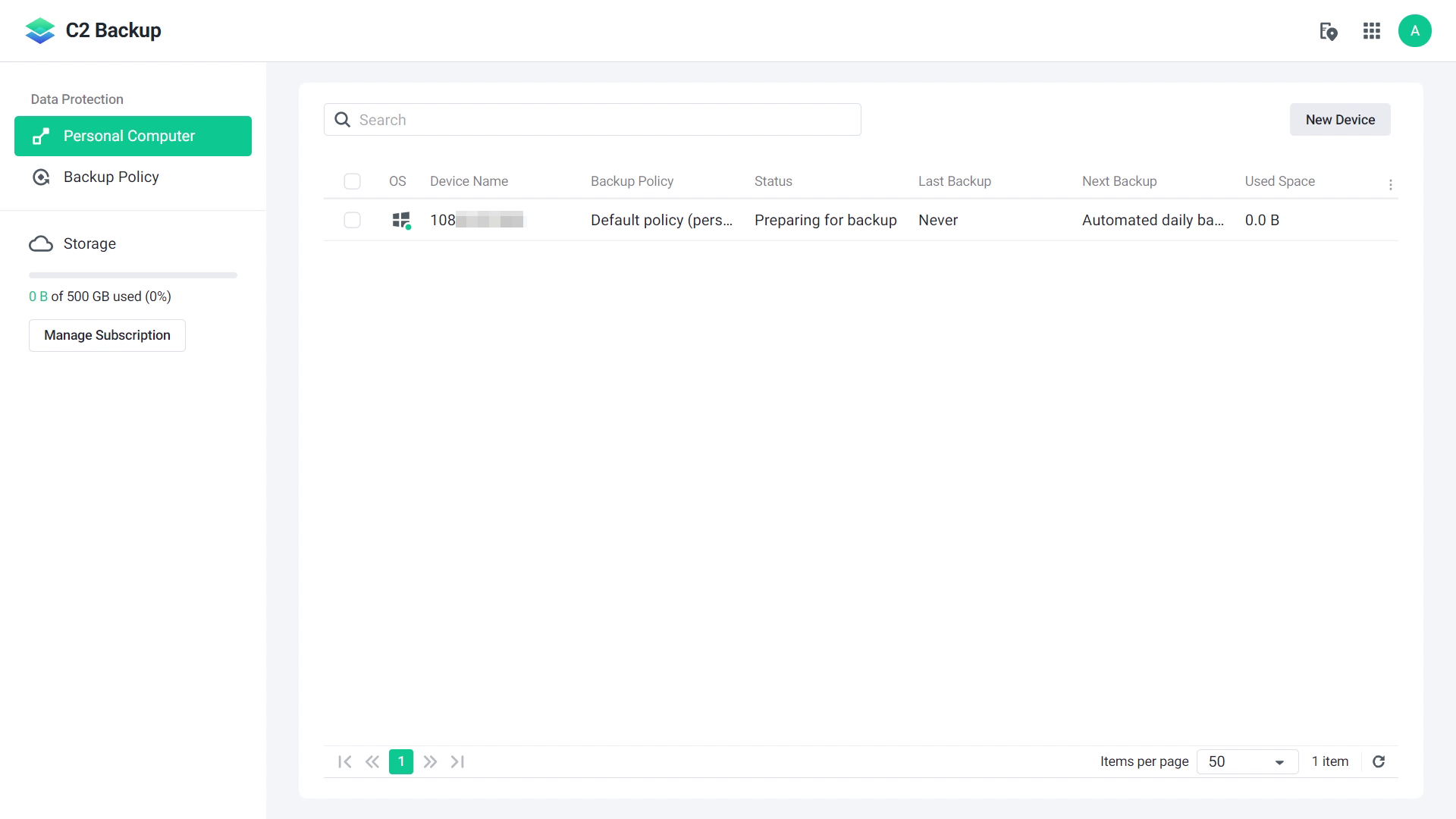 I have had the opportunity to use the C2 Backup app recently and I have to admit it is great and works really well. What Synology announced a few years ago as one of the important innovations for the DSM 7 is the ability to make data copies for macOS operating systems.
This has not yet happened, at least not for Active Backup as announced, but today it was said that Synology is "...exploring ways to bring support to it". macOS will soon be available as an option for C2 Backup. Well, that's something I have to admit, and I hope that means that Active Backup will soon have that option as well.
C2 Identity new features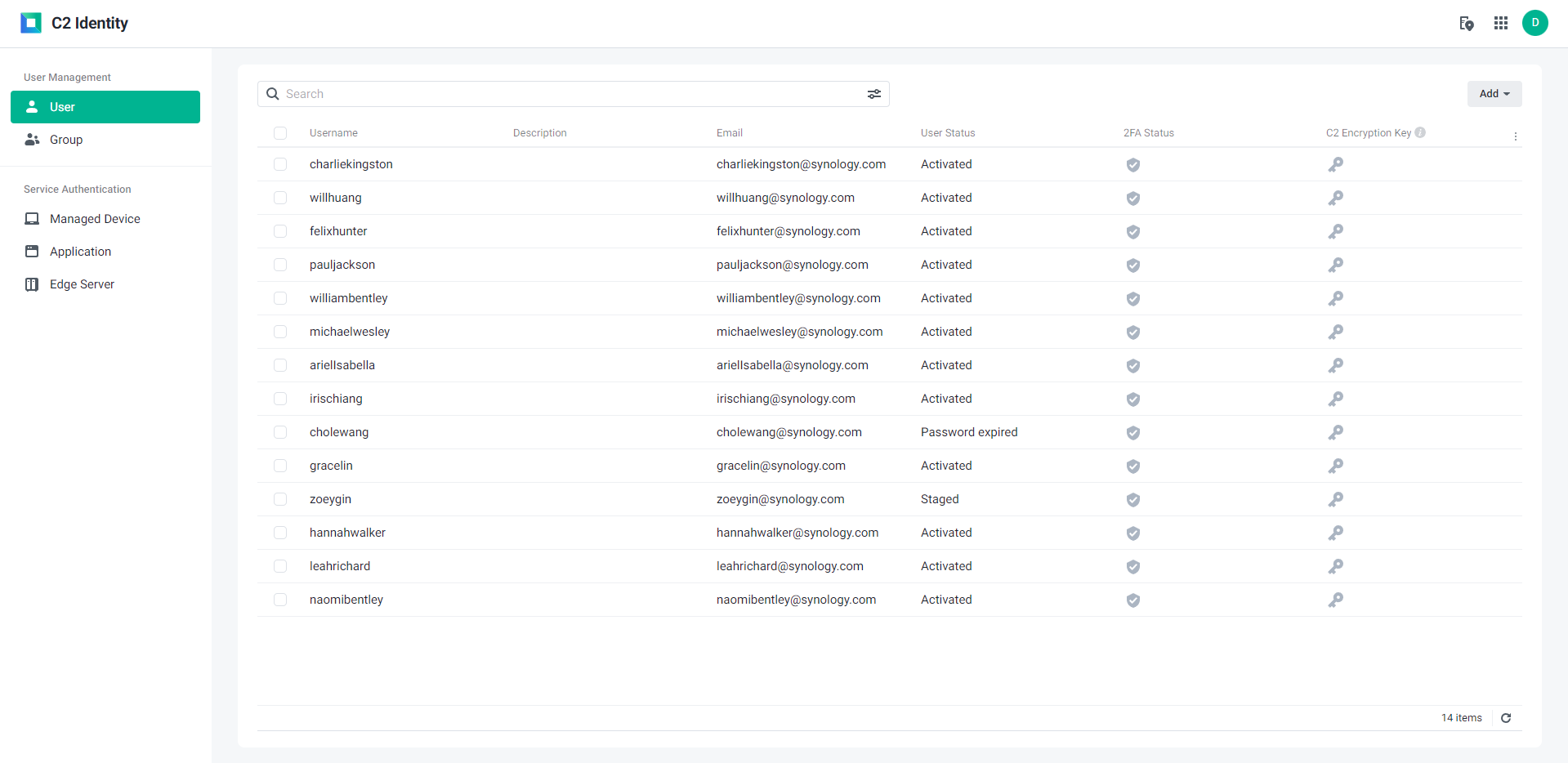 As the last available C2 service of all, Identity is still in active development and will soon have support for SAML 2.0 / OIDC. Additionally, administrators will have the option of additional control over the devices and their functions, such as turning off USB support or configuring the firewall. It will also be possible to remotely shut down, lock, or even delete a lost or stolen device from the fleet.
C2 Password new features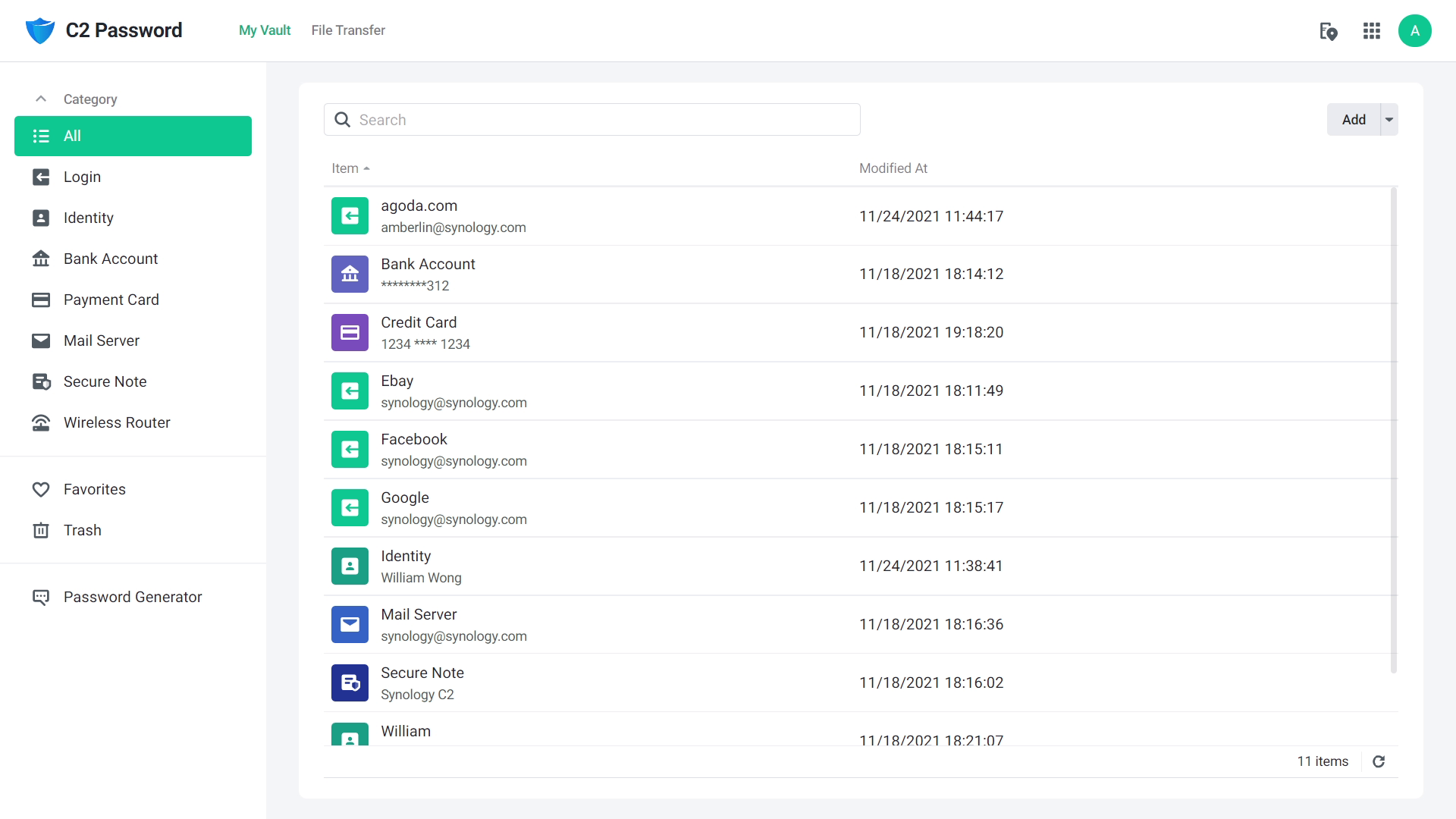 As the first in a series of new C2 services, Password will also get some new features. Although it is free to use, it also has some downsides. The announcement also included the so-called Pro plan, but it seems to be called the Plus plan now.
It will be available for $4.99 per year for up to six users. It is not clear whether this plan will be the only one to have a Shared Vault function or not, but it is clear that it is coming. If you need to share some passwords or security objects, Shared Vault will be an option for you and all members of the C2 Password platform with whom you want to share them.
C2 Storage for Hybrid Share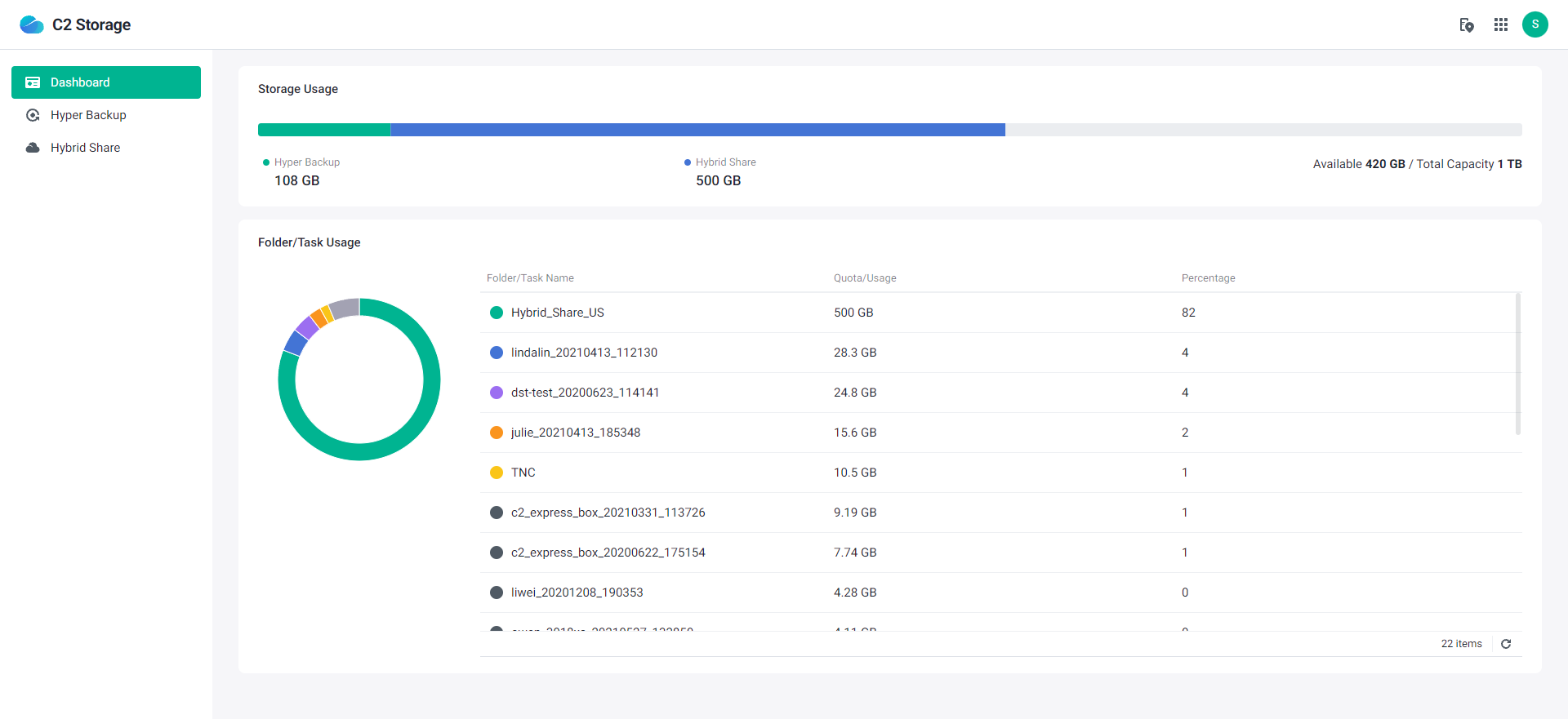 Finally, some novelties for the C2 Storage service. Specifically for the new DSM 7 OS feature, Hybrid Share. This feature offers you the ability to store a certain amount of data not only on your NAS but is transferred to the C2 cloud destination and becomes available to other NAS devices that you connect to the same Hybrid Share folder.
As a novelty comes a feature called the Warm-up phase, which will automatically download the most frequently used files from the HS folder when connecting to a new NAS.
There is also support for HTTP3 and Global file locking. The HTTP3 implementation will allow faster data transfer between the C2 cloud and your local devices, while global file locking will lock files when used by a user to prevent conflict.
Collaboration & productivity
When it comes to collaboration and productivity, Synology has several tools to serve that purpose. None of them are completely new, but that is why almost every one of them has some smaller or bigger novelty coming.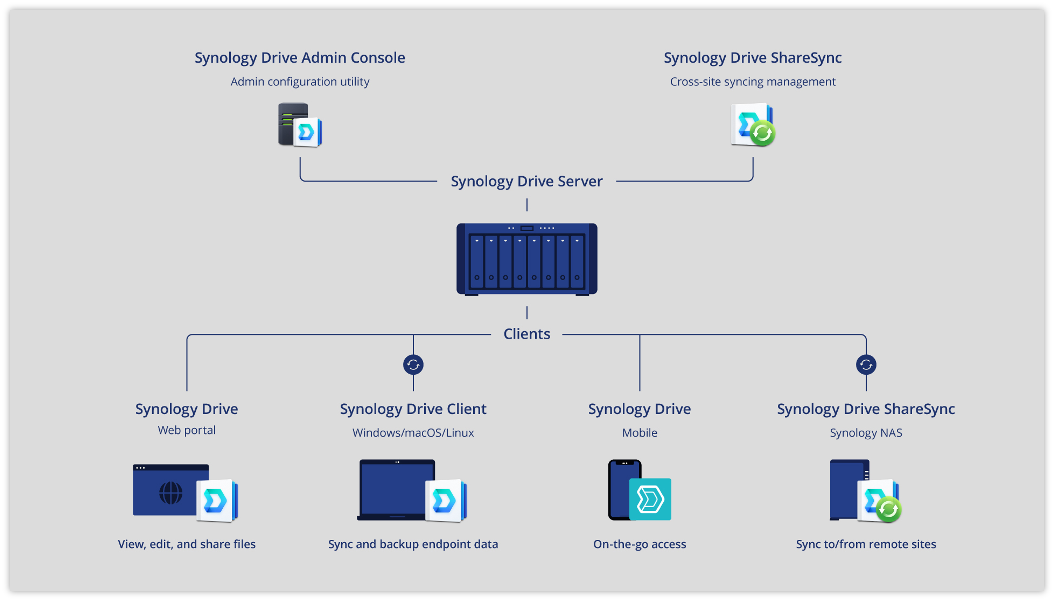 Synology Drive in its 3.0 (already available) version will get some new options. Finally comes the macOS on-demand sync functionality that Windows users have been enjoying for a long time. It also introduces the ability to index a complete home map, which will result in access to content within Synology Photos via the Drive application itself.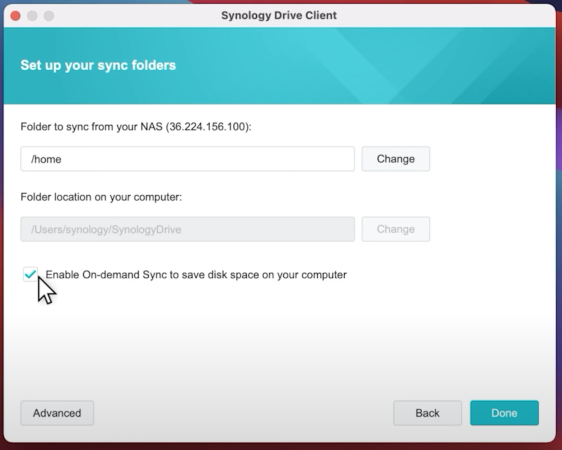 Some time ago there were rumors about the Drive X app, but now it is clear that this is a new version of the mobile Drive app.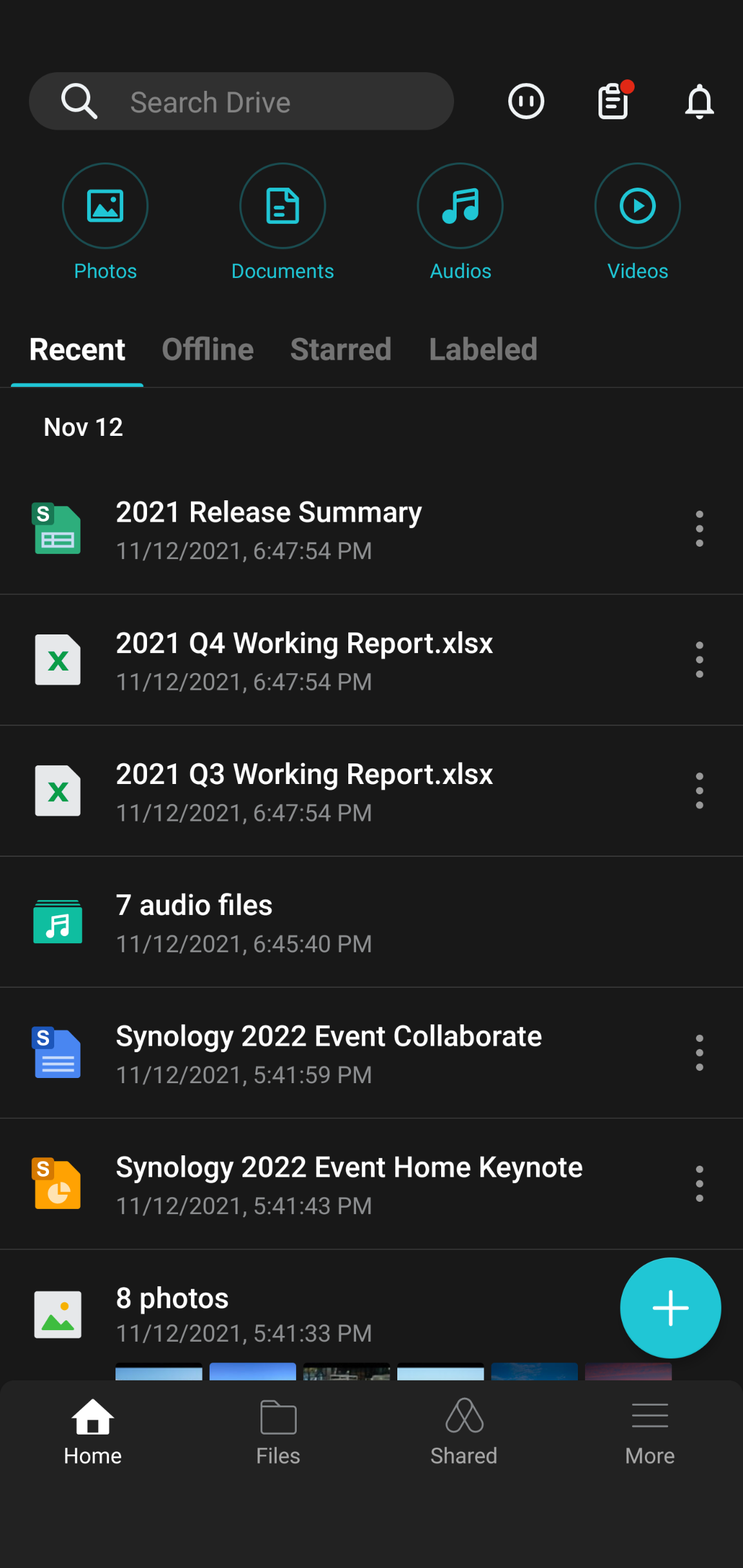 The app has also learned some new tricks, so now we can use quick filters no matter where we are in, virtual tags to be able to group files within individual collections, pinning files for browsing in moments without Internet access, and finally, the sync option and backup of mobile content between mobile and NAS devices.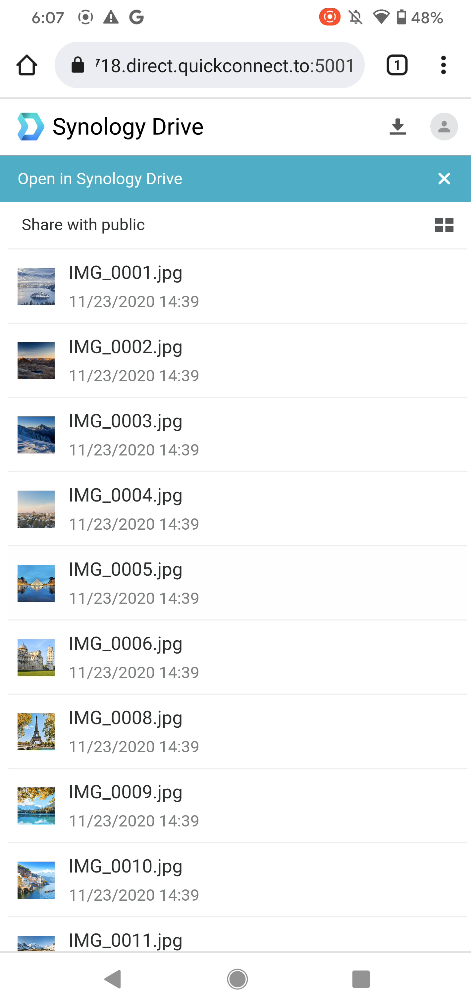 Access to Drive content by users who do not have a DSM account has also been improved, so your guests will have access to the material via mobile web browser without the necessary option to install a mobile Drive application while viewing Word, Excel and PowePoint files will be faster and cleaner interfaces.
The previously mentioned Hybrid Share will also be integrated in part within the Drive platform, so now shared material via the Drive environment will be possible directly from the Hybrid Share destination in the C2 cloud. This will mean that all file transfers will not burden your NAS or your local Internet connection.
Synology Office is hard not to mention if we are already talking about the Drive platform for the pure reason that Drive is the backbone for the entire Office environment. The Office will get some useful new options for all its three main applications.
This part of the collaboration tools includes the newly arrived Synology Photos as well as MailPlus. Both platforms have some novelties and it is good to see that Synology continues to develop the Photos application, as a certain percentage of users are not satisfied with the resulting fusion product of PhotoStation and Moments applications.
The Photos solution will thus soon be able to do multi-folder rights settings at the same time for the appropriate user as well as image rating.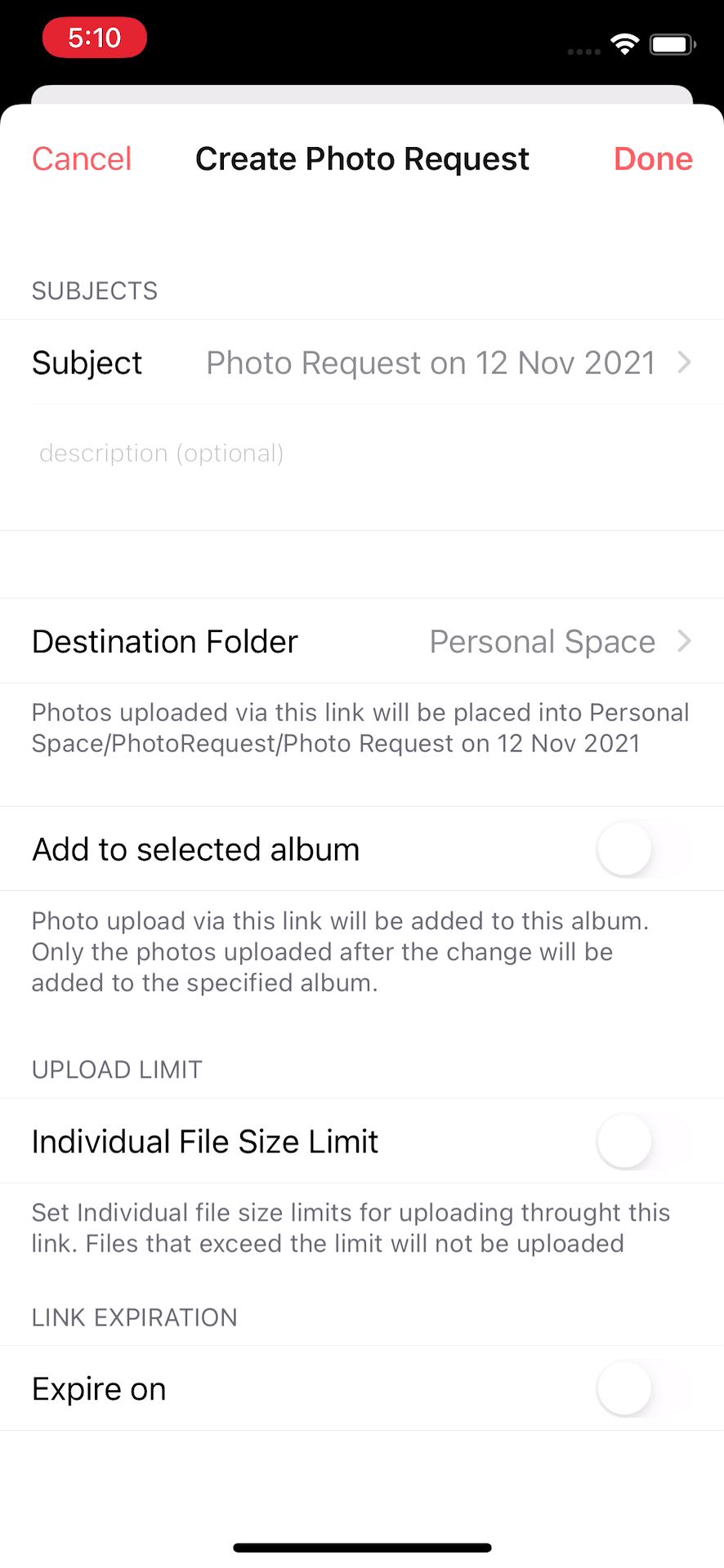 In addition, it will be possible to generate an invitation that will allow the recipient to deliver video or image material even without any need to install a mobile application. It will also be possible to limit the file size and the time and date until which the invitation is valid.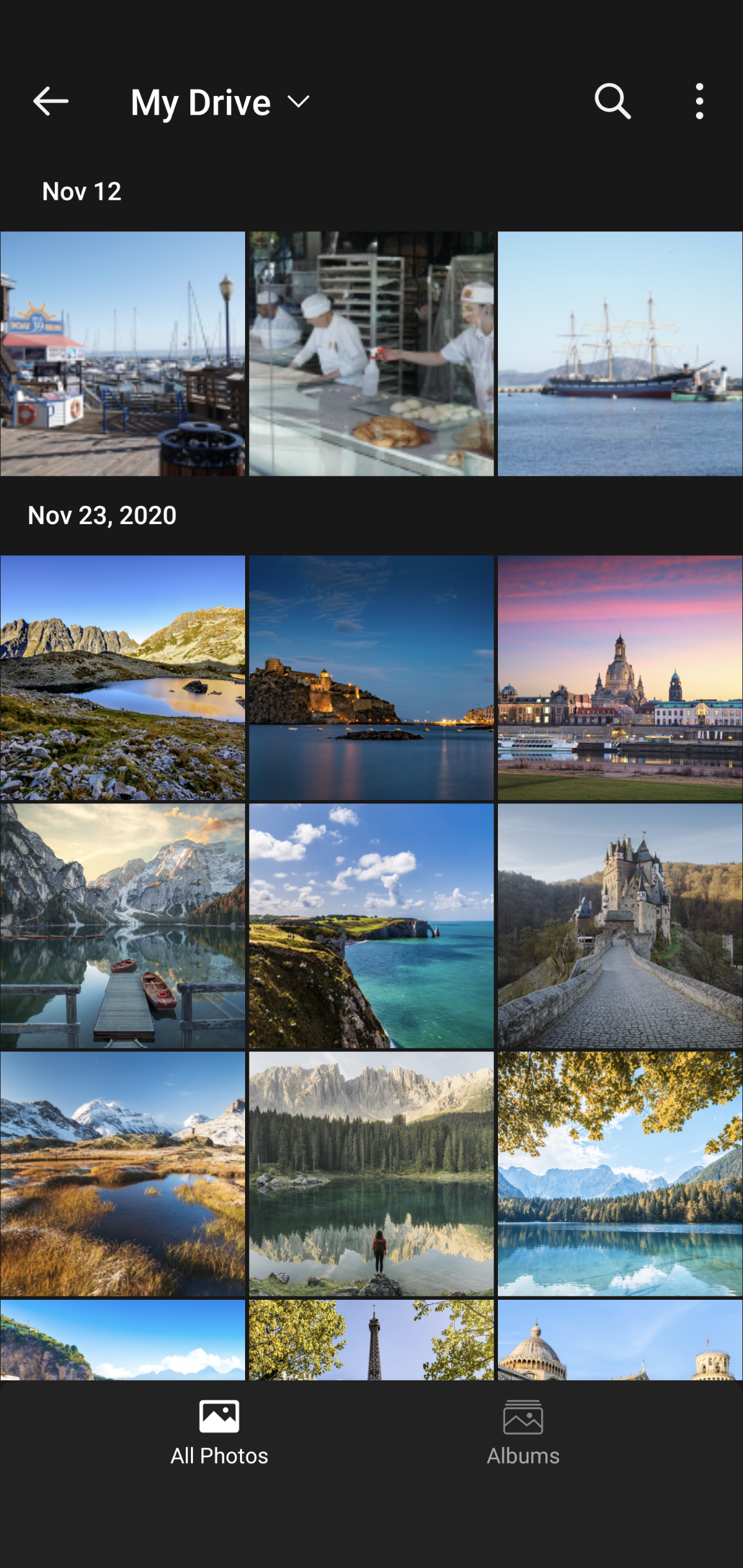 Finally, integration with the Drive app will also allow you to view Photos material through the said platform.
: Security
As expected the last section is security. Already implemented in the initial version of DSM 7, Synology continues its quest to eliminate unnecessary root rights wherever they are not needed.
Additionally, they will continue to work on the security of the code contained within their applications, but also the availability of 3rd party solutions that you can use on your NAS devices.
A nice novelty of the existing Auto Block function will be the ability to automatically list problematic IP addresses that are recognized as malicious and they will be automatically added to the list of unauthorized addresses to further protect access to your devices and thus the rest of the network.
In addition to the above, the new Secure SignIN login mechanism for your NASs should be mentioned, and support for the TLS 1.3 and FIPS-140-3 cryptographic system will certainly raise the level of the overall security of the DSM system.
: Conclusion
What to say? Were most of these innovations expected in the initial DSM 7 version? Yes, but here we are. It is evident that Synology continues to work on its existing products as well as new ones, all of which require time for testing, development, and maintenance.
Personally, I think it is moving in the right direction and I can definitely say that some of the new features that are coming will be great and I can't wait to try them out. Of course, as soon as I have the opportunity and the new router is available, I will also be happy to try it in combination with SRM 1.3.
2022 and BEYOND looks promising, and I hope that we will get more novelties in the coming year, both on the software and hardware side.