SA3400 series articles:
Intro - review and testing
Part 1 - Installation and configuration
Part 2 - Backup and restore
Part 3 - Virtualization
Part 4 - Multimedia
---
In the last article of this series, I thought about dedicating it to multimedia. Why? So let's say that this is definitely one of the top three reasons why people use NAS devices, especially in SOHO and the mid-range segment.
Specifically, I would focus very briefly on the new Synology Photos as well as the hugely popular Plex, an alternative to Synology Video Station.
I will not go into details, as this is covered in other articles, but I would just like to see how this NAS behaves in some specific situations of the listed applications, which are not necessarily pure reproduction or transfer of content.
Just a brief note of why Plex and not Video Station. This is a matter of personal choice. I think that Plex is a better and higher quality platform, and in addition, I already have Plex servers that I can compare for reference with the SA3400 NAS.
PLEX streaming
To begin with, it should be noted that the CPU in the 2015 SA3400 Intel Xeon, specifically the D-1541, is 8-core. This particular processor is not exactly destined for "smart" encoding and transcoding of video and audio material, so as such it does not have Intel QuickSync capabilities. This specifically means that if you find yourself in a situation where you need transcoding video, audio, or perhaps subtitles, don't expect that job to be done any other way than through software transcoding.
This means that you can expect great utilization of processing power. Maybe someone will say so 8-core can do that, what's the problem? Well, you will see that from just a few parallel streams, this powerful machine will quickly fall to its knees in tasks like this.
Example 1 - 4K > 1080p
The first example would be the playback of a single video that is in the original 4K, and it will be intentionally played in 1080p to force the Plex, and thus the NAS, to perform transcoding.
4K original video

4K HEVC 10 HDR
TrueHD 7.1

|
|->
    1080p transcoded video stream using Plex iOS app

    1080p H264 10Mbit
    OPUS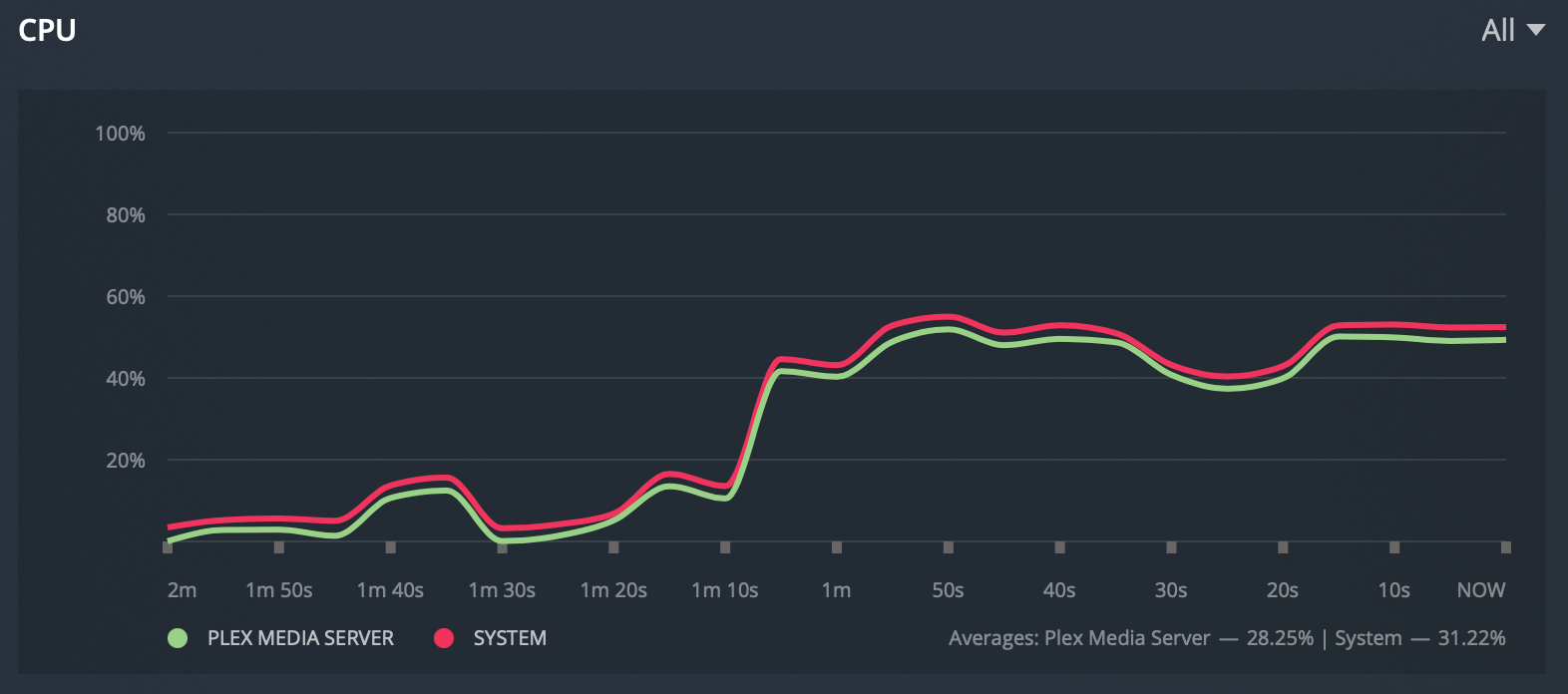 As can be seen, 4 of the 8 cores are participating in this one stream to convert video from 4K to 1080p as well as 7.1 audio to the appropriate format for iPhone Plex playback.
Given the above, the playback goes without any problems, but only thanks to the raw power of this CPU.
But let's see what happens when we add another stream to a game with similar features.
Example 2 - 2x 4K > 2x 1080p
1. 4K original video

4K HEVC 10 HDR
TrueHD 7.1

|
|->
    1. 1080p transcoded video stream using Plex iOS app

    1080p H264 10Mbit
    OPUS

-------------------------------------------------------------------------

2. 4K original video 

4K HEVC 10 HDR
EAC3 5.1

|
|->
    2. 1080p transcoded video stream using Plex web client (Safari)

    1080p H264 10Mbit
    AAC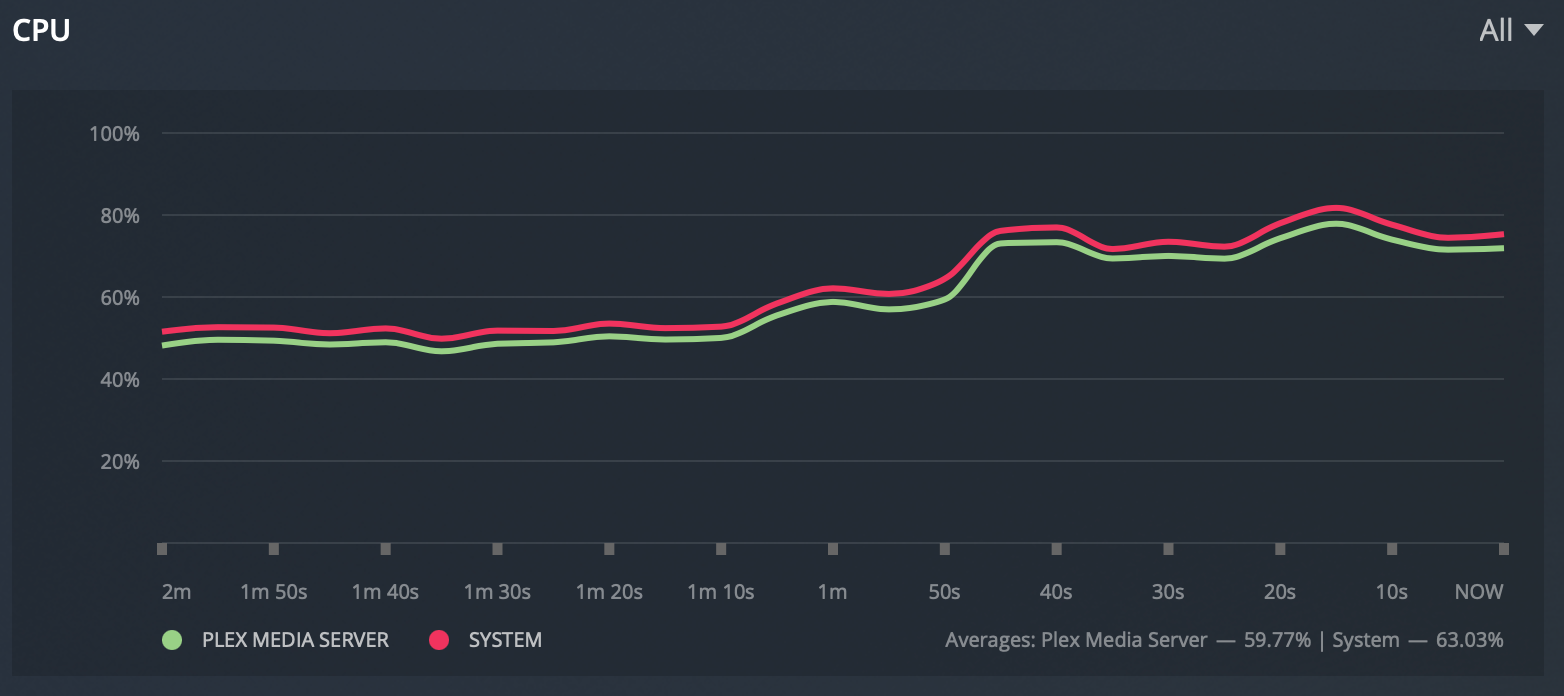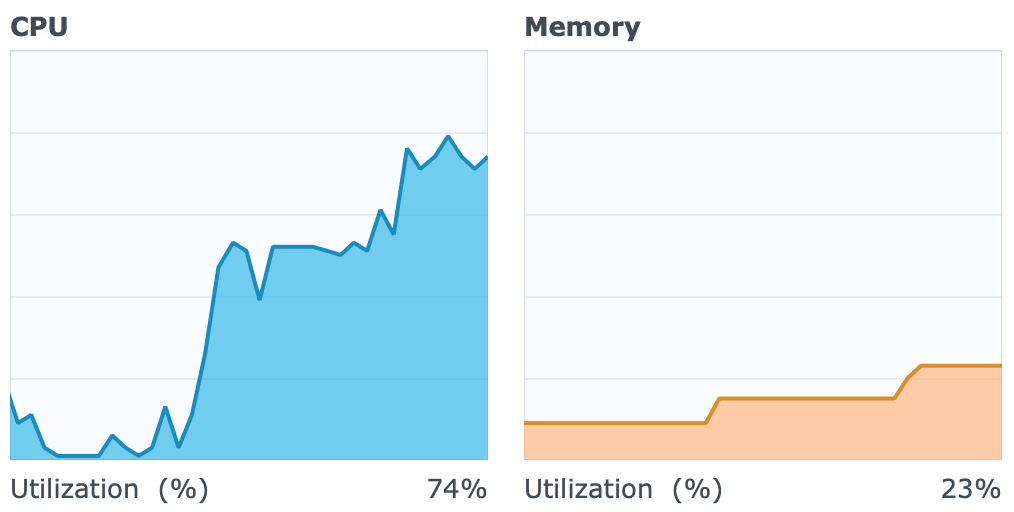 The extra stream brought with it another 20% of the load. As expected, it is not double, because in the background Plex performs transcoding as part of an operation that takes most of the CPU power, and in the case of multiple streams, each of them is alternately served. This does not require double the power for each new stream.
Unfortunately, this has already too much, because within the first minute of simultaneous playback, buffering starts. One or the other stream stops alternately. Honestly, it's only a little less than a second, but enough when it's continuous and thus disrupts the experience.
Example 3 - 2x 4K > 2x 720p
One might expect that an additional lowering to an even worse resolution would help, but that is not the case. In this example, the previous two streams with 1080p were lowered to 720p, but this only made the situation worse.
1. 4K original video

4K HEVC 10 HDR
TrueHD 7.1

|
|->
    1. 720p transcoded video stream using Plex iOS app

    720p H264 4Mbit
    OPUS
    
-------------------------------------------------------------------------

2. 4K original video zapis

4K HEVC 10 HDR
EAC3 5.1

|
|->
    2. 720p transcoded video stream using Plex web client (Safari)

    720p H264 4Mbit
    AAC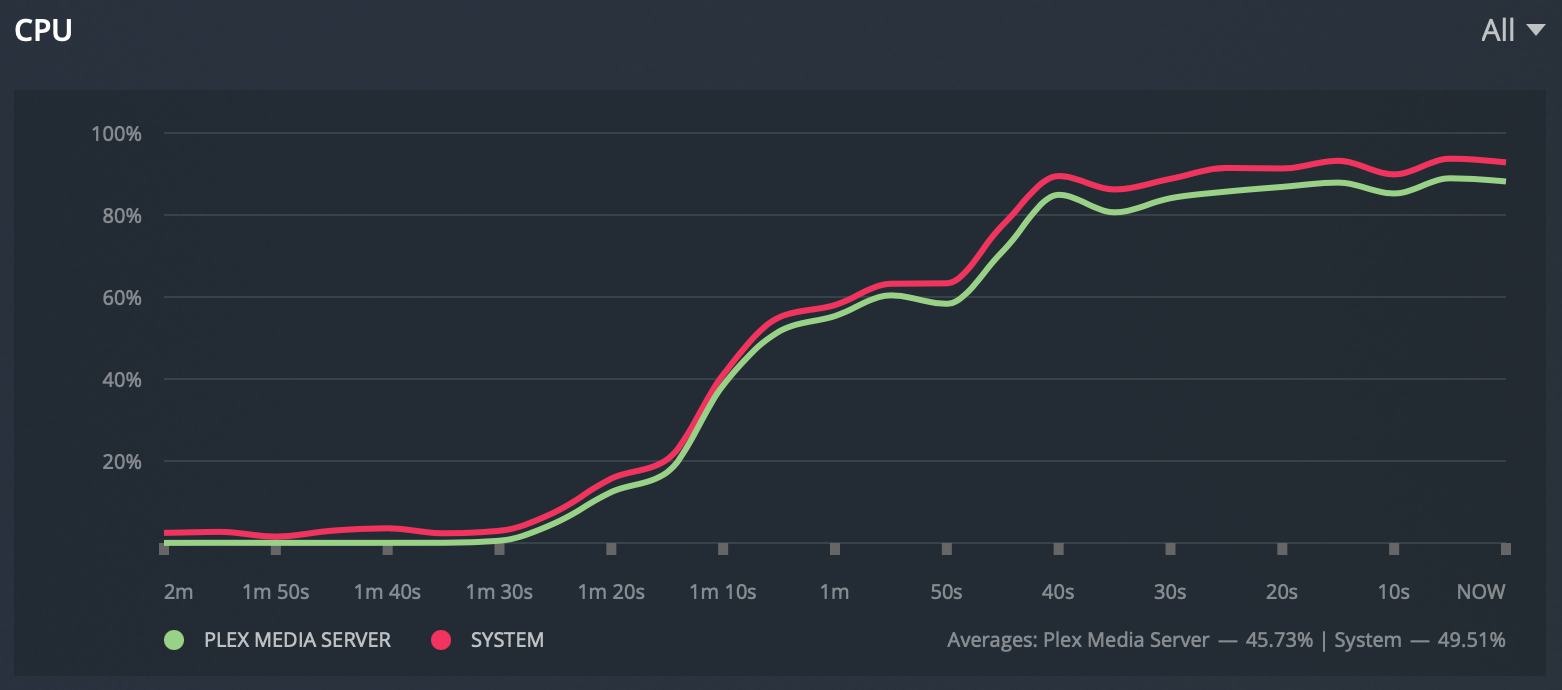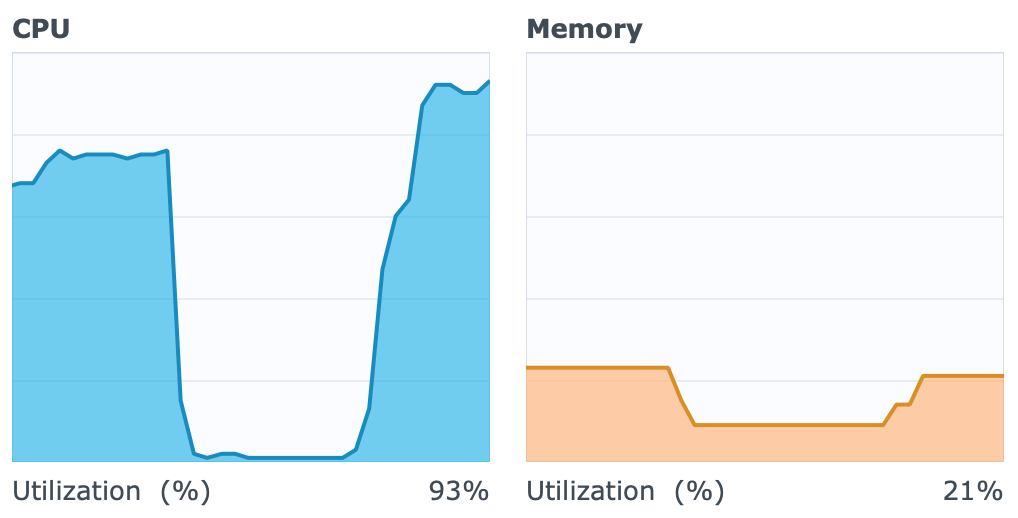 As the graph shows, we are almost at the maximum. Additionally, it should be noted here that absolutely nothing else is used on NAS in terms of other services.
It is obvious, therefore, that transcoding is not something in which this NAS and thus the CPU can match. Absolutely, situations like this should be avoided and let that part of the operation be done by the Plex client if possible.
Example 4 - 3x 4K Direct Play/Stream
Since evident transcoding is not something that this CPU can do, let's see what the maximum is when we talk about the direct play/streaming scenario. In particular, the Plex client will make sure that any transcoding is done on its side without the need for additional pressure on the NAS.
For this example, three 4K files of the same specifications will be used as before.
1. 4K original video 

4K HEVC 10 HDR
TrueHD 7.1

|
|->
    1. 4K Direct Stream using Plex iOS app

    4K HEVC 10 HDR 55Mbit
    FLAC

-------------------------------------------------------------------------

2. 4K original video

4K HEVC 10 HDR
TrueHD 7.1

|
|->
    2. 4K Direct Stream using Plex web client (Safari)

    4K HEVC 10 HDR 31Mbit
    AAC

-------------------------------------------------------------------------

3. 4K original video

4K HEVC 10 HDR
EAC3 5.1

|
|->
    3. 4K Direct Stream using Plex web client (Safari)

    4K HEVC 10 HDR 117Mbit
    AAC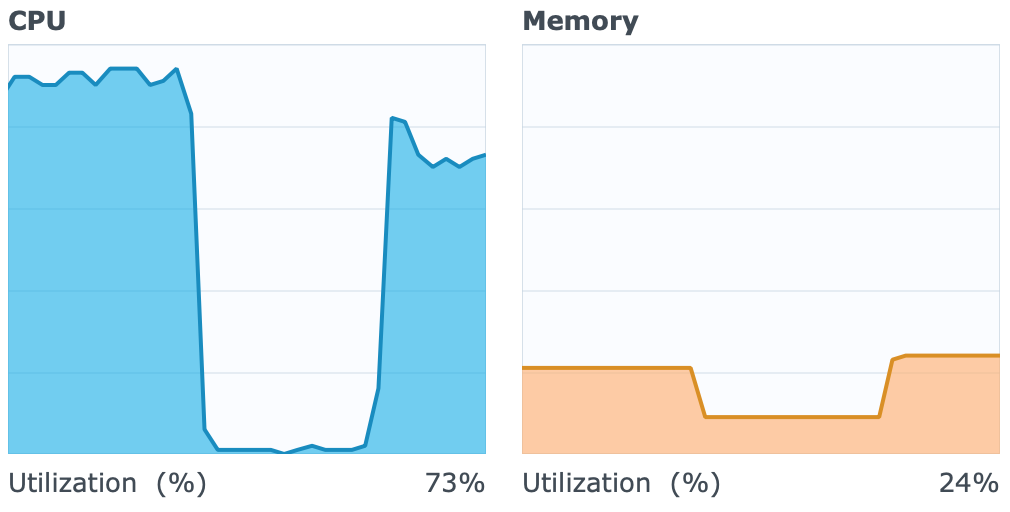 In terms of CPU load, this test is the same as the second example. The difference is that in this case, only the audio is transcoded and the video is not.
In this test, all three streams play properly, although the price is 3/4 of the total CPU power.
Example 5 - 3x 4K Direct Play/Stream (DS918+)
Following the last test, I also ran it on a significantly CPU weaker DS918 + device. This NAS unlike the SA3400 has a Celeron J3455 4-core. But one drastically important difference is that this CPU supports Intel QuickSync technology.
The same Plex is used for hardware transcoding which drastically reduces CPU utilization.
To be able to use hardware transcoding, you need to have a Plex Pass subscription to be able to unlock this feature on your Plex server!
Let's now look at the CPU load of the same three videos from the previous example on this DS918 + NAS model.


As can be seen from the pictures, the DS918 + performs the same task without any problems with an average of some 20% CPU utilization.
Thanks to the support of QuickSync, this weak CPU can very well match the Xeon processor when it comes to video and audio playback.
It is expected that the use of raw power of the Xeon processor will be able to deliver video playback, but only in certain cases. Anything that involves any level of transcoding will not be satisfactory especially not at the cost of such a NAS model.
Of course, you will not even consider this model for such tasks because it is not designed for the same, but I wanted to show that if you have the opportunity to purchase or use this model, do not expect some pleasant Plex experience.
However, it should be mentioned that if you will use this NAS only as a source of your multimedia content, and the Plex server task will be on a "smarter" device, then there will certainly be no problem.
Synology Photos
In the dedicated article, I already mentioned that Synology Photos is a new platform created as a fusion of Photo Station and Moments applications, and only works on DSM 7 OS.
The reason why I mention it is primarily the detection of people in the pictures. Specifically, how long will it take for this device to make recognition through some 8000 photos, and at what load?
Since we are talking about an 8-core device, and face detection is a pure CPU task, the SA3400 did this in just 11 minutes with an average load of 90% CPU and 13.3 photos/second. In other words, almost all 8 cores were involved in this task.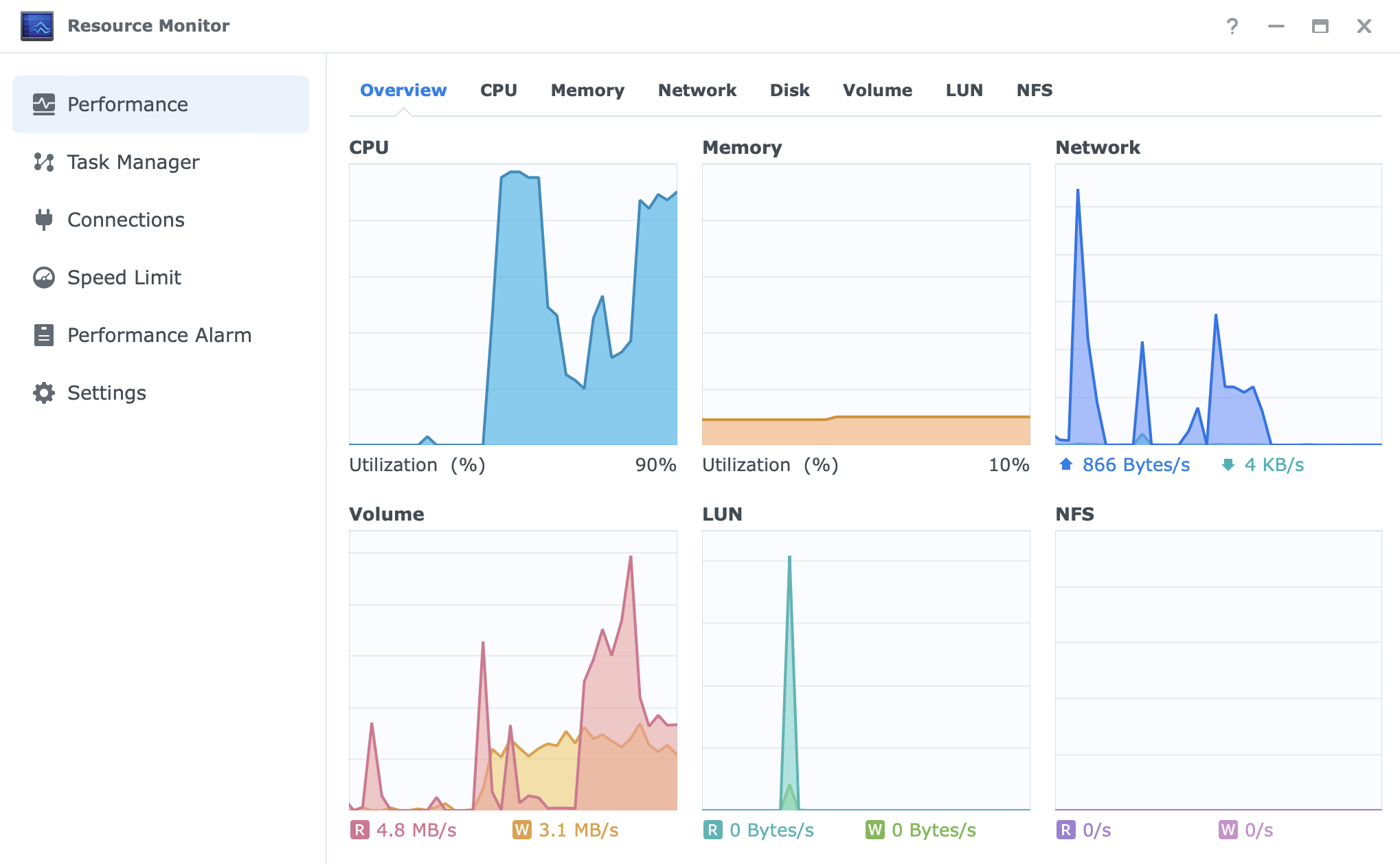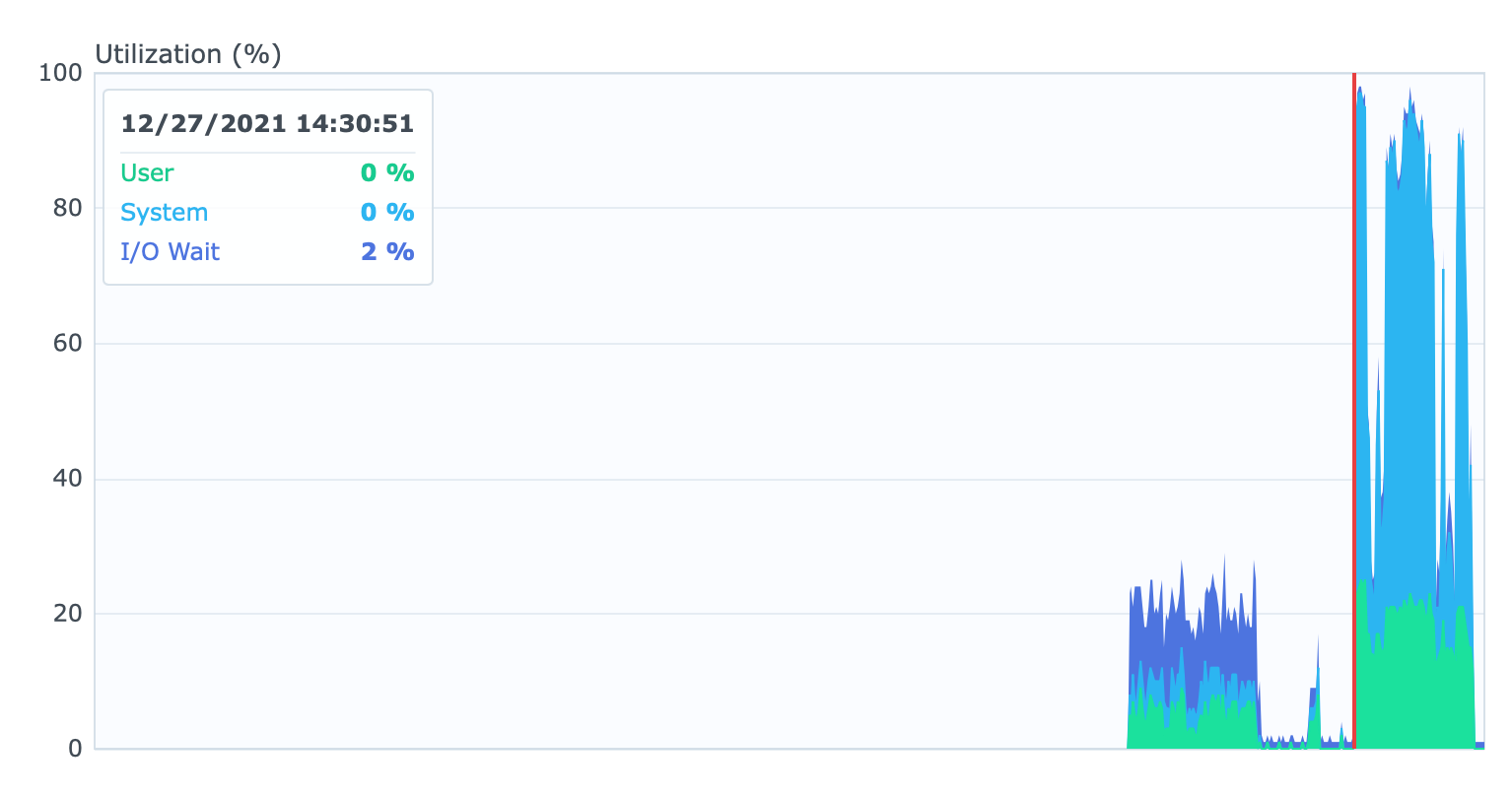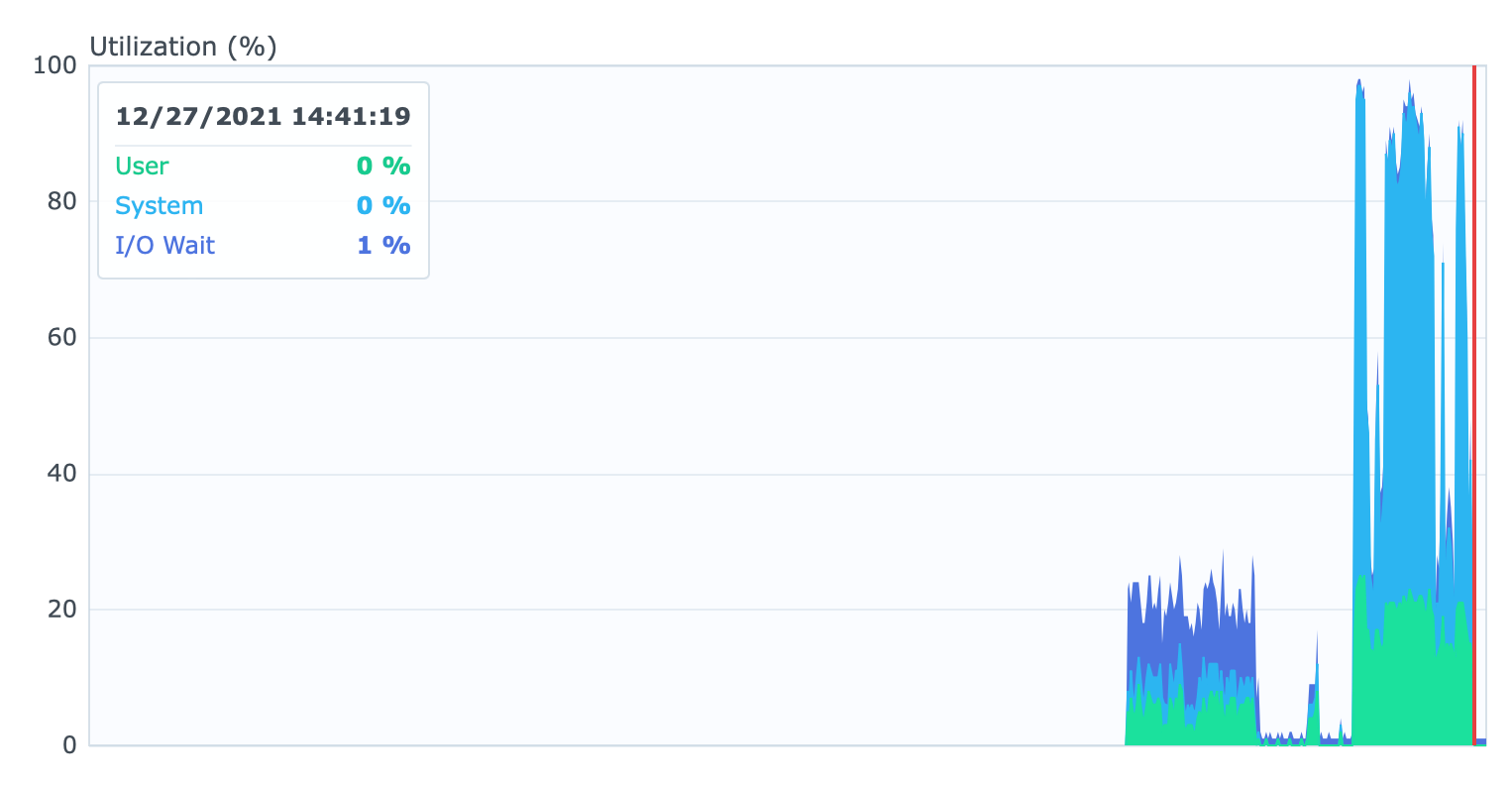 Face detection is one of the features that the vast majority of users love and want, but keep in mind that not every NAS has this feature, so if you work with a large volume of photos, and need high-speed detection, turn to stronger models from the '+' lineup or better (such as this particular model).
As for the work and use of the Photos application as such, there is not much to say. The fast platform itself will provide a great photo and video viewing experience, both via web browser and mobile application, and the strong support of 8-core processors leaves an even better impression on the whole story.
Since the SA3400 is designed to work with a large number of users and content, the Photos application will have no problems using it in any combination.
Synology has four dedicated applications in the multimedia segment, but Audio Station and iTunes Server do not represent any specific effort even for entry NAS models, let alone a device like this, so I will not mention them as such.
Once again, the Video Station app, while having potential, isn't quite on par with Plex. For this reason, I decided not to test it.
Conclusion
It is evident from the above that the SA3400 is a brutal machine when it comes to operations that do not fall into the realm of video and audio transcoding. This means that as a NAS for business use with large numbers of users, and needs in terms of backup, virtualization, containerization, mail, and more, SA3400 will deliver.
I hope that through these few articles I have shown what and how the SA3400 behaves and under what conditions, as well as whether and how much it makes a difference if Synology or third-party drives are used.
Speaking of Synology drives, keep in mind that there is a reason why at some point, manufacturers of SANs or NAS devices are starting to promote proven drive models. Whether it is in a form of its own brand, or some specific models of other vendors, it's irrelevant. What is important is that you will not populate several thousand € worths of equipment with just about any hard drive. 5 years warranty on disks that can be additionally flashed to new firmware and that are optimized for the specified operating system, is no small thing for peace of mind and the fact that you have support at all times. Will Synology apply this policy to all models? No, and that is also important information. Additionally, controlling what can be used with certain models not only solves your problem, but also gives the manufacturer time to deal less with solving problems of this type, and invests the same time in developing new products, and services.
On the example of this SA3400 model that I had the opportunity to use, it is clear that even models from almost the highest class will not be 100% exclusively oriented to Synology brand drives.
Tests have shown that there were absolutely no problems, and long-term work would show whether and how much they pay off in the end. Unfortunately, I didn't have that much time, but the question still remains, is it difference of 30-50€ per drive worth the risk (between supported and unsupported)? One thing is clear here. The more data you value, the more you will invest in their protection. Ready-made solutions have a certain price, so you decide for yourself whether it is worth the risk.