Table of Content
:: Specifications
:: Packaging
:: Installation and hardware setup
:: Configuration with Surveillance Station
:: Features
:: Tests
:: Conclusion
While for some, Synology is only a NAS manufacturer, others know that on top of NAS devices, they also produce routers, DVR and NVR systems, Synology-branded disks, and as of recently, network cameras.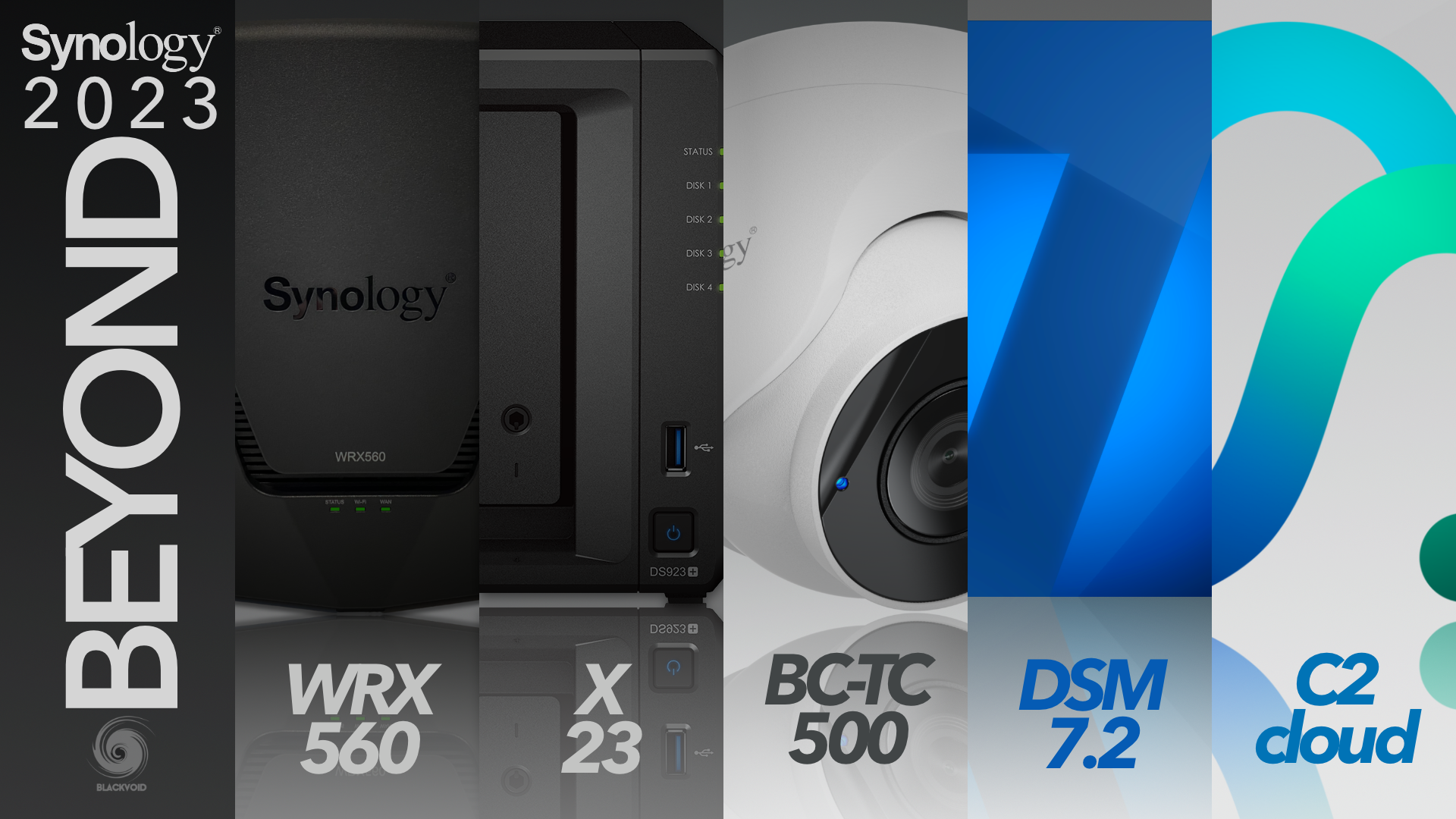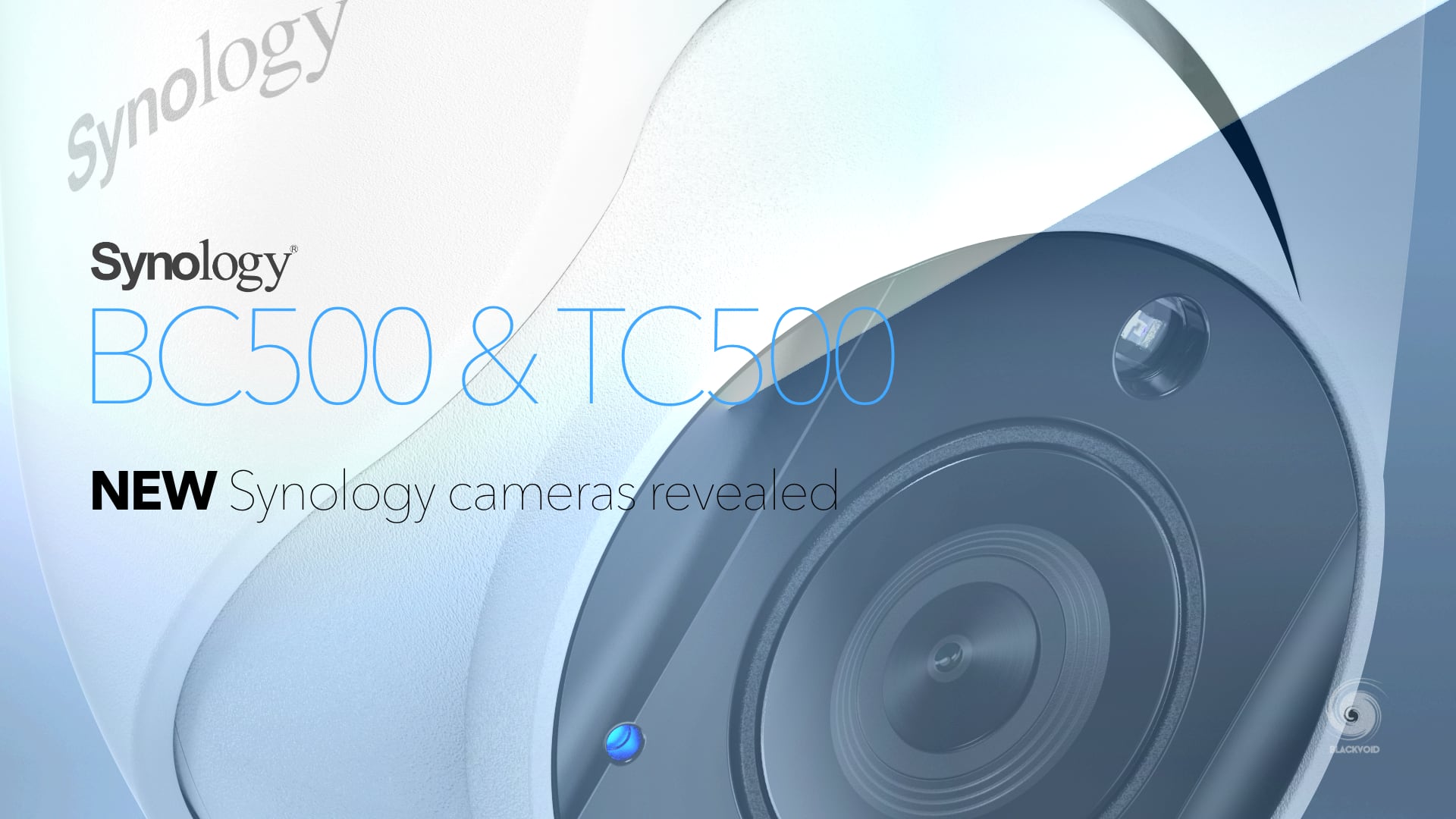 Back in October of 2022 and in March of this year we already had a glimpse of the two new PoE-powered models, the TC500 and BC500. Well, today, Synology is officially rolling them out, and in this review, we will have a first-hand overview of both models, how they work, and perform, and do they deserve the €200+ price tag. Let's begin.
"...The BC500 and TC500, versatile all-weather bullet and turret cameras for smart surveillance"
:: Specifications
Glancing over the overall technical specifications of these cameras it is clear that Synology has made a decent pair of models that will start to represent a new line of devices for the company.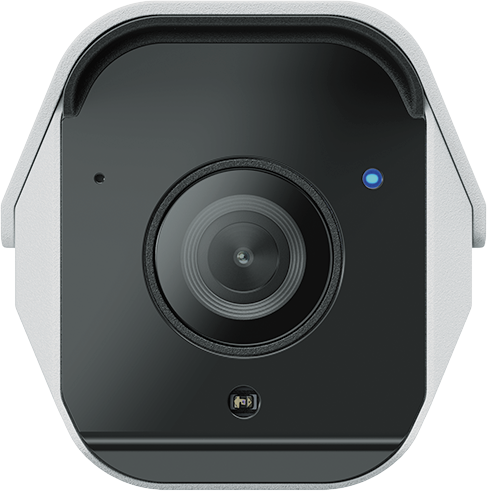 These IP67-rated 5MP cameras can be used for both indoor and outdoor use. Both are using a 2.8 mm lens with a 110-degree horizontal wide-angle view and night vision thanks to 30 meters of IR LED capabilities.
They have an F1.8 aperture and multi-exposure HDR that will provide low-light performance without overexposure. Their shutter speed is also declared between 1/16000s and 1/30s.
"...The BC500 and TC500 are designed to integrate seamlessly with Surveillance Station"
In terms of video, the models are running at 5 MP (2880 x 1620) at 30 FPS as their max resolution, and 1920 x 1080 @ 15 FPS or 1280 x 720 @ 3o FPS. The captured video will have compression support with both H.264 and H.265.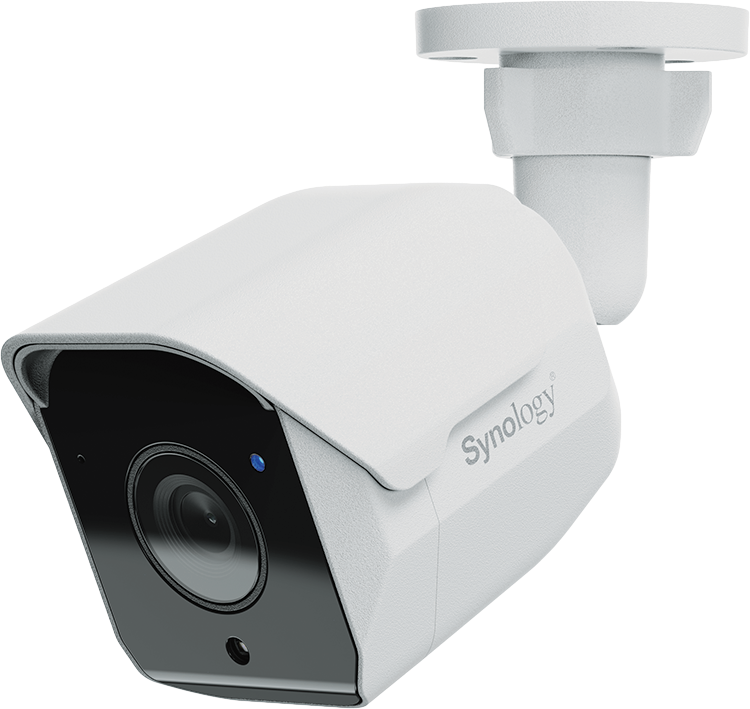 Along with the weather resistance, cameras are rated IK10 in terms of impact. The main way of power source is over PoE or if that is not an option via a 12V DC using at about 4.8W. The network speeds are 10/100Mbit using a single RJ45 ethernet port.
Considering these are "edge recording" capable devices thanks to up to 128 GB SD card support, in case of network failure or any AI detection scenarios (people and vehicle detection, intrusion, motion, etc), the cameras will failover recording from the network device onto microSD.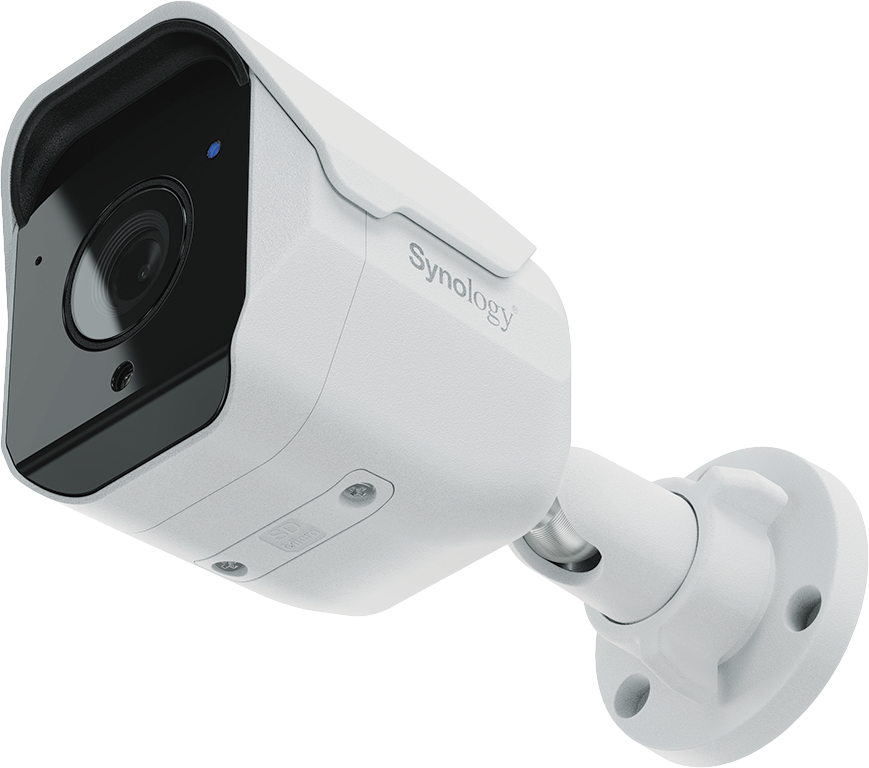 Like many devices in Synology's lineup, the models are covered with a 3-year warranty.
"...Synology cameras do not require purchase or activation of Surveillance Station device licenses"
Paring these models with Synology NAS or DVA devices will allow for a quick and simple single or batch camera installation process using Surveillance Station or the DS Cam mobile app. The very good news is that neither BT500 nor TC500 will require any licenses or activation in regard to the SVS platform.
While there will be an overview of the Surveillance Station and usage of the new cameras as part of this article, for more details on the platform itself and how it works read up on the following two-part article.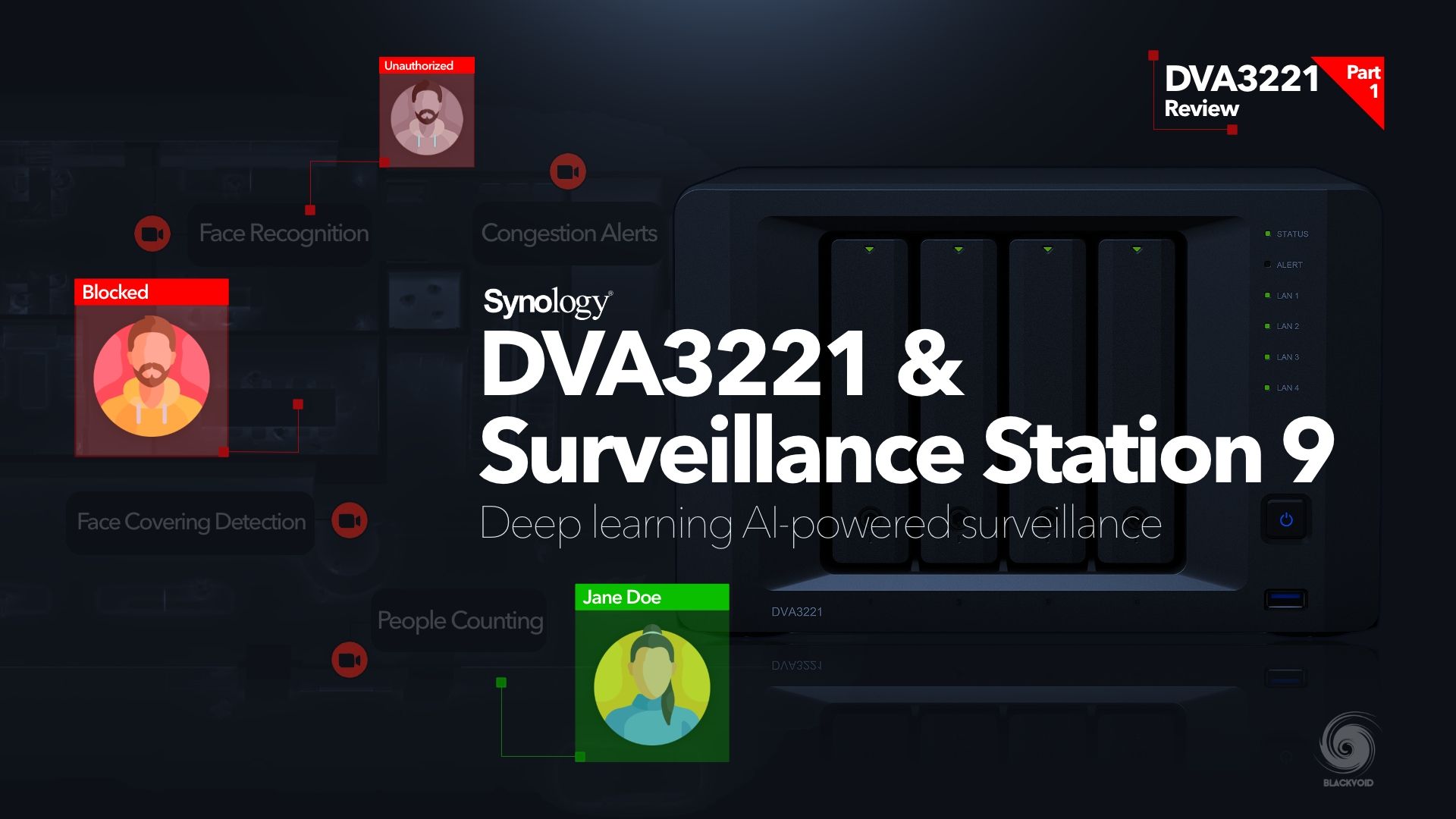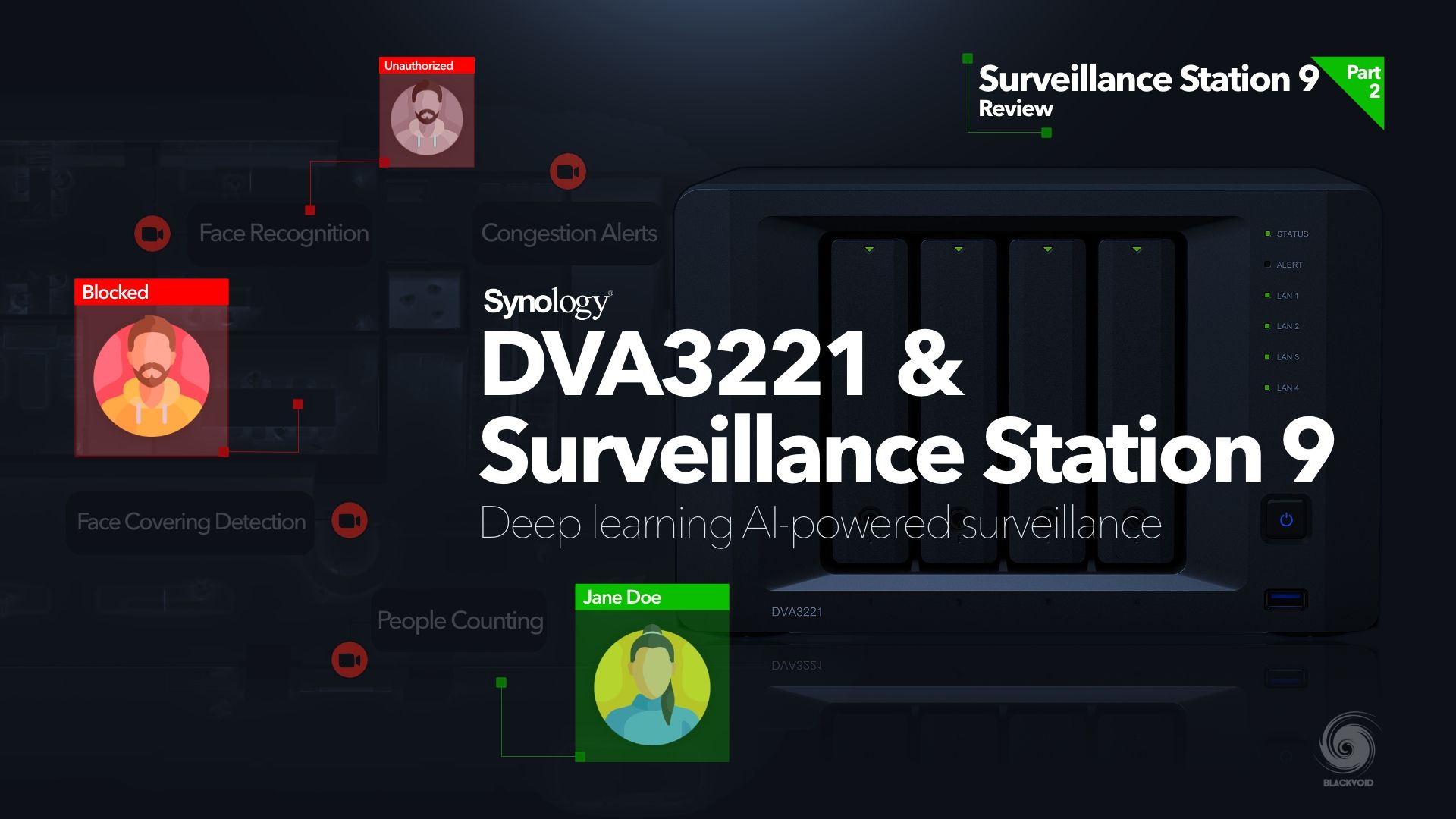 Now, let's see take a deeper look into the actual cameras themselves.
:: Packaging
The packaging is very compact and light considering the size of the devices, even more so in the case of the TC500 model.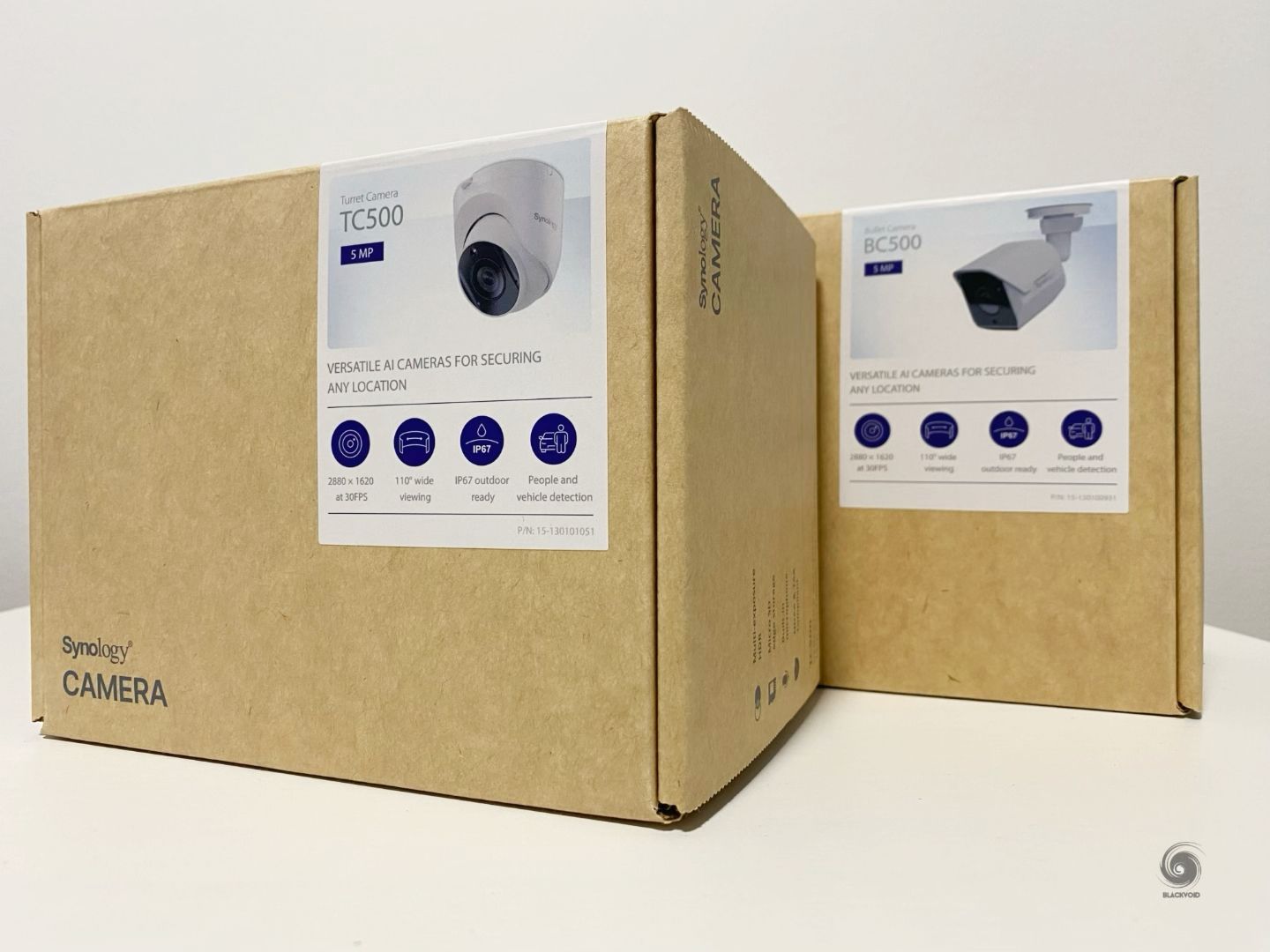 Coming in an already familiar "environment-friendly" box, Synology has also started to use a light version of the yellow color of the box, making it more fresh and clean.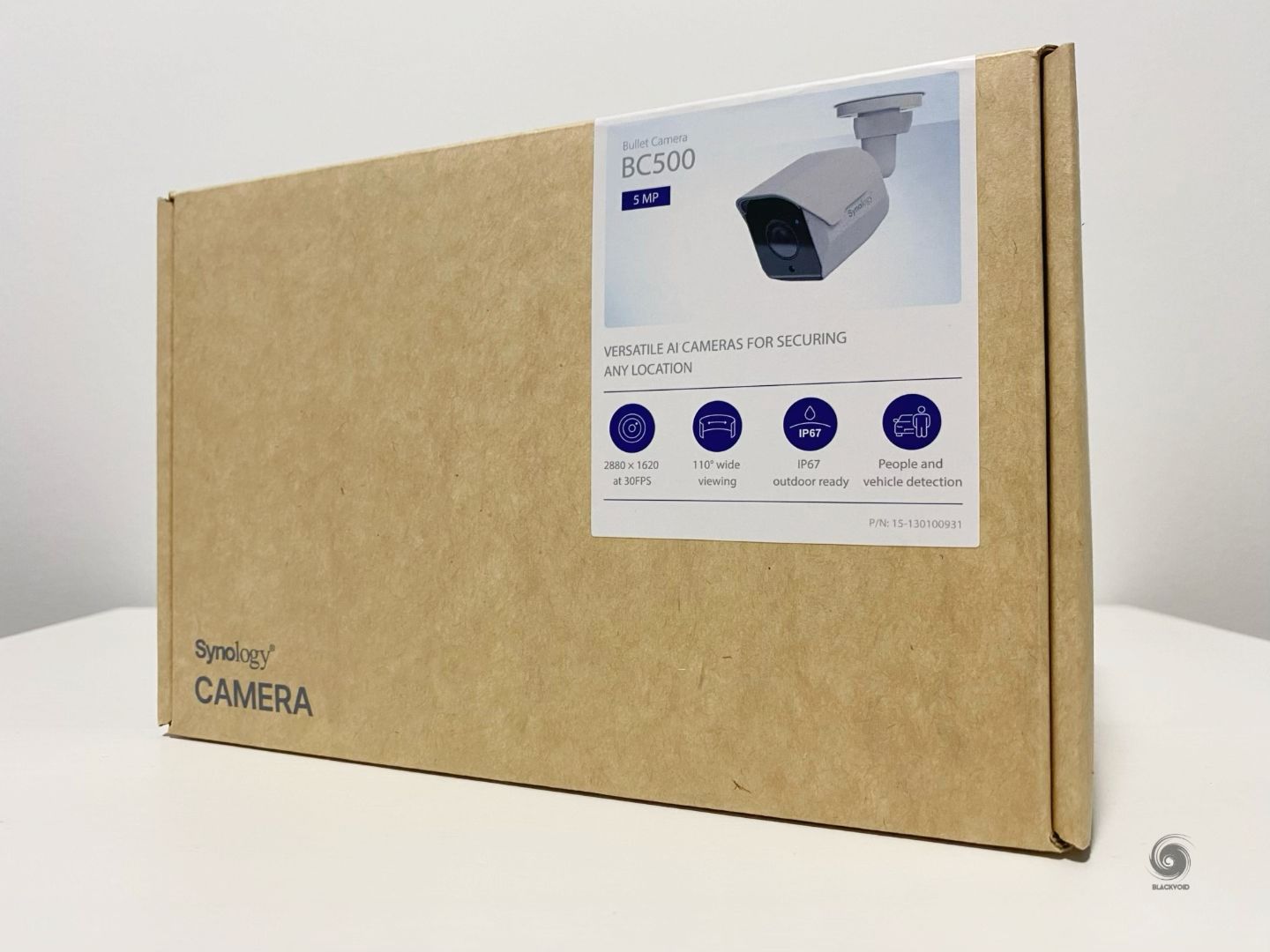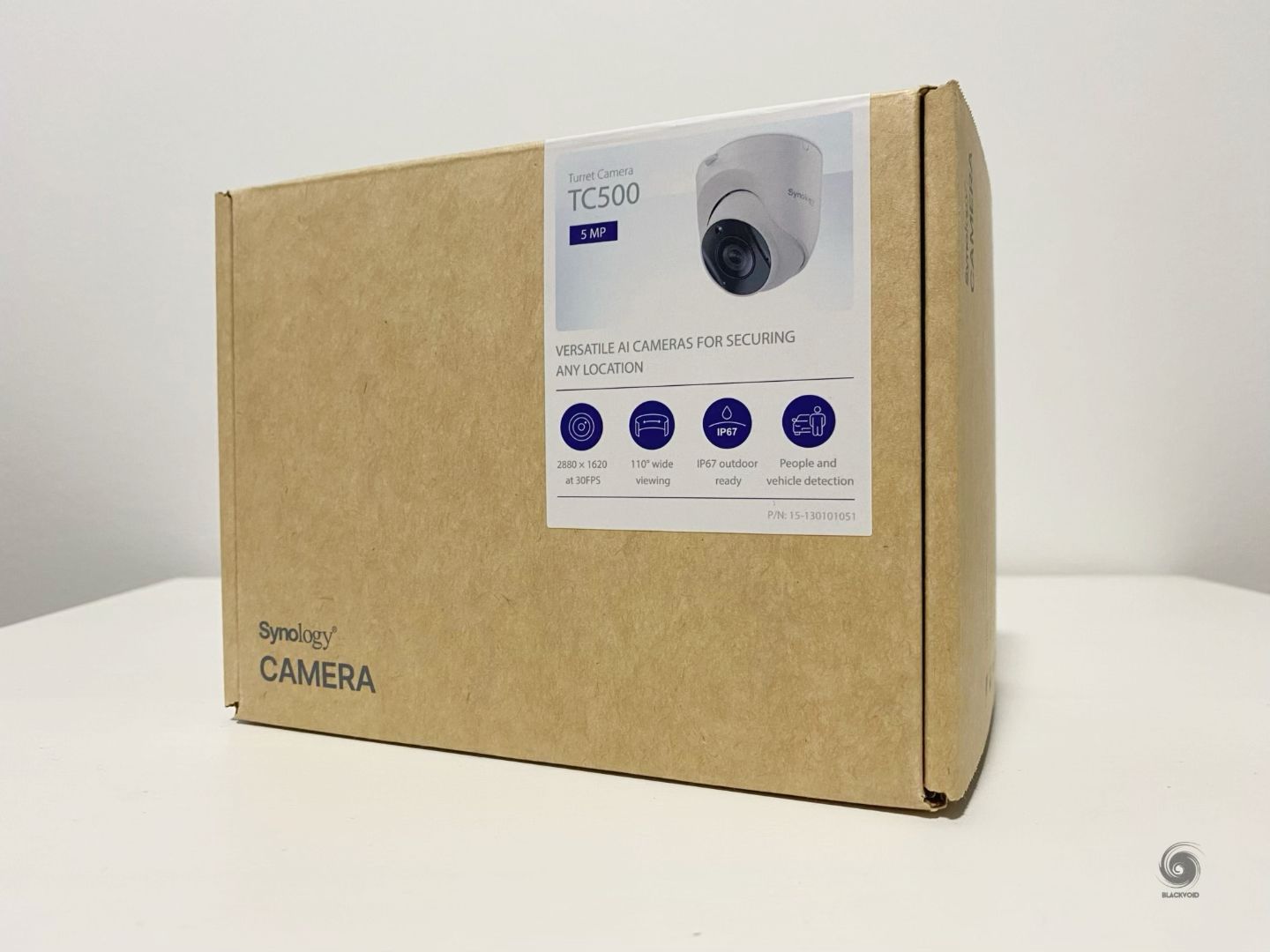 The box themselves reveal all the key features of the devices inside. From the main sticker on the front all the way around and the back giving more details without even opening it.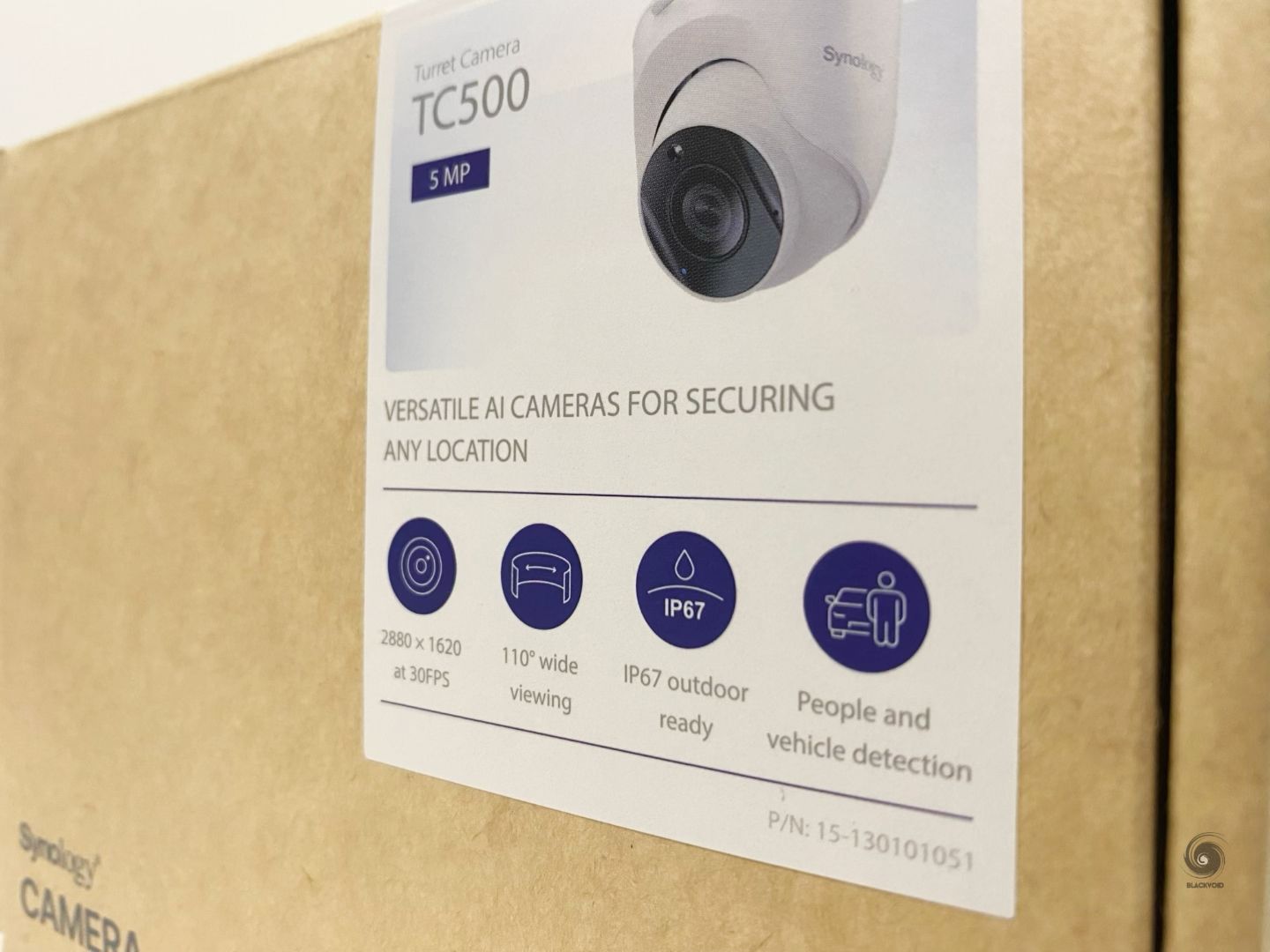 Considering the cameras are PoE powered, the content of the box other than the actual camera itself, contains the screws, anchors, and cable cap cover set, along with a short manual.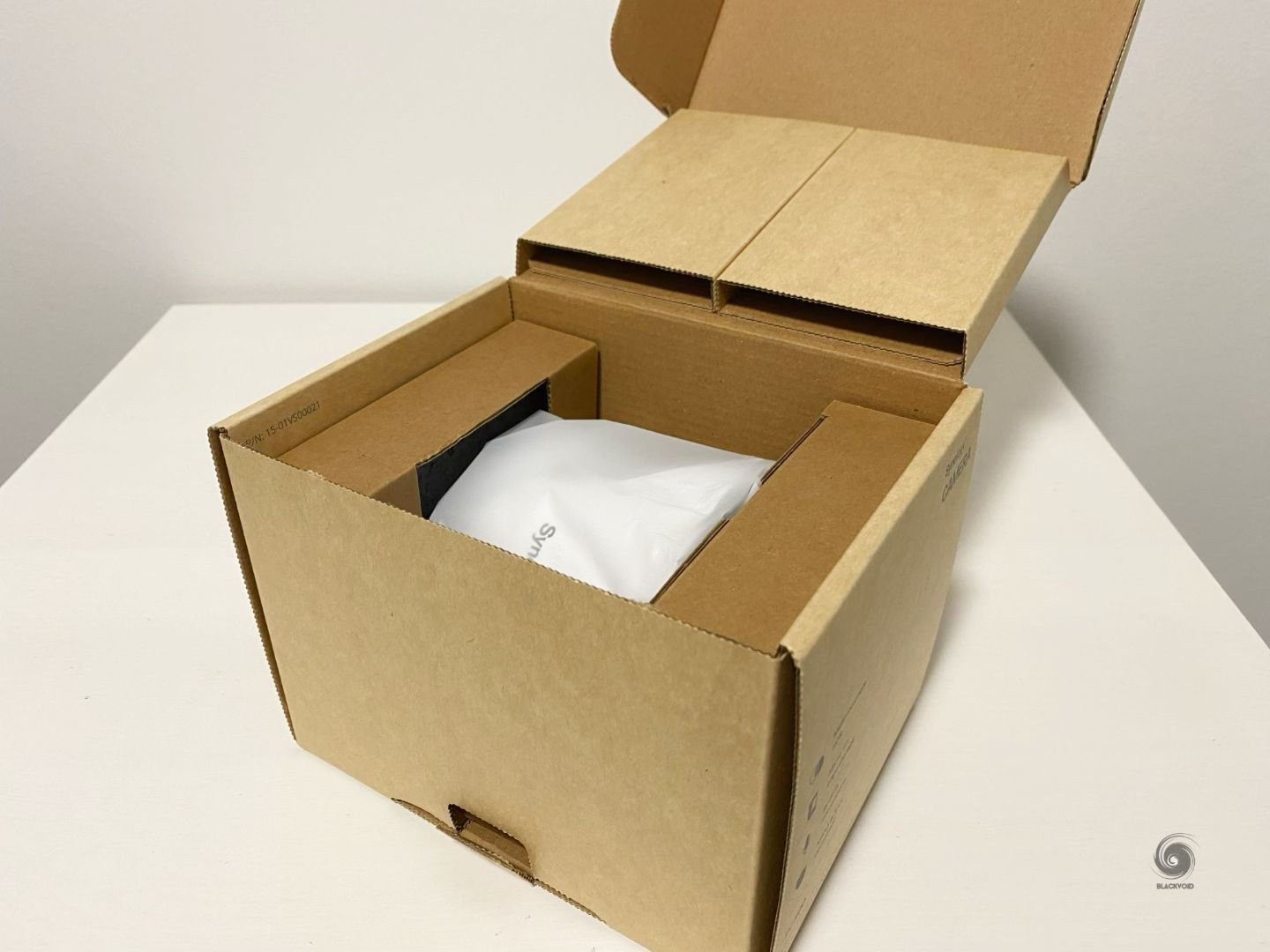 The cameras are of decent build quality and weight. They don't feel cheap to the touch as some of the other brands do but for their price point as well as the IK10 rating, one would not expect them to.
In the case of the BC500, the body of the camera itself is made of hard plastic with no movable parts and has a compact and solid build feel to it. The camera extends to the mount body which is solid metal connected together with a steel joint. The overall weight is obviously on the mount side as it should be and allows for the camera to not feel too heavy or too light, making it stay in the desired position.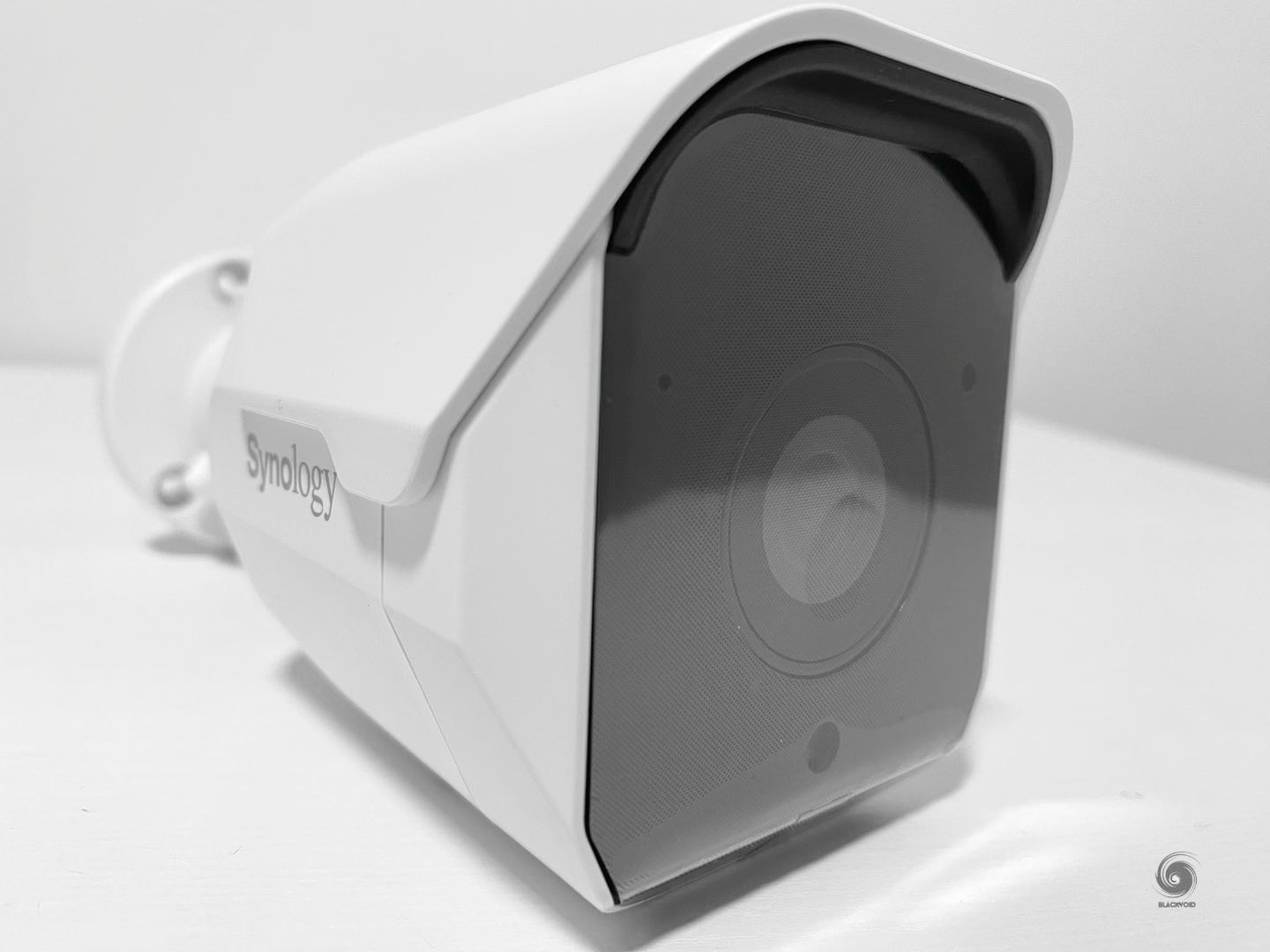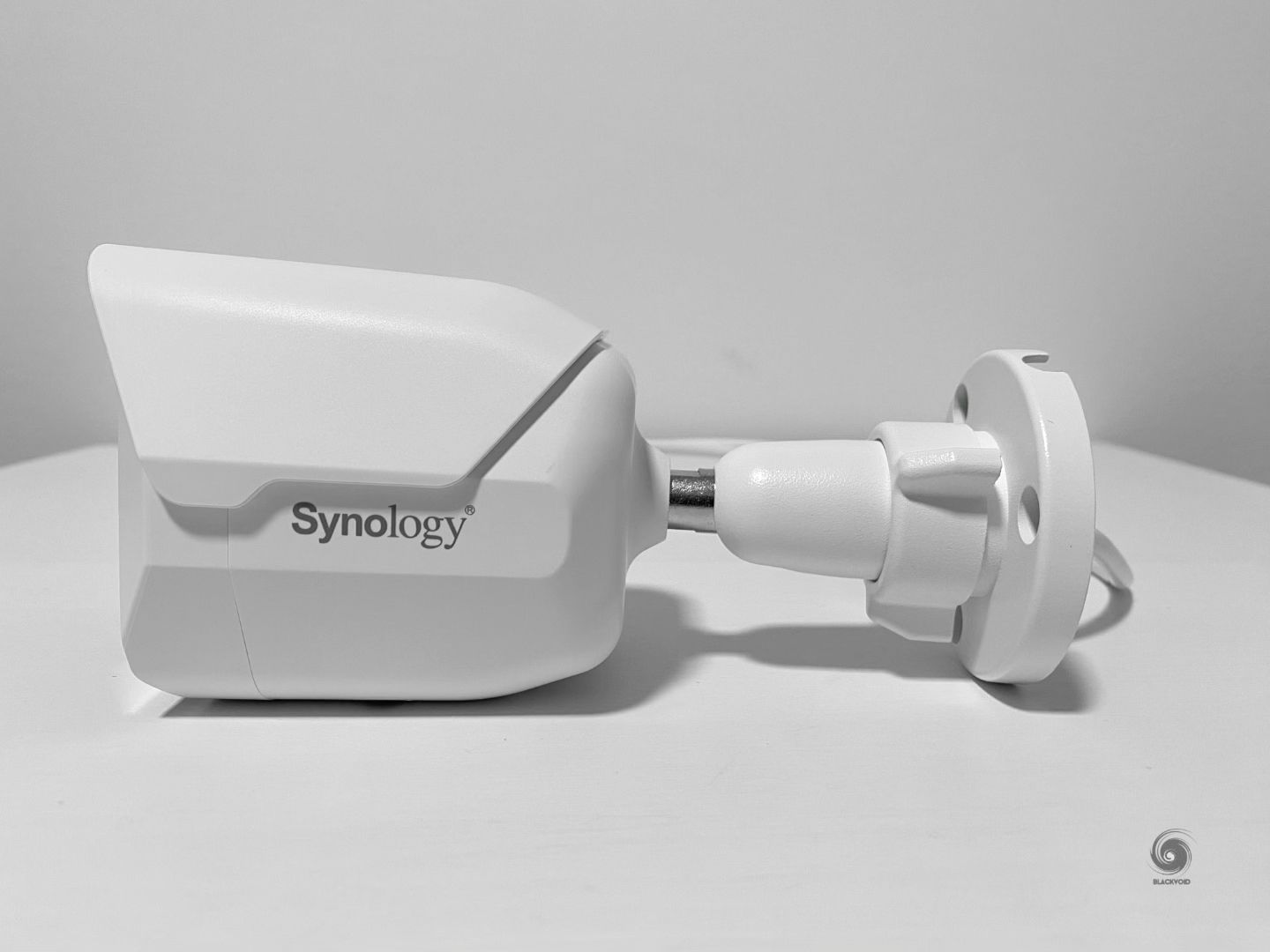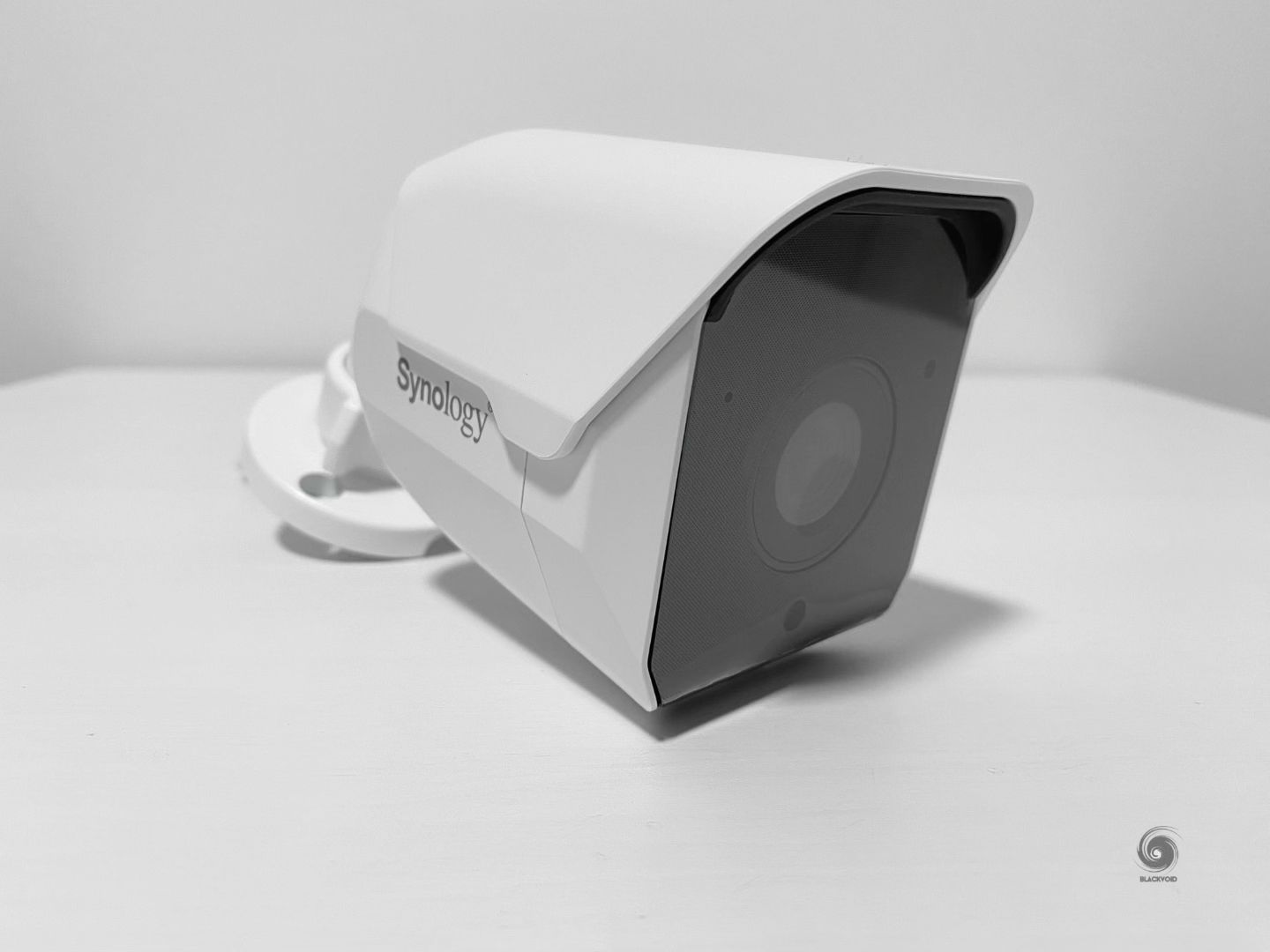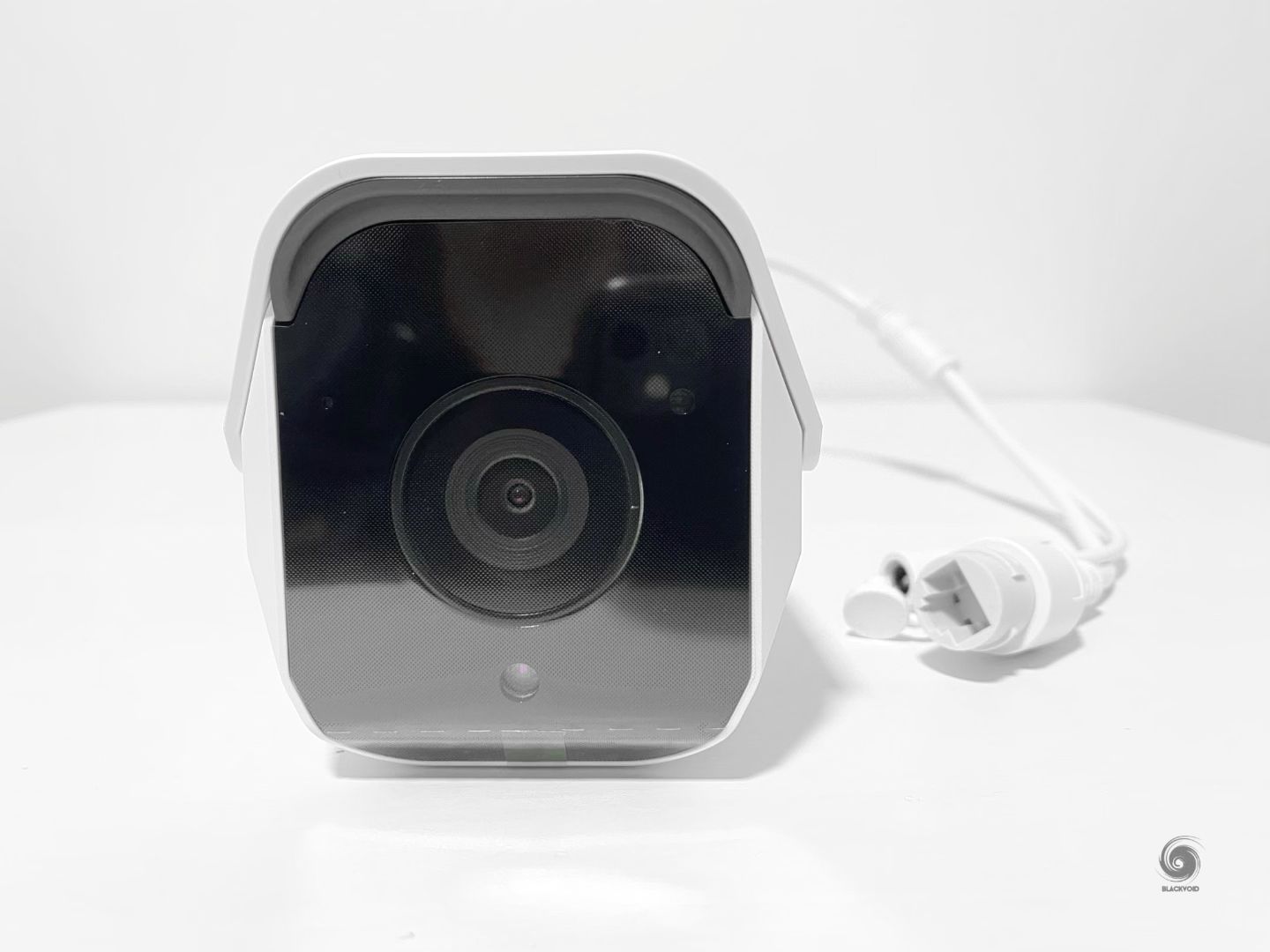 Both cameras are coming with a fixed cable for both DC power (if needed to connect to the regular switch and external power), and an RJ-45 network connector that can be connected to a PoE-compatible switch/router. The DC jack is rubber protected with a cap in case we don't need it.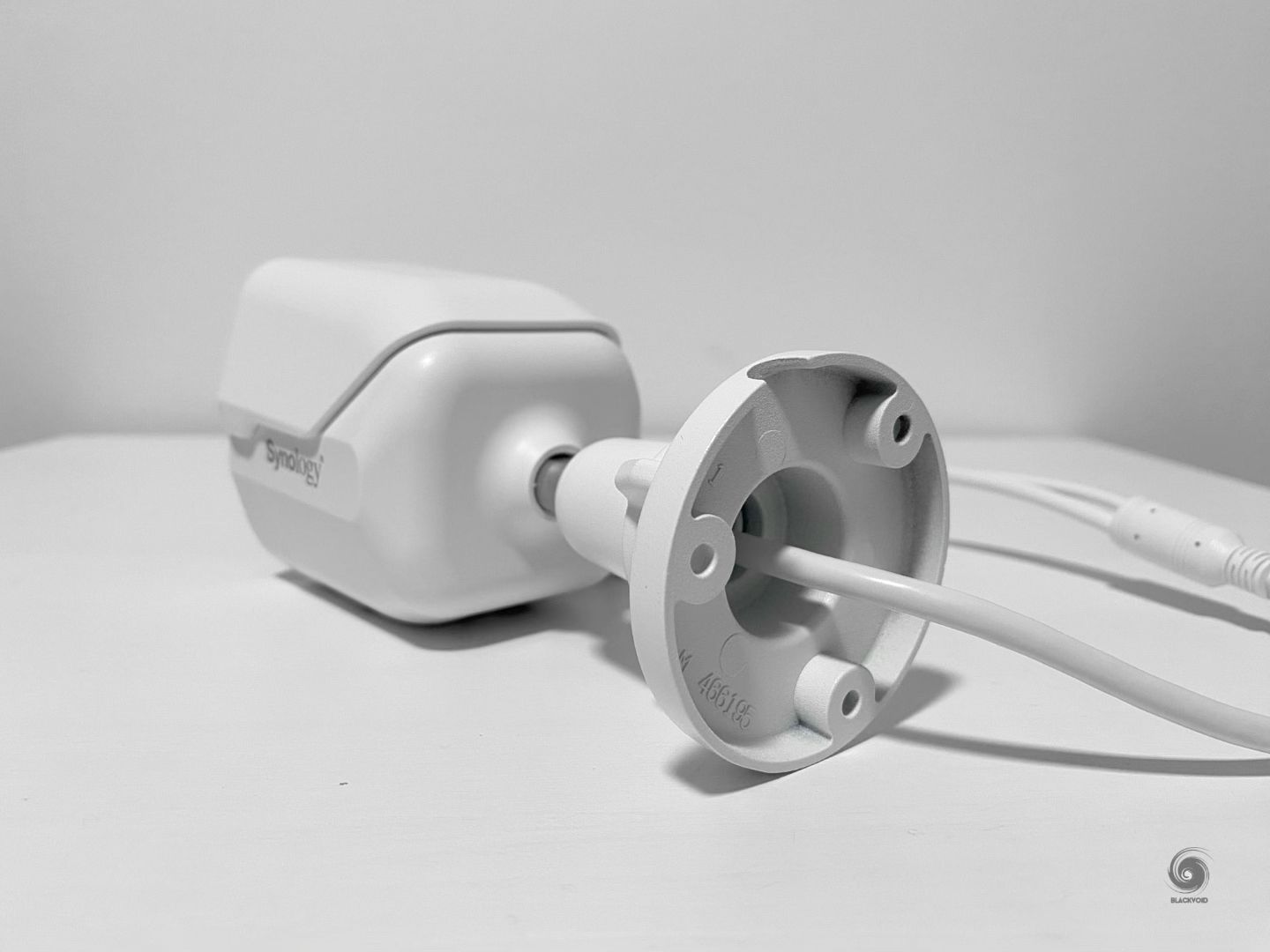 The bottom of the BC500 also has a sticker with several information about the model, a QR code with the serial number as well as access to the SD card and reset button. In order to access them both, we need to unscrew the little bracket, so there is no fear of the SD card falling out, or someone resetting the camera without actually interacting with it.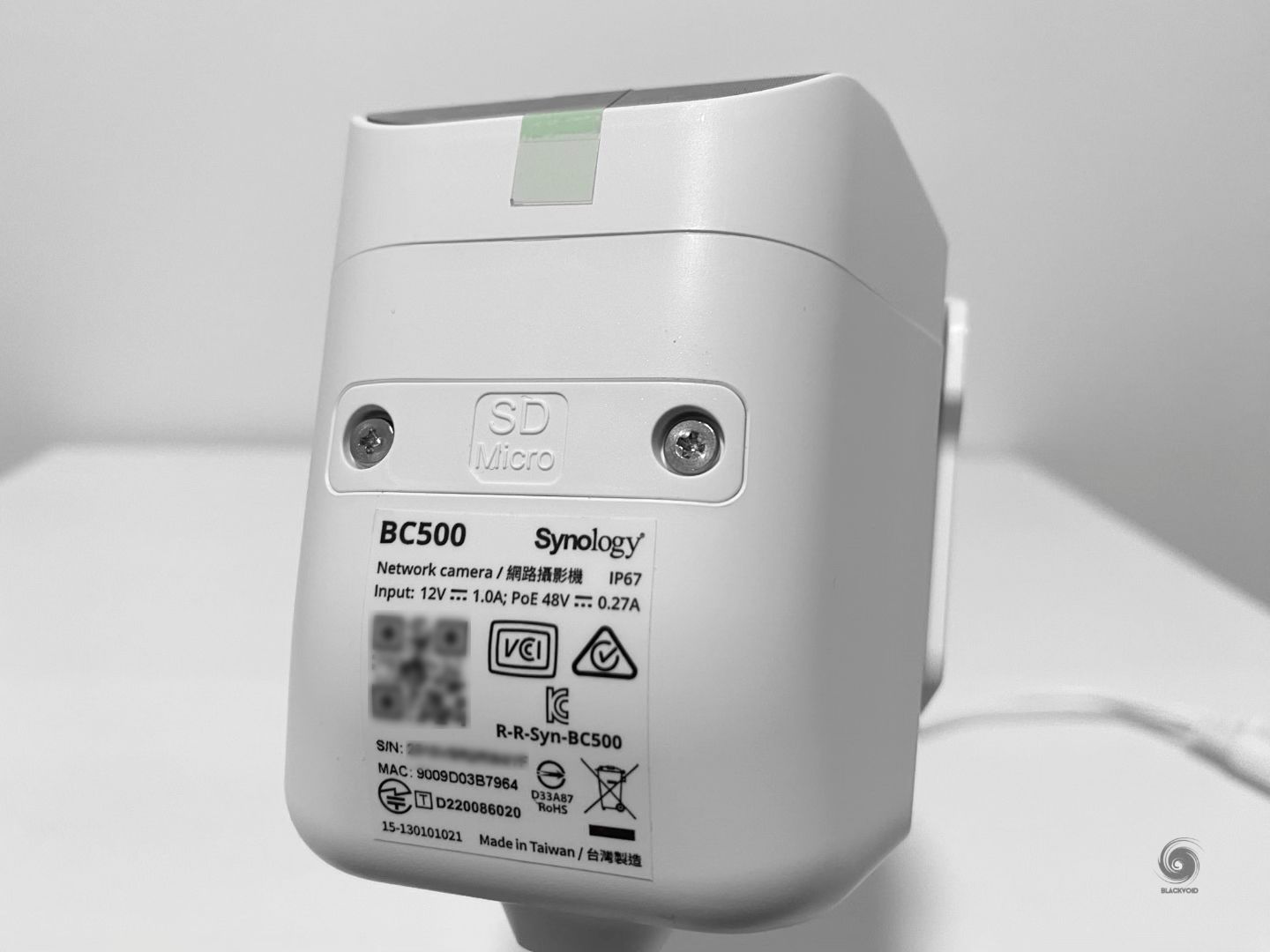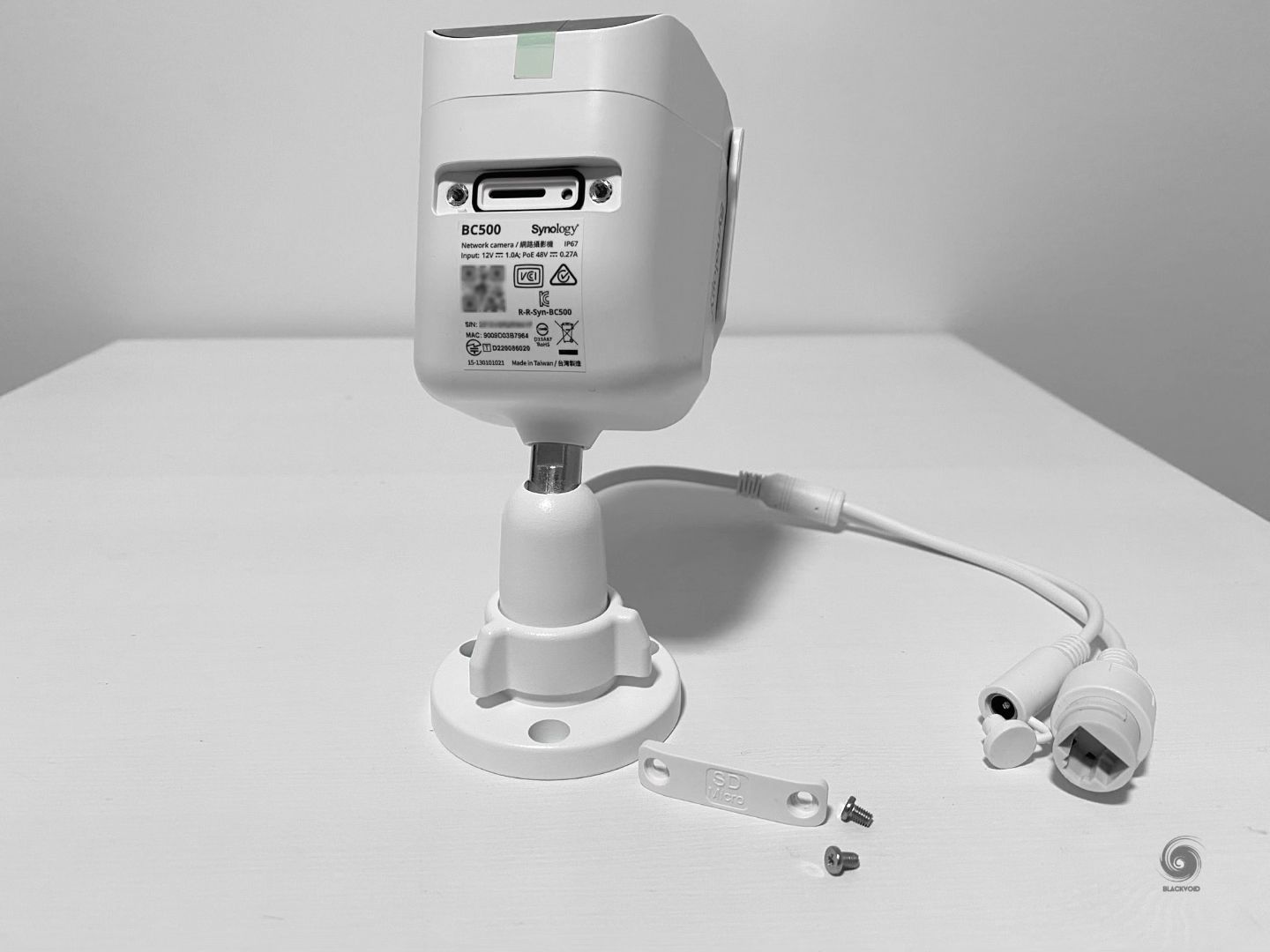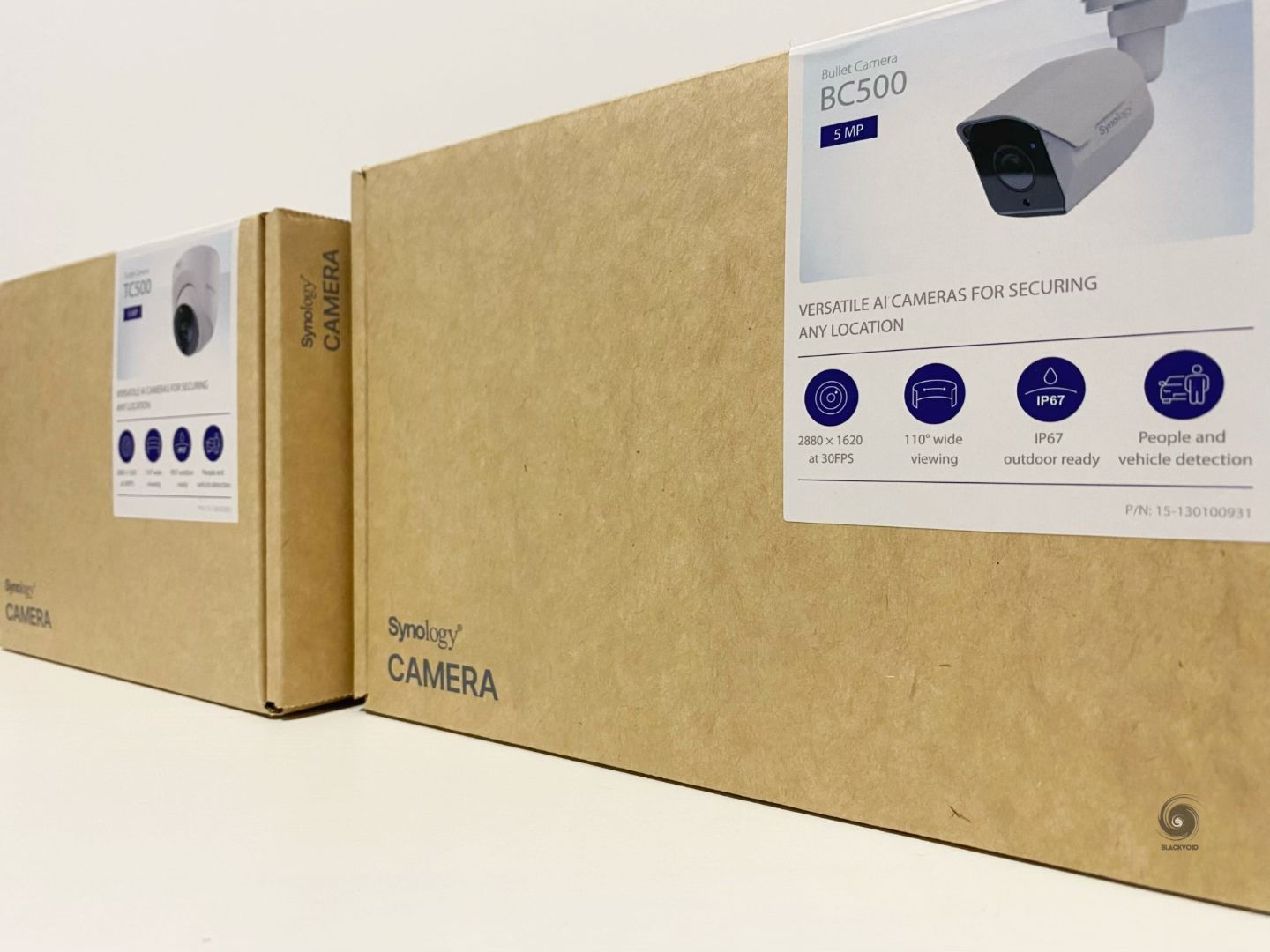 The turret model, TC500, shares similar features as the bullet camera. Its base as well as the mount base is made of the same hard plastic as the BC500 model camera housing, while the actual camera is enclosed in the same metal material as the BC500 mount. Again, very good and solid build quality with the right balance of weight.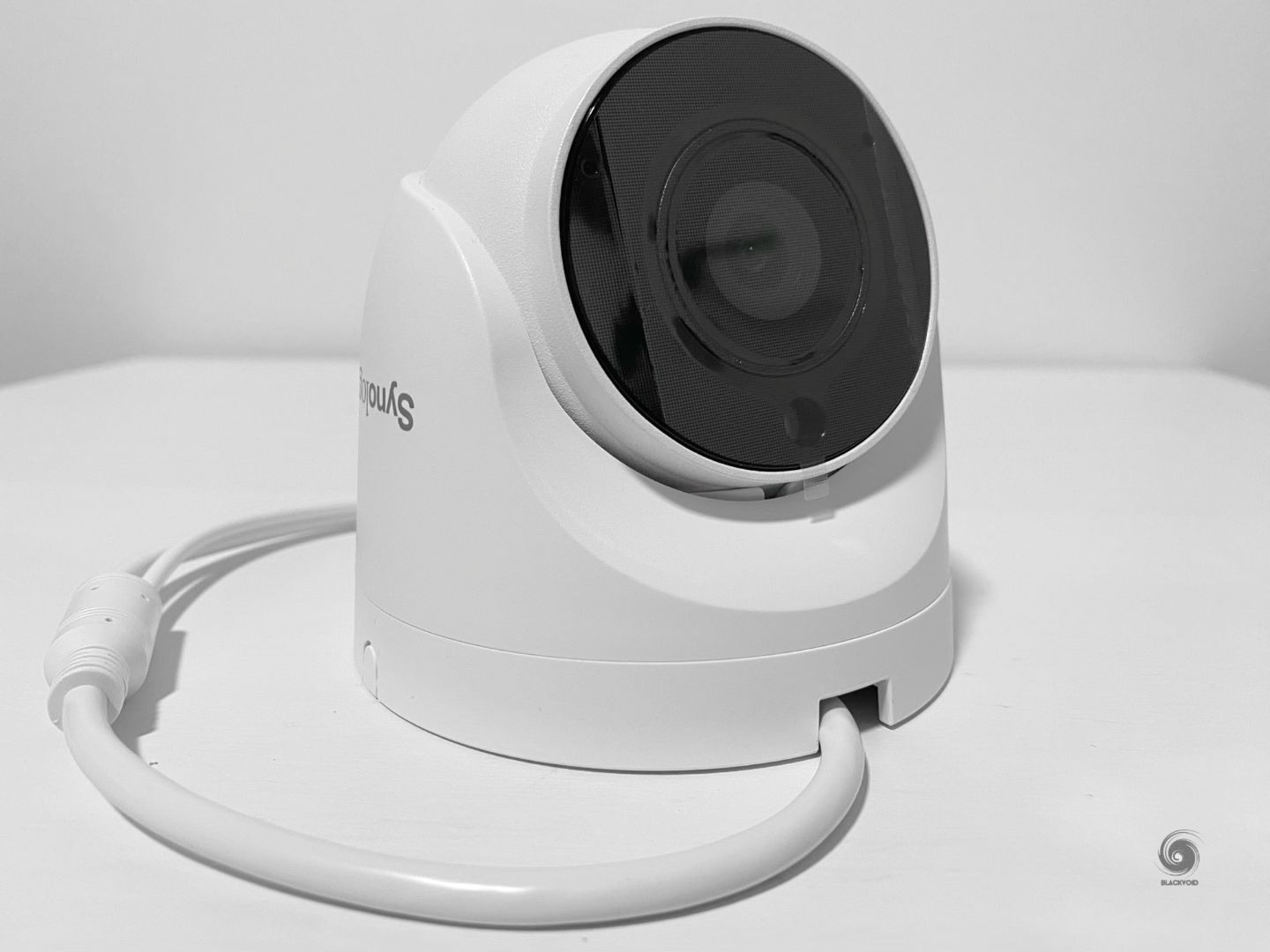 Considering that the camera can be mounted on any flat surface, table, ceiling, or wall, it can be utilized in many different scenarios. The dome of the camera has a good 90-degree movement and enough rotation for some corrections after the installation. Still, be sure to initially install it in such a way that will allow for coverage of the expected area as it can't move 360 after all.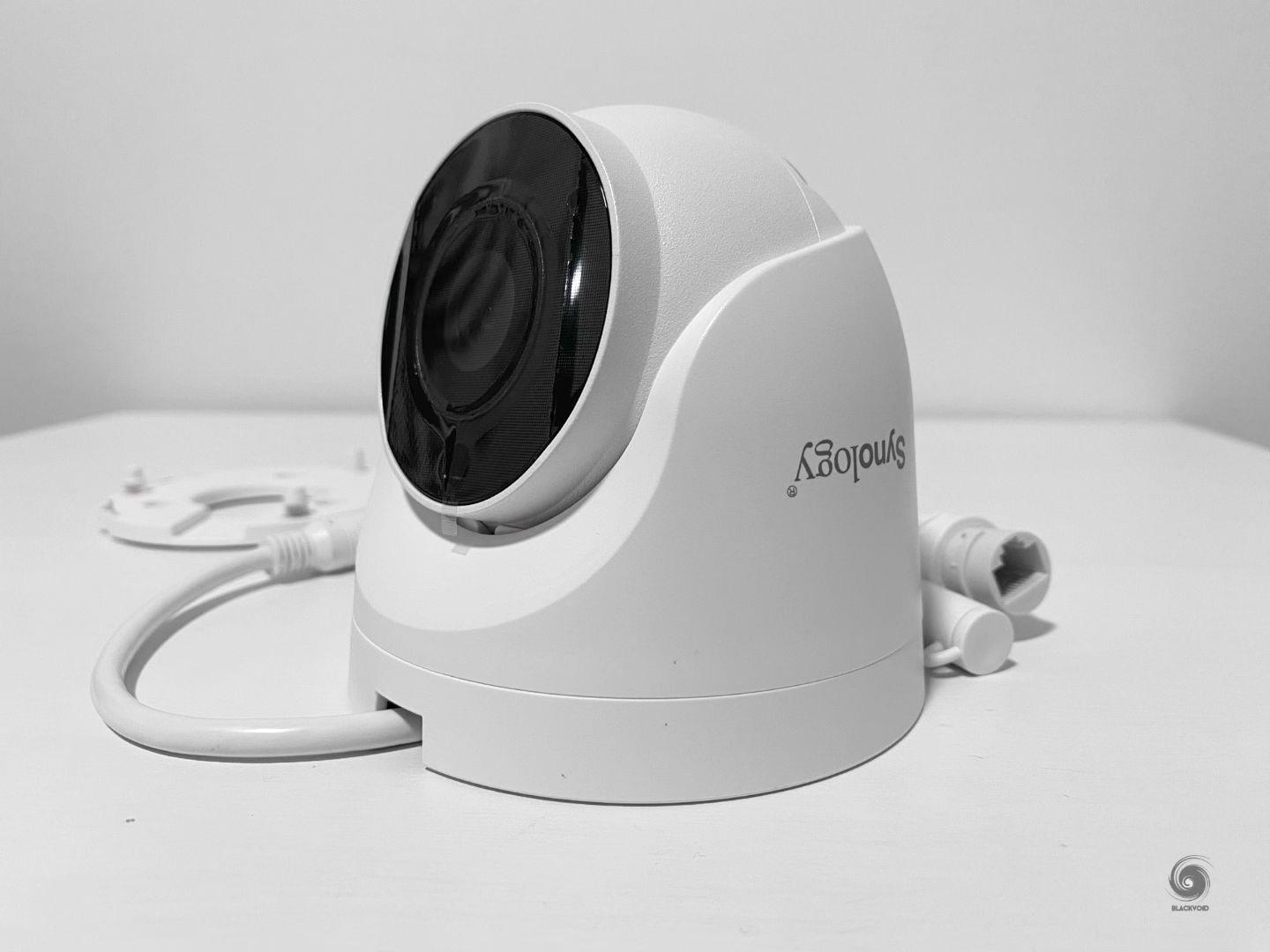 On the bottom of the camera base, there is a detachable mount element that will be screwed in, and then the camera is again connected to it with a double motion to lock it in place. Same as with the BC model, the cable is fixed and can be either completely hidden inside a drywall for example, or routed to the side of the base to allow for a flat installation in case that is needed.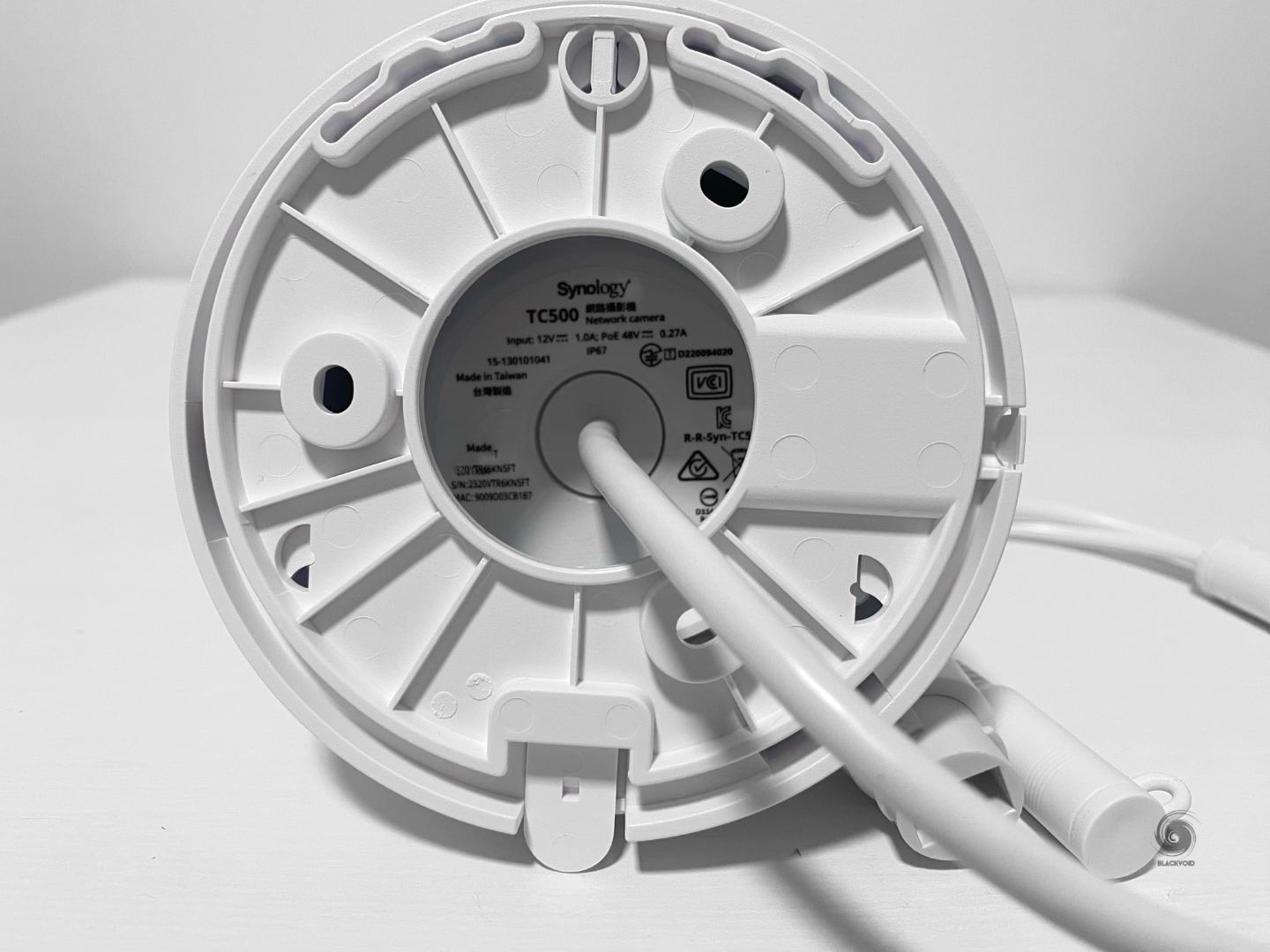 This turret shape camera has an SD card slot and a reset button as part of the camera body that can be accessed with two separate screws.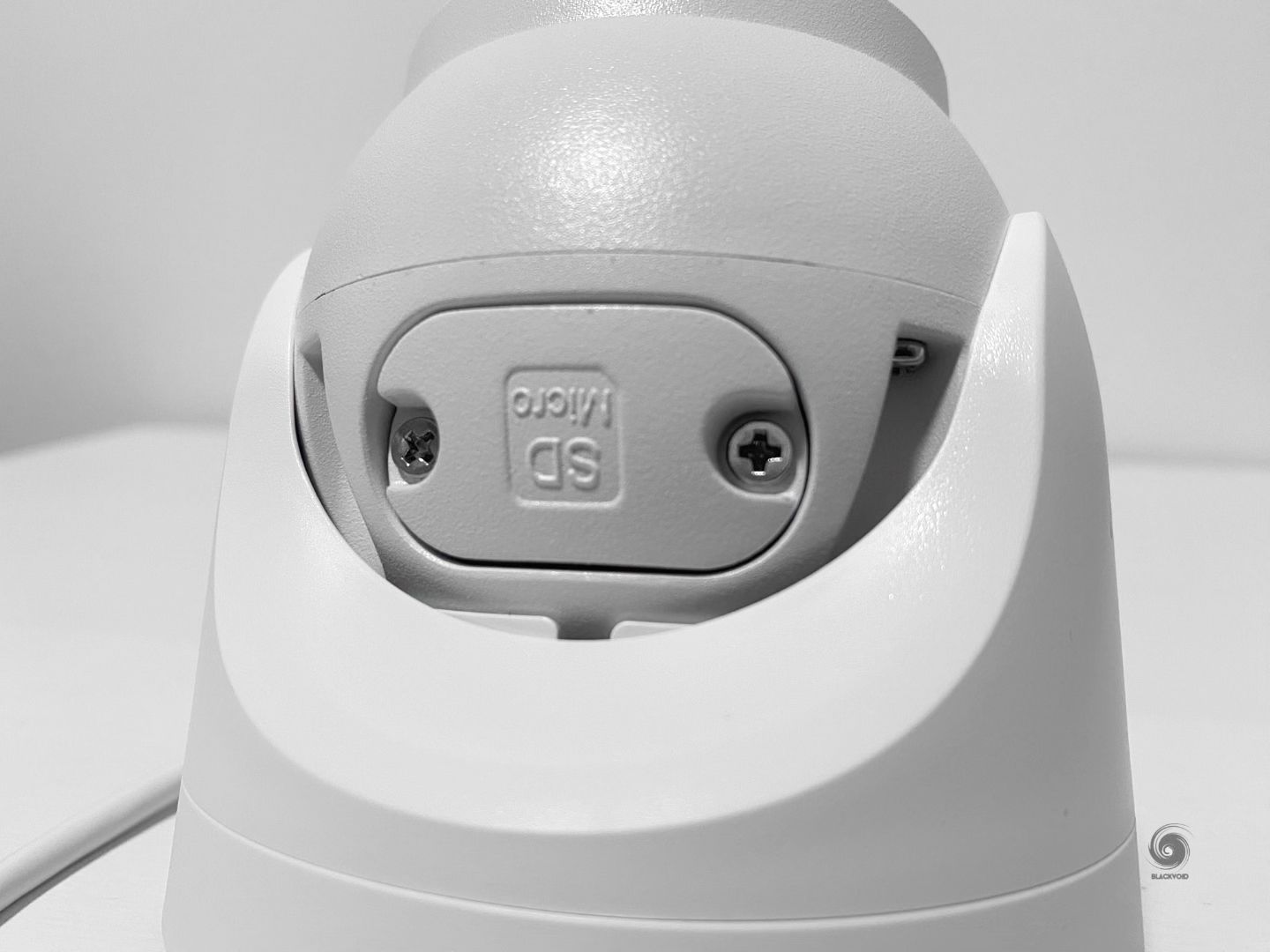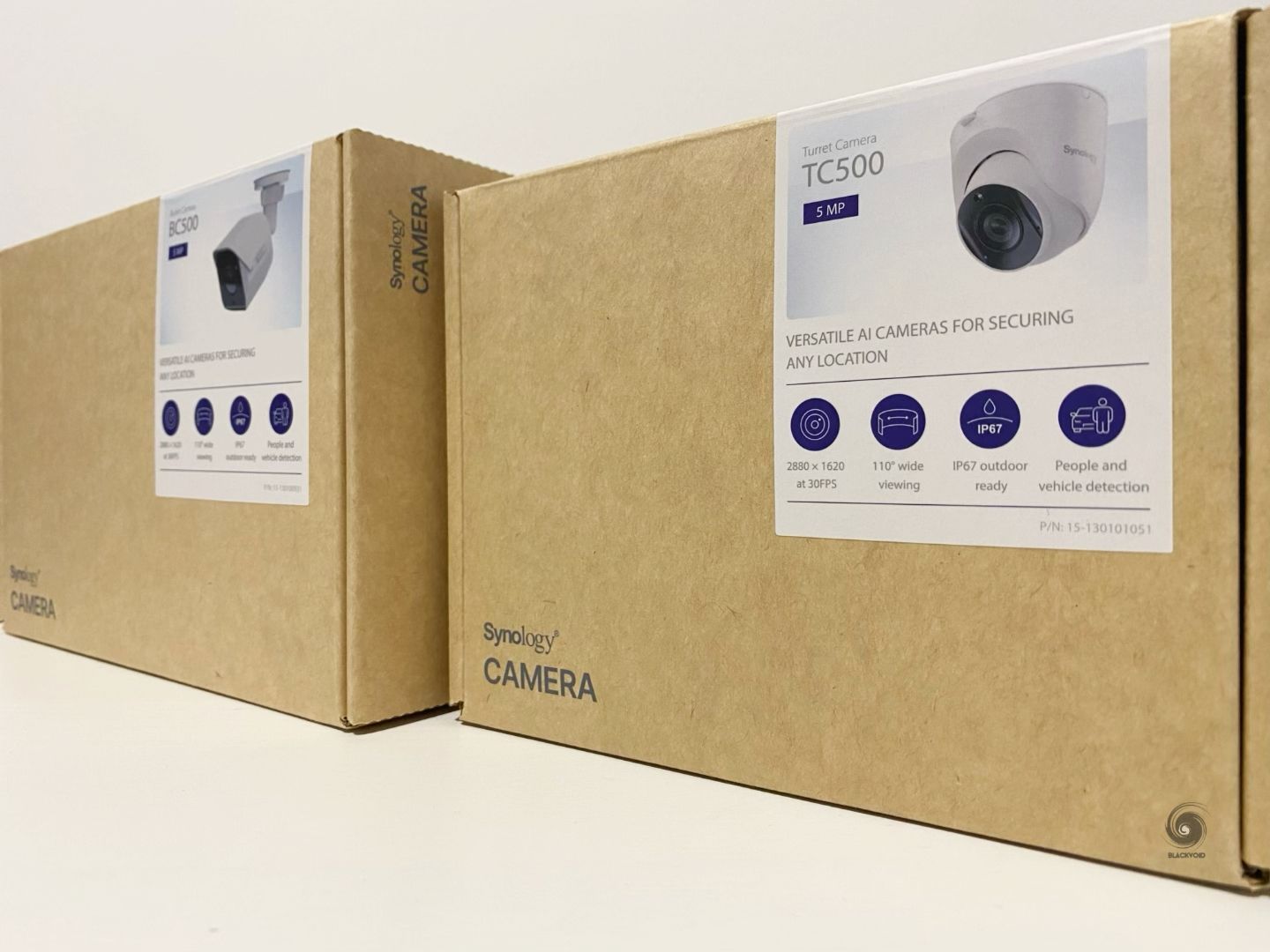 So far a very good first impression of both models even though they don't have  PTZ functions and require a manual alignment, each camera feels very solid, compact, and secure. With the IP67 and IK10 standards you can mount them almost anywhere and for all weather conditions.
:: Installation and hardware setup
The actual installation and hardware setup of these two cameras are fairly similar considering the content of the package is the same. Both models can be mounted onto a wall or ceiling, although the TC500 model might suggest that it should be fixed on the latter, while the BC500 should be on the former.
⚠️
Be sure to not position them close to a reflective surface such as a window, or allow for direct sunlight in order to avoid problems during recordings.
One thing to note here is that the cameras have to be manually adjusted once fixed on both axis, so be sure to install them in the correct spot!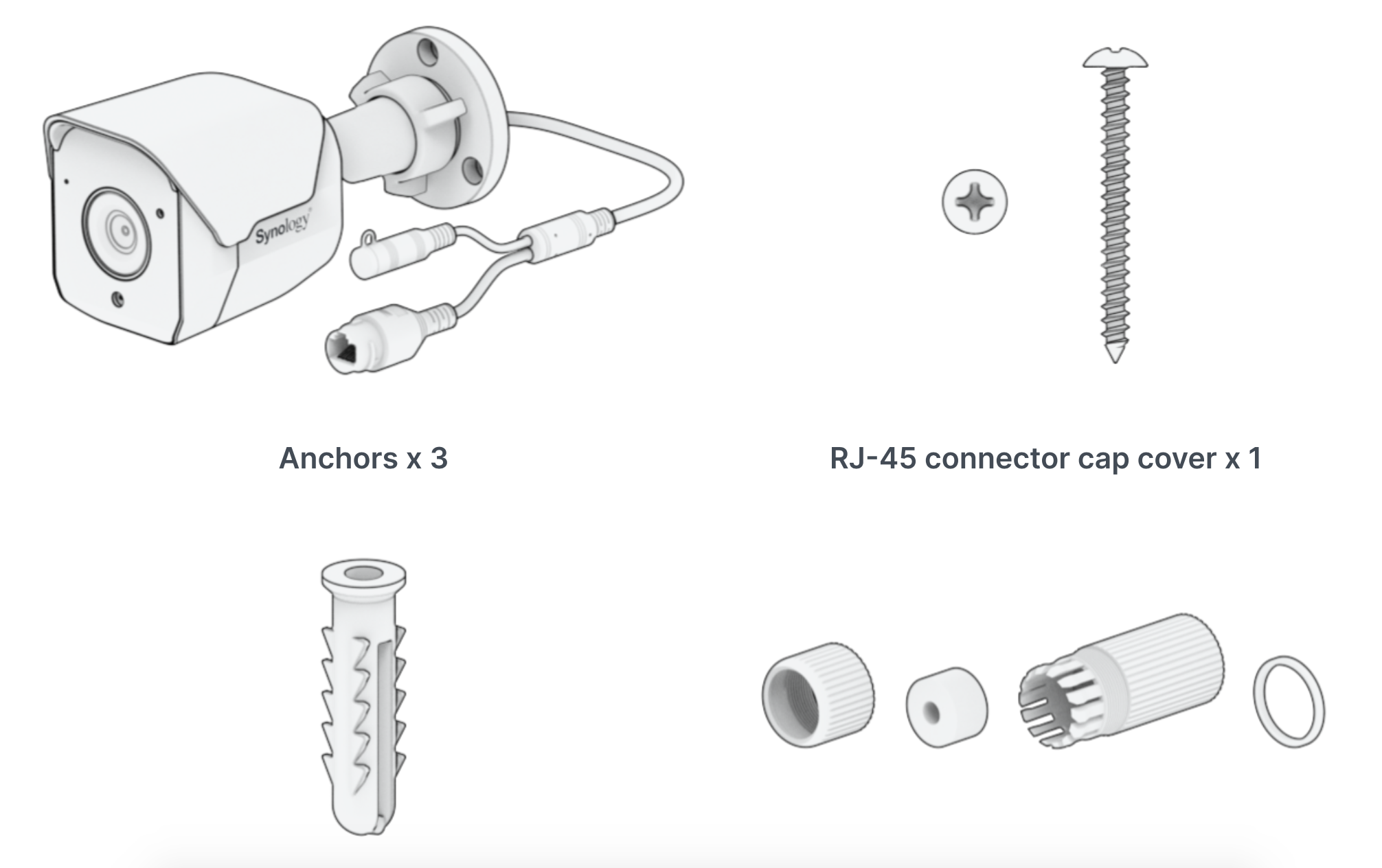 The instructions are simple to follow and just as with any other device of this type, we will need to first anchor the base or the camera itself onto a position of our choice. If we have plans to use the LAN cable that needs to be weatherproof, we need to first put on the included cap cover onto the cable before crimping the cable onto an RJ-45 connector.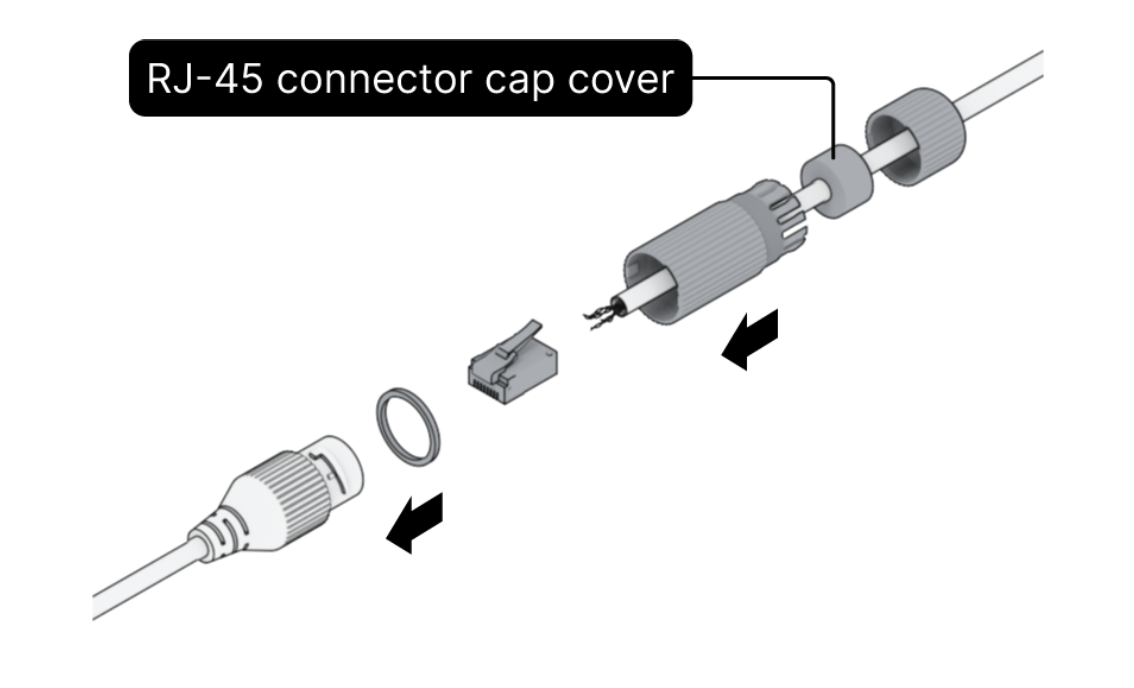 Once the camera has been attached to the cable, depending on the switch/router behind it, it will either get power over that same device (PoE 802.3af), or if there is a non-PoE device we will need to use an additional 12V DC power adapter.
In any event, if the camera and Synology NAS/DVA running Surveillance Station are on the same network (subnet), starting the "Add Camera" wizard will detect it and we can start using it once the process is complete.
:: Configuration with Surveillance Station
To use these cameras, we will need to be on the SVS 9.1. version and one benefit of that is that SVS will autodetect the cameras that are compatible.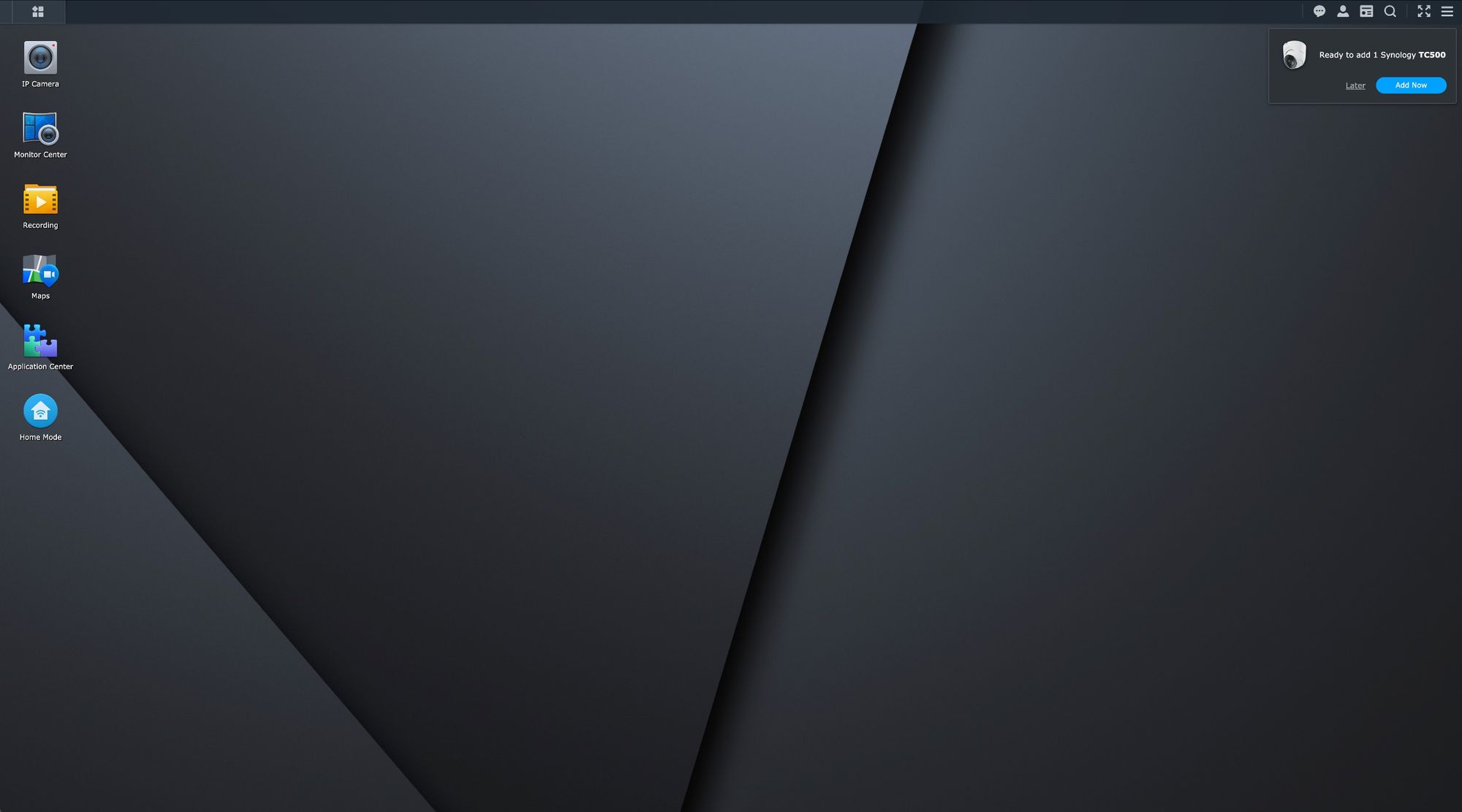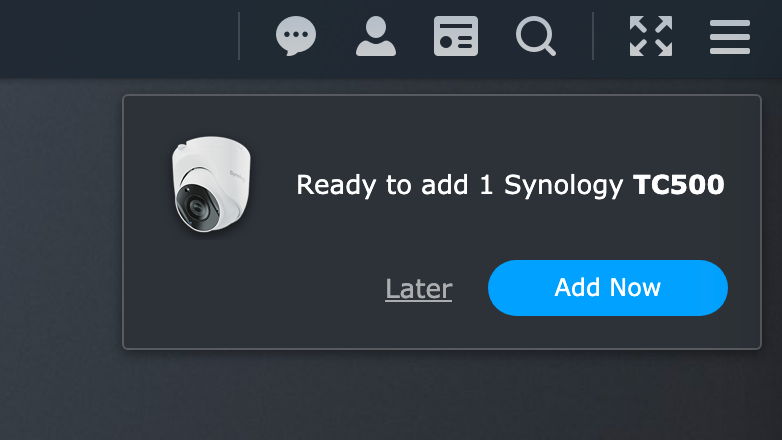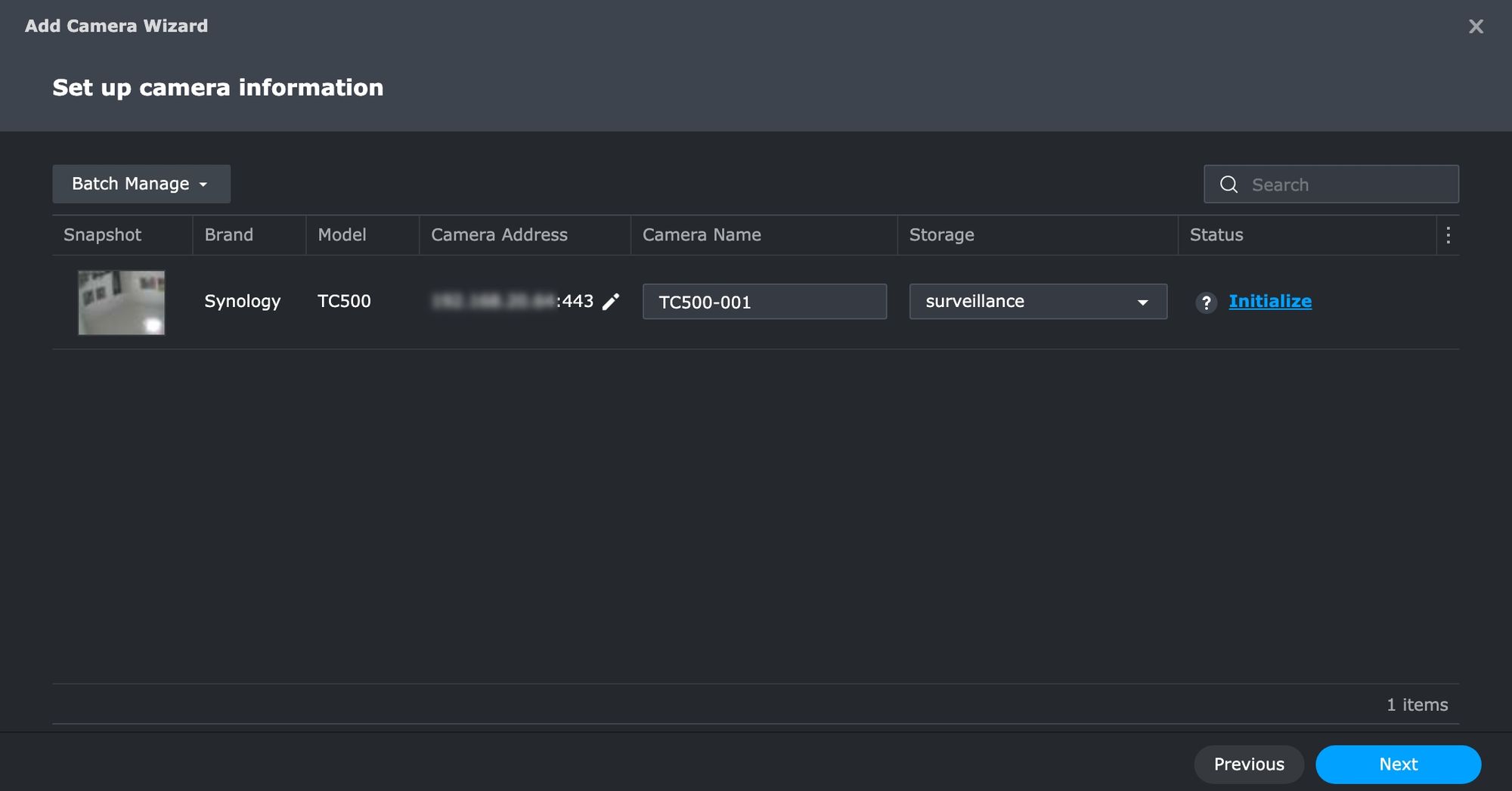 The wizard process that follows will ask us to initialize the camera by creating an account that will also be used later on for any future authentication. Finally, a configuration (quick or complete) setup needs to be completed as well.
All settings during that configuration can be altered later on, and some are also not accessible as part of the wizard, so we will have to manually configure them at a later time anyways.
As with any other camera, once they have been added to SVS we can start using them. Usually adding them to the Monitor Center is one way to do it, but depending on their positions and possible roles, we need to configure them further.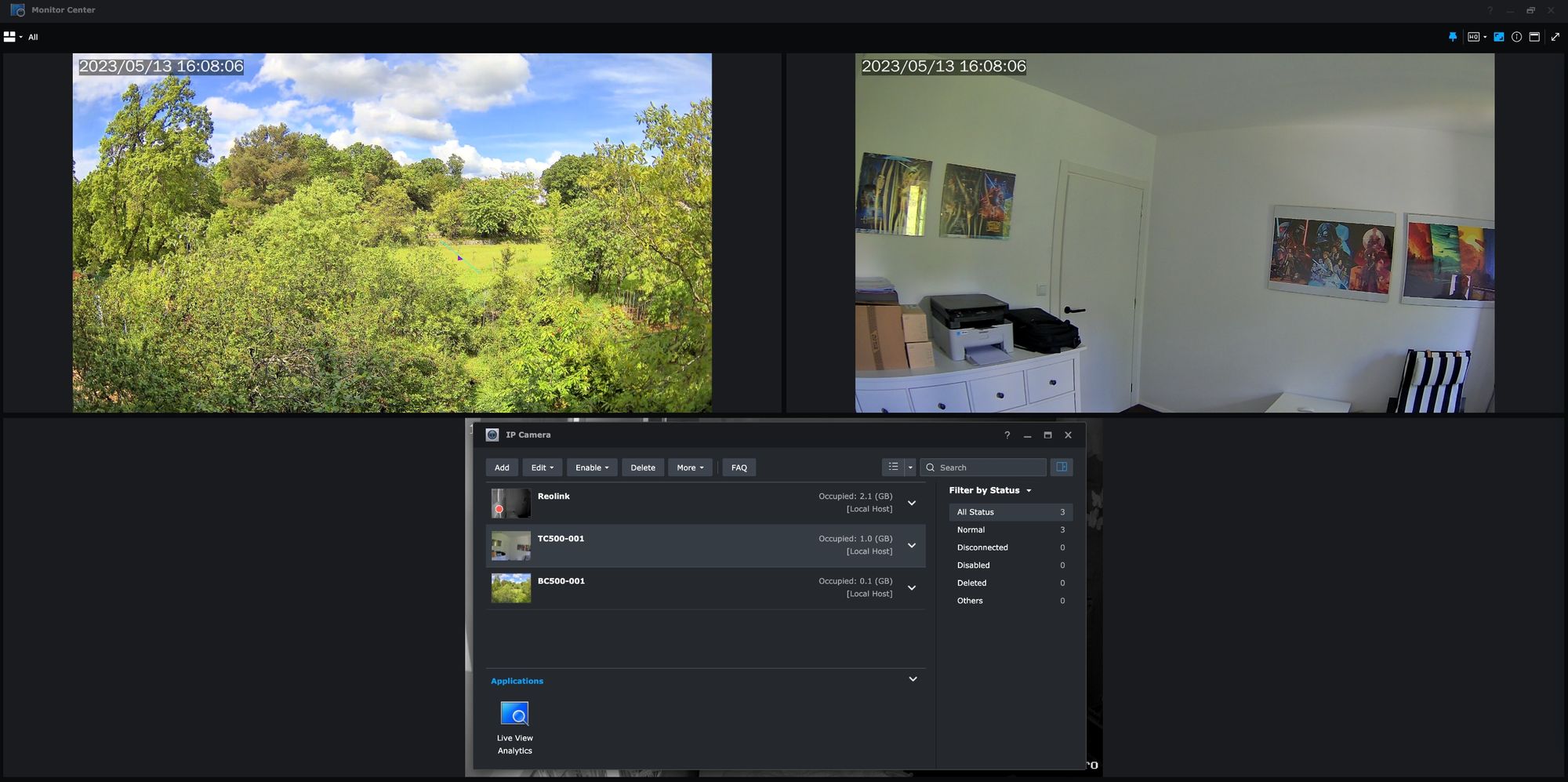 Unlike other 3rd party models, Synology cameras have more options and features inside the SVS platform. Some are also placed inside different sections and menus, but in general, keep in mind that the camera edit screen will look different depending on the model/brand.
Initial settings for the camera under the General tab offer more network settings and parameters than 3rd party models. From the network IP address, ports, and protocols, all the way to IP filtering and auto-block. DSM users will be familiar with these settings as those come as standard with DSM OS on any Synology NAS.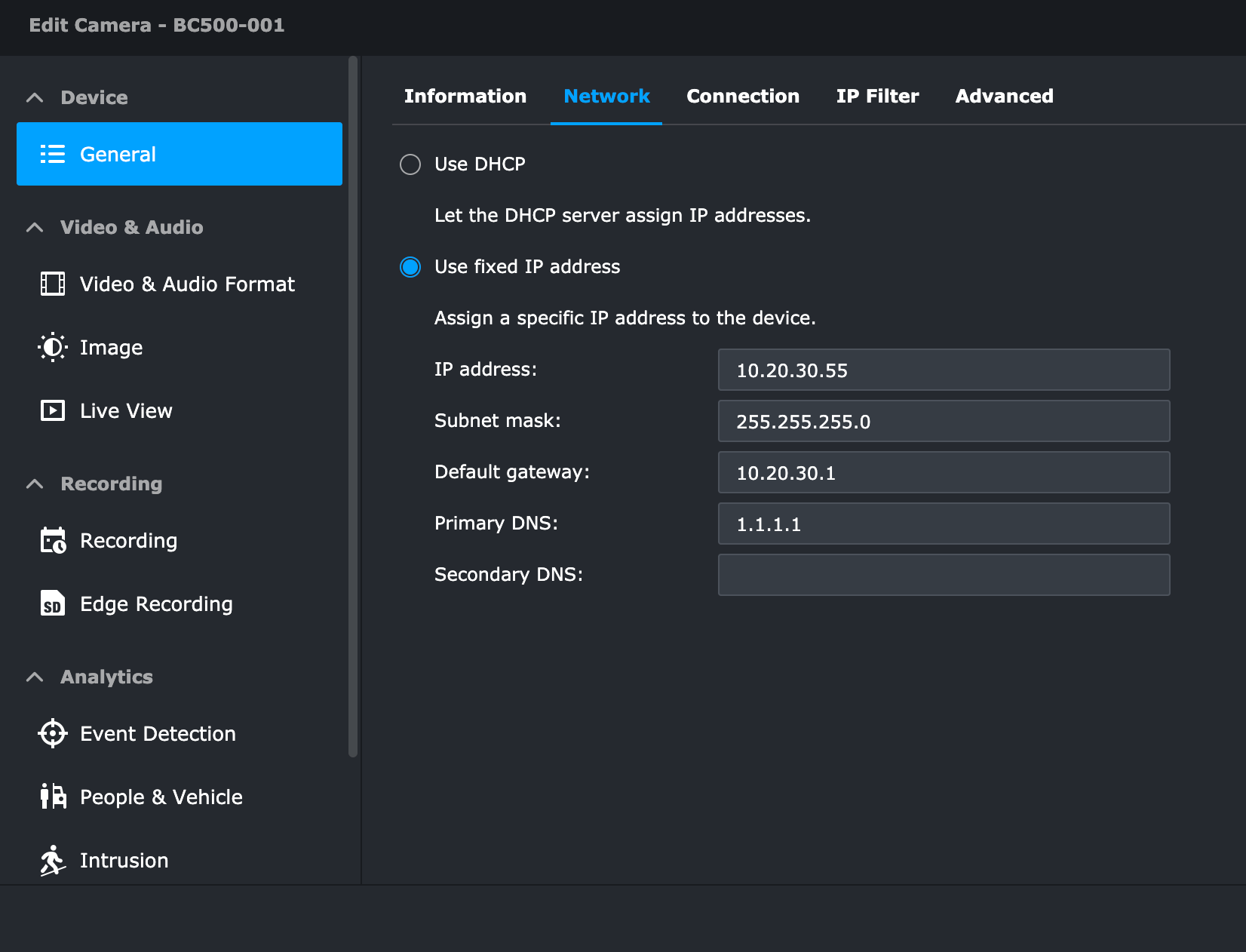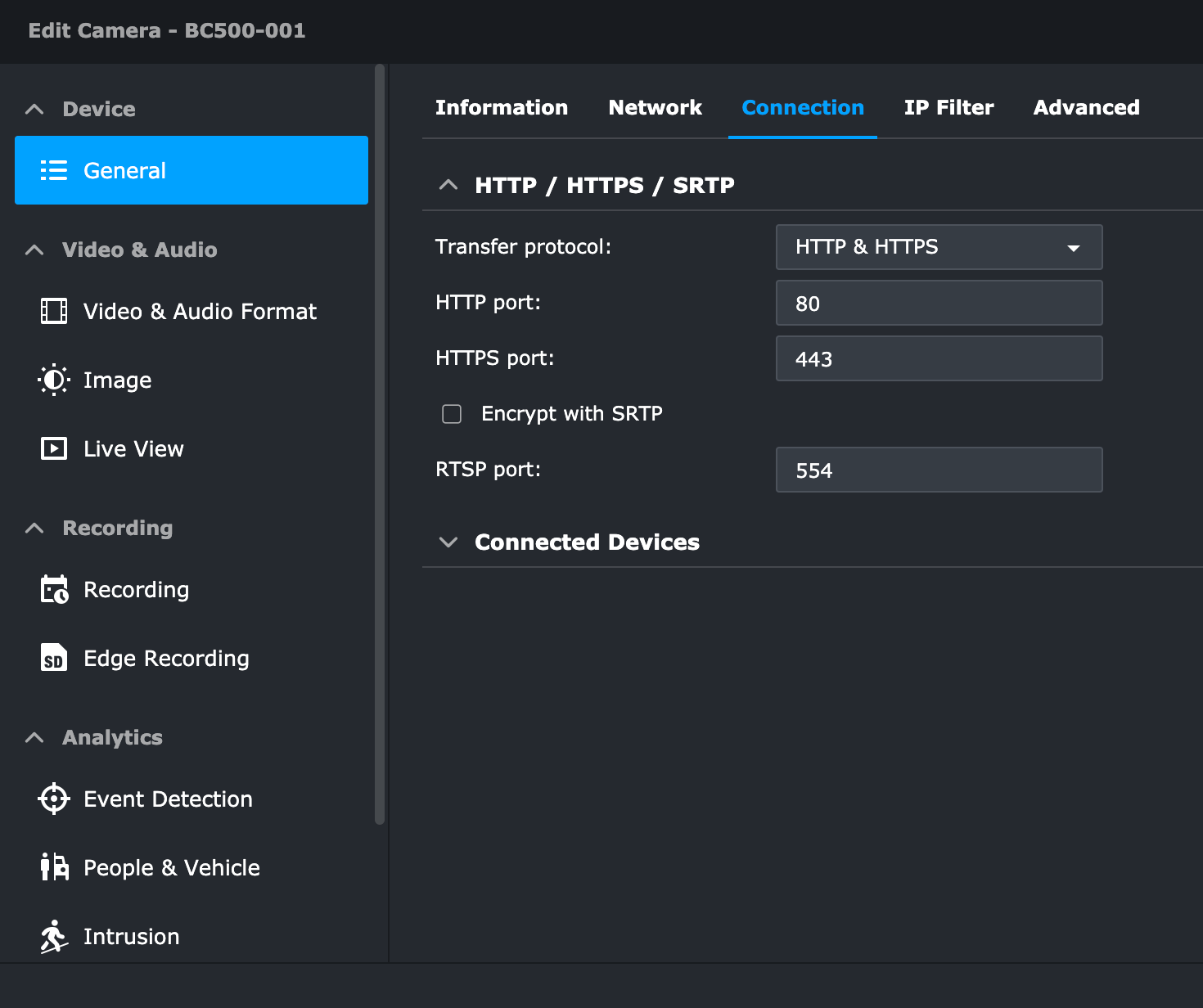 As with any other camera, BC or TC500 can be configured in terms of video and audio format as well as image quality and live stream settings. One option that can come in handy with these models and their settings is exposure control. Meaning that if the cameras are under LED-powered illumination, we can control the setting to avoid flickering of the stream and recordings due to LED.
Without going into each setting and section, it is clear that these models in combination with Surveillance Station 9 offer a lot of options that some might not need even, but it is good to know that they are there.
:: Features
Certain elements among these options are not standard to all models and brands, but in the case of these new cameras, there are a few specific features that they do offer.
First is the usage of before mentioned SD card slot that both cameras support. With up to 128GB of storage, the edge recording feature is here to assist when and if cameras lose connectivity with SVS.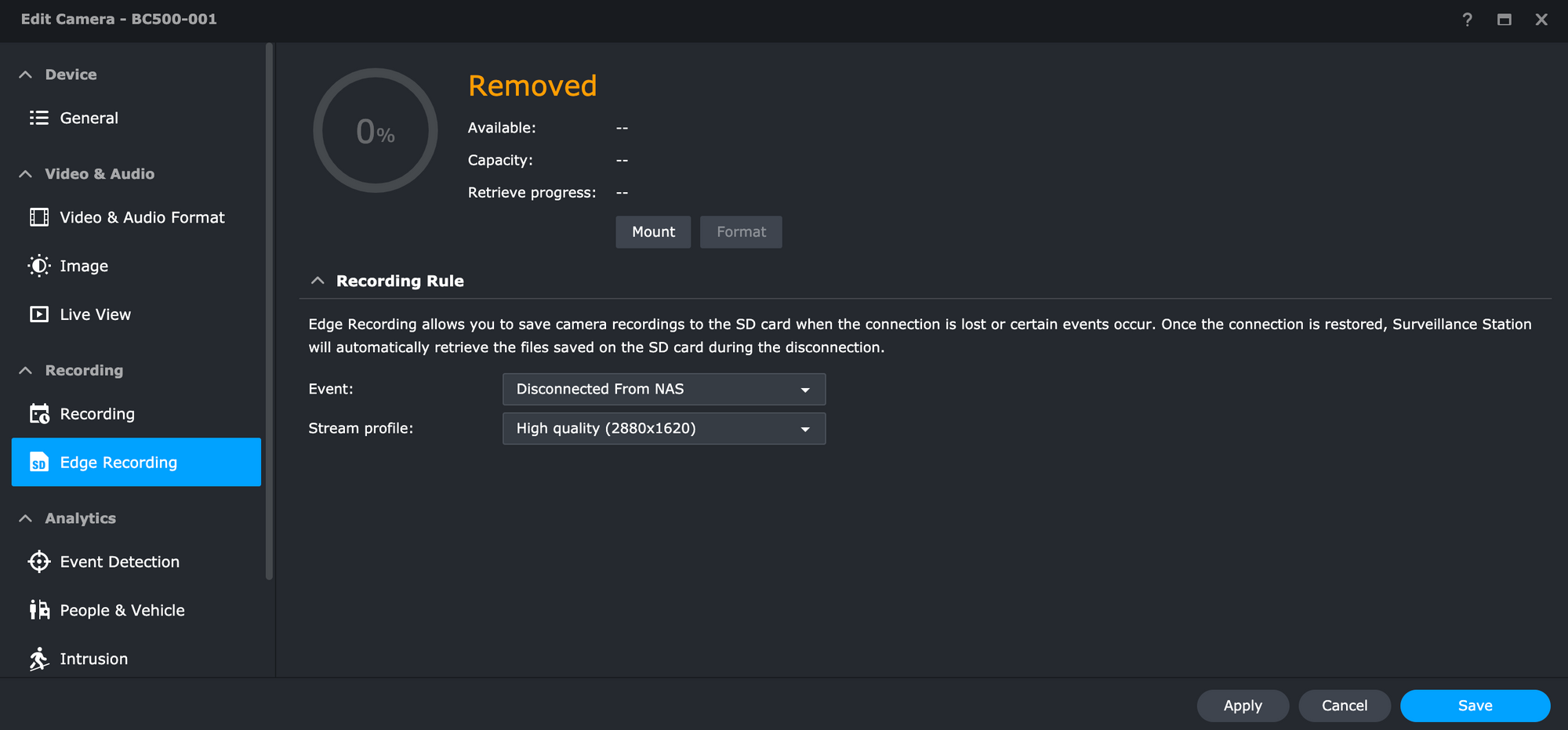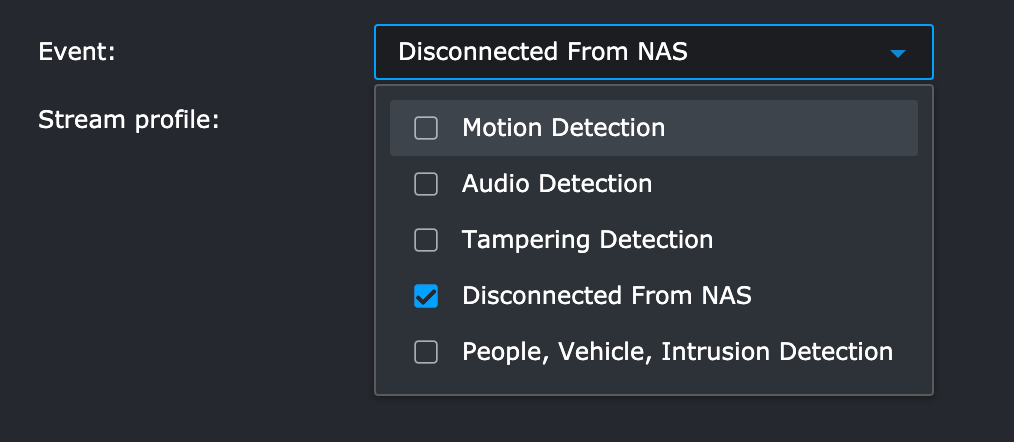 While the default setting for failover recording is an interrupted connection with the SVS platform, there are also options that can be configured for specific events when we want data to be recorded on the SD card and not the NAS itself. Some examples are, motion or audio detection as well as people, vehicles, or intrusion detection events.
Speaking of those types of detections, be sure to configure the cameras for those specific cases if a continuous recording is not already in effect. What this means is that by configuring the camera to record motion events or event detection, then we need to further configure the settings unless we want a single 1sec record each time a leaf moves or a bird flies in the corner of the lens.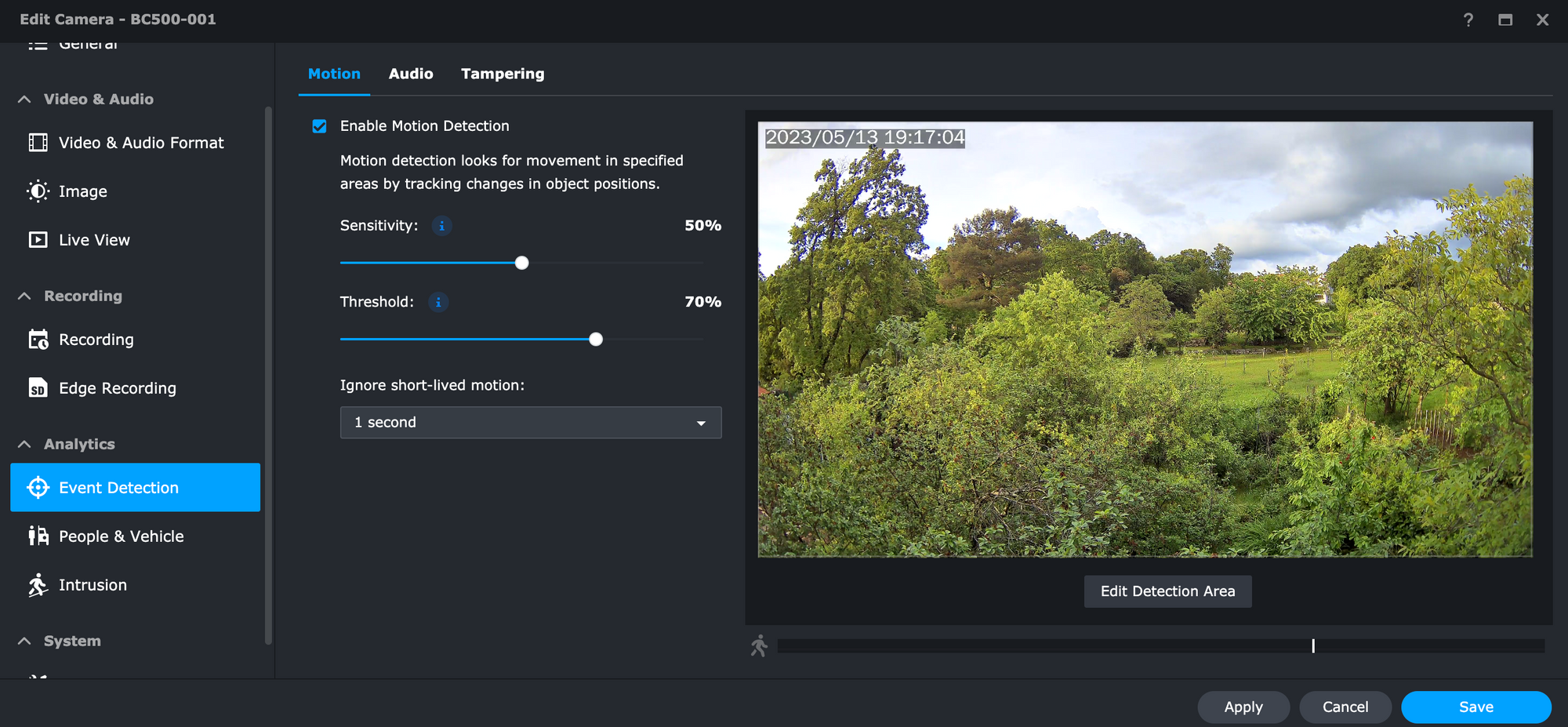 Event detection settings are standard to the SVS platform and can be configured for any camera, but considering these cameras are very sharp and fast, tweaking the sensitivity and threshold settings will be essential to minimize those false-positive motion recordings.
One final detection category worth mentioning is tampering.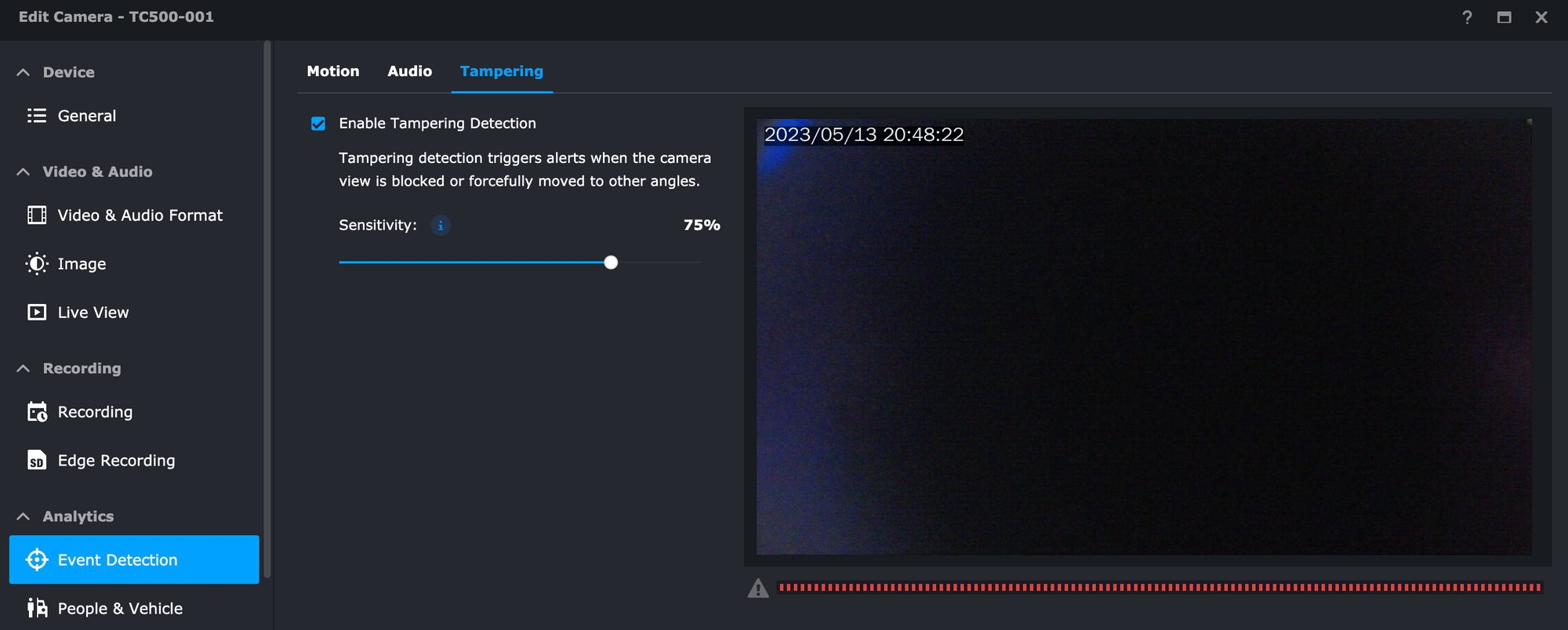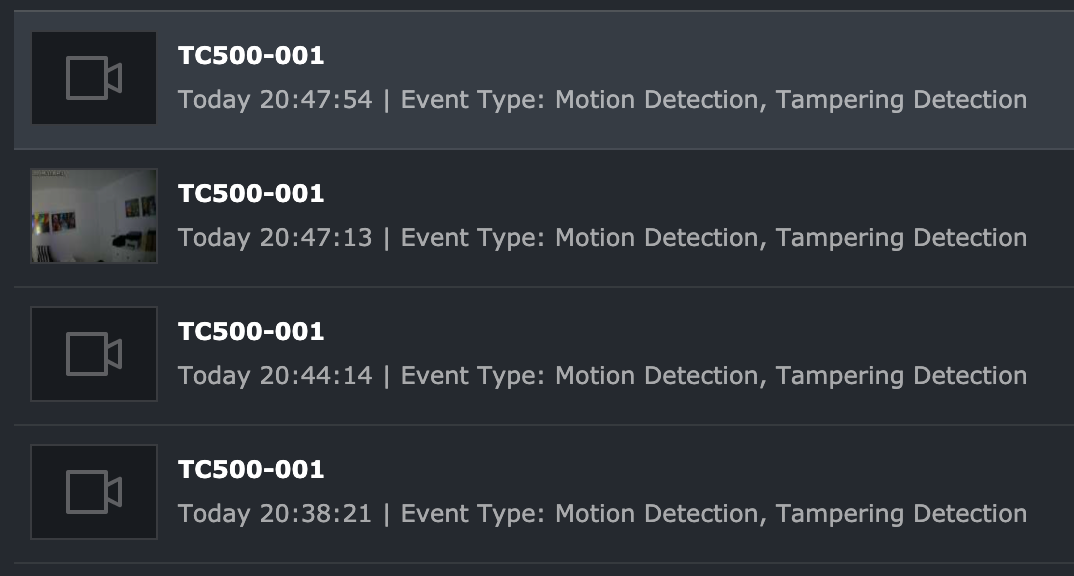 The red sensitivity bar on the bottom of the tampering settings will allow the user to configure the sensitivity to avoid false-positive tampering settings and record only those that really qualify as such.
Both TC500 and BC500 models have certain AI capabilities that are about halfway from a full-blow feature set that the Synology DVA models offer (DVA1622 or DVA3221). While face and license plate recognition is not supported without the help of before mentioned DVA devices, people and vehicles, as well as intrusion detection, are.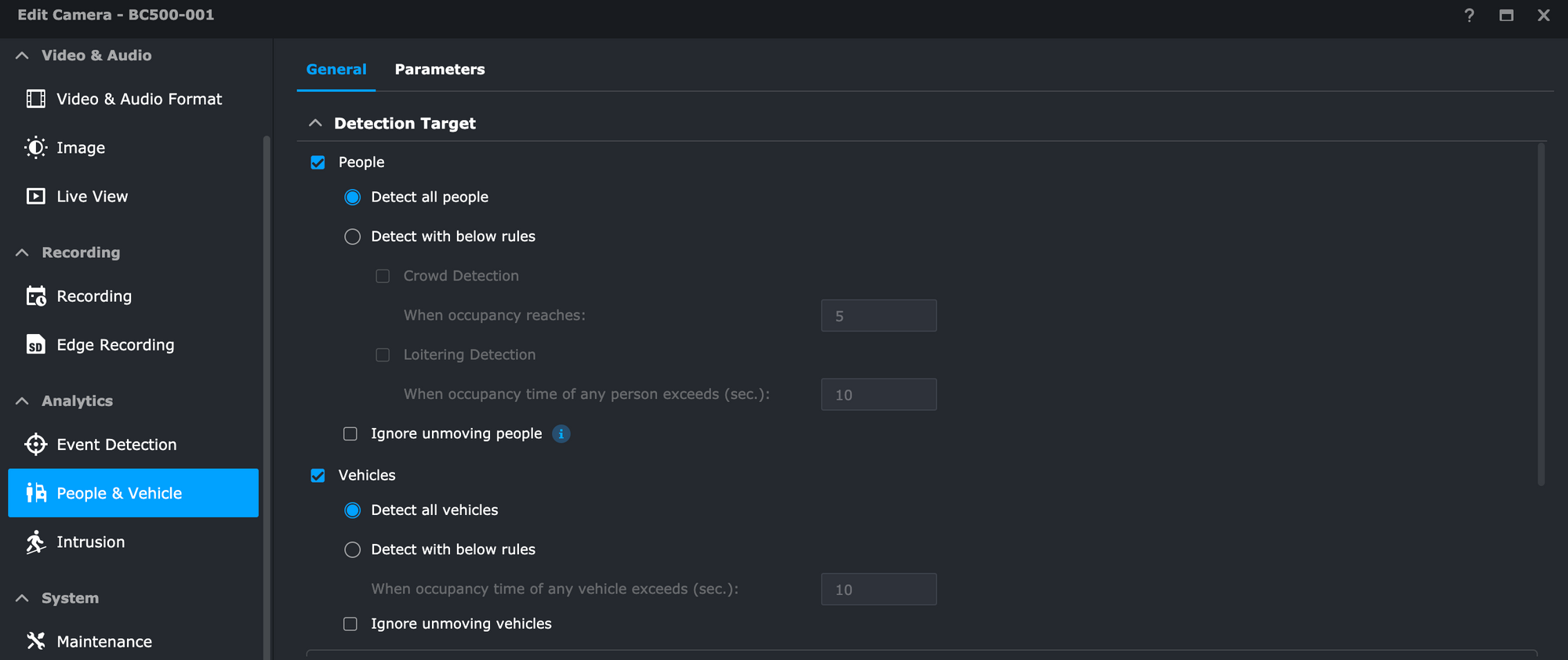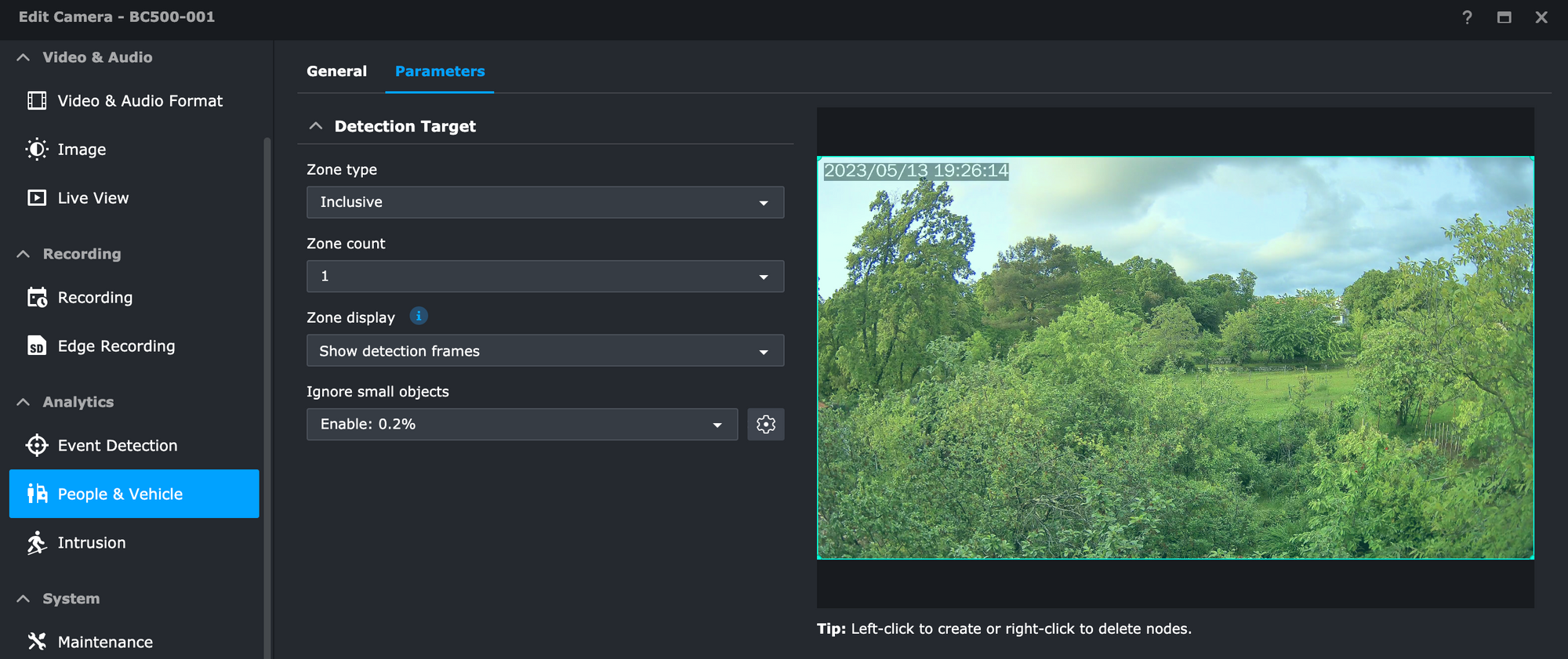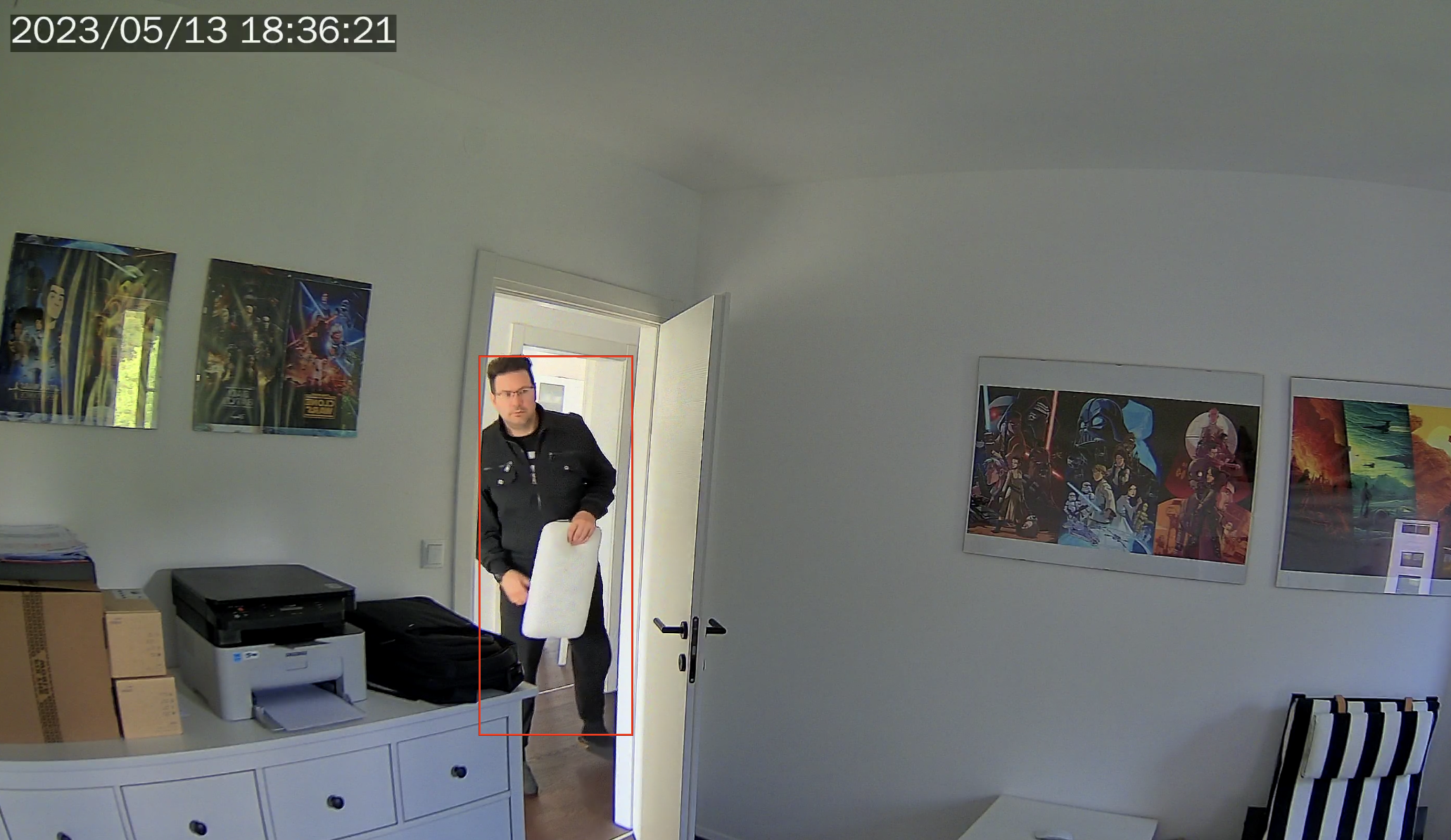 These on-device options will allow for some advanced features and detections that some other 3rd party cameras do not offer at all. In the case of detecting a person or a child, even with night vision on, these cameras are very fast in detecting and that includes a child sitting 10m across in another room hidden behind a chair for the most part.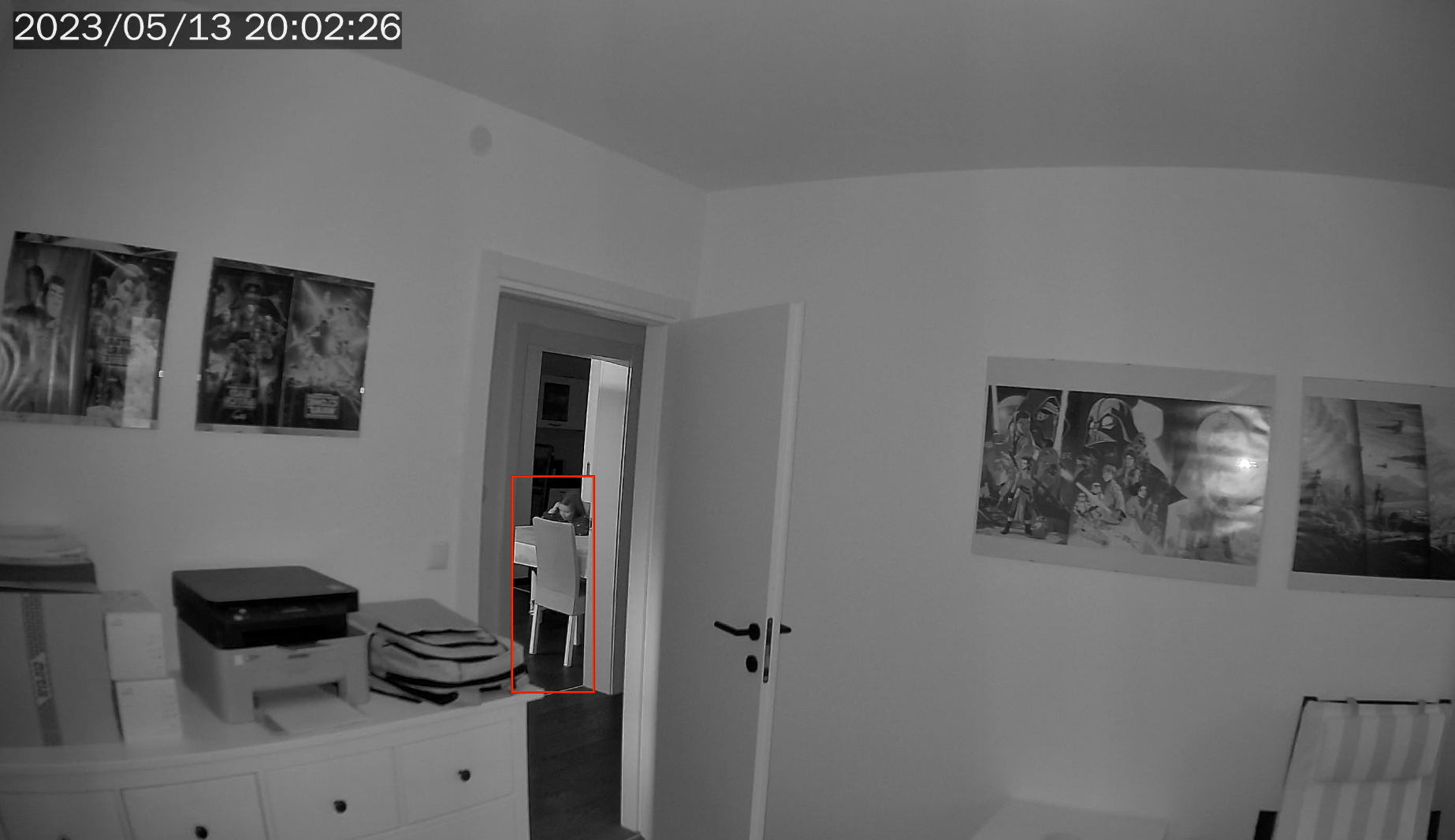 Intrusion settings are also possible with these cameras and can be set up for each camera individually. The way it works is that we can draw a path that will trigger the alarm or a push notification when someone crosses it. Be it a one-way, or a two-way direction detection.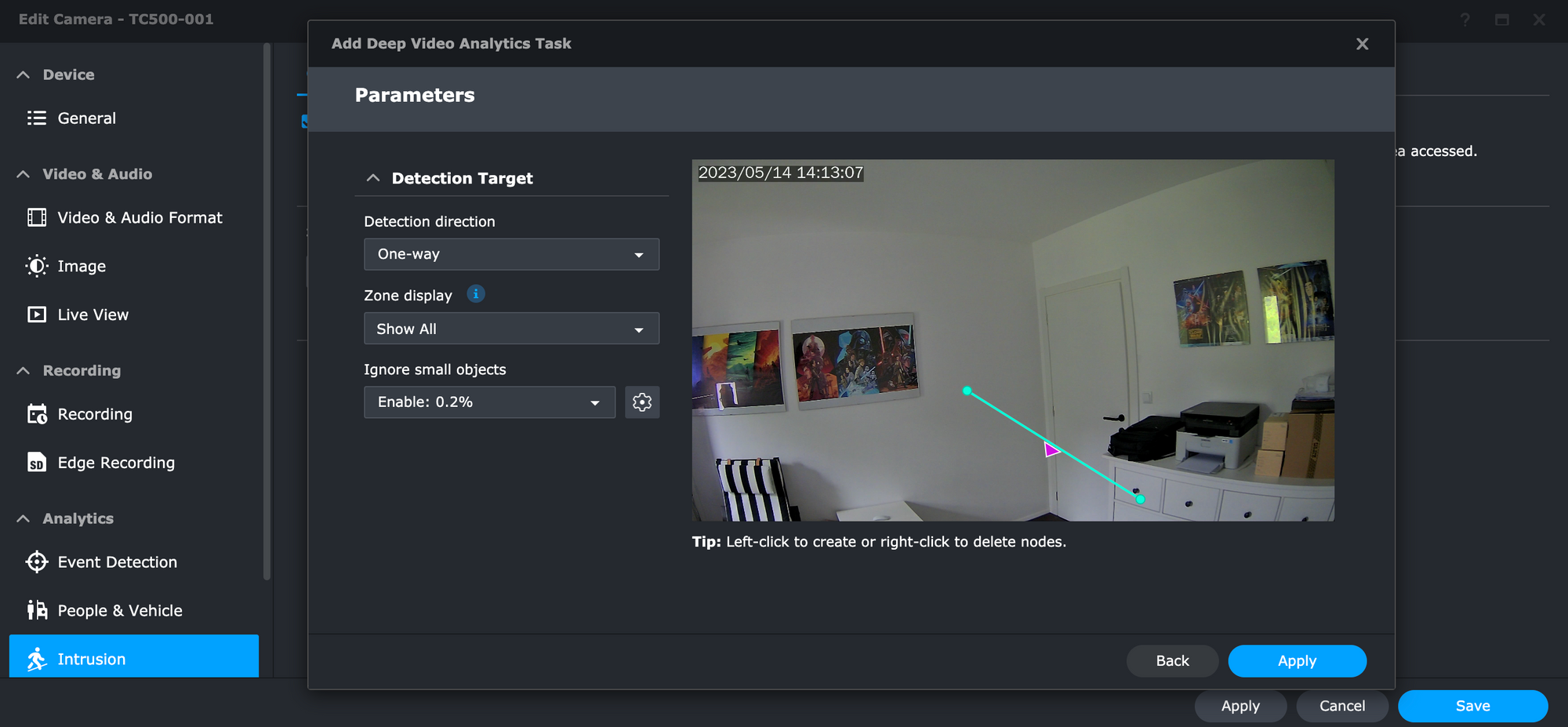 This is useful for larger areas that have a protected zone that is off-limits or any other variation of it.
That's it in terms of specifics for these cameras. As it was already mentioned before, without a compatible DVA device, face and plate detection is not possible. This also means that searching the existing recordings it will not be possible to use a people database as well as a license plate one, to quickly filter and search specific records involving a person. However, the instant search feature will allow for a fast people, vehicle, or motion result list inside the Monitor Center. With this tool, it will be possible to quickly locate "action" for any specific zone that the camera is recording.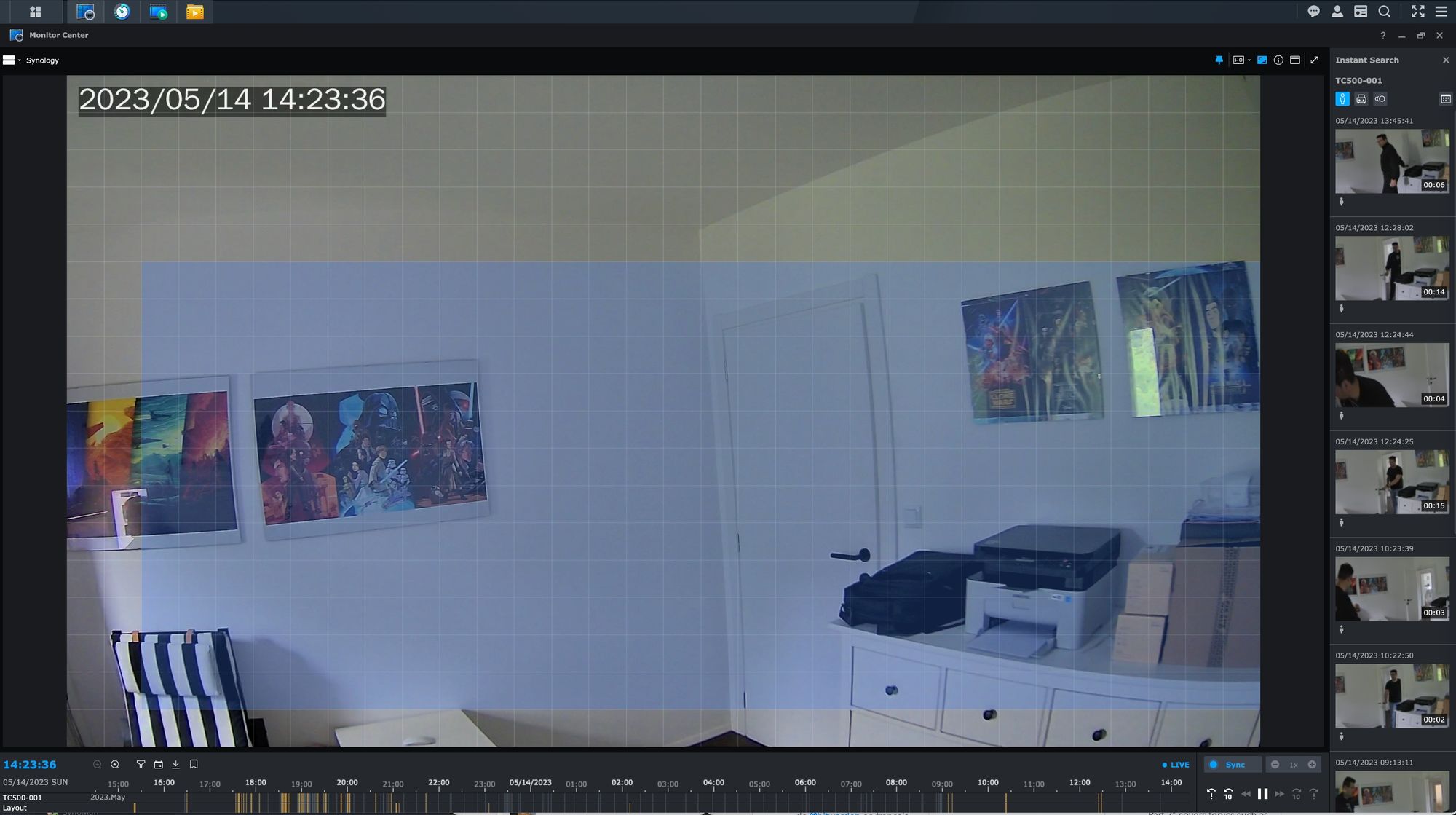 With the default max resolution of 2880 x 1620 at 30 fps the file size will be about 1,25MB/min, so be sure to have enough storage depending on how often the recordings are being triggered. Time-lapse test video confirms this with the default settings at max quality 1min of video records 4 hours of real-time and comes to 300MB of the total size. So a full-day length video will be 6 min long and 1.8GB in size.
All in all, so far the quality of the images and video are very good both indoors and outdoors including night vision. Cameras are working over the PoE NETGEAR GS308P switch but were also tested using the Unifi Dream Machine SE router with no issues in both cases. There were no detected interrupts, image issues, or, disconnects of any kind.
One final feature that comes out of the box when combined with Surveillance Station 9 is the firmware update. As part of the camera maintenance options, the firmware update tab will provide an up to date settings (both manual and automatic), similar to the DSM updates.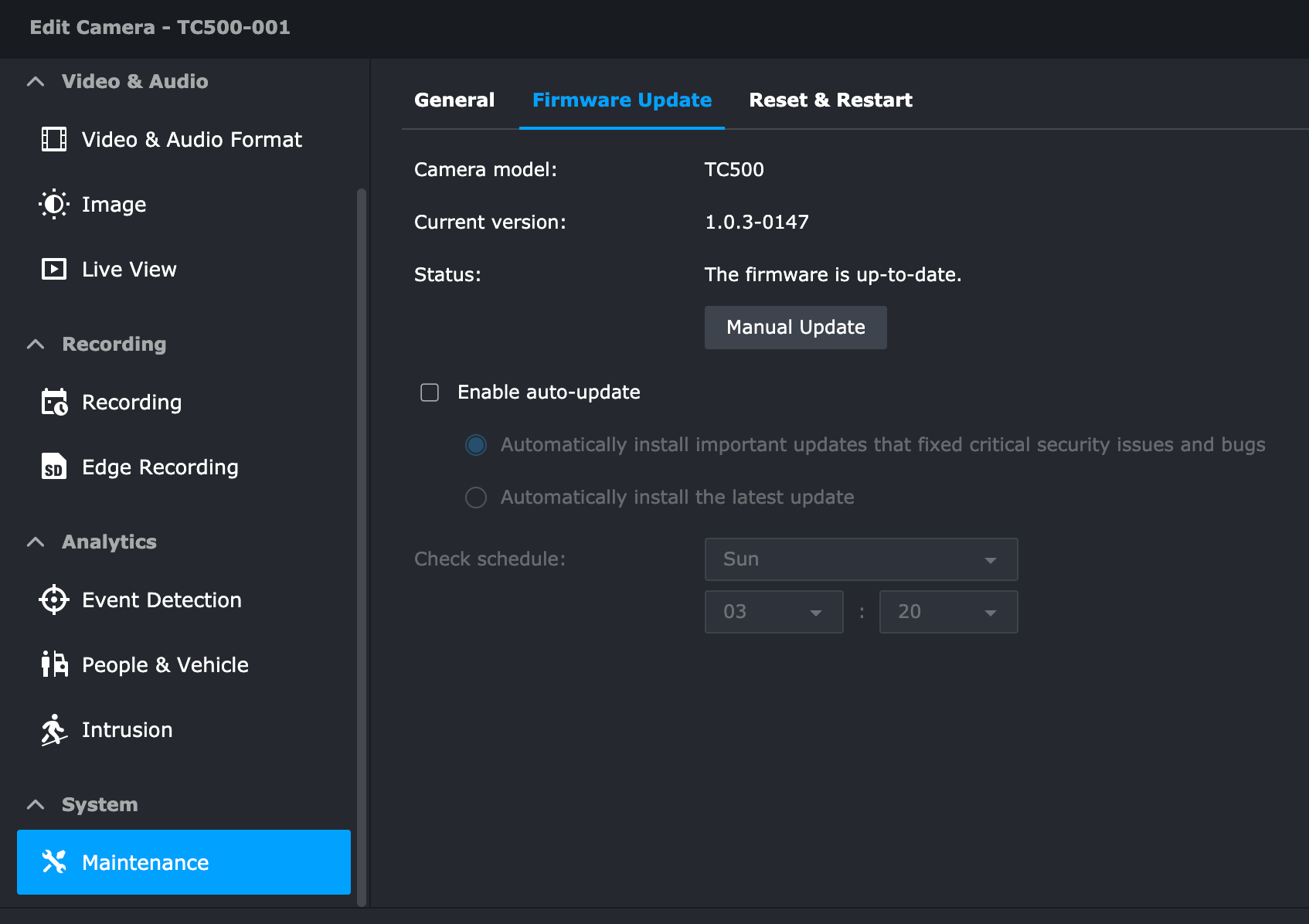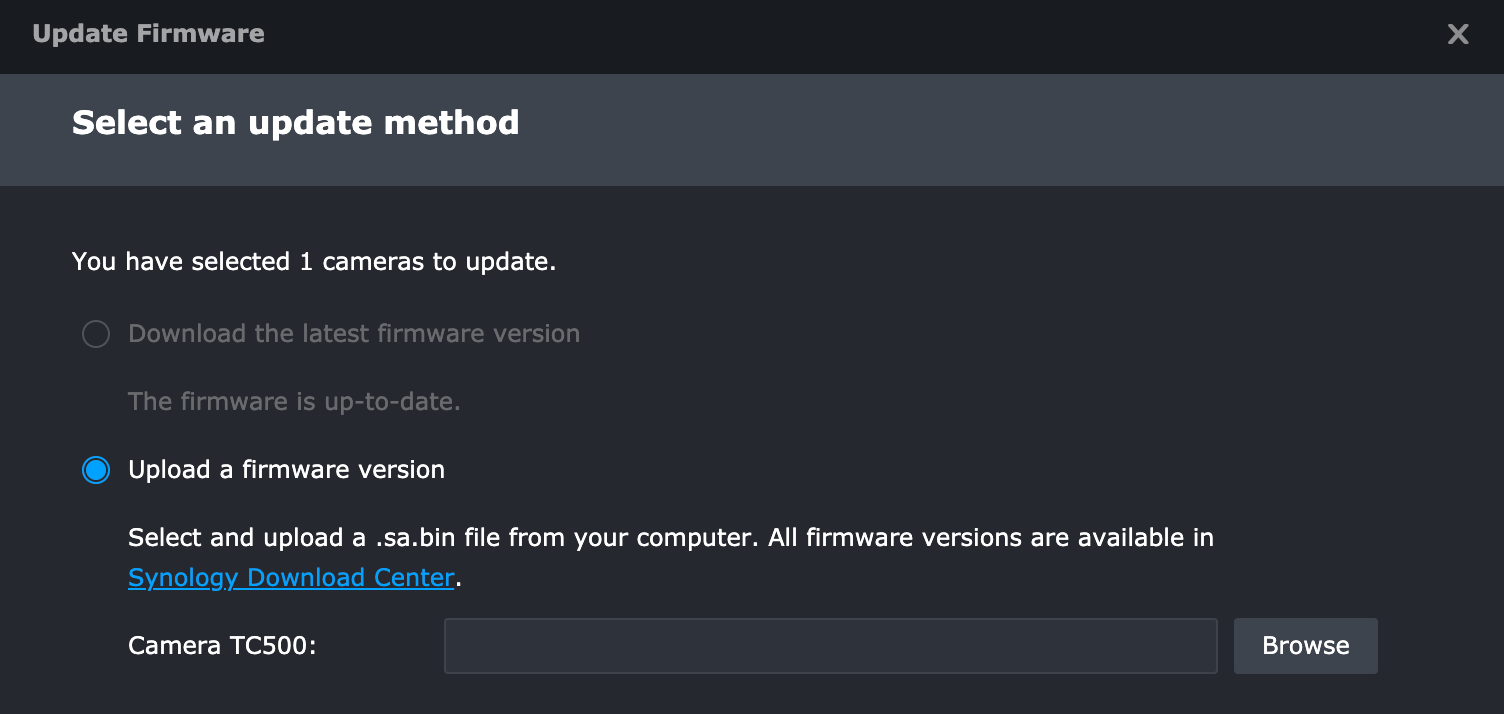 Now, in May of 2023, the current version was 1.0.3-0147 and no new version was available at the time of testing.
:: Tests
Over the past few days, tests have been done on both cameras. One was indoor and one was outdoor in two locations. The idea was to see how the cameras work under low light with night vision on, as well as during the day.
While the indoor one was very good at people detection even in a very narrow space and short amount of time, so was the outdoor one that was testing and recording ongoing traffic, and people.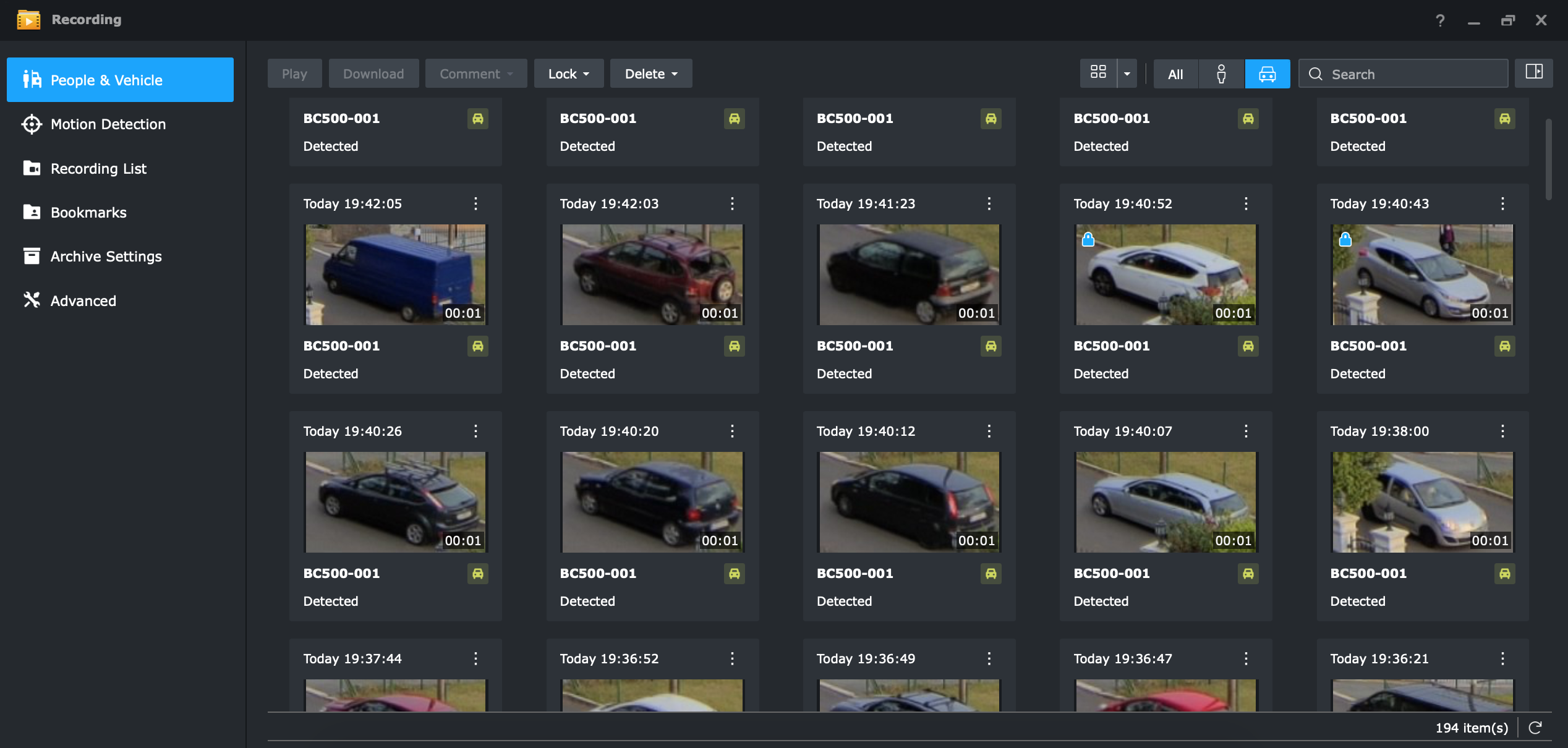 The outdoor model was placed at an elevated position of about 12 meters from the ground and about 20 meters from the road/main gate. With an average speed of about 30-40km/h, the camera was able to capture every single passing car and person walking in a very narrow space (the width of the gate) as it is shown in the video below.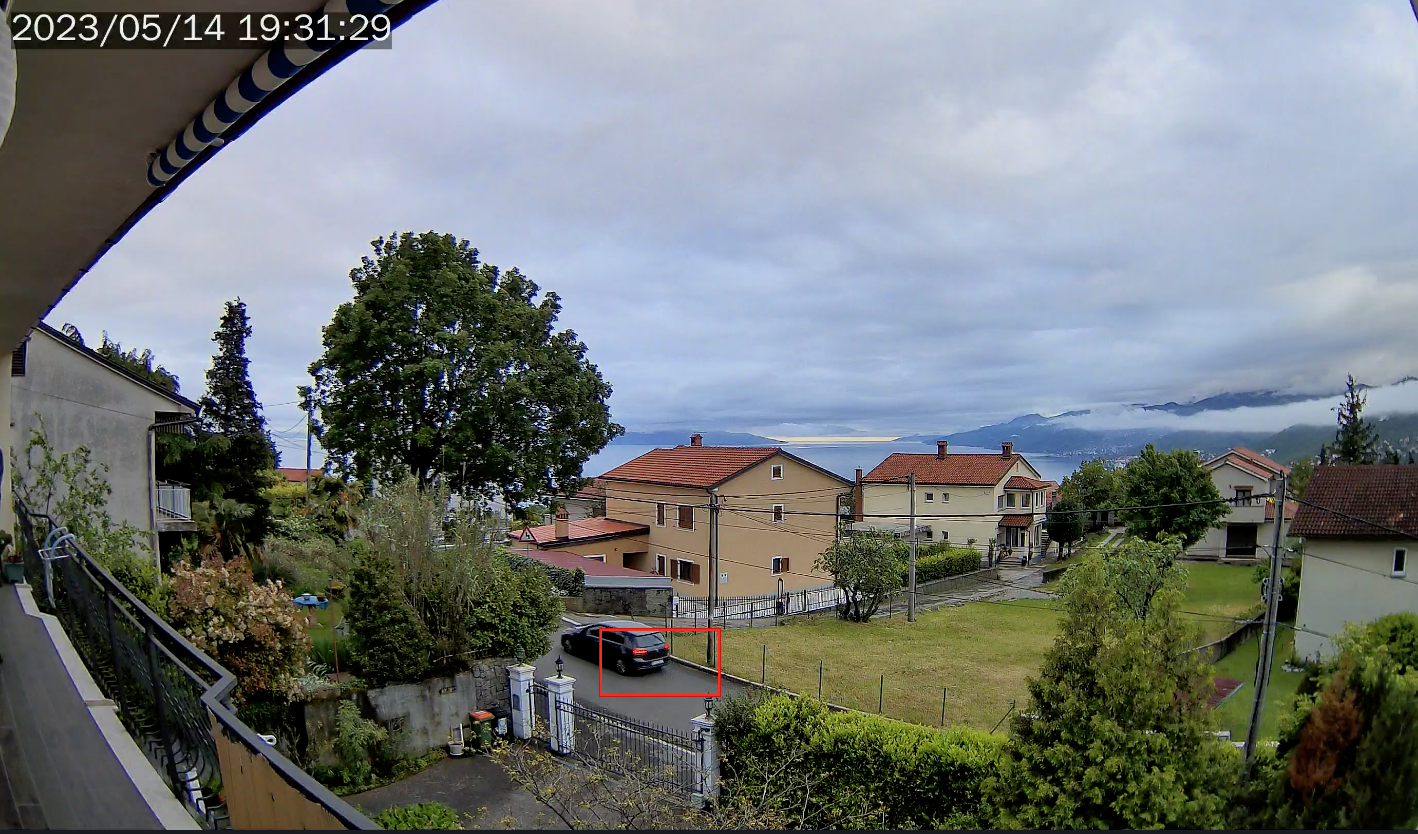 Night vision of the same spot was picking up people walking up to the gates as well with no issues at all. In the following clip, while obviously, it is a woman in question, the distance was simply too great for a positive ID, still, all considering the detection was made.
During the day, recordings are also very clear, colors are vivid and sharp even on default settings. So overall picture quality is very crisp and reviewing the footage on a big screen (27" or larger) will reveal a lot of details.
It is a bit unfortunate that I was not able to test the deep analytics features (face and plate recognition) with these cameras but I didn't have any DVA model on hand. Considering how well the results were with inferior cameras last time, I can only imagine how well the results would be with these ones in the right conditions.
The TC500 was an indoor test camera and it also worked really well. During any time of the day, with nigh-vision on, it performed as expected.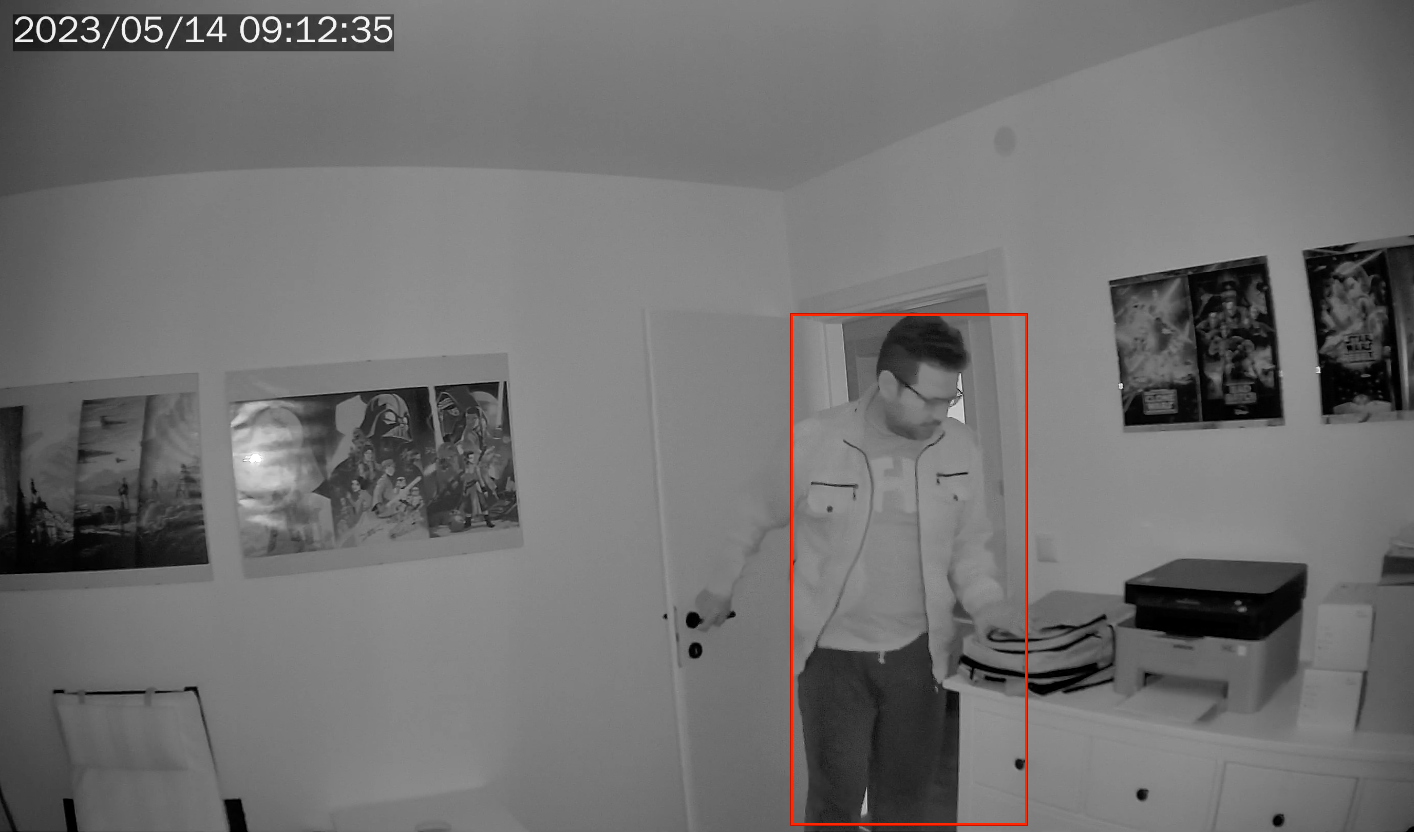 On default settings, the camera is able to capture and detect people with no issues at all. Here are a few more examples of video quality coming from the TC500 model.
The audio from both models is decent, as much as it can be expected. The conversation will be detected, and the camera did react and record clips based on sound detection. As can be heard in some of the above clips (indoor and outdoor), both BC500 and TC500 are able to detect audio from a great distance. My neighbor's dog is about 40 meters away and it still sounded like it was coming from my front yard.
:: Conclusion
Well, I can say that personally I wasn't hyped about these devices but during the 2023 and Beyond event, when Synology first introduced them, I have to say I was curious. The main thing to take away from all this is that both models are identical in performance and build quality. They also come with no license requirements for Surveillance Station, and obviously are designed to best work with said platform.
If you ever had a Synology NAS experience before, and setting up its DSM operating system, then you know how it feels to set up these cameras inside SVS. Thanks to the batch option of setting up multiple devices at the same time using the same profile and settings, we can be up and running in minutes. The turn-key solution that cameras along with SVS provide will be appealing to many looking for a working, solid, and stable surveillance solution.
The price on these will be about 200€ (plus tax), and while not targeted to compete with some high-end PTZ models with some serious optics and features, the TC500 and BC500 at this price point will deliver a very quality build product compatible with a recognized surveillance platform.
For those of you who are in the market for some deep AI features (like face detection), Synology's DVA lineup has several models to offer. Combined with these PoE cameras you will be on your way to having more than a decent surveillance platform for that well-deserved peace of mind.