It's October, and that means it's "Cybersecurity Awareness Month"! As always, this is the time to reflect on what we can all do to increase security and overall safety while using various public and self-hosted services.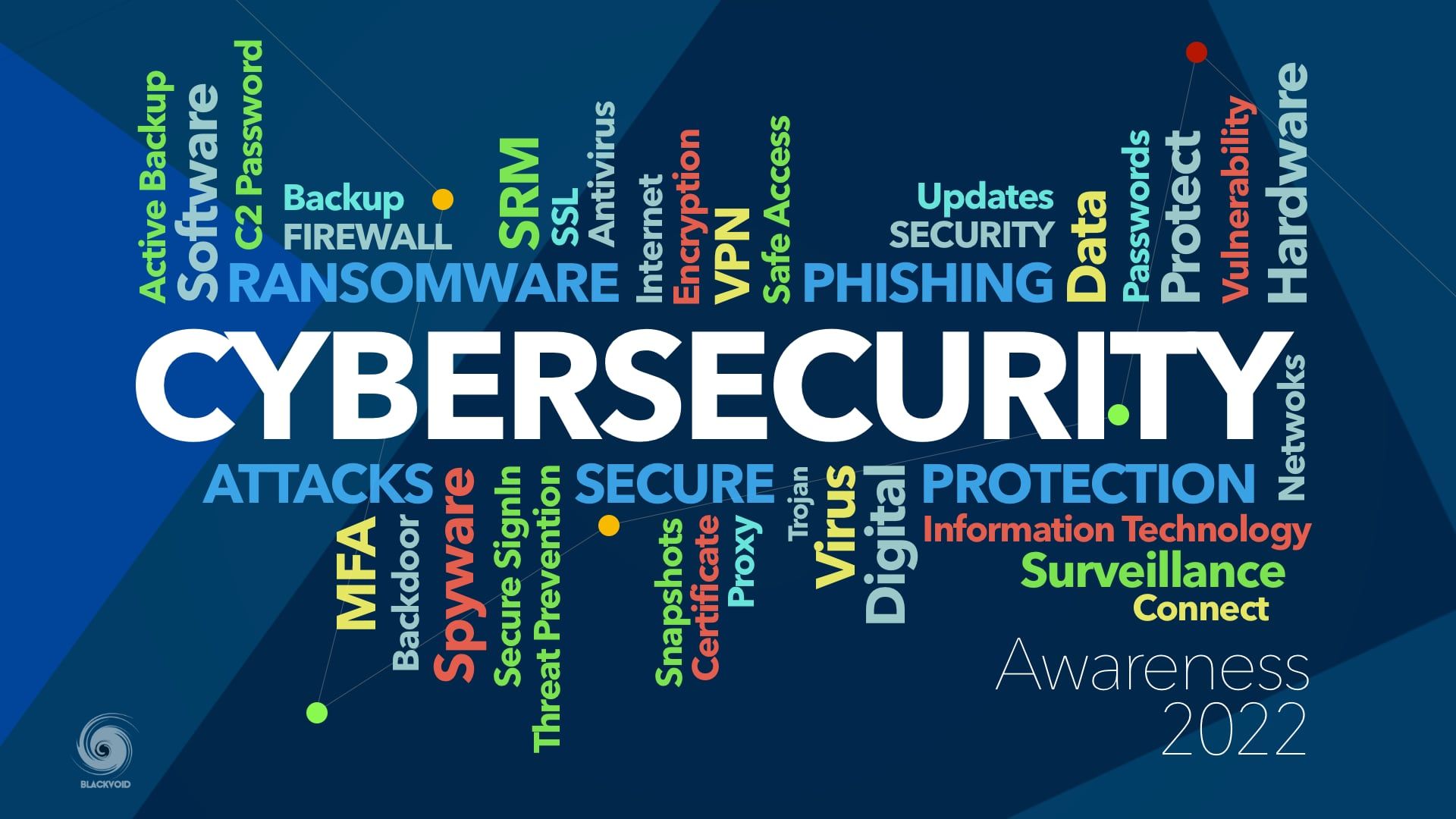 Last year I wrote a bit of a lengthy article covering various Synology products, apps, and services that all focus on increasing cybersecurity for an individual or businesses. Without repeating all of that, be sure to read up on the Awareness 2022 article in the link above.
In this article, the primary focus will be on Synology products and the advancements made in 2023 concerning security. Additionally, we will explore the practical benefits of incorporating these features and products into our daily routines.
: New DSM 7.2
To begin with, let's focus on the main element of Synology products, their NAS operating system, the DSM. During the last several years DSM has evolved quite a bit, and in its latest version 7, learned a few new tricks.
However, it was not until June of 2023, that version 7.2 of the DSM OS brought us some new, and much-wanted/needed, features.
:: W.O.R.M.
The most obvious one is the new W.O.R.M. feature. Protecting shared folders with WriteOnce, which adopts WORM (Write Once, Read Many) technology allows us to avoid unauthorized changes to data. WriteOnce provides Enterprise mode
and Compliance mode to best fit our needs.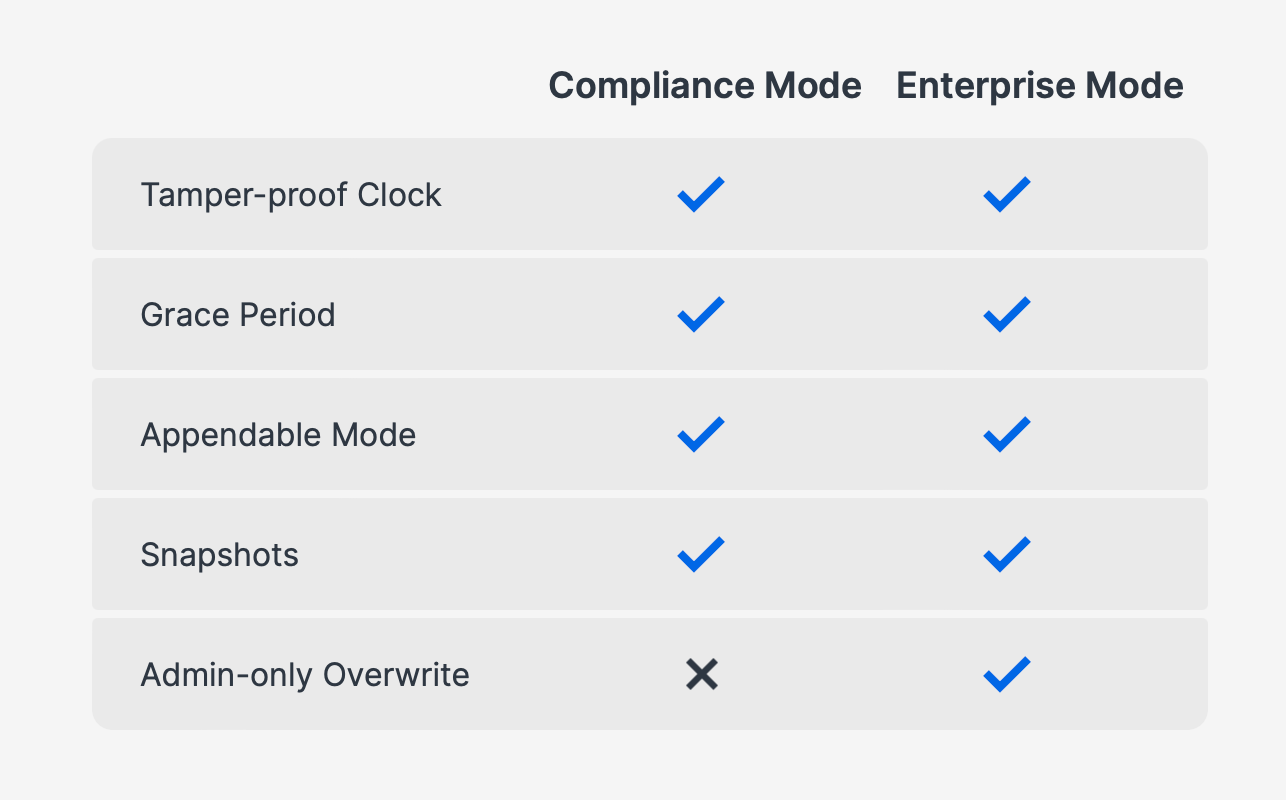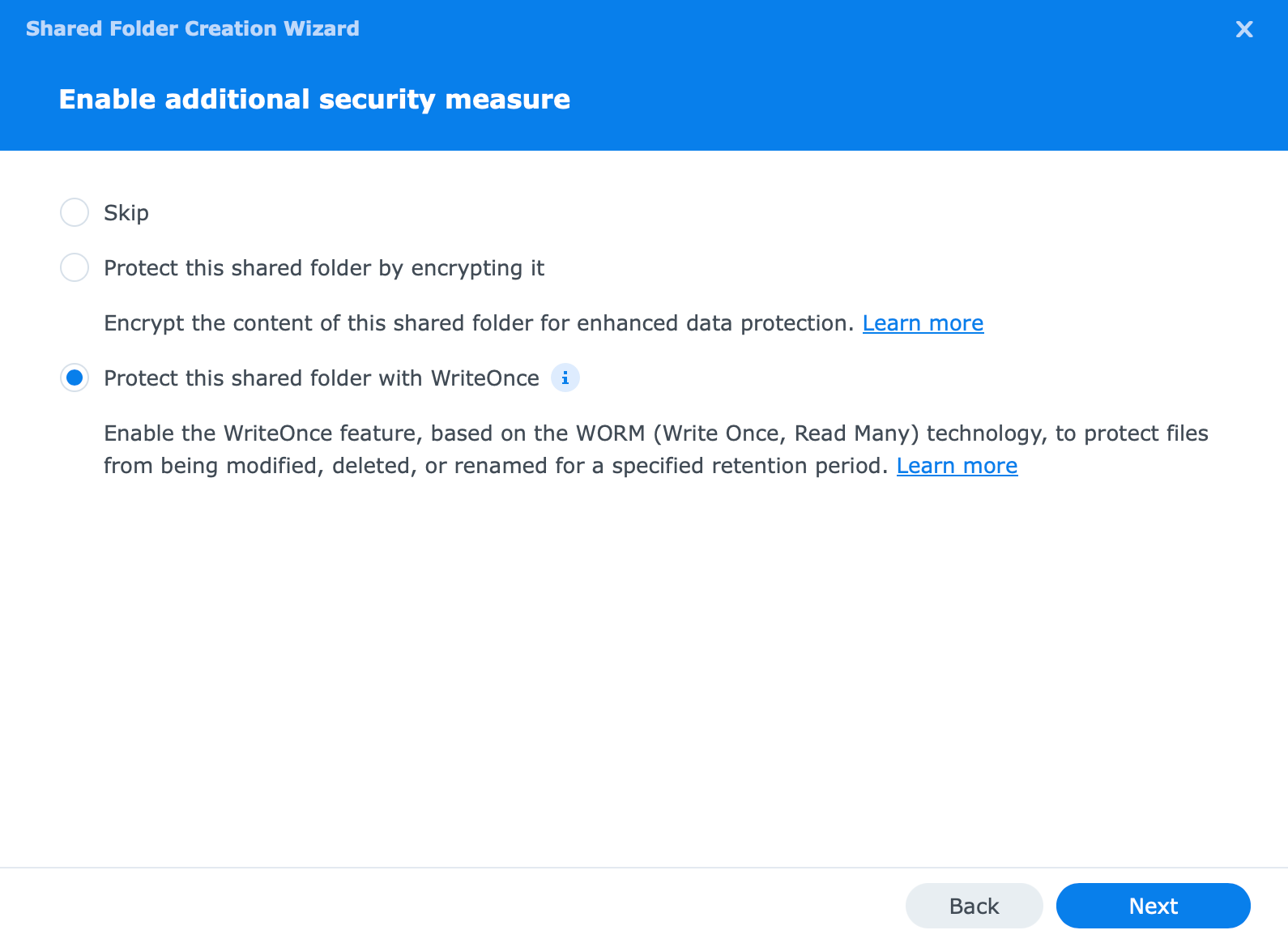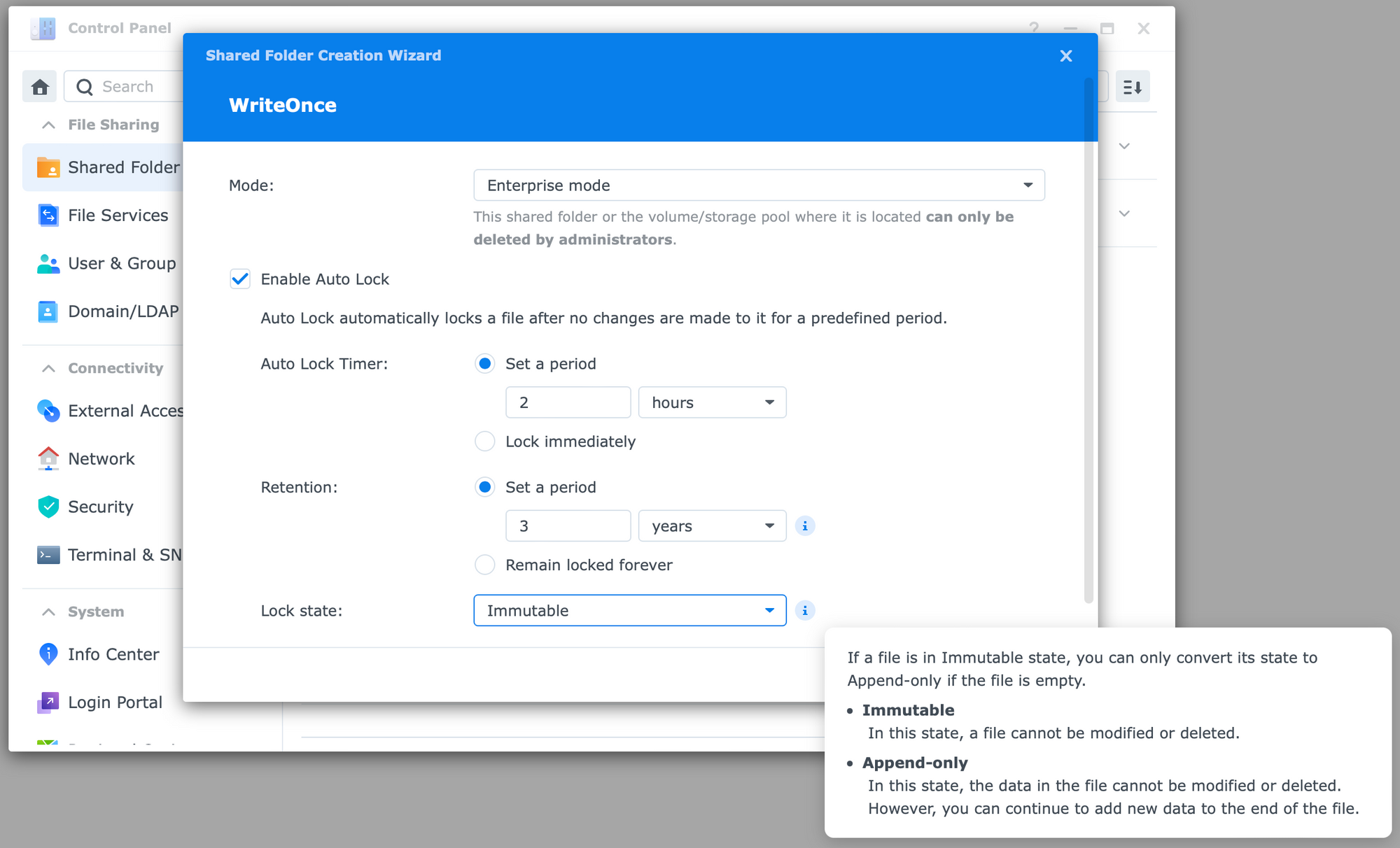 Not every folder will be a candidate for WORM, but it is nice to have this option be it as a protection against ransomware or simple user mistakes on files that should not be altered once created.
:: Volume encryption
While WORM has its purpose, so does another requested feature, the volume encryption. Encryption up until DSM 7.2 was possible only on a folder-by-folder basis, but now we have the option to encrypt the whole volume during its creation.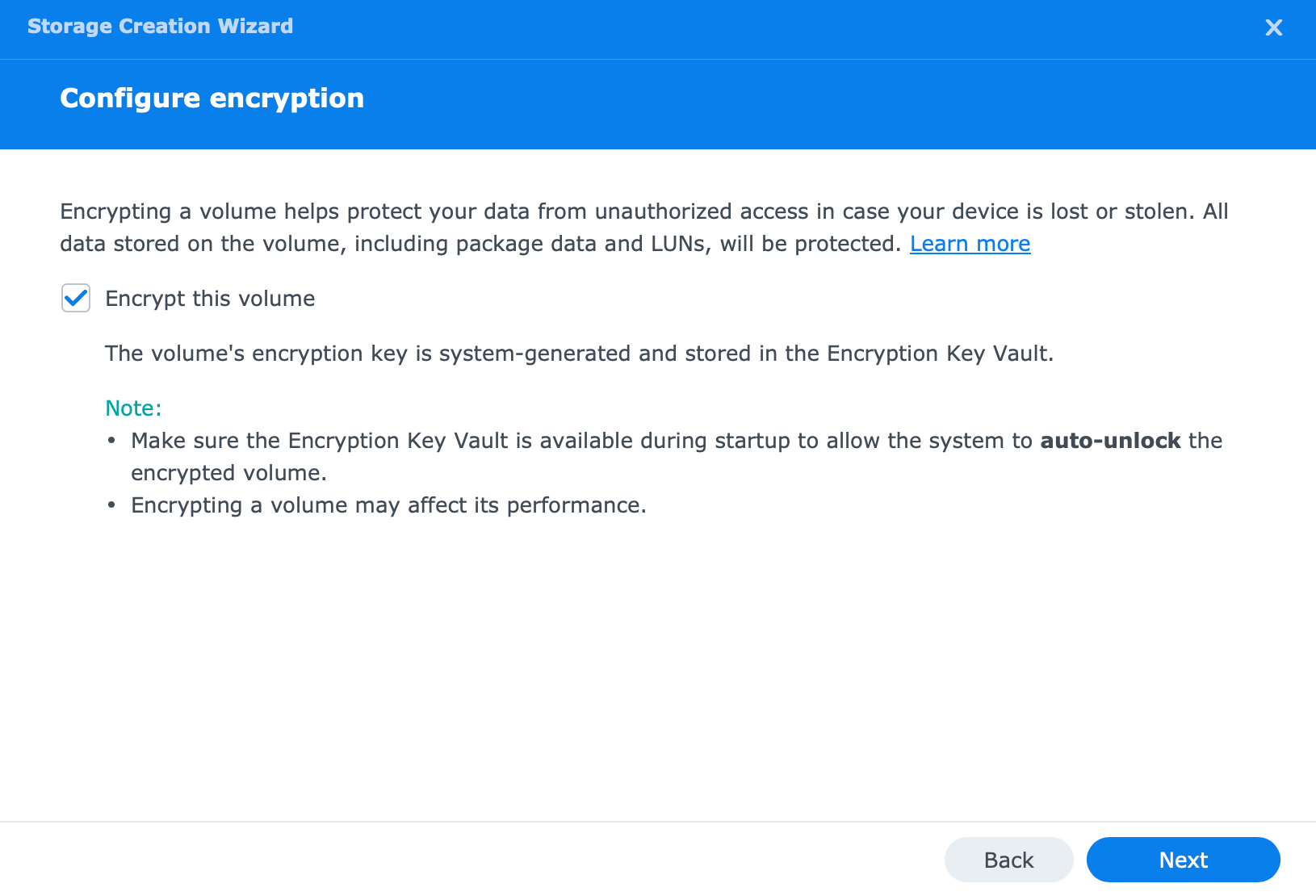 Applying the encryption will prevent any unauthorized access to the entire volume without a valid decryption key. While on the topic of the volume decryption key, DSM also now offers the option to save this key locally on the NAS or use KMIP settings and configure a remote NAS as the key management server.
This setup will certainly prevent any data risk in case the NAS is physically stolen, as it will not be able to mount the volume without a valid key on a remote NAS.
:: Immutable snapshots
Finally, the Snapshot Replication package has also got a new feature. While already a popular ransomware prevention tool, Snapshot can now implement a new immutable snapshot option to safely store immutable copies of your data. This will help to defend against compromised administrator credentials if there is an attempt to delete or alter the snapshots.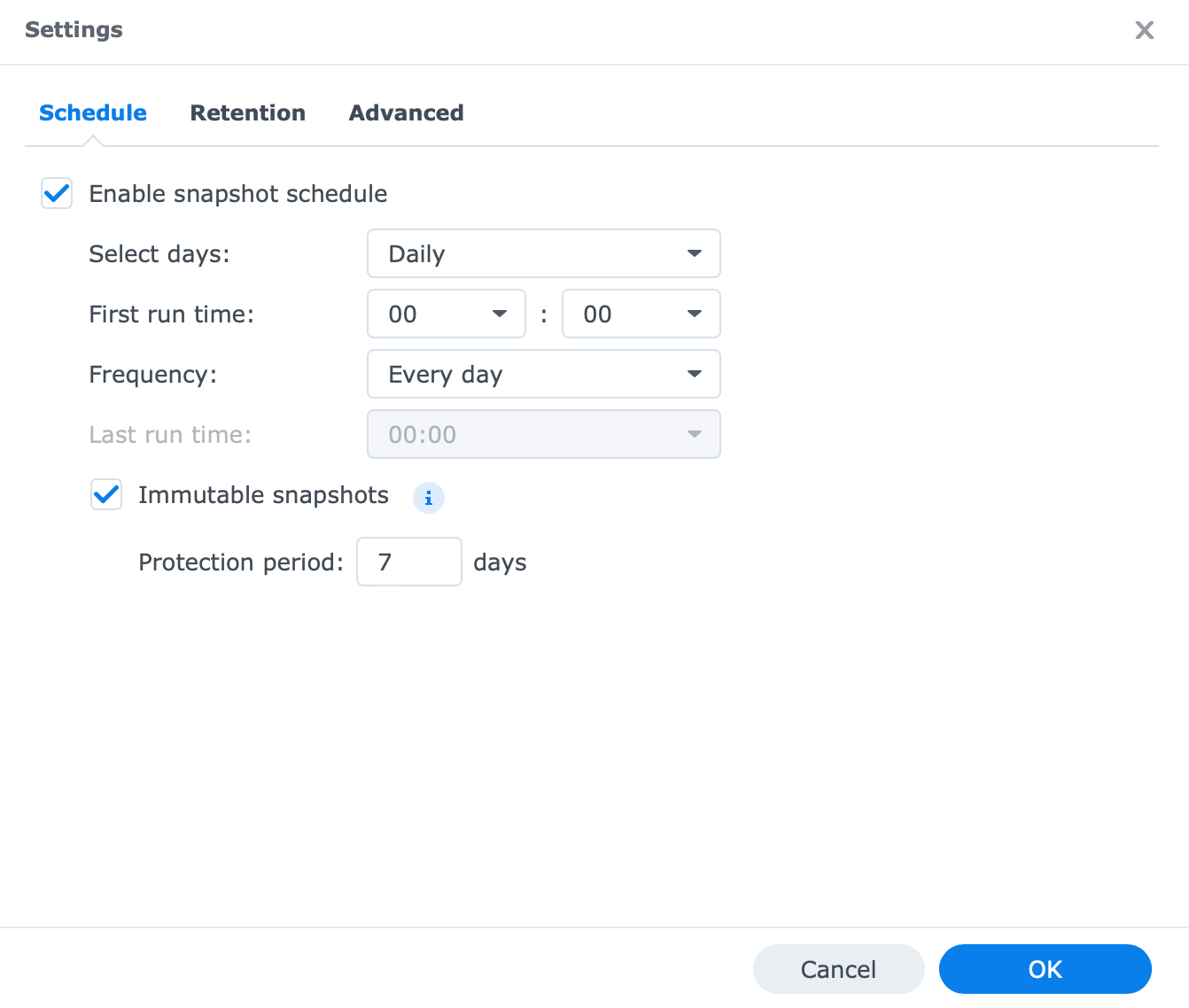 These are just some of the more popular and most visible security features that were introduced with the new DSM version, but there is much more coming with every new cumulative update to this current release.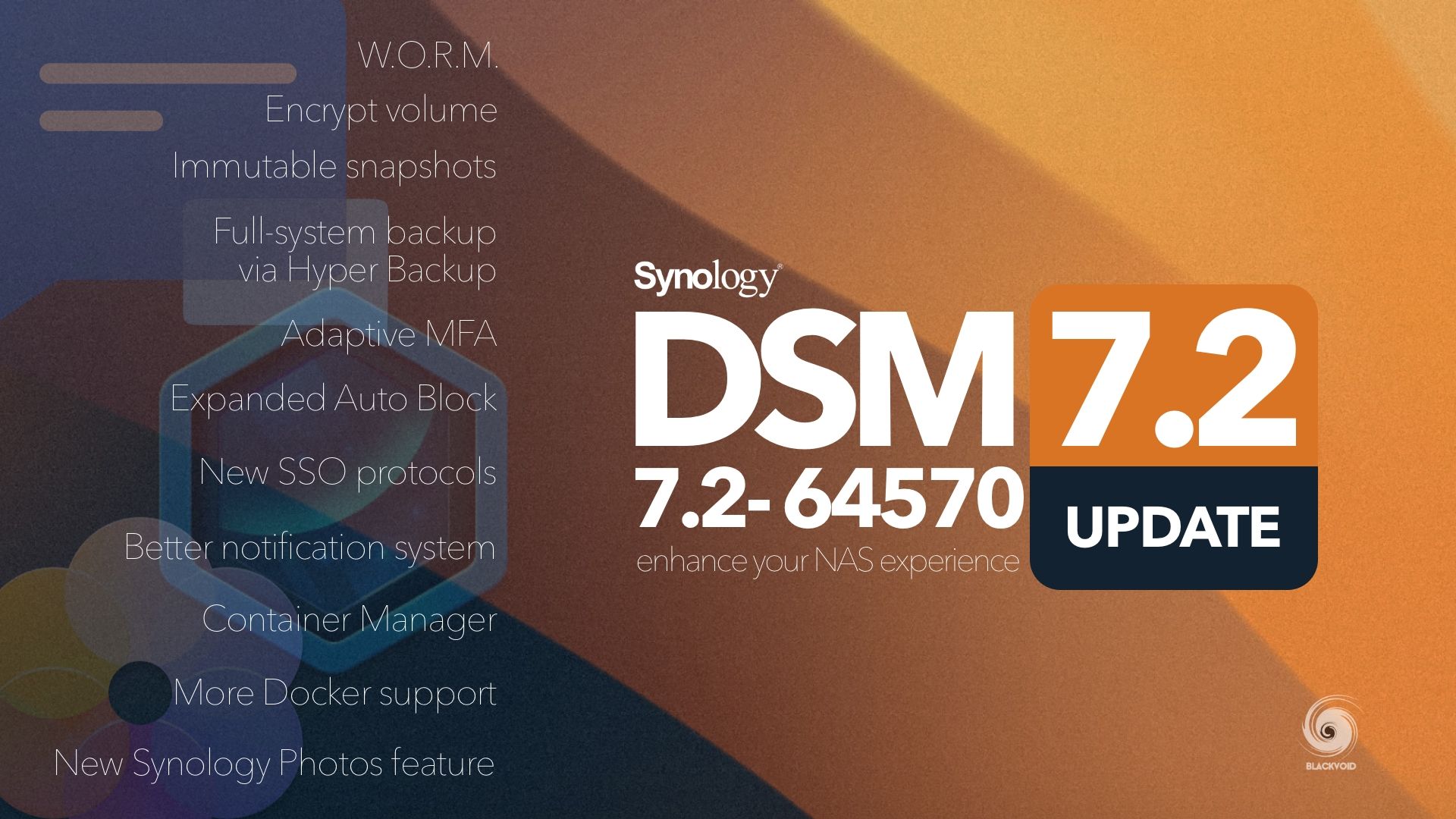 : Hyper Backup v4
Staying on the software side of things, one package, in particular, has also got a great new feature that will for sure elevate data safety. Hyper Backup in its version 4, can now backup entire DSM system and NAS data.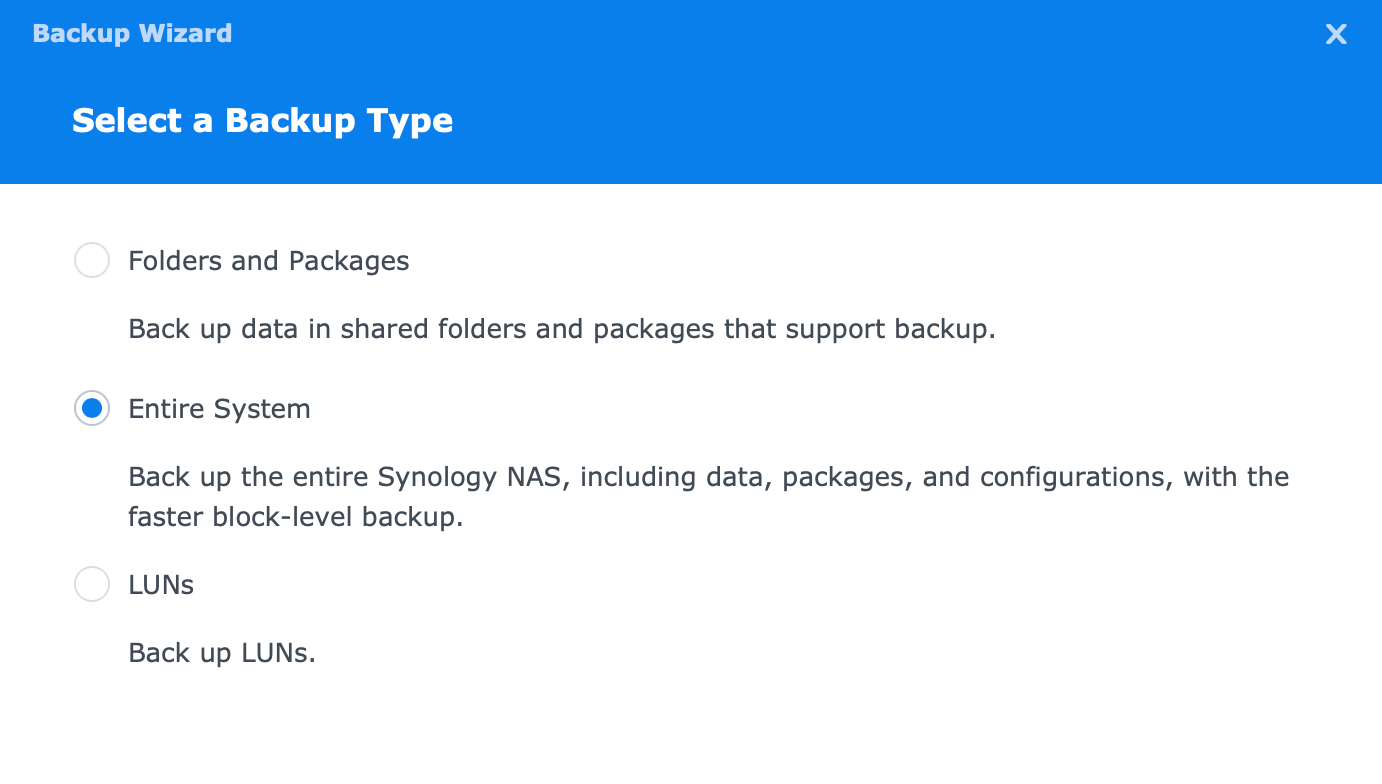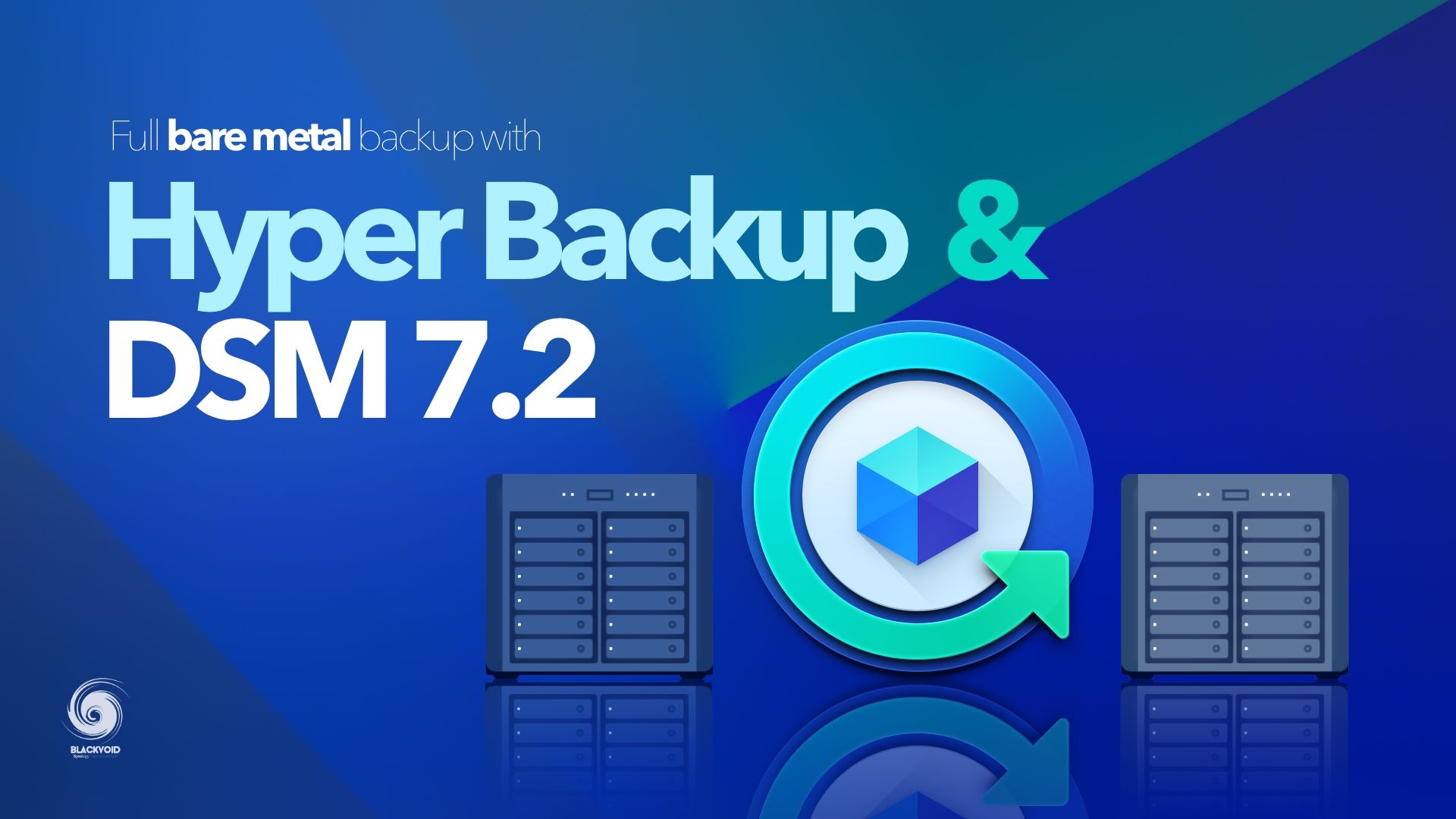 So far this feature was reserved for the Active Backup for Business package, but now we can use it with Hyper Backup as well. The main difference in this case is that HB can push this content into Synology's C2 cloud platform for that extra off-site backup step without the need to be first backed up to another Synology NAS and then pushed to the cloud as is the case with ABB.
: SRM
Stepping now away from the DSM and NAS lineup, Synology has had a big year in 2022 with the release of their new routers and the new version of SRM 1.3. While the development of the SRM platform is not as aggressive as the DSM, it is still worth noting that every few months there are smaller or bigger patches that address primarily security issues as well as new features.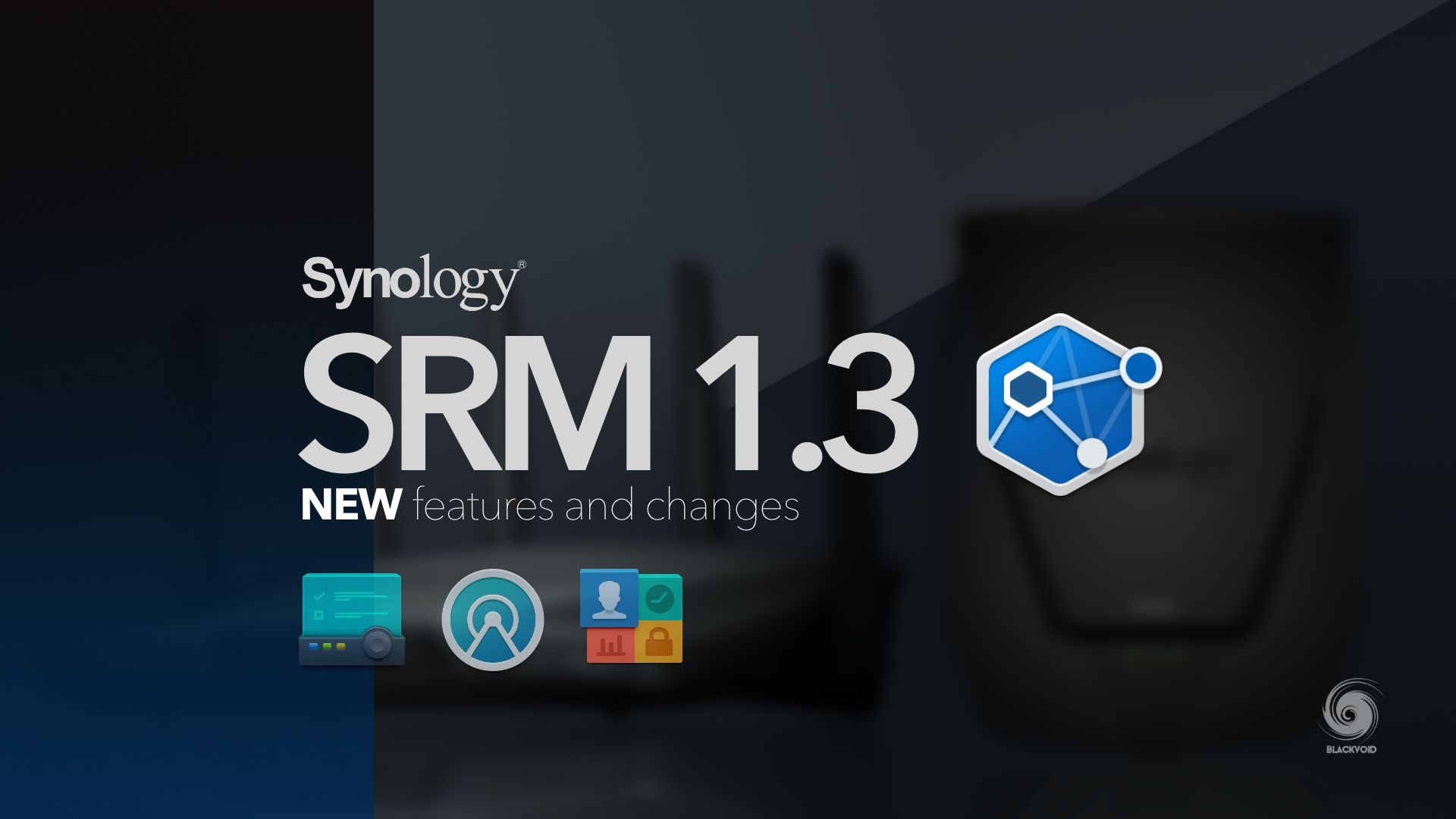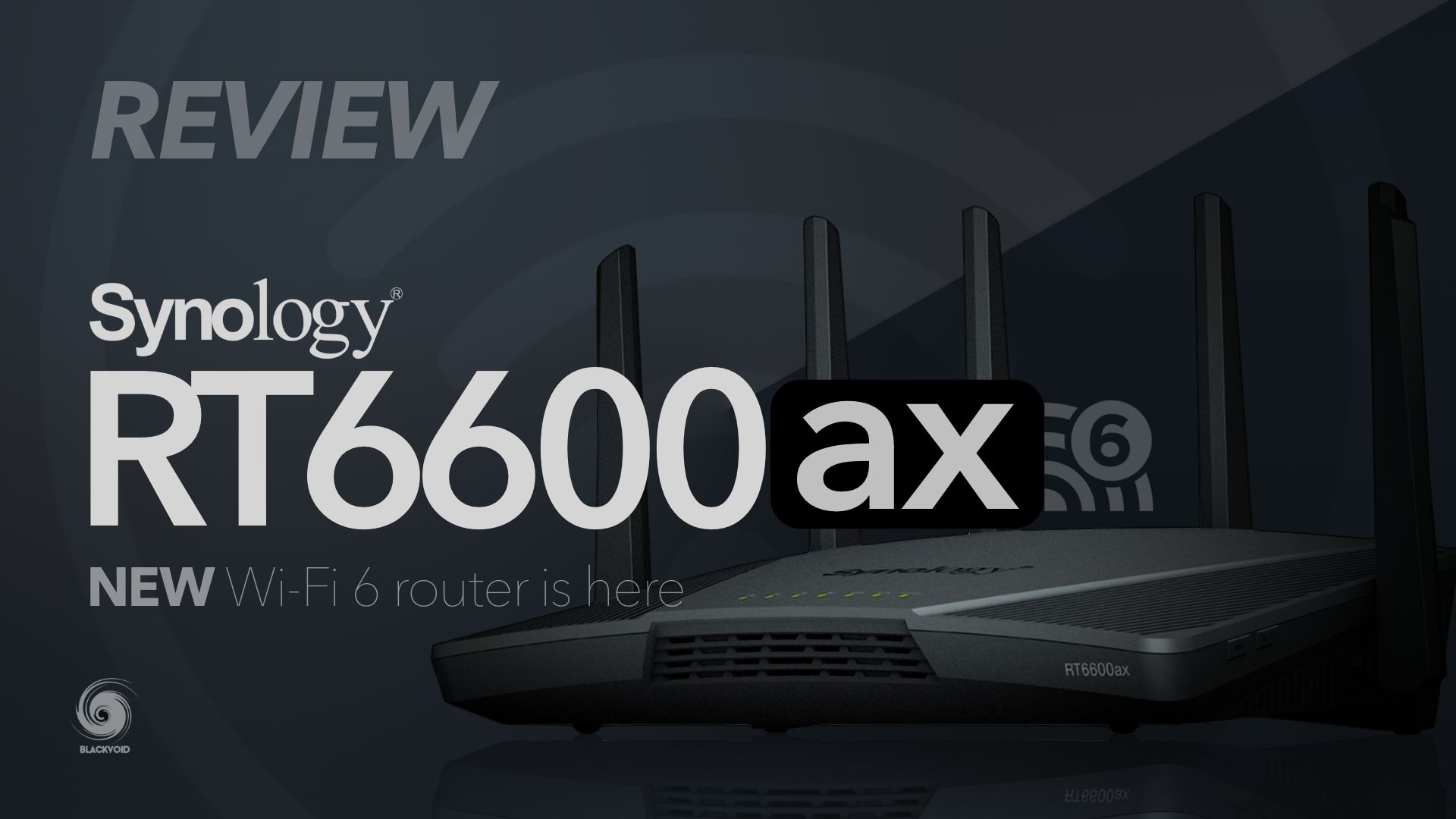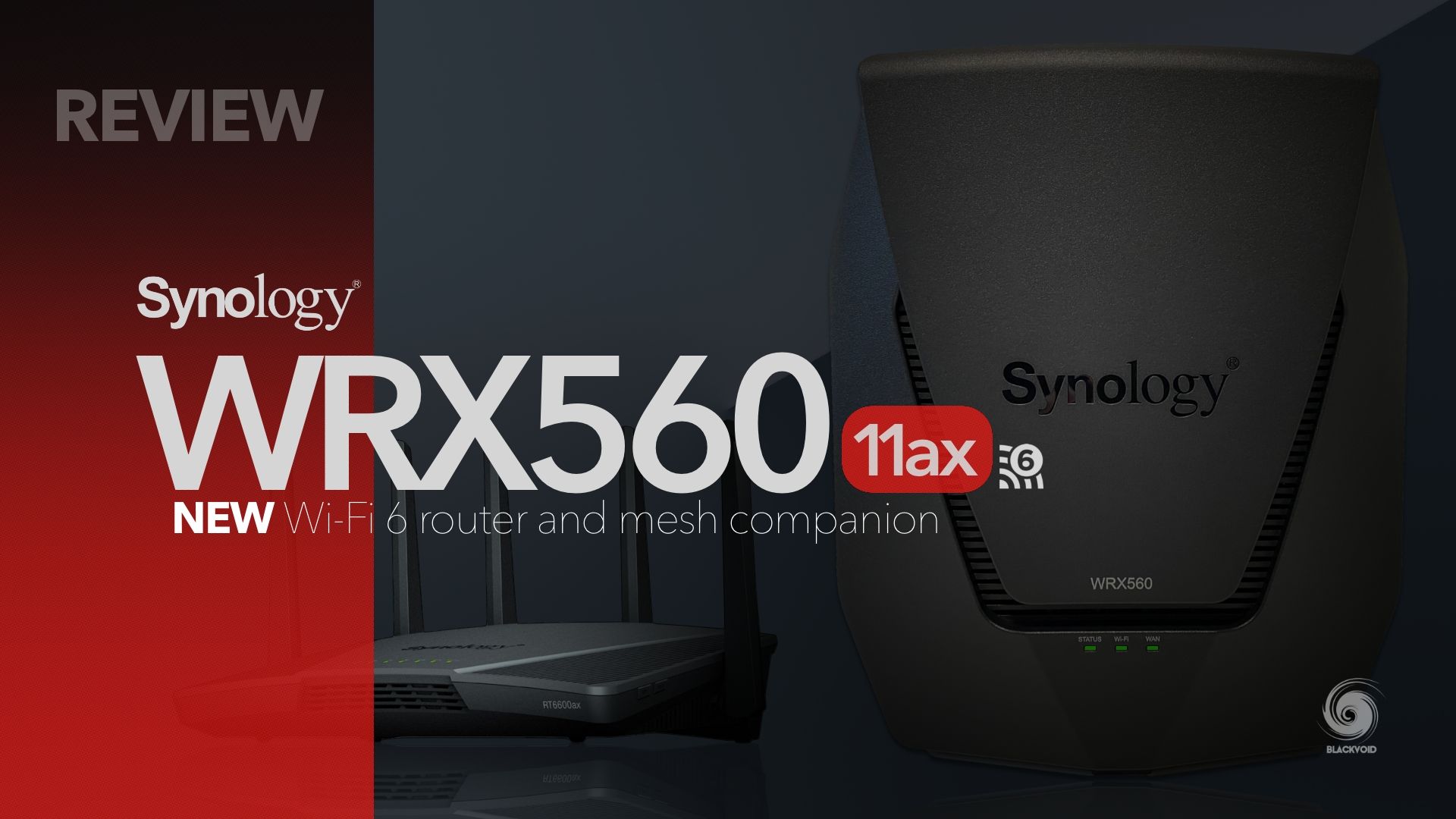 Currently, a total of five (5) security issues affecting the SRM are active in 2023. One of those was resolved in May and it was the only one critically flagged, while the rest are moderate severity with three in an ongoing status. From this, it is clear that the SRM platform is very stable, secure, and in active development.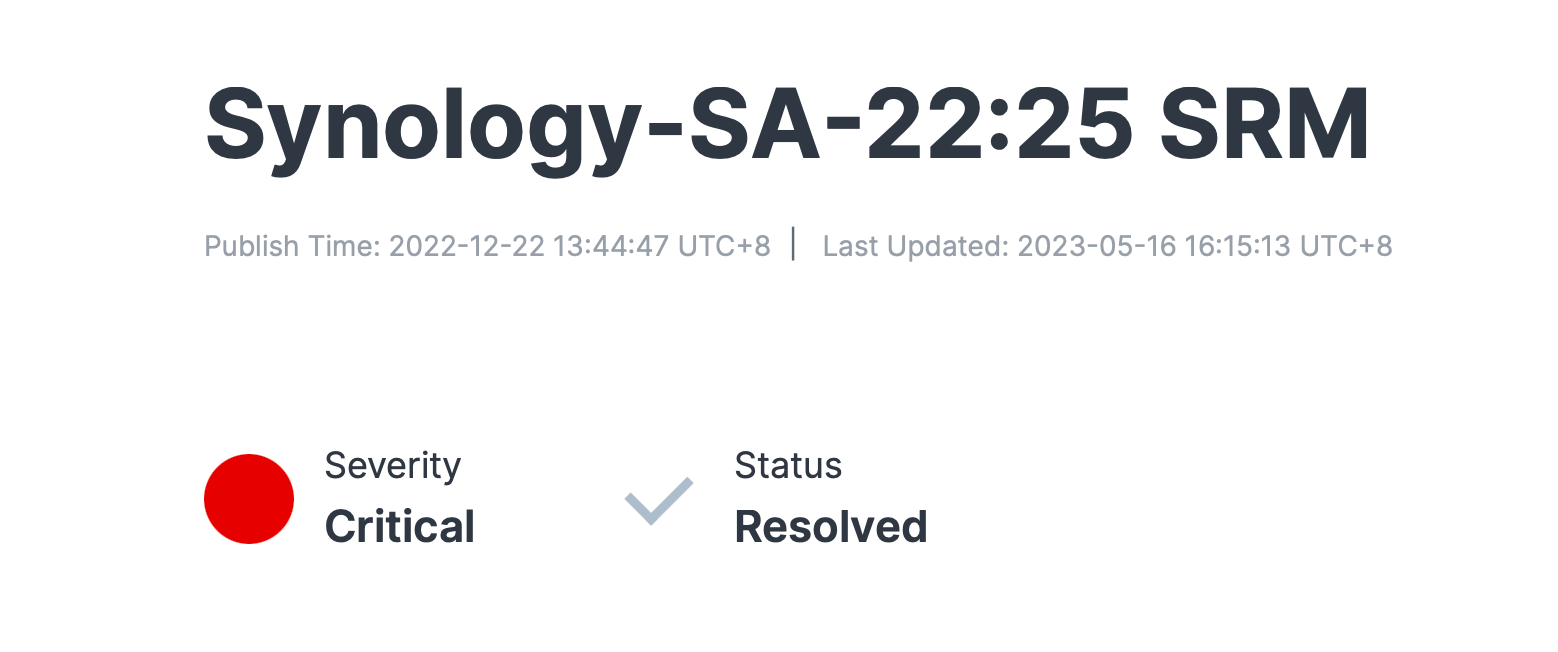 : Synology cameras - new security product
Just as much as the RT6600ax and the WRX560 routers were the new highly anticipated products of 2022, so were the new Synology branded surveillance cameras now in 2023.
Announced late last year and released in May of 2023, the new BC500 and TC500 by Synology are the latest Surveillance Station-compatible and AI-powered PoE cameras.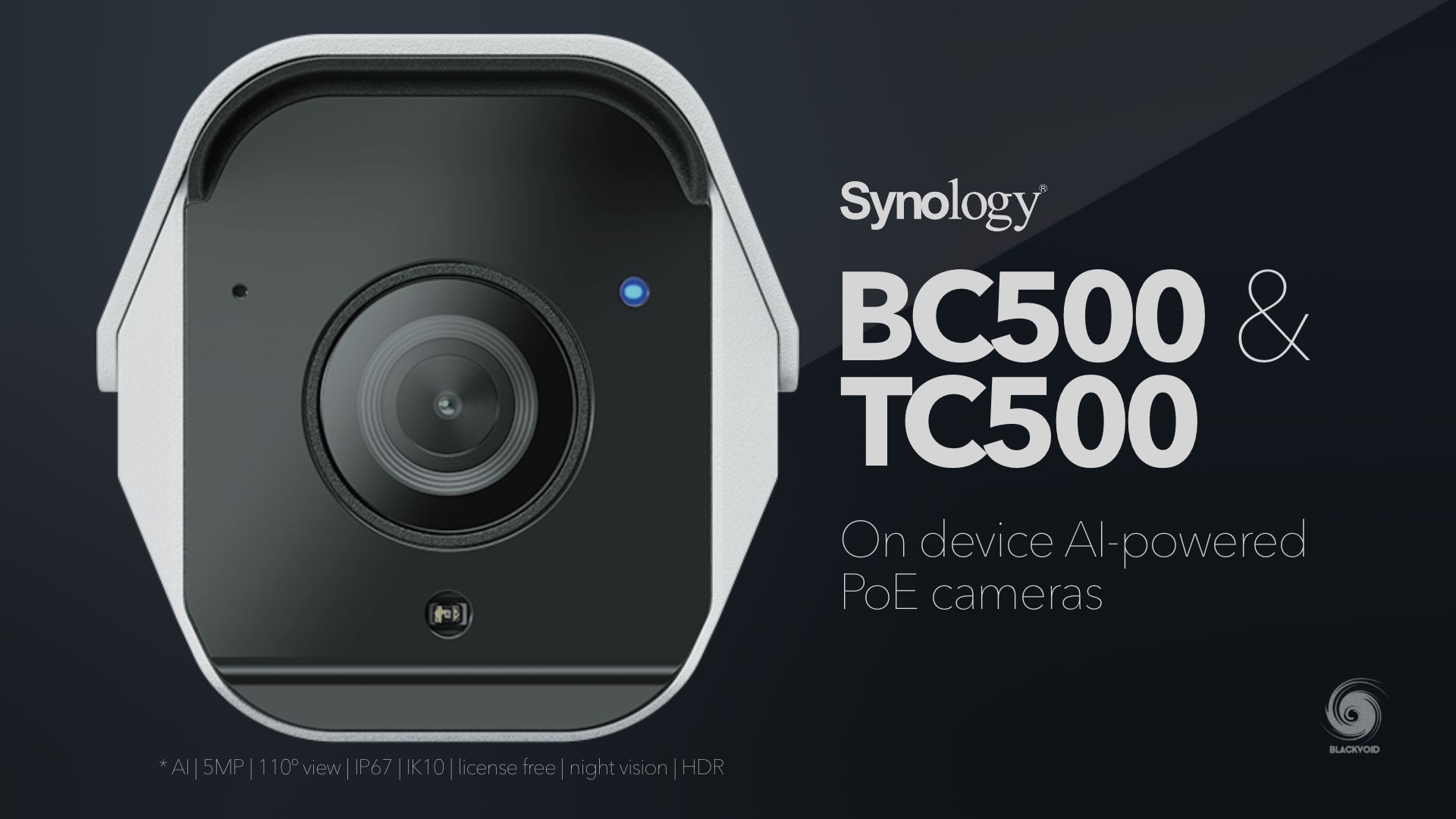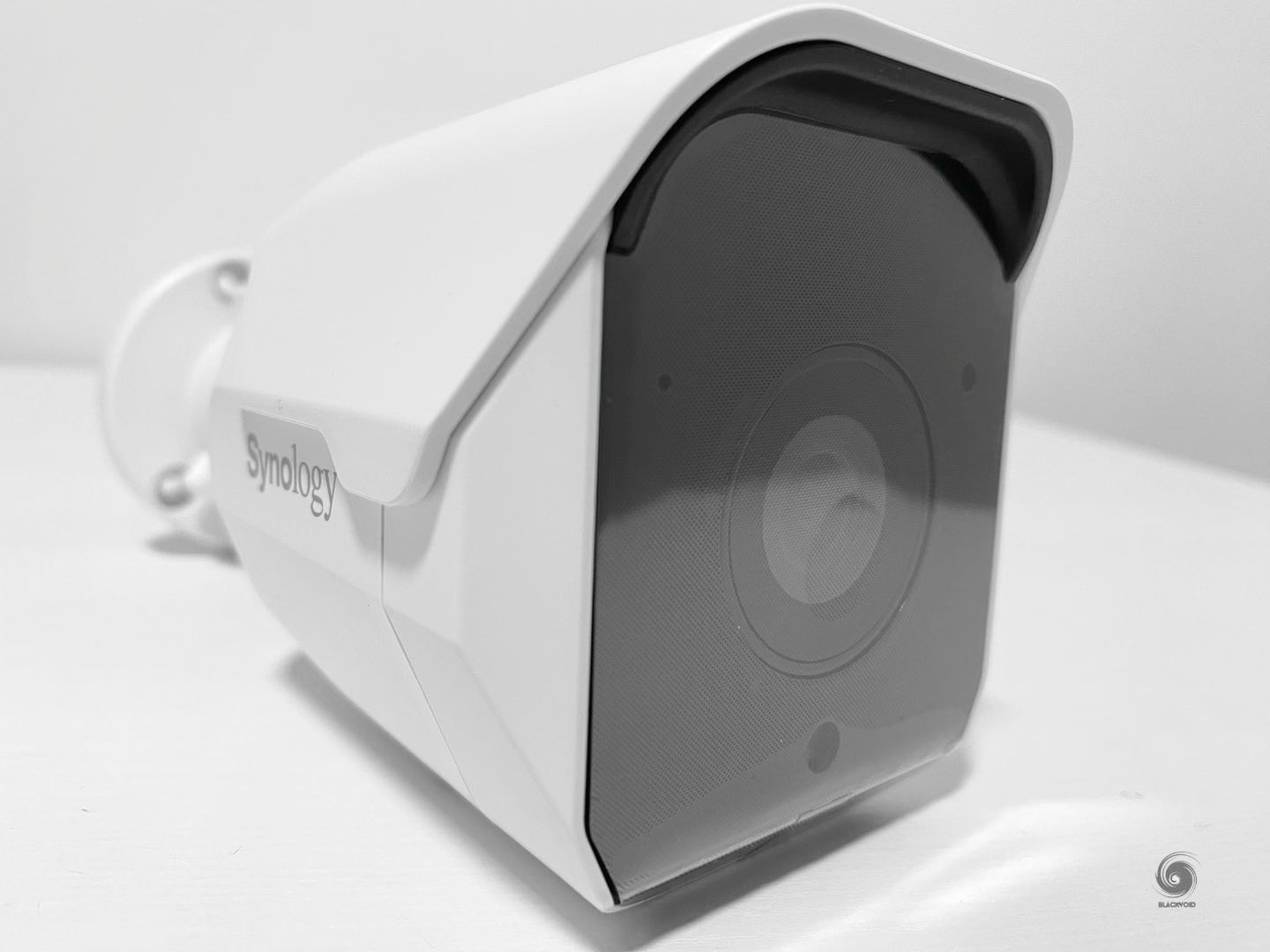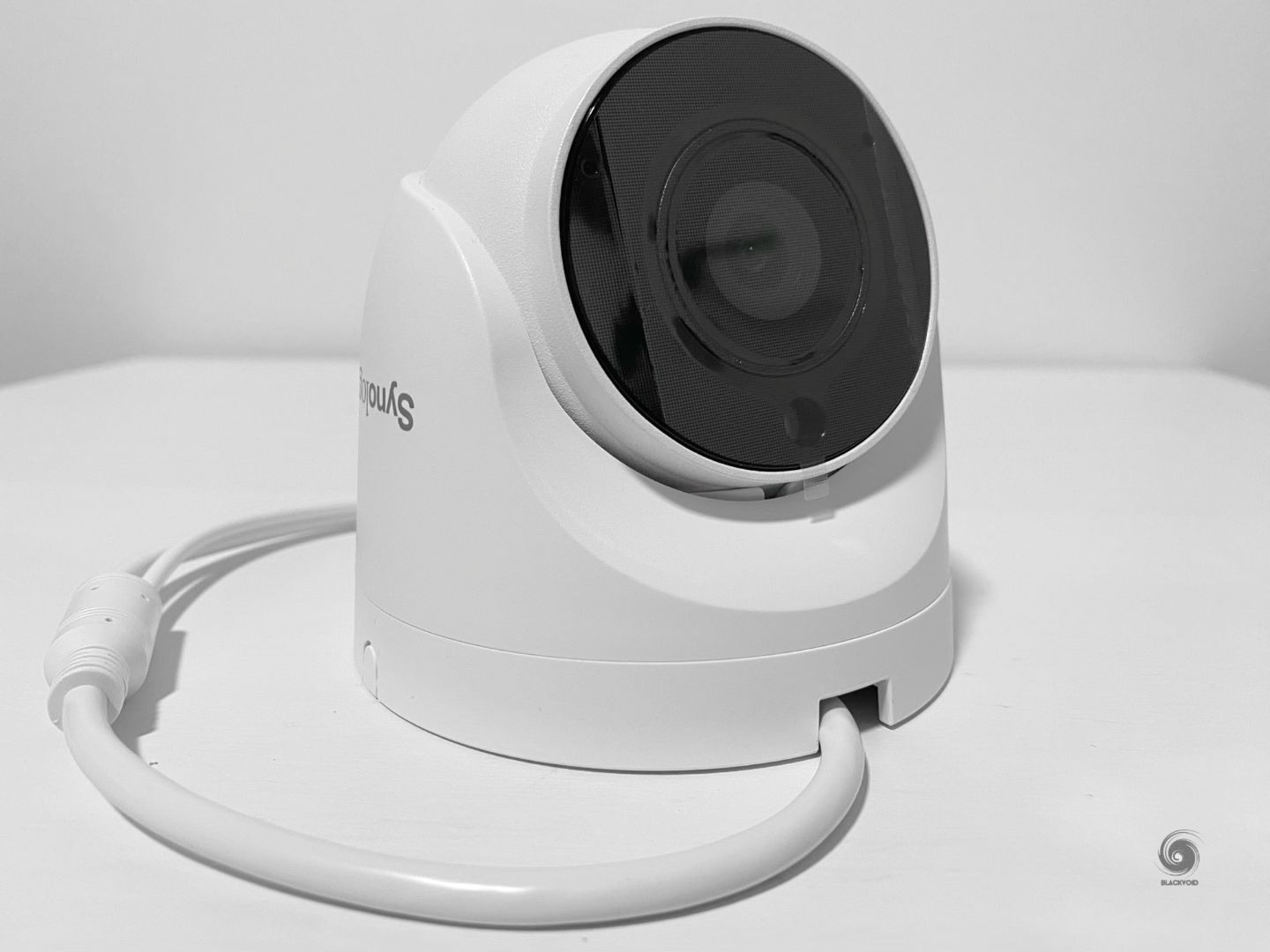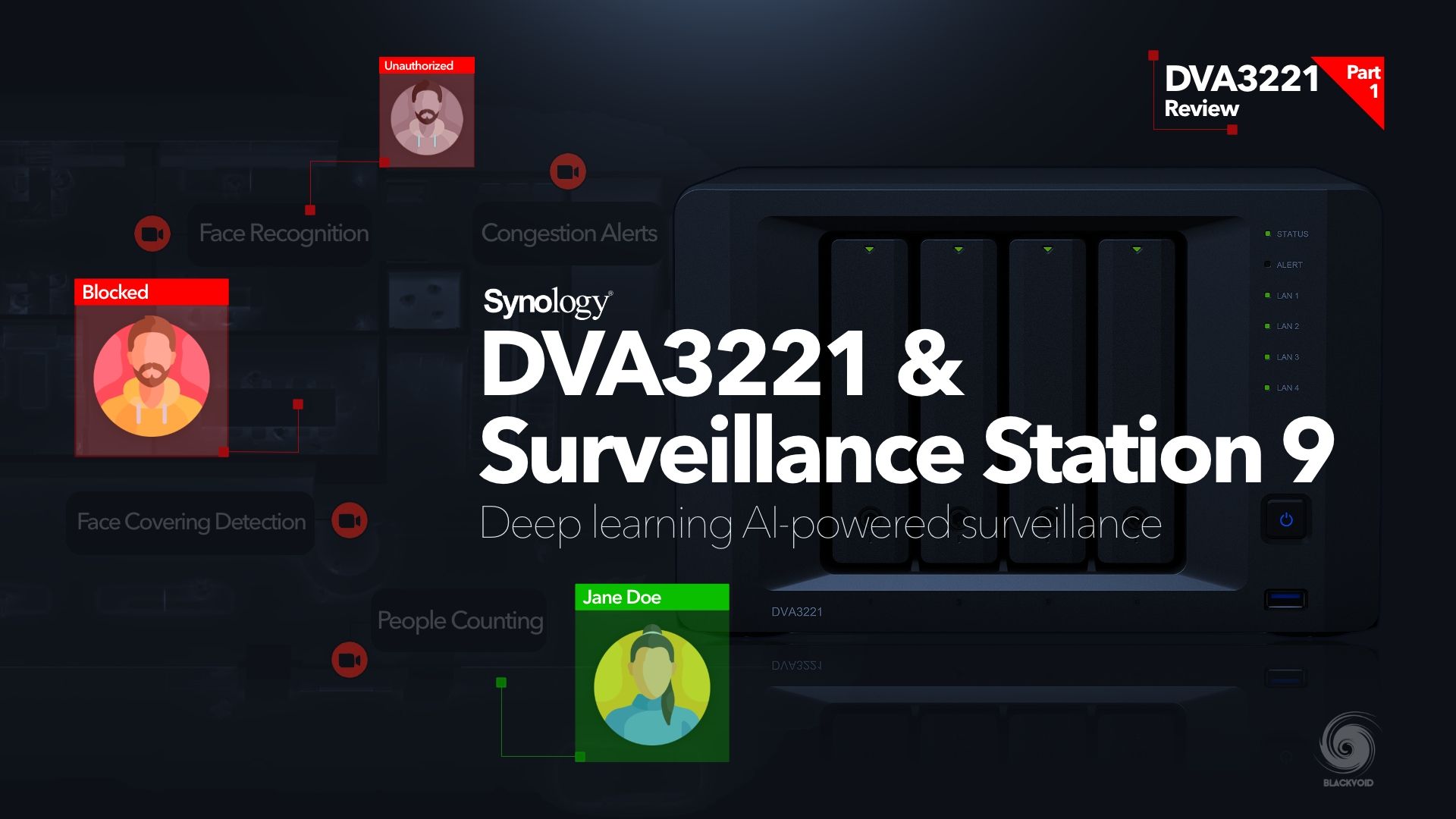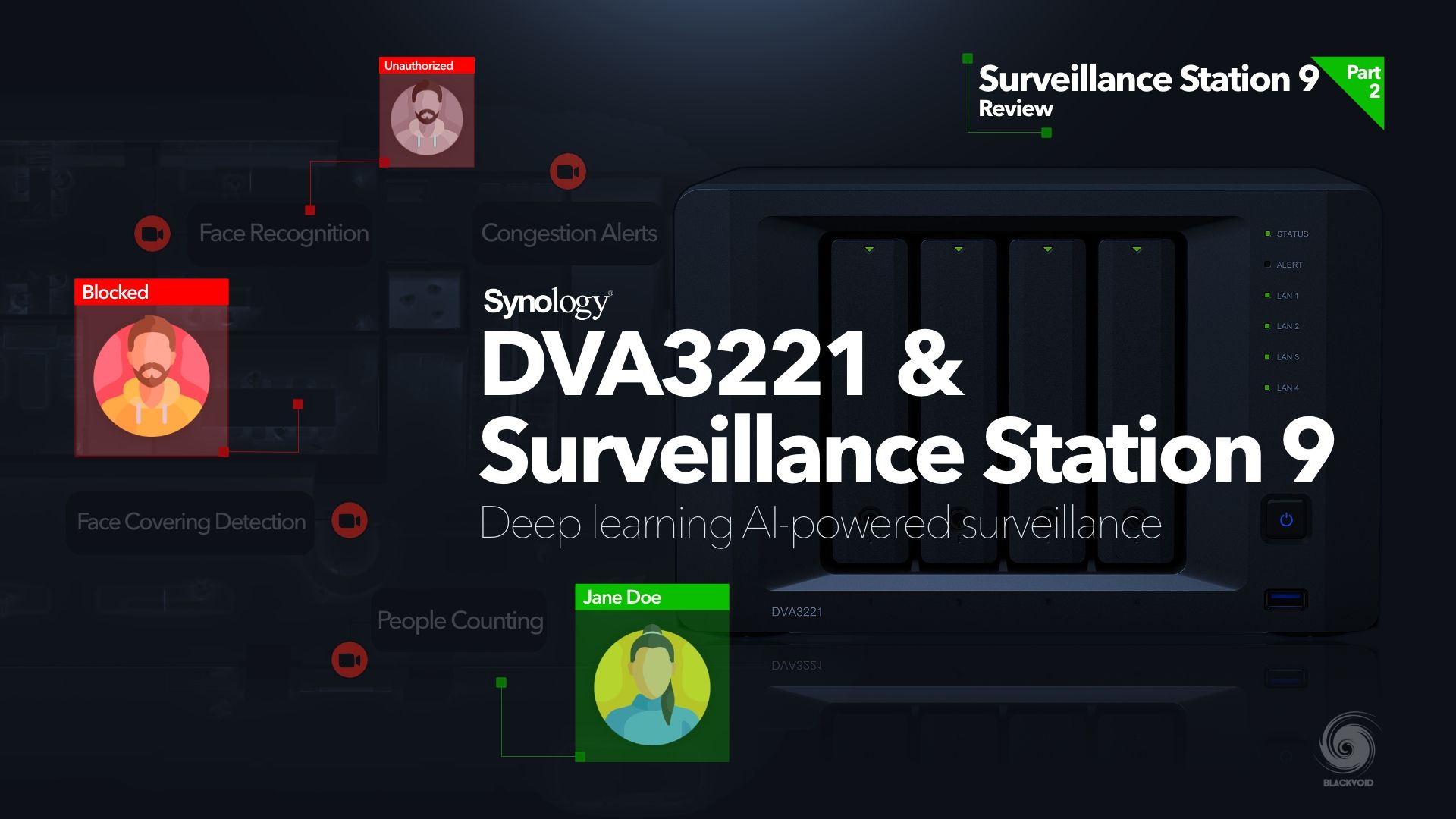 These Surveillance Station license-free models bring a quality and sturdy design with a lot of on-device AI features as well as out-of-the-box compatibility with the latest Surveillance Station 9.1. On top of this, if paired with one of the current DVA Synology devices, such as DVA3221 or the DVA1622, we can unlock even more AI features for improved security as well as streamline our private or business operations.
: Synology BeeDrive
Finally, we have another brand-new product that is new to the whole Synology portfolio. In June of 2023, Synology announced the BeeDrive. A personal backup drive that is not a NAS, but also not a pure USB-C powered DAS (direct attach disk).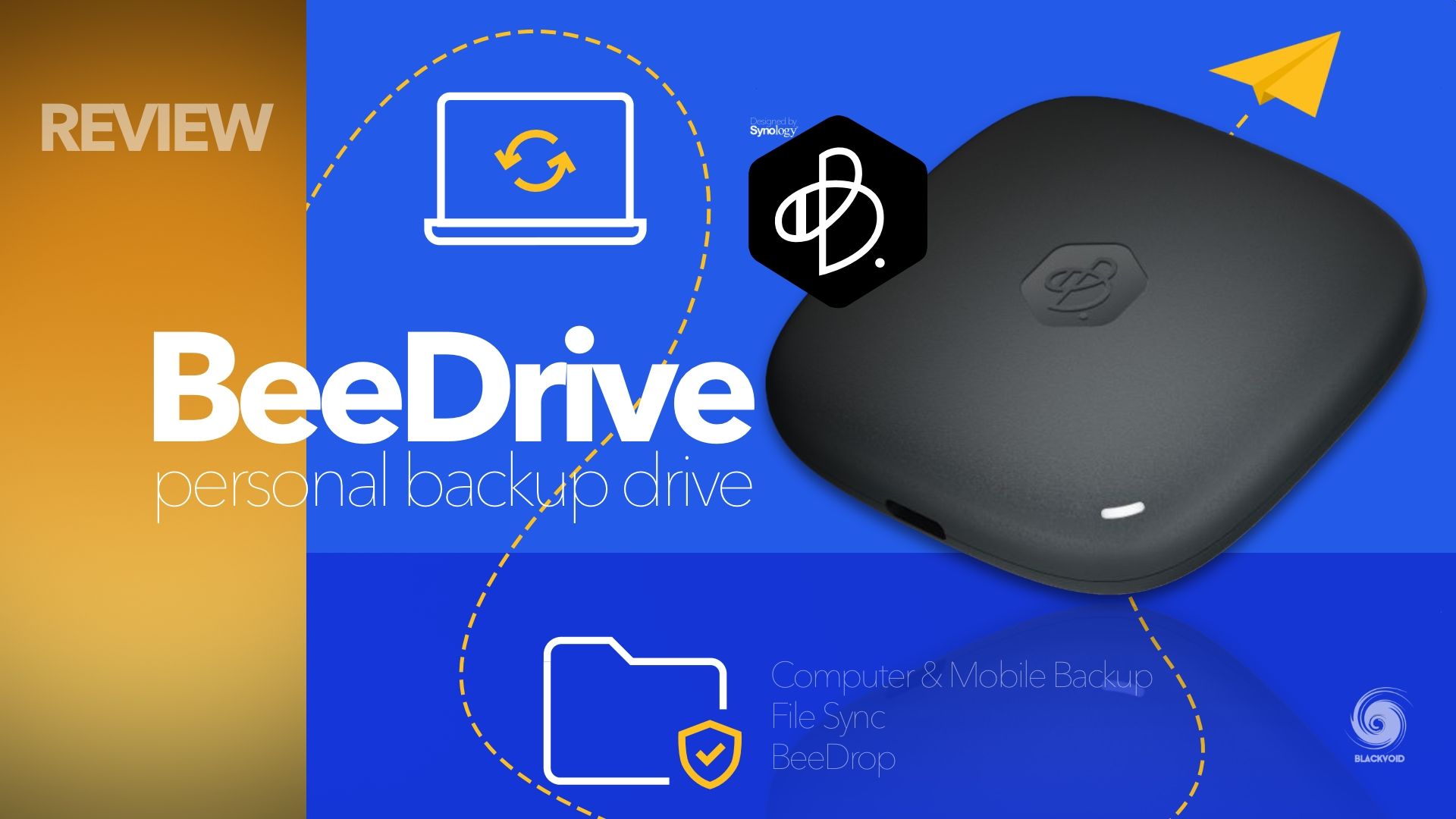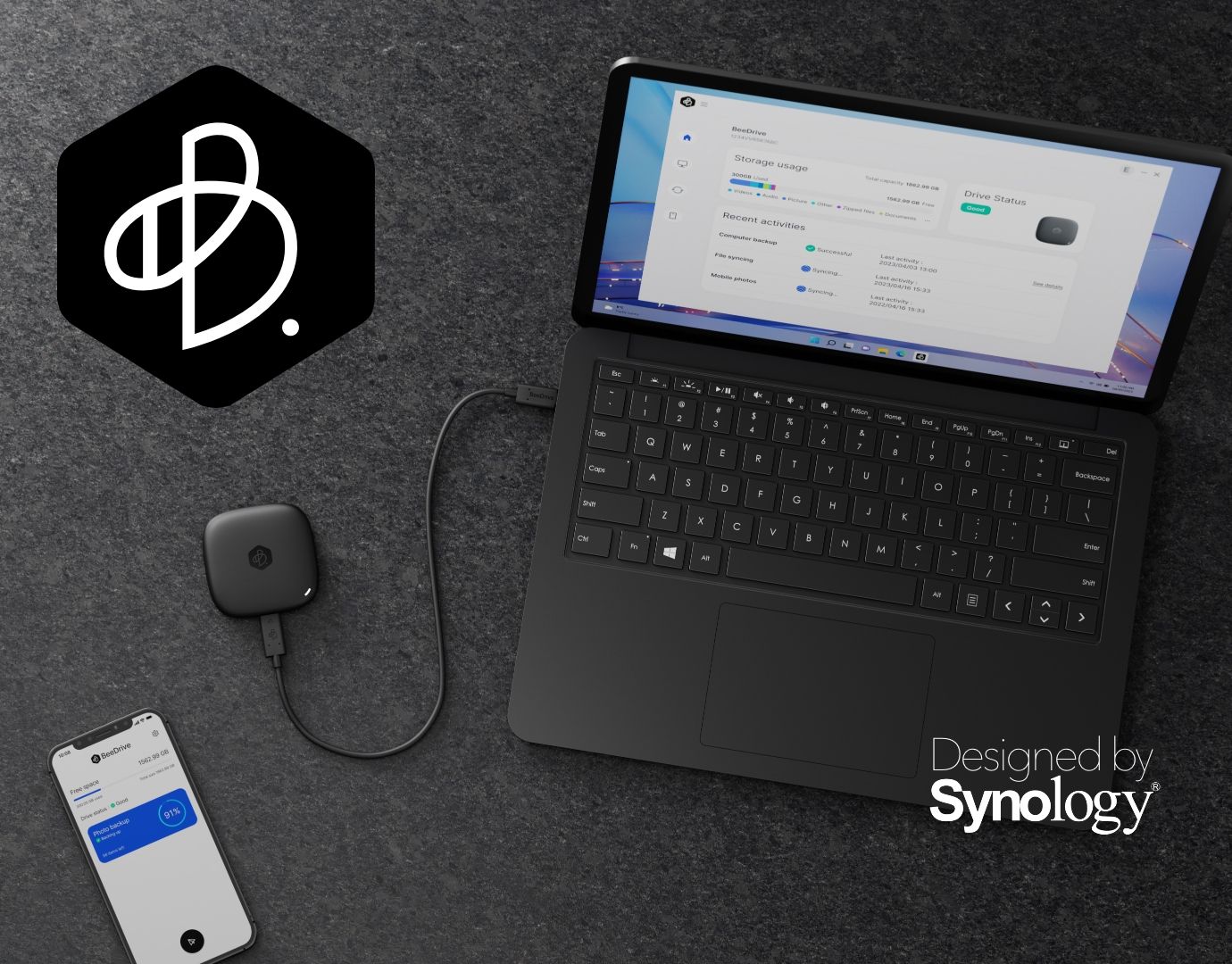 Advertised as a mobile backup device, the BeeDrive is a perfect on-the-go device that can backup up to 2TB of data from any device, including mobile ones. A real surprise by Synology but for its decent price, fast 10G speed, and great software, it really offers that extra bit of security, and flexibility that we are all looking for nowadays.
Well, there we have it. A quick overview of all the new Synology security-focused updates in 2023 that left a mark. On top of those, we have to remember that cybersecurity is an everlasting process, so be sure to follow the latest security guidelines, especially those focusing on Synology products.
Do not underestimate anyone and any situation as you might end up spending more than you saved by choosing to self-host your pictures and videos as well as any other precious data.
From backups to complex passwords, regular patching, and security best practices, make sure to protect yourself, your family, and your business. With the benefit of owning your own cloud, comes the task of making sure you are protected and secure as best as possible.