In the introduction article of the series, we talked about the new RS2423+ in general. About its specifications, internal setup, as well as how to install it inside a rack, and how to add the drives.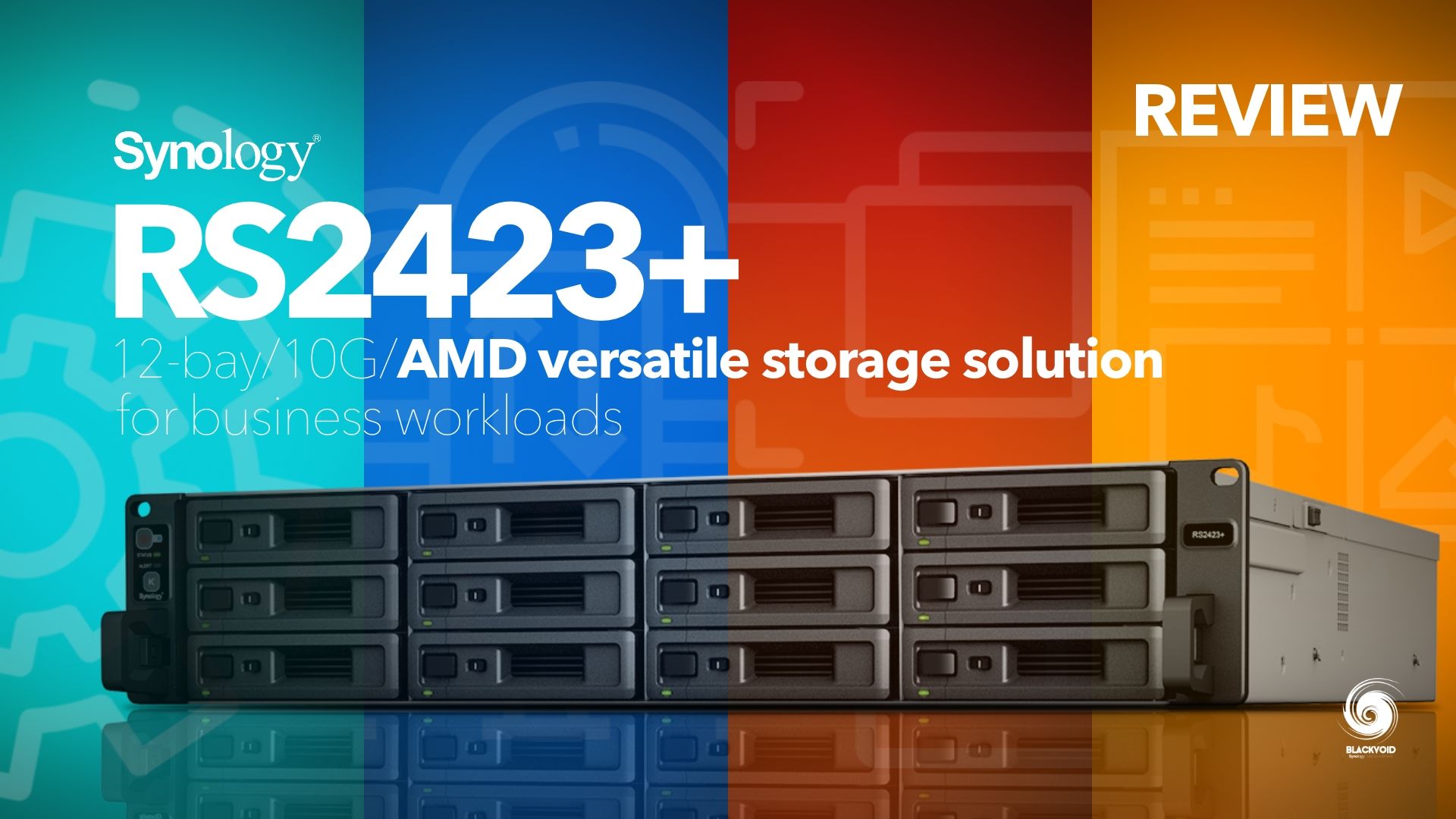 With this article we will be moving a step forward, starting with DSM 7.2 installation and configuration. Further along, we will see how to configure the RAID array using the new HAT3300 Synology NAS drives, install packages, and configure some other services that come with this whole ecosystem.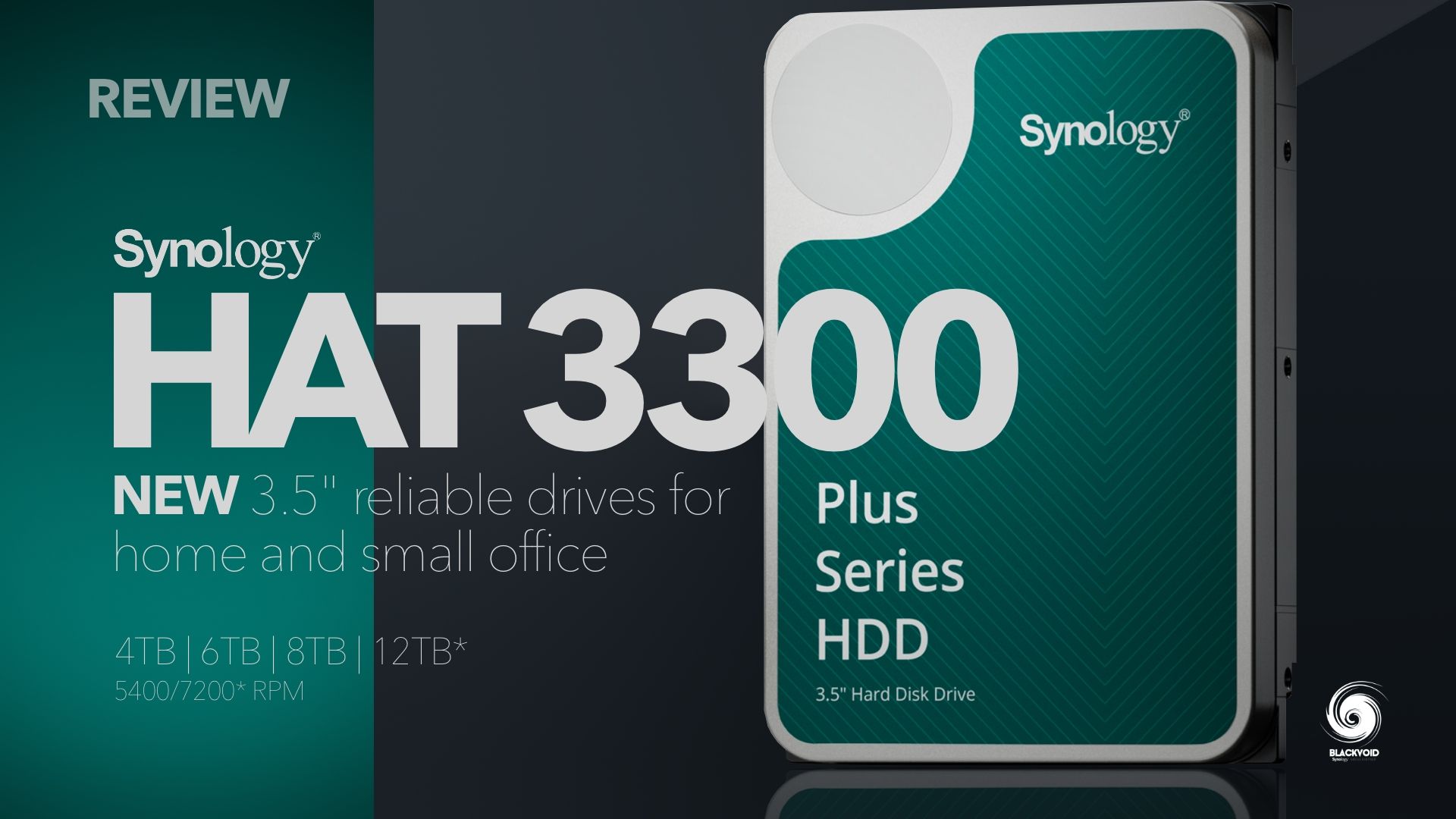 Table of Content
: DSM install
: DSM configuration
: Active Insight
: RAID configuration
: Package Center
: Disk and network speed test
: DSM install
If anyone has never installed an operating system on the Synology NAS before, the process is identical on all the models, regardless of their size. After the NAS has been turned on and detected on the network, the process moving forward can happen in one of two ways.
Use the Synology Assistant desktop app or find.synology.com web assistant. In any event, those will assist in locating the NAS on the network so we can continue with the installation.
If in some cases, the NAS is not detected there are several potential reasons, starting with no network visibility due to faulty cable, or wrong network configuration to name a few. If that happens be sure to ask for Synology support to assist.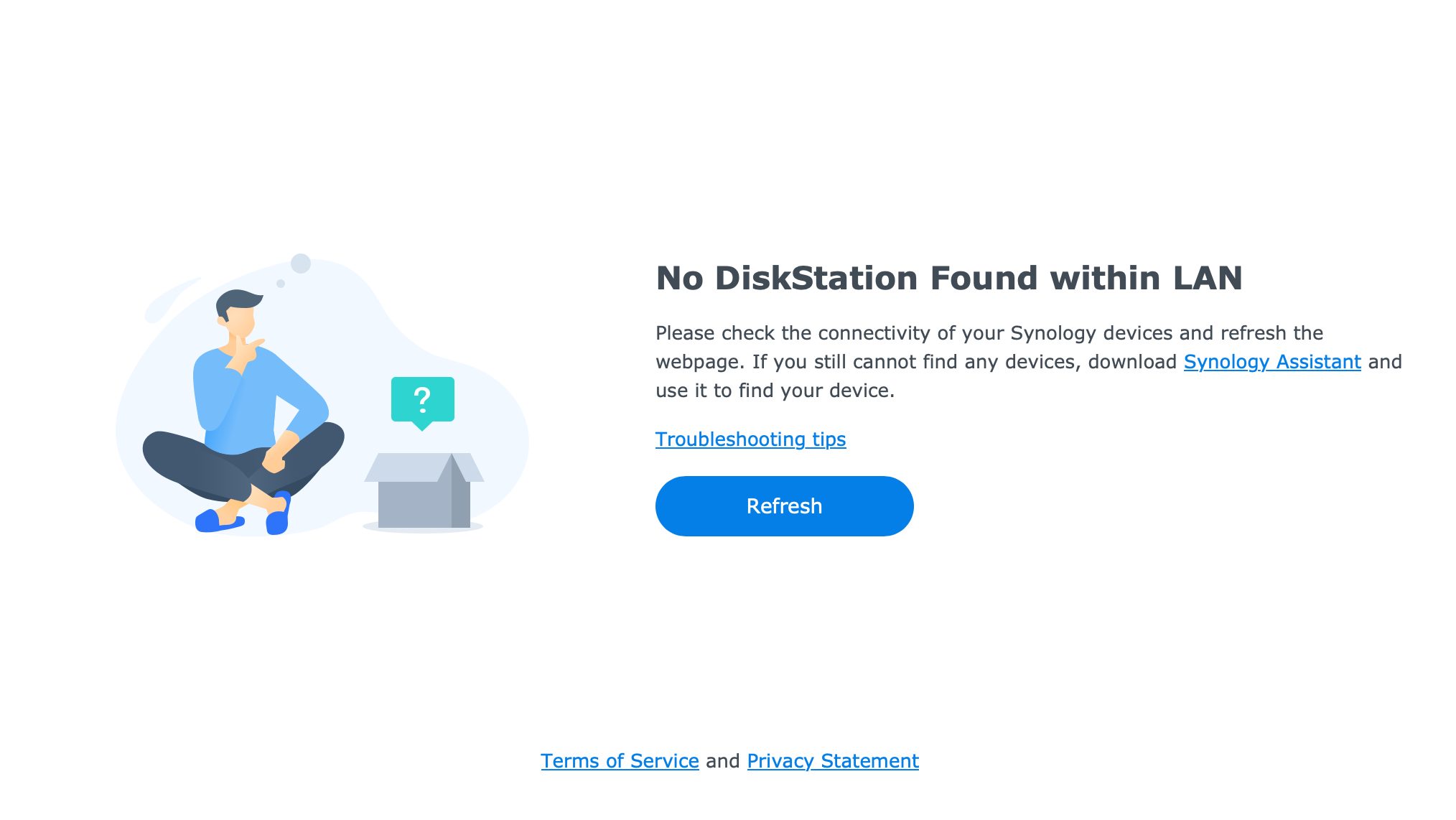 Once the NAS has been detected, we will be able to use a wizard-like process that will install the latest DSM version and allow us to use the NAS and configure it further. The RS2423+ installed it in a matter of minutes from start to finish in part thanks to a solid configuration and horsepower, as well as a stable and fast DSM 7 version (in its 7.2 major version at the time of this article).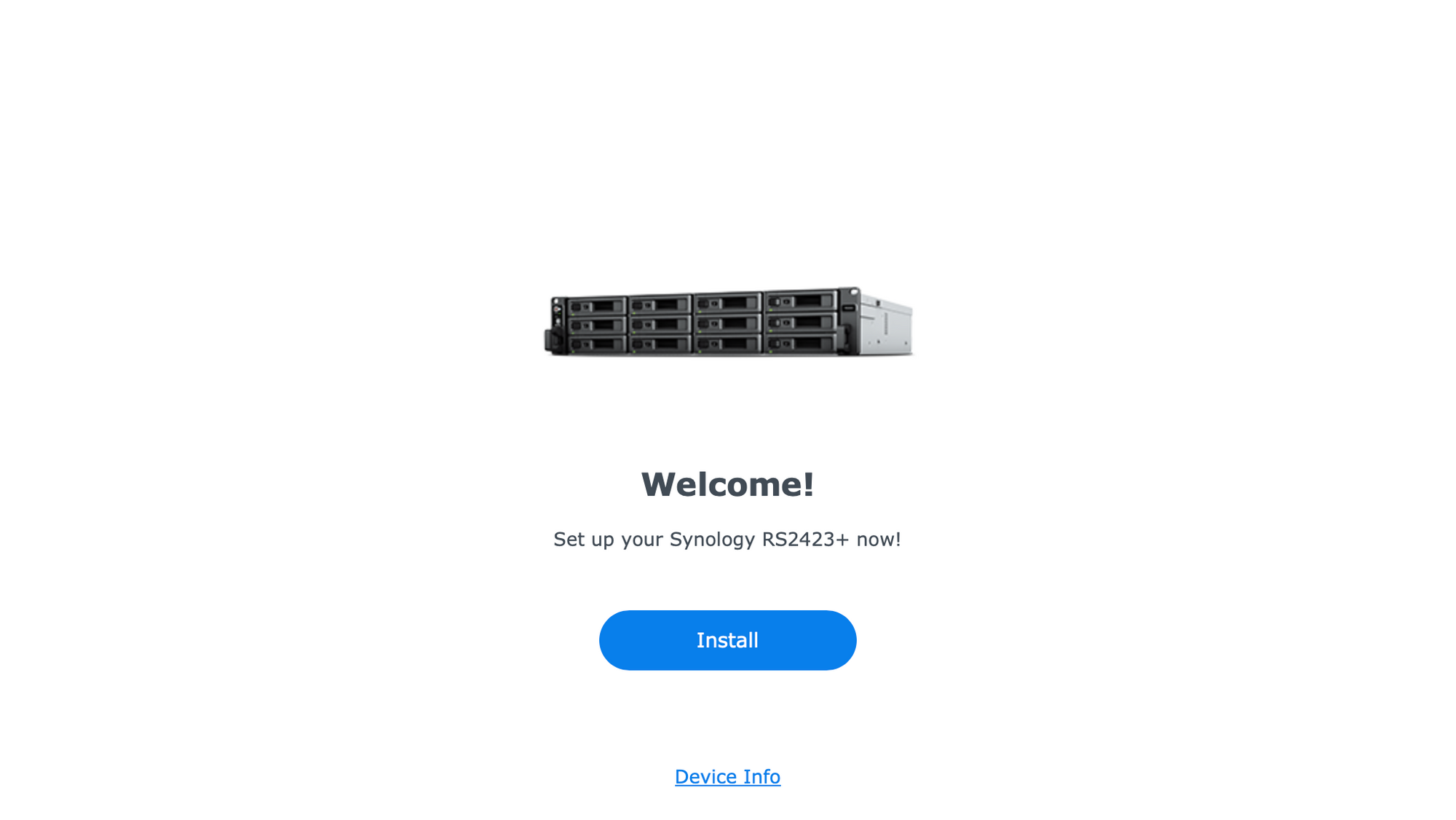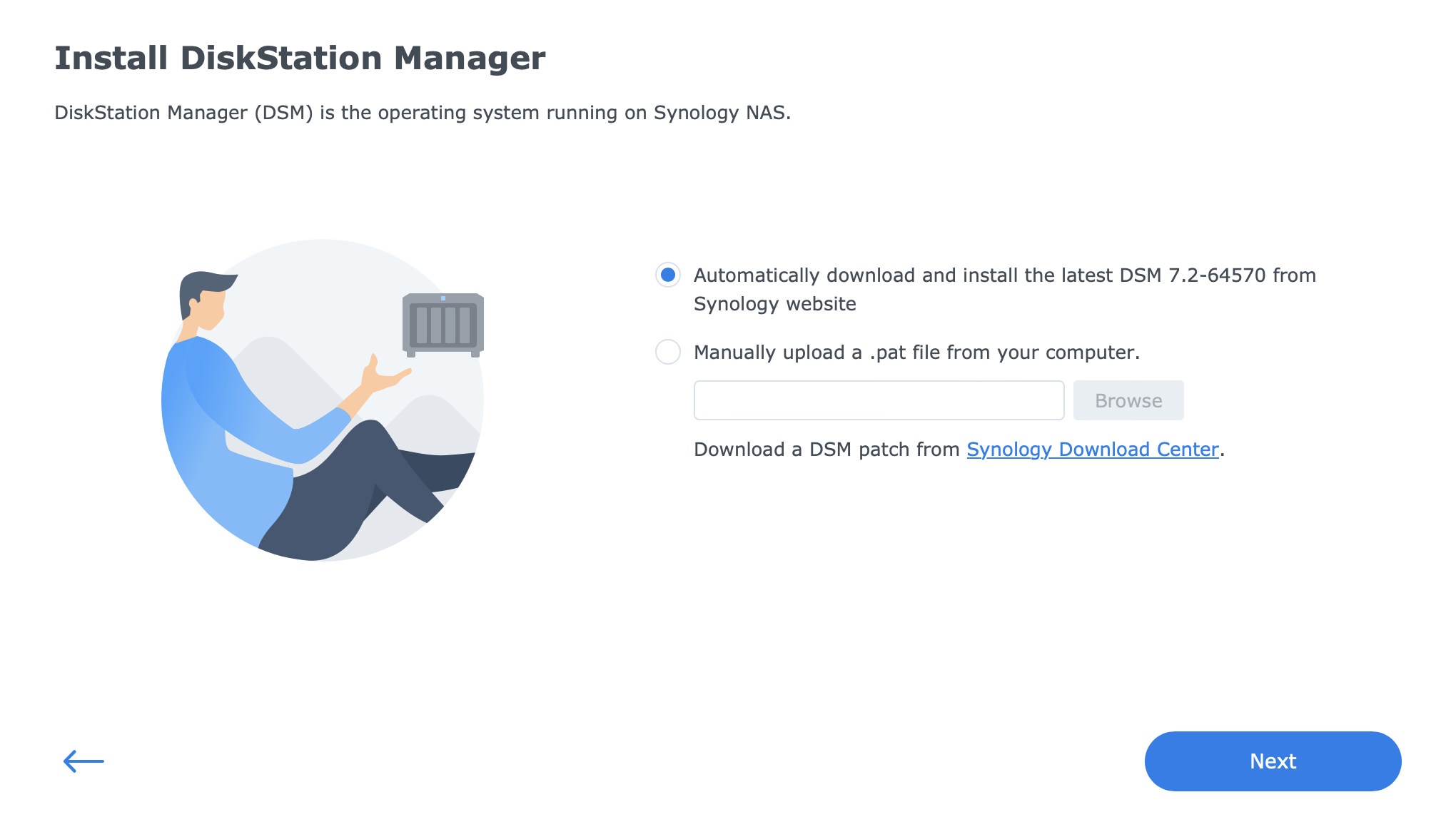 : DSM configuration
As soon as DSM is installed, we will be launched into a familiar (or unfamiliar if this is the first time someone is doing an installation) desktop-like web interface where DSM 7.2 will offer some of its new features like adaptive MFA, WORM, and volume encryption, as well as some already "new" additions like Synology Photos, or Active Insight services.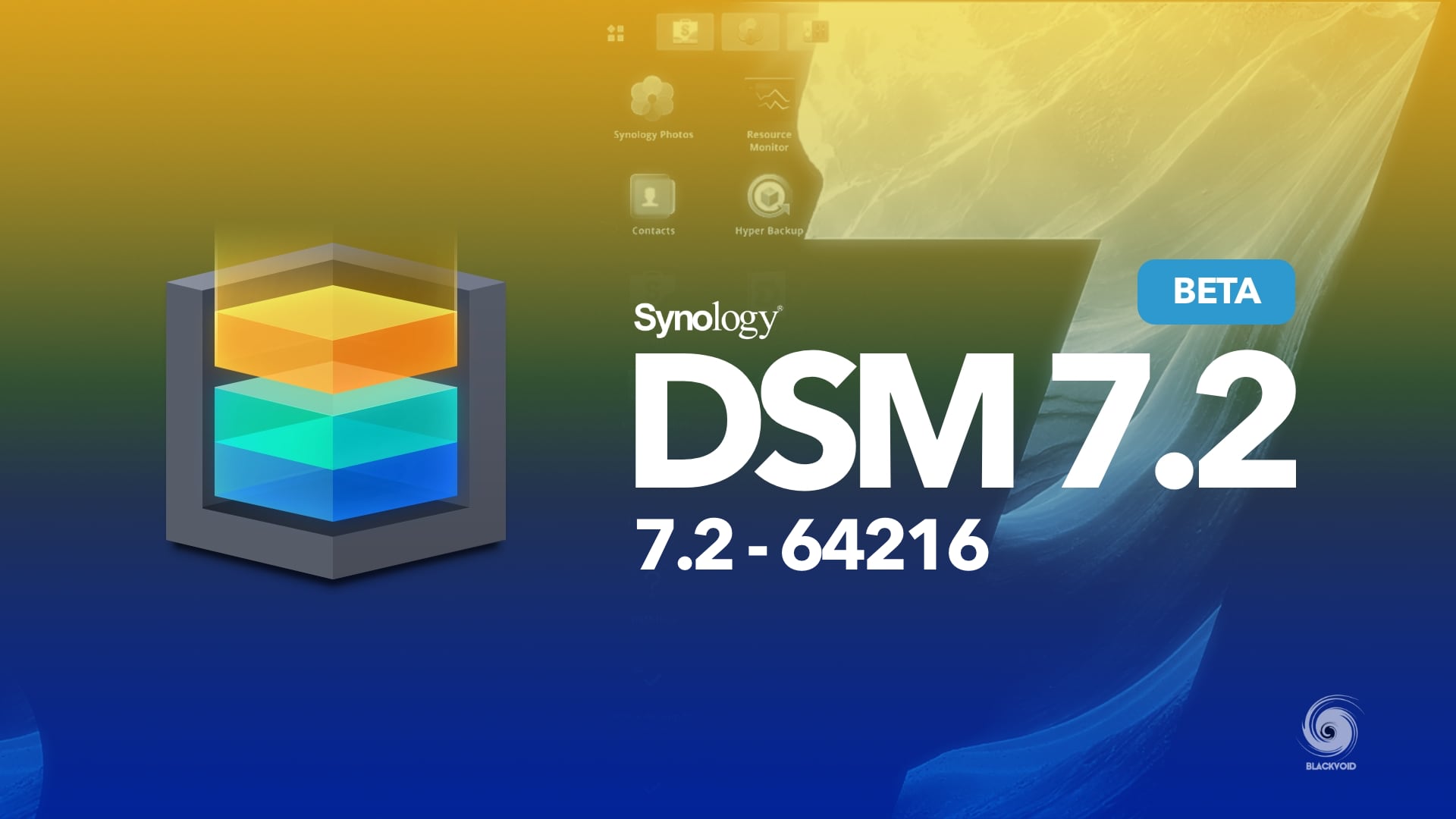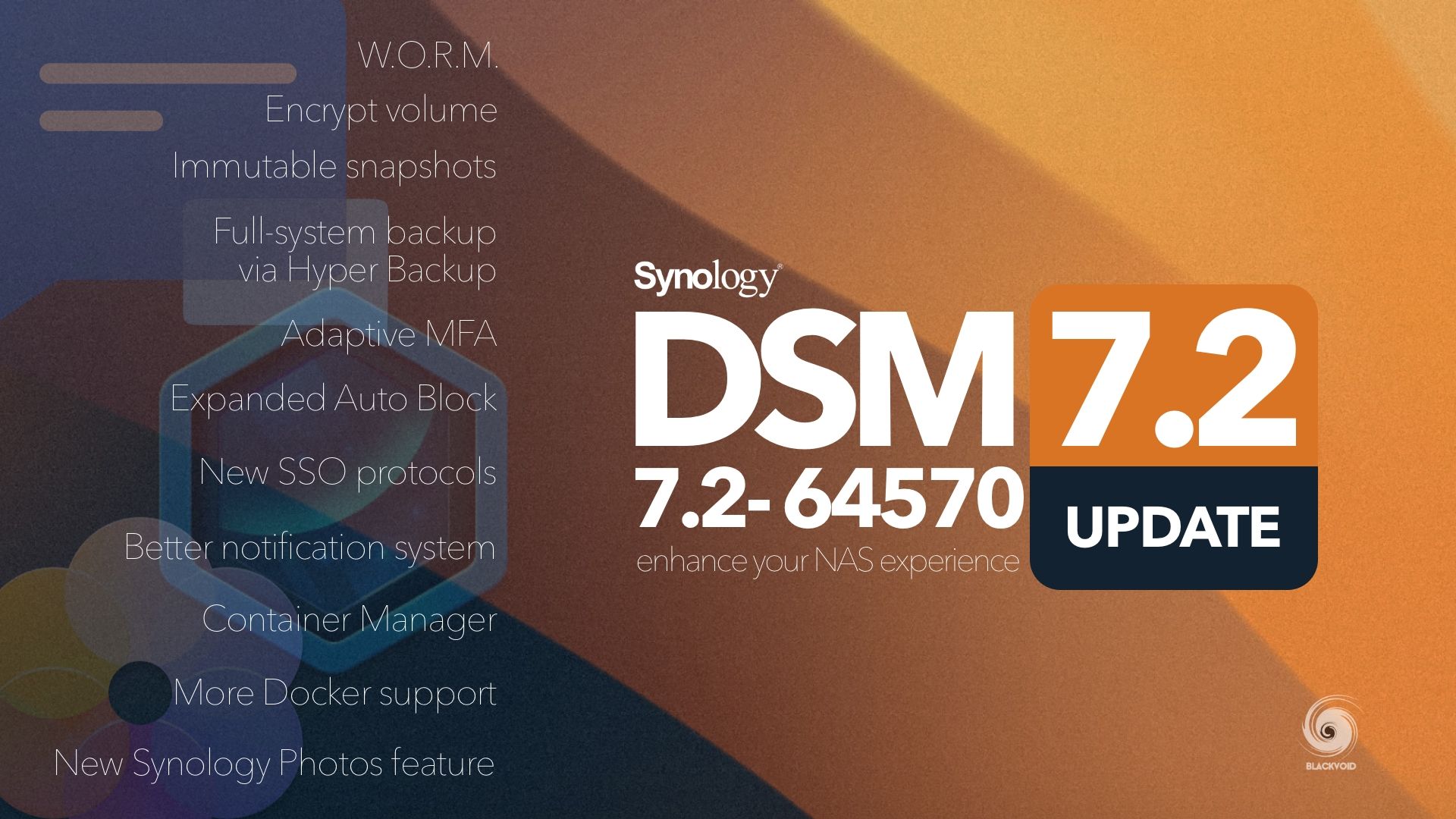 If we do not want to activate those options now, we can always come back to them at a later date. DSM configuration is a personal process, and deciding on the services and apps running will also be a personal preference depending on the needs.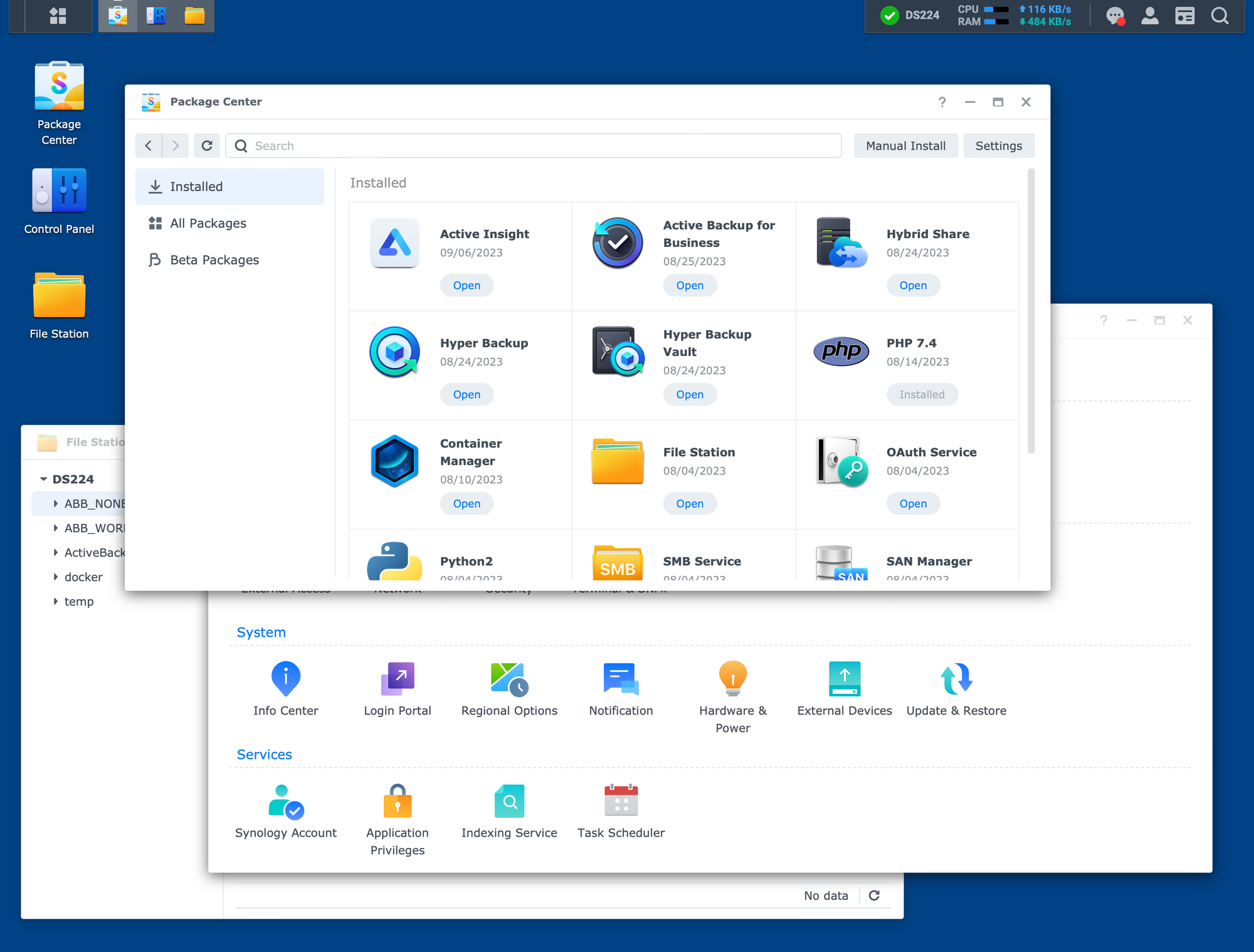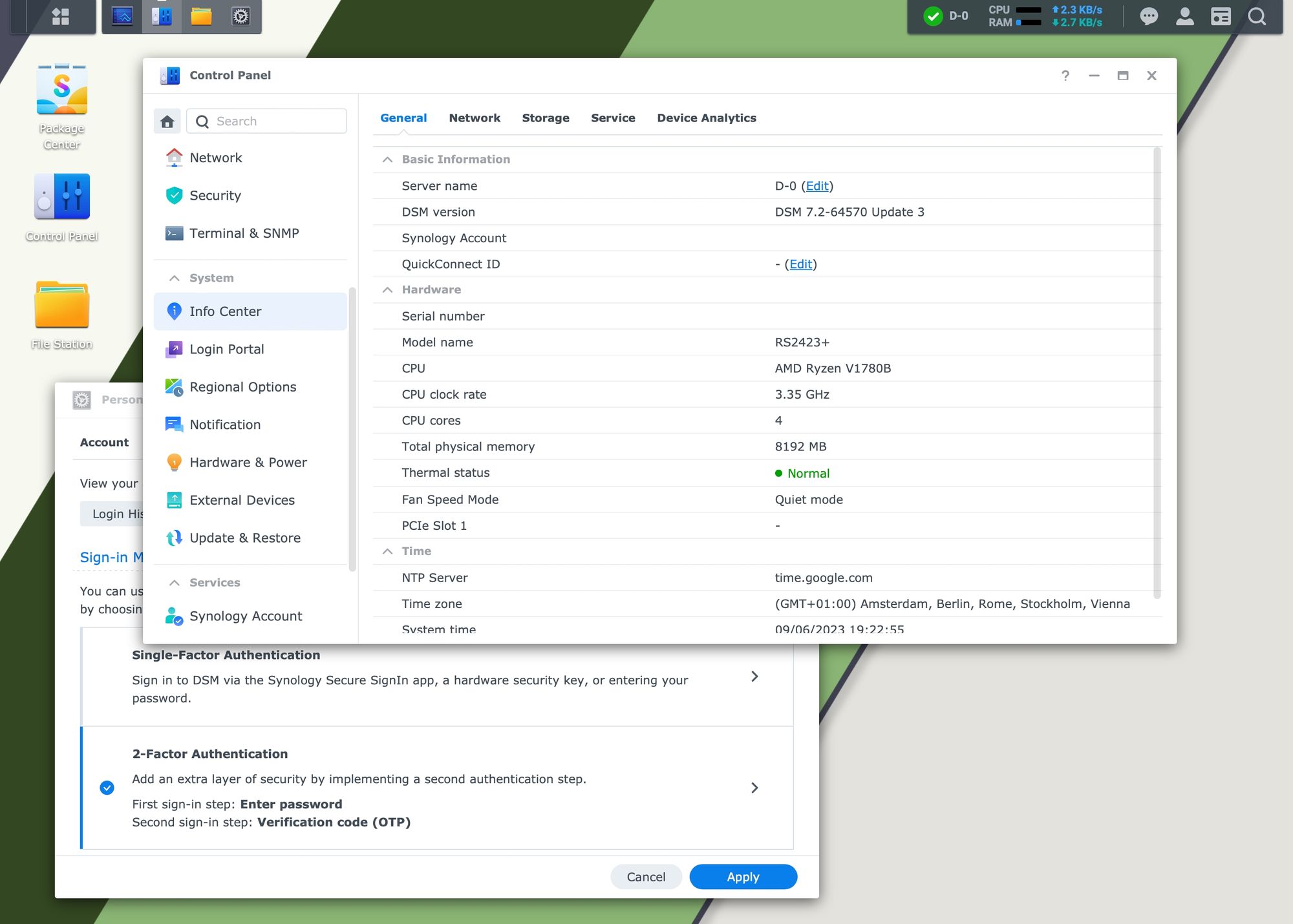 There are many options that can be configured after the DSM installation but staying on point here and focusing on the RS2423+ there is one element that can be explored early on and that might be beneficial in the long run.
DSM 7 introduced a number of new features that may not be advertised as much but could come real handy at certain points. One such option is the automatic backup, configuration backup that is. DSM has a large number of options that can be set, and in some cases, it might take a long time to redo them if there is a need to reset the device, or if there was a specific issue either with the DSM or the NAS.

Once set up using a free Synology Account, the configuration backup will periodically check and backup the latest configuration of the whole system. This does not include the actual DSM installation or the NAS data, just the configuration, but sometimes this is all that is needed to get up and running without wasting time setting all the parameters just the way we want them or need them.
In case we do want to back up the whole DSM and/or NAS data, the new DSM 7.2 and Hyper Backup v.4 (or better), do include this option, but more on that in part two of this article series.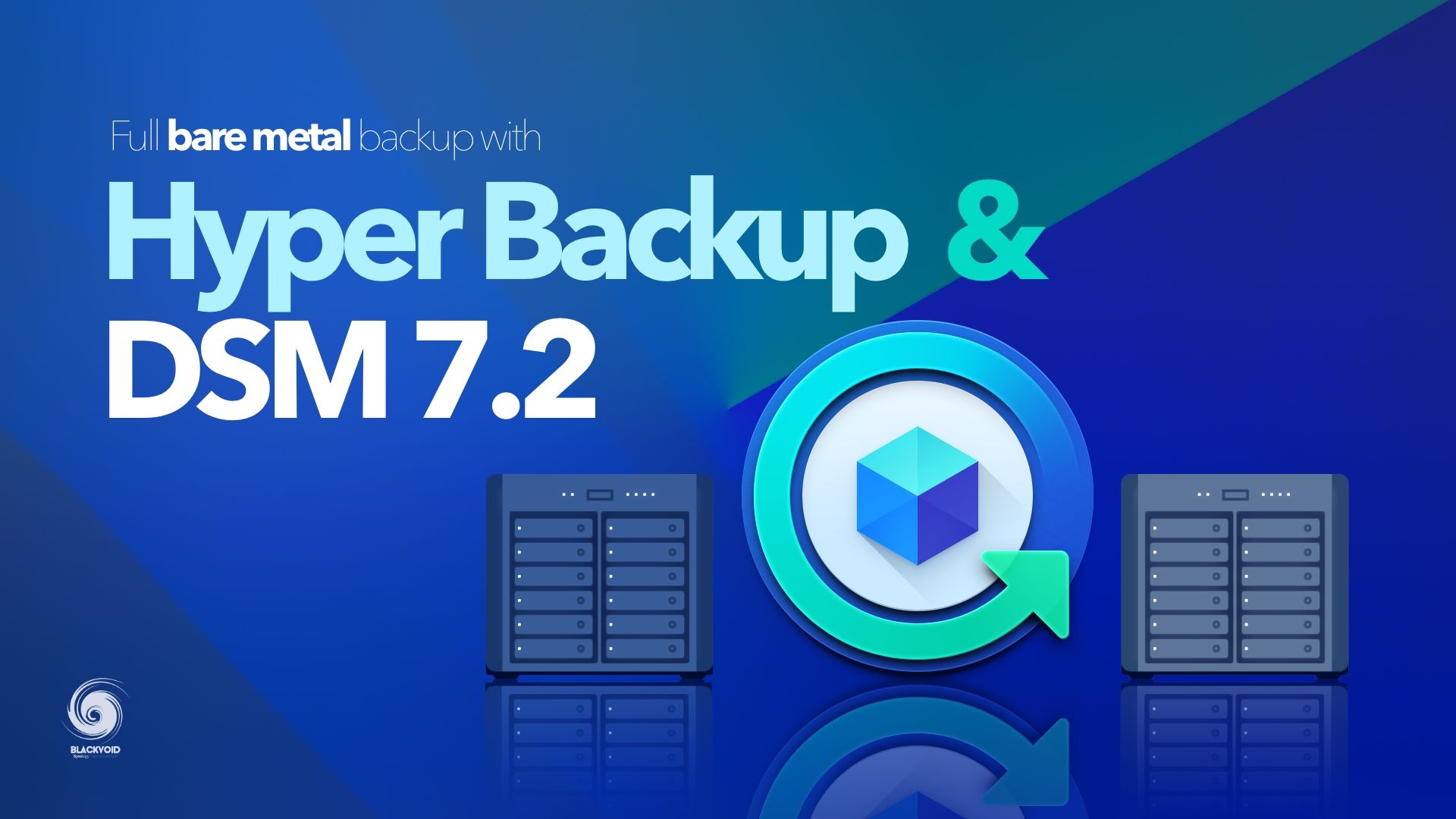 Another Synology service that is not immediately visible, but is offered as part of the initial DSM installation is an extended warranty. Now as mentioned in the intro article, the RS2423+ comes with 3y warranty that can be extended up to a total of five years using the extended warranty plus service.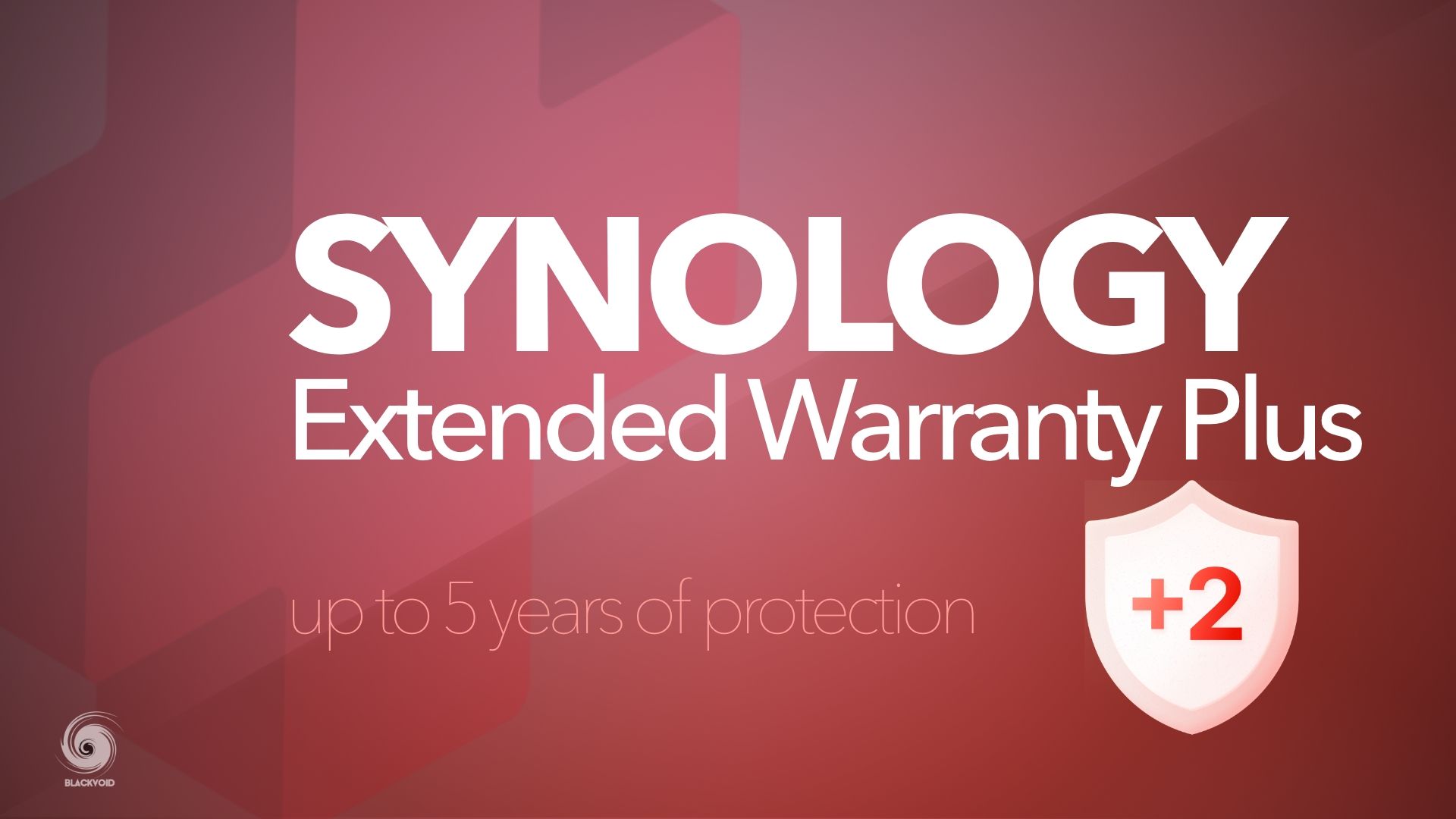 For this NAS model, the extended warranty in Croatia comes out at about €470 (incl. VAT, 25% in Croatia), which might look like a steep price, but for this model, it really is not that much on top of its initial price. For about €20/month for those two extra years, we get a total of 5y of Synology warranty.

: Active Insight
DSM 7 has brought a number of new services, apps, and features that cover both older and latest NAS models. Some of those are free, some are commercial, and one that sits in the middle (both free and paid service) is Active Insight.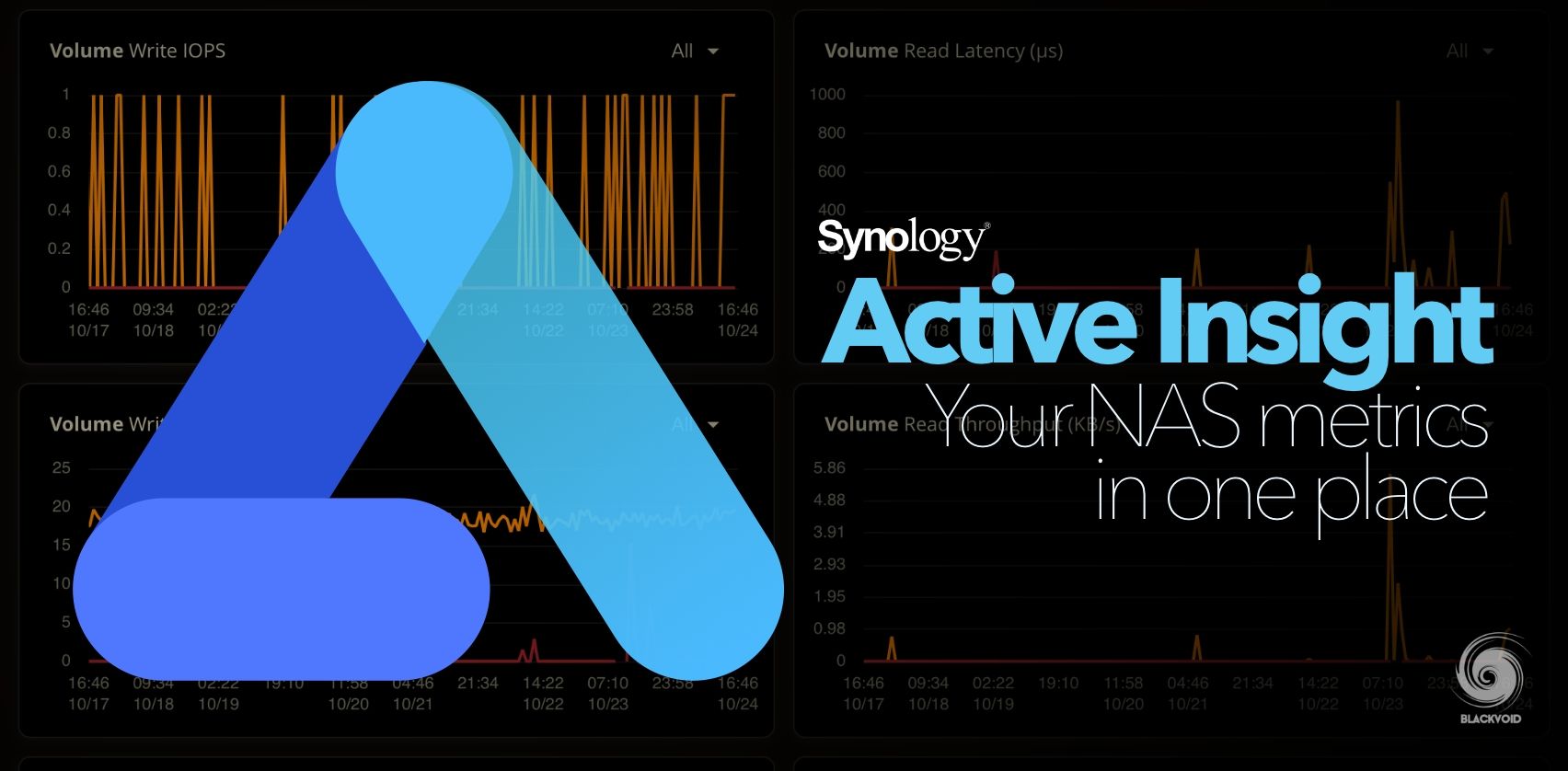 The RS2423+ being compatible with DSM 7, is a candidate for Active Insight. Apart from having a Synology Account, there are only two things that need to be done in order to get all the metrics into Active Insight.
First, we need to register the NAS under our Synology Account (Control Panel > Synology Account option), and then using the main menu open the Active Insight app.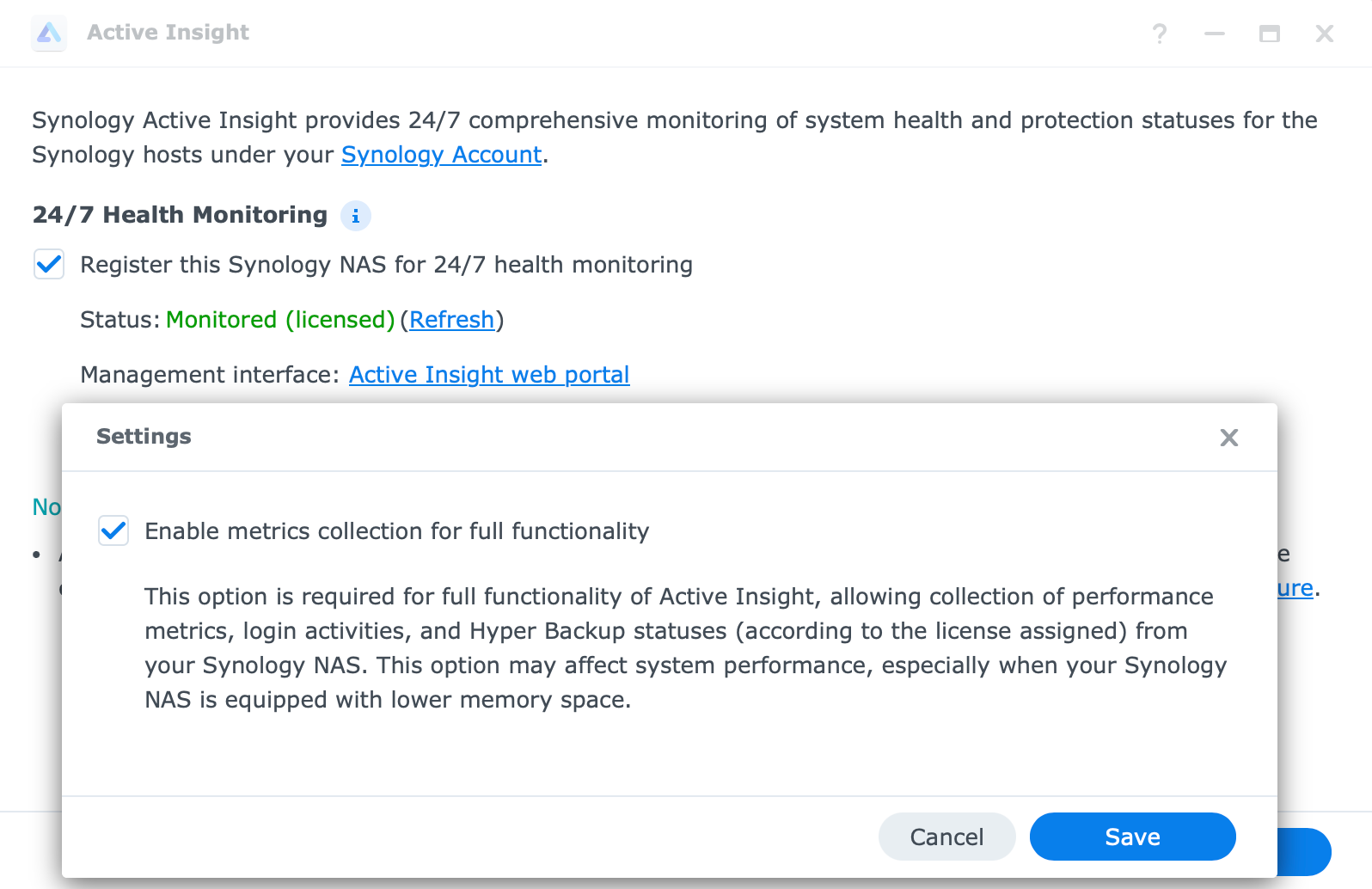 Selecting a checkbox that we want to register the NAS with AI will be enough to complete the configuration on the NAS side. One last thing is to apply for the license on the AI portal for a particular model, and the process will start automatically.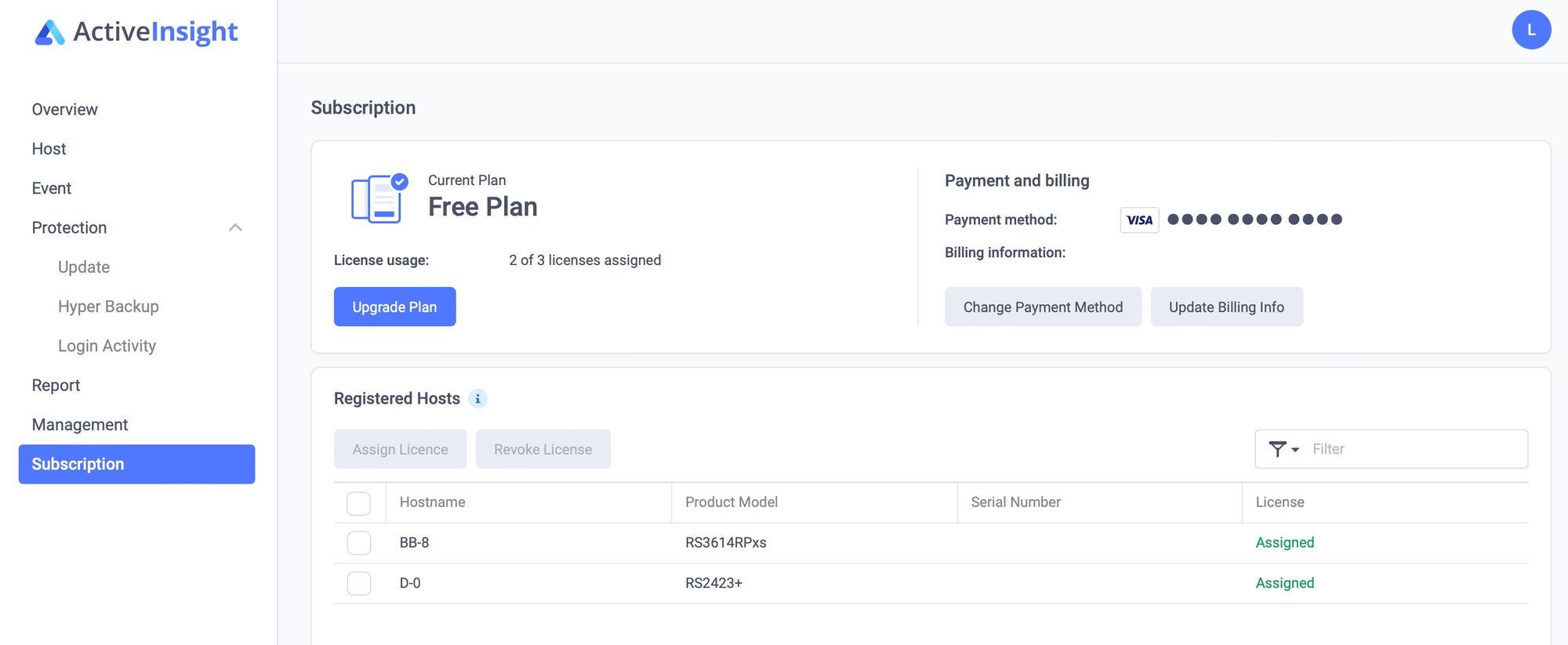 AI offers up to three NAS devices for the free plan, so best to make use of it.
In case that cloud-driven platform is not preferred, maybe a self-hosted solution would be better. Running Docker, or as they call it now, Container Manager we can run our own monitoring platform of choice.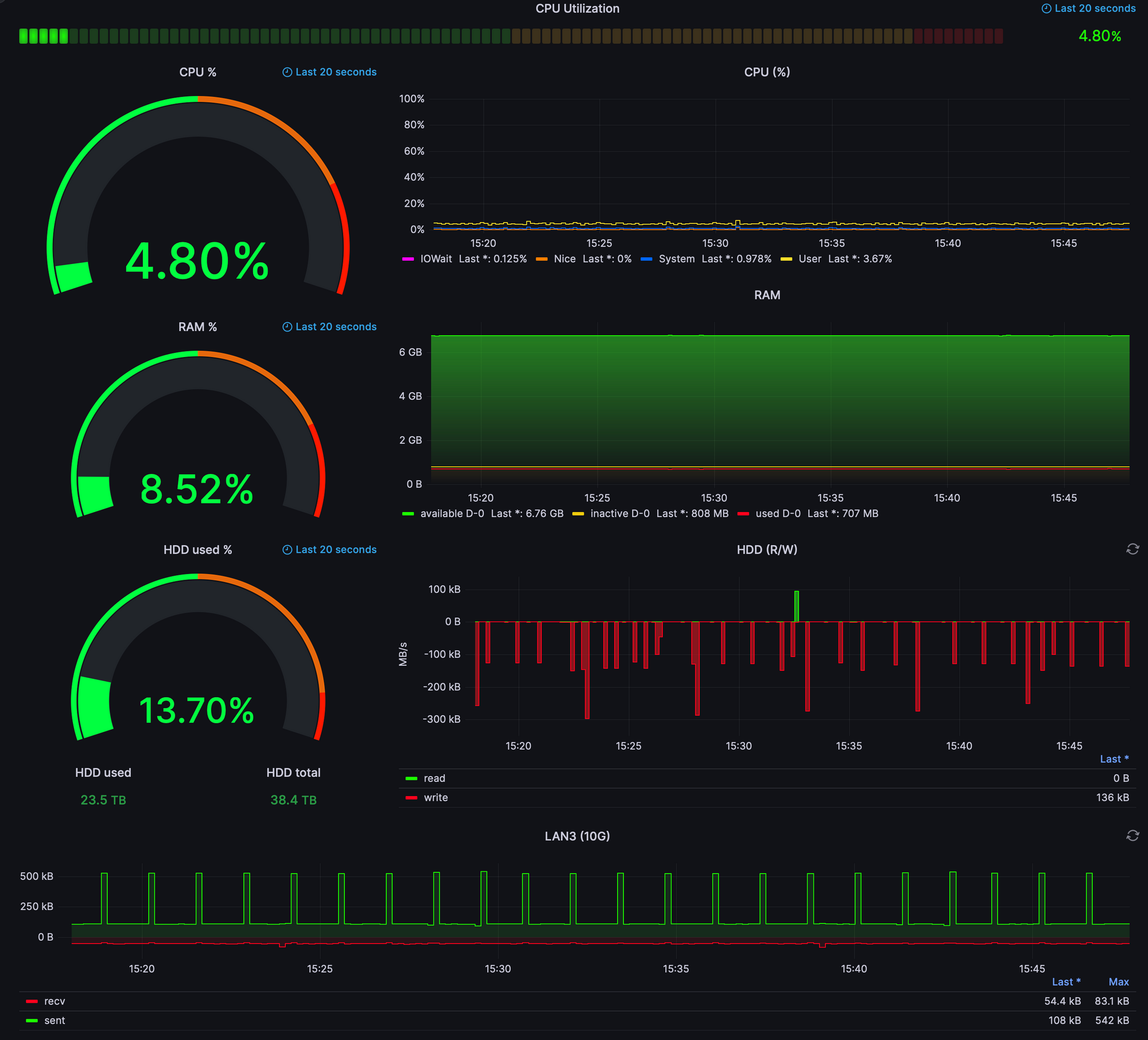 The list of configuration elements inside DSM can go on for a while, but one last thing that is worth mentioning here for the actual RS2423+ is the fact that the onboard 10G network adapter can be used for the initial installation of DSM (and NAS detection) and continue to use it as the main network connection.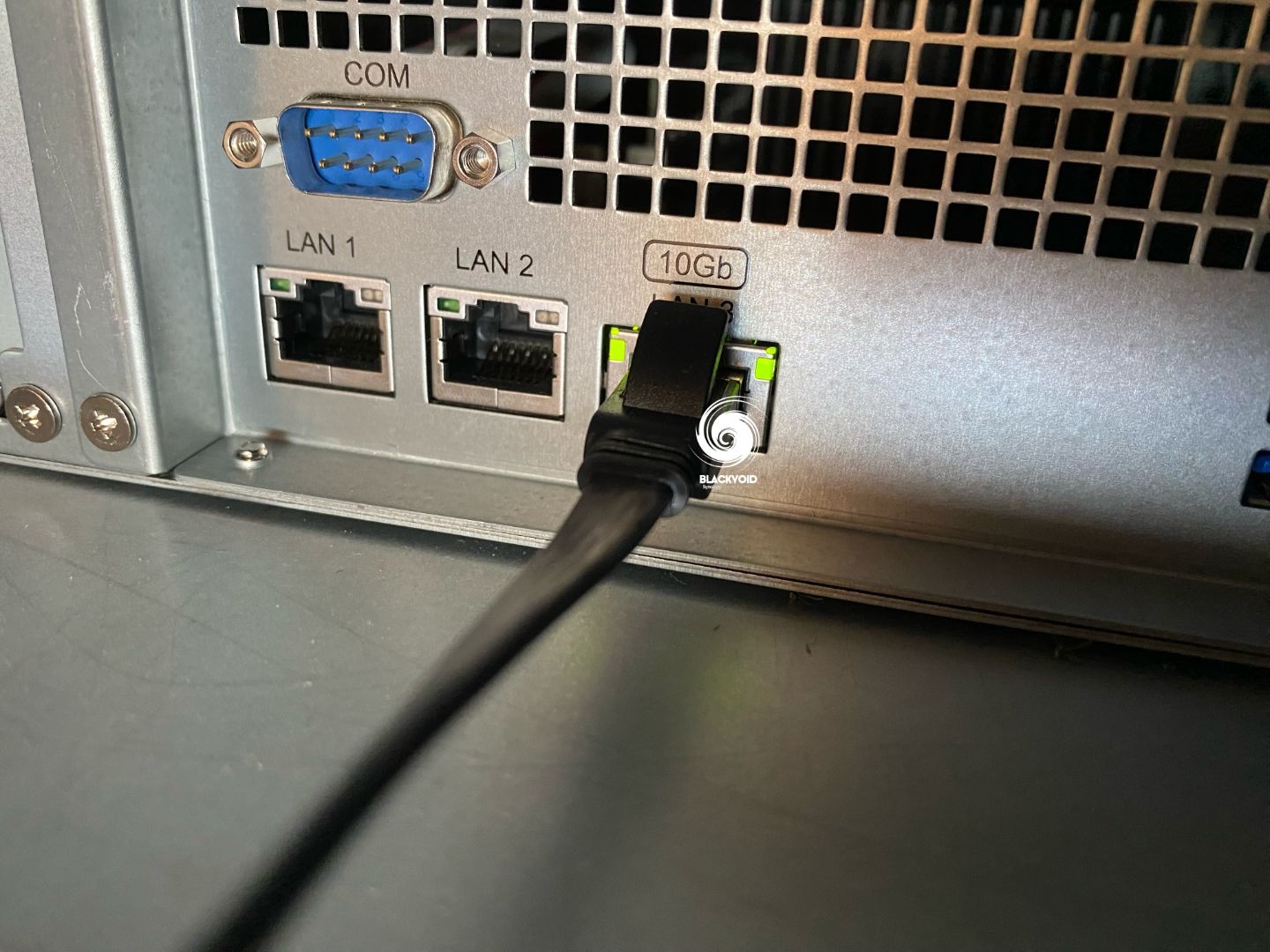 Unlike some other models that support 10G via an add-on card where this is not possible, this use case is a nice addition to this particular RS model.
: RAID configuration
One thing that is absolutely needed if we want to run and use any NAS is to create pools and volume(s) before any data can be stored on it. Within DSM, the Storage Manager is the app that will provide the tools for these tasks.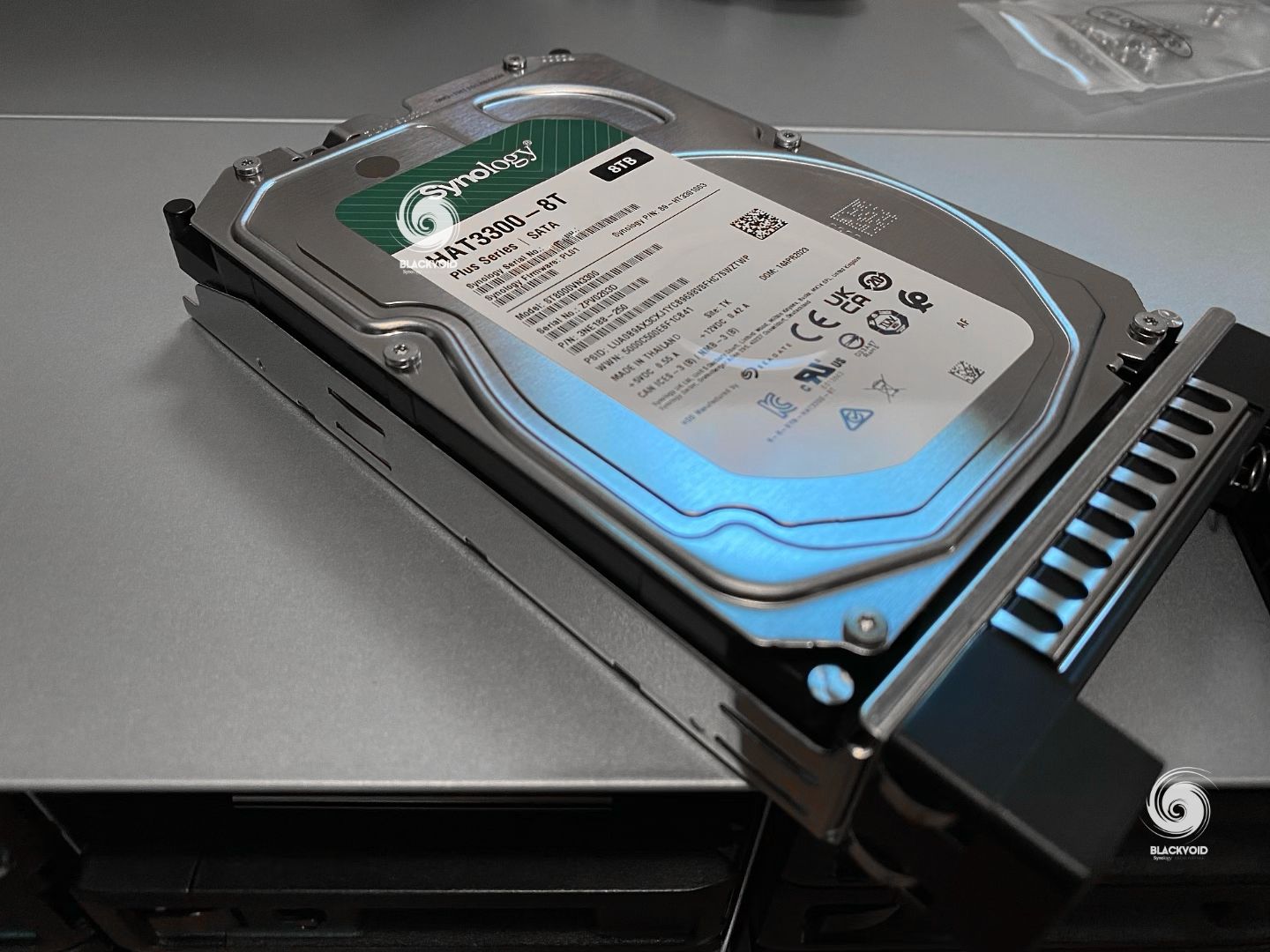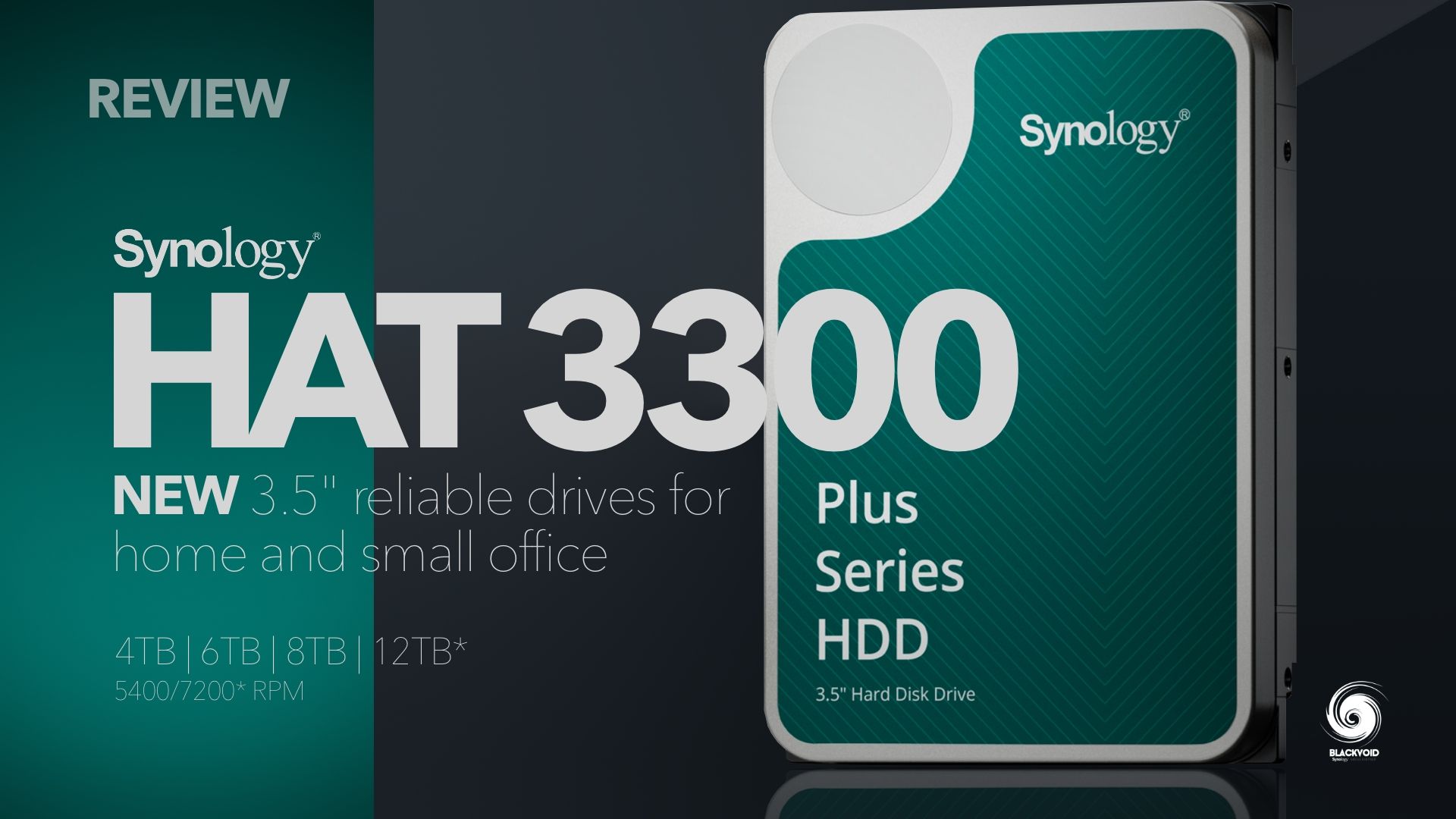 Opening the Storage Manager we will need to make the initial pool and volume (or more, depending on the needs) using the available drives.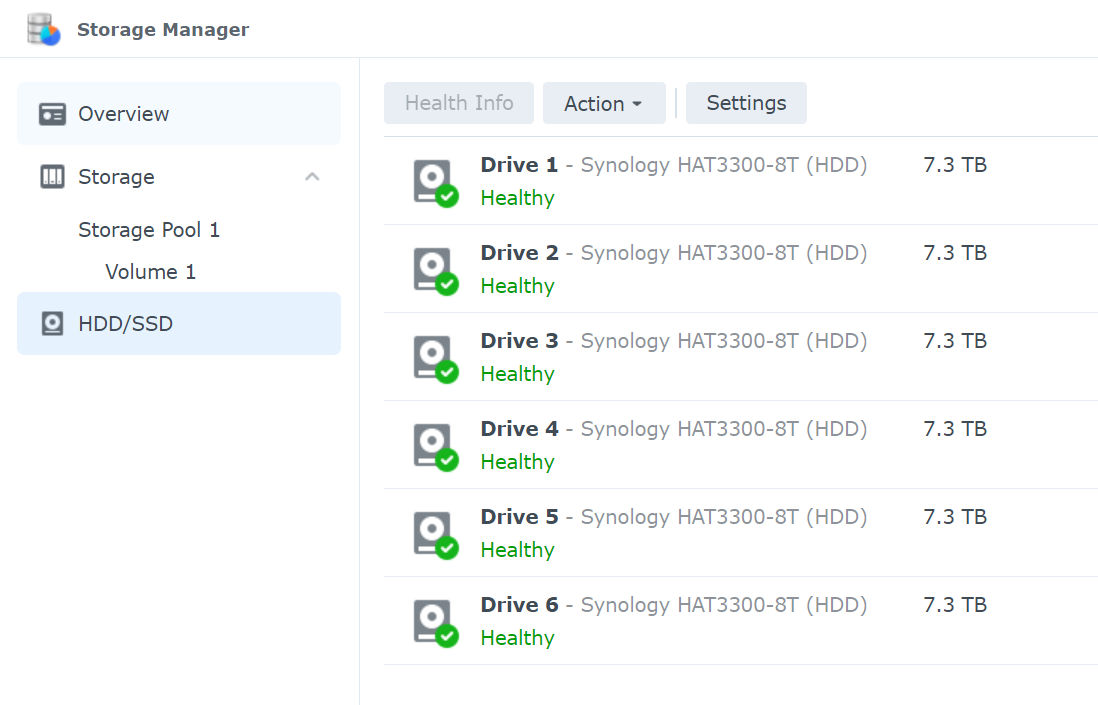 RAID volume creation is a matter of preference, so we need to make sure we know what we need and want in the long run. The pool and volume creation is a matter of minutes, but the optimization will take some time, again, depending on the configuration. With this amount of drives, the RS unit completed the full-size volume optimization little under 11 hours with raid resync settings set to low impact.
Nothing unexpected in terms of speed and time, with the final volume being very stable with no issues or errors. In terms of temperature, the RS unit is between two additional RS3614 units and the HAT3300 drives are normal considering other environmental parameters.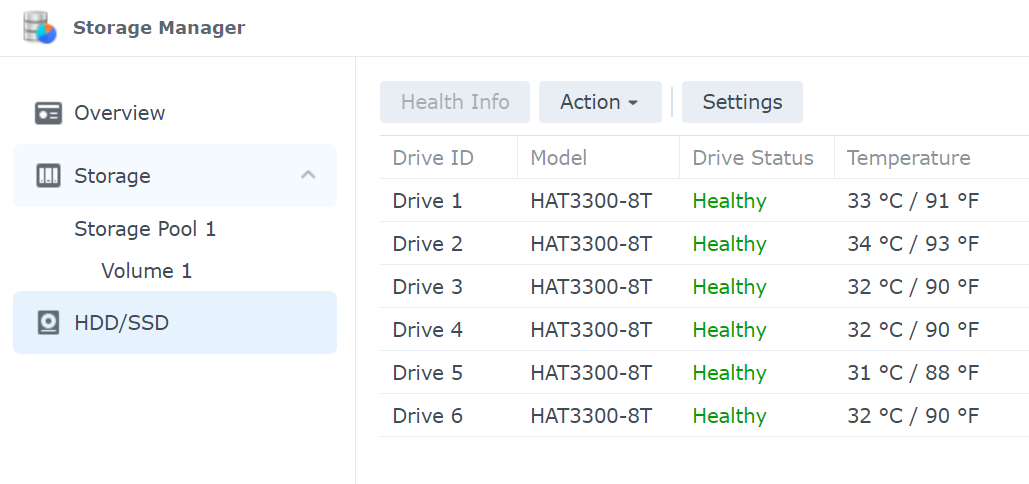 Now that the volume has been created the next step is to further configure and install specific apps that we want to run on the NAS. For that, we need to use the Package Center.
: Package Center
Coming in from the Synology "+" lineup, the RS2423+ can install any application from the package center including some 3rd party apps via Synocommunity as one outside repository example.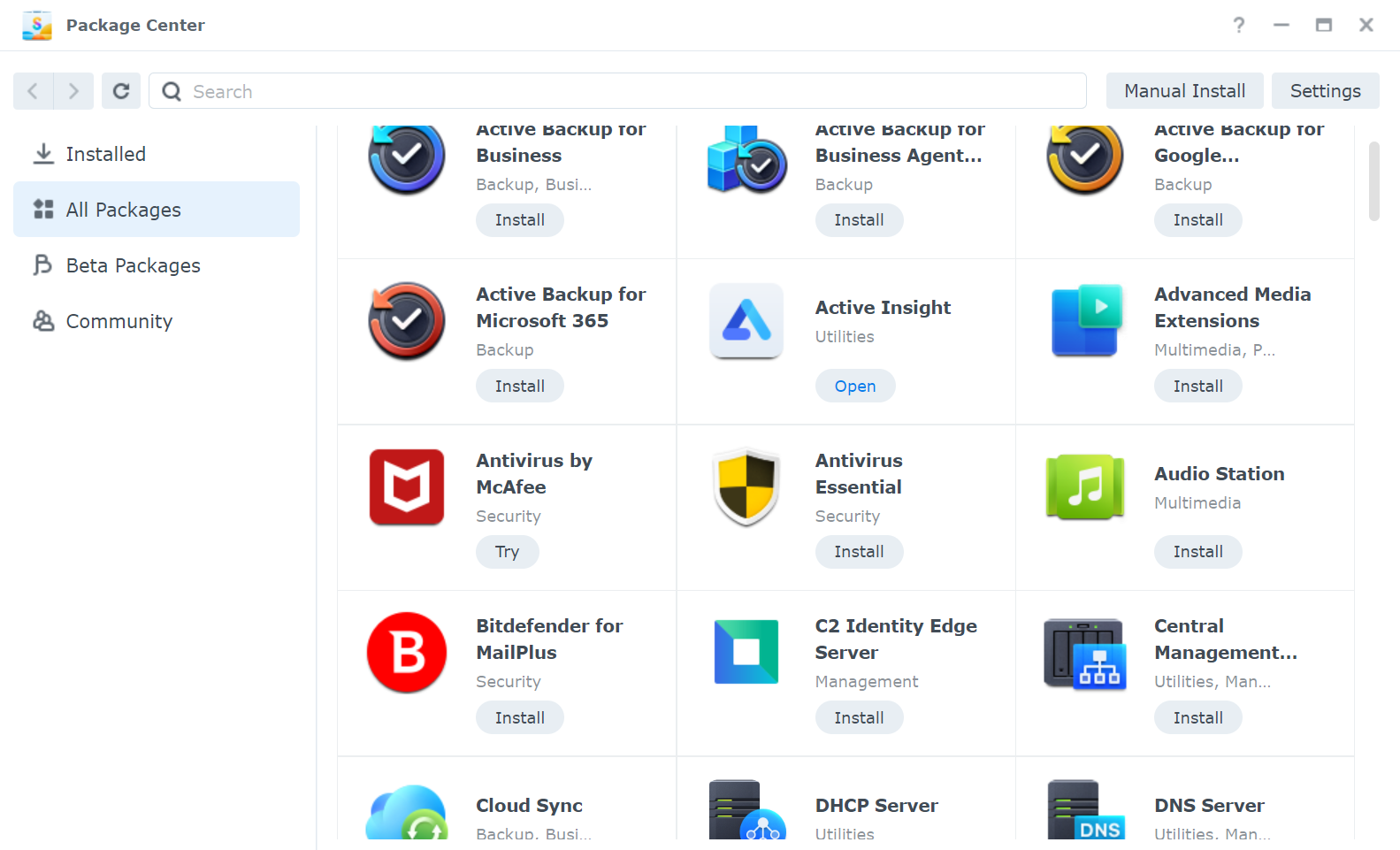 Another important thing to mention here is Docker, or as DSM presents it in version 7.2, the Container Manager.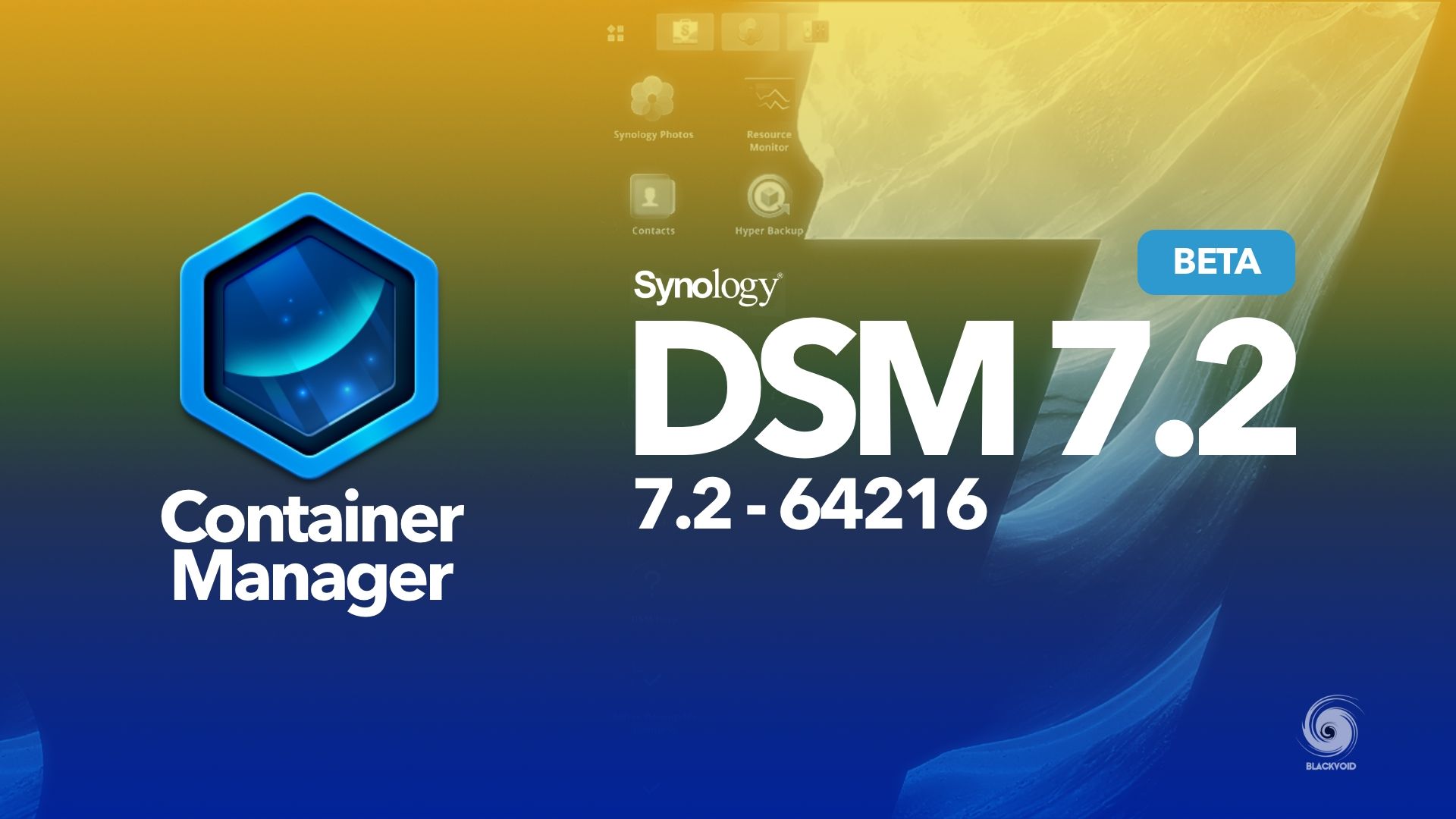 Docker support is nothing new in the world of Synology devices, and on that note, even some "value" lineup devices have gotten support for it. Until recently this privilege was only reserved for the "plus" or higher lineup. Container Manager is a way of running apps and services on the NAS that are not officially supported via the Package Center.
On a NAS like the RS2423+ with 8GB of RAM, there are plenty of resources to run various solutions via Docker making the NAS even more feature-powerful. One example is the image above showing the metrics via Grafana. That platform is running on a Synology NAS using Docker.
While we are on the subject of custom apps and services as well as Docker, there is one more solution worth mentioning DSM still does not support out-of-the-box, Wireguard VPN protocol. Being an RS unit, the RS2423+ is a perfect candidate to run various server-side solutions. An incoming VPN server solution would be one of those. Now, DSM does have a VPN Server package but apart from OpenVPN and IPSec no other protocols are supported.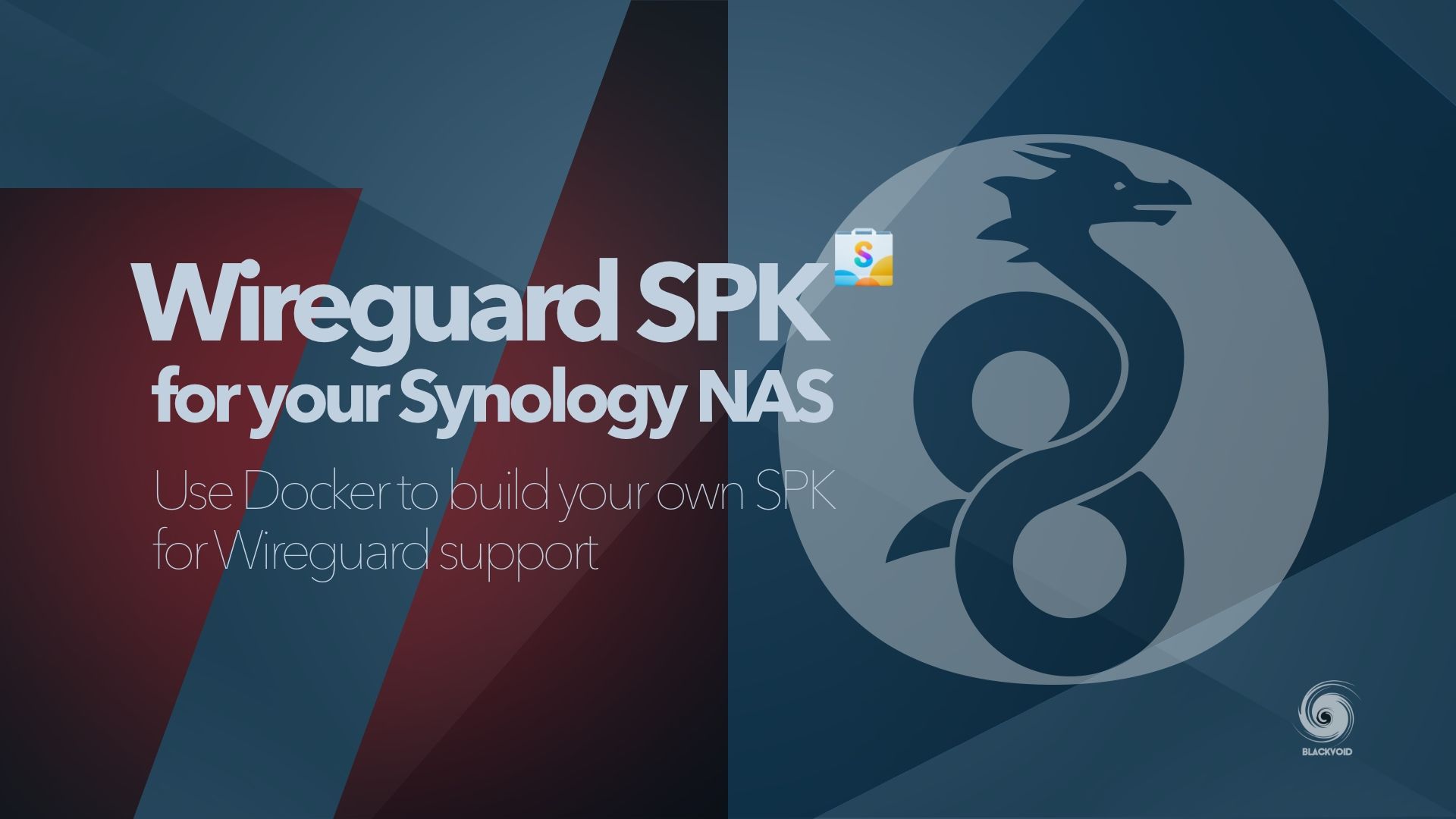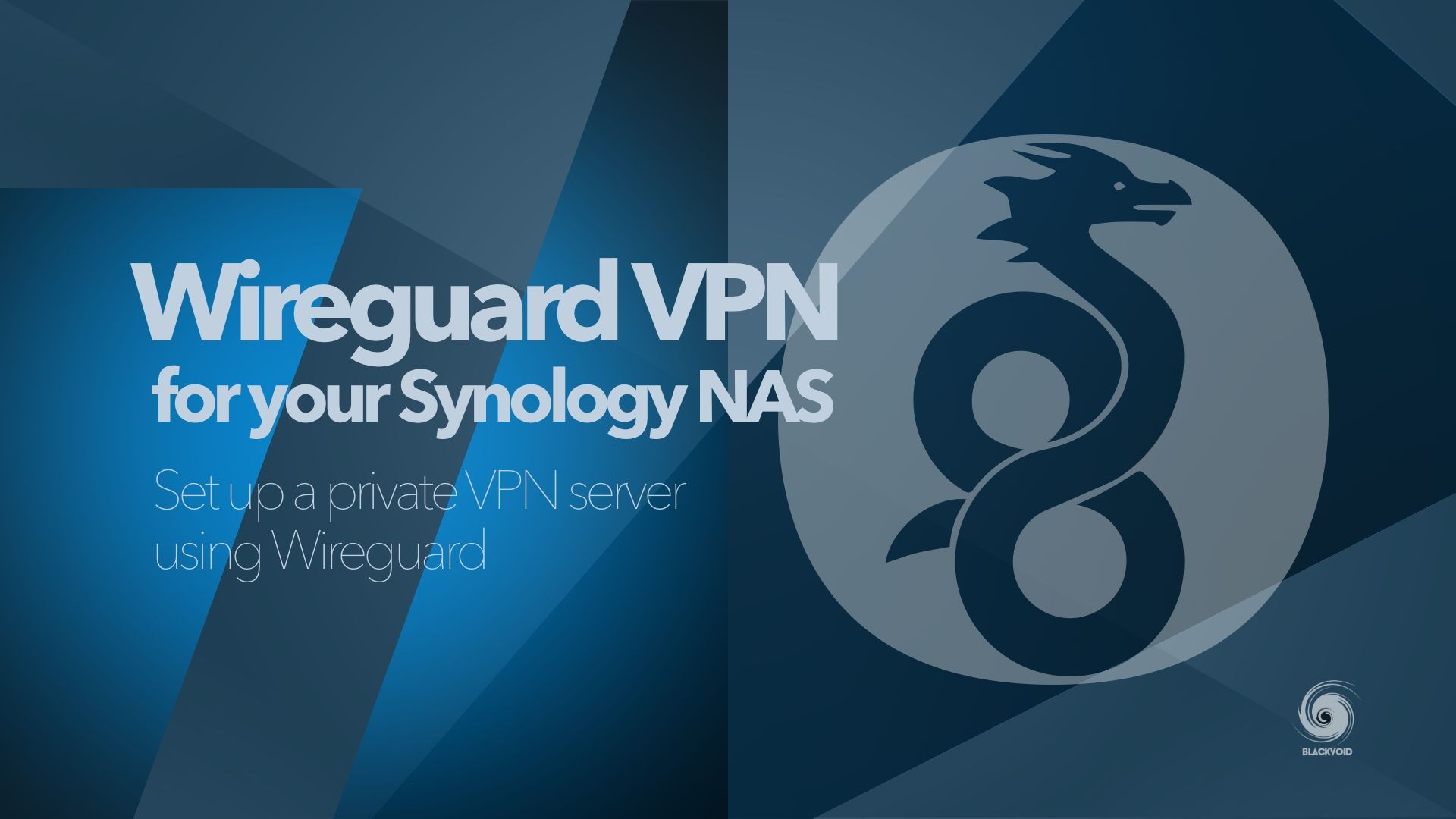 Thanks to Docker support, we have a way to bring a modern, fast, and secure VPN feature onto almost any compatible Synology NAS.
Stepping away from custom solutions, RS2423+ is also a great device to host official apps covering various scenarios.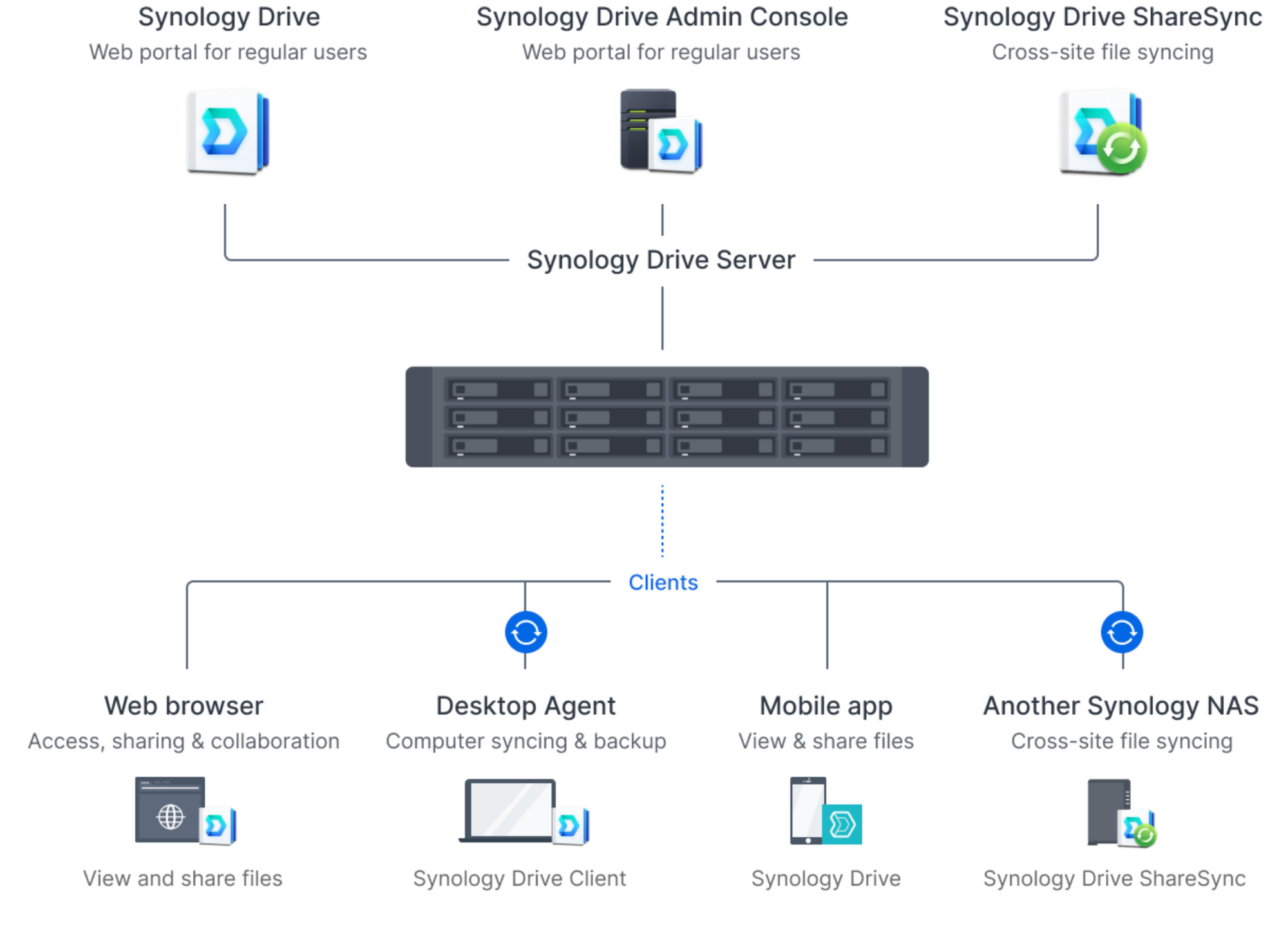 Apart from the usual office apps like Synology Office, Drive Server, Mail Server, and other team-related services, the RS2423+ is also a robust and stable backup, data protection and recovery NAS.
Finally, the RS2423+ will also leverage scalable surveillance to secure home or business environments.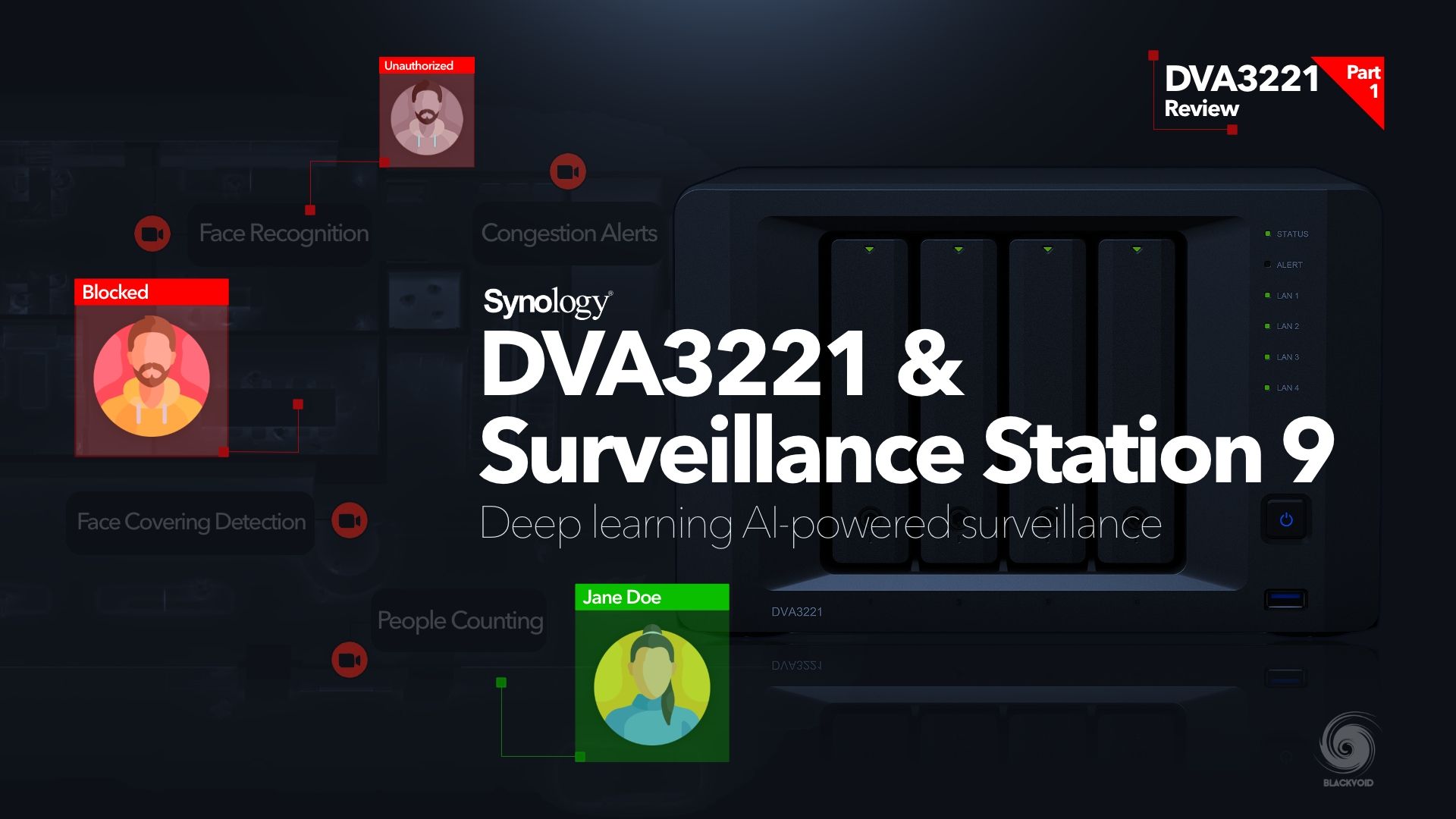 These are just some of the examples but more will be covered in the follow-up articles of this series.
: Disk and network speed test
The RAID setup in RS2423+ combined with a10G network adapter will be capable of 1GB/s transfers depending on the device on the other end. Almost all tests that will follow will include 10G capable devices but none are running NVMe setup, but rather HDDs.
As expected the speeds will not be 1GB/s but this will also be limited by certain tests using Synology apps. Some of those are maxing out at about 400MB/s even on SA class models with enterprise drives.
To start, and to get a general idea of the HAT3300 speeds, we can use the built-in tool inside Storage Manager that will test a single drive speed. In the case of these 8TB models, the average speed was as advertised around 204MB/s.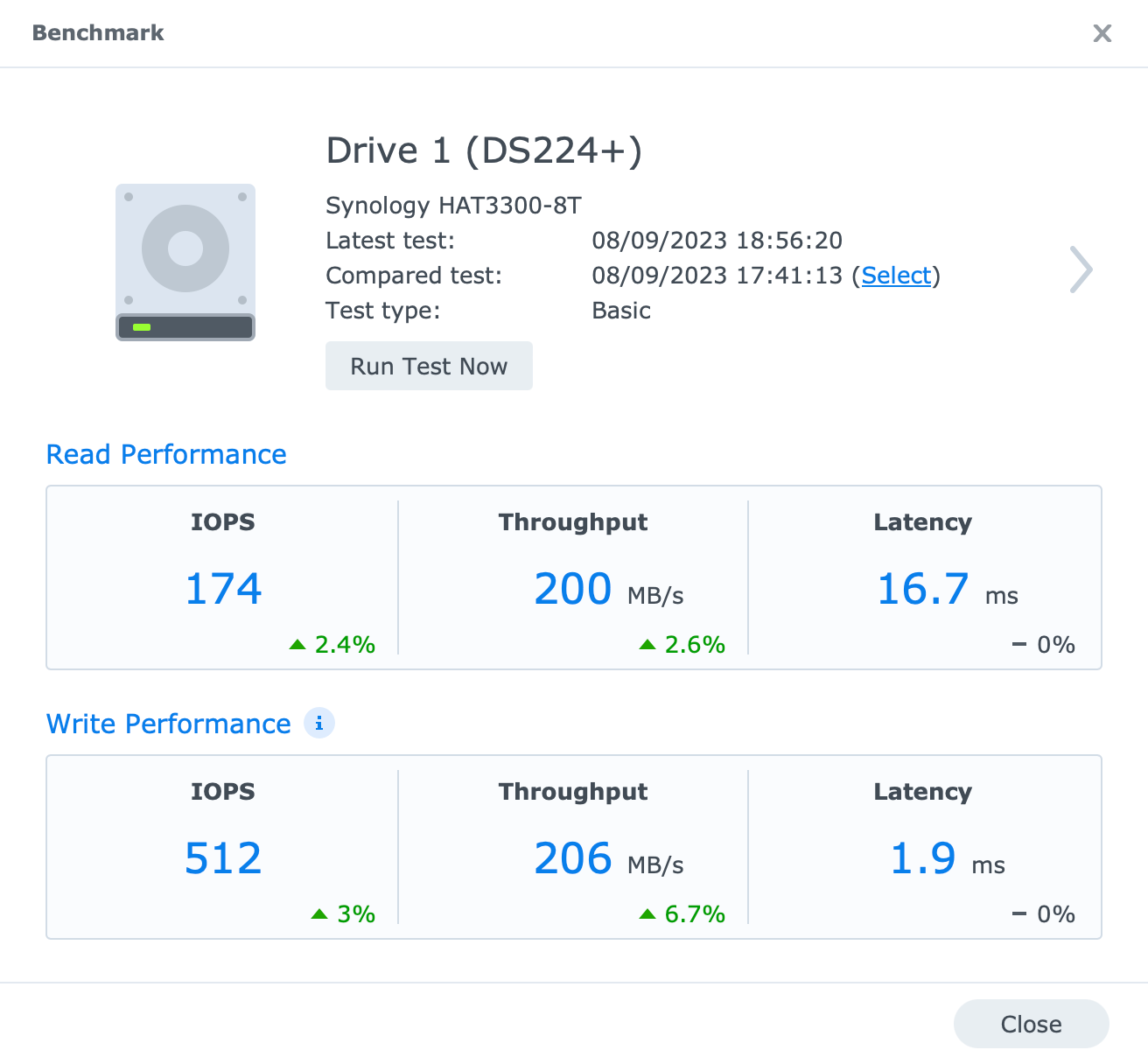 On the other hand, network speed (as seen in the image above) is 10G over a CAT7 cable and a compatible switch. Running iperf test against another 10G-capable NAS we can confirm that the RS2423+ is indeed capable of those speeds on the network layer.
Testing a generic SMB transfer from one NAS to the other over 10G we can see a sustained rate of about 400MB/s in this current RAID5 configuration.

These speeds would probably be faster against an SSD/NVMe-configured device, but taking all settings and configurations into consideration, these results are expected.
That will do it for this article. In the next one, we will see just how well this NAS can perform when using various backup solutions both as a server and client.
Part 2 - Backup and restore, up next >